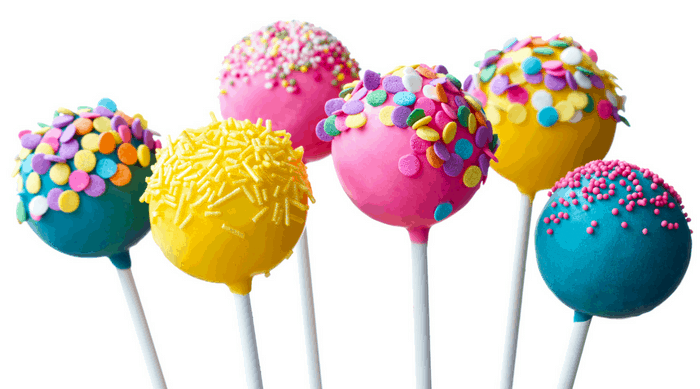 Welcome! This past weekend my sister and I made cake pops for my nephew's birthday. They turned out super cute! But they can be frustrating to make.
I'm going to break a blogging rule or two here and tell you that I have a love-hate relationship with cake pops.  I love trying new designs + enjoying the end product, but sometimes the process can be difficult!  Those of you that have already been through the process may get a kick out of this.
Here is how the various phases of cake pops usually go for me:
Idea generation – I love this idea! It will go so well with our party theme.  They are going to look incredible.
Baking – Yep still going really well, I'm glad I used a boxed cake.
Crumble – I can handle this, it won't take me long to finish them!
Forming – easy peasy.
Dipping – Oh man, why did I even consider making cake pops again.  This is taking forever! (Keep in mind this is the most time-consuming part!)
Decorating – This is not turning out how I envisioned.  Hey wait, if I add a few more details they might look decent.
Final presentation – These actually turned out really adorable.  Especially when each kind is in a "bouquet" together.  I may end up making these again sometime. 🙂
I made cake pops for the very first time for my son's first birthday a few years ago.  Monkeys — not something basic and simple, of course.  Halfway through I was wondering what in the world I was thinking.  It took hours and was very frustrating!   The monkey's heads were cracking and the eyes were drooping.  It was hilarious and definitely material for a "nailed it" feature.  Luckily from far away they were adorable and tasted amazing.
The good news is I've made many cake pops since and learned a few tricks along the way.  Now the process is much more enjoyable and they've become a favorite at family gatherings.
Grocery & Supply List
1 box cake (any flavor, we love funfetti)
1 can frosting (any flavor, I use plain vanilla)
Any ingredients you need to bake the boxed cake according to the box instructions (egg, oil, water)
Candy melts (I use Wilton's)
Candy melt thinner (paramount crystals for example) – optional
Edible decorations – sprinkles, drizzled or whole candy melts, fun candy
Drizzle tool or plastic zip-lock bags
Vase or container to display pops
Craft foam to hold the pops in place
Candy, tissue paper or shredded paper to hide the foam
Instructions & Tips
Here are the tricks I've learned along the way.  I am sure there are many more, please share in the comments if you have a tried and true method. 🙂
Plan Two Sessions
Cake pops are time-consuming, so breaking up the process will make it seem less daunting.  Bake the cake the day or night before you plan to shape and decorate the pops.  Make sure to cover the cake so it doesn't dry out.  I've made my best cake pops with a boxed cake mix.  Just follow the directions on the box.   My favorite is funfetti cake, but you can use any flavor.
Crumble Cake
If you decide to form and decorate the same day, make sure the cake is completely cooled. Then crumble the cake into small pieces in a medium-sized bowl.  Make sure there are no large chunks — it will make it hard to keep the cake pops together.
Fold in Frosting
Mix ¾ can of frosting (any flavor) into the cake crumbles. My favorite is the canned vanilla frosting.  The cake should stick together well.  If it doesn't you'll need to add more frosting until it does.
Tip – add the frosting a spoon at a time and mix. Different cake mixes may have more moisture and you may need less frosting depending on the cake.
Form Cake Pops
For basic round cake pops, I use a tablespoon to measure the cake and roll into balls.  However, I've also made shapes with a silicon mold or handheld tong mold.  I made stockings last Christmas from a silicon mold.  They turned out really well.  After forming, place cake pops onto wax or parchment paper.
Freeze Before Dipping
Place cake pops in the freezer for about 15 minutes.  Don't freeze too long or they will expand after you coat them and ooze out the sides.  Trust me, I've experienced this! 🙂
Add Thinner to Candy Melts (if needed)
Buying quality candy melts will help immensely.  I use Wilton's Candy Melts.
If the candy melts seem too thick after melting, add paramount crystals until candy is a thinner consistency.
Dip the end of each stick in candy melt and insert it into the cake pop.  Let the pops set for a few minutes before dipping.   Make sure the melted candy isn't too hot when you dip. (If you have problems with the cake pops falling off into the candy — make sure the melts are thin, not too hot and you might have to put your cake pops back in the freezer.)
Dip First. Sprinkle. Decorate Dry.
If you are using sprinkles, then sprinkle right after dipping. However, if you are adding details then dip first, let dry, and then add the details using the melted candy as glue. When I made the monkeys I tried to dip and quickly add the details which led to the droopy eyes and ears.  Not a good situation.
Create a Fun Presentation
Your cake pops will look amazing when you add them to a fun vase or container.  Add craft foam to the container and poke the cake pop sticks into the foam.  Use candy, tissue paper or shredded paper to cover the top and sides.  We've even stuck paper straws into the top of a cake and then placed the cake pops into the straws.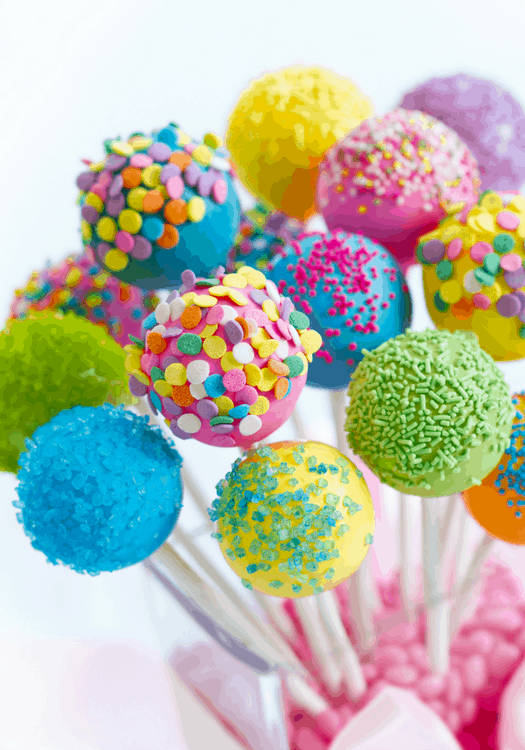 I hope you find these tips useful.  Please stop by and say hi in the comments.  Have you made cake pops?  What are the tricks you use?
Recipes that are great for special occasions: