How to Start an Unforgettable Birthday Tradition
This post may contain affiliate links. That means if you click and buy, we may receive a small commission (at zero cost to you). Please see our full disclosure policy for details.
How to start an unforgettable birthday tradition with birthday date cards. A really fun way to celebrate on any budget. Perfect for significant others and can be used for other special occasions. A unique birthday gift idea.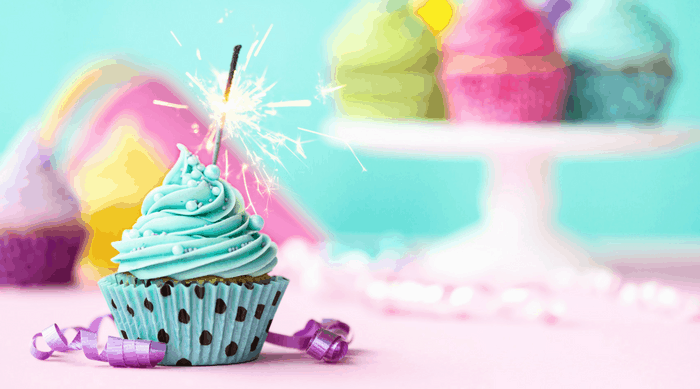 Hello! Today I'm sharing a way to create an unforgettable birthday (or anniversary) for a loved one.  This post will be tailored towards spouses and significant others, but you can also use this idea for a milestone birthday for a close friend or relative, birthday for an older child and much more. It's a unique birthday gift idea they will remember for a very long time.
Let me give you a little background before we really dig in.  There were a few inspirations.  First of all, I have a good friend and former colleague who is also a blogger – Carrie at Outdoor Travella.  She recently posted Why My Kids Do Not Get Traditional Birthday Parties.  Her focus is spending quality time with friends and family for birthdays.  And she quotes "the best things in life aren't things." It's a beautiful reminder of what's important in life.  Creating special moments and traditions. Things that are important to me as well.
Secondly, my husband can be impossible to buy gifts for.  He typically tells me he wants white t-shirts and black socks. 🙂 Or on the opposite end of the spectrum – ATVs, a boat or an RV.  So instead of stressing this year about gifts, I decided to buy a few gifts and then add the first birthday date card to the gift bag (followed by 6 more throughout the week).
Here's a quick overview of what I'll be sharing in this post:
How it works
Example
How to plan
Downloads
How It Works
Yes, after reading this idea you may think I watch a little too much reality TV. 🙂 However, it's a really fun way to celebrate a special occasion.  The idea is that you set a number of days to give your loved one "date" cards.  And you should give the cards a few hours to 24 hours in advance so they are thinking of what the date might possibly be.  The card includes a message with a hint of what might be in store.
The beauty of it is, you can customize the dates to fit your budget.  It could be a fun game night + all appetizer dinner at home with family or you could be taking a plane ride to Vegas.   The options are endless and you can get really creative.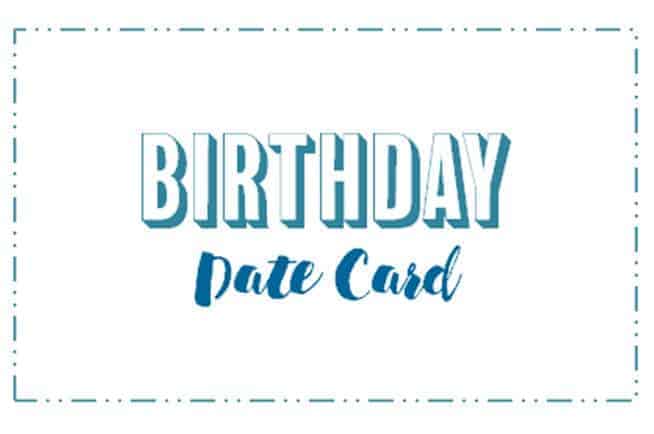 Example
I used this idea for my husband's birthday in August.  It was a lot of fun and I'll definitely be using it again in the future.  I may even use it for my daughter's birthday next summer.  She'll be 8 and old enough to understand.
We celebrated my husband's birthday on the day of his birthday with dinner, cake, and gifts.  I didn't go overboard with his gifts, but surprisingly I had plenty of ideas this year because of his recent purchase — a Traeger grill. (Check out our review of the Traeger Wood Fired Grill here.)
In his gift bag, I included the first "birthday date" card.  It read "Relax, it's your birthday. Be ready 9:30 or whenever the kids are in bed."  This one is an easy guess, but it was a massage that night.  The more the week went on, the more guessing was required.  I planned a total of seven "dates."  Which in my opinion was a little long. But we were home for 4 days and the remaining three were on a mystery weekend trip.  He's always joked about celebrating his birthday for an entire week. This year, that's exactly what we did.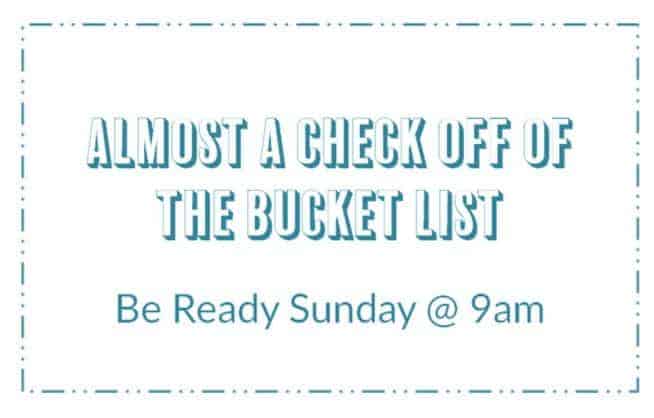 #1 – "Relax, it's your birthday." = massage
#2 – "Double dose of legs + some family fun." = chicken drummies on the grill, family game night and leg massage that night.
#3 – "Let's have za-me fun + arms, legs, neck." = pizza and movie night plus massage
#4 – "51 and fun." – a steakhouse we had never been to called Windmill 51 and live music
#5 – "Life is a trip, let your wife lead the way." – a mystery road trip to Idaho.  My husband had no clue where we were going, just that we were leaving on Friday to be back on Monday.
#6 – "32 will be a wild ride." – St. Anthony, ID Sand Dunes and ATV rental (So much fun by the way!)
#7 – "Almost a check off of the bucket list." – Shoshone Falls (a.k.a. Niagara of the West) in Twin Falls, ID (beautiful!).  My husband has been wanting to go to Niagara for years and this was the next best thing.  Minus the expensive plane ride to New York with a 2-year-old ;). In a few years we'll go!
Plus, each one included the day and approximate time the date would start.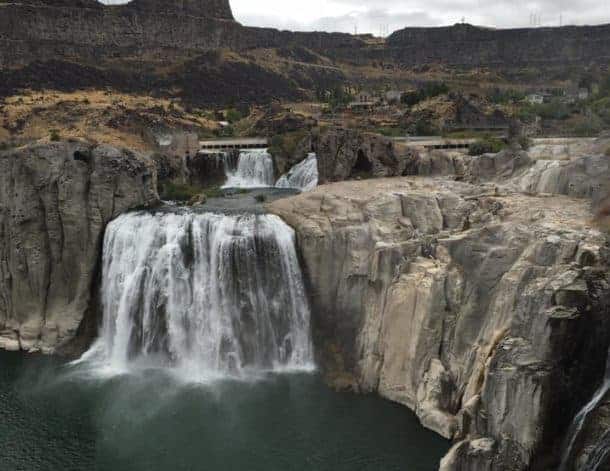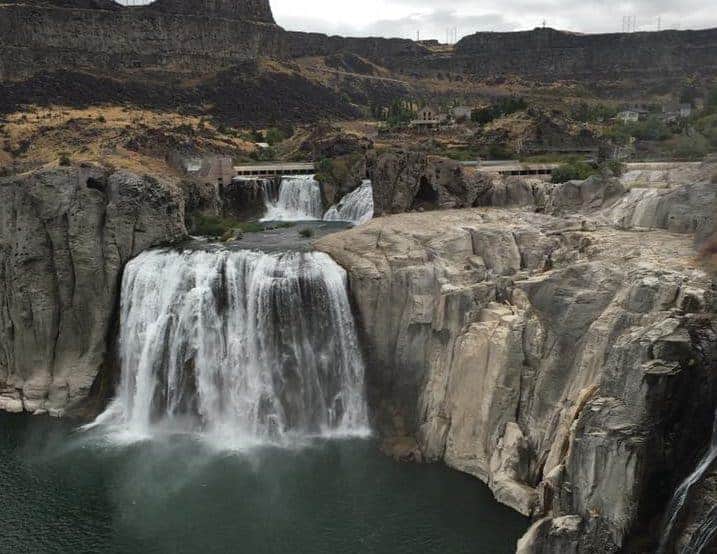 How to Plan
The planning is pretty simple.  Although it may take some time to decide on the dates and think of clues.
Start by deciding how many "dates" and days you'll do.  Then plan what you'll do each day and what time.  Make and print the "birthday date" cards.  Give the cards to your loved one at least 2 if not 24 hours in advance.  The anticipation and guessing is part of the fun.  Printables are included below.
Downloads
Here are the downloads.  You can print the front of the cards from the PDF below.  They'll look awesome on white pearl cardstock.  Or customize with fonts, colors, and pictures using the PowerPoints provided.
Print the front and then turn the paper around and print the inside. Super easy.
I promise it will be a unique birthday gift your loved one will remember.
PS – your computer may not have the same fonts as mine. So easily change the fonts on each PowerPoint after you download. PSSave
Conclusion & Comments
Don't forget, this idea can be used for anniversaries too.  And it can be customized for friends and family that aren't spouses or significant others.  In fact, for my sister's 30th birthday we celebrated with a weekend getaway trip and used a similar concept.  "Face it — your 30 :)" was one of the clues and we went to the spa to get facials and massages.  So much fun.
I'd love to hear your thoughts and ideas in the comments. If you use this idea, I'd love to hear about the dates and clues you used.
Also, check out these recent posts:
Save