Simple Toddler Activity Ideas for Stay at Home Moms
This post may contain affiliate links. That means if you click and buy, we may receive a small commission (at zero cost to you). Please see our full disclosure policy for details.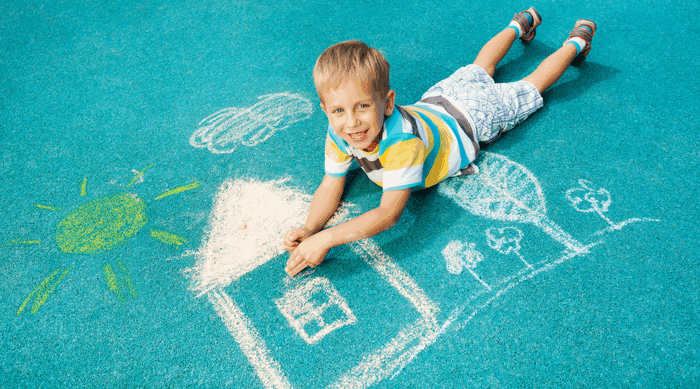 This post was originally shared as a guest post on Two Kids and a Budget.

Excited, nervous, blessed, anxious, happy are just a few of the emotions I experienced when I began my new adventure as a stay-at-home (work-from-home) mom.  And believe me, I had a roller coaster of emotions the first several months!
I bet you can understand the feelings of excitement and happiness.  Staying home would allow me to spend more precious time with my children.
However, let me explain the nerves.  My son had an incredible daycare.  We loved the structure, learning activities, and social time.  The ladies in the baby/toddler room were like second mothers to Noah.  How was I going to fill their shoes? Just me?  The answer is simple – I wasn't.  Just like they would never fill my shoes as a mother.  But I was going to try my best to keep the learning and engagement going from home.
Since the start of this crazy-wonderful journey, I've collected a list of the activities my toddler and I do together.  Of course, we don't do them all every day or even every week, but we try to do them on a regular basis.
Please note, I am a firm believer that giving our children plenty of unconditional love and keeping them safe is most important.  So with no pressure, no judgment, no parent-shaming – we can use this list of ideas to spend quality time with our littles.  And at the very end, I would love for you to share your favorites as well.  Enjoy!
Learning Activities
There are endless ways to make learning fun for our children.  Here are some of the activities we do most often.
FlashCards
Flashcards are an awesome, interactive way for our littles to associate words with pictures.  Our favorites are the First Touch & Feel Picture Cards.  You can find First Words, Animals, Things That Go, Colors & Shapes and more.  Each flashcard includes a set of questions you can ask your child about the picture.  Your child will be so excited when they tell you what's on the card.
Drawing Pad
Using a doodle pad is my son's favorite.  We use a Fisher Price Doodle pad.  Most of the time, he'll tell me what to draw.  And when I can draw it, he is so excited that I understand him.  It's a great confidence builder and so much fun.
Learning Apps
Yes, I brought electronics into this! Remember no shaming. ☺ Ipads and tablets can be great learning tools.  Some of our favorite apps are:  Phonics Island and Letter Sounds Adventure (Noah calls it the choo-choo game), Smart Baby Shapes, Sesame Street and ABC Mouse.
Reading Books
Reading may seem like a very obvious one; however, you can make reading a priority by choosing a set time of day to read.  Whether it's during the day, before naptime or bedtime.  Tennille, from Two Kids and a Budget,  gave me a great piece of advice recently when I shared How to Start an At-Home Summer Reading Program (for school-aged children) which is keeping a bin of books in every single room to create endless opportunities to grab a book and read together.  Love it.
Counting Change
Giving your child a piggy bank and a pile of coins will keep them busy for hours. ☺ You can teach them the names of each type of coin – quarter, dime, nickel, and penny. And also work on counting.  Just be sure to supervise so they don't put any in their mouths!
Art & Music Activities
Bring out your child's creative side by carving out time for art projects and music.
Painting Or Coloring
We've discovered free online color pages.  Our favorite site is http://www.coloring.ws/.  Your little can choose from hundreds of pictures.  Print it, grab the paints and paintbrush (or crayons) and let them create their work of art.  Don't forget to hang their masterpiece on the fridge when they're done. ☺
Music And Dancing
Grab your iPhone and turn music on that has a great beat. Dance and sing together.  Download fun children's songs or listen to your favorite tunes.
Side Walk Chalk Games
You can use sidewalk chalk to draw fun interactive games to play with your child.  For example, draw hopscotch squares and show them how to hop on one foot or two feet from one end to the other.
Day-to-Day Activities (at Home)
Your little person will be so proud of themselves when you include them in day-to-day activities.  They love to help!
Dishes
Grab a safe stool and give them a few dishes to "wash." Be careful to watch the temperature of the water.  My son also loves to put the dishwasher tablet in the dishwasher for me.
Laundry
At this age, your child can help bring clothes to the washer or help move them to the dryer.  Plus, it's such a big deal to press the start buttons.
Checking The Mail
This is part of our daily routine.  You can go for a walk together to check the mail and let your child use the key to open the mailbox.  Their face will light up, trust me.
Out & About Activities
Even though I consider myself a stay-at-home mom, we don't stay at home the entire day.  We typically try to make one trip out of the house per day.
Groceries
You can easily include your little one in grocery shopping.  Ask them to help pick out produce and add them to bags.  Count the items as they add them to the bags.  And talk about the colors of each fruit or veggie.
Play And Socialize
Find free (or inexpensive) places to take your child to play and learn.  The zoo, park, library, and community pools are just a few ideas.  A group of local Moms in our city have opened a studio called Art of Play that encourages socialization, motor skill development, and play.  They've set up play stations – a kitchen area, grocery store, gym, firehouse, salon, mechanic shop, and more.  It's a great place to socialize with other kids and moms.  You might check to see if your town has something similar.
As I mentioned, these are the activities we use most often.  Please share how you spend quality time at home (or on the go) with your toddler.  We'd love to hear your ideas!
Check out these related posts: