10 Ways to Prepare Our Children for Financial Success
This post may contain affiliate links. That means if you click and buy, we may receive a small commission (at zero cost to you). Please see our full disclosure policy for details.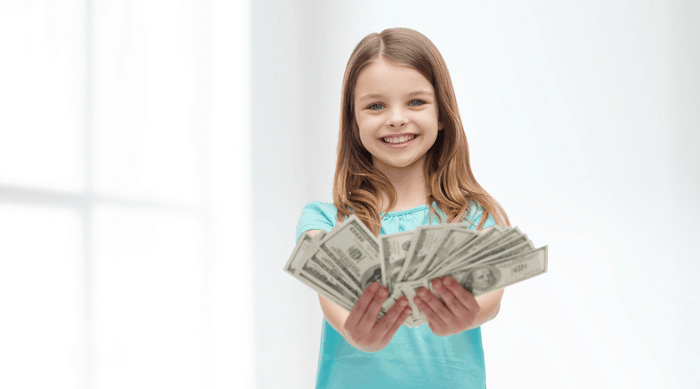 Welcome! Why I am posting personal finance on a food blog? I wrote this post before I decided to focus mainly on food blogging. I used to be a financial analyst and I'm also an finance geek at heart. I hope you find it useful.
This topic is very near and dear to my heart.  It's important for us, as parents, to teach our children about money – earning, saving, and spending.
My husband and I continue to have discussions with our six-year-old daughter to lay the groundwork for financial success.  We talk about working hard for our money, so we are able to pay for our house, food, clothes, and more.  And also encourage her to spend wisely and save for the future.  Which has been a challenge because she is a spender! 🙂
However, she recently told us that when she runs out of money, "I'll just ask my husband for more!"  That is not exactly what we have been trying to teach her.  We knew we needed to up our game.
I grew up with parents that urged me to get an education and earn for myself. And then if I am able to stay at home some point later on — then great. I want my daughter to do the same.
I've put together a list of my top ten ways to keep the money discussion going. And help our children build a really solid foundation.
Earn for themselves
When my daughter was very little, we didn't have a ton of money.  So as she got older and both my husband and I built our careers, we had more money to spend.  We'd buy her more during trips to the store because we could.  We soon learned that we needed to pull back on that habit, as she would expect something EVERY time we went shopping.  We knew things needed to change!
We started to encourage her to earn money around the house so she could see the value of money. And see how much work goes into each purchase.
I'm not a fan of giving an allowance, so we started a chore board.
We still buy her the necessities and fun things on special days. However, we try to encourage her to save money to buy what she wants. Or put items on her birthday or Christmas list.
1. Create a chore board.
We've developed a chore board with a card for each chore + money associated with each. If the bag is empty, it doesn't need to be done yet.
I think a good age to start this is 5 or 6. But you can adapt the chores to fit the age of the child.
Here is the supply list:
Chore cards (see printable download below!)
Magnetic whiteboard
Fun magnets
Plastic snack bags
Coins or dollars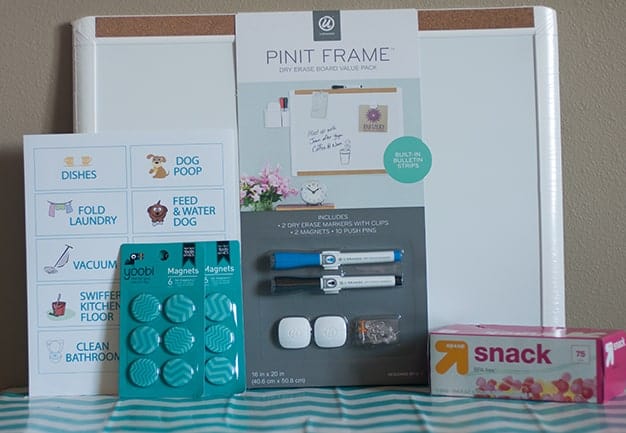 Download the free printable here.SaveSave
Print and cut out the chore cards, add money to the snack bags (if needed), and attach them to the whiteboard with a magnet.  Simple!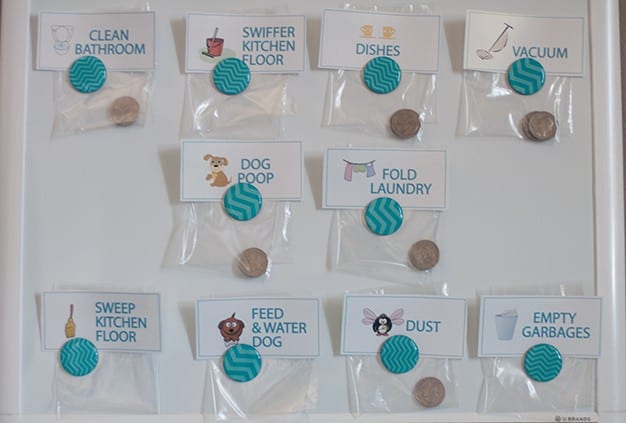 The hard part is keeping my toddler away from it — but that's another story! 🙂
2. Teach them about business.
This is one of my favorites.  We all have an entrepreneurial side. It's fun to teach kids a little bit about the business.
Let them know it's possible to be their own boss someday!

Pick a day (or multiple days) in the summer to have a lemonade and baked goods stand.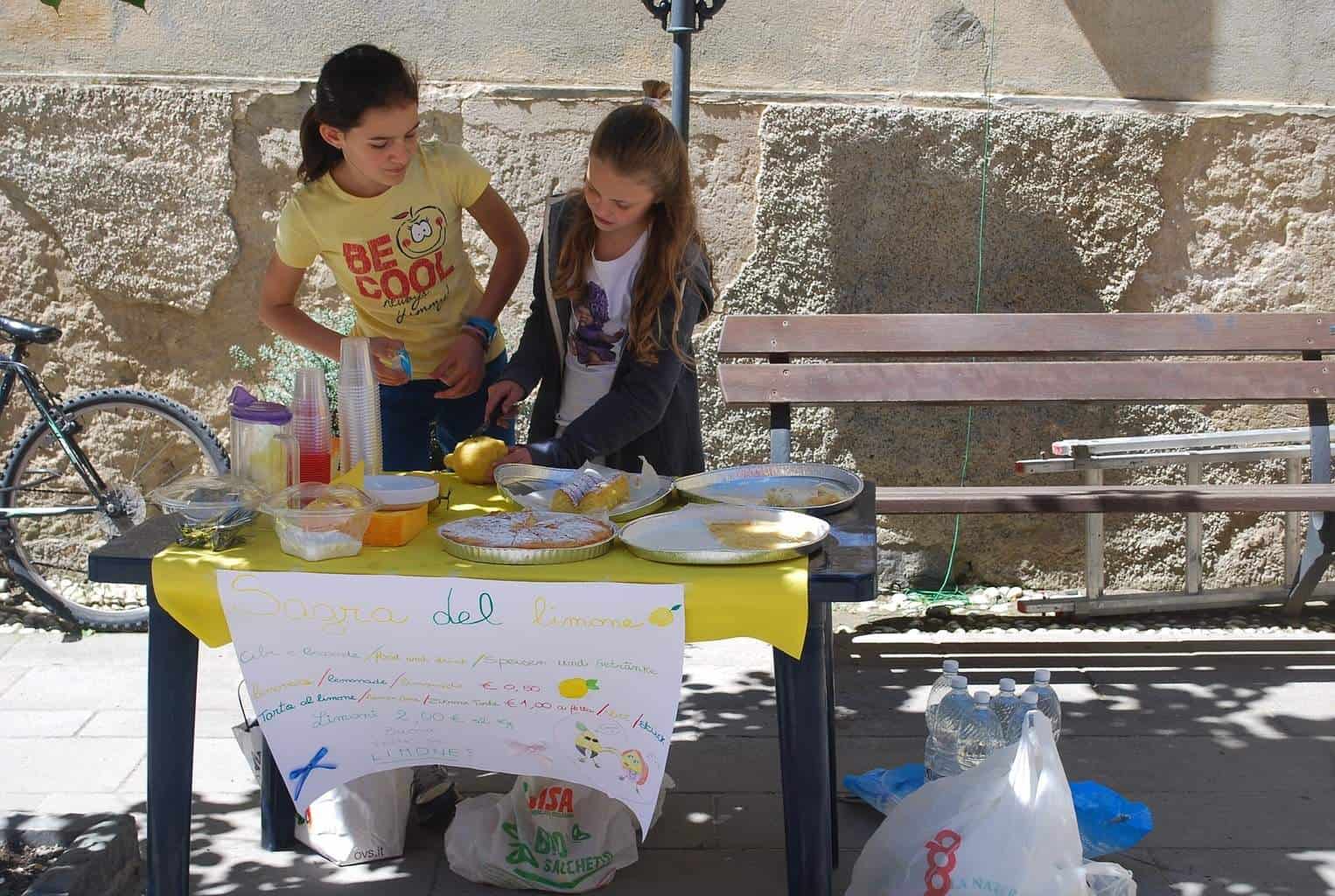 Explain to your child the expenses involved – signs, supplies, lemonade, and baking ingredients.
Together, set pricing for each item based on cost.
Then explain how many sales it will take to break even.  Celebrate the moment they achieve it.
And then talk about profit. How much did they make after expenses are covered?
Show them how to add on sales by offering extras.  For example, a brownie with lemonade. Or maybe a fun paper straw to go with the lemonade for an extra $0.25.
Update from June 4th – we did a lemonade stand this past week.  And I wanted to provide a "reality" update. 🙂  Sometimes, you can start the discussion about business, counting change, and talking about costs.  But it really is all about the fun.  And we gave plenty of lemonade to kids that didn't have their parents with them/didn't have any money with.  Many other kids from the neighborhood joined in.  They also sold rubber band bracelets they had made.  It was a lot of fun, and I'm sure they will remember it for a very long time. 
Other ideas – help them make jewelry or crafts and show them how to sell them online or at a craft fair.
If your child is a little older, they can start their own side business.  Mowing lawns, babysitting, pet sitting, and more.
Save for the future
3. Start saving when they're babies.
If you're planning the baby shower for a relative or friend, display a piggy bank and have guests add any spare change.
My family did this for my baby shower, and now my daughter has hundreds of dollars saved, and she is only 6!  But we won't tell her it's that much. 🙂
Another idea is to give a piggy bank as a welcome baby gift. If the baby has siblings, give one to their sibling as well.
Toddlers will love putting coins in. (Supervised, of course, so they won't swallow them!)
4. Together, designate a place for saving money and a place for spending money.

Designate a piggy bank that is for savings only. No draws out of that piggy bank allowed! Yet anyway.
Have a wallet or a special piggy bank to put spending money in.
You can even encourage the 50/50 rule. Save 50% of the money they earn and receive. And the other 50% can be for "fun" money.
My daughter's new favorite for her spending fund is the digital counter piggy bank.  She is tracking her money until she has enough for the Barbie she wants.
5. Start a college fund for them.

You can start a college fund for your child as soon as they are born. Or if you are a grandparent, you can start one for your grandchild!
I recommend doing your research and talking to your financial advisor about the best college fund option for you and your child (children). And make sure to discuss what types of fees are involved. For example, enrollment, administrative and maintenance fees.
We have 529 plans for both of our kids. Here are a few quick facts:
Enroll direct through a plan manager or financial advisor
Earnings are not subject to federal tax (and most not subject to state tax)
However, contributions are not deductible
Covers tuition, room & board, fees, books
If you withdraw money for expenses that are not qualified, you may be required to pay taxes and penalties
Here are a few links with more information:
There are other options:  Roth IRA, UGMA/UTMA, and more.  Compare plans here: Compare savings plans – by Saving for College.
Whichever option you choose, it's really convenient to set up an automatic withdrawal from your account. It can be monthly or quarterly.
6.  Start a retirement account for them.

Financial advisors will tell you to make sure you are on the right track with your retirement savings before saving for your kid's college education or retirement. Which I think is really good advice! Your kids will have more years to earn than you do.
Again, before you choose the type of account, research and talk to your financial advisor to find the best option for you.
My parents started a Roth IRA for my sisters and me when we were in high school. We plan to start one for our kids around the same time.
This is a good opportunity to talk to your kids about the importance of saving for retirement.
Here are a few links with more information:
Spend wisely today
7.  Encourage them to spend wisely.
I've touched on this a little already. We stopped buying something for my daughter every time we went to the store. And started to ask her to save the money or put it on her wish list.
You can also talk to your kids about finding good deals, using coupons, and not always buying name brands.
Another big one is going out to restaurants. Our family is still working on cutting back on eating out. It can save so much money!
8. Help them open and manage a checking account.

Help your child open a checking account (at an appropriate age, of course).  Teach them how to use the bank register.  Track the deposits and withdrawals.  And reconcile to each monthly bank statement.
And as my Dad would say – "just spend less than you put in!"
9. Talk to them about credit cards.
I have a feeling this will be a controversial topic. But I think it's important to talk to our kids about credit cards. They can be a good tool. Credit cards don't have to be bad!
You can recommend they open a credit card when they are of age. Encourage them to use it for day-to-day expenses. Paying off the balance each month. This can help them build their credit score.
It can also be a great lead-in to talk about interest rates.
Find a credit card with great rewards – cash back, hotel points, or miles.
10. Help them develop a personal finance forecast.

If you haven't already, check out my recent post Develop a Personal Financial Forecast.  We can teach our kids (maybe closer to teenage or young adults) to create a financial forecast too.  Planning for income, expenses, and incorporating savings into a forward-looking financial plan can be a very powerful tool!
Whew! Now that I've thrown a lot of information at you – stop by in the comments and let me know what steps you are taking to help prepare your kids for a solid financial future.
More Finance Articles
10 Ways to Prepare Our Children for Financial Success
Save