Teal Kitchen Tools & Gadgets You'll Love
This post may contain affiliate links. That means if you click and buy, we may receive a small commission (at zero cost to you). Please see our full disclosure policy for details.
Teal kitchen tools and gadgets you'll love. These gadgets also make great gift ideas. Birthdays, Christmas, Mother's Day, bridal showers and more.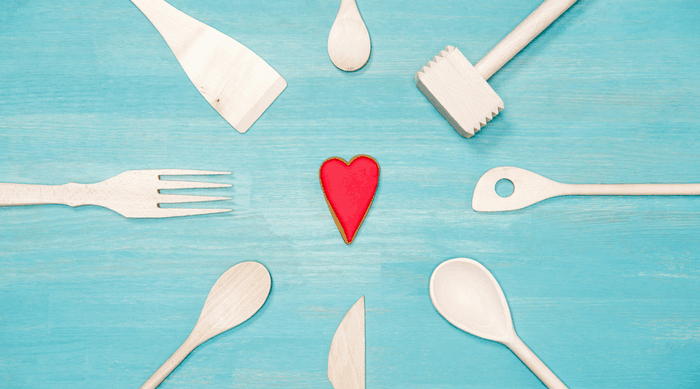 Welcome! This week I wanted to share something that makes me happy (and hopefully brings a little joy to you as well). A little teal love.
Here is a list of my favorite (or most wanted) teal kitchen gadgets and tools. In no particular order, except maybe for number one. Hope you enjoy!
This Kitchenaid mixer in seaglass one of my favorites because of the vibrant color and functionality. I don't have one yet, but it is definitely on my wish list. I've used my mother's and it is awesome for mixing frosting, cream cheese mints, batters and much more. LOVE it!
I have this slow cooker. It is beautiful in person. I have a smaller one that I love to use for shredded chicken or baked potatoes when I don't feel like turning the oven on! But this larger 7 quart cookier is awesome.
I received a clear version of this blender bottle for Christmas a few years ago, but didn't realize how cool it was. However, I recently started taking supplement shakes in the mornings. And this past weekend my sister and brother-in-law re-introduced me to this. So handy and much better than using a coffee mug and spoon. Plus I'll use as a water bottle. Three of these a day and I'm good on water intake.
You guys — the original post had teal ice molds, but they are not available right now. But there is just something really cool about making balls of ice. I can't explain it. My husband is obsessed. He tells me the trick to making them crystal clear is using hot water and then freezing. I have yet to prove this theory.
This may seem a bit odd to put on a kitchen gadgets and tools list. But ring holders come in handy when you are making hamburger patties or forming cake pops and you need a safe place to put your rings!
I love this shade of teal. Plus the knife block is so compact and won't take up a large amount of space.
We love our cupcake maker. And our daughter loves to help. Our family favorite is making the cherry chip boxed cake mix + cherry chip frosting. A cupcake maker somehow makes it a little more fun to bake together.
I received this bamboo bowl for my birthday. And I love it! I was afraid the light bamboo on the inside would stain easily, but it doesn't. I've made our family favorite taco salad with Catalina dressing and it washed out just fine.
This liquid measuring cup in teal just makes me happy. Sometimes I try to cheat on measuring liquids, but this beautiful measuring cup encourages me to measure liquids properly. 🙂
Stainless steel measuring cups and spoons. This set has engraved measurements so they won't wear off with time. They're dishwasher safe which means their easy to clean.
I'll be on the look-out for more favorites and keep this list updated. Please leave a comment if you have a favorite. Thanks for stopping by!
Check out these popular recipes: