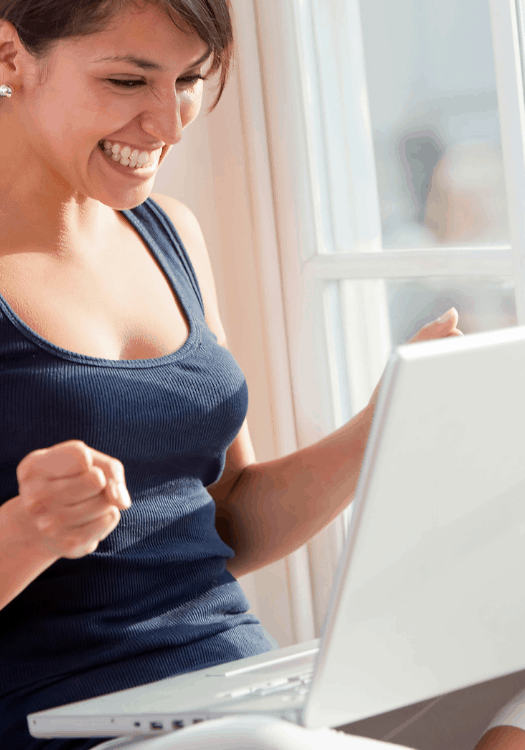 Welcome!  Today I'm sharing a post on the importance of tracking net worth. It can be really eye-opening to track and can give you plenty of motivation to improve your financial position.
Maybe I should start with this – have you heard a lot of hype about net worth lately?  It seems like I read about it more and more now.  It may be because I am new to blogging and have found a wealth of information in the process.  We typically hear net worth in relation to billionaires and celebrities, but it's important to track our own net worth and I'll talk about why in a little bit.
I recently shared a Financial To-Do List by Suze Orman on the Tealmama Facebook page.  Item #1 is track your spending.  Develop a Personal Finance Forecast is one of the first posts I shared, which shows you exactly how to document and track your spending, as well as forecast and maintain a forward-looking financial plan.  It's very similar to a business income statement but simpler.  Item #2 in Suze Orman's article is calculate your net worth.  It's the same principle as a business balance sheet, but again more basic.
Remember, personal finance doesn't have to be complicated.  An industrial engineer at my prior job used to say all the time — "K.I.S.S or Keep It Simple Smartie."  (Okay, I changed the last word, but I'm all about keeping things positive.)  So let's talk net worth – and keep it simple.
Quick Overview
What is net worth?
Why does net worth matter?
How do I calculate net worth?
How do I track net worth over time? Including an excel template download.
More resources on net worth.
What is net worth?
Net worth is essentially the balance sheet of personal finance.  Assets (cash, physical goods, and investments) less liabilities (debt) = net worth.
Why does net worth matter?
Tracking your net worth matters for a multitude of reasons.  Here are just a few of the big ones:
Reality check.
You may not realize how much debt you have until you stack it on end and compare it to your assets.  Calculating and tracking your net worth will provide a reality check.  It may surprise you and even prompt you to make some changes to improve your financial position.
Set and achieve personal financial goals. 
To me, this is by far the most important reason.  If you don't know where point A is, how are you going to get to point B?  Formally tracking our net worth is something we just recently started doing.  And you know what? I wish we would have started sooner.  Reviewing our financial position on a regular basis will give us insight into making smarter financial decisions, as well as giving us a starting point to set goals and measure them on a regular basis.  It's more than tracking money in and out.  It's about building wealth for the reasons that are most important to us — financial freedom, retirement and more.
One of the many great things about blogging is the network you build and what you can learn from that network.  I've recently started following The Green Swan.  A blog by JW Brooks to "Work Harder, Work Smarter, Retire Earlier and Find Your Beach."  JW has some inspiring articles on net worth that I find fascinating.  In Net Worth Explosion, JW shows the climb he and his wife made from $60K to over $1M in net worth over the past 10 years.  And officially announced they are now part of the million dollar club in April of this year.  How awesome is that?  Especially considering he is 30 and targeting retirement by age 40.
It's inspired me to work on a plan for my husband and I to also achieve $1M in net worth.  It's going to take time, but I am confident that by tracking our net worth and developing a plan, we can achieve it within 7-10 years.  I'll keep you posted on the plan. 🙂
Use it for estate planning.
Having all of your financial information gathered in one place will help when you are estate planning. We're going through this process right now and it has been really helpful.
How to calculate net worth
Calculate net worth by taking the total value of all assets less all debts.  Pretty simple concept.  The time-consuming part is gathering all the data!
Track net worth over time
There are many tools you can use to track your net worth over time.  My tool of choice is Microsoft Excel.  I am a major Excel geek though.  I used it so much as a finance analyst.  Even though we tried to get away from using Excel with numerous systems, we would always use it in some form or fashion due to its functionality. 🙂
I've recently signed up for Personal Capital which you can also use to track net worth if you're comfortable providing links to all of your financial accounts.  For some reason, I still prefer Microsoft Excel, but that may change the more I use Personal Capital.
Template Download
If you choose to also go the Microsoft Excel route, I've created a tracking template that goes hand-in-hand with the personal finance forecast template.  Download here.Save
Populating the Template
Start by making a list of all of the things you own – cash, home, investments such as 401Ks, IRAs, 529s, stocks, vehicle, and valuables.  Add them to the asset section of the spreadsheet and fill in the values in the appropriate month's column.  You may need to do some digging on your statements to find the current value for your investments.
Next make a list of everything you owe in debt – credit cards, student loans, mortgage, auto loans, etc.  Add all items to the debt section of the spreadsheet and fill in current debt amounts in the current month's column.  Again, you may need to look up current balances.
The spreadsheet will calculate net worth. Here's a very basic example (on the Example tab of the spreadsheet provided in the download).
*Please note this does not represent my financial information, it's a basic example only.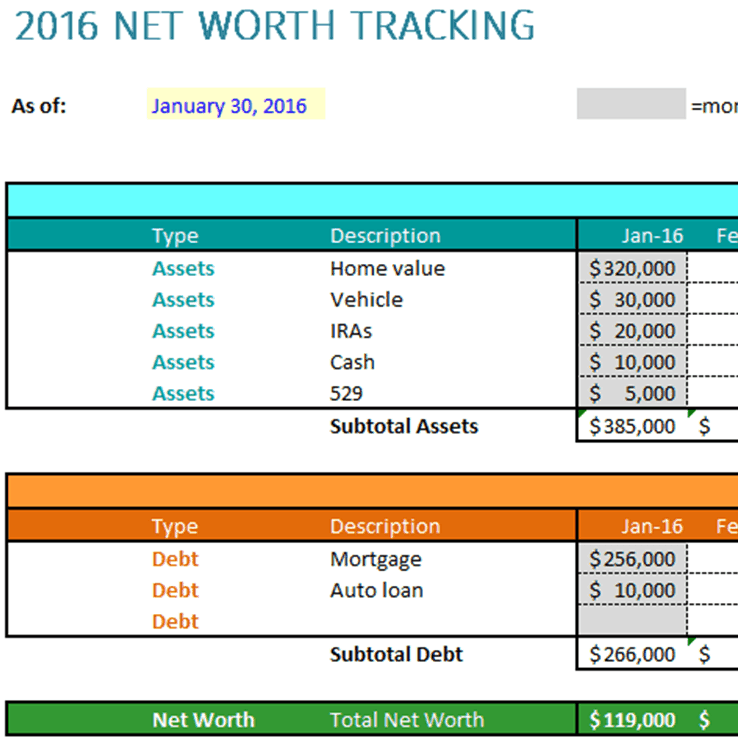 Now that you know your net worth, what's next?  Do you like what you see? Decide how often you'll track it.  Maybe you'd like to look at it quarterly instead of monthly – completely up to you.  But whatever you decide, keep it updated and use it as a tool to meet your goals. Determine where you would like to be 5 to 10 years from now and develop a plan to get there.  Like I said, I'll be working on our million dollar club plan and I plan to keep you posted.
Additional Resources
Here are some great articles on net worth.  It's always good to have multiple perspectives in my opinion.  I'll keep this section updated as I find more.
In the comments, please stop by and say hi.  Do you track your net worth? What is your net worth goal?
Related posts to check out:
Save