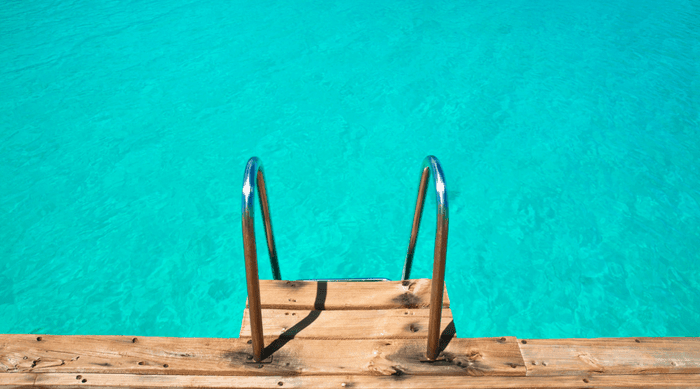 Welcome!  I'm at the very beginning of my work from home journey.  And today I'll be explaining what led this major life decision.
But first I'd like to note, I am normally a pretty private person.  So the thought of blogging at first made my stomach churn.  But as the saying goes – "Life begins at the end of your comfort zone."  -Neale Donald Walsch.  And if I can share my story along the way and inspire someone to take a (calculated) risk like I have, my job is done (or at least in motion). 🙂

Why I Took the Plunge & Started Working from Home
As I've mentioned on my about me page, I recently left my 9-5 finance analyst job to start a new adventure working from home.  This is something I have been contemplating for several years now.  The job I left was so good – I felt crazy leaving.
I had amazing co-workers.  We had been through an acquisition and integration together.  The people I worked with became a second family.  They are some of the smartest people I will ever work with.  And working at home — you lose the personal interaction and relationships you build face-to-face.
My salary had more than doubled since I started.  I moved from data control to business operations to financial planning.  And my salary would only continue to grow with good performance and opportunities for advancement.
I was receiving $20K+ in benefits.  When I decided to leave, I found out that to extend health insurance through Cobra would be $1600 per month (what?! that's more than our mortgage payment!).  I was paying $0 for health insurance premiums as an employee! And the company paid $1200 annually into my health savings account.   They automatically contributed 3% of my salary to a voluntary investment plan (retirement savings).  AND would match half of my contribution up to 5%. Not to mention other benefits – life insurance, disability, etc.
I had free access to continued learning.  I participated in many training courses and workshops in which I gained valuable skills in leadership, project management, lean manufacturing and more.  Now it will be up to me and on my dime to continue growing my skills.
Yep! Writing this list still makes me wonder – what did I do!! 🙂  Who's ready to apply?

Why I Needed a Change
As soon as my husband signed on as an independent contractor selling automotive equipment back in 2011 – we made his job a priority.  He had great earning potential.  It was an opportunity that doesn't come along very often.  It provided him with more flexibility than a typical 9-5, but required him to travel a lot.
This meant I was a "single mother" on average 3-5 days a week.  I eventually started to struggle with the requirements of my traditional job.  Before and during the acquisition I was able to work from home during the evenings.  This was my saving grace.  However, policies eventually changed and working from home was no longer allowed.  During business plans (our peak overtime season four times a year)  I  often hired a babysitter to go into the office — it didn't make sense.
I pulled back from the management pool because it wasn't going to work with my circumstances.
I had major anxiety about not being able to support my job whenever needed.  (Granted this didn't happen often). But, there were times I had to say no – family comes first.
I felt guilty for staying home when my children were sick (especially if it was during a business plan) – no mother should ever have to feel guilty about taking care of her children.
With all this being said, I am so grateful for the experience.  I learned so much and this job allowed my husband and I to build a very solid financial foundation.
Opportunity Knocked, I Answered
In April 2015, my husband was presented with an opportunity to increase his scope of work and earning potential in a new territory.  This required us to relocate.  Here was my window of opportunity!
I gave several months notice, helped hire and train my replacements prior to leaving.  (I believe in never burning bridges – who knows I may want/need to go back).  I realized my favorite part of the job was documenting processes and being a resource for the new analysts.  One of the main reasons I wanted to start a blog – I enjoy helping others and sharing knowledge.
Decision Time
I applied and interviewed for another finance analyst job in the town we were moving to.  Similar job, pay, and benefits.  I would have worked for a wonderful manager.  In the back of my mind I kept thinking — if I don't try to venture out on my own now — I'm not sure I ever will.
I was then approached by my prior employer to work remotely to continue training my replacements.  This gave us a little extra cushion during the moving process and a little extra time to plan.
Some people say – if you don't do it now, you may never do it.  Salesmen use this line all the time and it irritates me.  I disagree – there is a right time!  This big leap required us to be in a good place financially and take a calculated risk – with a plan.  Working from home would have never worked for my family five years ago. We were working on building our family's financial security.
I am a realist.  Working from home will not magically make money overnight.  It's going to take a lot of planning and hard work.  I plan to keep you posted along the way!
My Advice
Make the leap you have been wanting to make – when the time is right for you!  With solid planning, you can make it happen.
In the comments, let me know what your big change will be.  Is your plan in motion?
Be sure to check out a related post – Preparing to Work from Home