Discover the best foodie gift ideas on Amazon. Perfect for the foodie on your Christmas shopping list. Gift ideas for Mom, Dad, the kids and more. Shop these foodie gift ideas by clicking on the images or links.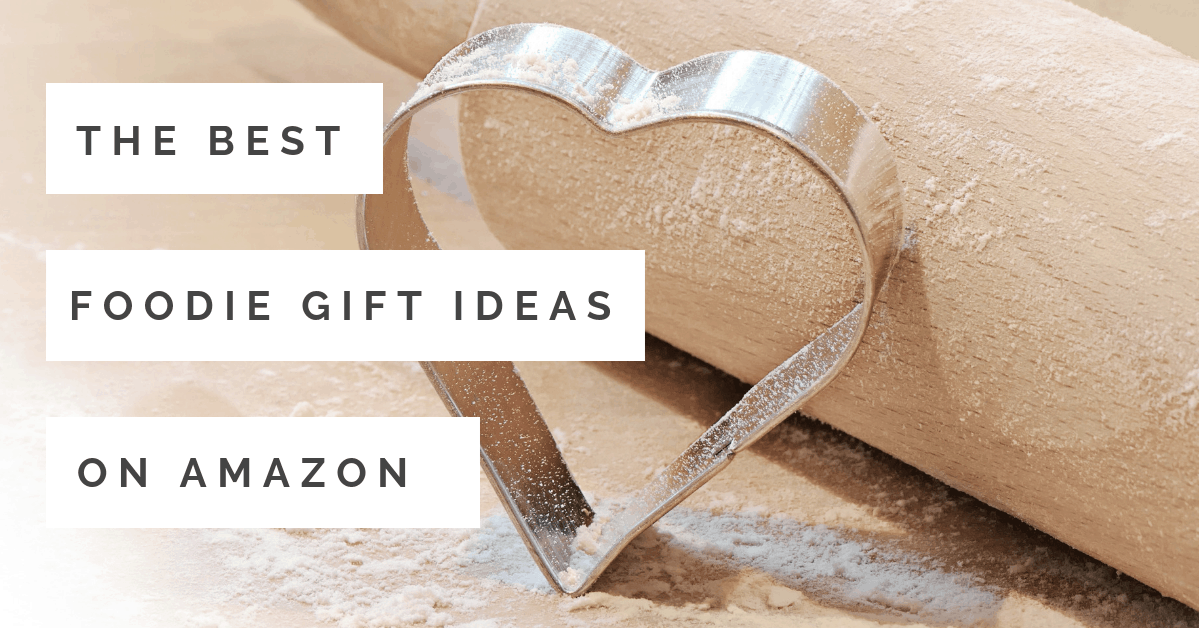 Hey there! Twenty-seven days and counting until Christmas. Can you believe it? I'm just starting to make lists for my Christmas shopping.
I like to enjoy Halloween and Thanksgiving before even thinking about Christmastime. So I wait to shop, decorate, and start any Christmas baking until after Thanksgiving.
I'd love to hear in the comments if you start buying early for Christmas or if you're a last minute shopper. I have an aunt that is done shopping by July.
I do a lot of shopping on Amazon. I love the two day Prime shipping. And I'll let you in on a few hacks too. A great way to discover unique, fun gifts is to use the "Explore" pages Amazon releases around the holidays. The explore feed has single gift ideas. But it also has curated groupings of ideas. For example, fun finds for kids in the kitchen.
The second hack is to check Amazon coupons page. You might find a great deal and a great gift idea at the same time.
Here are some of the best foodie gift ideas on Amazon. I'm eyeing the frozen dessert maker and the whip cream dispenser. What are your favorites?
25 of the Best Foodie Gift Ideas on Amazon
#1
Lodge Pro-Grid Cast Iron Grill and Griddle Combo
Turn any stove-top into a luxury grill with this cast iron grill top. You can flip between the griddle and grill to create a perfect surface for grilling steaks or creating a morning pancake breakfast. It's excellent for campfires too!
#2
12″ BBQ Basting Mops for Roasting or Grilling – Pack of 2
These tiny mops look cute and function well to distribute sauces and marinades to get ready for an afternoon of grilling or getting the last minute touches on your roast before sending it into the oven.
#3

GRILLART Grill Brush Bristle Free 
This bristle free brush is a fantastic addition to any arsenal of grilling tools. It can also be used to clean cast iron, ceramic, or steel. The design keeps any bristles from falling off onto the grill and provides a safe way to get even the toughest surface sparkling.
#4

Breville BSM600SILUSC Smoking Gun Food Smoker
The smoking gun is the premium hand-held device to add smoky flavor to your favorite dishes. Use it for meats, veggies, herbs, spices, popcorn, or ice cream. You can even use it to create smoky cocktails such as a smoked old-fashioned or a delicious smoked iced coffee. The gun uses woodchips available in 2 oz varieties such as hickory, mesquite, applewood, and cherry wood.
#5

Whiskey Decanter Set (30oz) with nice Gift Box  – Globe Decanter for Scotch or Liquor  
Most decanters are pretty to look at, but this globe decanter takes it to a new level of fun and creates an attractive centerpiece for any bar or countertop. It also includes a set of globe themed glasses, whiskey ice stones, and funnel.
#6
100% Natural Bamboo Cheese Board and Cutlery Set with Slide-out Drawer
This cheese board is a classy way to present your favorite cheese plate. The hidden sliding drawer holds four utensils perfect for serving.  The sides have a beveled spot to showcase crackers and meats.
#7
 Coravin Model Two Plus Pack Wine Preservation System
If your foodie friends live for a delicious glass of cab, this is the ultimate gift for wine lovers. It utilizes argon gas to preserve wine while extracting a glass at a time. This is an excellent addition for the wine aficionados in your life.
#8

Anova Culinary Joule Sous Vide Precision Cooker

For the aspiring chef or any foodie that's into the science of cooking with tech, this circulator is a smart choice. The app shows exact temperatures and cooking times and will keep entrees at an even temperature throughout cooking for a flavorful experience. The app will also alert you when dinner is ready if you are in another room.
#9
8″ Hardwood Tortilla Press (Red Oak and Walnut)
Taco night is about to get tastier with homemade tortillas using this stylish red oak and walnut press. Each press is hand-crafted in Santa Maria, CA. Artisanal tortillas will be easy to make any night of the week.
#10
Need unique stocking stuffers? Check out this lip balm with a bite. These spirit inspired balms are made with fresh ingredients such as vitamin E, cocoa butter, shea butter, Aloe Butter, hemp oil, beeswax, zinc oxide. A fun treat for your lips that will not clash with your cocktail and with flavors like bourbon, margarita, and Moscow mule both men and women can enjoy them.
#11
ThermoPro Wireless Remote Digital Cooking Meat Thermometer
Digital thermometers have come a long way. Now you can remotely monitor your food when grilling or cooking in the oven. The two digital probes can be set to measure both the oven or grill and the temp of meat to ensure proper cooking.  With the timer function, you never have to worry about overcooking.
#12
Hydracy Fruit Infuser Water Bottle – 32 Oz Sports Bottle
For avid foodies, some refreshment on-the-go can be simple with this fruit infuser water bottle. It comes with recipes to get started and create a drinkable beverage for hydration on trips to the gym, outdoor activities, or even just a day at the office.
#13

Cuisinart Venture Portable Gas Grill
Why not take a great meal into the outdoors? For the perfect bbq wherever you want it, this compact little grill is handy for all occasions. The closing lid doubles as a cutting board making it super easy to prepare veggies and other snacks while you're out.
#14

Click & Grow Smart Garden 3 Indoor Gardening Kit (Includes Basil Capsules)
Smart gardens are a fun addition to any kitchen. For someone who loves to cook, this is a simple way to provide fresh daily access to herbs. With a water reservoir that holds a month-long supply, the watering is automated. The pre-seeded pods are already equipped with soil and ready to grow under the LED light.
#15

Kyocera Advanced Ceramics – Revolution Series 3-Piece Ceramic Knife Set: Includes 6-inch Chef's Knife; 5-inch Micro Serrated Knife; and 3-inch Paring Knife
Ceramic blades stay sharp longer than steel and are great for chopping. The lightweight feel creates an effortless cutting experience. They also look great as they will not rust since they are metal free.
#16

John Boos 10x10x2″ Mezzaluna Herb Board w/Stainless Steel Rocker Knife
Mincing herbs is easy with the stainless steel rocker knife. The innovative design allows you to cut herbs like a pro without using a chef style rocking technique which can be tricky if you a new to it. It's good to have on hand since its maple wood appearance adds character to any countertop.
#17
Egg Poacher – COZILIFE Silicone Egg Poaching Cups with Build-in Ring Standers, Pack of 4
Poaching an egg is surprisingly tricky for a novice. The vinegar in the water trick is helpful, but sometimes you need a guide to craft a perfect soft boiled egg for breakfast delight. The silicone poachers will poach the eggs and to the perfect consistency every time.
#18

Gourmia Healthy Frozen Dessert Maker, Makes Sorbet
Sorbet is now on demand with the frozen dessert maker. Combine frozen fruits to create a luxurious sorbet in minutes. It's a healthy alternative to ice cream makers and cost-effective for creating delicious desserts.
#19

Professional Aluminum Whipped Cream Dispenser
Whipped cream makes any dessert. With this customizable whipper, you can create your whipped topping such as mascarpone cream, jellies, or vanilla bean whip. It is a fun chance to get creative in your designs with an option to add different tips. It makes decorating cupcakes a breeze!
#20

Sleek Adjustable Butane Torch By inZaynity
Everybody loves a fun torch in the kitchen. Delight your foodie's inner pyro with a sleek looking zinc and Kirstie alloy that looks great and has a nice feel in hand. The flame adjusts to different sizes and temperatures to give a wide range of options.
#21

Wildwood Grilling Wood Grilling Plank Variety Pack + Recipe e-Book
Capture the best alder smoked flavor for salmon or make a plank grilled kebab with this six-pack of wood from Wildwood. They are good to have stashed to impress visiting houseguests and amp up a meal. The variety pack has several different types to pair with dishes and a recipe book to get you started.
#22

 Utopia Kitchen Stainless Steel Compost Bin for Kitchen Countertop
For eco-conscious foodies that like to garden, this handy compost bin uses a charcoal filter to trap in smells and can be conveniently placed in your kitchen for holding leftover scraps. Cleanup is easy with a quick soak in dish soap and warm water to clean the filter.
#23

Butter Paddles to Make Homemade Butter and Gnocchi
If you ever wanted to create butter from scratch, you can do it with ease with this paddle set. They can also be used to make homemade gnocchi. Better yet make them both, and you will be set up for delicious buttery gnocchi. Pair with a glass of wine and you have a meal that's as fun to make as it is to eat.
#24

Hand Crafted End Grain Cutting Board with Bark Made
Create a lodge feel on your countertop with this nice round cutting board with bark. At 16x16x1 inch the board is a large enough size to handle any prep work. It also looks good as an appetizer plate that functions well for entertaining guests.
#25

Copper Pressurized Growler for Craft Beer
For the ultimate craft beer experience to delight any foodie with a love of brew, the uKeg 64oz pressurized growler is an instant classic. The uKeg keeps beer tasty and carbonated for up to 2 weeks. The Vacuum insulated 18/8 stainless steel keeps your ale cold all day while the sophisticated copper keeps a touch of old-timey fun that looks classy. Personalize it even more by adding a different keg handle.
Bonus

Stanley Classic Vacuum Insulated Growler
Stanley has been around since grandpa's day. The name you trust for a great thermos now also makes a portable growler — a nice touch for anyone loving a cold brew. The steel inner lid creates a seal without any contact to plastic for fresh tasting beer.
I hope you've found perfect gift ideas for the foodies on your list.
Here are a few more great foodie gift idea lists for you to check out:
The Best Gifts for Foodies – Travel & Leisure
The Best Gifts for Foodies in 2019 – Gear Patrol
Also, check out our Gift Guide for Teal Lovers and Gift Ideas for Toddlers.
Merry Christmas and a Happy New Year!