30+ delicious crunchy salad toppings to spice up your salad game. ♡ From nuts and seeds to veggies and cheese crisps, there is something for everyone.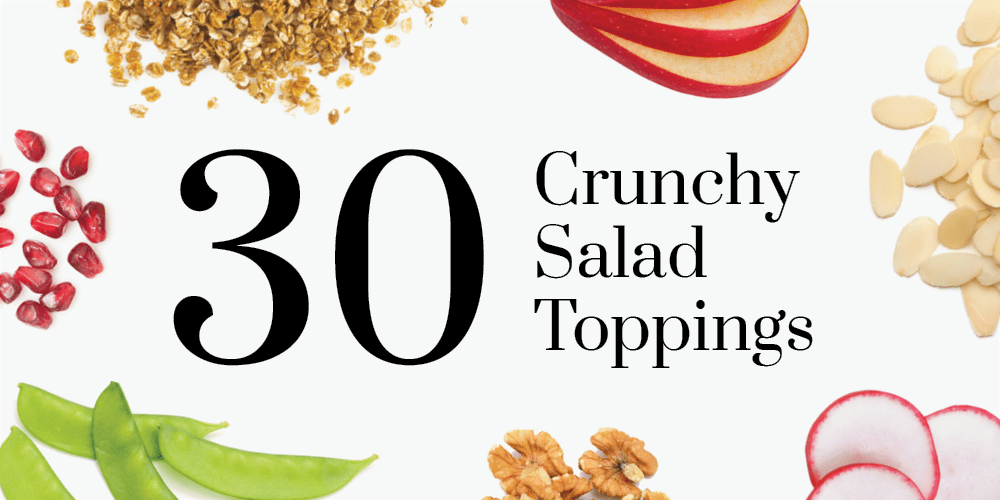 We all know that salads are good for us, but they can get boring after a while. There are only so many times you want to eat the same old lettuce and veggies in your salad before it gets old. Let us help with some salad topping inspiration.
Crunchy toppings add so much in flavor, texture, and nutrition to your salad! Here are some mouthwatering crunchy toppers for you to try.
Find What You're Looking for:
Crunchy Salad Topping Ideas – Detailed
Here's why we love each topping choice, the health benefits, different variations to try, and the salads these toppings are great in.
*We are not health experts. Please consult your nutritionist for information regarding your health and diet. The Health benefits mentioned are meant to be a quick reference only.

#1 Sliced Almonds
Sliced almonds are a popular salad topping. They are tasty, nutritious, and look so appealing on top of lettuce or spinach.
Also try: slivered almonds, honey-roasted, candied almonds
Favorite salads with sliced almonds: romaine or spinach berry salads and Asian chicken salad. We use sliced almonds in our berry poppyseed salad. Find the recipe here.
Health benefits: rich in vitamin E, antioxidants, and magnesium and can help with blood sugar and lower cholesterol levels
#2 Cashews
Just talking about cashews makes me want to whip up an oriental chicken salad. They're yummy with greens, chicken, mandarin oranges, and oriental dressing,
Also try

: lightly salted or roasted cashews

Favorite salads with cashews: oriental chicken salad, cranberry spinach salad
Health benefits: high in healthy fats, fiber, antioxidants, and low in sugar
#3 Candied Pecans
A little sweet, a little savory—candied pecans are an excellent choice to jazz up your salad and a favorite on harvest salads.
Also try

: chopped, halved, or whole pecans

Favorite salads with pecans: autumn or harvest salads with apples or pears and gorgonzola
Health benefits: healthy fats, magnesium, potassium, and calcium
#4 Peanuts
Peanuts are a classic crunchy topping and a healthy choice you can feel great about adding to your salad.
Also try

: roasted peanuts, honey roasted

Favorite salads with peanuts: crunchy Thai peanut salad, cucumber salad
Health benefits: rich in healthy fats, fiber, and protein

#5 Walnuts
Walnuts are highly nutritious and delectable crunchy salad toppers.
Also try: candied walnuts, halved or whole, toasted walnuts
Favorite salads with walnuts: apple walnut salad, cranberry walnut feta salad
Health benefits: rich in omega-3 fats, antioxidants, good for brain and heart health
#6 Pistachios
Do a quick google search for pistachio salad, and you'll likely find the popular dessert salad. But pistachios are an excellent healthy topping for a leafy green salad.
Also try

: salted pistachios, pistachio dressing

Favorite salads with pistachios: pistachio strawberry salad, grapefruit, and kale
Health benefits: lower in calories but high in protein and antioxidants
#7 Pine Nuts
Pine nuts are often overlooked for salads, but they are so tasteful. Fun fact—pine nuts are not actually nuts but edible seeds from pine trees.
Also try

: toasted pine nuts

Favorite salads with pine nuts: spinach and lettuce salads with avocado and quinoa salads. We use pine nuts in our avocado pine nut salad. Check out the recipe here.
Health benefits: high in protein and good fat, plus full of iron, magnesium, antioxidants
#8 Sunflower Seeds
Sunflower seeds are a popular salad topping and a great addition to your diet as they are high in nutrition.
Also try

: baked ranch, maple roasted

Favorite salads with sunflower seeds: broccoli salad, cranberry citrus salad
Health benefits: loaded with vitamin E and antioxidants
#9 Pumpkin Seeds
Whether you roast your own or buy from the store, pumpkin seeds are a savory topper for fall/pumpkin season or year-round. To make them at home, simply roast with olive oil and sea salt.
Also try

: toasted, green, chopped

Favorite salads with pumpkin seeds: spinach and avocado
Health benefits: wonderful source of zinc, vitamins, and minerals

#10 Roasted Chickpeas
Roasted chickpeas are a crispy and protein-rich addition to your salad bowl. Easily roast them at home with olive oil and salt.
Also try

: spicy roasted, balsamic roasted

Favorite salads with chickpeas: Mediterranean salad, garlic kale, Caesar salad
Health benefits: high in dietary fiber, good for bone health, blood sugar, heart health
#11 Grape Nuts
A unique salad topping, you'll love the flavor and texture of grape nuts. Pairs perfectly with a leafy green salad and pears.
Also try: Fiber One cereal
Favorite salads with grape nuts: pear and gorgonzola salad, chicken salad
Health benefits: high fiber cereal

#12 Granola
Not just for breakfast, granola adds a delightful texture and flavor to your salad.
Also try: crushed granola bars
Favorite salads with granola: strawberry spinach, pomegranate with leafy greens
Health benefits: high in protein, fiber, and nutrients
#13 Crispy Quinoa
Add a healthy, protein-loaded crunch to your salads with crispy quinoa. It's simple to make, just cook your quinoa as usual and then broil to crisp.
Also try: quinoa crispies with truffle salt
Favorite salads with quinoa: quinoa salad, citrus salad with spring lettuce
Health benefits: high in fiber and plant-based protein

#14 Crushed Tortilla Chips
Nothing beats the crunch of tortilla chips. Try different varieties—blue corn chips, cool ranch, or cheesy tortilla chips—crushed and sprinkled on top.
Also try: regular Doritos, taco flavored
Favorite salads with tortilla chips: taco salad, bbq chicken salad
Health benefits: calcium, zinc, magnesium, iron, but watch sodium and calorie content
#15 Tortilla Strips
Similar to tortilla chips, tortilla strips are just as tasty but premade in bite-sized pieces.
Also try: homemade tortilla strips, tri-color
Favorite salads with tortilla strips: taco salad, southwest chipotle
Health benefits: calcium, zinc, magnesium, and iron
#16 Chow Mein Noodles
A must for any Asian/Chinese-inspired salad. Chow mein noodles add the perfect crunch.
Also try: wide chow mein noodles
Favorite salads with chow mein noodles: Asian chicken salad, chow mein salad
Health benefits: a source of protein and carbohydrates, watch sodium and calories
#17 French Fried Onions
Although French fried onions may be lower on the list of healthy options, they can add a crunchy, savory spark to your greens.
Also try: homemade fried onions
Favorite salads with fried onions: bbq chicken or brisket salad, gorgonzola steak salad
Health benefits: watch calories and saturated fats
#18 Croutons
Yes, croutons are a classic salad topper, but you can mix things up and use garlic croutons, mini croutons, rye of brown bread croutons.
Also try: homemade croutons
Favorite salads with croutons: Caesar salad, Greek salad
Health benefits: source of carbohydrates

#19 Radishes
Radishes are the perfect choice if you are looking for something zesty and crisp. Depending on the variety of radish, they can be spicy.
Also try: sliced, roasted
Favorite salads with radishes: green garden salad
Health benefits: high in antioxidants, source of nitrates
#20 Water Chestnuts
Water chestnuts add a mild flavor, but unique texture to dishes and salads.
Also try: fresh or canned, sliced, chopped
Favorite salads with water chestnuts: broccoli salad, 7 layer salad
Health benefits: rich in fiber, low in calories, and no fat
#21 Celery
Crisp yet juicy at the same time, celery will add snap and texture to any salad.
Also try: marinated celery, chopped, sliced, or diagonal celery, celery leaves
Favorite salads with celery: shoestring salad, Waldorf salad
Health benefits: contains antioxidants and anti-inflammatory compounds

#22 Baby Corn
Add baby corn in whole pieces or chunks to your greens for a sweet, crunchy yet soft taste.
Also try: fresh 'cornlettes' if you can find them
Favorite salads with baby corn: cobb salad
Health benefits: contains fiber, zinc, calcium, and iron
#23 Broccoli
Broccoli is so versatile—it can be its own salad base or sliced and chopped to use as a topper.
Also try: lightly blanching the broccoli
Favorite salads with broccoli: broccoli salad with raisins and sunflower seeds
Health benefits: known to be a superfood with countless benefits
#24 Sugar Snap Peas
Add whole pods of sugar snap peas to your salad for a very sweet and juicy flavor.
Also try

: snow peas, garden peas

Favorite salads with sugar snap peas: garden salads
Health benefits: full or fiber and an excellent source of vitamin K for bone health
#25 Cauliflower
More than just a dipping vegetable, cauliflower is perfect for your bowl of greens too.
Also try: chop or pull into tiny florets
Favorite salads with cauliflower: cauliflower ranch salad, garden salad
Health benefits: full of antioxidants and heart-healthy

#26 Apples
So simple yet so delicious, apples add a sweet or tart crispness depending on the type of apple you choose.
Also try

: sliced

, chopped, honey crisp, pink lady, fuji, jazz
Favorite salads with apples: apple and walnut salad, apple spinach salad
Health benefits: hearty healthy and full of soluble fiber for lower cholesterol
#27 Pears
Light and crisp, pears are a divine addition to your greens. You can use almost any type of pear (Anjou, Asian, Bosc, Bartlett, Comice, Gold, Kaiser, etc.).
Also try

: thinly sliced, chopped, caramelized pears

Favorite salads with pears: pear, gorgonzola, and walnut salad or any autumn salad
Health benefits: high in antioxidants, vitamin C, vitamin K

#28 Pomegranate Seeds
Pomegranate seeds not only taste great but look beautiful on any salad. They're perfect for fall or Christmas salads.
Also try

: pomegranate dressing

Favorite salads with pomegranate seeds: baby greens, pecans, gorgonzola, or any salad during autumn or winter
Health benefits: rich in fiber, antioxidants, and fatty acids
#29 Parmesan Crisps
Cheesy and crispy, parmesan crisps make an excellent salad topping. You can make homemade crisps or buy them at the grocery store. Carefully break the crisps apart and sprinkle on.
Also try

: Asiago or aged cheddar crisps

Favorite salads with parmesan crisps: Caesar salad, apple spinach salad
Health benefits: source of calcium and protein for bone, muscle, teeth, and skin health
#30 Crispy Bacon
Bacon! Need we say more… bacon is always a good idea. It adds so much flavor to your salad.
Also try

: candied bacon, smoked, turkey bacon

Favorite salads with bacon: cobb salad, BLT chopped salad
Health benefits: high in protein, but watch the higher saturated fat content and calories
Final Thoughts
After reading this article, we hope you feel inspired to try some new crunchy salad topping combinations. We also hope that with the help of our suggestions and a little creativity, your salads will be more exciting and healthier than ever!
Do you have any favorite salad toppings? What are they? Let us know in the comments below or on social media by tagging @NorthernYum.
Salad Recipes You'll Love
Other Delicious Topping Ideas
Pin for later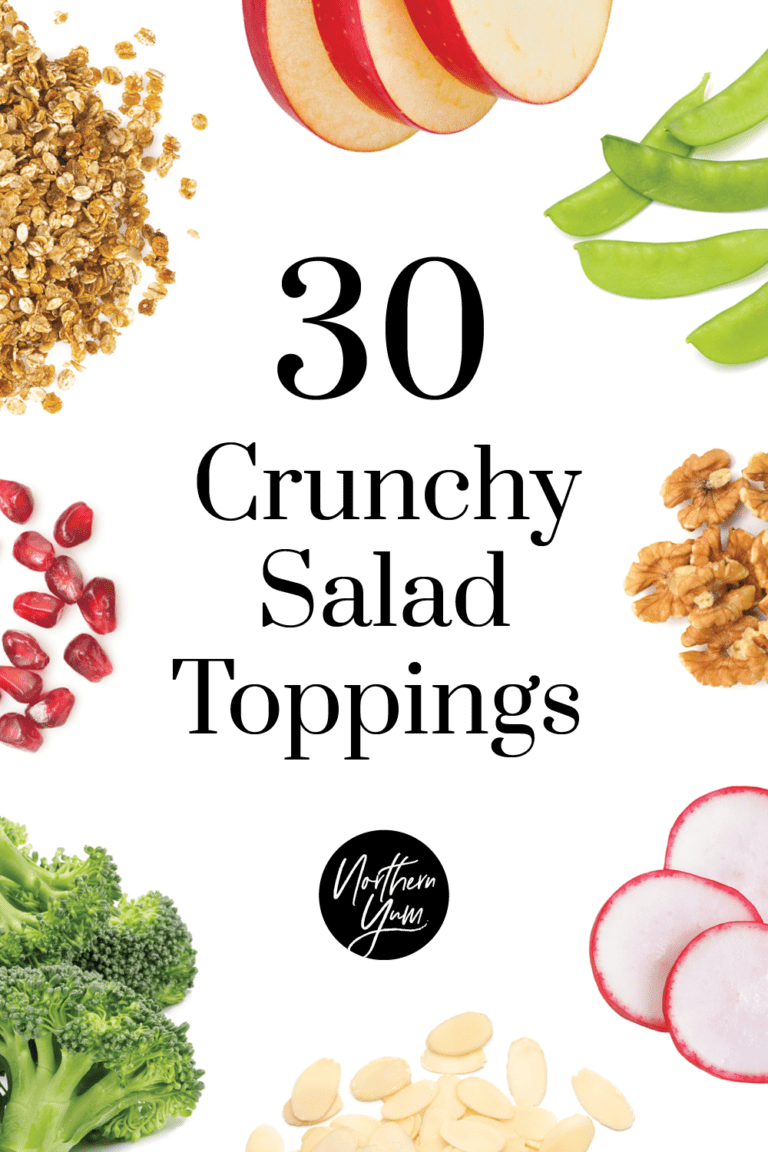 30+ Crunchy Salad Topping Ideas