20 Delicious Things to Do With Cherry Peppers
This post may contain affiliate links. That means if you click and buy, we may receive a small commission (at zero cost to you). Please see our full disclosure policy for details.
Discover the many uses for cherry peppers in appetizers, salads, and main courses. Plus, learn all about this flavorful pepper.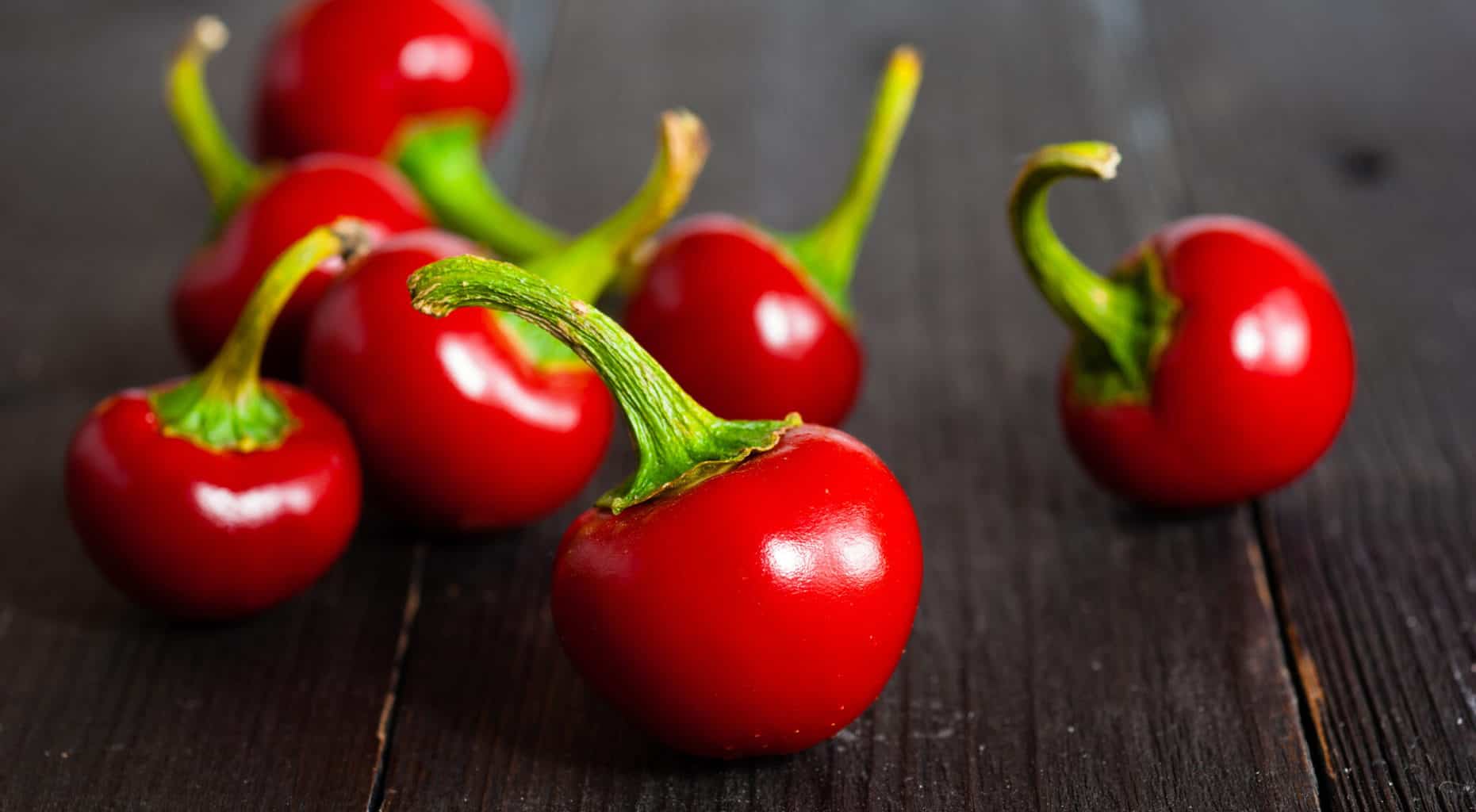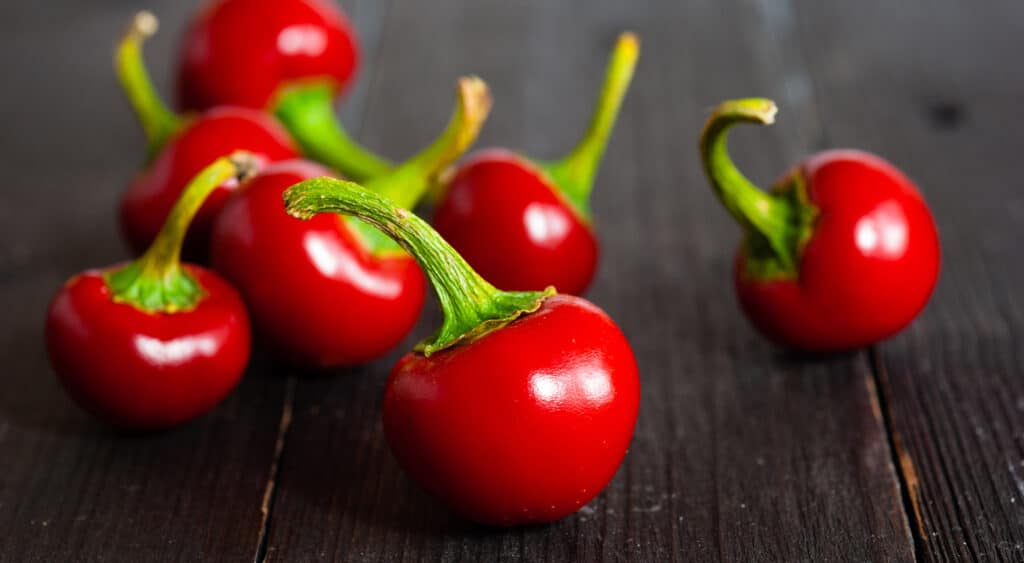 What Are Cherry Peppers? +20 Delicious Things to Make with Them in Your Kitchen
Do you know what cherry peppers are? Many people might not be sure, since this type of pepper is relatively uncommon. Here we'll answer all of your questions and give you several ideas on what to make with them. Keep reading to learn more about this unique, flavorful pepper.
What are cherry peppers?
Cherry peppers are a type of chili pepper round and small in size (like a cherry) and have a sweet taste with a level of heat (depending on the variety). Think like cherry fruit or cherry tomatoes, but peppers instead.
Quick sidenote – is it chile, chili, and chilli pepper?
Chile – considered the correct spelling for pepper 'experts' – also the Spanish spelling used in Mexican and Latin countries
Chili – the American spelling
Chilli – the British spelling and used in some other countries as well
This member of the Nightshade family is attached to a dark green stem and grown on a cherry pepper plant.
Cherry peppers can be bought fresh, dried, canned, or pickled. They come in different colors, such as red, green, and orange.
Eaten raw or cooked, these tasty chili peppers can be used in various dishes, including salads, pasta dishes, and pizza. Jump to 'What to do with cherry peppers' for more ideas.
Quick facts about cherry peppers:
Small in size like cherries, with a dark green stem
Type of chili pepper
Typically green and turn red when ripe
Can be red, orange, or green in color
Sweet or hot depending on the variety
High in Vitamin A, C, and potassium
Low in calories and carbohydrates
Grown on a cherry pepper plant, in the Nightshade family
Part of the Capsicum annuum species
20 Delicious Things To Do with Cherry Peppers
Wondering what to do with cherry peppers? These small, red peppers are ideal for stuffing, grilling, roasting, or adding to sauces, salads, and pasta. Whether you're a beginner cook or an experienced chef, cherry peppers are a tasty addition to so many dishes.
Here are a few tasty ideas, if you're not sure what to do with canned or fresh cherry peppers.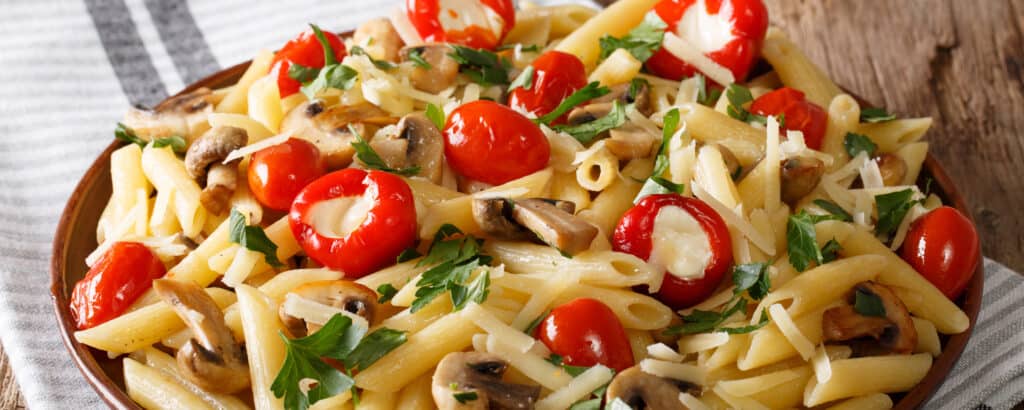 1. Pasta Topping
A delicious way to use cherry peppers is to sauté them with garlic and olive oil, then toss them with pasta. Here are a few other pasta options:
Penne with red sauce: use pickled peppers with a red sauce (or alfredo sauce) and penne pasta.
Lasagna: make your favorite lasagna and include cherry chilis.
There are endless ways to use these delicious red peppers in pasta dishes. So feel free to get creative with your favorite pasta dishes.
2. Salad Topping
Adding cherry chilis to salad greens is a healthy, delicious way to enjoy their flavor. Start with mixed greens and add tomatoes, cherry chilis, crumbled cheese, and a vinaigrette of your choice.
They're also the perfect addition to a chilled Italian pasta salad. Simply use cooked rotini, diced peppers, black olives, chunks of salami, diced mozzarella, and your favorite Italian dressing.
3. Salad Dressing
Not only do these peppers make a delicious salad topping, but they can be used as an ingredient in homemade salad dressings.
Use olive oil as the salad dressing base – add minced peppers, garlic, salt, pepper, and lemon juice. Choose your heat level by selecting mild or hot peppers.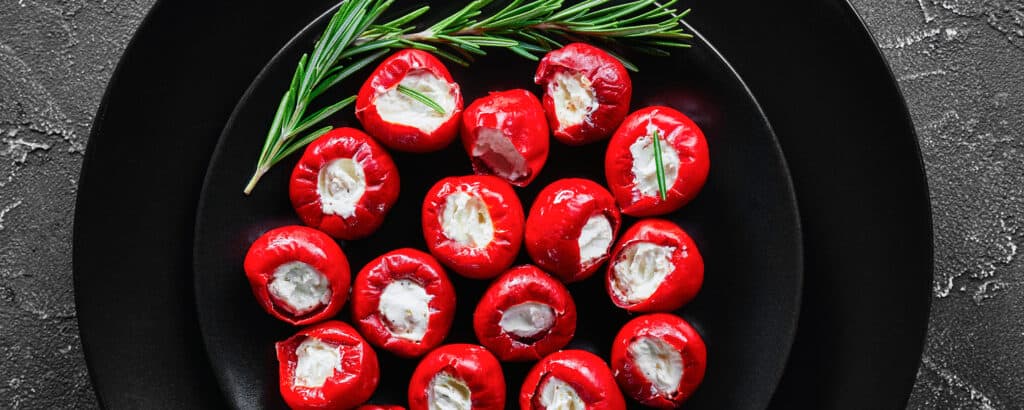 4. Stuffed Cherry Peppers
Fill a cherry pepper with fresh mozzarella or provolone and prosciutto. Other stuffed ideas to try:
Cheese fillings: mozzarella, provolone, cream cheese, or feta
Meat fillings: sausage, prosciutto, or bacon
Different fillings or garnishes: onions, garlic, oregano, and other herbs
How to make stuffed cherry peppers in oil? Stuff cherry peppers with delicious cheese and marinate them with extra virgin olive oil with garlic and rosemary. You can also coat them in olive oil and grill or roast.
5. Cherry Pepper Shooters
Shooters are essentially stuffed peppers using hot pickled cherry peppers, commonly stuffed with provolone and prosciutto.
6. Pizza Topping
Chop cherry peppers and add them to your pizza along with sausage crumbles, pepperoni, and mushrooms. Other pizza ideas to try:
Bacon cherry chili pizza: red sauce topped with mozzarella, chunks of bacon, pickled peppers, and parmesan.
Pepper-only pizza: forget the meat and top with cheese and cherry peppers.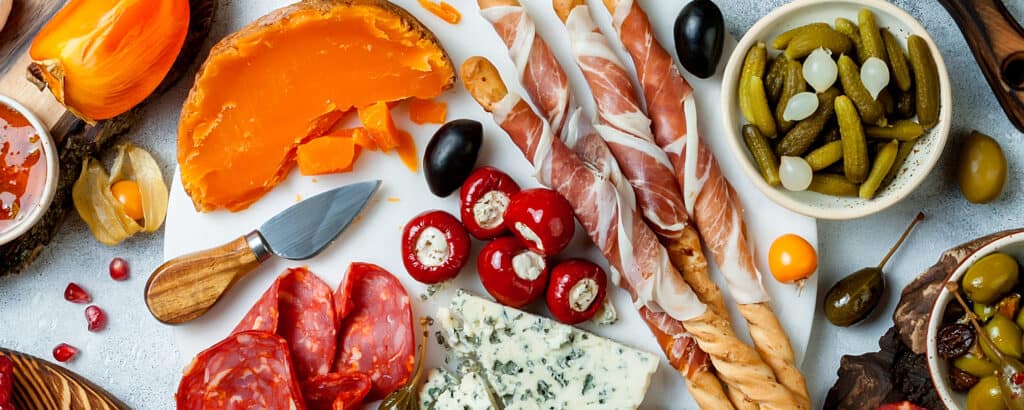 7. Charcuterie Board
Perhaps one of our favorite ideas – spice up your charcuterie board with a small bowl of cherry peppers or mix freshly stuffed cherry peppers on the charcuterie board itself.
Also, this can be referred to as an antipasto platter with cured meats, cheeses, veggies, and olives. A delicious appetizer and is known to be the first course of an Italian meal.
8. Sandwich Topping
Pack them in a sandwich with roast beef, avocado, and lettuce. They're also delicious on Italian or meatball subs. Here you can find a jarred version just like Jimmy John's uses on their subs.
9. Add to Dips
These capsicums are delicious in hot or cold dips — adding flavor and visual interest. They make a great addition to any party dip platter.
Mix peppers with sour cream or mayo, fresh minced garlic, and chopped parsley. Serve with veggies like carrots and celery or with crackers and chips.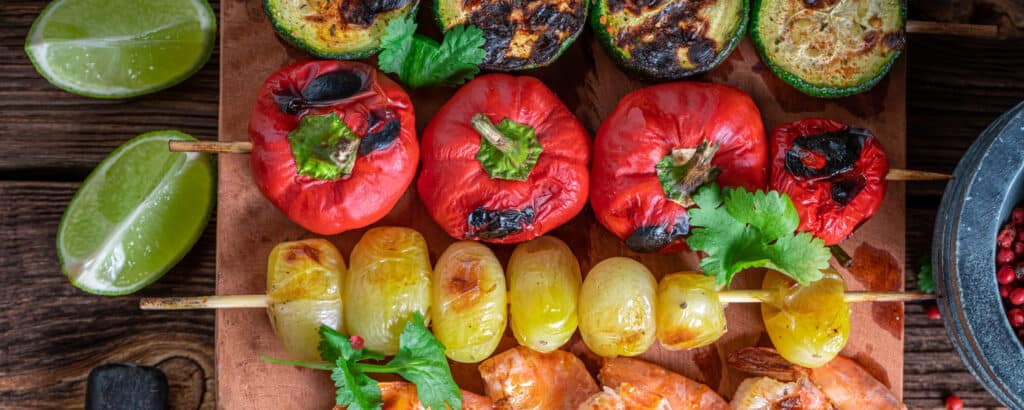 10. Roasted Cherry Peppers and Vegetables
Roasted cherry peppers and veggies make a delicious and healthy side dish for any meal. Simply toss with olive oil, salt, and pepper and roast at 425° for about 20 to 25 minutes. (Check often as ovens are all different.)
11. Add to Queso
Peppers are the perfect addition to any queso recipe. Their sweet and tangy flavor pairs perfectly with the creamy cheese and delivers a delicious appetizer that is sure to please. Pair with tortilla chips, pita chips, veggies, or bagel chips.
12. Add to Salsa
Add these chilis to diced tomatoes, black beans, and corn to make a flavor-filled salsa. Or go the traditional route and add cherry chilis to diced tomatoes, onion, cilantro, and a splash of lime juice.
13. Wrap in Bacon
Bacon-wrapped cherry peppers are so delicious and easy to make. Just wrap the peppers in one half or one-third slice of bacon (you don't want too much overlap, or the bacon won't cook properly) and secure it with a toothpick. Then bake in a preheated oven for about 20 minutes.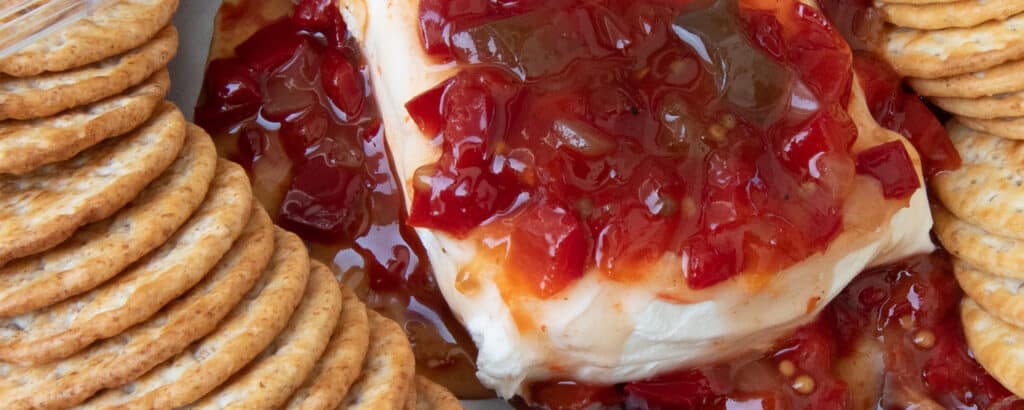 14. Hot Cherry Pepper Jelly
If you've never had cherry pepper jelly before, you're in for a treat. Our favorite way to use pepper jellies is to start with a block of cream cheese and top it with your favorite jelly. Then serve it with crackers or tortilla chips. You can use this as an appetizer all on its own or include it on your charcuterie tray.
15. Stir Fry
If you're looking for a tasty, healthy way to add some spice to your next meal, consider using cherry peppers in your stir fry. These little peppers are sweet and spicy (depending on the type you choose).
16. Pickled Cherry Peppers
Pickled cherry peppers are a delicious and versatile ingredient that can be used in various recipes or enjoyed as a standalone snack. These peppers are relatively easy to make at home, and the pickling process enhances their flavor and texture.
Wondering how to pickle cherry peppers? Here is a quick pickled cherry pepper recipe.
17. Hot Cherry Pepper Sauce
Hot cherry pepper sauce is one of the most delicious sauces out there. Think of it as a sweet and sour sauce, but more heat and flavor. It's easy to make at home and perfect for any occasion. Use it as a dipping sauce or drizzle it on dishes such as chicken, beef, or shrimp beef lettuce wraps.

18. Paninis
Adding peppers to paninis is a flavorsome way to add excitement to an otherwise ordinary sandwich. The sweetness of the cherry pepper is a perfect balance for the saltiness of the cheese and meats, and it provides a nice pop of color as well.
Try a turkey, swiss and pepper jack cheese, tomatoes, and marinated pepper panini.
19. Cherry Pepper Relish
Cherry pepper relish is a delicious condiment, easy to make, and only requires a few simple ingredients like peppers, onion, garlic, white vinegar, and salt.
Top a bacon cheeseburger with pepper relish, and better yet, serve this relish with your burger bar when entertaining a crowd.
20. Hot Cherry Pepper Chicken
We are always looking for ways to make chicken dinners more exciting. Here is an excellent idea – start by cooking chicken breasts in a pan with olive oil and garlic. Then remove from the pan and make a cherry pepper, chicken broth, and white wine reduction. Return the chicken to the pan and top with fresh herbs.
No matter how you choose to enjoy them, fresh cherry chilis are a delectable and healthy way to add sweetness and a spicy kick to your meals.
Do you have a favorite that is not on this list? Add a comment below.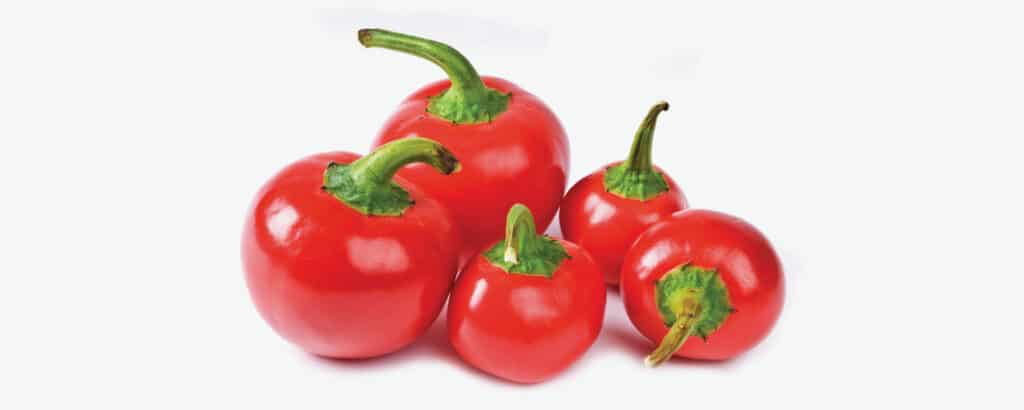 Common Questions About Cherry Peppers
Here are answers to your 'burning' questions about this tasty pepper.
Are cherry peppers sweet, spicy, or hot?
How spicy are they? Well, it depends on the variety of pepper you buy or grow.
Here are eight popular types of cherry peppers:
Cherry stuffer – sweet with less heat
Fireball – sweet at first bite, with heat to follow 🔥
Cherry bomb – medium* level of heat 🔥
Red hot cherry – medium* level of heat 🔥
Besler's cherry – very hot 🔥
Cumra – sweet with a gradual burn 🔥
Filius Blue – spicy hot flavor 🔥
Cascabel pepper – medium* level of heat 🔥
*On the lower end of medium heat for each medium spicy variety.
Read more about varieties and growing them here at Hobby Farms.
What do they taste like?
Like other peppers, cherry peppers have a crisp outside with a juicy inside and seeds. Depending on the varieties discussed above, you will have a sweet juicy flavor with a texture similar to bell peppers. Some types pack a medium to high level of heat as well.
What is another name for cherry peppers?
Cherry bombs – you'll likely hear them called cherry bombs, a variety of cherry pepper.
Cherry chili – another common name as they are a type of chili pepper.
Pimentos (mistakenly) – you may also hear them called pimentos; however, pimento peppers are slightly different and heart-shaped. Pimento peppers can be a substitute. (Fun fact: 'Pimento' actually means 'Pepper' in Portuguese.)
What kind of pepper is a cherry pepper?
Cherry peppers are a type of chili pepper from the Capsicum annuum species. They can be hot or mild and sweet, depending on the kind you buy or grow. You may hear them referred to as cherry paprika as well, a variety from Hungary – learn more at Chili-Plant.
What nutritional benefits do they have?
Another great thing about cherry peppers is they are low in calories and carbohydrates. A one-quarter cup serving of cherry peppers contains about only 15 calories (and 3g carbs), making them a perfect choice for a healthy snack and a unique way to spice up your meals. Additionally, these little peppers are packed with vitamins A & C and potassium.
See more nutritional information here at Nutritionix. And read more about the health benefits of eating peppers here at WebMD.
How should you store them?
Wondering how long cherry peppers last? This capsicum can be stored in a cool, dark place or in your refrigerator (in the crisper for best results) for one or two weeks. To keep your peppers even longer, you can also freeze, can, pickle, or dehydrate them.
Where to buy cherry peppers
Cherry peppers can be found at most local grocery stores and supermarkets, and they are also available online, here on Amazon. When looking for them, it's important to note that you're likely to find pickled or canned options instead of fresh ones. However, the canned or jarred variety is still an excellent option for adding a sweet or spicy flavor to your dishes.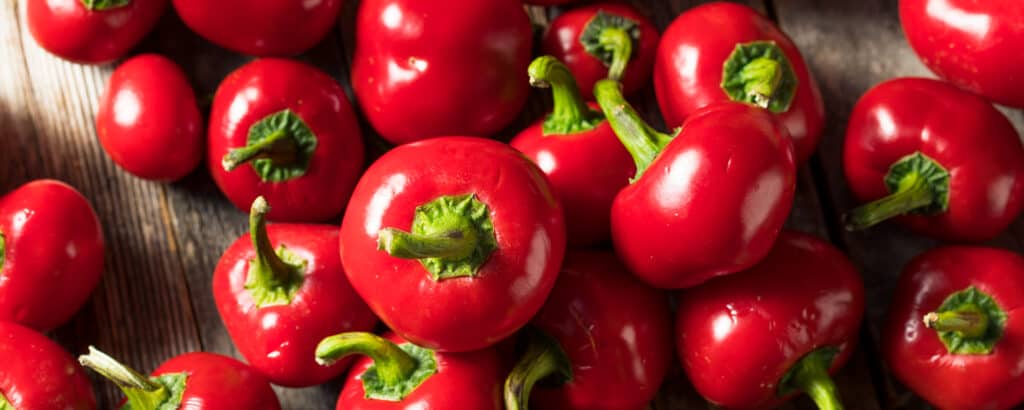 Final Thoughts
Cherry peppers are a great way to add flavor and excitement to your cooking. They can be used in many different dishes, and they are perfect for adding sweetness, heat, and a touch of color. If you have never cooked with these flavorful peppers before, we recommend trying them out. You will be surprised at how delicious they are.
Pin for later: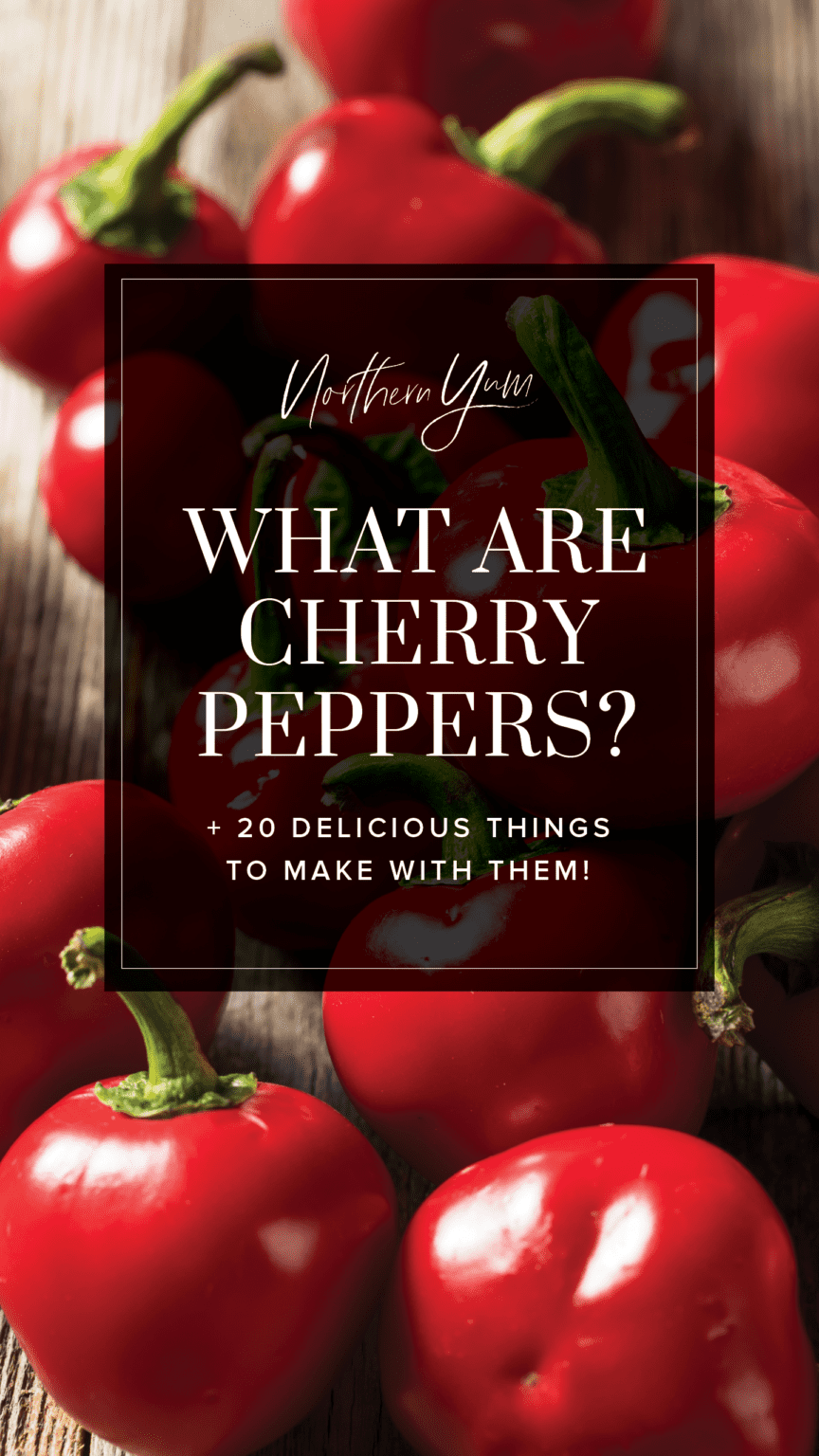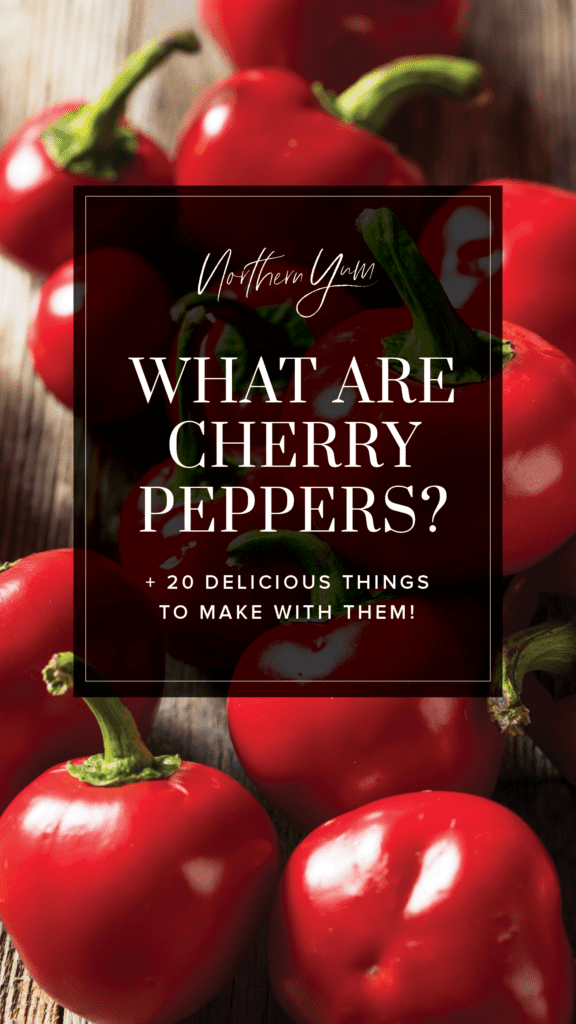 Read more:
What Are Cherry Peppers? +What to Make with Them in Your Kitchen