A classic recipe for pickle, ham, and cream cheese tortilla roll-ups. Pickle lovers—you will want to try these! Delicious & easy appetizers perfect for graduations, bridal or baby showers, barbecues, and more.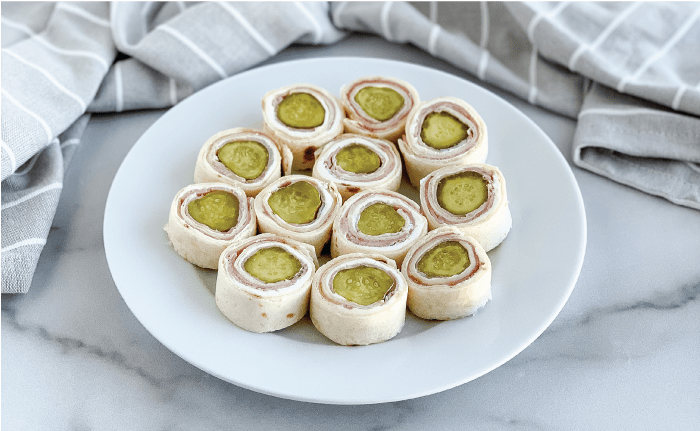 Pickle, Ham & Cream Cheese Roll-ups
This week I am featuring a family favorite appetizer recipe — pickle, ham, and cream cheese tortilla roll-ups or pinwheels. We've always called them roll-ups, but essentially they are the same as pinwheels.
My aunt started this tradition in our family many years ago.  And when she makes them for family get-togethers, she piles them super high! Which is a must because they go really fast.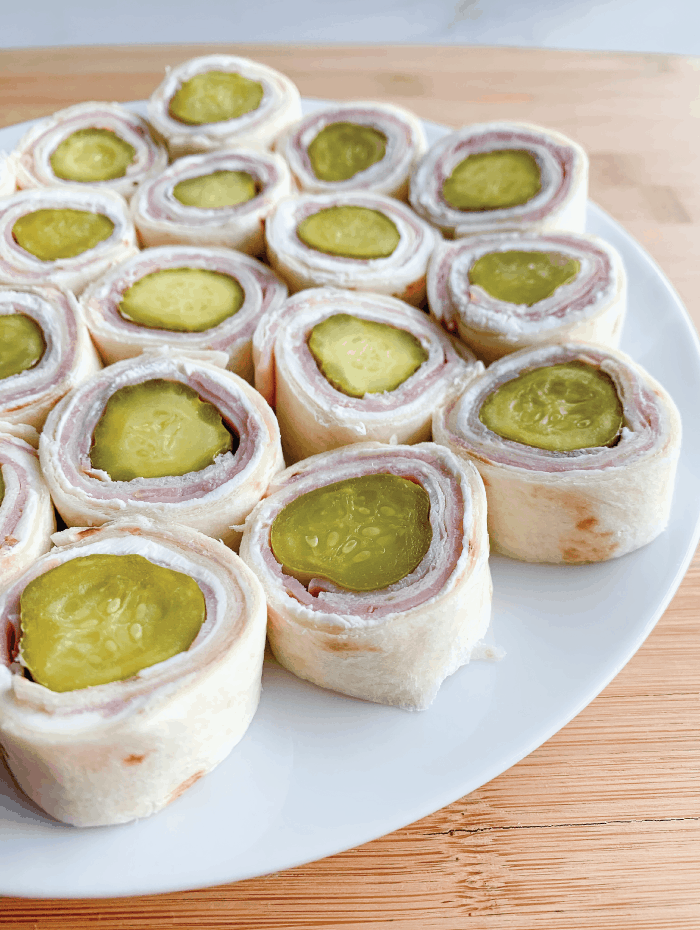 Now, I've taken over the role of making these easy appetizers in our immediate family for holidays and parties. The kids will ask for them for their birthday party snacks, and we will always serve them for bridal or baby showers. Mainly because they are so simple to make & it's easy to gather the handful of ingredients you need. Bonus, they are always crowd-pleasers!
Here is a list of gatherings we love to serve these yummy apps:
Bridal showers
Baby showers
Birthday parties (kids and adults!)
Anniversary parties
Graduation parties
Game day/football parties & let's not forget the super bowl!
Potlucks
Office parties
Game night with friends
Barbecues
Last-minute invites
So many special occasions!
You may want to wait to prepare these pinwheels until you are alone — or they'll never make it to the get-together! My husband and children love to steal them while I'm in the processing of making them. Which makes it really hard to pile them high on a serving tray.
I made this recipe last weekend for an appetizer/game night with friends.  Luckily my husband and kids were out running errands when I made them, so I could get the plate piled, covered, and in the refrigerator before they returned.
Ingredients
Supplies
Butter knife to spread cream cheese
A good sharp knife to slice the roll-ups (you will likely get frustrated with a dull knife, so make sure it's sharp or sharpen it beforehand!) I like to use a pairing knife or steak knife from my KitchenAid cutlery set with a built-in sharpener.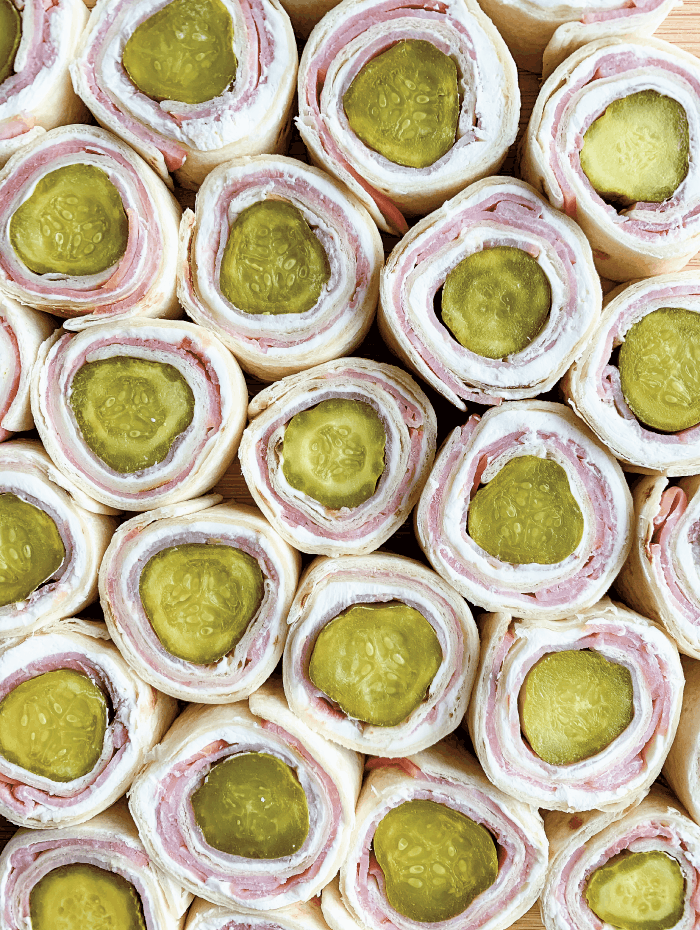 Recipe Instructions & Tips
Prepare your workspace with a cutting board, butter knife, and a sharpened pairing or steak knife. You'll want to drain your pickles to limit the amount of moisture in the roll-ups.
It helps to leave the cream cheese out to soften for a bit, which will make it easier to spread. (Otherwise, pop it in the microwave on defrost for a few seconds.)
Layout one flour tortilla on the cutting board and spread with softened cream cheese and sprinkle with seasoning salt. (My sister will mix the seasoning salt into the cream cheese in a bowl – so that is an option too.)
Next, top the tortilla and cream cheese with a layer of thinly sliced deli ham.
Place the pickles in a row across one end of the tortilla. Then carefully wrap the tortilla around the row of pickles, and continue to roll from one end to the other.
Taking your sharp knife, slice the roll into 1/2 inch slices.  The ends will be scraps, but no worries because you'll have plenty of samples!
Place on a serving tray and pile high until you run out of ingredients.  If you're having a large gathering – I recommend making at least two batches.
Enjoy!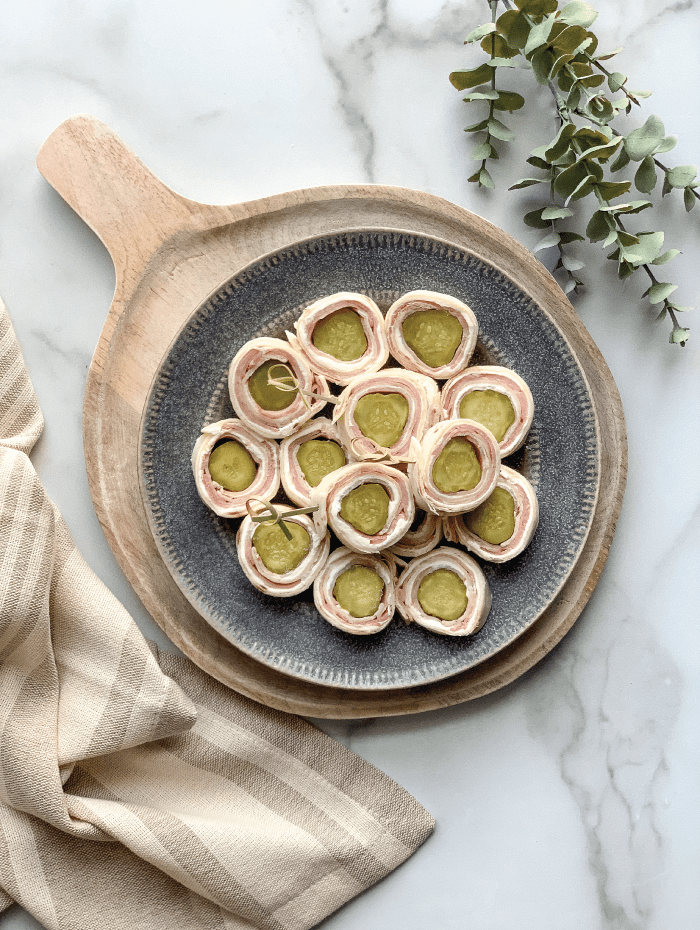 What is your favorite party appetizer recipe? Let me know in the comments.
If you make this recipe, please add a review!
Print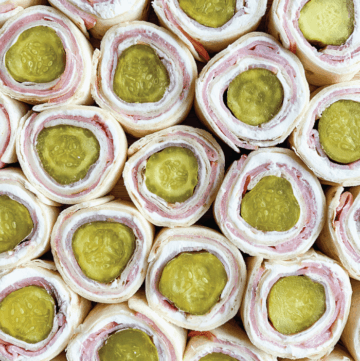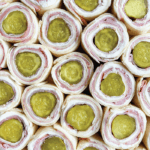 Classic Pickle Ham & Cheese Roll-ups
---
Author:

Total Time:

30 minutes
Description
A classic recipe for pickle, ham & cream cheese tortilla roll-ups. These will be your new go-to appetizer for parties, potlucks, and barbecues.
---
---
Instructions
Spread one soft flour tortilla with softened cream cheese and sprinkle with seasoning salt.
Top with a layer of thinly sliced deli ham.
Place pickles across one end of the tortilla.
Wrap the tortilla around the row of pickles and continue to roll to the other end of the tortilla.
Slice the roll into 1/2 inch slices.
Place on a serving tray and repeat until you run out of ingredients.
Enjoy!
Equipment
Notes
The equipment section above contains affiliate links to products we use and love!
It's best to make these roll-ups the same day, a few hours before serving if possible. The tortilla will get a little soggy when left in the refrigerator overnight. But still delicious!
For large gatherings, plan to make two batches.
Prep Time:

30 minutes

Category:

Appetizers

Cuisine:

American
Nutrition
Serving Size:

1 rollup

Calories:

56

Sugar:

0.2 g

Sodium:

261.2 mg

Fat:

2.5 g

Carbohydrates:

6.3 g

Protein:

2.2 g

Cholesterol:

7 mg
Keywords: pickles, ham, rollups, cream cheese, pinwheels
Recipe Card powered by
---
How far ahead of time can I make pickle rollups?
Yes, you can make pinwheels ahead of time. But due to the moist nature of the pickles and the deli ham in this recipe, you'll want to make these rollups only a few hours in advance to avoid the soggy tortillas.
However, if you have leftovers and store in the refrigerator overnight – pickle, ham, and cream cheese rollups are still delicious, but you will notice a difference in the tortillas.
What are pinwheels (or rollups)?
Pinwheels (or rollups) are a type of appetizer using tortillas and different types of fillings (deli meat, cream cheese, veggies, etc.) – rolled and sliced into bite-sized appetizers.
How do you roll pinwheels?
The answer is very carefully! We prefer to place the tortilla on top of a cutting board, adding the 'fillings', and then roll from one end to the other. Using this method, you will have 'scraps' at the end that do not roll nicely.
Some people choose to cut two ends of the tortilla, to make it more square, so you don't have to deal with the end scraps later. It really just depends on your preference!
How long are cream cheese pinwheels good for?
I am cautious with how long I keep pinwheels with cream cheese out on the counter. It's easy to lose track of time at family get-togethers and parties, but try to put the pinwheels back in the refrigerator after a few hours.
The USDA says perishable foods (including cream cheese) shouldn't be left out of the refrigerator for more than two hours. In fact, they recommend tossing anything left out at room temperature for more than two hours, without chilling dishes.
How long will pinwheels keep in the fridge?
You can keep pinwheels in the fridge for a few days. The tortillas will be noticeably different, however. Left overnight in the refrigerator, you'll notice the tortillas get a bit soggy. Again, we recommend making these apps the day of.
How do you keep wraps from falling apart?
To keep wraps and roll-ups from falling apart, make sure to roll the tortilla tightly from one end to the other. And with this recipe, make sure your pickles in the row are close to the same size.
Some people will even use a bamboo cocktail pick to hold them together.
Can I freeze tortilla pinwheels?
Yes, you can – but it depends on the ingredients you put inside the tortilla. For this particular recipe, I wouldn't recommend it – due to the cream cheese. Frozen cream cheese is known to lose its texture and become less soft. And your tortillas will likely get soggy when defrosting as a result.
Plus, roll-ups (pinwheels) are so easy to throw together – I don't think it's worth the effort. 
Have any other questions? Leave them in the comments!
---
You'll also enjoy these appetizer recipes: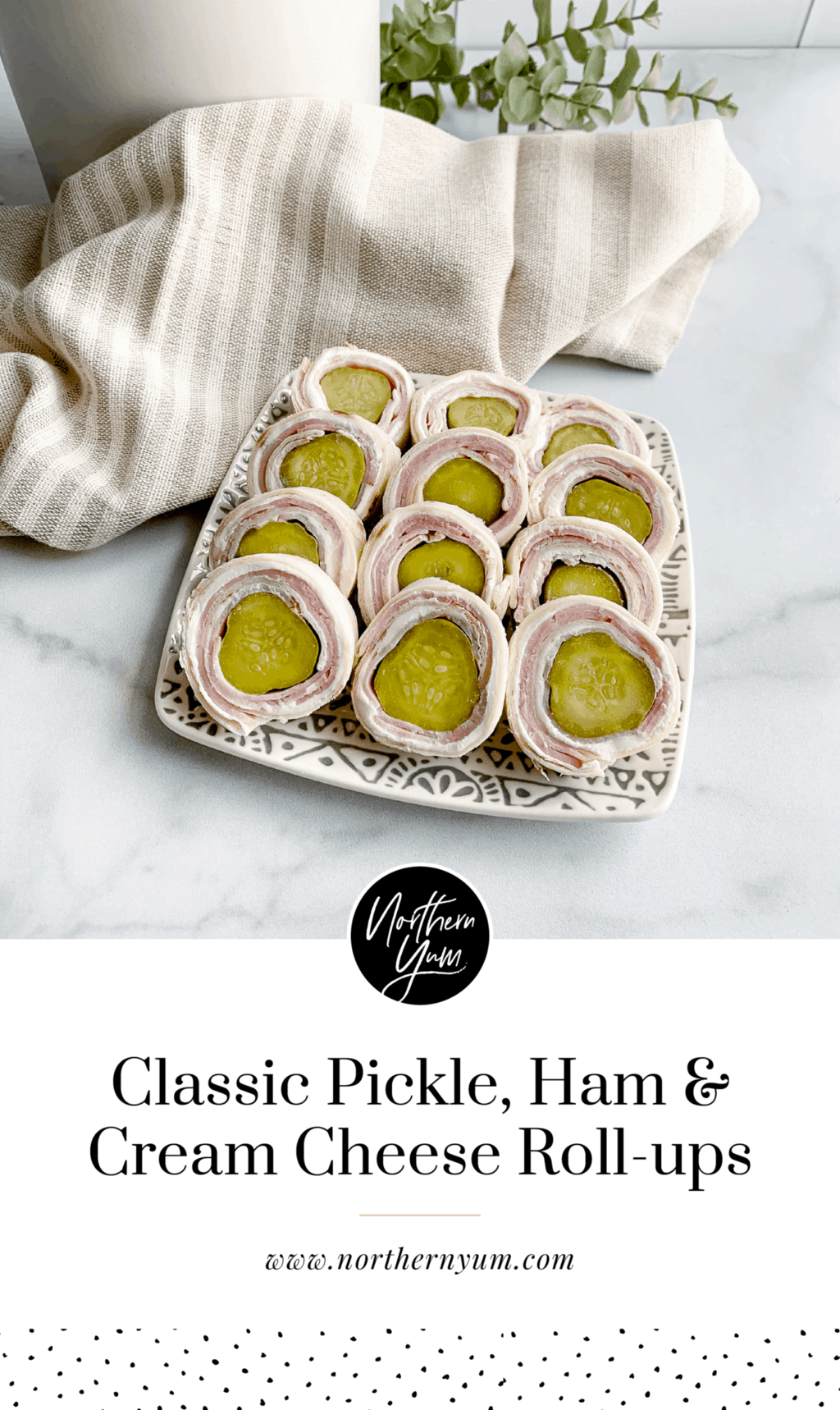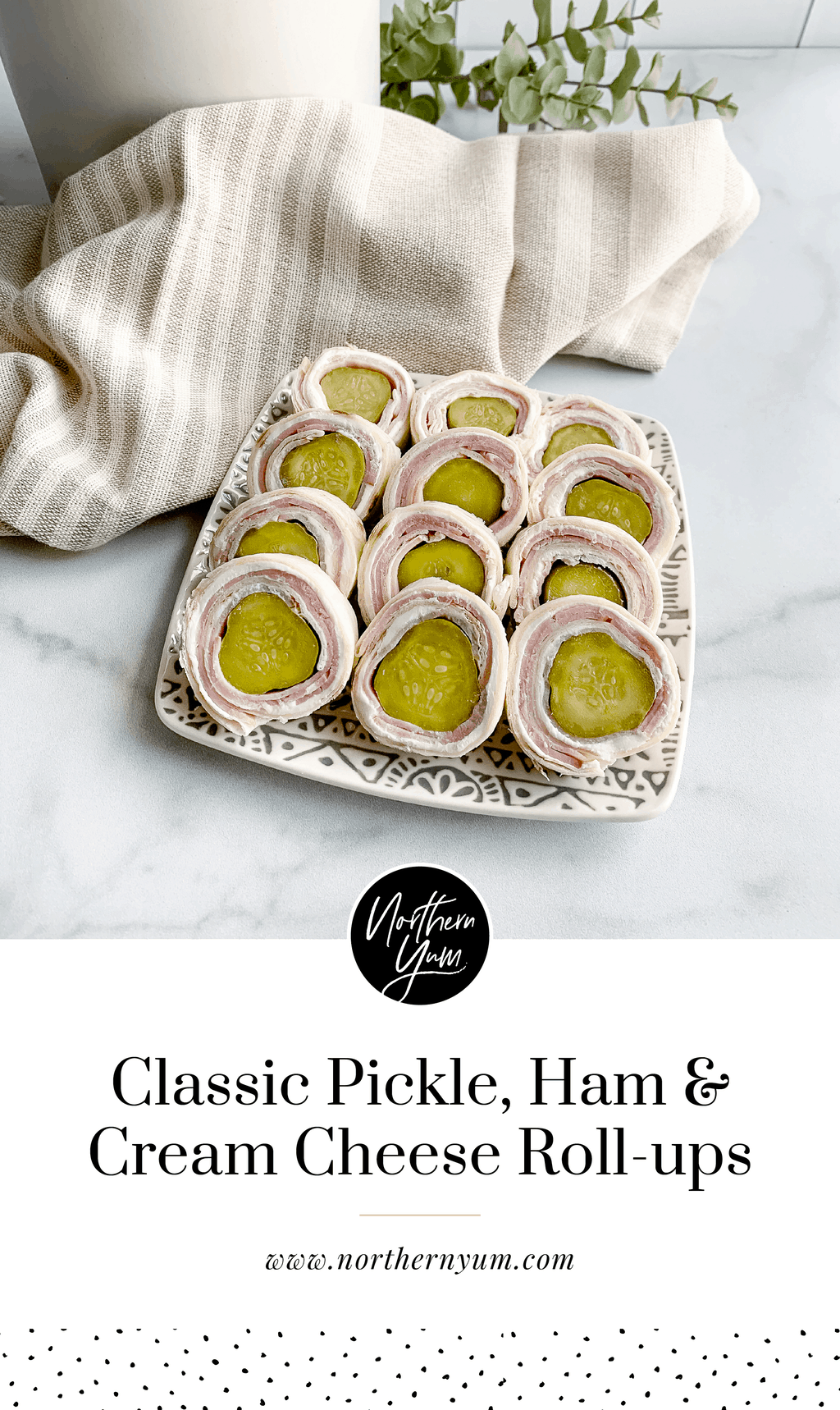 Pickle, Ham & Cream Cheese Pinwheels