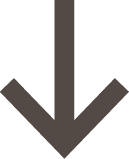 Jump to Recipe
A simple cheddar cheese fondue recipe perfect for a starter, side with dinner, or as the first course for your fondue party at home.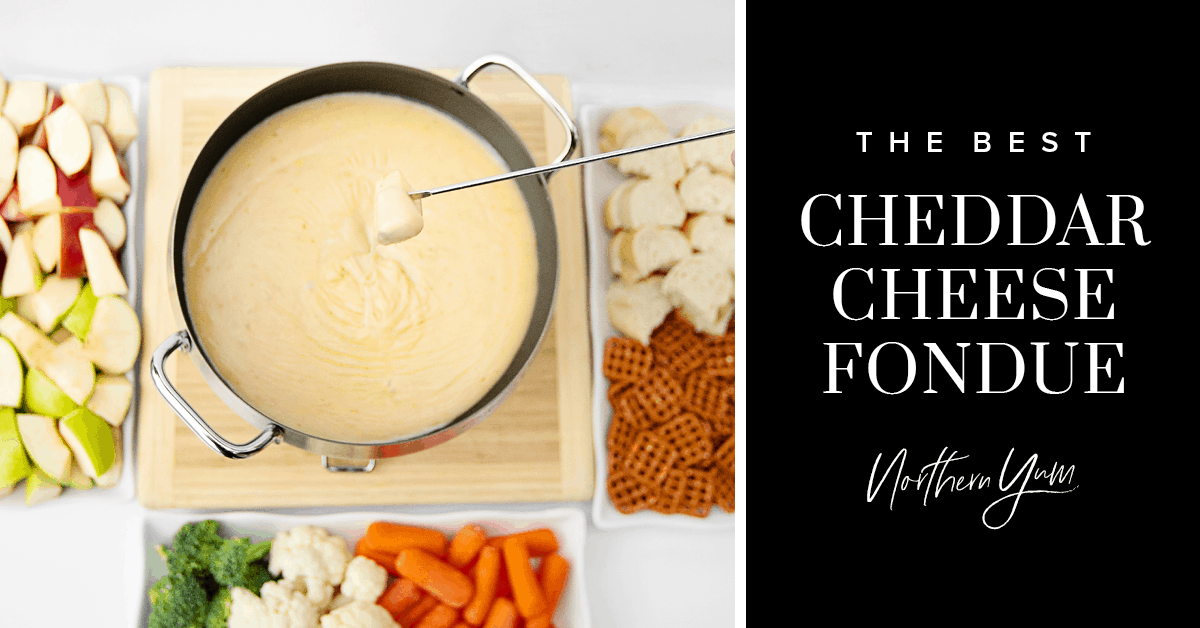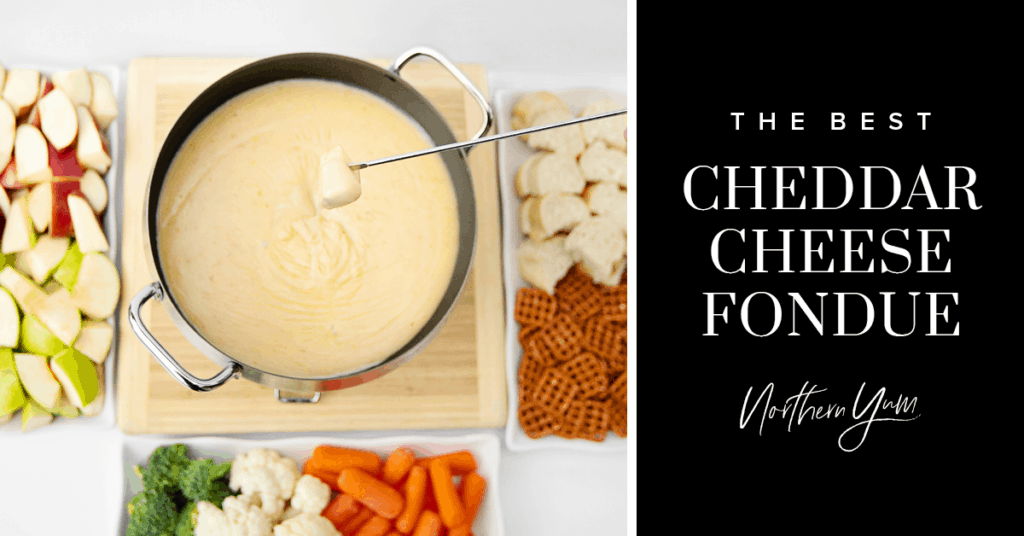 If you're looking for something different to make dinnertime fun and exciting, try starting with cheddar cheese fondue! It's a great way to spice up your mealtime routine.
Cheese fondue is the perfect appetizer or the first course of a complete fondue dinner — 1) cheese, 2) hot pot with meats and veggies, and 3) chocolate dessert fondue.
How to Make Cheddar Cheese Fondue
Fondue is very easy to make; however, let me share a few tips and tricks with you to make sure it tastes the best every time. Let's get started!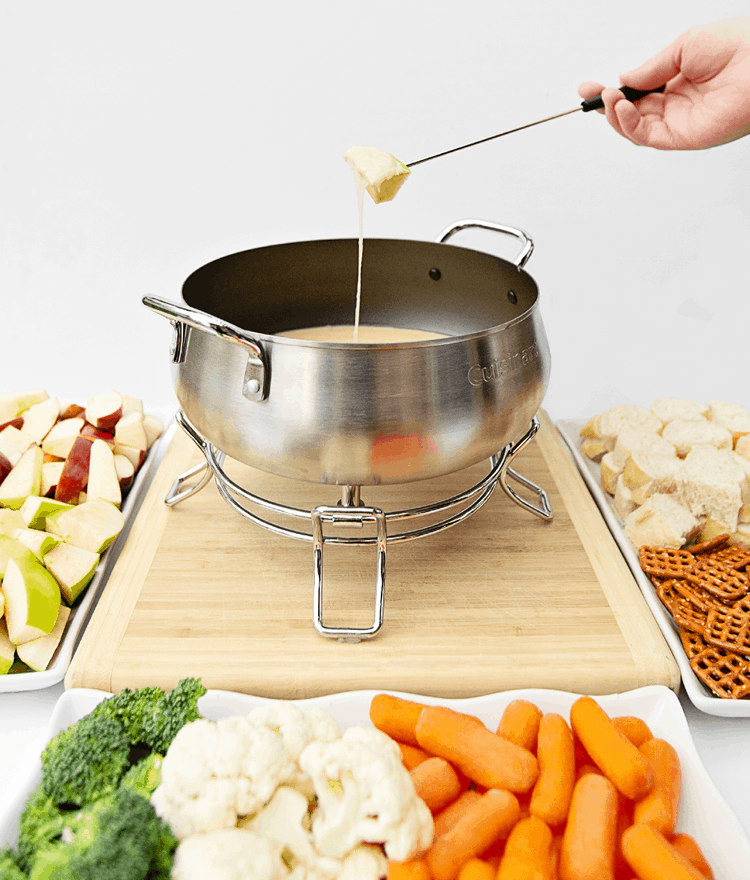 Ingredients
With only 5 ingredients, here's what you'll need to get started.
*There are endless ways to vary this recipe! Use your favorite beer or wine or hard cider. Try different types of cheese. Add delicious toppings like nuts and dried fruits such as craisins.
*Why 8 to 11 ounces of cheese? We buy blocks of 8 ounces apple smoked cheddar cheese and it works well without having to buy another block. But up to 11 ounces will give you a bit more to enjoy!
Recipe Instructions & Tips
Start by gathering all the supplies you'll need, including your cheese grater, fondue pot, fondue sticks, measuring cups, and spoons. Prepare serving trays with dippers (see list below).
Set up the fondue pot right at the table if you have an electric pot and a chord long enough to reach (or extension cord). Consider all safety concerns – such as people tripping on the chord or needing a heat protector underneath the pot.
If you are using a double broiler setup, add water to the bottom of your fondue pot and bring it to a boil. Add your second pot on top of the water. (If you're using a single pot, no worries! Just be really careful to stir your cheese often and watch your heat setting to prevent burning.)
While you are heating the fondue pot, grate your cheddar cheese. I like to use a grater that keeps your hands safely away from the grater itself.
Using freshly shredded cheese is very important to get a smooth texture. The shredded cheese you buy at the grocery store has anti-clumping additives.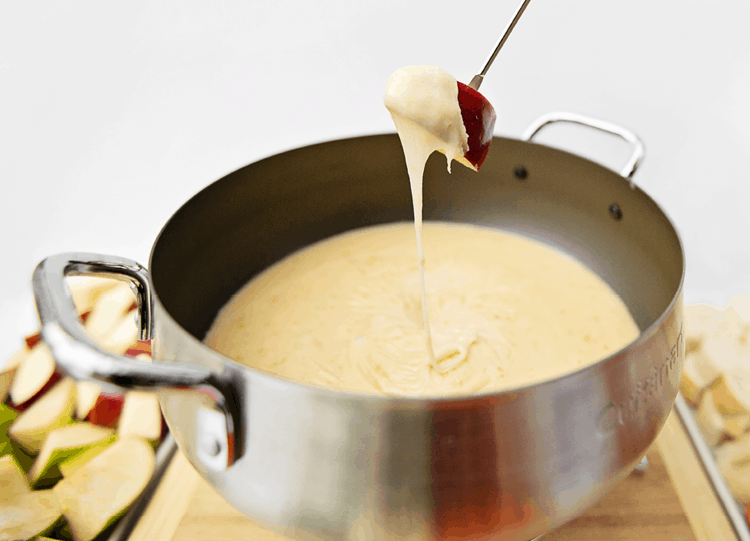 Next, toss the freshly grated cheese with flour. This will act as a thickener for the fondue. Don't skip this step!
Once your pot is pre-heated, add the beer and bring it to a boil. Then add half of your cheese mixture to the boiling beer and mix well with a whisk. Add the second half of your cheese mixture and whisk more until smooth and creamy.
Finally, add your ground mustard and Worcestershire sauce.
Set to warm and serve immediately with fondue dippers.
Cheese Fondue Dipper Ideas
My favorite part of serving fondue is gathering all sorts of delicious dippers. I always select a variety of different types – from bread and pretzels to veggies and fruits.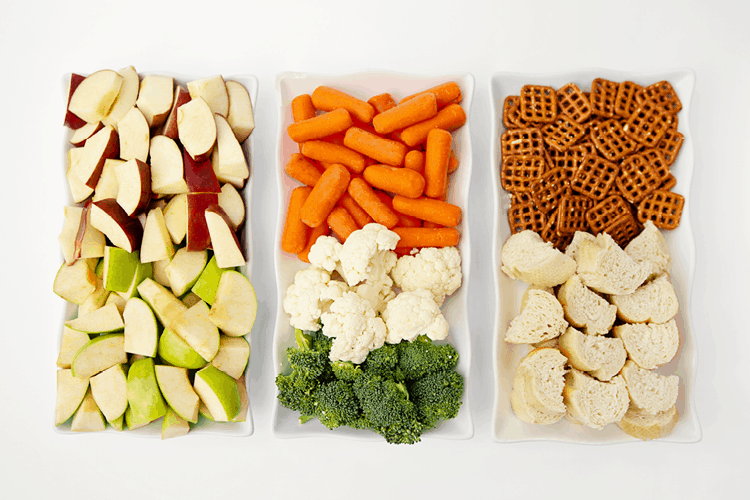 Here is a list of what to dip in cheddar cheese fondue (and certainly our favorites!).
Hard pretzels
Soft pretzels, cut into chunks
Baguette bread, sliced into chunks
Honey whole-wheat pretzels
Pita chips
Bagel chips
Red apples (like red delicious), sliced into chunks
Green apples (like Granny Smith), cut into chunks
Baby carrots
Broccoli
Cauliflower
Cherry tomatoes
Bacon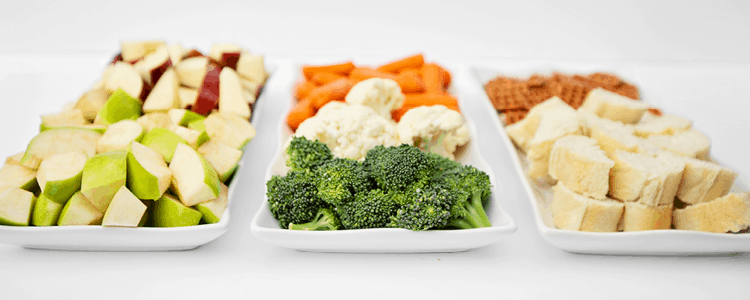 Get creative and add your favorite breads, chips, fruits, veggies, and even pre-cooked meats. Just make sure you prepare in bite-sized pieces – easy for dipping.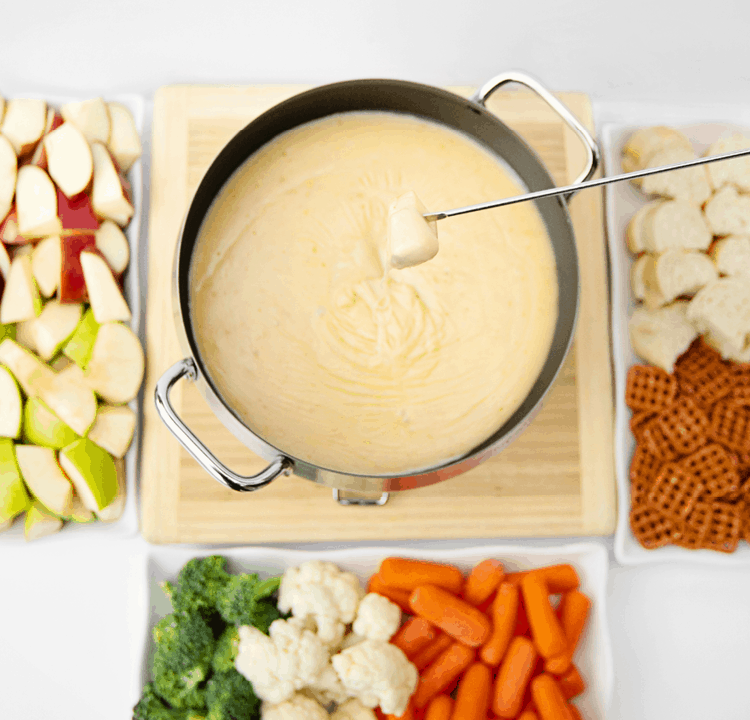 The Best Fondue Pot to Make Cheese Fondue at Home
The Cuisinart electric fondue maker is the fondue pot I personally have at home. It's worked really well for all types of fondue. I've recently started using a bowl on top to make it a double broiler-type pot for cheese and chocolate.
Why we love it:
It's affordable and high-quality.
This pot is an all-in-one solution you can use right at the table.
It's electric, which is a must when you have to bring the beer to a rapid boil in this recipe.
It comes with fondue sticks!
Cons:
I wish it came with a second pot to use as a double broiler, which would prevent fondue from overcooking. But you can easily find a bowl (like this one) to fit inside to make it a double broiler.
The cord is short, and you will likely need to use an extension cord.
When using it at the table, I always use a large cutting board underneath it to protect my table.
Why we love it:
Two pots allow for a double broiler, making it much easier to prevent burning or overcooking the fondue.
It's also affordable at under $100. (although pricing may change)
Like the Cuisinart, it is electric and portable, so you can enjoy your fondue right at the dinner table.
Cons:
The brand is not as well known, although reviews are 4.5 stars+ on Amazon.
It's more expensive than many at-home fondue pots.
Fondue cookbook
Get the ultimate fondue recipe cookbook from The Melting Pot, and learn from the experts.
You'll find so many great recipes to keep right alongside your fondue pot. Hot pot recipes you can make for the main course to cook raw meats and veggies. And pair with delicious sauces.
Not to mention additional cheese fondue recipes, chocolate, and dessert fondue — and cocktail recipes too.
Print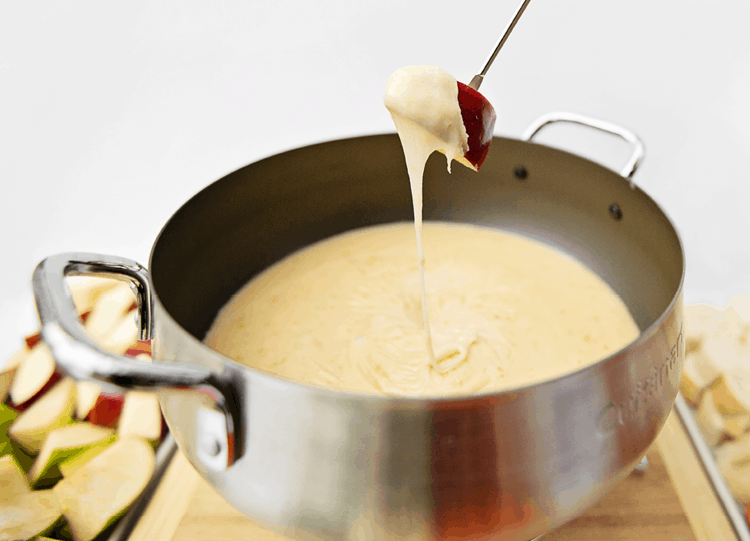 Cheddar Cheese Fondue Recipe
A simple cheddar cheese fondue recipe. Great for a start, dinner side, or as the first course of a fondue party.
Total Time:

30 minutes

Yield:

4

–

6

servings

1

x
1

cup

beer (light beer works great)

8

to

11

ounces

freshly shredded cheddar cheese (we love smoked cheddar!)

3 tablespoons

flour

1 tablespoon

Worcestershire sauce

2 teaspoons

ground mustard
Instructions
Pre-heat your fondue pot.
Prepare your cheddar cheese by freshly grating it and tossing it with flour.
In your fondue pot, bring the beer to a boil.
Once the beer reaches a boil, add half of your shredded cheddar cheese and whisk.
Add the remaining cheese and whisk until it is smooth and creamy.
Add the

Worcestershire

and ground mustard.
Keep on warm and serve with dippers.
Notes
When I first made this recipe, I was worried about it containing alcohol – but it burns off. I've found alcohol bases are best to make the cheese creamy and smooth. We often use bud light.
Don't skip the flour – you need a thickener.
Freshly grated cheese is a must. Store-bought will have anti-clumping additives. 
It is best to prepare the cheese fondue right before you serve it.
A double broiler is recommended to prevent burning.
See the entire recipe post for the best dipper ideas for cheese fondue.
Author:

Prep Time:

20 minutes

Cook Time:

10 minutes

Category:

Appetizer

Method:

Fondue

Cuisine:

American
Nutrition
Serving Size:
Calories:

281

Sugar:

5.6 g

Sodium:

419.8 mg

Fat:

19.4 g

Carbohydrates:

12.1 g

Protein:

14 g

Cholesterol:

56.1 mg
Keywords: cheddar, cheese, fondue, appetizer, party
Recipe Card powered by
---
How do I melt cheddar cheese for fondue?
As explained in this recipe, the key to melting cheddar cheese for fondue is to shred the cheese beforehand. And add half of the cheese to the base (in this case, the boiling beer) and whisk until it has all melted. Then you add the remaining cheese and whisk again until the cheddar cheese fondue is melted and creamy.
What can I substitute for beer as the fondue base?
Our fondue always turns out the best when we use alcohol as the base – beer or wine. This recipe requires you to bring the beer or other base to a boil which will burn off the alcohol.
Where to buy cheese for fondue?
I like to shop in the gourmet cheese section of the grocery store when making fondue. High-quality cheese will only make your fondue better. But at least make sure you buy a block of cheese and grate it yourself.
Can I make cheese fondue without a fondue pot?
Yes! You can make cheese fondue without a fondue pot. Just use a large pot on your stove, add a few inches of water, and then add a second pot on top to make a double broiler. This will prevent direct heat from burning or overcooking your cheese. And eat right away, so the cheese stays as warm as possible.
More Delicious Fondue Recipes
You'll also love these appetizer recipes:
Pin for later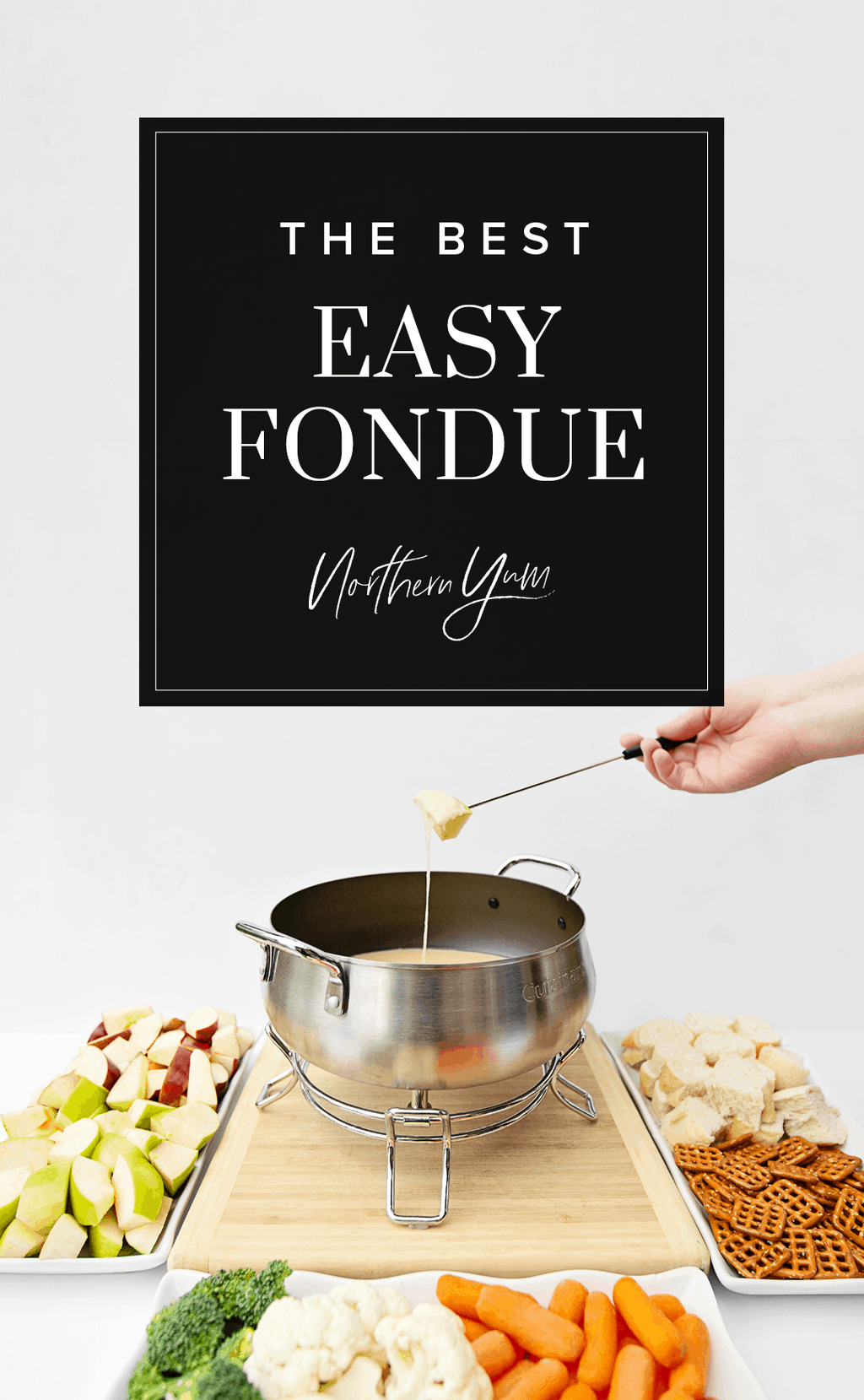 How to Make Cheddar Cheese Fondue