How to Cut Pineapple Rings (in Minutes!)
This post may contain affiliate links. That means if you click and buy, we may receive a small commission (at zero cost to you). Please see our full disclosure policy for details.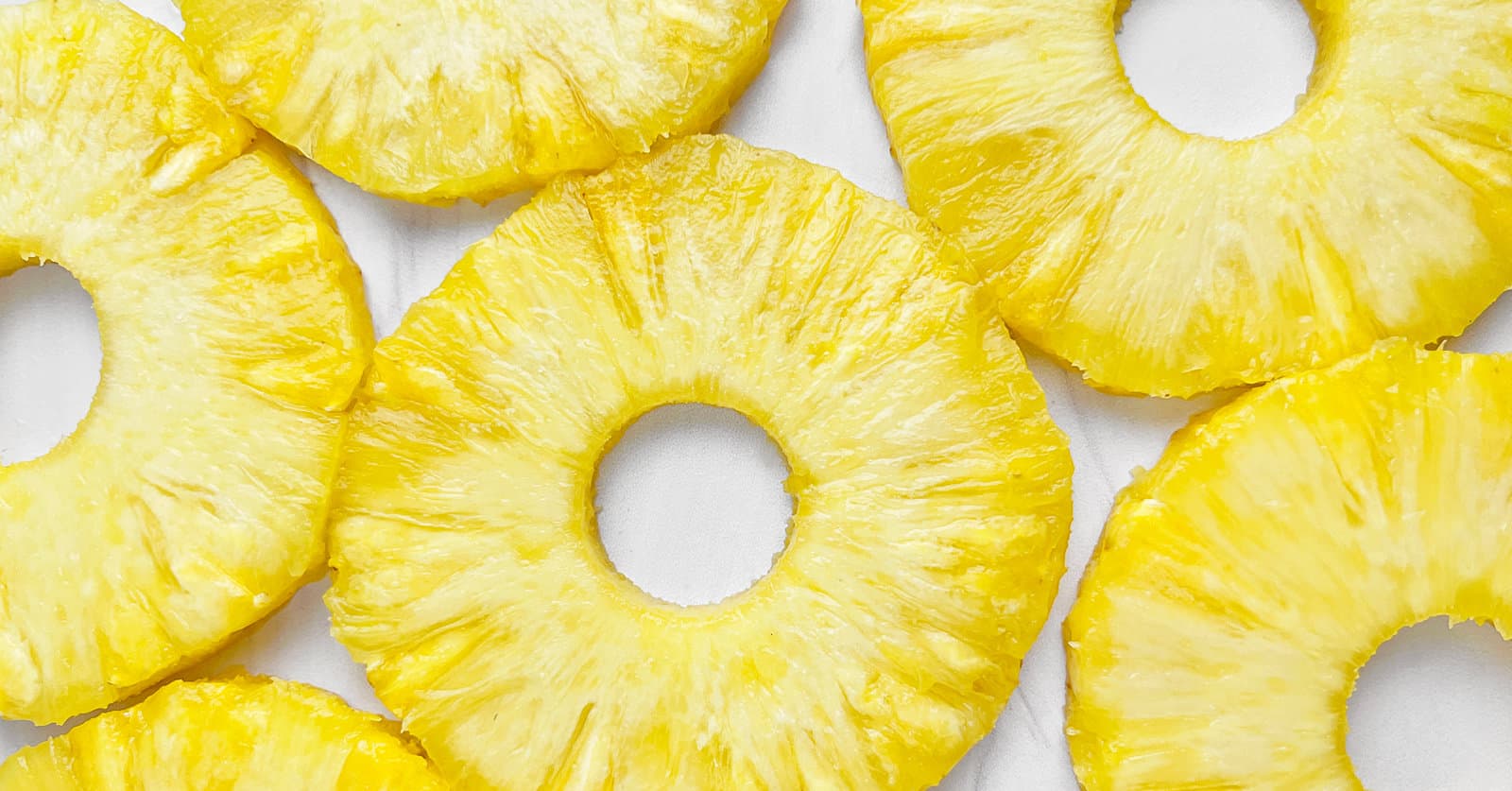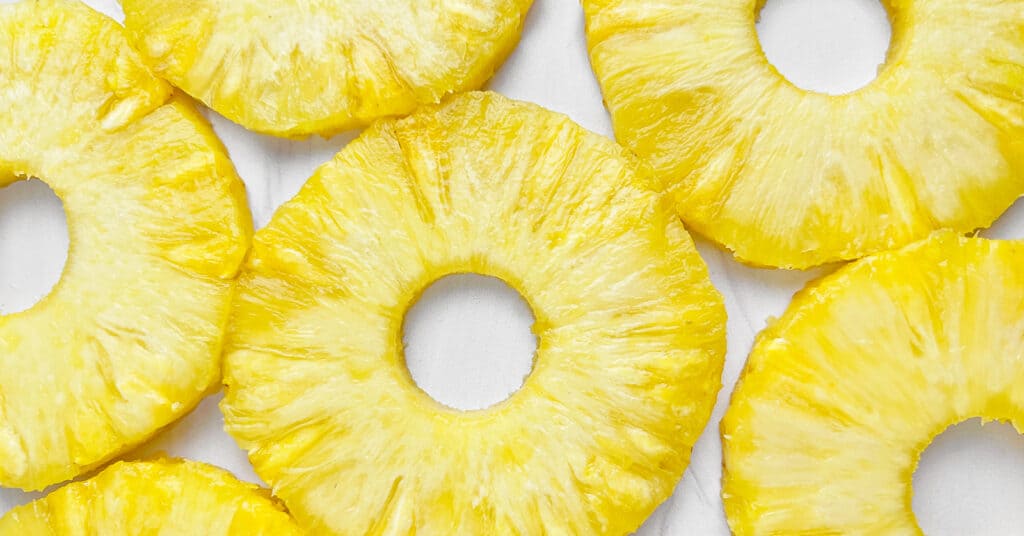 If you're looking for an easy way to cut pineapple rings, look no further! In just a few minutes, you can have perfectly shaped rings for grilling, air frying, or pineapple upside cake. Follow our step-by-step guide below to see how it's done.
What You'll Need
One of the best things about pineapple is that it's so easy to prepare, and one of the easiest ways to enjoy pineapple is in rings. You don't even need a pineapple corer – all you need is a whole fresh pineapple and a few supplies.
Ingredients
How to choose the perfect pineapple: to pick a ripe pineapple ready for slicing–look for a yellow/gold color, a lovely pineapple scent (if it smells like vinegar or alcohol, it's overripe), and a firm yet spongy feel when you press on the skin. Some say you can also try to pull a few leaves from the top, and if it's ready – they should be easy to pull.
Supplies
Coring: simply use the tools you already have in your kitchen. The round cookie cutter works great, but you can easily use a smaller pairing knife to remove the tough core. It will take a bit more time, but this way, you don't have to buy another tool.
How to Cut a Pineapple Into Rings: Step-by-Step Guide
Rings are our favorite way to cut pineapples—they look so fun and summery. Although it can seem a bit intimidating, the process we are going to show you is a super simple way to make beautiful pineapple rings. Let's get started!
🍍 Here's a quick lesson on the parts of a pineapple:

Top green leaves = the crown

Outer portion = skin, peel, or rind

Inner fruit = flesh

Hard inner middle = the core
Make sure you have your cutting board and chef's knife ready. Then position the pineapple on its side. Using a sharp knife, carefully slice off the leafy crown (top of the pineapple) – including a half inch to one inch of the pineapple rind.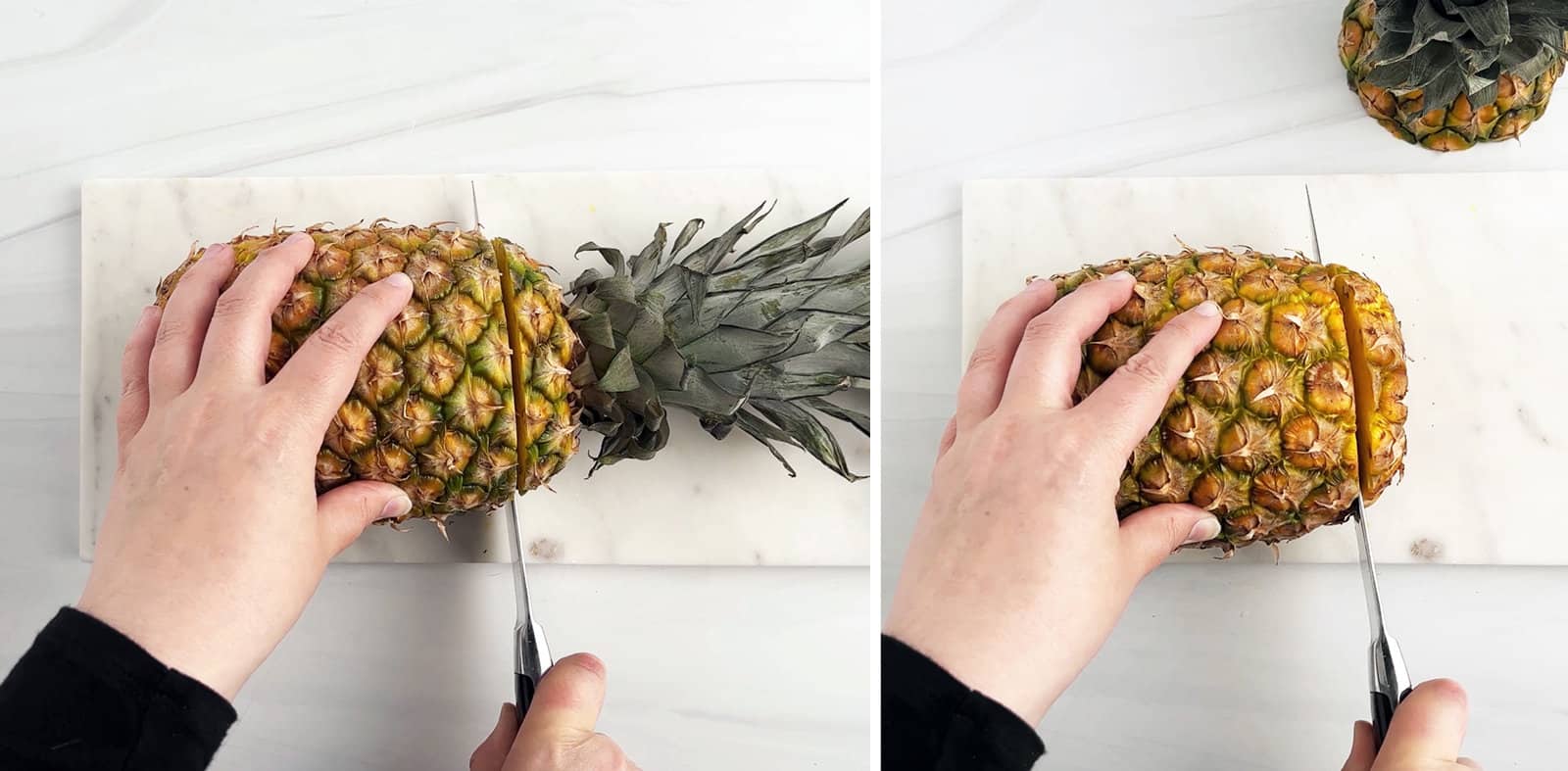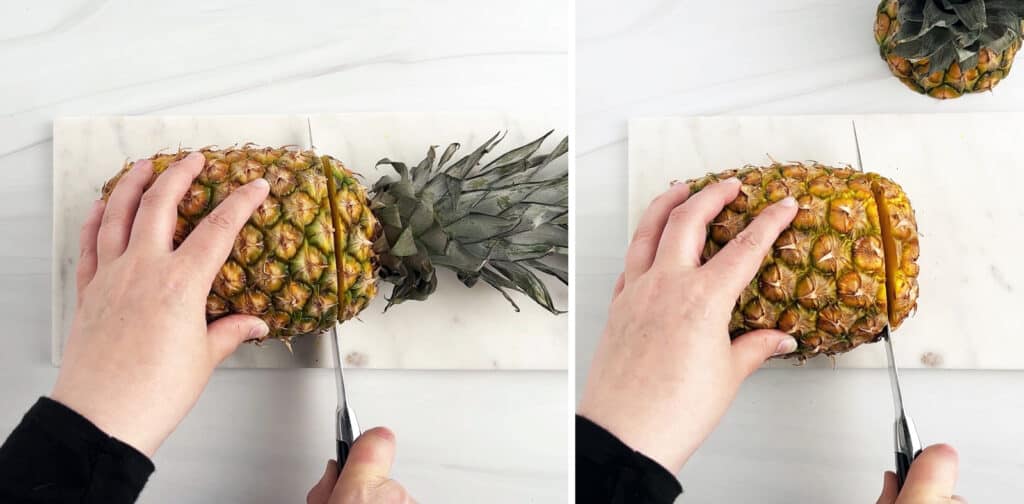 Then flip the pineapple around and carefully chop off the bottom of the pineapple. Again, include a half inch to one inch of the rind.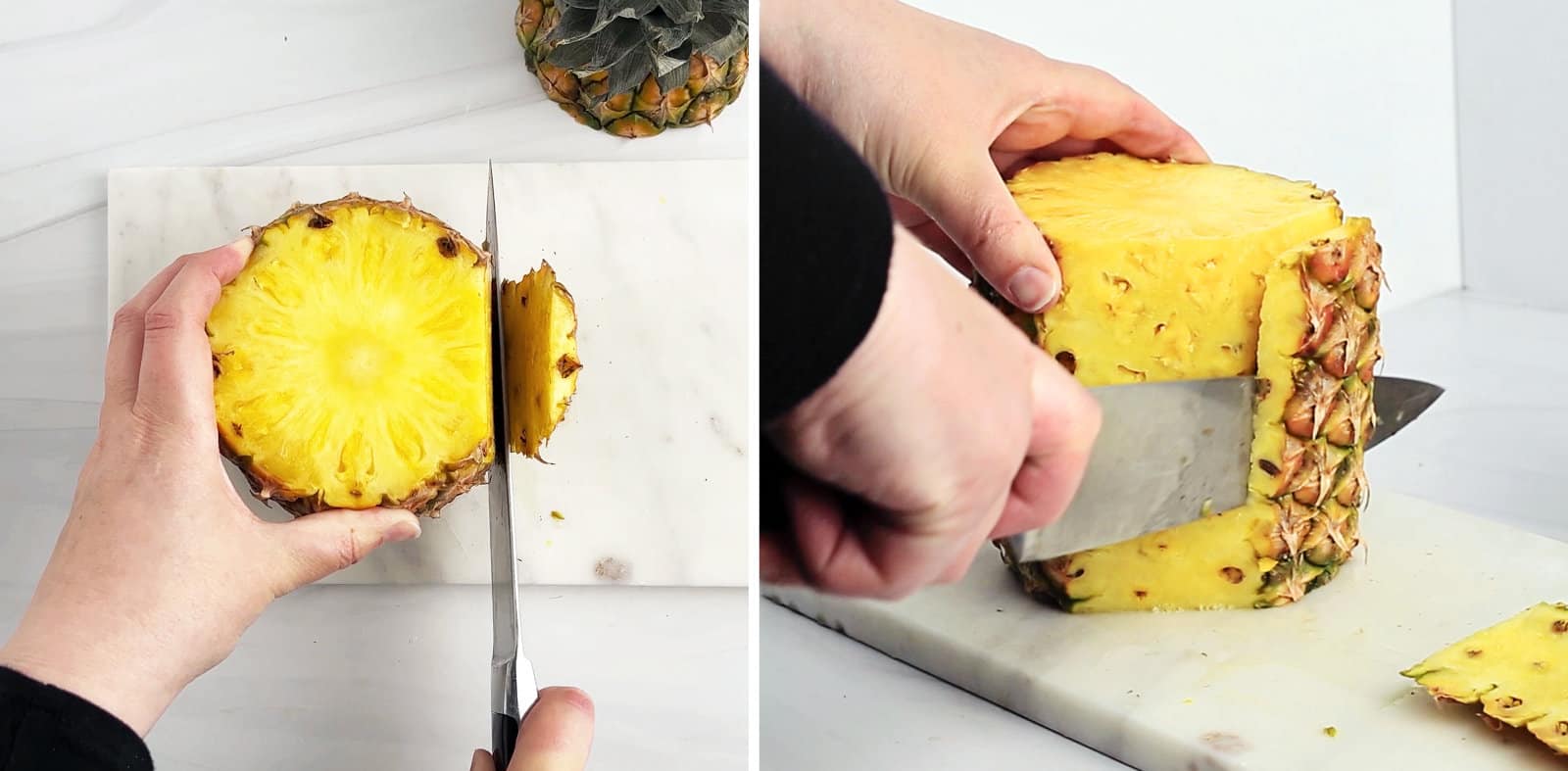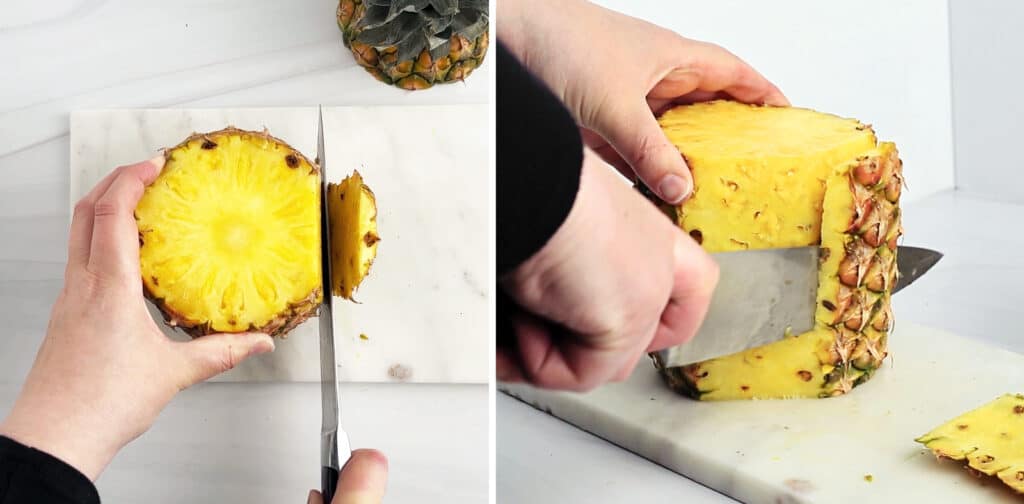 Next, position the pineapple upright and begin to slice the rind off, be careful not to take too much of the pineapple flesh. Note at this step, you can cut a hexagon-like shape; we'll make it pretty after most of the peel is off.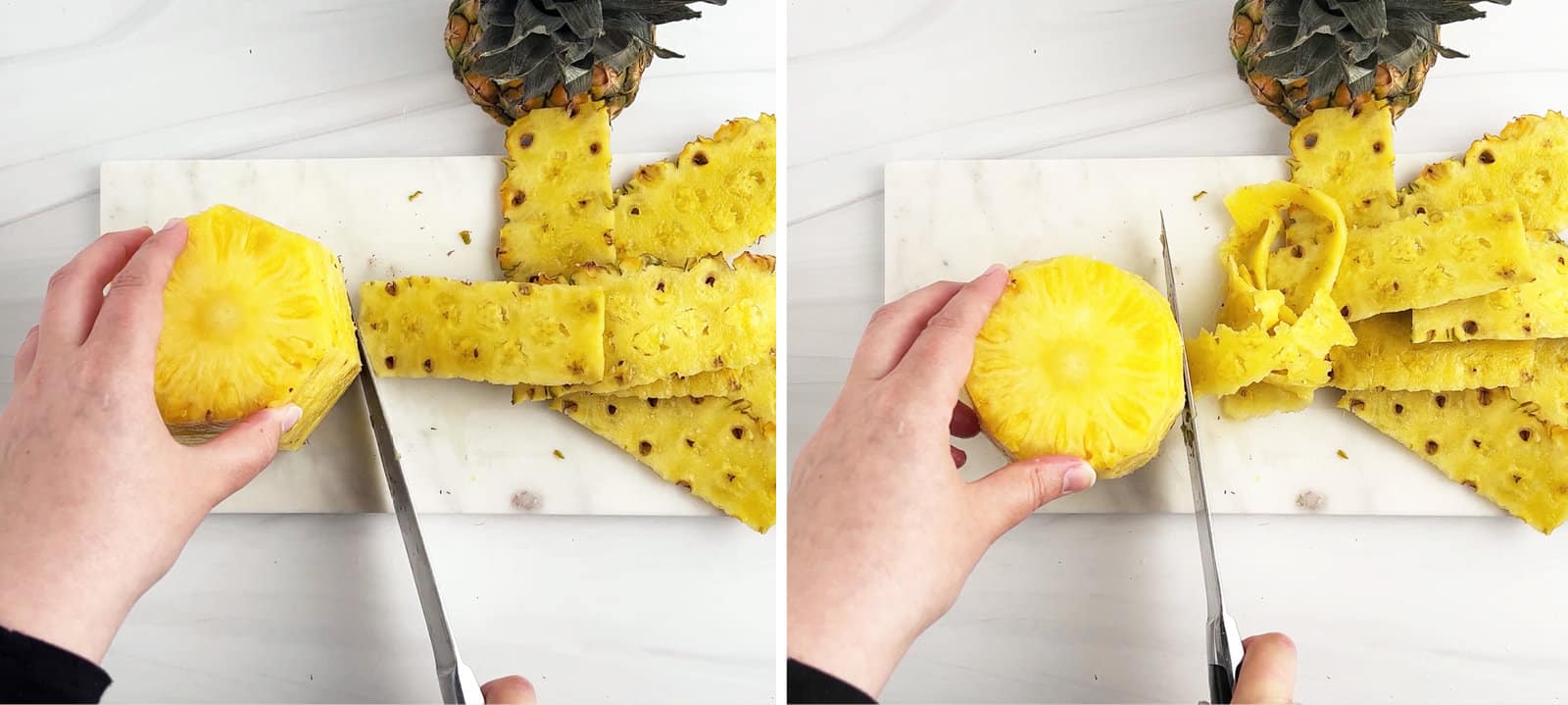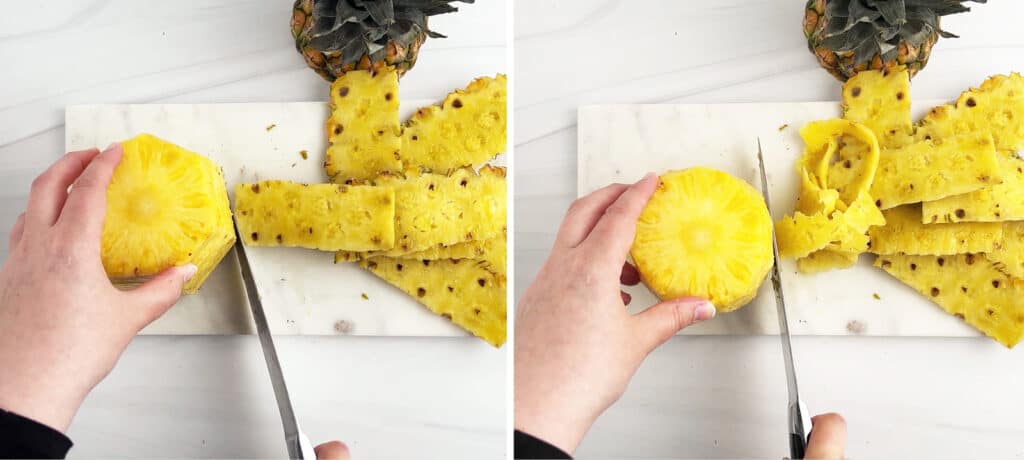 Trim the sides into a round shape to make a smooth circle, or as circular as you can/desire. We love the way round pineapple rings look, but if you are ok with straight lines, you can skip this step.


Now it's time for slicing. Using your choice of chef's knife, cut pieces about a half-inch thick and continue until you've sliced the entire pineapple.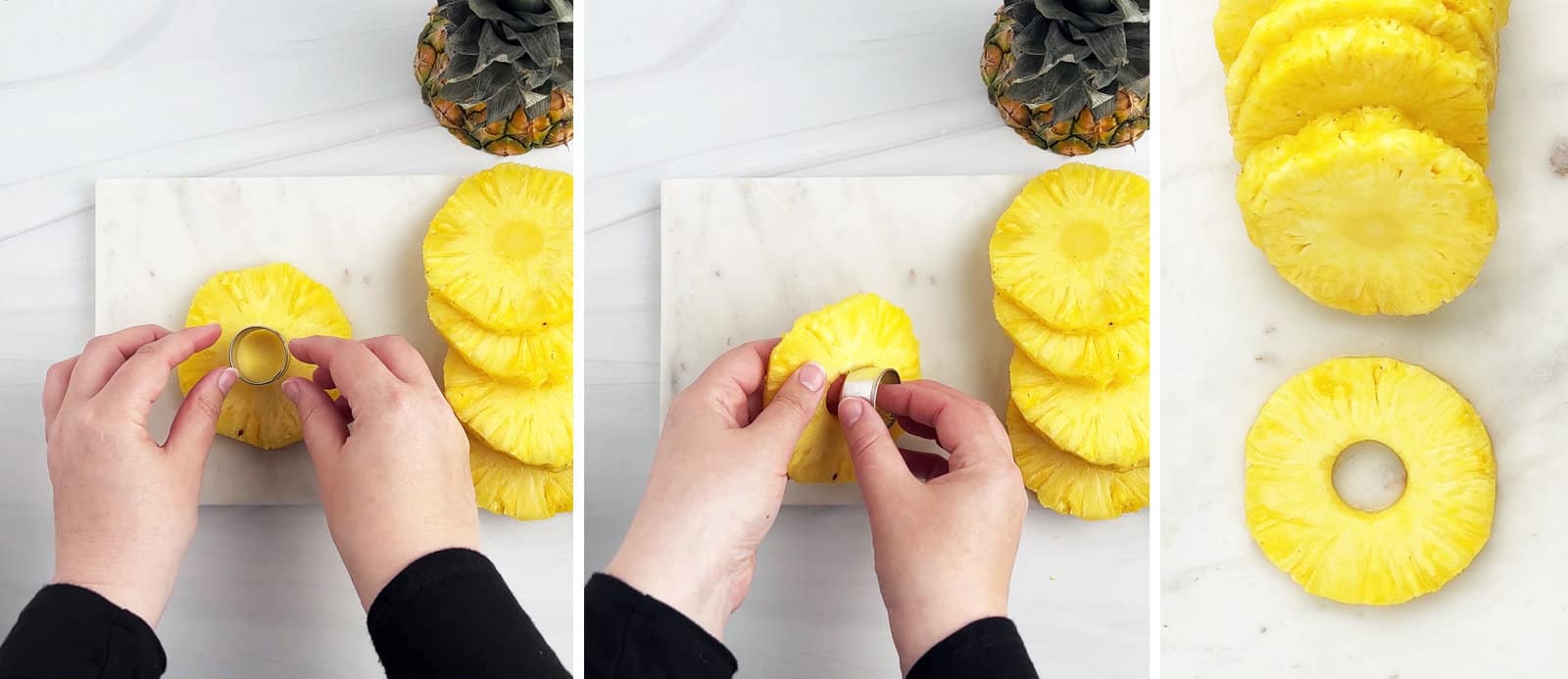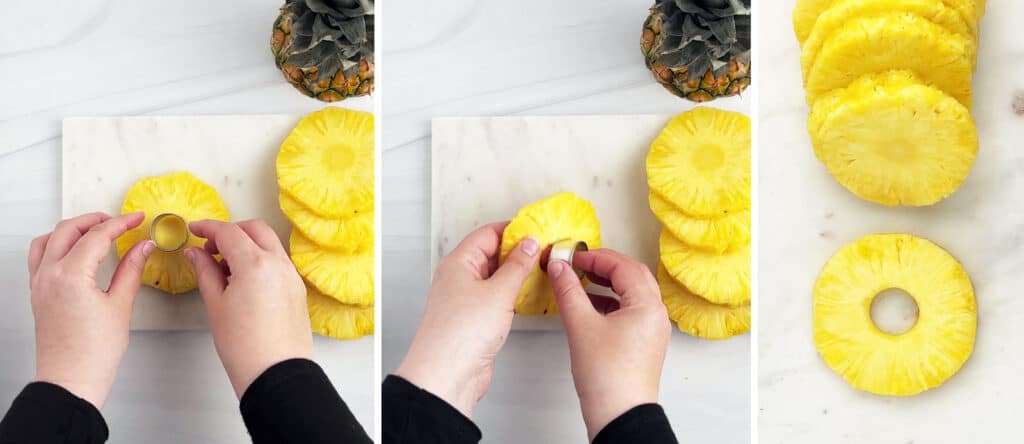 Here's the fun part – take a 1-inch to 1 1/2 inch circle cookie cutter and use it to remove the core in each pineapple slice. (Don't have this type of cookie cutter? See the next step.)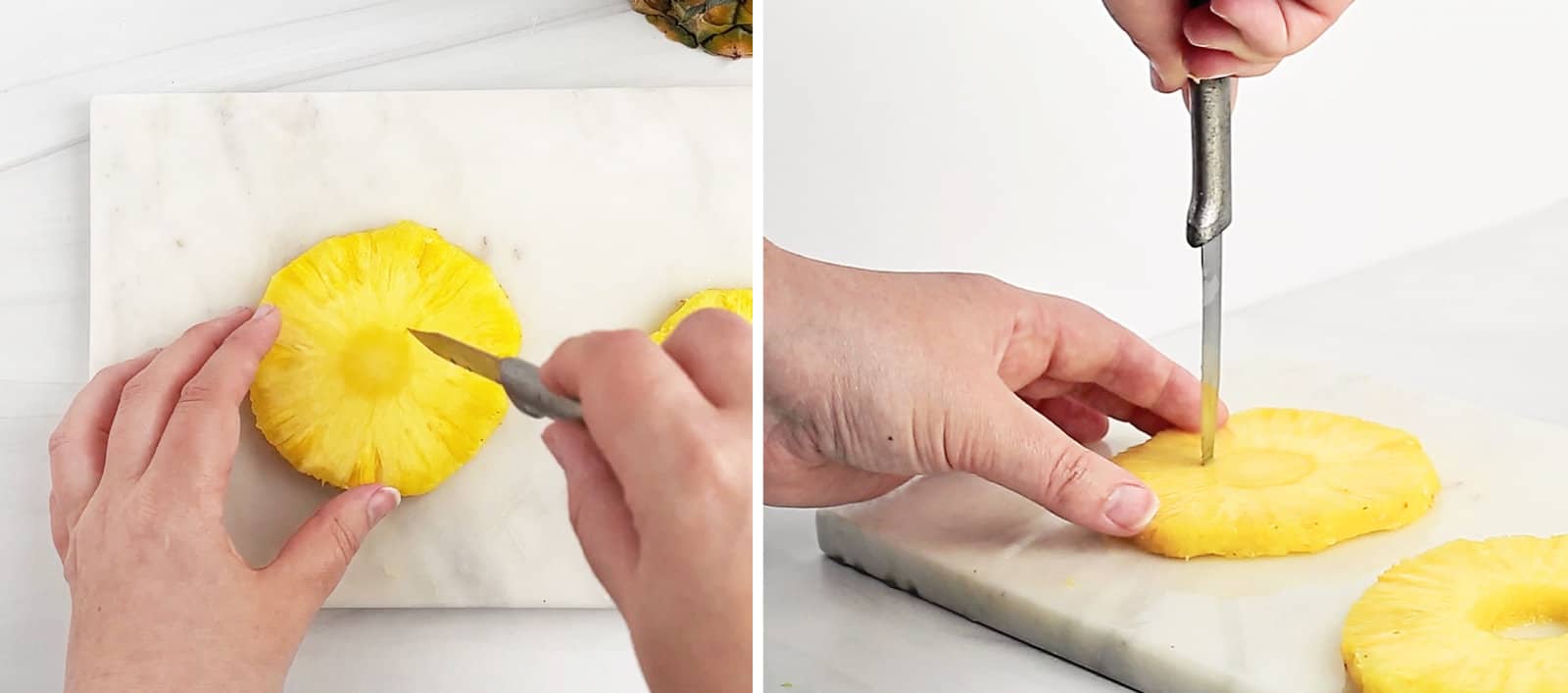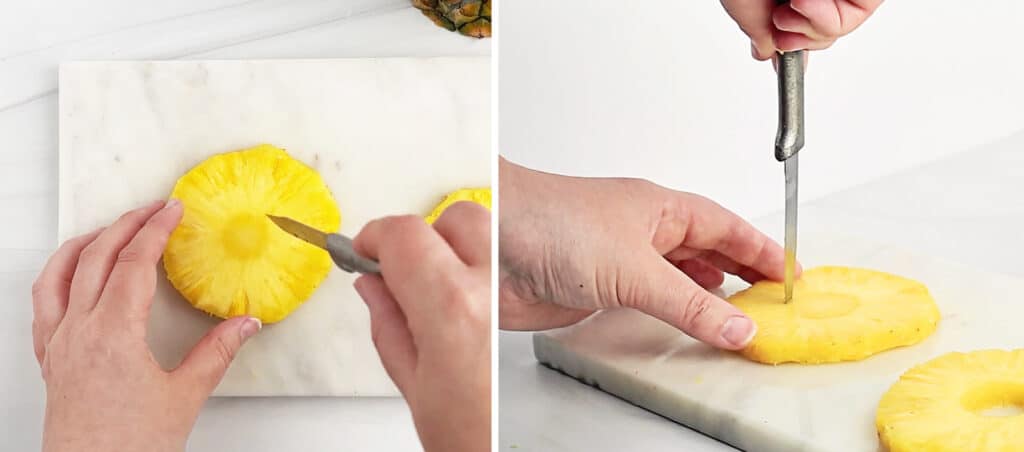 If you don't have the right kind of cookie cutter, simply use a paring knife to cut around the core and carefully remove the core on each piece.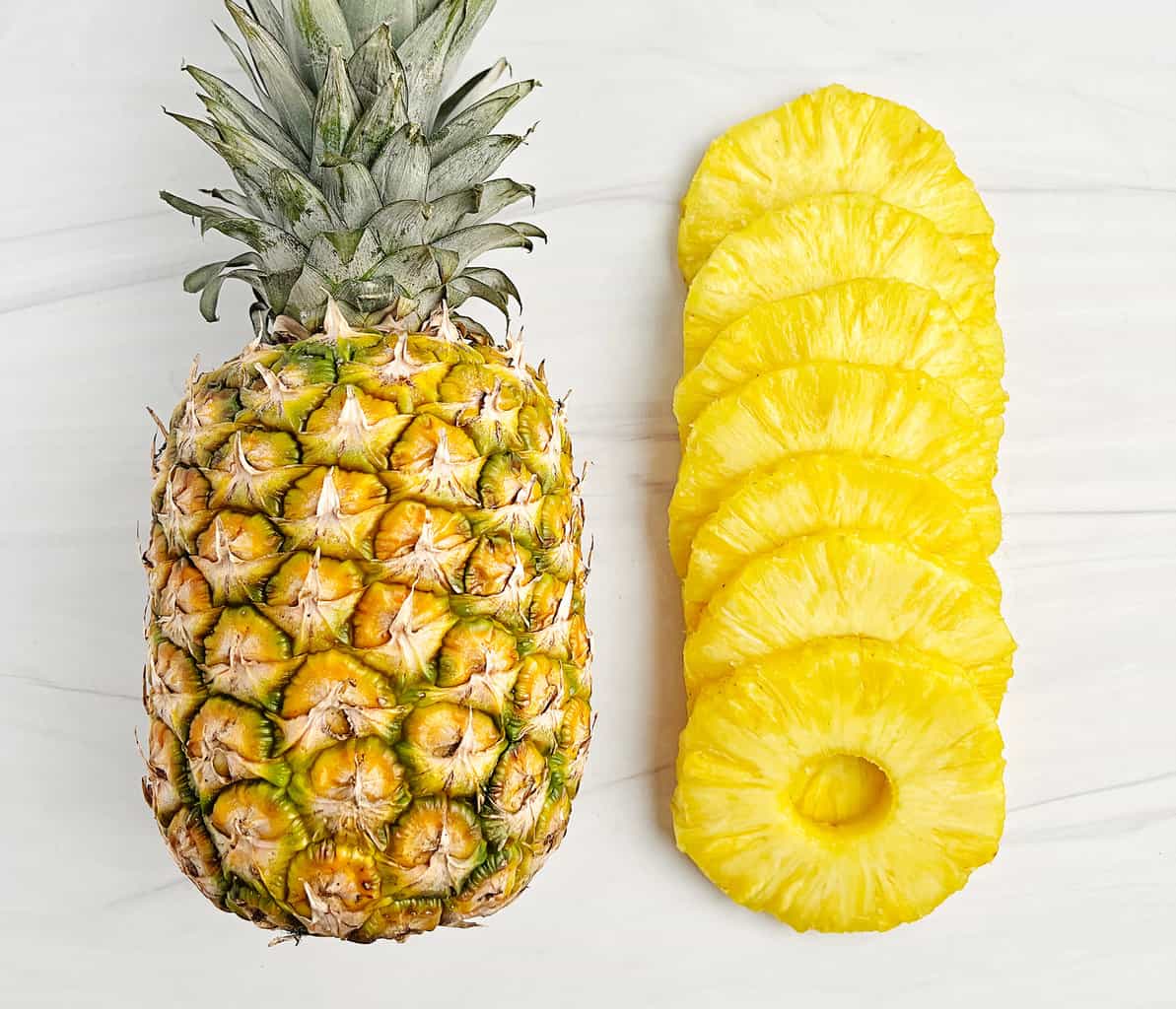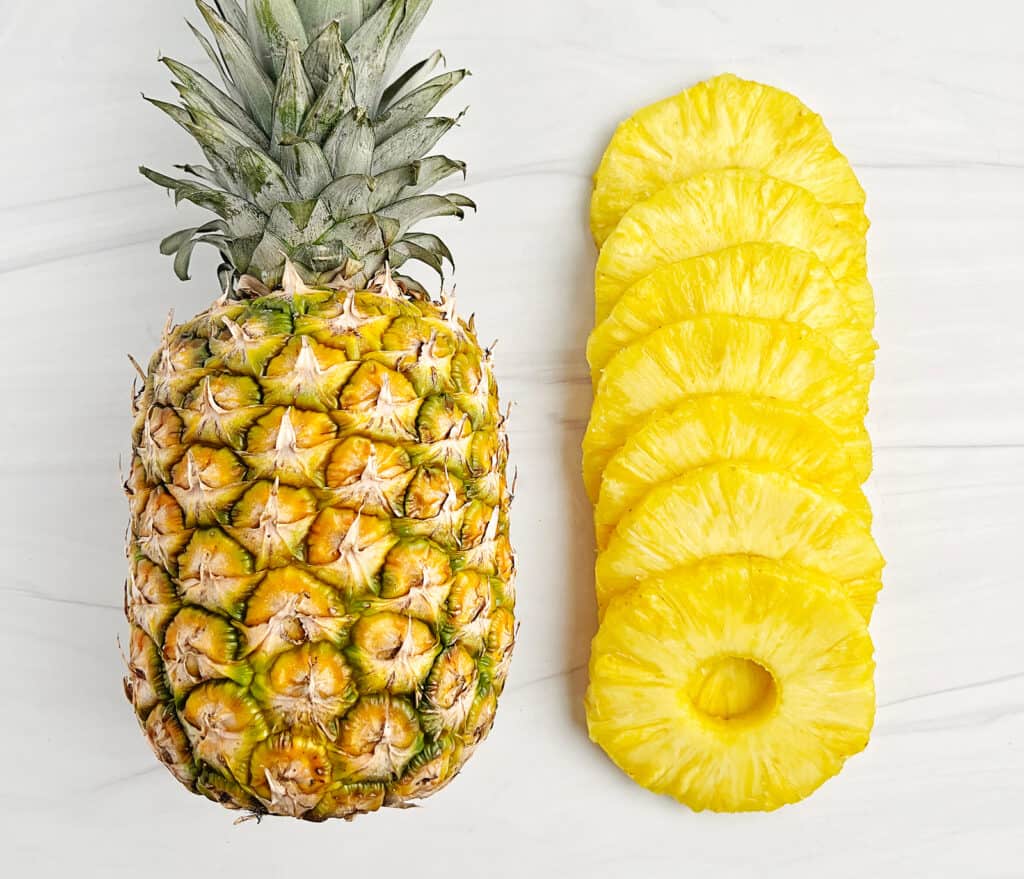 There you have it, pretty pineapple rings. Now all that's left to do is enjoy this tropical treat!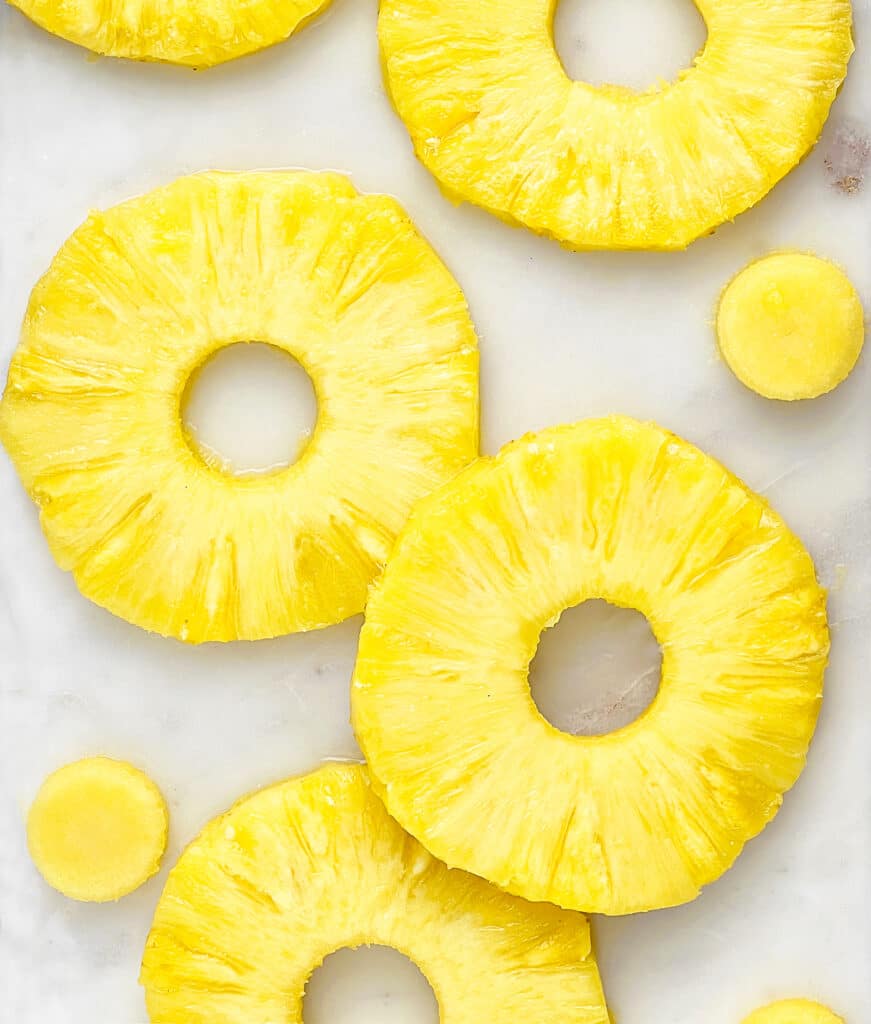 Step by-Step Video
Check out this helpful video with easy steps to cut pineapple rings.
How to Store Fresh Cut Pineapple
If you're looking for a way to keep your pineapple rings fresh and delicious, storing them in an airtight container in the fridge or freezer is best. The USDA recommends refrigerating or freezing cut fruit after it's been sitting out at room temperature for 2 hours or less.
In the refrigerator, cut pineapple will last 3 to 4 days. For longer storage in the freezer, if stored properly in an airtight container or vacuum-sealed, sliced pineapple can last 10 to 12 months.
Room temperature – refrigerate or freeze within 2 hours.
Fridge – lasts for 3 to 4 days.
Freezer – stores for 10 to 12 months.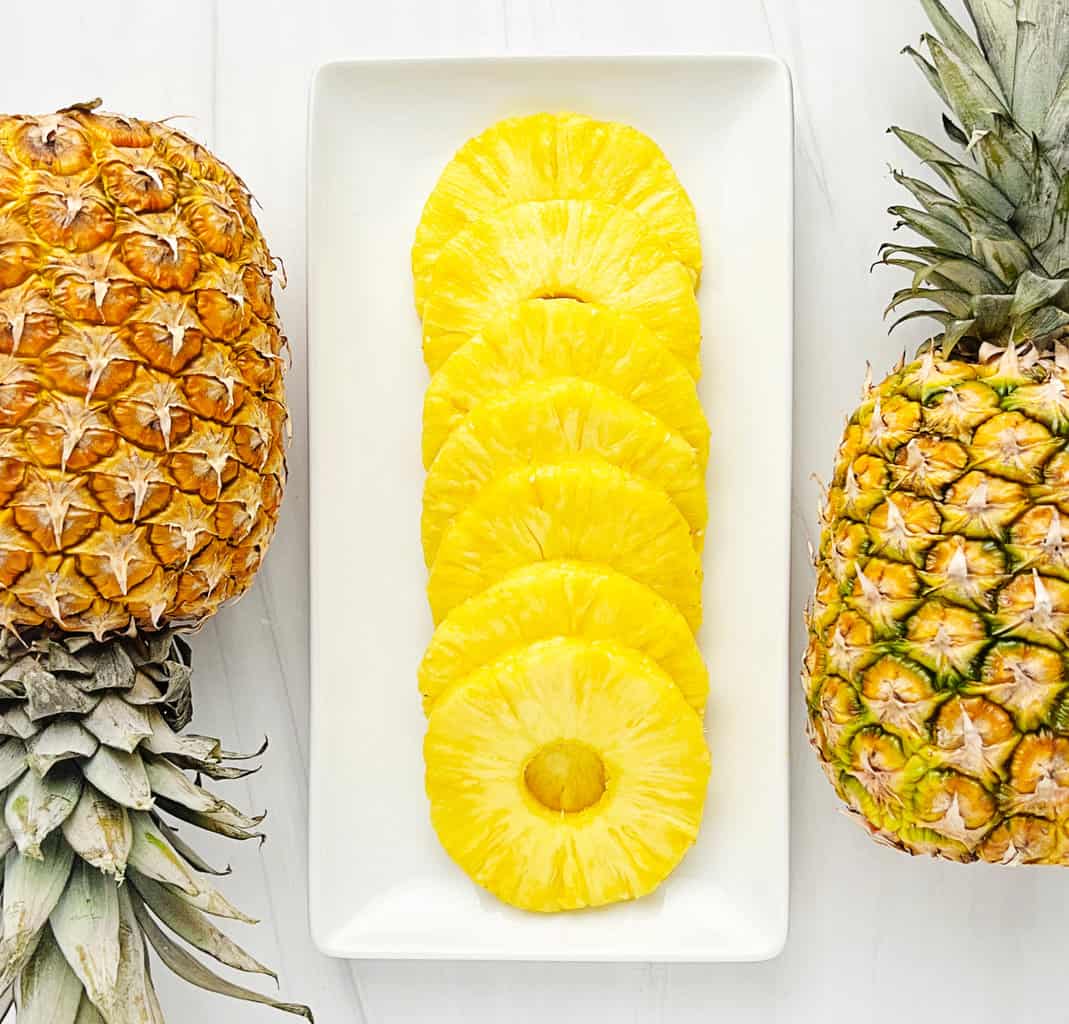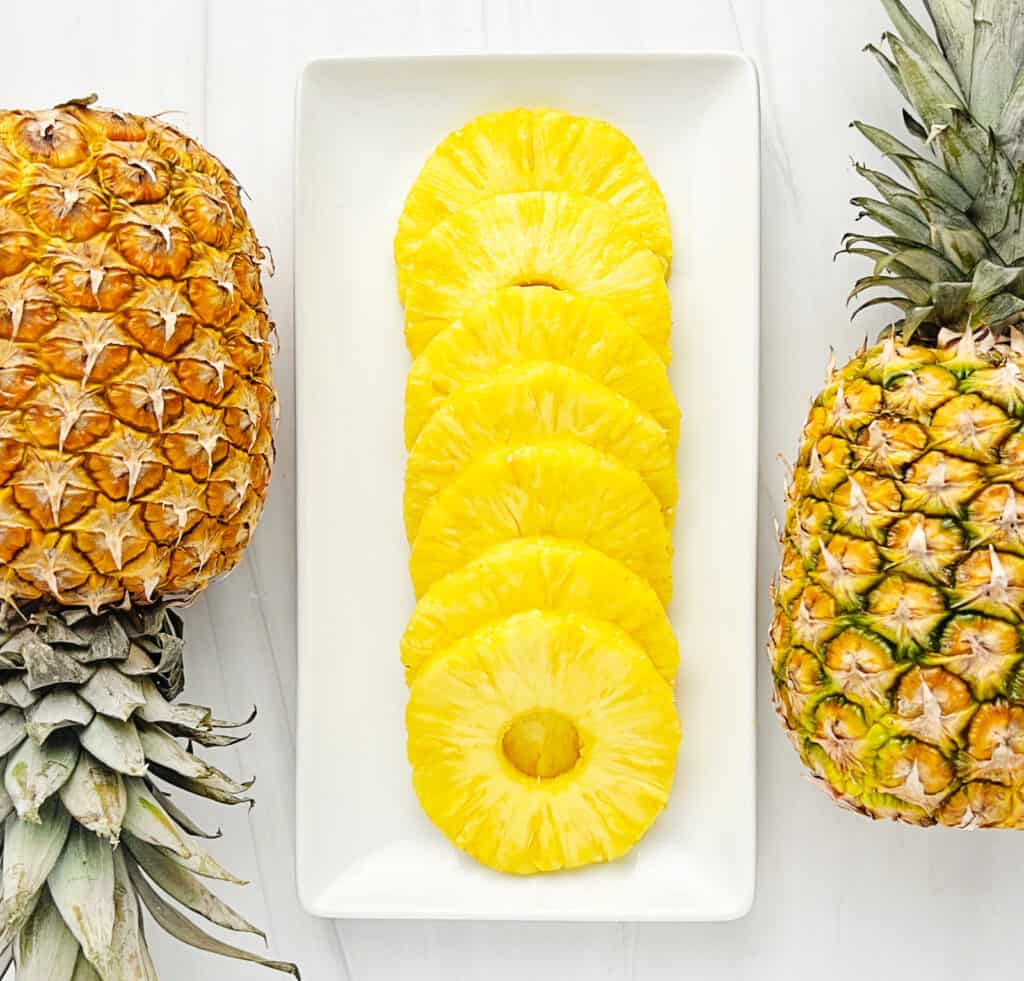 What to Use Pineapple Rings For
Pineapple rings can be used in so many different ways. You can eat them fresh, grilled, or in desserts. Here are some delicious ideas on how to use pineapple rings.
Pineapple upside-down cake
Honey barbecued ham
Air fried pineapple rings
Chocolate-dipped pineapple rings
Hawaiian chicken
Pineapple fritter rings
Grilled pineapple rings
Pineapple upside-down pancakes
Teriyaki burger toppings (beef or chicken)
Rum or whisky-soaked grilled pineapple (Fireball)
Tropical salad with pineapple vinaigrette
Fruit salads
Hawaiian pizza
Ham and pineapple grilled cheese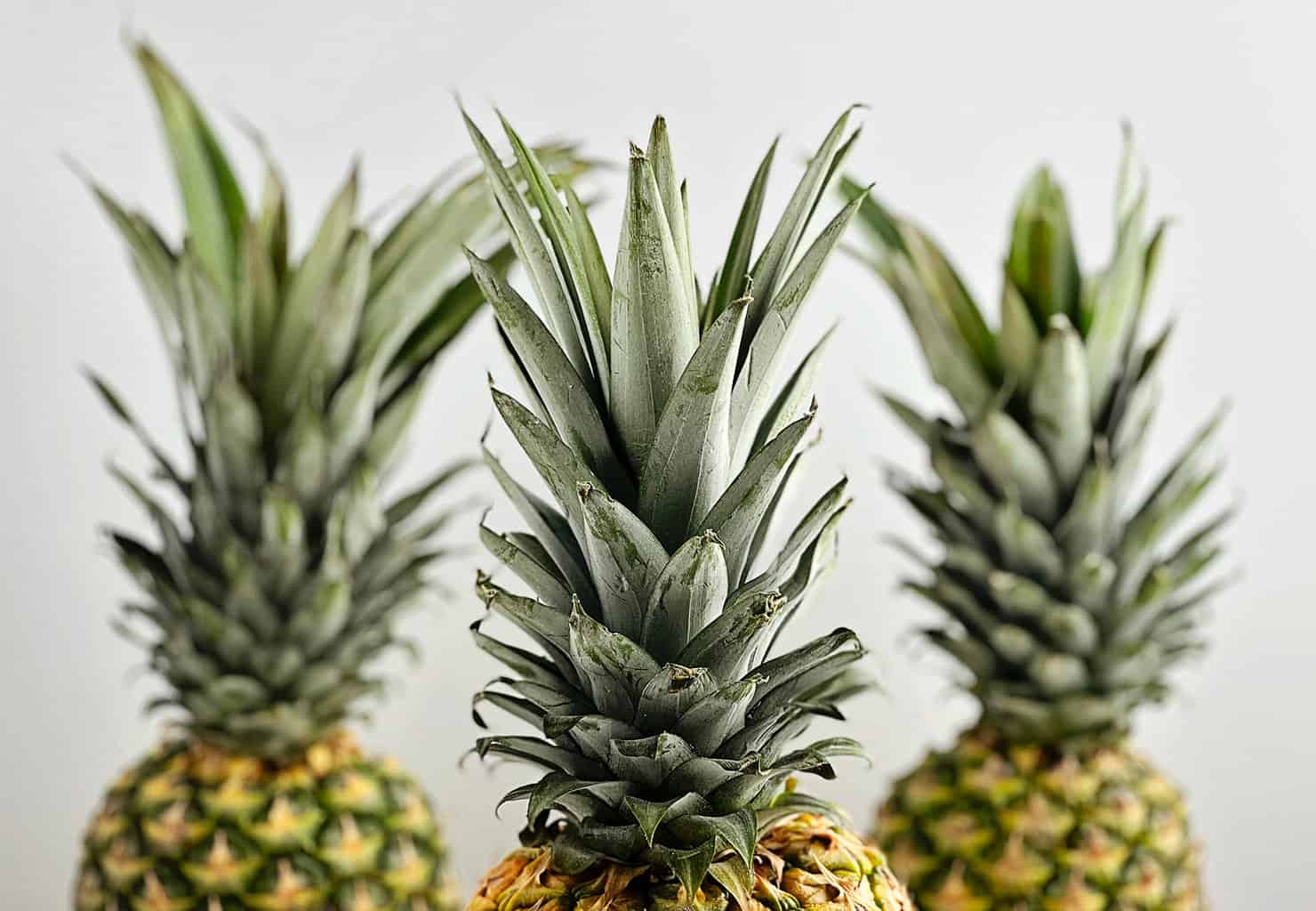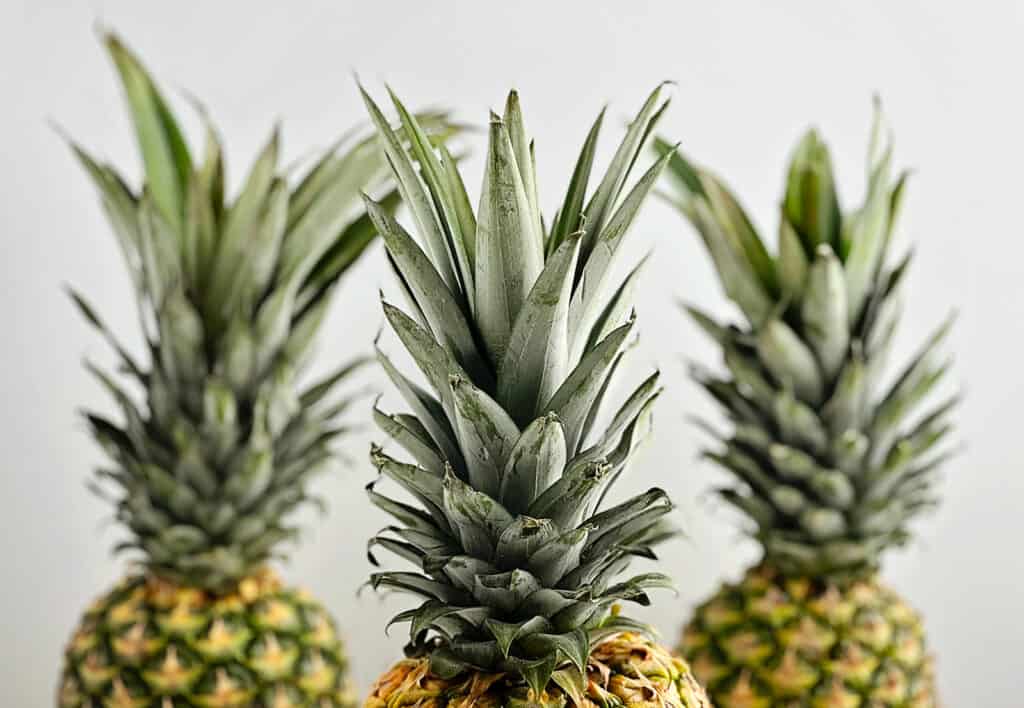 Final Thoughts
With a little practice, you will be able to make perfect pineapple rings in no time. These sweet and tangy slices are perfect for topping barbecue honey ham, teriyaki chicken, or simply enjoying as a healthy, refreshing treat. How do you like to eat your pineapple?
Pin for later: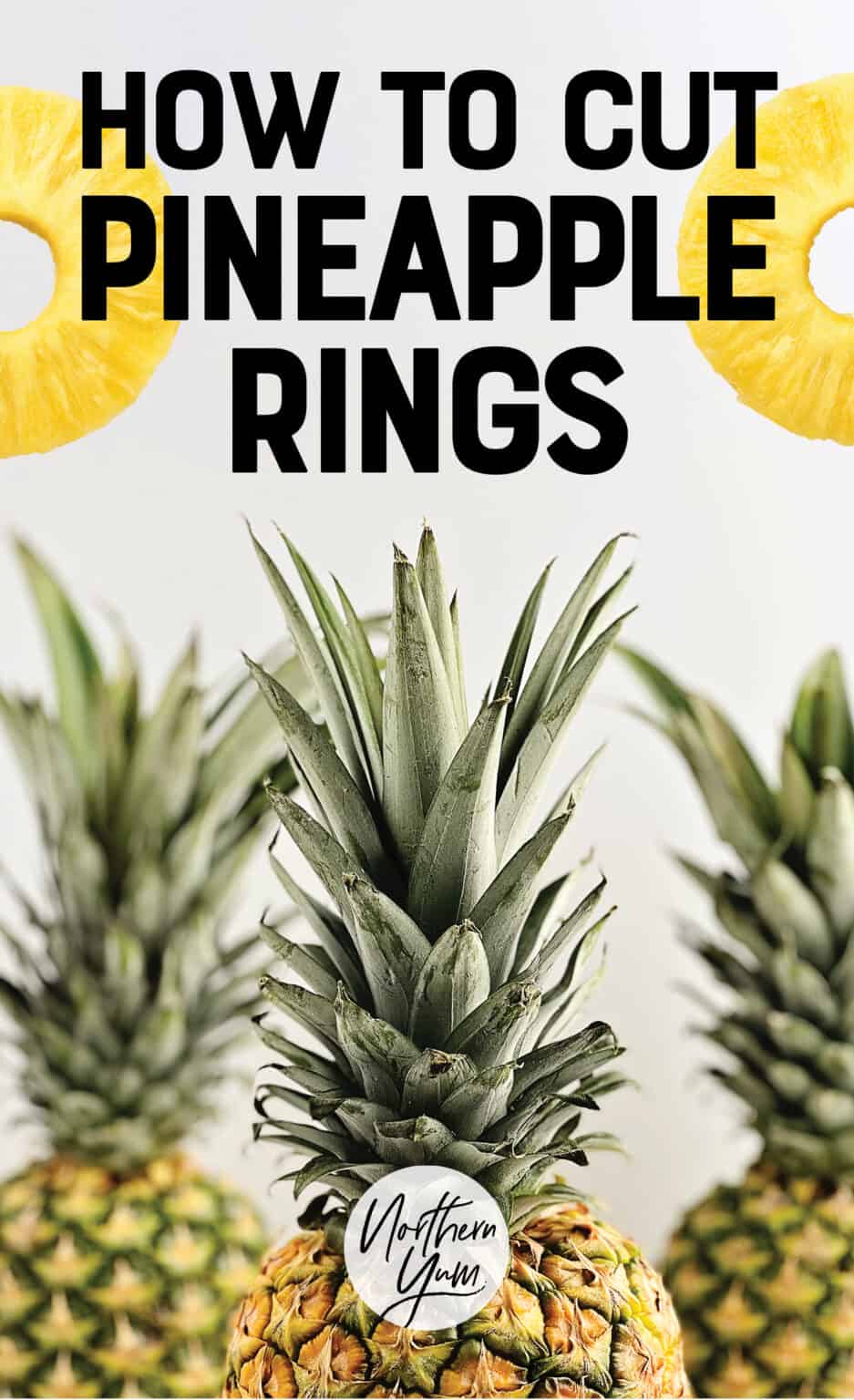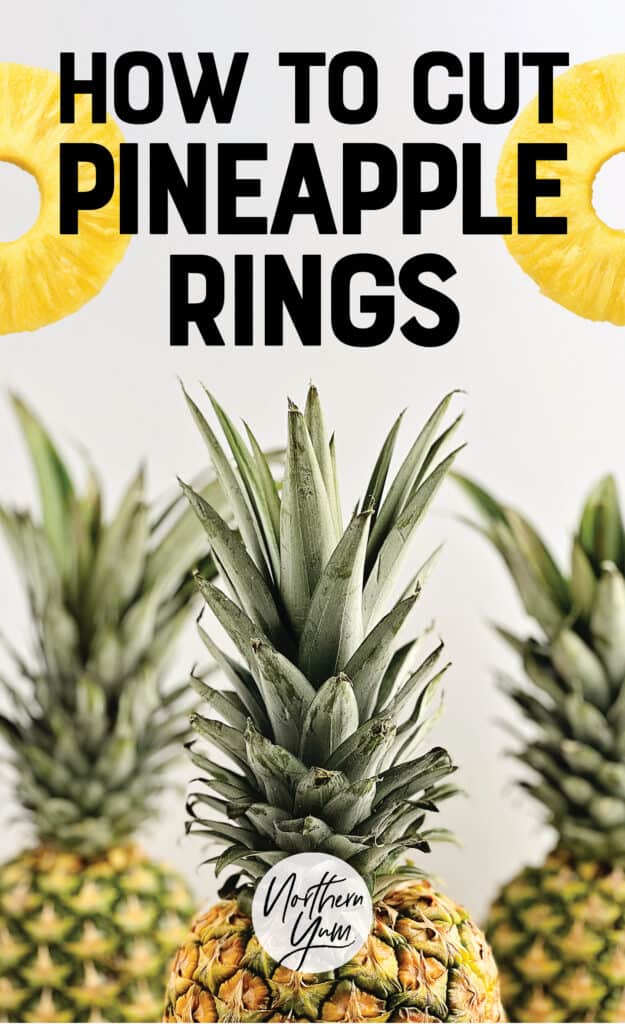 More Pineapple Recipes You'll Love
How to Cut a Fresh Pineapple Into Rings