Homemade Fruit Infused Water
This post may contain affiliate links. That means if you click and buy, we may receive a small commission (at zero cost to you). Please see our full disclosure policy for details.
Delicious, refreshing fruit-infused water you can customize with your favorite fruits and herbs. A healthy drink + the perfect alternative to calorie-filled sodas and juices.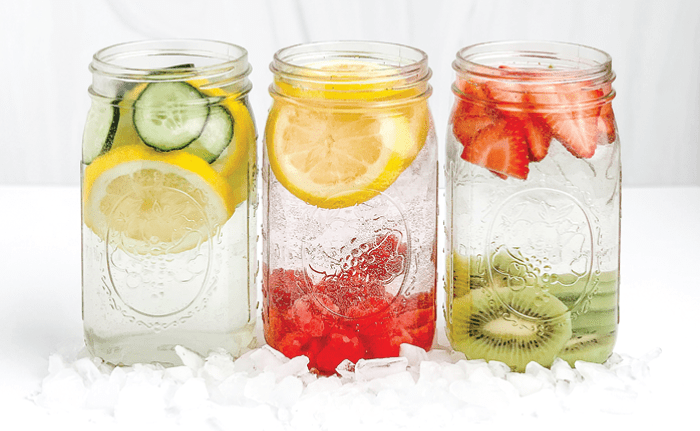 The Best Homemade Fresh Fruit Infused Water Recipes
If you are looking for a way to make water tasty and not boring—homemade fruit and herb-flavored water is the way to go. Even better, it's also a delicious, healthy alternative to sodas, juices, and other calorie-filled drinks.
I've tried to substitute flavored sparkling water like Bubbly or LaCroix in place of soda (and do enjoy it from time to time), but I really just prefer homemade infused water with fresh fruit. If you've ever had Hint water (which I also love, especially in peach), this is the DIY version.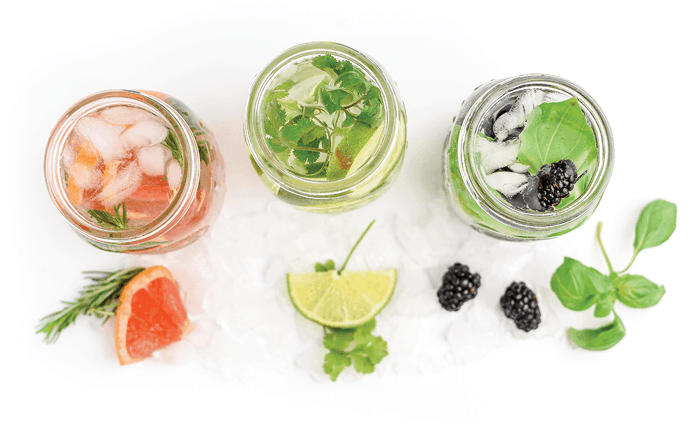 My favorite ways to use and prepare flavored water:
Use a regular pitcher or fruit infused water pitcher and make enough for the family or a dinner party. This is perfect for bridal or baby showers and spa-themed parties.
Take 32-ounce mason jars and keep them in the refrigerator during the week to grab. I work from home, so this works well for me.
If you're on the go – use a water bottle or fruit infused water bottle that's ready to grab and go. Perfect for the office!
Many use healthy infused water as a way to detox.
The Best Fruits to Use
Here's a list of the best fruits to put in water, in my opinion.
Strawberries
Blueberries
Raspberries
Blackberries
Lemons
Limes
Oranges
Cucumbers
Kiwi
Grapefruit
Watermelon
Pineapple
Coconut
Peaches
The Best Herbs to Use
Add a little extra flavor with your favorite herbs. Test different combinations and find your favs.
Mint
Basil
Rosemary
Cilantro
Basil
Cinnamon
Lavender
Ginger
Sage
How to Make Infused Water
Ingredients
Fruits of choice
Herbs of choice
Water
Ice cubes (optional)
Recipe Instructions + Tips
Use a mason jar (I use 32-ounce jars), infused water pitcher, or fruit infused water bottle.
Add your favorite fruits and herbs. Slice if needed. The fruits you slice will provide more flavor – citrus (lemons, limes, grapefruit), cucumbers, strawberries, kiwi, watermelon, and pineapple.
The amount of fruit you use will really depend on the size of your container. For the 32-ounce mason jars, I fill the bottom of the jar about 1/8 to 1/4 of the way.
Fill the remainder of the jar, pitcher, or bottle with water. And chill in the refrigerator for at least 2 to 4 hours. If you have time for the fruits to marinate in the water overnight, even better!
If you prefer ice water, add ice cubes before drinking.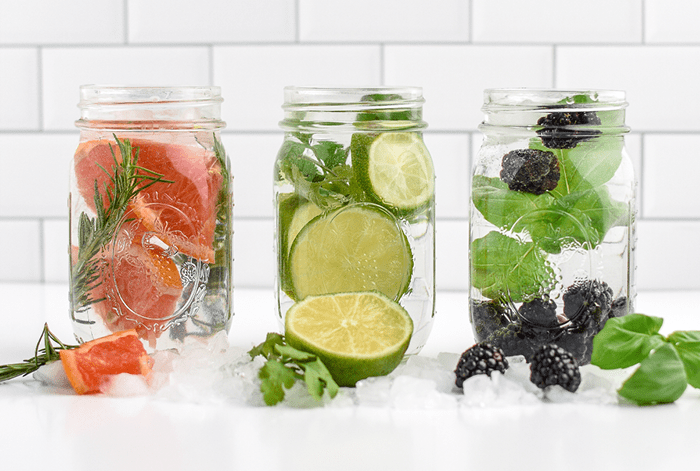 Fruit and Herb Combinations
Here are my favorite flavored water combinations to give you inspiration. Try your own combinations to find your favs.
Strawberry Kiwi
This is so easy! Slice strawberries and kiwi for a sweet and refreshing beverage perfect for sipping in the Summertime.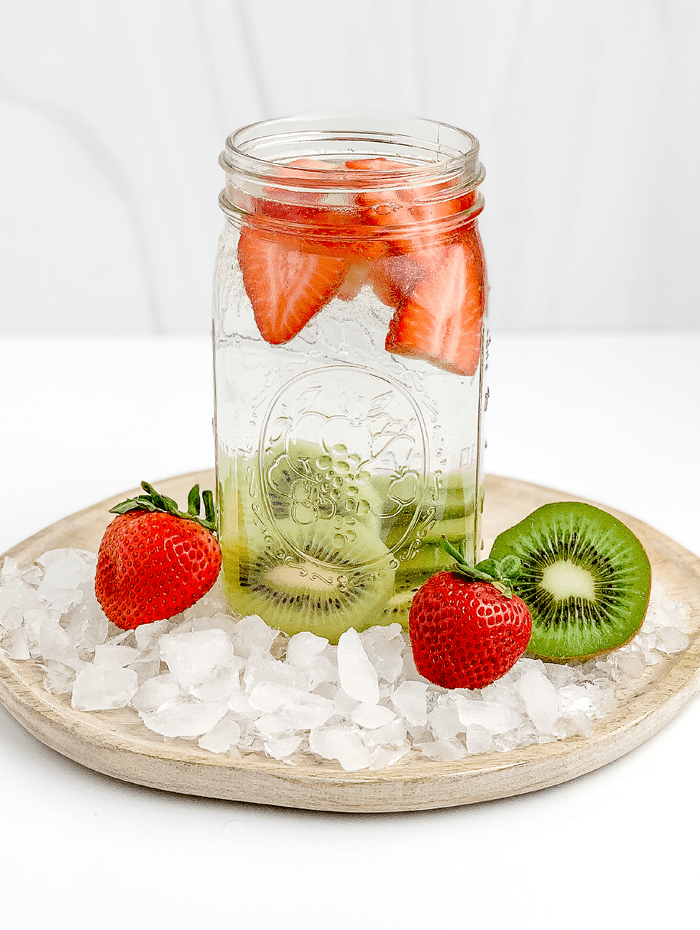 Blueberry Lime
Blueberry-infused water is a favorite of mine. My family loves blueberries, so we always have them on hand. In addition to blueberries, add lemon, lime, or lavender.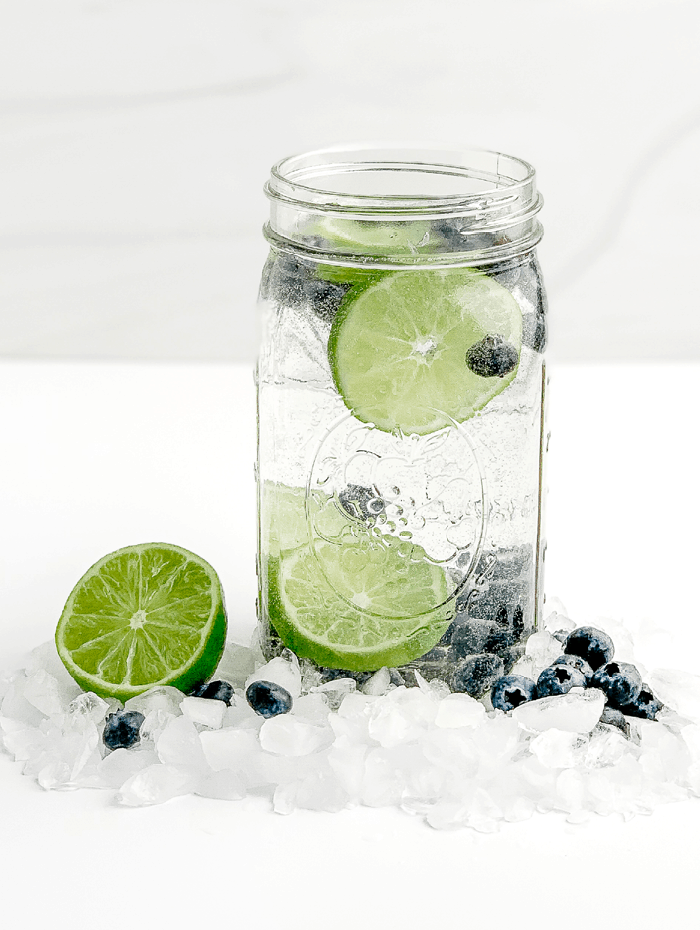 Cucumber Lemon
Cucumber lemon water reminds me of the spa. It's so light and refreshing. Slice cucumbers and lemons. So simple!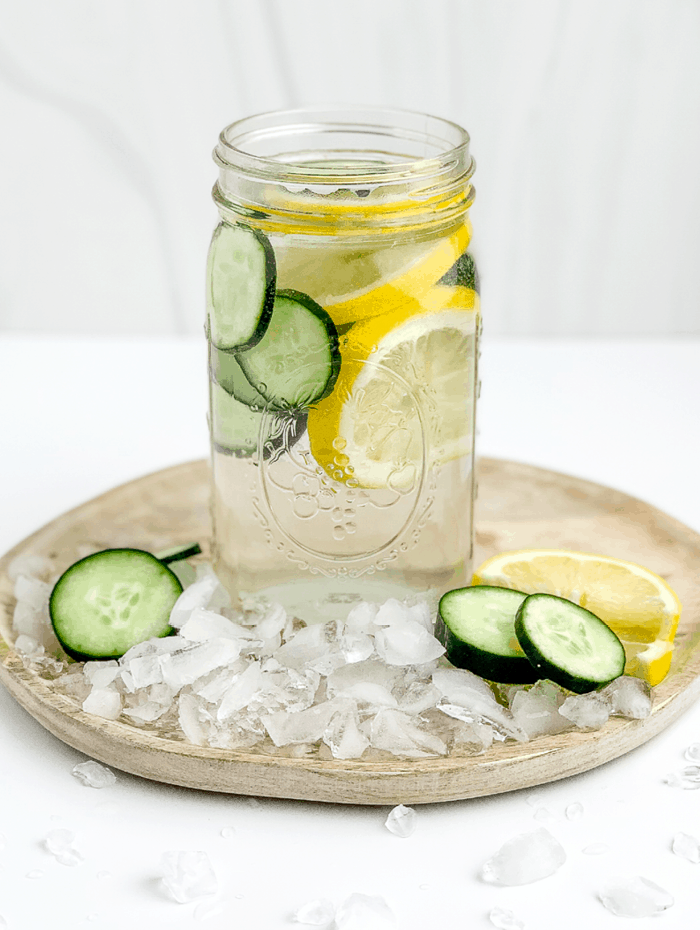 Raspberry Lemon
I just love the look of raspberry lemon water alone. This is so pretty for a summer barbecue, bridal shower, or baby shower. Slice lemons and add raspberries.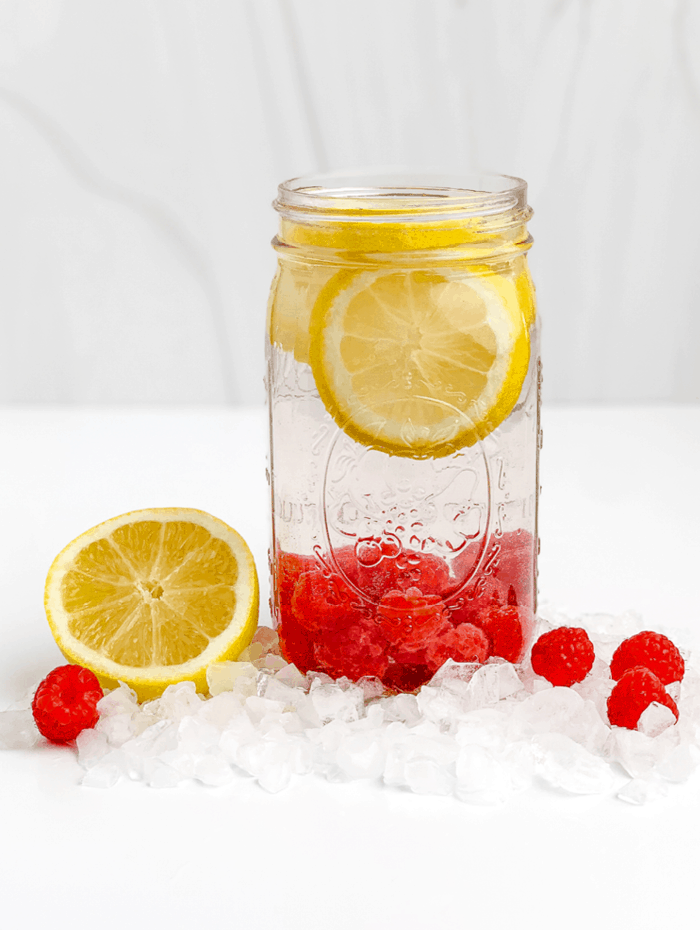 Grapefruit Rosemary
I love grapefruit, and so does my daughter. Slice grapefruits (or cut into wedges) and add a few sprigs of rosemary to spice it up!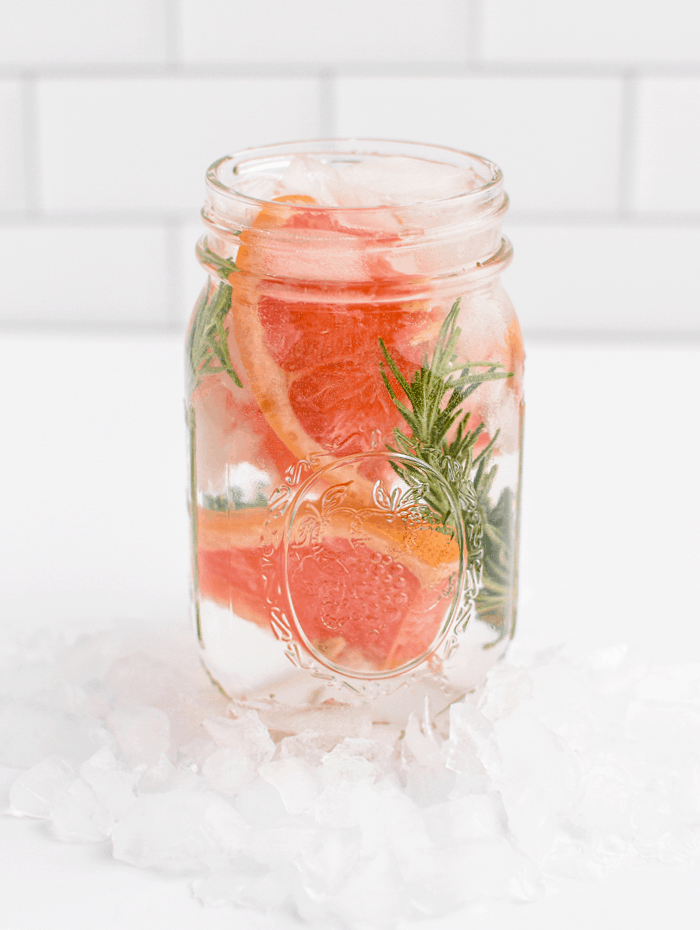 Blackberry Basil
Blackberry and basil-infused water is great for those who love berries + want more of a savory taste. It's less sweet than other flavored water recipes.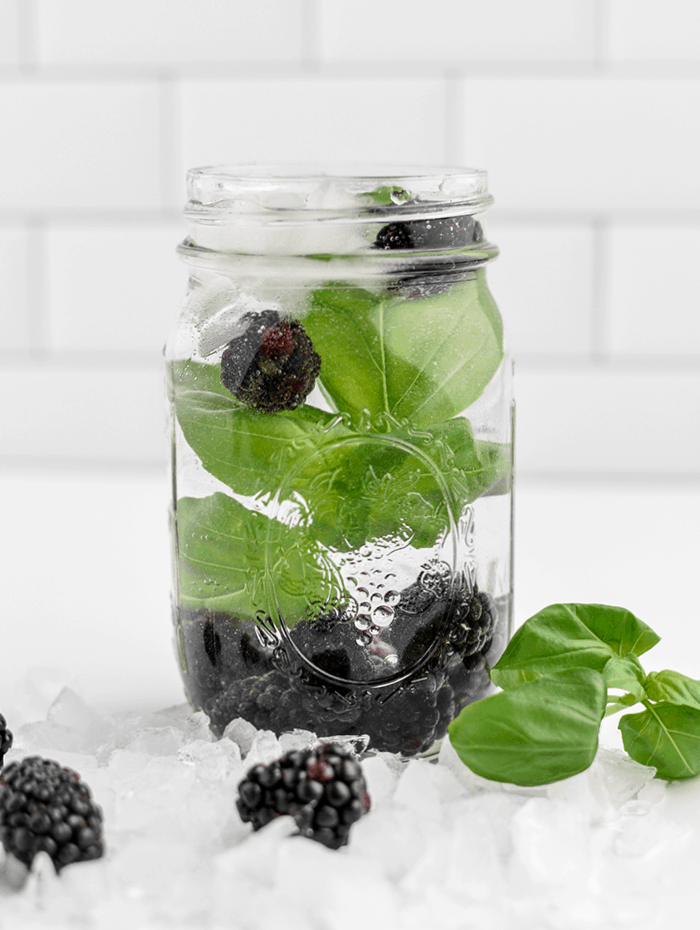 Cilantro Lime
Ok, hear me out on this one! My husband loves cilantro, and it pairs perfectly with lime. This combination reminds me of the pico de gallo we make. It is addicting! Add sliced limes and cilantro leaves.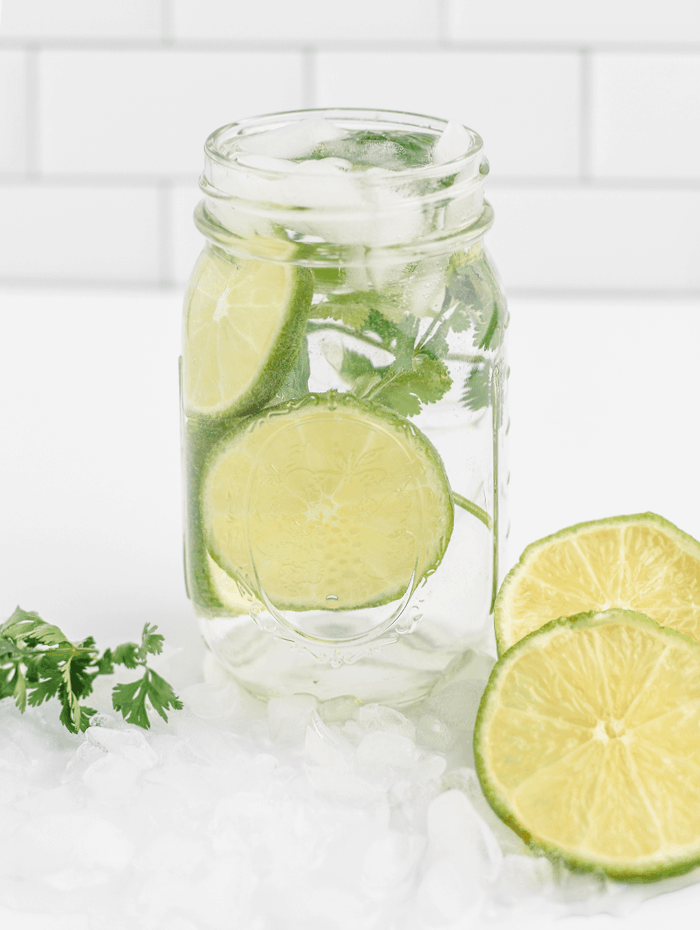 Strawberry Lemon
Strawberry lemon is one of my go-to's. Slice strawberries and lemons, and you're all set.

Orange Lemon
Citrus water is so yummy. Add sliced oranges and lemons or wedges.

Watermelon Mint
If you want to try something slightly different, add watermelon slices with mint leaves or coconut.

Pineapple Coconut
Pineapple coconut makes me feel like I should be on a beach somewhere. Pineapple also pairs well with cucumber.

Berry
Here's an easy no-slice recipe. Combine raspberries, blueberries, and blackberries.

Grapefruit Lemon
Grapefruit lemon is another great citrus combination. Slice lemons and grapefruits.

Cucumber Mint
Cucumber mint is an uplifting combination. Slice cucumbers and add mint leaves.

Apple Cinnamon
The perfect flavor for fall. Slice 1 apple and add 2 cinnamon sticks. You can use ground cinnamon, but you will need to shake or stir often while drinking it.

Ginger Lemon
Peel and slice half of a ginger root. Add sliced lemon.

As you can see, there are endless possibilities. Experiment and try different combinations.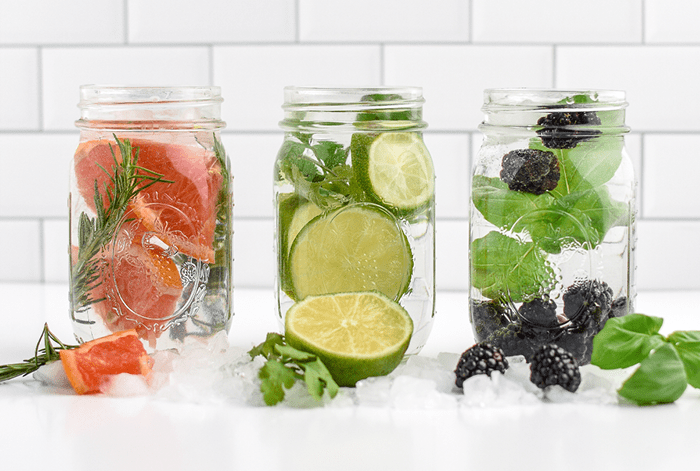 What are your favorite flavors? Let me know in the comments!
Print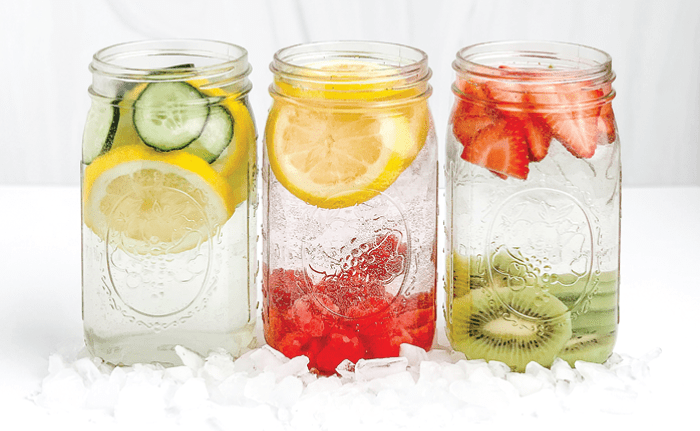 Infused Water Recipes
Delicious, refreshing homemade infused water. Customize this recipe with your favorite fruits and herbs.
A list of the best fruits and herbs to add is in the notes. And my favorite combinations are featured in this post!
Fruits of choice (see notes for best fruits to add)
Herbs of choice (see notes for best herbs to add)
Water
Ice cubes (optional)
Instructions
1. Use a mason jar (I use 32-ounce jars), infused water pitcher, or fruit infused water bottle.
2. Add your favorite fruits and herbs, slice if needed.
3. Fill the remainder of the jar, pitcher, or bottle with water.
4. Chill in the refrigerator for 2 to 4 hours; overnight is even better.
5. If you prefer ice water, add ice cubes before drinking. Enjoy!
Equipment
Notes
Best fruits to add: strawberries, blueberries, raspberries, blackberries, lemons, limes, oranges, cucumbers, kiwi, grapefruit, watermelon, pineapple, coconut, and peaches.
Best herbs to add: mint, basil, rosemary, cilantro, basil, cinnamon, lavender, ginger, and sage.
Author:

Prep Time:

10 minutes

Category:

Beverages

Diet:

Low Calorie
Keywords: infused water, fruit, herbs. flavored water, homemade
Recipe Card powered by
Common Questions
---
How long does it take for fruit to infuse in water?
It really depends on the fruits you add, but it can take an hour or two. For the best flavor, I recommend chilling it overnight in your refrigerator.
Can I use frozen fruit or berries?
Yes, you can use frozen fruit. It will help keep your water cold. Frozen berries can add a pretty color to your water as well. However, they may not release as much juice or flavor as fresh fruit and may fall apart easier than fresh produce.
What are the best fruit-infused waters for parties?
I love to use strawberry lemon or kiwi, raspberry lemon, and cucumber lemon for parties. Throw in basil or mint to make them even prettier. Beverage dispensers like this are perfect.
What are the benefits of drinking infused water?
Infused water helps to hydrate your body and can replace high-calorie drinks. Read more about the health benefits here.
Can fruit-infused water be bad for you?
There are precautions you should take. Such as keeping best practices for food safety in mind when preparing to avoid food poisoning and being aware that sipping on certain types of water all day can have negative effects on your teeth.
Can you drink lemon water all day?
I would be careful due to the effects lemon water can have on the enamel of your teeth. Read more about sipping lemon water here.
---
You'll also enjoy these beverages recipes: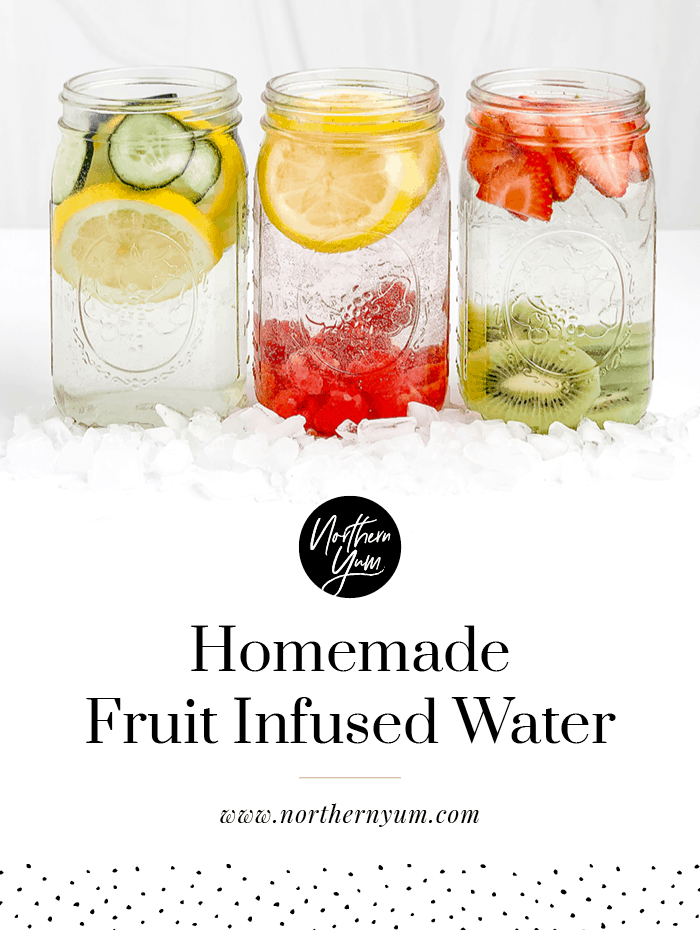 The Best Homemade Fresh Fruit Infused Water Recipes