The Best Banana Split Toppings
This post may contain affiliate links. That means if you click and buy, we may receive a small commission (at zero cost to you). Please see our full disclosure policy for details.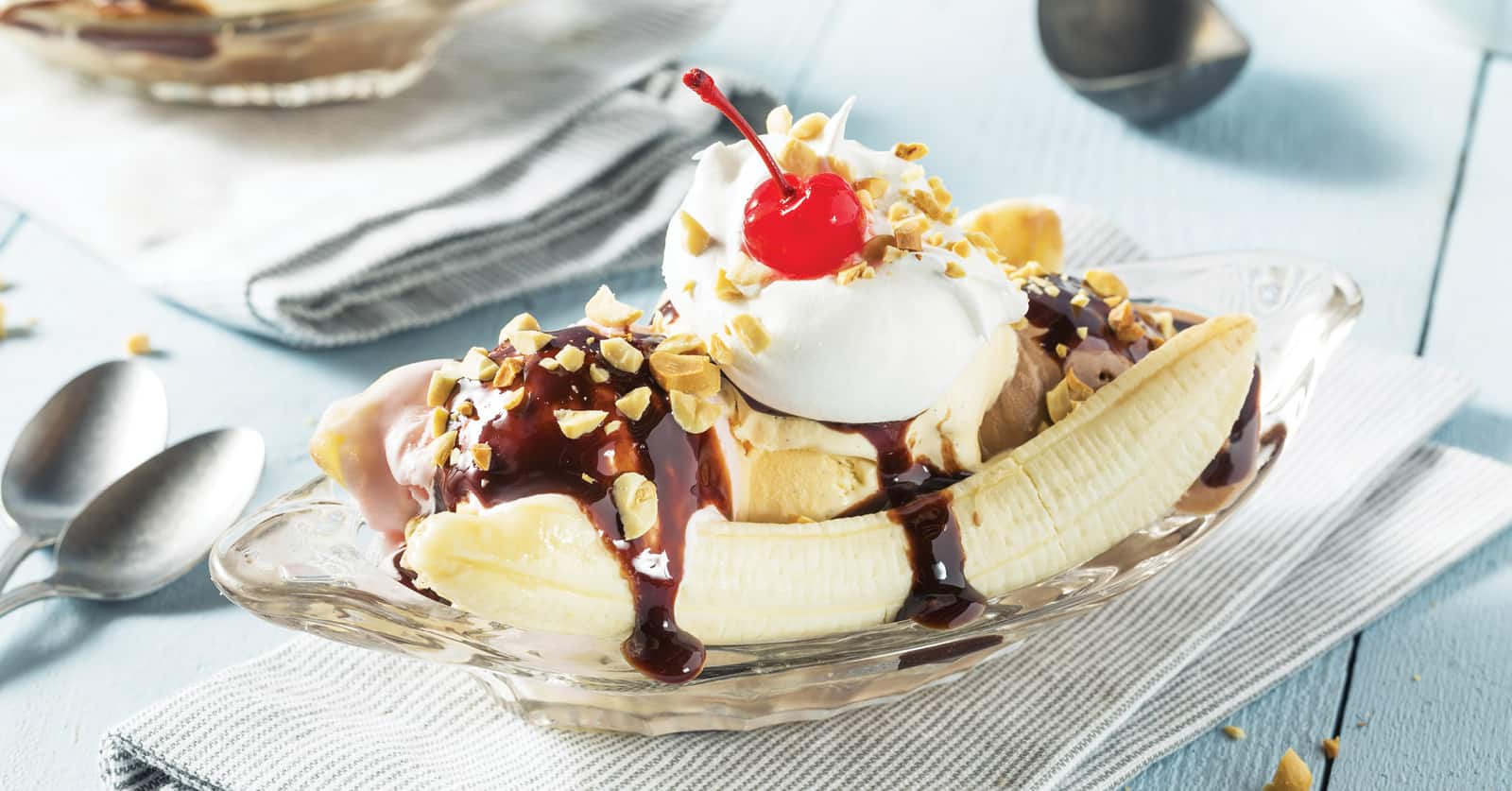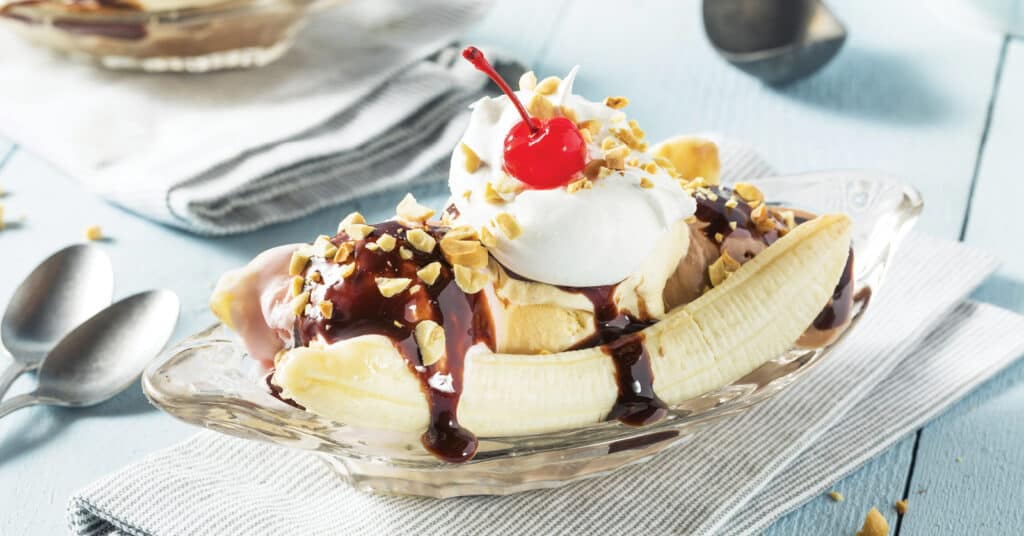 Banana splits are a classic dessert that never goes out of style. With endless topping choices, there are so many ways to prepare this delicious dish.
We're going to give you the best banana split topping ideas along with topping recipes for the most delicious dessert. So get your banana boats ready and let's get started!
Traditional Banana Split Toppings
Let's begin with the basics. These are standard toppings you'll find on a classic banana split dessert. Start with a halved banana, three scoops of ice cream, either vanilla or Neapolitan (vanilla, chocolate, and strawberry), and add these toppings:
Chocolate syrup
Pineapple or caramel sauces
Strawberry syrup
Whipped cream
Chopped peanuts
Maraschino cherries


40+ Delicious Banana Split Toppings
Now that we've covered classic toppings, here's a more extensive list of delicious topping ideas for your banana split. This list is perfect when you need topping ideas for a banana split bar or ice cream sundae bar.
Bananas
Bananas, sliced in half lengthwise
For each banana split, you will need one whole banana. Start by slicing the bananas in half lengthwise and place them in a banana split dish or boat.


Syrups and sauces
Hot fudge sauce
Caramel sauce or syrup
Strawberry sauce
Pineapple sauce
Chocolate sauce or syrup
Butterscotch syrup
Peanut butter sauce
Strawberry topping (jar)
Pineapple topping (jar)
Syrups and sauces are an essential part of any banana split. Classic sauces include hot fudge, caramel, and strawberry sauce, but you can get creative and try other flavors like pineapple or butterscotch.


Candies
Reese's pieces
M&Ms
Milky Way or Snickers bars
Chocolate chips
Gummy bears
To make your banana split even more indulgent, try adding bits of candy. Reese's Pieces, M&Ms, Milky Way, Snickers, chocolate chips, and gummy bears are all great options.


Fresh fruit
Strawberries
Kiwi
Blueberries
Fresh pineapple
Banana slices
Fresh fruit is a healthy and delicious addition to any banana split. Sliced strawberries, kiwi, pineapple, banana, and blueberries are excellent options. You can also add other fresh fruits like raspberries, blackberries, and mangos.


Chopped or Crushed Nuts
Peanuts
Pecans
Walnuts
Pistachios
Almonds
Hazelnuts
Bananas and nuts are a classic combination. Peanuts, pecans, walnuts, pistachios, almonds, and hazelnuts all go well with banana splits.


Sprinkles
Rainbow sprinkles
Chocolate sprinkles
Flaked coconut
Decorating a banana split with sprinkles is a fun and easy way to dress up this classic dessert. Rainbow sprinkles are a popular choice, but you could also use chocolate sprinkles or coconut flakes for something more unique.


Baked goods
Brownie crumbles
Cookie crumbles
Pound cake
Crumbled rice crispy bars
Graham crackers
One way to add a little extra flair to your banana split is to use baked goods as toppings. Brownie crumbles, cookie crumbles, and even pound cake are delicious choices. For something a little different, try crumbling rice crispy bars or graham crackers.


Marshmallows
Miniature marshmallows
Holiday shaped marshmallows
Marshmallow creme
Marshmallows are a fun topping for banana splits, and there are various ways to use them. Sprinkle on miniature marshmallows in original or fruity flavors. Or slightly melt marshmallow creme and pour it on as a sauce topping.


Whipped cream
Canned whipped cream
Homemade whipped cream
Cool whip
No banana split is complete without whipped cream. Simply top each scoop of ice cream with squirts of canned whipped cream or dollops of cool whip. You can also make a delicious homemade whipped cream by whipping heavy cream, sugar, and vanilla (or almond extract).


Cherries on top
Maraschino cherries
Fresh cherries
For the final cherry on top, you'll want to use either fresh or maraschino cherries. Place each cherry perfectly on a pile of whipped cream.


Banana Split Ice Cream Flavors
Get creative and try out different flavors of ice cream in your banana split. Here are a few ideas for soft serve or hard ice cream flavors you can use:
Vanilla ice cream
Chocolate ice cream
Strawberry ice cream
Mint chocolate chip ice cream
Cherry nut ice cream
Bubblegum ice cream
Rocky road ice cream
Feel free to use your favorite ice cream flavors.


Banana Split Bar
For the ultimate dessert bar, provide a spread of fixings for homemade banana splits. This dessert is perfect for birthday parties and summer barbecues.
Include delicious ice cream flavors, your favorite toppings from this list, banana split boats, spoons, and colorful napkins. You can find banana split bowls here in clear or fun colors.
Arrange toppings into groups of sauces and syrups, nuts, fresh fruits, candies, crumbled baked goods, sprinkles, whipped cream, and cherries.
You can even add menu signs for different banana split topping recipes. (Tasty options below!)
Banana Split Topping Recipes
Which will be your favorite banana split recipe? All of these topping combinations are delicious and sure to satisfy your sweet tooth.
Classic banana splits
Vanilla ice cream + banana + chocolate syrup + pineapple topping + strawberry syrup + whipped cream + chopped peanuts + maraschino cherries
While everyone's idea of a classic banana split will differ, it typically has three ice cream scoops, one banana, 3 different types of syrup, whipped cream, chopped peanuts, and maraschino cherries. An oldie but a goodie.
Strawberries & cream banana splits
Vanilla and strawberry ice cream + banana + strawberry sauce + marshmallow creme + fresh diced strawberries + whipped cream
For a fruity and refreshing banana split, start with scoops of vanilla and strawberry ice cream. Then top with strawberry sauce, marshmallow creme, whipped cream, and diced fresh strawberries.
Turtle banana splits
Chocolate and vanilla ice cream + caramel sauce + chocolate syrup + chopped peanuts
For those who love chocolate and caramel, the turtle banana split is a wonderful choice. Use scoops of vanilla and chocolate ice cream, then top with caramel sauce, chocolate syrup, and chopped peanuts. You could even chop turtle candy and sprinkle on top.
Chocolate lovers banana splits
Chocolate ice cream + banana + chocolate syrup + hot fudge + chocolate candy + chocolate sprinkles
Get your chocolate fix with a chocolate extreme banana split using chocolate ice cream, a banana (of course!), chocolate and fudge sauces, chocolate chips, and chocolate sprinkles.
S'mores banana splits
Vanilla ice cream + banana + chocolate sauce or hot fudge + marshmallow creme + graham cracker crumbs + chocolate chips
The next best thing to s'mores over a campfire is a s'mores banana split. Start with a banana and vanilla or chocolate-flavored ice cream. Then add all the delicious s'more toppings like marshmallow creme, chocolate chips, and graham crackers. Toast the marshmallow creme to take it over the top.
Chocolate peanut butter banana splits
Chocolate and vanilla ice cream + banana + peanut butter sauce + chocolate syrup or hot fudge + peanut butter cup chunks + chocolate sprinkles
Peanut butter + chocolate is always a winning combination. Scoop chocolate and peanut butter ice cream and add banana, peanut butter and chocolate sauces, chopped peanut butter cup candy, chocolate chips, and chocolate sprinkles.
Make your own peanut butter cups with this recipe.


Final Thoughts
Whether you like your banana split toppings classic or adventurous, we hope you've found some delicious ideas to try. If you come up with the perfect topping recipe of your own, be sure to share it in the comments!
Pin for later: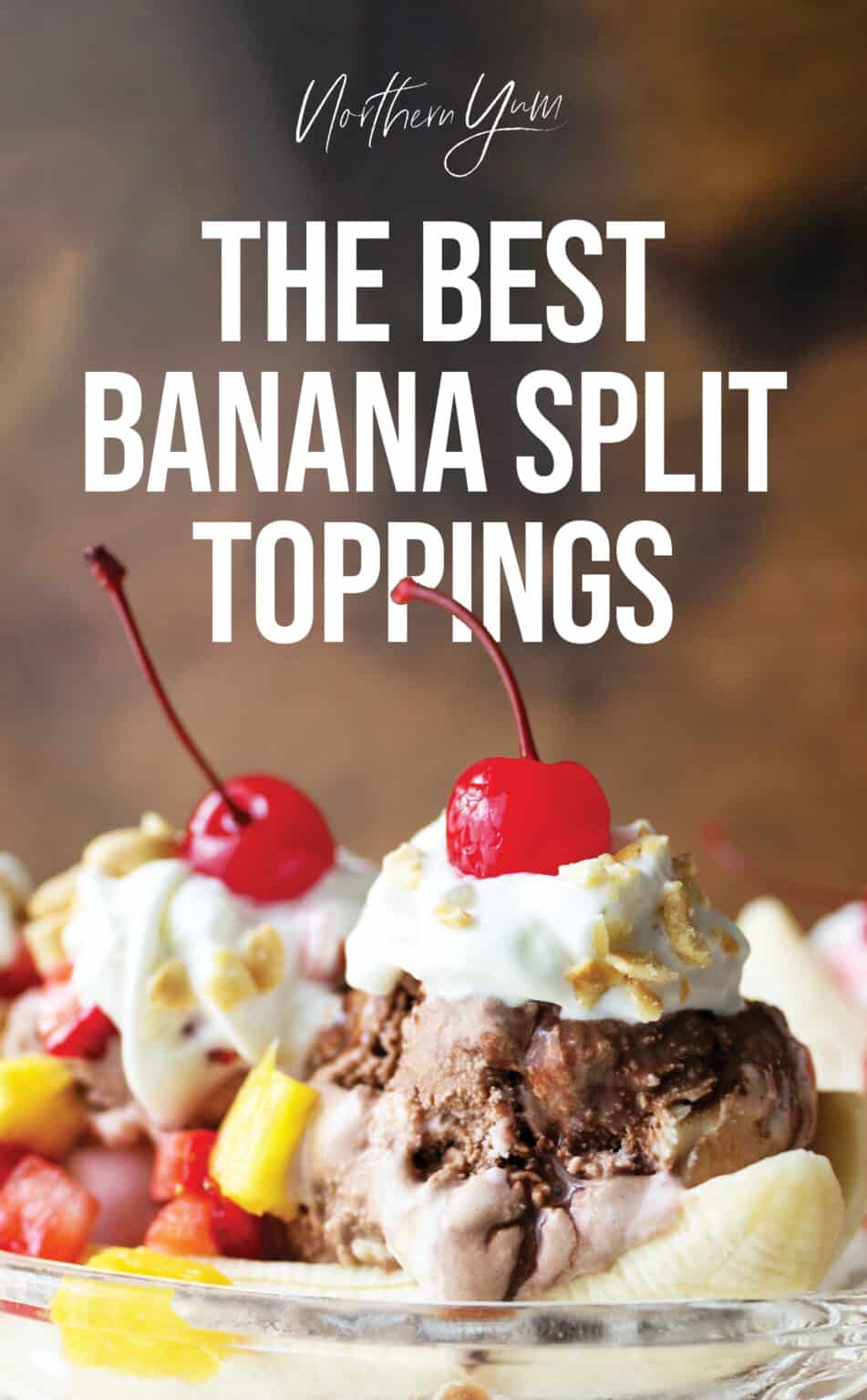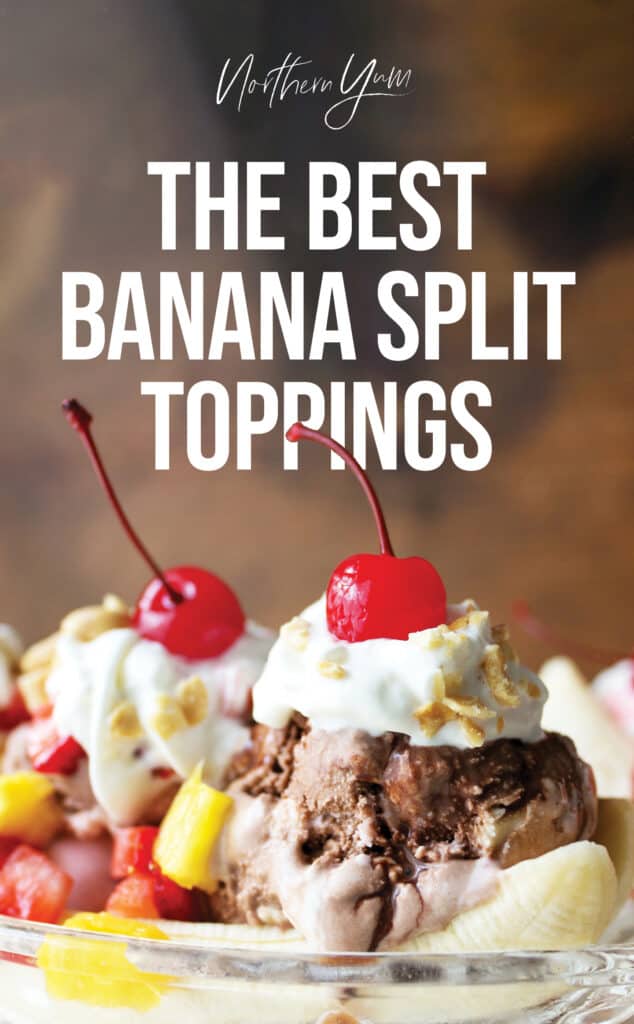 More Topping Ideas
The Best Banana Split Toppings