65+ Mouthwatering Bratwurst Toppings (& Topping Combinations!)
This post may contain affiliate links. That means if you click and buy, we may receive a small commission (at zero cost to you). Please see our full disclosure policy for details.
When it comes to bratwurst, there are endless possibilities for toppings. But what are the best brat toppings? Here are some of the most popular and tasty options.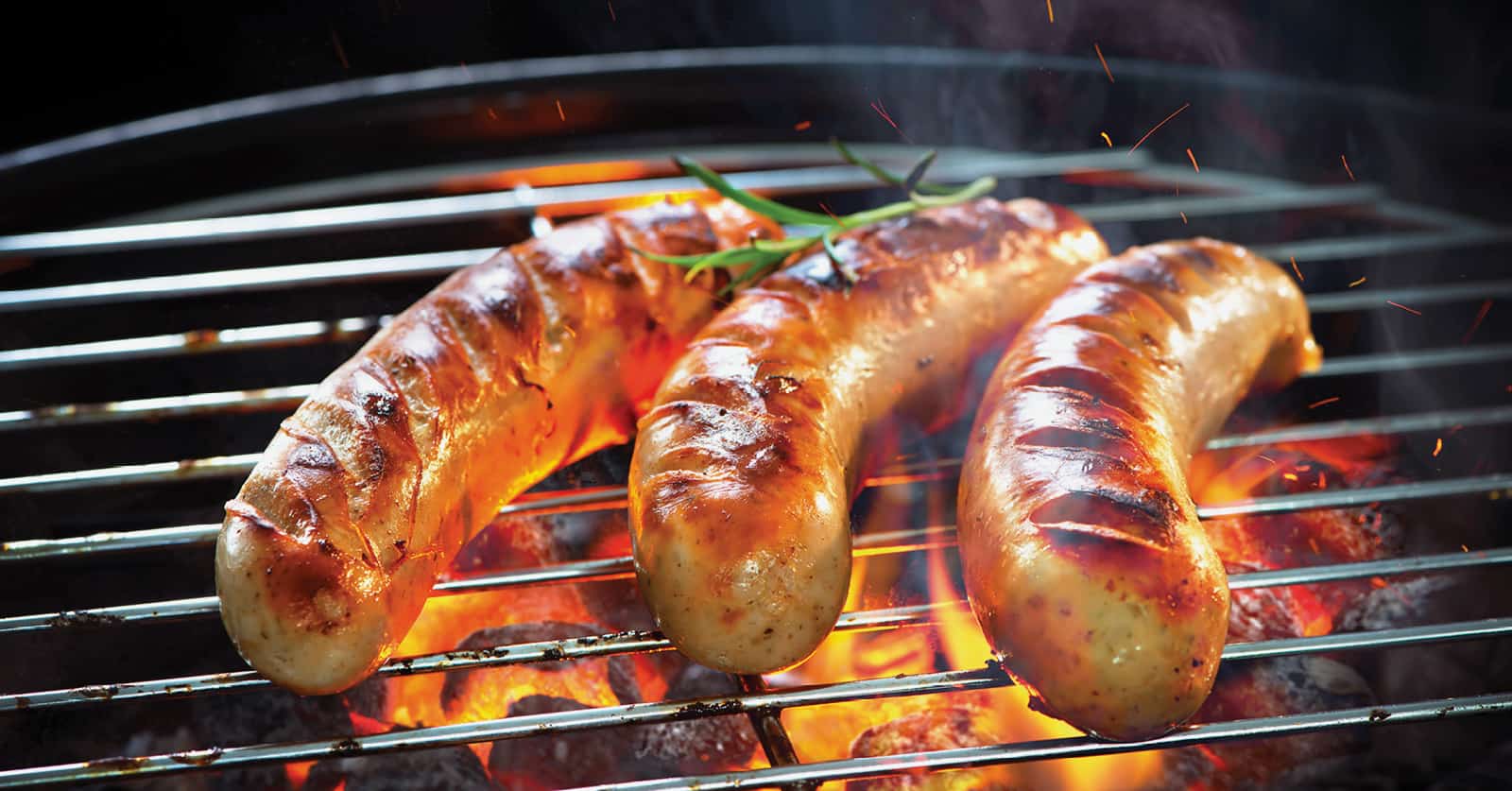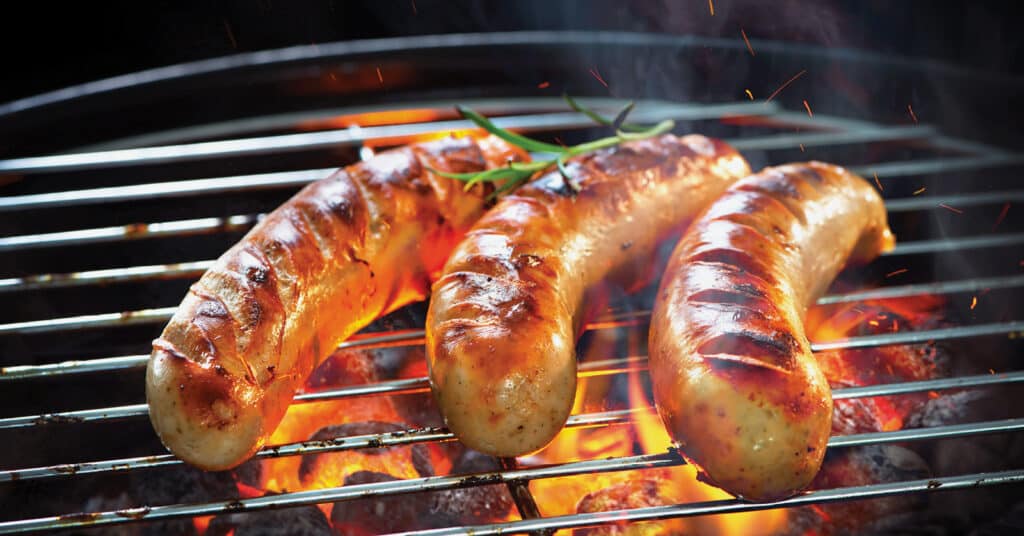 Whether you're a fan of traditional bratwurst toppings or like to mix things up a bit, we've got you covered. Here are some excellent options to level up your brats.
We've included 1) must-have traditional toppings, 2) adventurous and creative bratwurst toppings, and 3) irresistible topping combination recipes.
Most Common Bratwurst Toppings
First, let's cover the traditional, must-have condiments and toppers to include when serving brats. Don't forget:
Mustard
Ketchup
Relish
Diced or grilled onions
Sauerkraut
Ultimate List of Brat Topping Ideas
We've compiled the ultimate list of brat toppings, perfect for a brats bar with a full spread of toppings or for when you want to try new flavors. The options are endless—and mouthwatering.


Mustards
Yellow mustard
Spicy brown mustard
Stone ground mustard
Dijon mustard
Balsamic mustard
Hot sriracha mustard
Honey mustard
Dijon, yellow, and spicy brown mustards are all classic condiment options for brats. For even more variety, use stone ground mustard, balsamic, hot sriracha, and honey mustard.


Ketchup & Sauces
Ketchup
Curry ketchup
Barbecue sauce
Teriyaki sauce
Buffalo sauce
Honey
Horseradish
Ketchup is a must-have condiment, but you can also spice things up with curry ketchup, bbq sauce, teriyaki or buffalo sauce, honey, and horseradish.


Relish
Pickle relish
Warm bacon-onion relish
Red pepper relish
Onion relish
Zucchini relish
Sliced dill pickles
Pickle relish is delicious on brats, but you can expand relish options with warm bacon-onion, and red pepper relish. If you don't have relish on hand, slice or chop dill pickles as a substitute.


Onions
Caramelized onions
Grilled onions
Diced onions
No brat spread is complete without onions. Yellow onion, white onion, red onion, sweet onion, and shallots are all great options to grill, dice, and caramelize.


Sauerkraut
Sauerkraut
Caramelized sauerkraut
Red cabbage sauerkraut
Don't forget the kraut! Bratwurst and sauerkraut are the perfect combination. This tasty topping can be served hot or cold. The traditional kraut is made with white cabbage, but you can also use red cabbage sauerkraut.


Fresh or sauteed veggies
Green bell peppers
Red bell peppers
Jalapenos
Mushrooms
Potato slices (or German potato salad)
Chives
Green onions
Add fresh, grilled, or sauteed vegetables to your brats for delicious flavor and pops of color. Chopped chives and green onions make for perfect garnishes.


Fresh or sauteed fruits
Fresh, grilled, and sauteed fruits are unique toppings for brats, but so delicious. Use apples in the fall and peaches and pineapples for summer grilling.

Salsas
Mild or spicy salsa
Pineapple salsa
Spicy peach salsa
Fresh pico de gallo
Salsa adds another level of flavor to bratwursts. Fruit salsas, like pineapple and peach, are great options for grilled brats in the summer. Be sure to check out the Hawaiian brat recipe with pineapple salsa below.


Cheese
Sliced or chunked cheese
Beer cheese
Nacho cheese sauce
Queso
Mac and cheese
We recommend using all the cheese on your bratwursts. Blue cheese, swiss cheese, pepper jack, American, provolone, and cheddar cheese are all excellent options.


Mayo
Mayonaise
Miracle whip
Lime mayo
Sriracha mayo
Chipolte mayo
Wasabi mayo
Mayo is another common brat topping, and there are so many variations of mayo you can use – lime, sriracha, chipotle, and wasabi.


Meats
Bacon or bacon bits
Pulled pork
Pulled chicken
When one type of meat isn't enough, add bacon, bacon bits, pulled pork, or chicken. Check out our barbecue pulled pork brat combination recipe below.


Crushed chips
Potato chips
Doritos
Tortilla chips
For a delicious crunch, top your brats with crushed potato chips or Doritos. If you're going for a taco flavor, opt for tortilla chips or taco Doritos.


Seasonings
Salt or kosher salt
Black pepper
Garlic

Ginger

Coriander seed
Chili powder
Seasonings can level up your bratwurst. Simply use salt and pepper or get more adventurous with chili powder and garlic.


Tasty Bratwurst Topping Combinations
Last, but certainly not least, here are delicious topping combination ideas and bratwurst recipes. When serving a brat bar for guests, you can even include chalkboard signs with topping combination recipes and suggestions.
Barbecue mac & cheese brats
Cheddar mac and cheese + onions + barbecue sauce
A flavor-filled combo, top brats with cheddar macaroni and cheese, diced onions, and drizzle with your favorite barbecue sauce. Add your favorite mac toppings as well.
Hawaiian bratwursts
Pineapple salsa (or diced pineapple) + tomatoes + mayo + cheese + teriyaki sauce + chives
Teriyaki and pineapple are a delicious combination. Start by topping your grilled brat with pineapple salsa or fresh diced pineapple, chopped tomatoes, mayonnaise, provolone, or cheddar cheese. Drizzle with teriyaki sauce and garnish with diced chives.
Chili cheese brats
Chili + nacho cheese + chopped onions
The ultimate flavor combination—chili cheese brats. Top cheddar wurst sausage with chili (canned or homemade), nacho cheese (melted shredded cheddar will work too), and freshly chopped onions.
Simple homemade chili recipe perfect for chili cheese dishes: pan fry 1 pound of lean ground beef, 2 minced garlic cloves, and 1/2 chopped onion. Then add 8 ounces of tomato sauce, 8 ounces beef broth (or water), 2 to 3 tablespoons chili powder, 2 teaspoons cumin, salt, and pepper. Simmer until it thickens.
Mexican street corn bratwursts
Corn + sour cream mayo lime juice mix + cotija or feta cheese + chili powder + green onions
Turn your favorite Mexican sweet corn into a unique bratwurst. Grill both bratwurst and corn on the cob, then top your brat with corn sliced from the cob, lime mayo, cotija or feta cheese crumbles, sprinkle with chili powder, and garnish with sliced green onions.
Philly cheese brats
Onions + mushrooms + green peppers + American cheese (or homemade cheese sauce)
For Philadelphia cheese brats, saute thinly sliced onions, mushrooms, and green peppers in olive oil and season with salt and pepper. Top your brat with sauteed mix and American cheese, then melt to perfection.
Chicago style bratwursts
Diced sweet onion + tomatoes + jalapeno peppers + sweet pickle relish + pickle spear + yellow mustard
Prepare your favorite beer brats and top with diced sweet onions, chopped tomatoes, jalapenos, sweet pickle relish, yellow mustard, and a signature pickle spear.
Cheddar jalapeno bratwursts
Cheddar cheese sauce + jalapenos + green onion
Spice up your brat with cheddar cheese sauce, sliced jalapeno peppers (fresh or sauteed), and sliced green onions.
Barbecue pulled pork brats
Pulled pork + onions + barbecue sauce + American cheese
For an extra meaty option, add pulled park and onions to your bratwurst. Then drizzle with barbecue sauce, add slices of American cheese, and heat until the cheese is melted. Add coleslaw if you prefer.
Apple cider bratwursts
Cider + brown sugar + apples + onions
Perfect for fall—apple cider brats. Begin by sauteing onions and then brown bratwursts in a frying pan. Next, add apple cider and brown sugar. Top with chunks of apple and cook until bratwursts are done and apples are soft.


Related Questions
Here are some of the most frequently asked questions about what goes well with brats.
What kind of mustard goes with brats?
Bratwurst is often served with yellow mustard, spicy brown mustard, Dijon, and stone ground mustard.
What is traditionally served with bratwurst?
Traditionally, brats are served with mustard, ketchup, relish, onions, and sauerkraut. The most popular brat sides dishes are coleslaw, sauerkraut, peppers and onions, potato salad, and corn on the cob.
What kind of brats do you recommend?
We love the Johnsonville brats—original, Italian sausage, or cheddar wurst. You can also stop by local meat shops and find unique bratwurst flavors like jalapeno cheddar, bacon cheddar, bacon blue cheese, Hawaiian, or mushroom swiss.
Final Thoughts
The sky is the limit when it comes to brat toppings. We hope you've found some delicious ideas to get you started. Whether you like them simple or extra saucy, these toppings will take your brats to the next level. What are your favorite toppings?
Pin for later: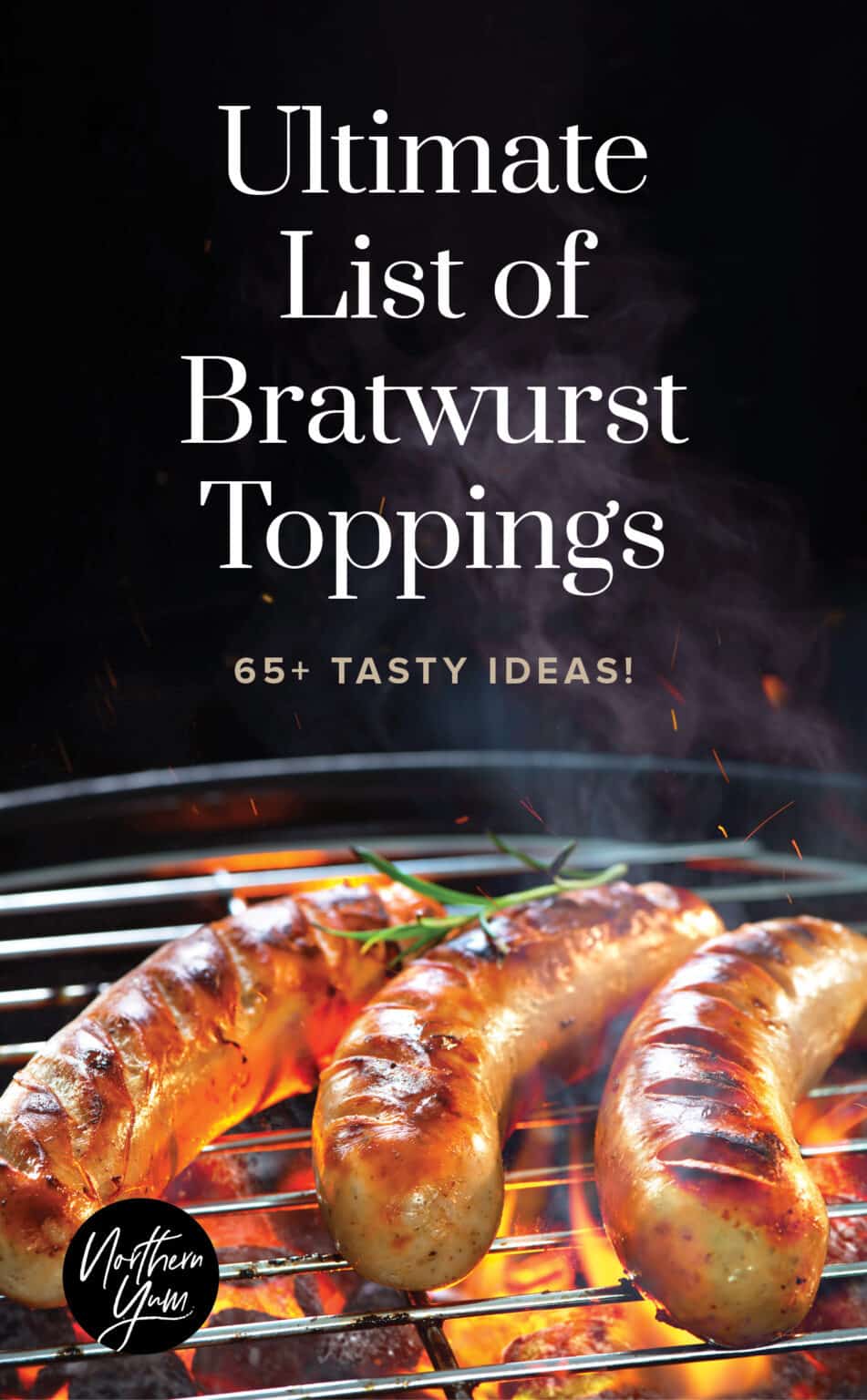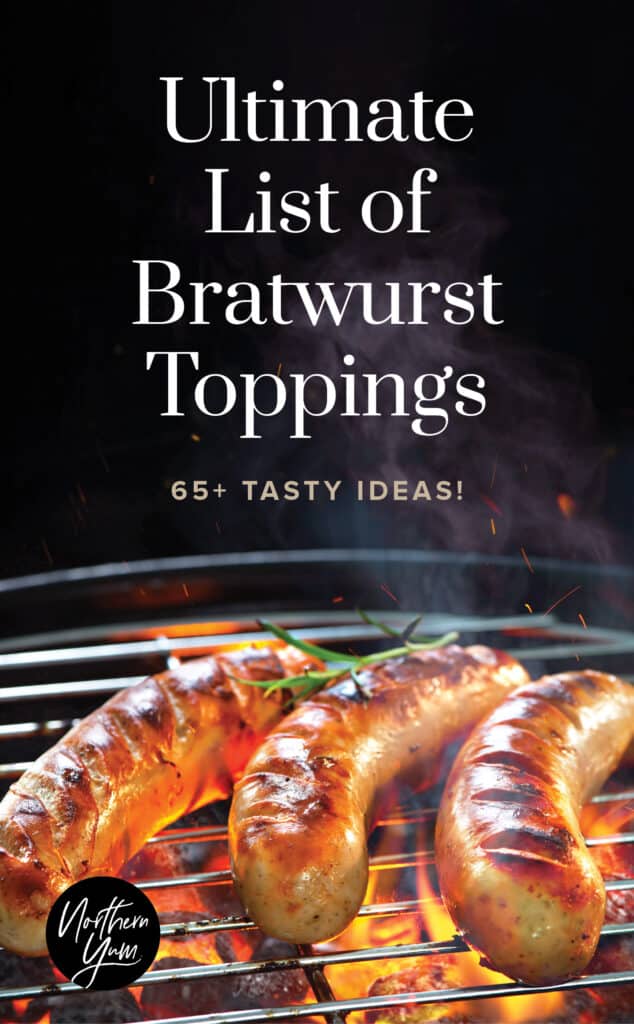 More Topping Ideas
Also, read the best substitutes for shallots.
65+ Mouthwatering Bratwurst Toppings (& Topping Combinations!)