101+ Irresistible Ice Cream Toppings
This post may contain affiliate links. That means if you click and buy, we may receive a small commission (at zero cost to you). Please see our full disclosure policy for details.
Ice Cream Toppings ♡ 101+ ice cream toppings perfect for cones and sundaes. The ultimate list of topping ideas for your ice cream sundae bar!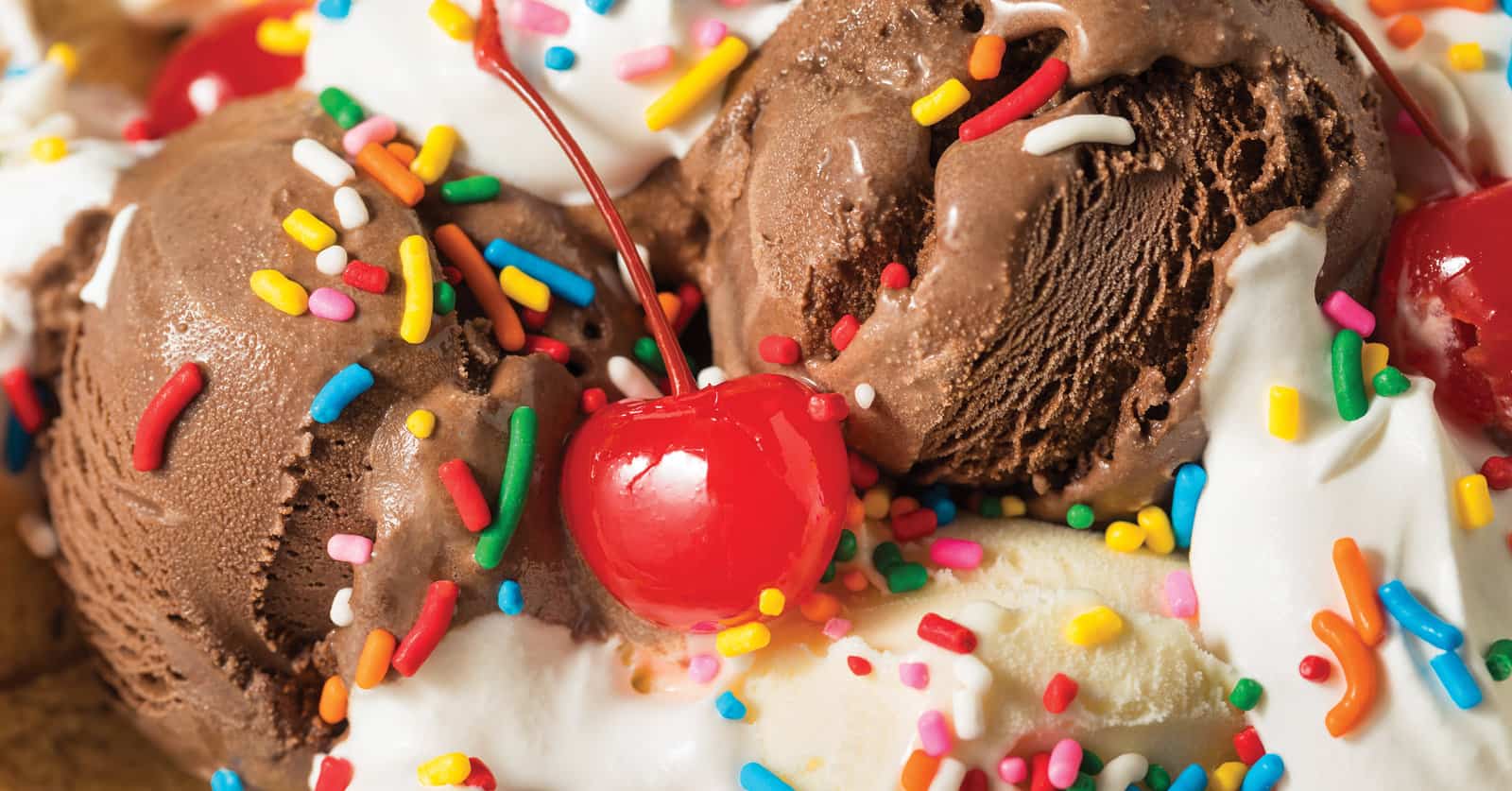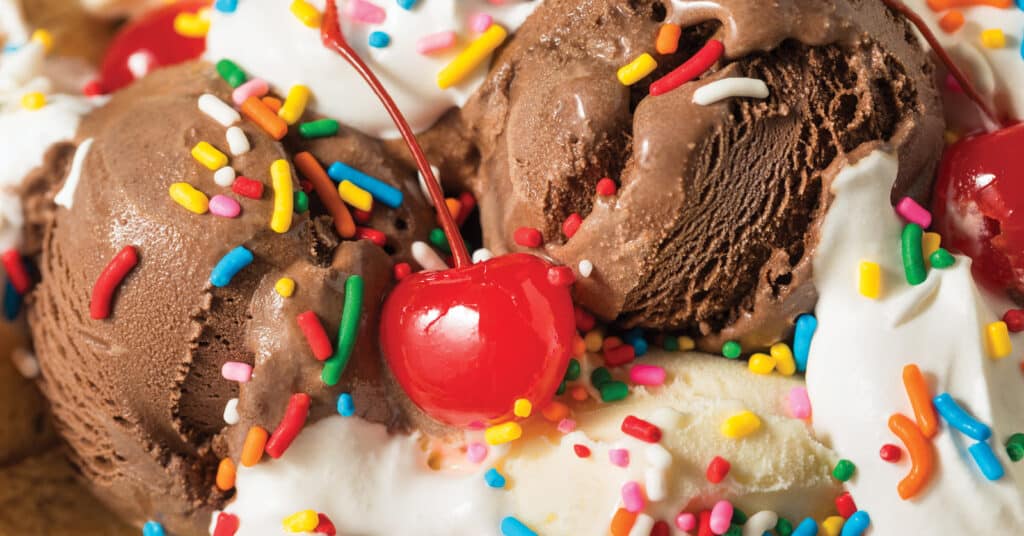 We all love a good bowl of ice cream. But you know what makes this classic dessert even more awesome? Toppings! We've rounded up over 100 fantastic ice cream toppings to make the most delicious sundaes.
Whether you're a fan of classic toppings like sprinkles and hot fudge or want to try something new, like popping pearls or crunchy cereal, we have plenty of ideas for everyone.
This list of toppings is also perfect to reference when throwing an ice cream sundae party. Simply gather a variety of ice cream flavors and your favorite toppings to make a dessert bar everyone will love!
101+ Ice Cream Topping Ideas
Time to dig in! Here is the ultimate list of topping ideas for ice cream.


Syrups and Sauces
Hot fudge sauce
Caramel syrup
Salted caramel sauce
Chocolate sauce or syrup
Strawberry sauce
Pineapple sauce
Butterscotch syrup
Peanut butter sauce
Honey drizzle
Marshmallow creme
Syrups and sauces add delicious flavor and a gooey texture. They're a must-have for ice cream sundaes, whether you prefer traditional choices like chocolate or caramel or something different like fruit sauces or honey whip.


Candies & Gummies
M&Ms – plain, peanut, peanut butter
Mini M&Ms
Skittles
Reese's pieces
Peanut butter cups, chopped
Milky Way or Snickers bar chunks
Kit Kat pieces
Health bars, chopped
Gummy bears
Gummy worms
Chocolate-covered raisins or craisins
Crushed Butterfinger
Jelly beans
Sour patch kids
Candies and gummies make awesome ice cream toppings—their vibrant colors and variety of flavors add an exciting visual and taste to your dessert. Mixing in these fun, colorful candies make every spoonful enjoyable.

Chocolate Chips
Milk chocolate chips
Semi-sweet chocolate chips
Dark chocolate chips
White chocolate chips
Peanut butter chips
Mint chocolate chips
Chocolate chips add a rich flavor and a delightful crunch to sundaes. Whether you choose classic milk chocolate, semi-sweet, or even white chocolate chips, you are in for a treat when adding these little morsels.


Canned or Fresh Fruit
Sliced strawberries
Kiwi, diced
Blueberries
Fresh pineapple, chopped
Banana slices
Maraschino cherries
Ripe mango slices
Fruit compote
Canned fruit cocktail
Fruit pie filling – apple, cherry, blueberry, peach
Canned and fresh fruit make wonderful ice cream toppings because they bring natural sweetness and a juicy texture to every bite. Whether you opt for sliced strawberries, chunks of pineapple, or a dollop of mixed berry compote, these toppings provide a delicious and wholesome option to customize your dessert.


Popping Pearls
Kiwi popping pearls
Watermelon popping pearls
Mango popping pearls
Blueberry popping pearls
Passion fruit popping pearls
Green apple popping pearls
Peach popping pearls
Raspberry popping pearls
Coconut popping pearls
Boba popping pearls are small, translucent spheres typically made from fruit juice or other flavored liquids. Encased in a thin, gel-like membrane, these pearls burst with flavor when bitten, adding an element of fun surprise to your sundae.


Chopped Nuts
Peanuts
Pecans
Walnuts
Pistachios
Almonds
Hazelnuts
Cashews
Brazil nuts
Mixed nuts
Chopped or crushed nuts provide a satisfying crunch and a hearty flavor. Whether you prefer classic choices like chopped peanuts, almonds, or something more exotic like pistachios, they add a nice contrast to the smooth texture of the ice cream.


Baked Goods
Brownie pieces
Pound cake chunks
Crumbled rice crispy bars
Graham crackers
Chocolate chip cookies, chopped
Cookie dough pieces
Cheesecake bites
Chocolate, vanilla, or strawberry wafers
Crushed Oreos
Pretzels
Crushed biscotti
Cinnamon sugar churro bites
Cake crumbles
Shortbread cookie pieces
Scone crumbles
Pie crust crumbles
Rolled wafers
Perhaps the most indulgent ice cream topping: baked goods. Whether it's chunks of brownie, pieces of cookie, or crumbled cake—baked treats really take ice cream to another level.


Cereal
Fruit Loops
Granola clusters
Cinnamon Toast Crunch
Frosted Flakes
Fruity Pebbles
Cocoa Puffs
Honey Nut Cheerios
Rice Krispies
Cap'n Crunch
Choco Crispies
Puppy chow
Cereals make excellent ice cream toppings, offering a playful crunch and a nostalgic twist. From classic cornflakes to adventurous fruit loops, they provide an enjoyable texture that perfectly complements the creaminess of the ice cream.


Cone Pieces
Sugar cones, chopped
Regular cone pieces
Waffle cones, chopped
Chocolate-dipped cone pieces
Sprinkle-coated cone bits
Cone pieces offer a crispy and familiar element to ice cream sundaes. Whether you go for waffle cone bits or crushed sugar cone pieces, they add a delightful and satisfying crunch.


Marshmallows
Mini marshmallows
Fruit-flavored marshmallows
Homemade marshmallows
Holiday shaped marshmallows
Chocolate-covered marshmallows
Marshmallow creme
Marshmallows, now in a variety of fun options like fruit-flavored and chocolate stuffed, are a fantastic ice cream topping. They introduce a playful texture and a delightful burst of sugary goodness to each spoonful.


Whipped Cream
Classic whipped cream
Homemade whipped cream
Caramel-infused whipped cream
Whipped cream is like the trusty sidekick of ice cream. It's a must-have classic topping that adds a creamy, airy sweetness. You can opt for traditional whipped cream or flavored variations like chocolate or caramel.

Sprinkles
Chocolate sprinkles
Party-themed sprinkles
Flaked coconut
Sprinkles are a fantastic ice cream topping because they add a playful and colorful crunch to your dessert. Whether you choose classic rainbow sprinkles or more themed options, they bring a cheerful appeal that you can customize for any occasion.


Cherries on Top
Fresh cherries
Cherry pie filling
Sour cherries
What is an ice cream sundae without the cherry on top? Maraschino cherries and fresh cherries are traditional options. You can also get more adventurous with pie filling or chocolate-covered cherries.


How to Set Up an Ice Cream Sundae Bar
Setting up a spread of toppings and different flavors of cream for a sundae bar makes for the ultimate party dessert. Perfect for summer birthday parties and barbecues. Here are a few tips on how to easily set up a sundae bar:
Set out delicious ice cream flavors, your favorite ice cream toppings from this list, bowls, spoons, and colorful napkins. You can find sundae bowls here in clear or fun colors.
Arrange the toppings into groups of sauces and syrups, nuts, fresh fruits, candies, crumbled baked goods, sprinkles, whipped cream, and cherries.
You can even add menu signs for different ice cream topping recipes. (Tasty options below!)
Favorite Supplies for Making Sundaes
Occasions Perfect for a Sundae Bar
Although we think anytime is a good time for ice cream, here are a few occasions you can make extra special with an ice cream cone or sundae bar.
Birthday parties
Summer BBQs
Family reunions
Graduation celebrations
Bridal or baby showers or sprinkles
Office potlucks
Picnics
Movie nights at home
Holiday gatherings (e.g., Fourth of July, Memorial Day)


Ice Cream Topping Combination Recipes
Whether you're a fan of the traditional sundae toppings or eager to experiment with something new, here's a list of mouthwatering combinations to try.
Classic Sundae Bliss
Vanilla ice cream
Chocolate syrup
Chopped nuts
Whipped cream
Maraschino cherry
Tropical Paradise
Coconut ice cream
Pineapple sauce
Toasted coconut flakes
Macadamia nuts
Drizzle of caramel sauce
Berrylicious Delight
Strawberry ice cream
Fresh mixed berries (strawberries, blueberries, raspberries)
Granola clusters
Whipped cream
Chocolate Lover's Dream
Chocolate ice cream
Brownie chunks
Chocolate chips
Chocolate sauce
Crushed Oreos
Fruity Fusion
Mango sorbet
Fresh kiwi slices
Popping pearls
Fruity cereal
Caramel Crunch Supreme
Salted caramel ice cream
Crushed pretzels
Toffee bits
Whipped cream
Drizzle of salted caramel sauce
Coffee and Cream
Coffee ice cream
Crushed biscotti
Chocolate-covered espresso beans
Dollop of whipped cream
Bananas About Butterscotch
Vanilla ice cream
Butterscotch syrup
Sliced bananas
Marshmallow creme
Chopped peanuts
Whipped cream
Spiced Apple Pie Parfait
Cinnamon ice cream
Apple pie filling
Granola
Whipped cream
Cool Mint Delight
Mint chocolate chip ice cream
Dark chocolate shavings
Chopped peanuts
Drizzle of chocolate sauce


Final Thoughts on Ice Cream Toppings
And there you have it, over 100 ice cream topping ideas! From the classic chocolate drizzle to the adventurous boba popping pearls, you can mix and match to create the ultimate customized sundae. Don't forget to save this list for the next time you host an ice cream party!
More Delicious Topping Ideas
More Dessert Recipes
Print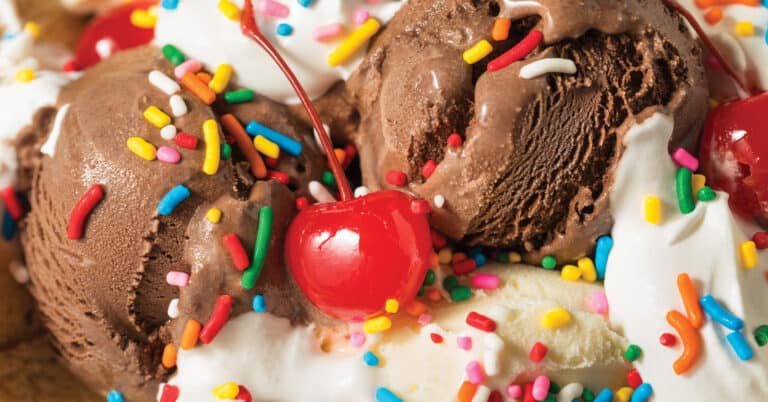 Ice Cream Toppings + Sundae Bar Tips
101+ irresistible ice cream toppings to create the ultimate sundae bar—from classic to adventurous options.
Syrups and Sauces
Candies & Gummies
Chocolate Chips
Canned or Fresh Fruit
Popping Pearls
Chopped Nuts
Baked Goods
Cereal
Cone Pieces
Marshmallows
Whipped Cream
Sprinkles
Cherries on Top
Instructions
Set out a variety of ice cream flavors. Scoop for your guests or ask someone to help you scoop.
Provide plastic bowls, spoons, and napkins for easy clean-up.
Set out all the toppings in small bowls or ramekins, including a variety of toppings from the 101+ topping options above.
Organize all the options into types of toppings—put all the sauces together, all nuts, candies, cereal, etc.
Make sure everything is in order in which your guests will need them, for example: 1) bowls, spoons, napkins, 2) ice cream, 3) sauces, 4) toppings, 5) nuts, 6) whipped creams, and 7) cherries.
Include menu cards for topping combinations guests can use to make their own sundaes. See combination recipes here!
Notes
Pick as many toppings as you'd like—this list is for inspiration.
Author:

Prep Time:

15 minutes

Category:

Dessert

Method:

No-Bake

Cuisine:

American
Keywords: ice cream sundae bar, sundae bar, sundae party
Recipe Card powered by
Pin for later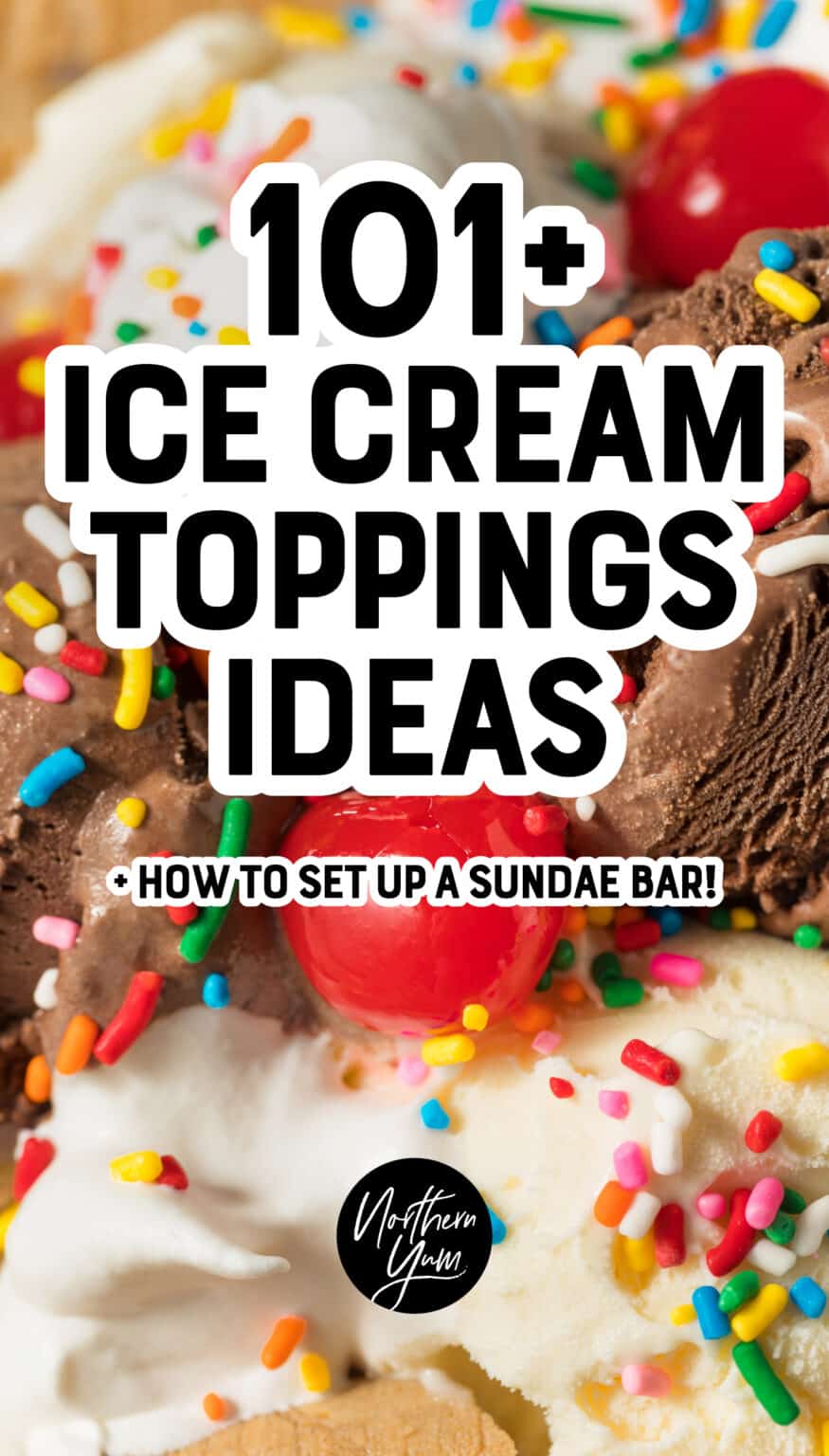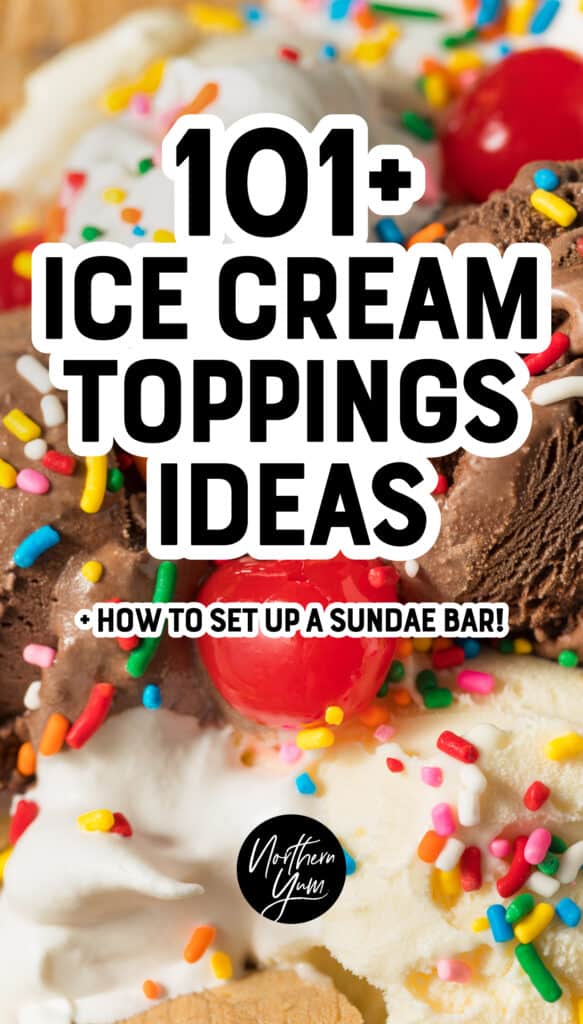 Ice Cream Toppings Perfect for a Sundae Bar!