125+ sweet and savory pancake topping ideas. Perfect for hosting a pancake bar for breakfast and brunch parties.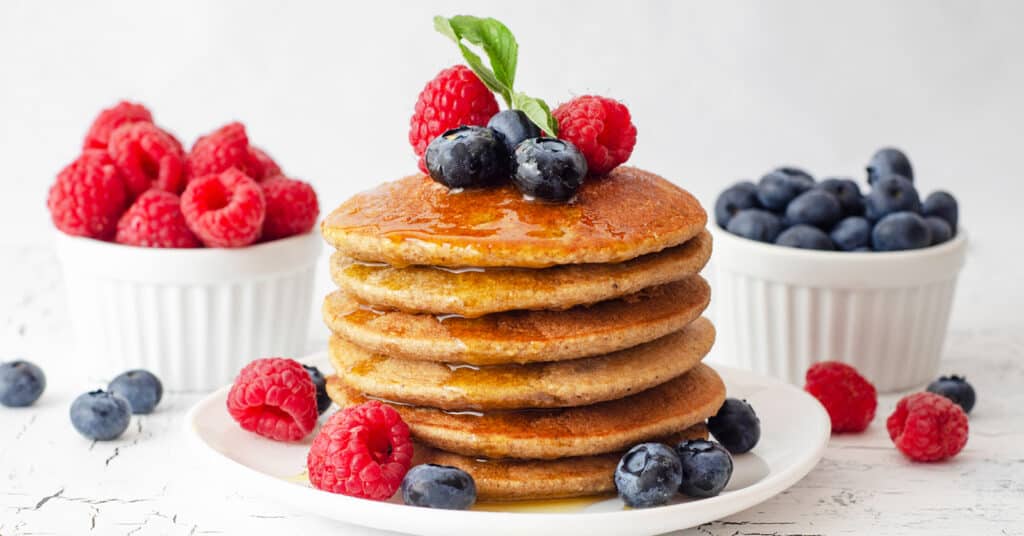 Pancakes are a classic breakfast food that everyone seems to love. After all, it's hard to resist a fluffy stack of pancakes! And while they are certainly tasty on their own, pancakes are made even more delicious with the endless number of topping possibilities.
Whether you like sweet or savory toppings or are looking for some healthy options, there's definitely something for you. Here's a huge list of some of the best pancake topping ideas and combinations. 
Find What You're Looking for:
Sweet Pancake Toppings
Sweet toppings are arguably the most popular pancake toppings. And with good reason. Sweet flavors pair perfectly with the slight sweetness of traditional fluffy pancakes.
From classic syrups to more creative toppings like cookie butter or lemon curd, there's definitely no shortage of options. Read on for some of the most common sweet toppings, as well as some unique ideas.


Syrups and sauces
Maple syrup
Blueberry syrup
Strawberry syrup
Huckleberry syrup
Butterscotch syrup
Chocolate syrup
Cinnamon syrup
Caramel sauce
Chocolate sauce
Hot fudge sauce
Peanut butter sauce
Blueberry sauce
Raspberry sauce
Honey
The classic sweetness of maple syrup is hard to beat, but if you want to get a bit more adventurous, many other syrups and sauces make for tasty pancake toppings. Go with a berry syrup for a fresh and fruity taste, or get a bit more decadent with a chocolate or caramel sauce. If you're looking for something a bit healthier, honey is a great natural option.


Butters and spreads
Butter
Whipped butter
Peanut butter
Cinnamon butter
Apple butter
Almond butter
Pumpkin butter
Maple butter
Cookie butter
Nutella
Jam
Jelly
Butter is one of the most popular (and delicious!) toppings to enjoy on pancakes. It adds a touch of salt to contrast the sweetness of pancakes and pairs well with virtually any other topping.
If you're looking for a tasty alternative, peanut butter is another popular option, and Nutella is a must-have topping for many people. If you want to try something a bit more unique, there are a variety of delicious options like cinnamon, maple, or cookie butter. Jams or jellies also make excellent choices.


Fruit
Bananas, sliced
Strawberries, sliced or diced
Kiwi, sliced
Blueberries
Blackberries
Raspberries
Pineapple chunks
Cherries, fresh or maraschino
Caramelized bananas
Peach compote
Mango, sliced or diced
Fried apples
Baked apples
Applesauce
Lemon curd
Lemon juice
Pomegranate seeds
Cherry pie filling
Apple pie filling
Raisins
Coconut flakes
When it comes to pancake toppings, fruit is a classic choice. The sweetness of fruit pairs well with the richness of pancakes, and the bright colors add a splash of visual appeal. Plus, fruit is a good source of vitamins and fiber, so it can be a healthy addition to your pancake stack.


Chocolate
Chocolate chips
Crushed candy bars
Mini M&Ms
Dark chocolate
White chocolate chips
Oreos
Cocoa powder
Chocolate and pancakes are an excellent pairing. Chocolate chips can add a sweet and rich flavor to your pancakes, and they pair well with other toppings like berries, bananas, and nuts. Dark chocolate can give your pancakes a deeper flavor, while white chocolate can provide a sweeter taste. Cookies or candy provide an extra sweet treat.


Dairy
Whipped cream, homemade or canned
Ice cream
Yogurt, plain or flavored
Cool Whip
Creme fraiche (thick cream with tart, buttery flavor)
Canned whipped cream is a popular pancake topping, but if you're looking for another quick and easy option, Cool Whip is hard to beat. For something a little more decadent, ice cream or flavored homemade whipped cream are great options. Plain or flavored yogurt is a great alternative that provides a touch of sweetness along with many health benefits.


Marshmallows
Mini marshmallows
Marshmallow cream
Toasted marshmallows
A little indulgent, yes, but so delicious—marshmallows make for the perfect topping, especially for kids. Try mini marshmallows in original or fruity, marshmallow creme (perfectly pourable if melted just a bit), or toasted marshmallows.


Sugars
Granulated sugar
Cinnamon sugar
Brown sugar
Powdered sugar
There are few things in life that are as simple and satisfying as a stack of pancakes sprinkled with powdered sugar. The sweet granules add a touch of decadence to this humble breakfast dish, and they can be customized to suit any taste. For a classic flavor, try cinnamon sugar or brown sugar.


Sweet treats
Sprinkles
Cereal
Crushed candy canes
Graham cracker crumbs
Chopped cookies
Gummy bears
Pop rocks (a hit with kids!)
Frosting
Pancakes are traditionally a breakfast food, but with these extra sweet toppings, there's no reason they can't be served for dessert as well! Load your pancakes up with sprinkles, cookies, frosting, or even gummy bears for a tasty and indulgent treat.
Savory Pancake Toppings
Many people default to sweet toppings when it comes to pancakes. However, there's no rule that says pancakes have to be sweet. In fact, savory toppings can be just as delicious. Savory pancakes are perfect for a hearty breakfast, brunch, or dinner and can be topped with anything from eggs to sausage to avocado. They're also a great way to use up leftover vegetables.
So next time you're in the mood for something different, give some of the below toppings a try. You might just find that savory is your new favorite way to enjoy pancakes.


Meat
Bacon
Sausage
Fried chicken
Grilled chicken
Ham
Smoked salmon
Prosciutto
Chorizo
Ground beef
Pepperoni
Meat provides a delicious, savory contrast to the sweetness and texture of pancakes. Packed with protein, it also adds a satisfying level of heartiness. Crunchy bacon is a classic choice, but don't be afraid to get creative with more unique options like prosciutto or chorizo.


Eggs
Fried eggs
Scrambled eggs
Sliced hard-boiled eggs
Poached eggs
Eggs are a quintessential breakfast food, so they naturally pair well with pancakes. Not only are they delicious, but eggs are also an excellent source of protein and other nutrients, making them a healthy option to add to any meal.


Butter
Butter
Herbed butter
Butter spread
As mentioned above, butter is a versatile pancake topping that can be paired with virtually any other sweet or savory topping. Try herbed butter for a savory treat!


Cheese
Cream cheese
Cottage cheese
Ricotta
Goat cheese
Crumbled feta
Brie
Cheddar cheese
Mozzarella
Parmesan
Cheese is a tasty topping that can take your pancakes to the next level. From cream cheese to melty cheddar, a variety of cheeses provide flavorful textures to complement the soft texture of pancakes. Not only that, but cheese also provides a good source of protein and calcium.


Vegetables
Hashbrowns
Chopped spinach
Avocado slices
Onions
Green onions
Chives
Peppers
Mushrooms
Shredded carrots
Spinach
Broccoli
Beets
Kale
Herbs
Vegetables are an excellent choice to top pancakes, adding both flavor and nutrition. You can experiment with all sorts of veggies, from classic favorites like onions and peppers to more unconventional choices like carrots and beets. Saute or roast before serving for added flavor.


Nuts and seeds
Almond slivers
Chopped walnuts
Toasted pecans
Mixed nuts
Macadamia nuts
Chia seeds
Hazelnuts
Cashews
Pistachios
Peanuts
Sunflower seeds
Flax seeds
Nuts and seeds add a deliciously crunchy contrast to the softness of pancakes. Additionally, they provide a source of healthy fats and protein and are good sources of vitamins and minerals.


Sauces and creams
Sour cream
Greek yogurt
Brown gravy
White gravy
Hollandaise sauce
Tomato sauce
Pizza sauce
Marinara
Cheese sauce
Mushroom sauce
Sauces and creams can add delicious flavor to any savory topping combination. Try traditional creams like sour cream or yogurt. Or get creative with pizza sauce, marinara, and cheese sauce.
Now that you know the ultimate list of pancake topping ideas, here are some tasty combinations to try.
Sweet Pancake Topping Combinations and Ideas
Cinnamon Roll Pancakes – Mix cinnamon sugar in the batter, then sprinkle the mixture on top of the cooked pancakes along with a drizzle of frosting. Yum!
Bananas and Chocolate Chips – Mash bananas and add to your pancake batter for a banana-bread-like taste, then top with banana slices and chocolate chips. Caramelized bananas with chocolate chips also make an excellent combo.
Butter, Whipped Cream, and Maple Syrup – A classic combo! Try using peanut butter instead of butter for a tasty alternative.


Lemon and Sugar – Did you know this is the most popular pancake topping combination in the UK? While their traditional pancakes are closer to a crepe, you can also try this delicious topping on American-style thicker pancakes for a fresh and sweet treat. Simply sprinkle some granulated or powdered sugar on your pancakes, then drizzle with lemon juice.
S'Mores Pancakes – A delicious variation of the classic campfire treat! Top pancakes with mini marshmallows or marshmallow cream, melted chocolate, crumbled graham crackers, and mini chocolate chips.
Apple Cinnamon Pancakes – The sweetness of apple pairs perfectly with the rich flavor of the cinnamon, and the combination on top of pancakes is simply delicious. Slice up some apples, and saute in a pan with a pat of butter, brown sugar, and cinnamon. Top your pancake with this mixture and sprinkle with cinnamon. Alternatively, use a can of apple pie filling and warm it up in a bowl in the microwave before topping your pancakes.
Mud Pie Pancakes – Top pancakes with crushed Oreos, whipped cream, chocolate chips, and hot fudge for the ultimate indulgent treat.
Carrot Cake Pancakes – Mix finely shredded carrots and cinnamon sugar in your pancake batter. Sprinkle the cooked pancakes with cinnamon and top with cream cheese frosting or whipped cream and maple syrup.
Banana Split Pancakes – Make a classic banana split, but with pancakes at the bottom! Start with whole pancakes or pancake pieces at the bottom of a banana boat, then top with classic banana split toppings like halved or sliced bananas, ice cream, whipped cream, syrups, fruit, and nuts. Check out this post for more banana split ideas!
Cheesecake Pancakes – Top your pancakes with cream cheese, strawberry sauce, and graham cracker crumbles. This is a great way to enjoy cheesecake flavors without the time required to make traditional cheesecake.


Fresh Strawberries, Blueberries, and Raspberries with Homemade Whipped Cream – Top cooked pancakes with the berries, or mix right in the batter before cooking. Finish with a dollop of homemade whipped cream for a tasty treat.
Savory Pancake Topping Combinations and Ideas
Ham and Eggs – For a tasty twist on traditional pancakes, top them with thinly sliced ham and grated cheese. Warm until the cheese melts and serve with Dijon mustard or honey for dipping.
Bacon, Avocado, and Feta – For a savory treat, top pancakes with bacon strips or pieces, add avocado slices or chunks, and sprinkle with crumbled feta.
Fried Chicken and Maple Syrup – Try this combo next time you are in the mood for comfort food. The savory crunch of fried chicken complements the sweetness of the maple syrup perfectly, and the combination of these two flavors on top of pancakes is simply irresistible.
Grilled Cheese – Make it just like you would with bread, but use pancakes instead! Try classic cheddar or a combination of cheeses: mozzarella, Monterey Jack, and provolone are all great options.
Quesadilla Pancakes – Take 2 cooked pancakes, fill with your favorite cheese + veggies like peppers and onions + meat of your choice (diced chicken or bacon are great options!), then pan-fry until the cheese is melted.
Smoked Salmon, Cream Cheese, and Green Onions – Spread plain or herbed cream cheese on warm pancakes and top with smoked salmon and diced green onions for a delectable savory treat.
Sausage and Vegetables – Top pancakes with pan-fried sliced sausage and cooked vegetables. Try spinach, grilled mushrooms, roasted tomatoes, or crispy roasted kale.


Eggs Benedict Pancakes – Swap the traditional English muffin for a pancake and top with bacon or ham, a poached egg, and hollandaise sauce.
Sweet and Savory Pancake Topping Combinations and Ideas
Bacon and Maple Syrup – Bacon and maple syrup are two of the most popular pancake toppings for a reason. Together, they provide the perfect balance of sweet and savory, making them an irresistible topping combination.
Cottage Cheese and Fresh Fruit – For a healthy breakfast, top a pancake with cottage cheese and add fresh fruit. Sliced peaches, strawberries, or blueberries are all great options.


Healthy Pancake Toppings
You might wonder what to choose if you want something healthy to top your pancakes. Look no further—here is a list of healthy (and tasty!) pancake toppings:
Fresh berries or fruit
Unsweetened applesauce
Banana slices
Cinnamon
Yogurt
Nut butter (peanut, almond)
Cottage cheese
Honey
Nuts (toasted pecans, chopped walnuts, almond slivers)
Granola
Cinnamon
Dark chocolate
Turkey bacon
Eggs
Veggies
Grated zest – lemon, lime, orange
Unique Ways to Serve Pancake Toppings


Pancake Toppings Bar
Can't decide on one topping combination? Try a pancake toppings bar and allow your guests to get creative with their own combinations. Offer a variety of toppings in bowls, ramekins, or mason jars with spoons to dish them.
Pancake toppings bars are great for brunches, birthdays, holidays, or any day, really. After all, who needs an excuse for a pancake party?


Pancake Toppings Charcuterie Board
This is a similar concept to a pancake toppings bar, but rather than placing all toppings in bowls or mason jars on the table or counter, place toppings directly on a charcuterie board (a cutting board also works great for this) and arrange them in an artful manner. Start by placing pancakes on the board—a diagonal "S" shape looks great, but feel free to be creative. Then, place toppings in piles or bowls to fill in the area around the pancakes.
Final Thoughts
Now that you have a ton of pancake topping ideas, it's time to get cooking. Which toppings will you choose for your next stack? Will you go with a classic combination like maple syrup and whipped cream or a unique and savory option like fried chicken and gravy?
Whichever toppings you select, they'll undoubtedly taste delicious on top of fluffy pancakes. Have fun cooking and be sure to share your favorite pancake toppings and combinations in the comments below! 
More Delicious Topping Ideas
Pin for later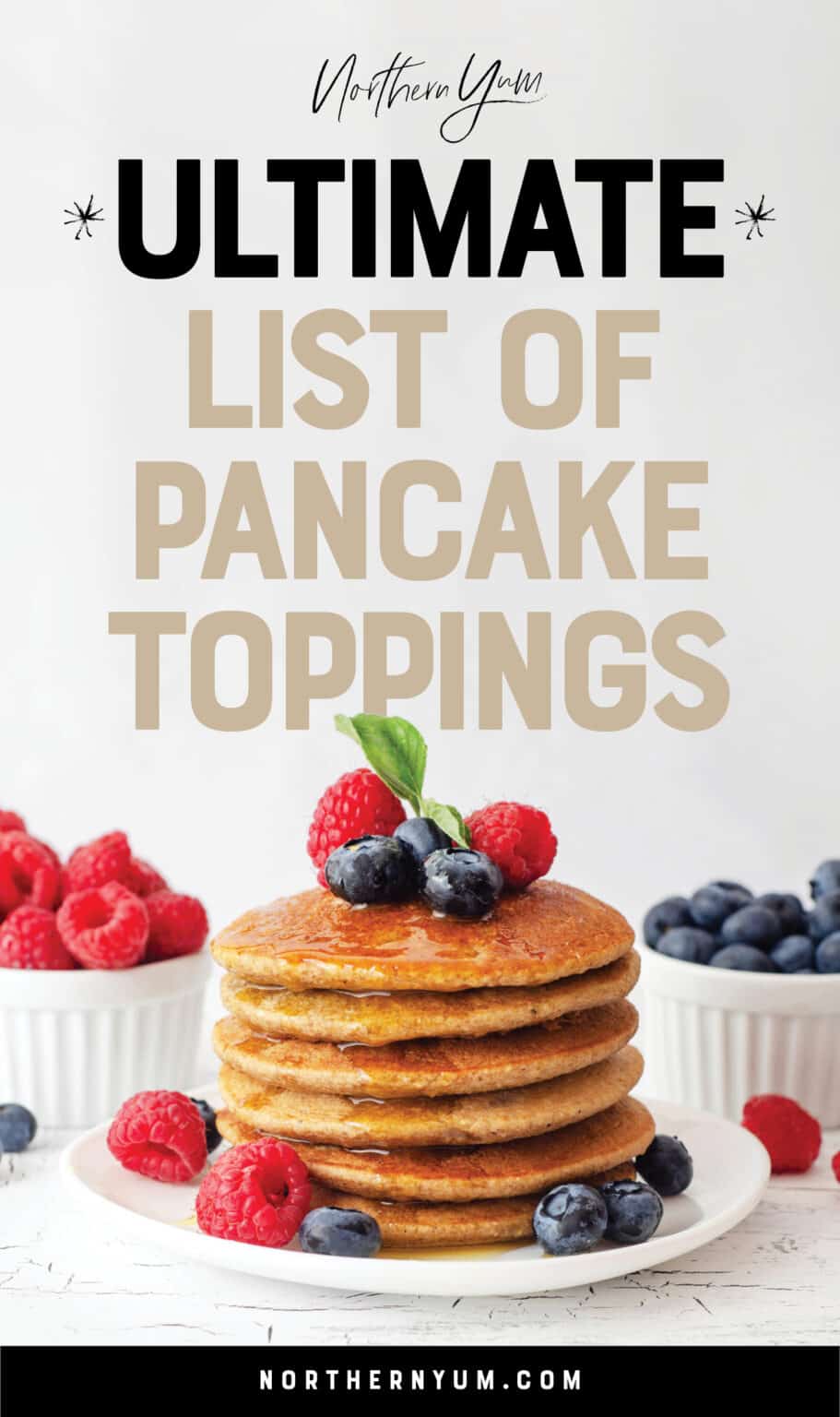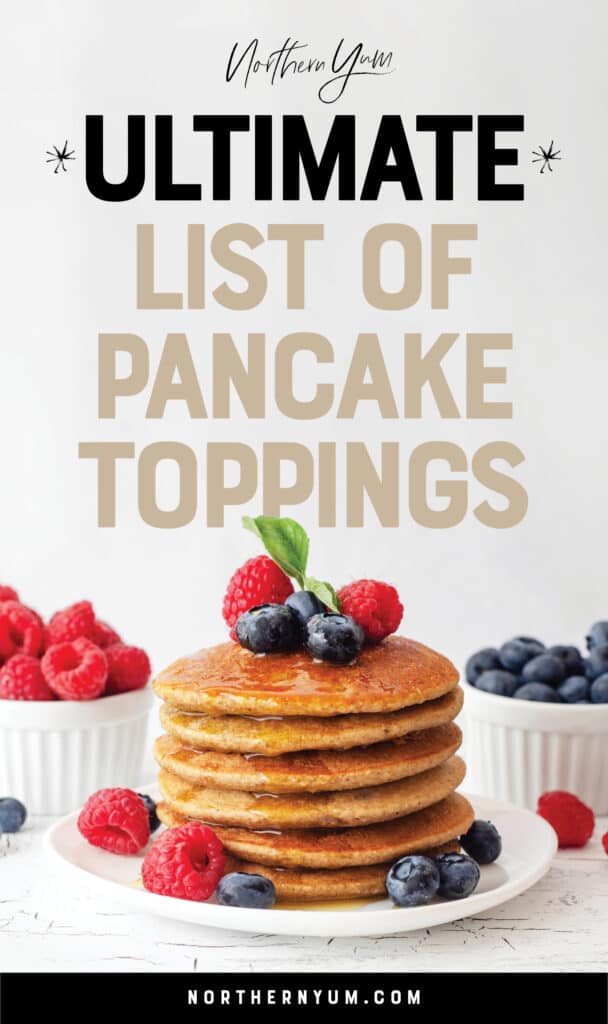 Pancake Toppings: The Ultimate List of Sweet and Savory Options