Dijon Balsamic Vinaigrette Dressing
This post may contain affiliate links. That means if you click and buy, we may receive a small commission (at zero cost to you). Please see our full disclosure policy for details.
Homemade Dijon Balsamic Vinaigrette ♡ a simple yet flavorful combination of dijon mustard and balsamic to make the best vinaigrette dressing.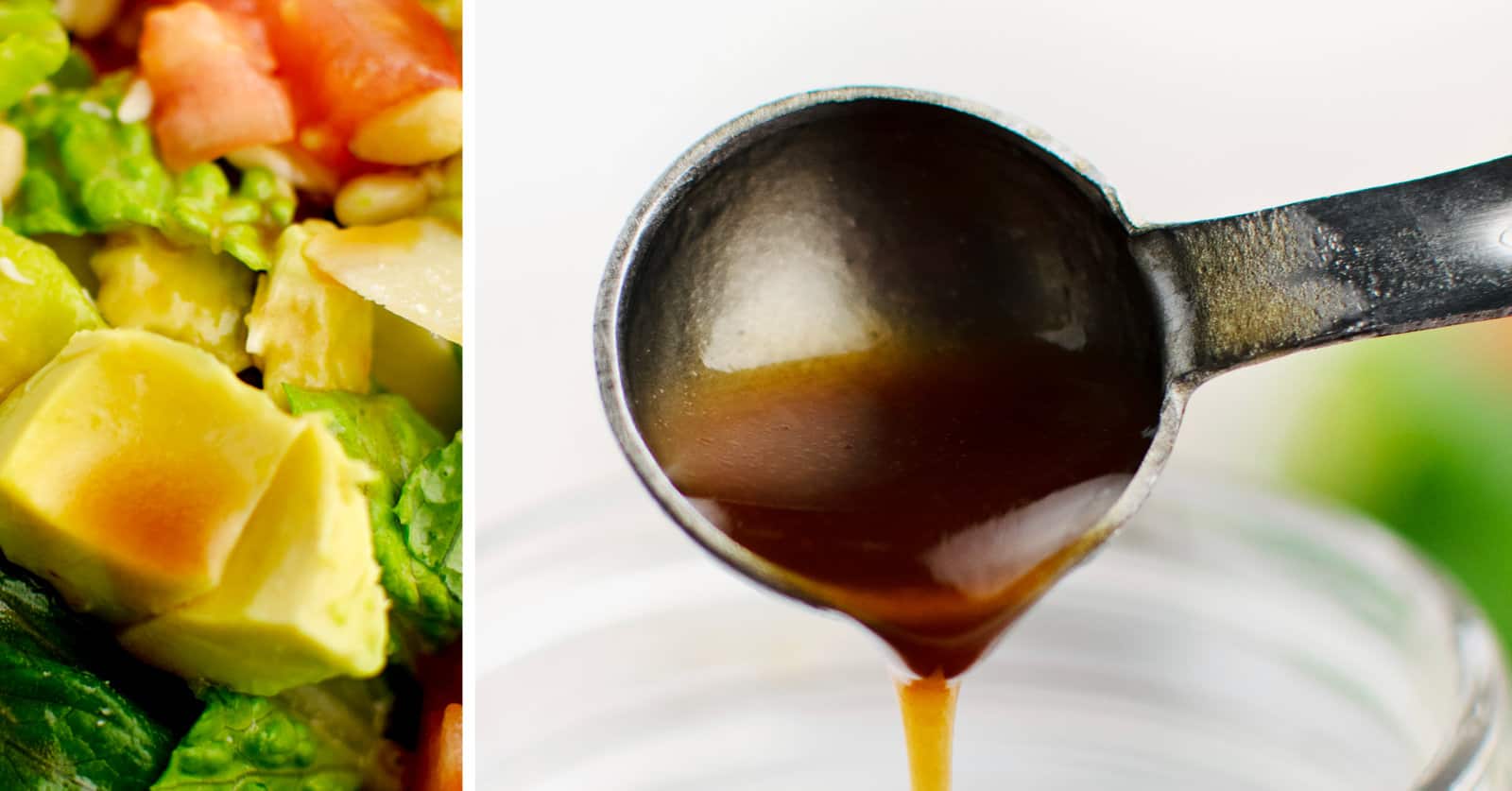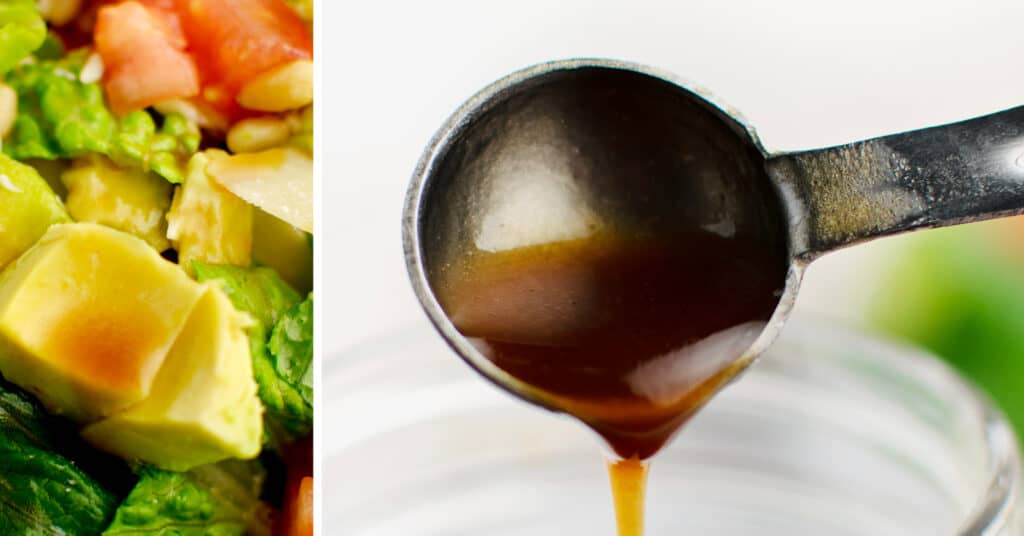 Creating your own dijon balsamic vinaigrette at home is surprisingly easy. With just a quick mix of olive oil, balsamic vinegar, dijon mustard, brown sugar, and salt, you can whip up a sweet and tangy dressing. It's great for everyday salads and impressing dinner guests on special occasions.
We love making homemade dressings because not only are they super tasty and easily customizable, but they also can be a healthier choice than store-bought options. You get to be the boss of what goes in, ensuring top-notch ingredients and avoiding unwanted additives or preservatives.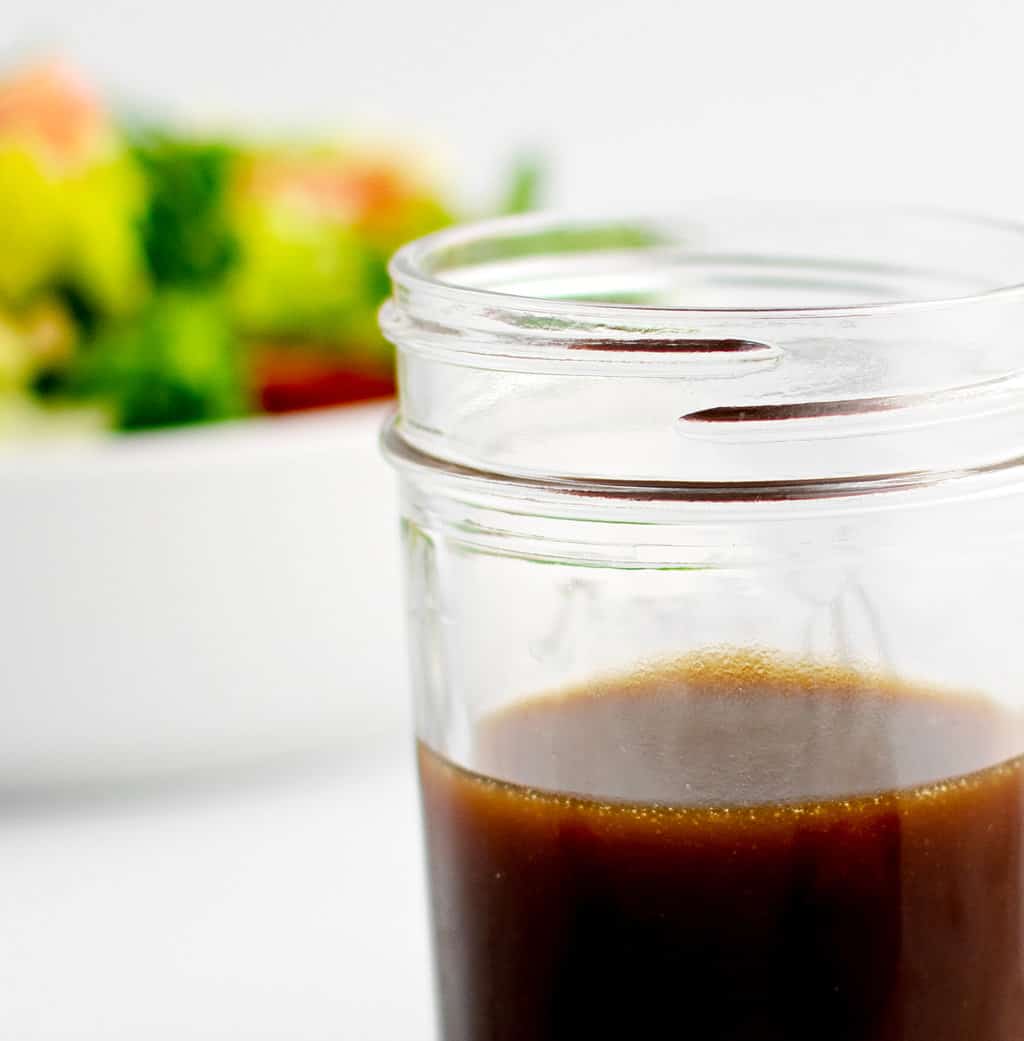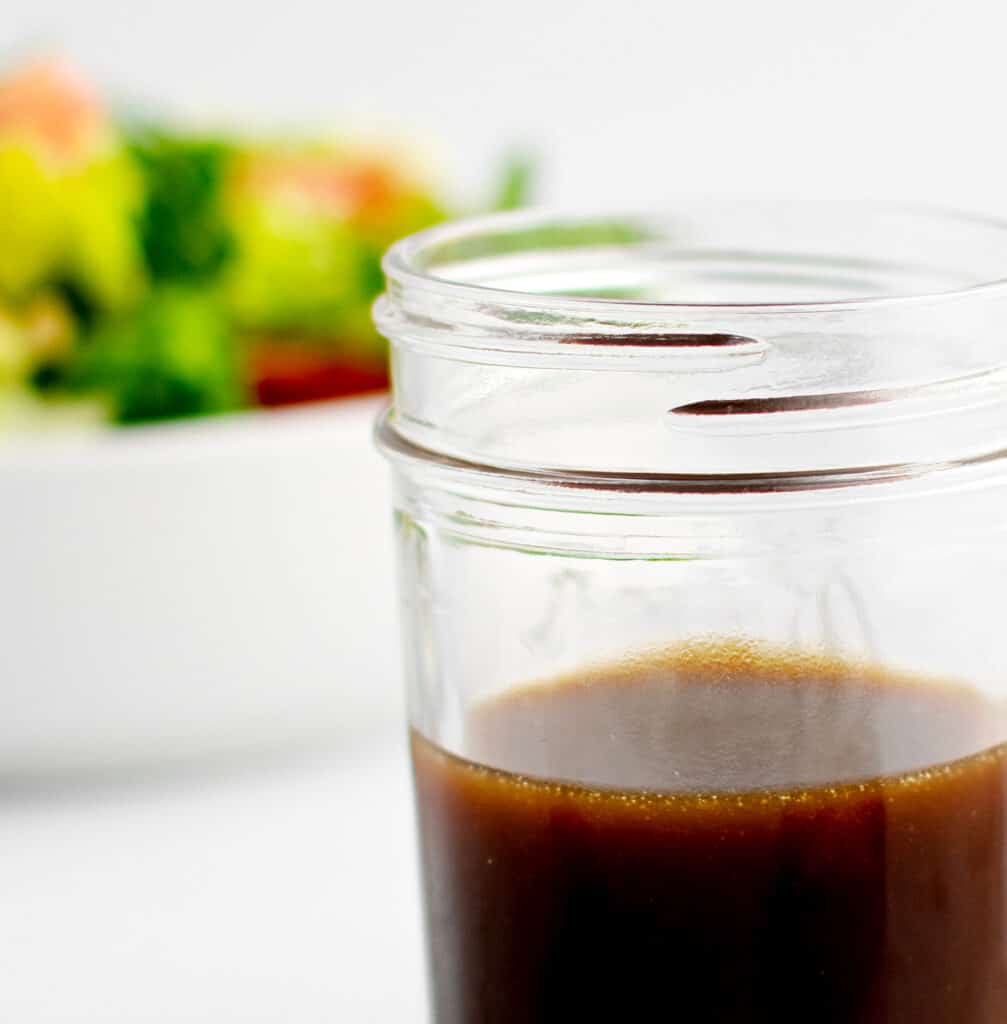 What is Dijon Balsamic?
Dijon balsamic is a variation of the classic balsamic vinaigrette dressing that starts with a base of extra virgin olive oil and balsamic vinegar, then incorporates dijon mustard which adds a distinct sharp and tangy flavor.
It's one of our all-time favorite vinaigrettes which we normally serve with an avocado tomato romaine salad. But you can also use this delicious dressing as a marinade, on roasted veggies, as a sandwich topping, and much more.
✨ Fun Fact – we've been making this dressing for years. Our college friend used to make it after a night out. Skip the pizza or tacos—instead, she would whip up vinaigrette and a salad.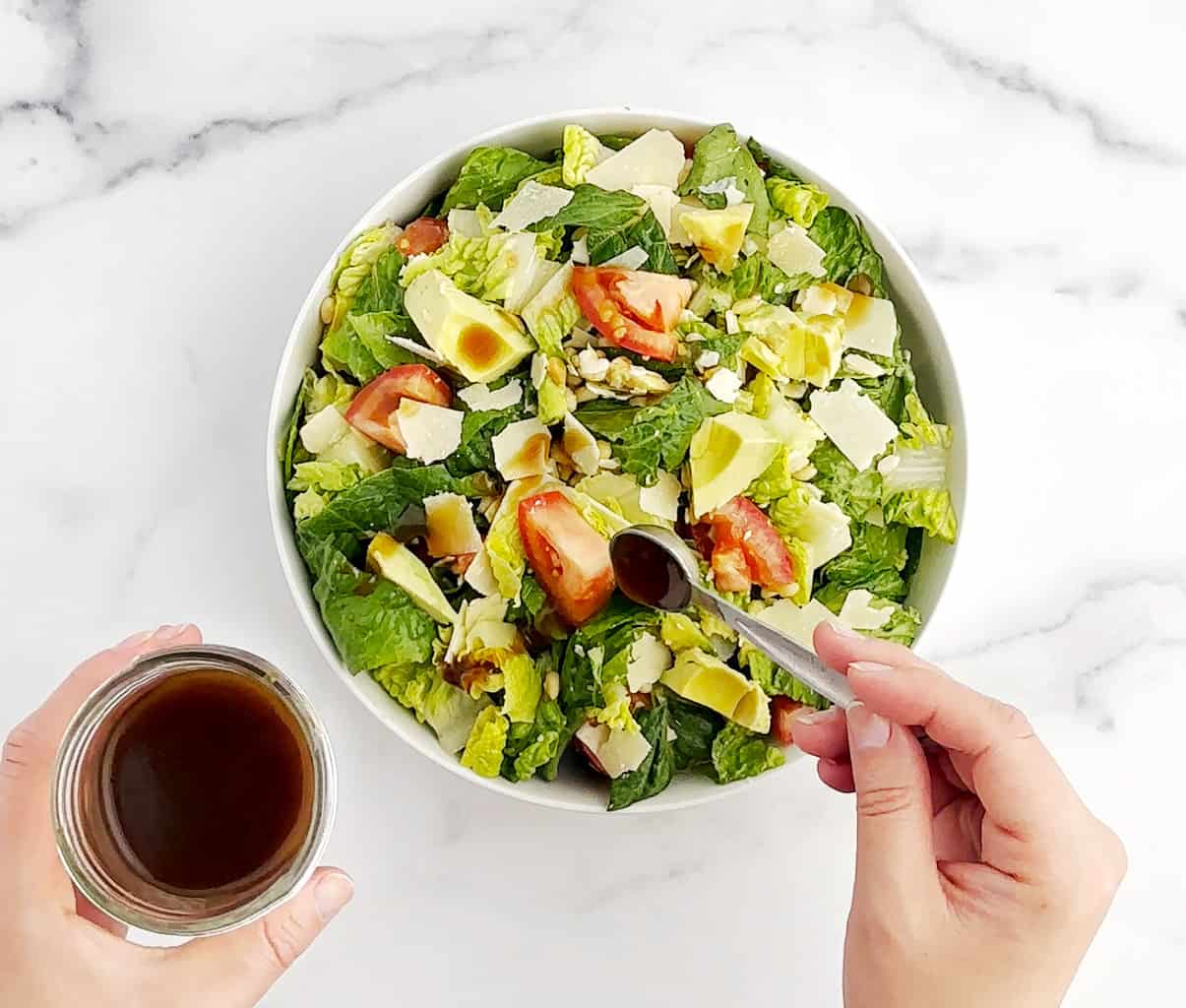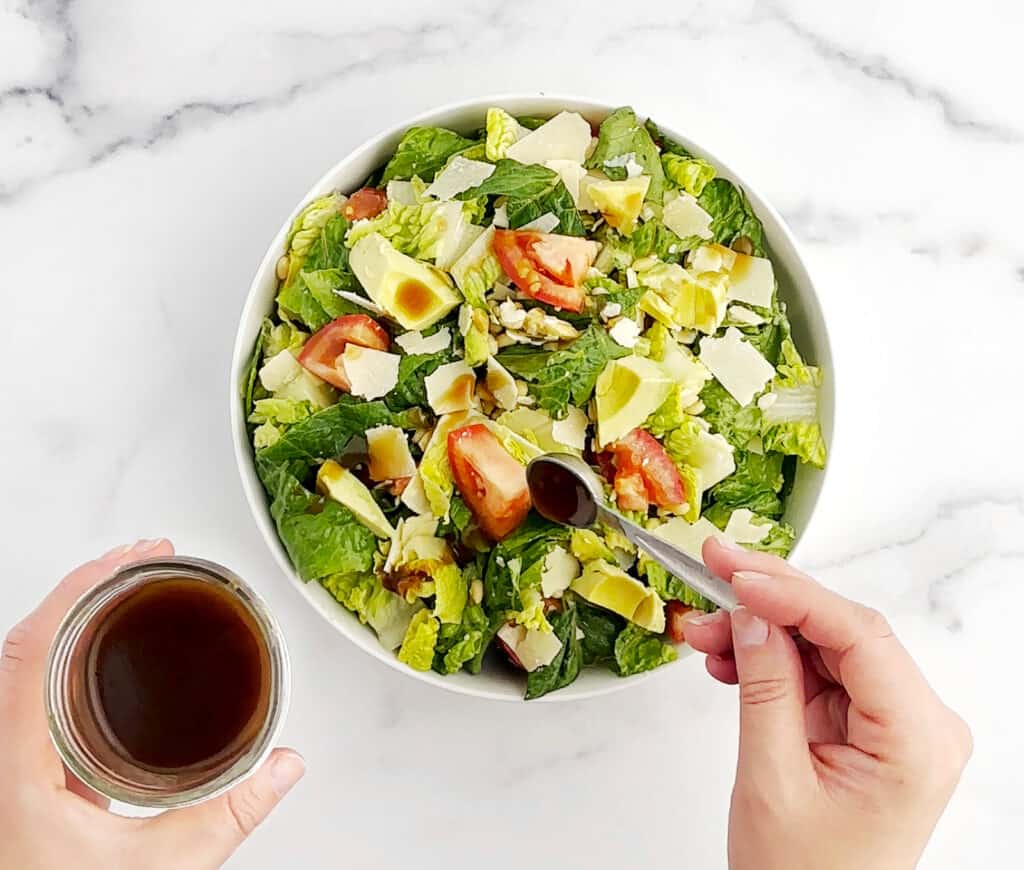 Ingredients
Making your own vinaigrette at home is simple and requires just a few basic ingredients. Here's what you'll need.
Extra-virgin olive oil: EVOO is the base of the dressing, providing a smooth and rich flavor. Opt for a high-quality oil.
Balsamic vinegar: gives your dressing a tangy, slightly sweet taste. Choose a good quality balsamic vinegar for the best flavor.
Dijon mustard: adds a sharp, tangy, and slightly spicy kick to the dressing. We use the Grey Poupon brand.
Brown sugar: light brown, to balance the tanginess of vinegar and mustard.
Salt: a pinch of regular table salt will round out the dressing.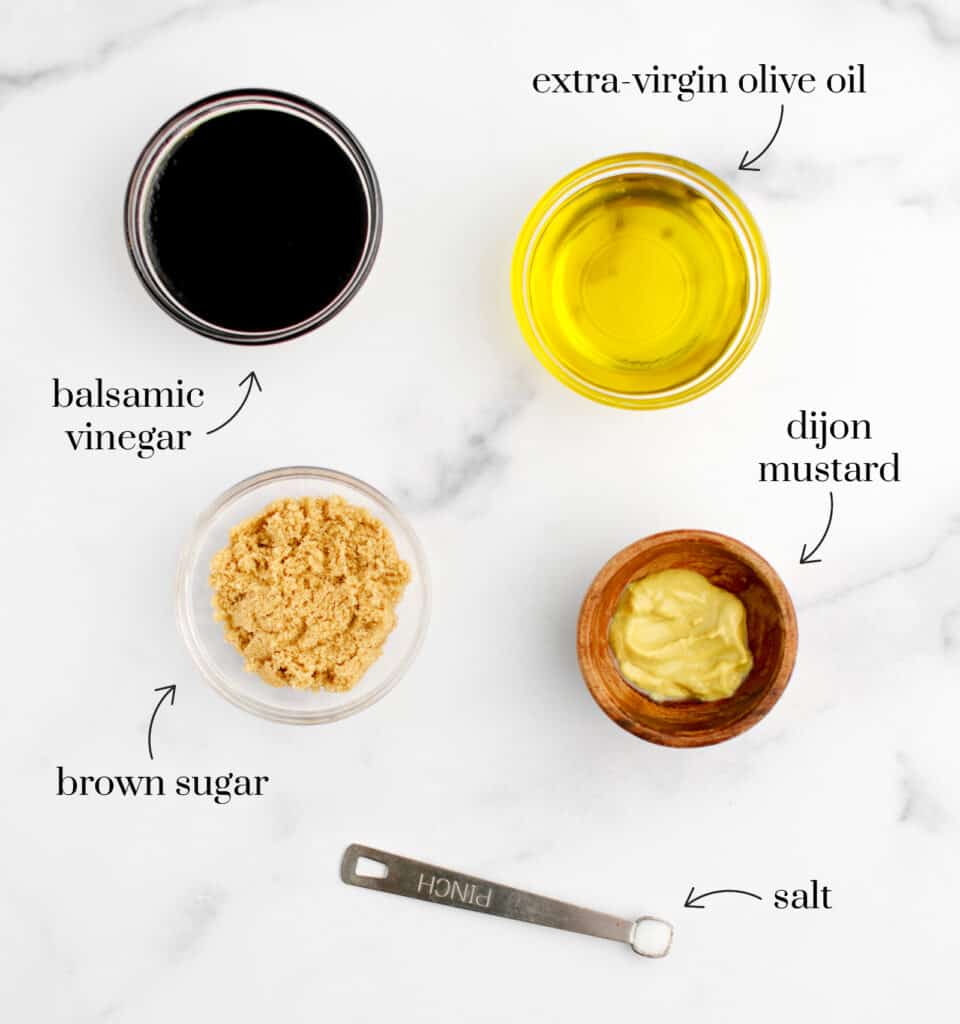 ✨ Have you been to a specialty oil and vinegar store? We love to shop locally for high-quality olive oil and balsamic vinegar.
Supplies
All you need are just a few basic kitchen tools.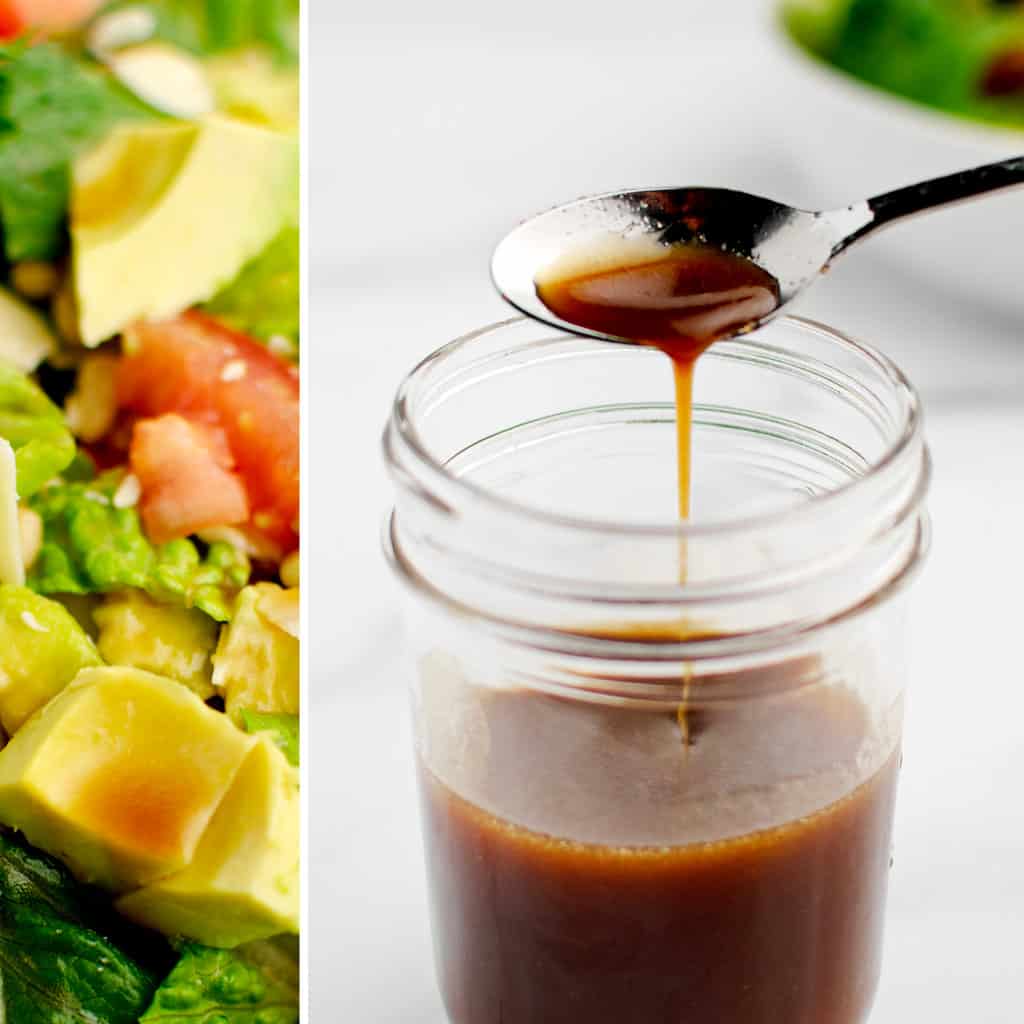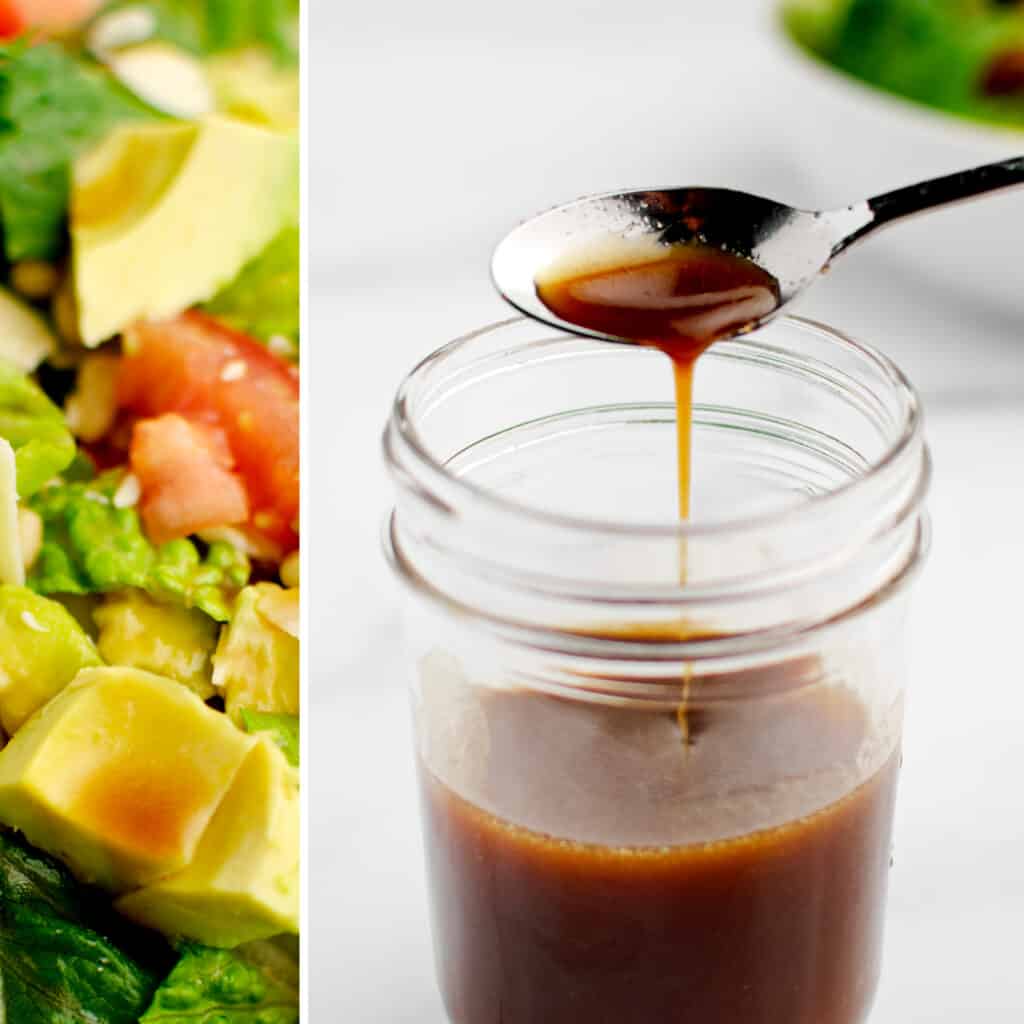 How to Make Dijon Balsamic Vinaigrette
Now that you have your ingredients, it's time to mix up your delicious dijon balsamic vinaigrette. Follow these simple steps:
Step 1 | Add ingredients to mason jar
In a mason jar or dressing shaker, add olive oil, balsamic vinegar, brown sugar, dijon mustard, and salt.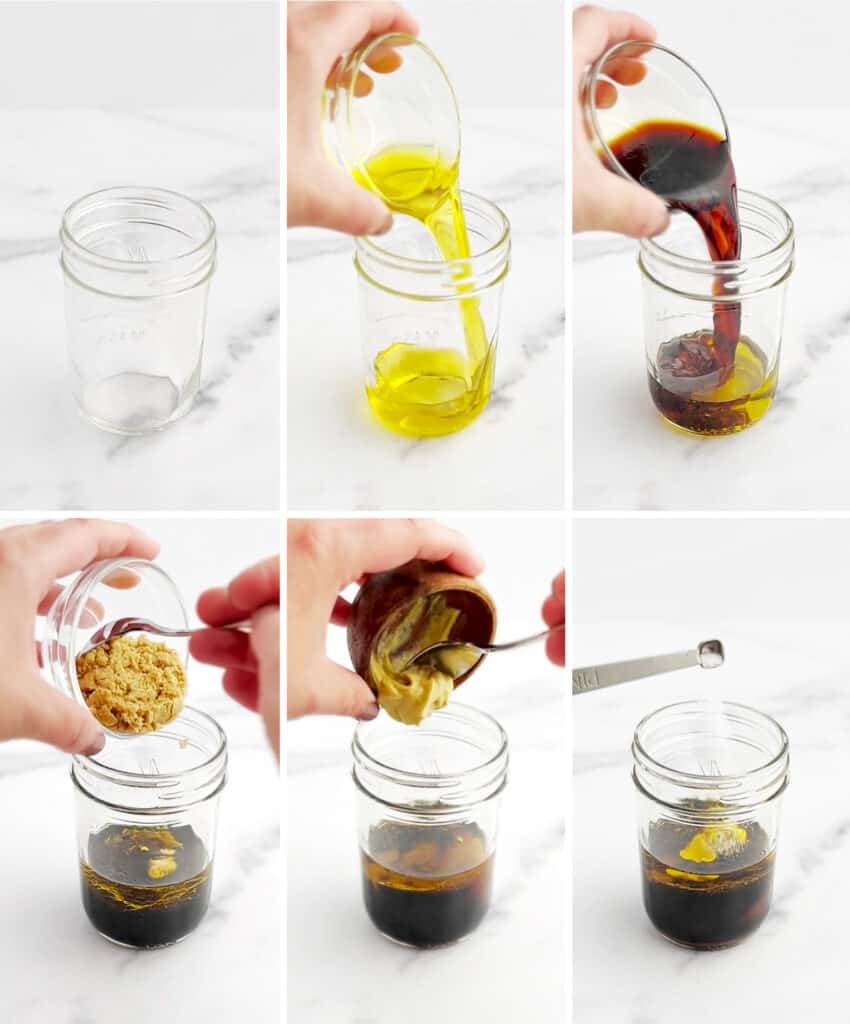 Step 2 | Shake Vigorously
Once you've added all the ingredients to the jar, make sure the lid is tightly secured. Give the jar a good shake until the ingredients are well combined.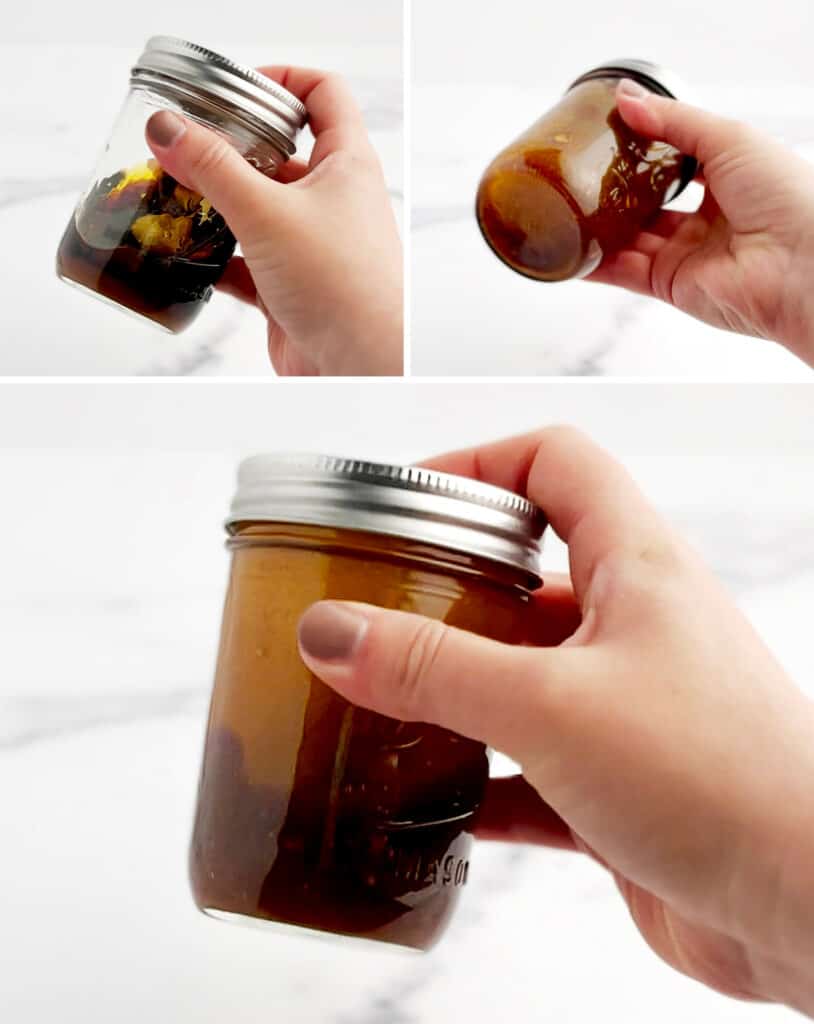 Step 3 | Taste & adjust if needed
Taste and adjust the seasoning, adding more mustard or salt if you'd like.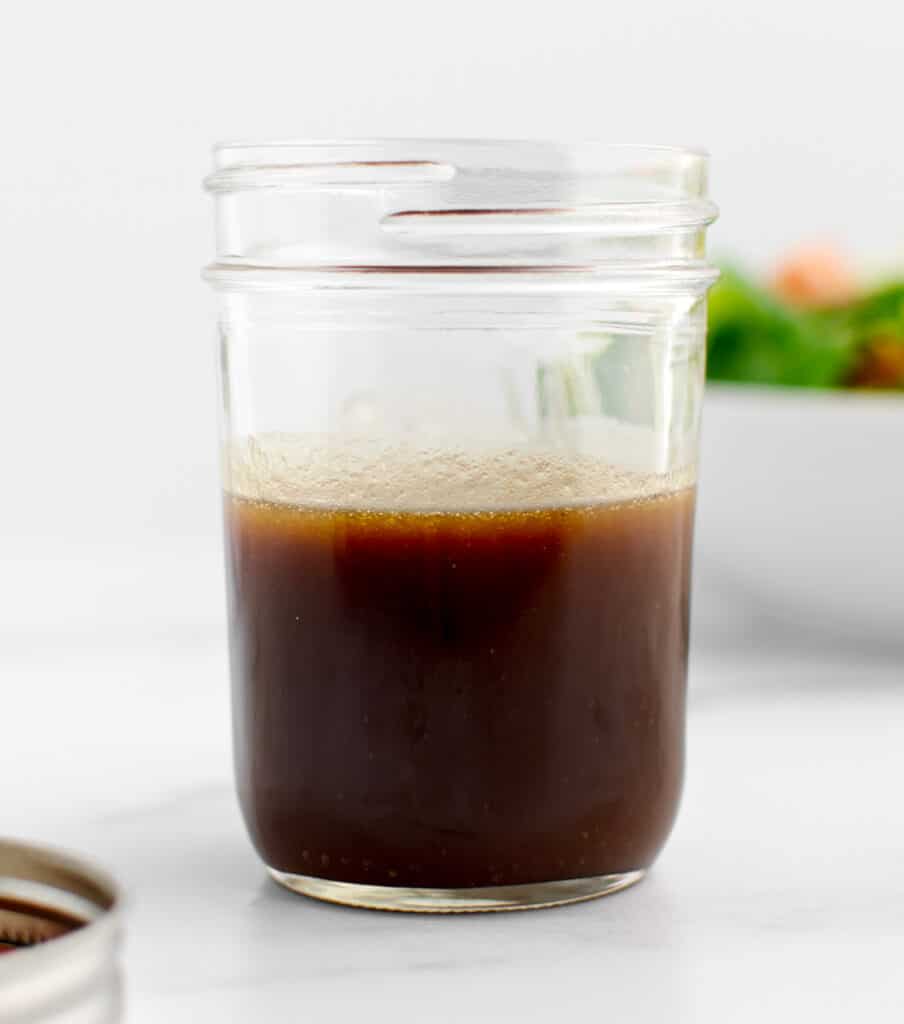 Congrats! You have just made your very own homemade dijon balsamic vinaigrette. This made-from-scratch dressing is perfect for drizzling over your favorite salads, grilled vegetables, or marinating chicken or fish.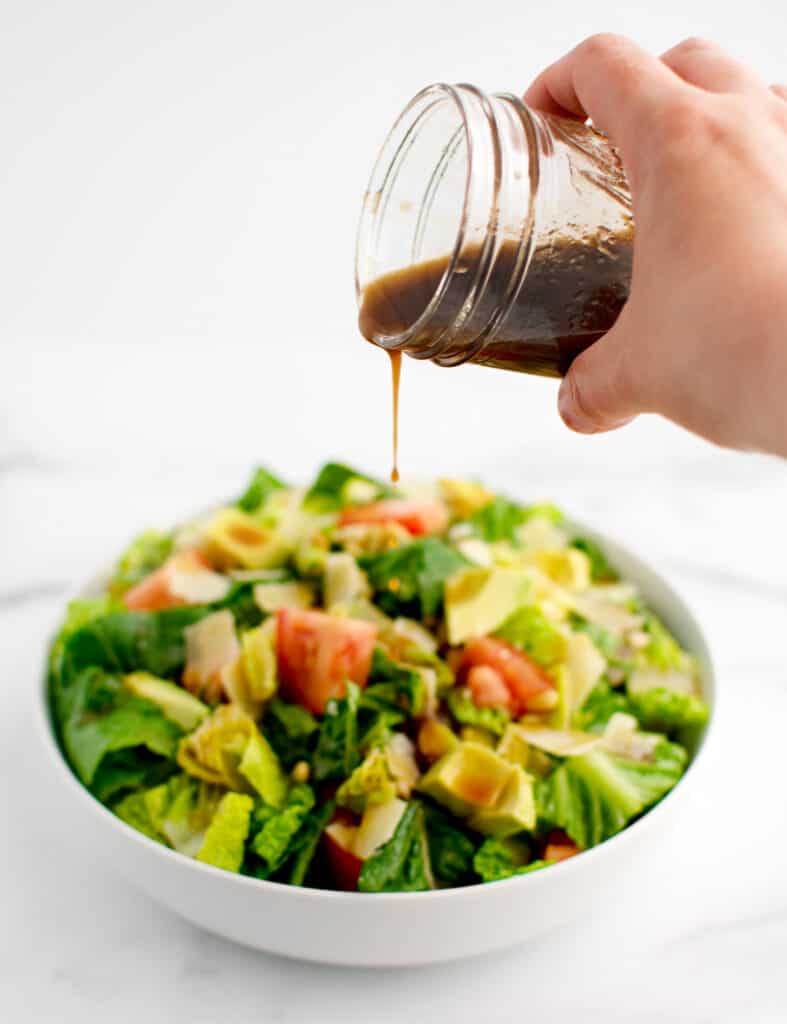 Storage Tips
Store homemade balsamic dressing in the fridge for up to two weeks in an airtight container or a glass jar. Just shake well before each use to recombine the ingredients, as they may separate over time.
Print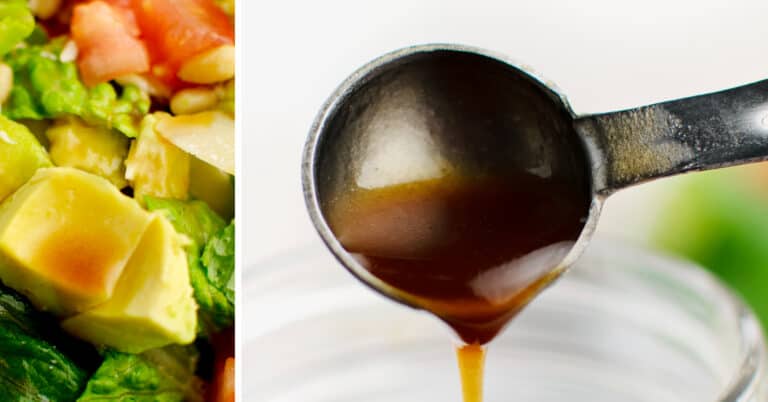 Dijon Balsamic Vinaigrette
A simple yet flavorful combination of dijon mustard and balsamic vinegar—perfect for drizzling on salads, roasted veggies, and marinating meats.
1/4

cup

balsamic vinegar

1/4

cup

extra virgin olive oil

1/2 tbsp

dijon mustard

1 1/2 tbsp

light brown sugar
Pinch of salt
Instructions
Add balsamic vinegar, olive oil, dijon mustard, brown sugar, and a pinch of salt to a mason jar or dressing shaker.
Secure with a lid and shake until well combined.
Taste and adjust salt or mustard, if needed, to your preference.
Equipment
Notes
We use a mason jar or salad dressing shaker for easy mixing and storage after.
High-quality olive oil and balsamic dressings are available at local specialty oil and vinegar shops.
Author:

Prep Time:

5 minutes

Category:

Dressing

Cuisine:

American
Nutrition
Serving Size:

2 tablespoons

Calories:

149

Sugar:

5.7 g

Sodium:

634.7 mg

Fat:

14 g

Saturated Fat:

2 g

Carbohydrates:

6 g

Protein:

0.1 g

Cholesterol:

0 mg
Keywords: salad dressing, homemade dressing
Recipe Card powered by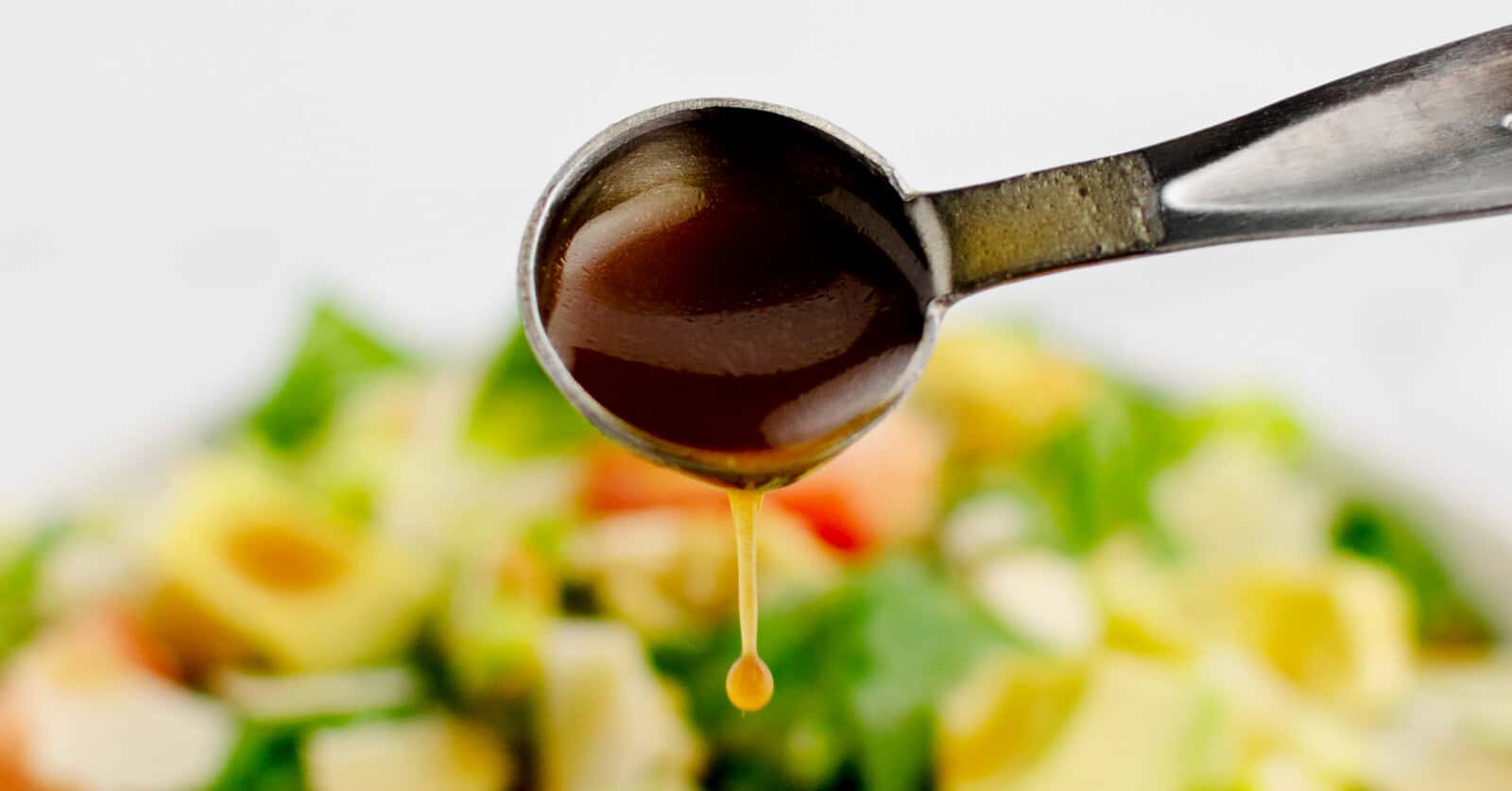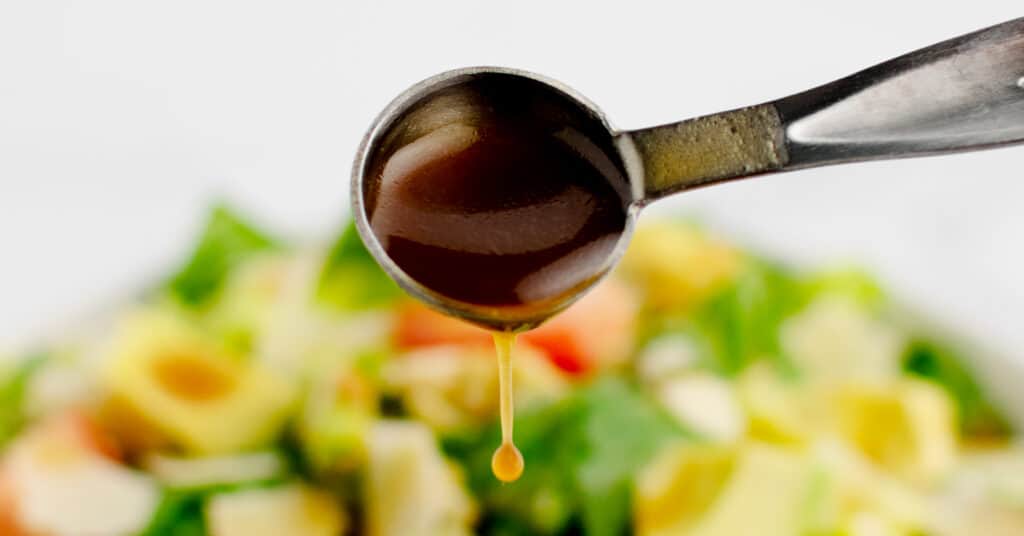 Ways to Use Dijon Balsamic Dressing
There are so many amazing ways you can use this homemade dressing. From jazzing up your salads to giving your sandwiches an extra kick, here are our favorites.
Salad Pairings
Dijon balsamic vinaigrette pairs perfectly with a variety of salads. Our all-time favorite is an avocado tomato romaine salad. Drizzle your homemade vinaigrette on top, or toss it all together to coat evenly.
This dressing also pairs well with spinach, mixed greens, arugula, or kale salads. Try adding cherry tomatoes, cucumber slices, grated carrots, and olives.
Pasta Salad
For a delicious pasta salad, cook your favorite pasta, such as rotini or penne, according to the package instructions. Once cooled, add halved cherry tomatoes, quartered artichoke hearts, diced red peppers, and cubes of mozzarella cheese. Top with a generous amount of dijon balsamic vinaigrette and mix until everything is evenly coated.
Caprese Salad
Add a unique twist to the classic Caprese salad with the addition of dijon balsamic vinaigrette. Arrange slices of ripe tomatoes and fresh mozzarella on a plate, then top with fresh basil leaves. Drizzle the dressing over the top.
Marinades and Other Uses
Dijon balsamic is not only for salads. Use it as a marinade for grilled chicken, steak, or vegetables. Mix equal parts of the vinaigrette and your favorite barbecue sauce for a tangy combination.
You can also use this dressing as a dipping sauce for crusty bread, as a sandwich spread, or drizzled over roasted vegetables. So many possibilities!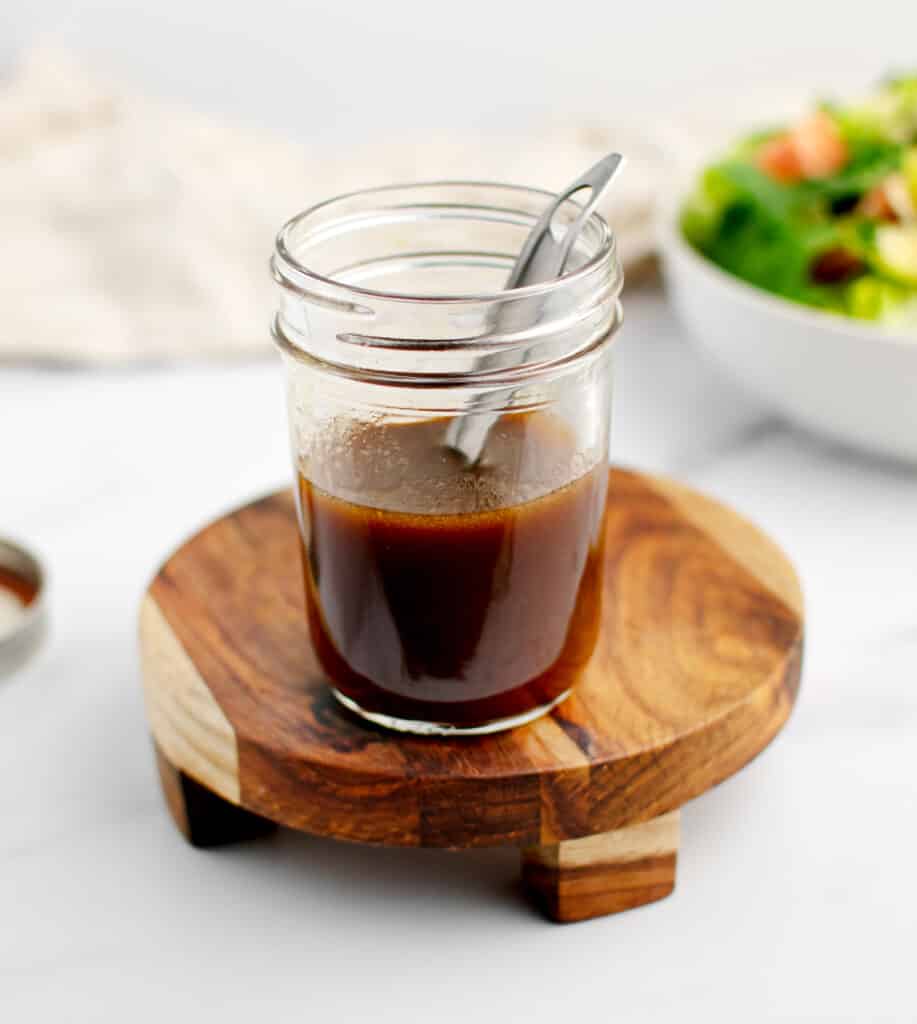 Final Thoughts
In just a few minutes, you can create a homemade dijon balsamic. Say goodbye to store-bought and craft your own delicious salad dressing at home. This vinaigrette is oh-so-tasty whether drizzled over fresh greens, used as a marinade, or as a topping for roasted veggies.
⭐⭐⭐⭐⭐
Have You Tried This Recipe? Please rate it in the comments and let us know your thoughts!
More Tasty Recipes
Pin for later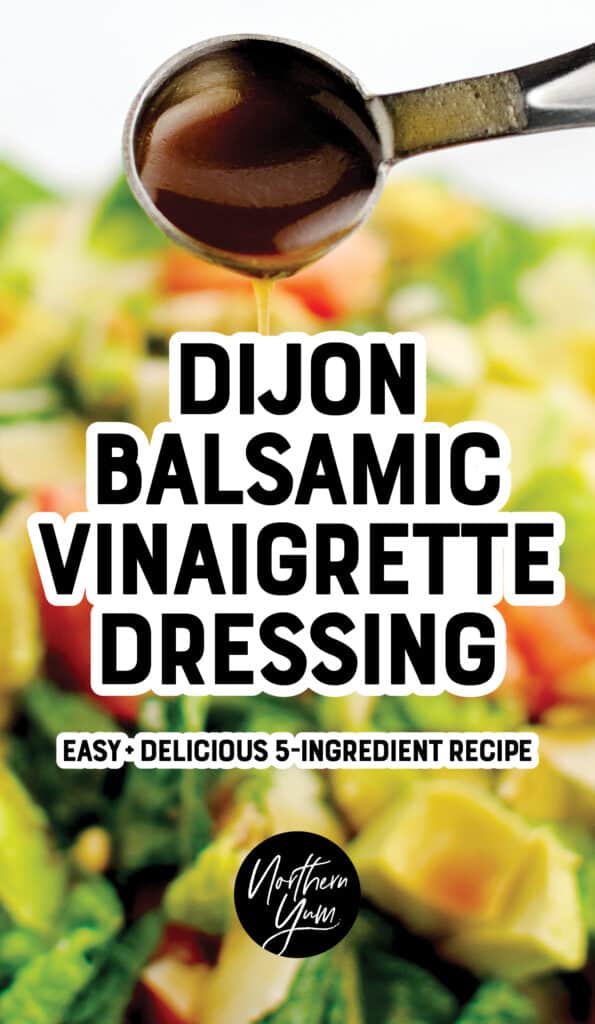 Dijon Balsamic Vinaigrette Recipe