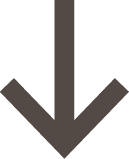 Jump to Recipe
Homemade Cinnamon Sugar ♡ the perfect blend of sugar and cinnamon to use in baked goods, top desserts and fruits, and mix in beverages.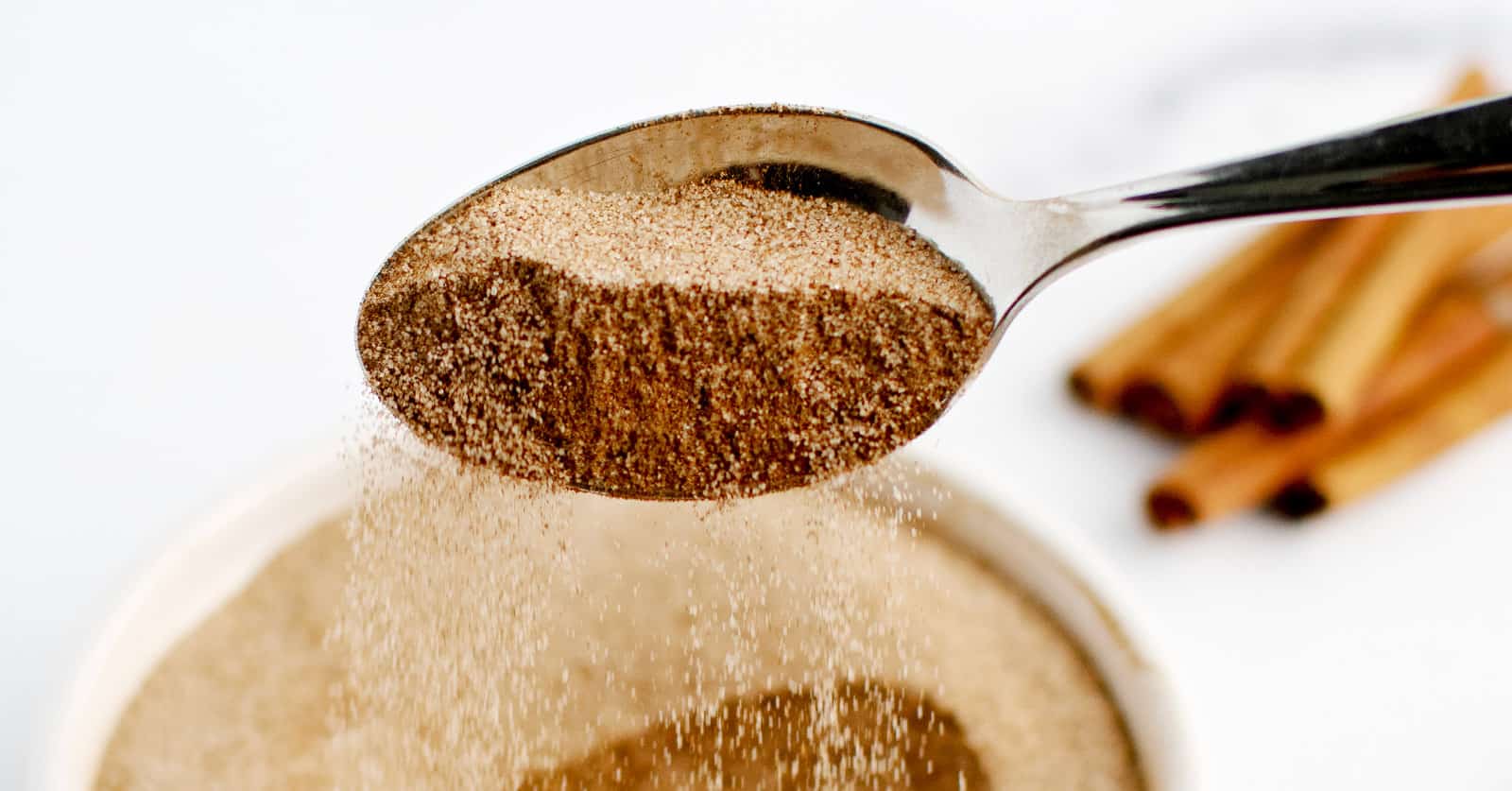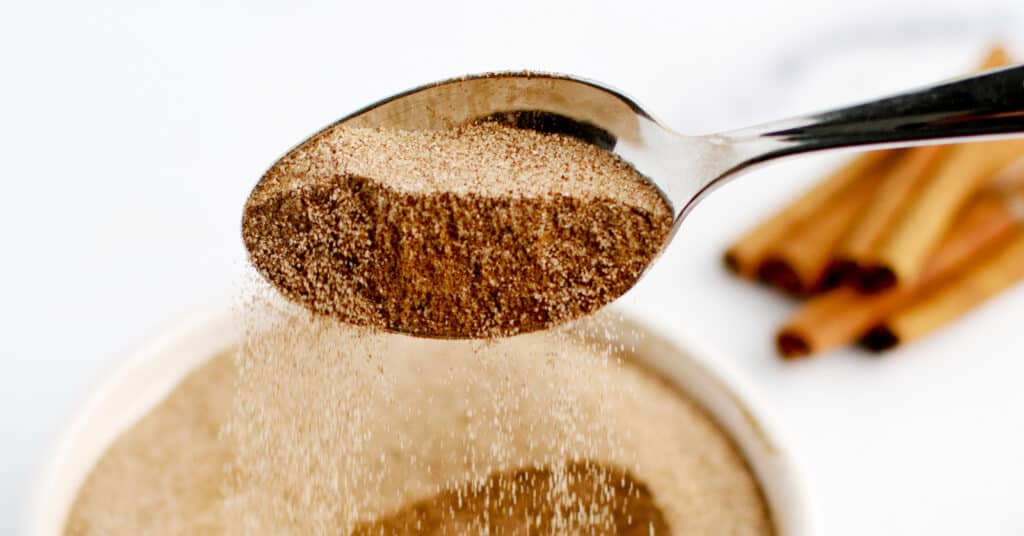 Who doesn't love cinnamon sugar? This classic combination can be added to many baked goods, from cookies and pastries to bread and muffins. A little cinnamon sugar can take your baking to the next level.
The best part is that you can make this delicious blend at home in just a few minutes. With this easy recipe for homemade cinnamon sugar and some creative ideas for how to use it, you can add extra sweetness and spice to your favorite foods and drinks.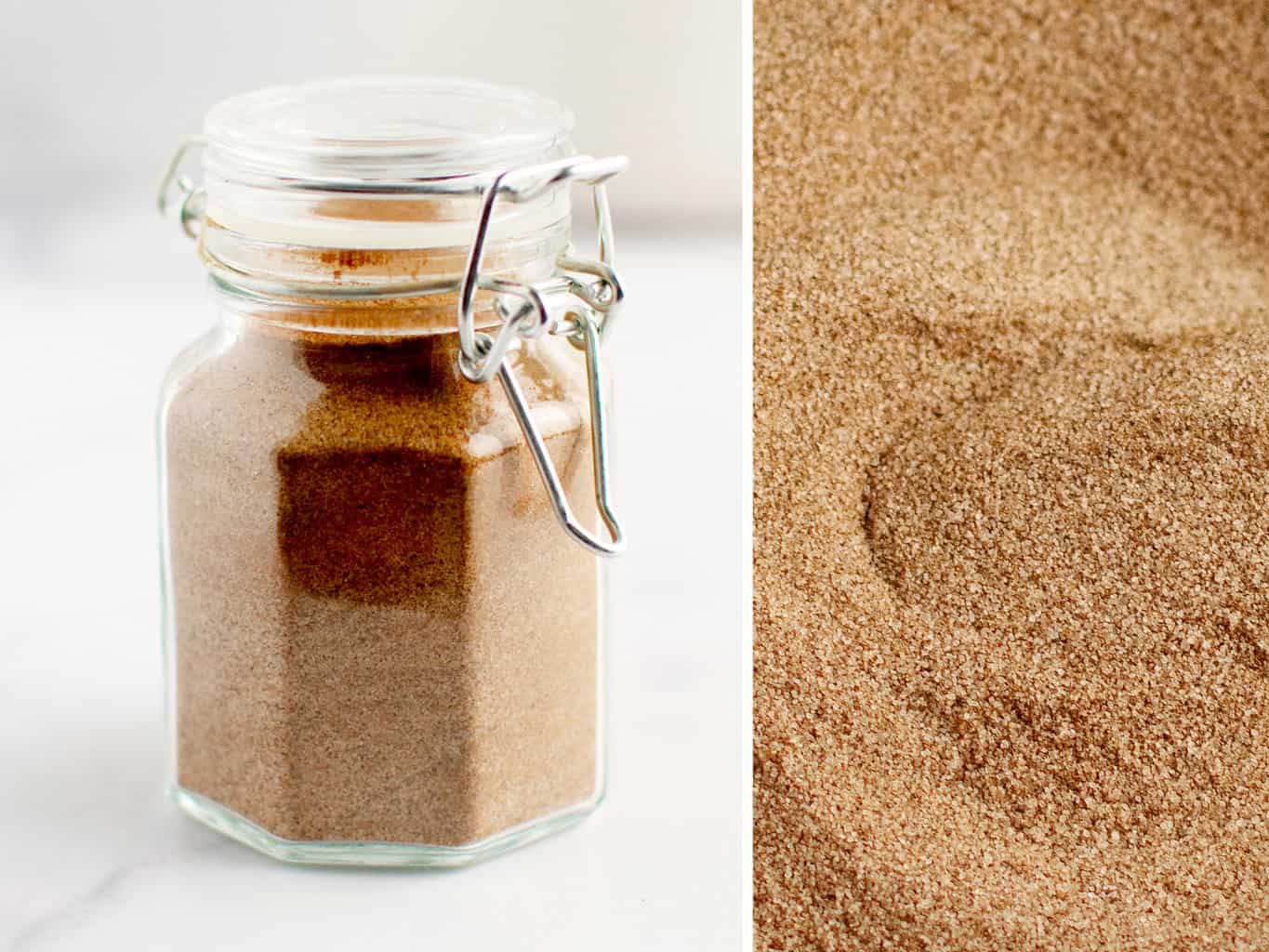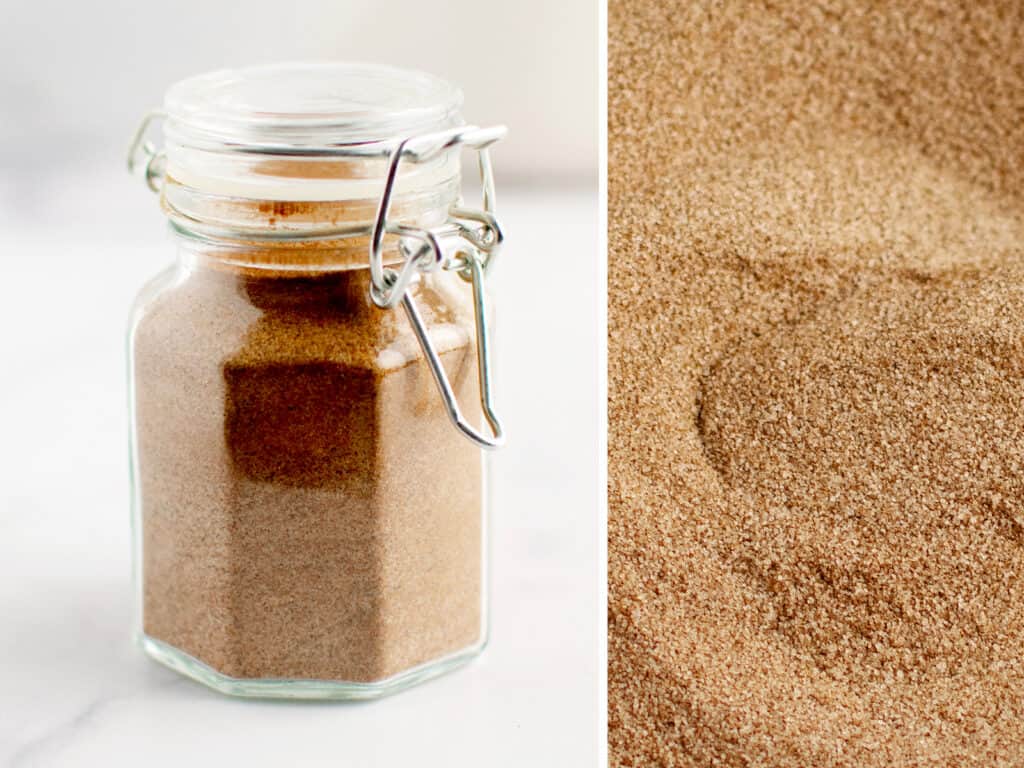 Ingredients
The first step to making cinnamon sugar is to gather your ingredients. You'll need cinnamon and granulated sugar. Either freshly ground cinnamon or store-bought ground cinnamon will work for this recipe. While you can use any granulated sugar, we recommend sticking with white granulated sugar for the classic flavor.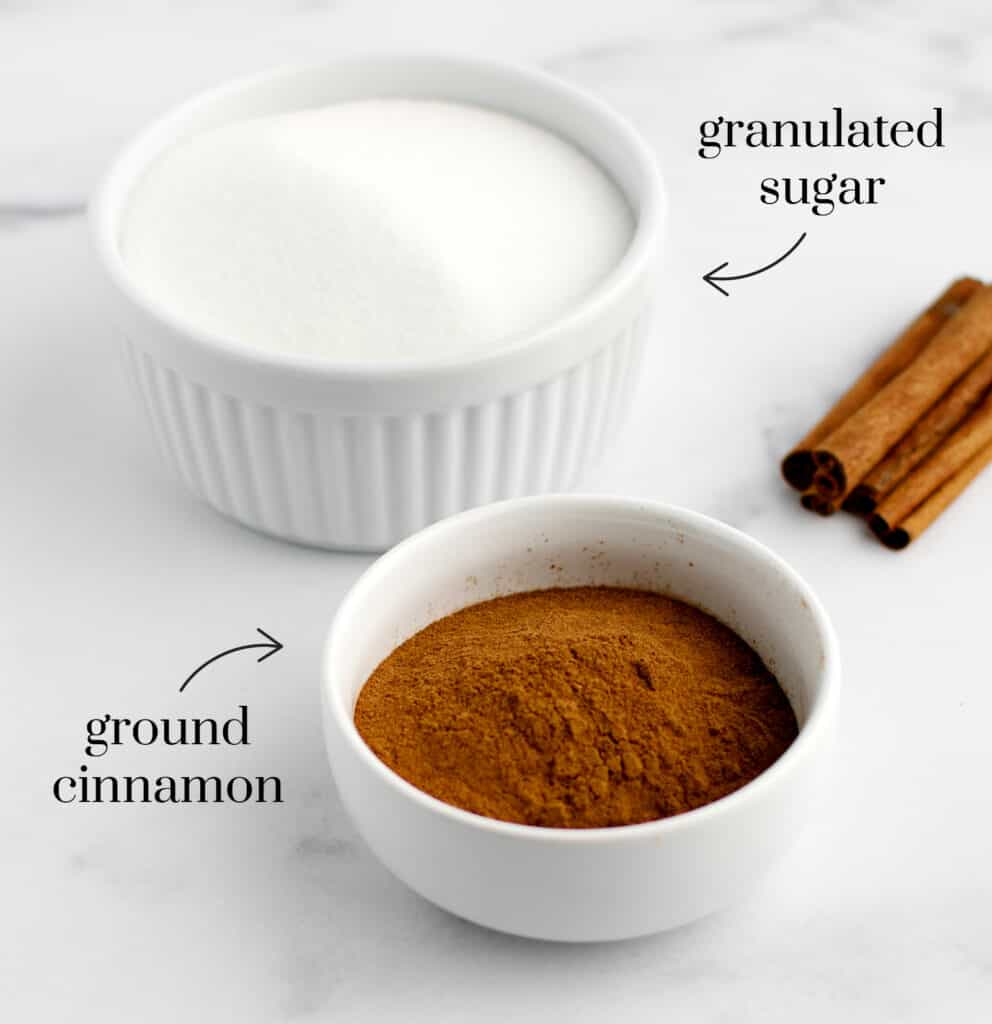 Sugar – granulated white sugar.
Cinnamon – ground cinnamon. You can use freshly ground if you prefer.
Supplies & Favorite Tools for Homemade Spices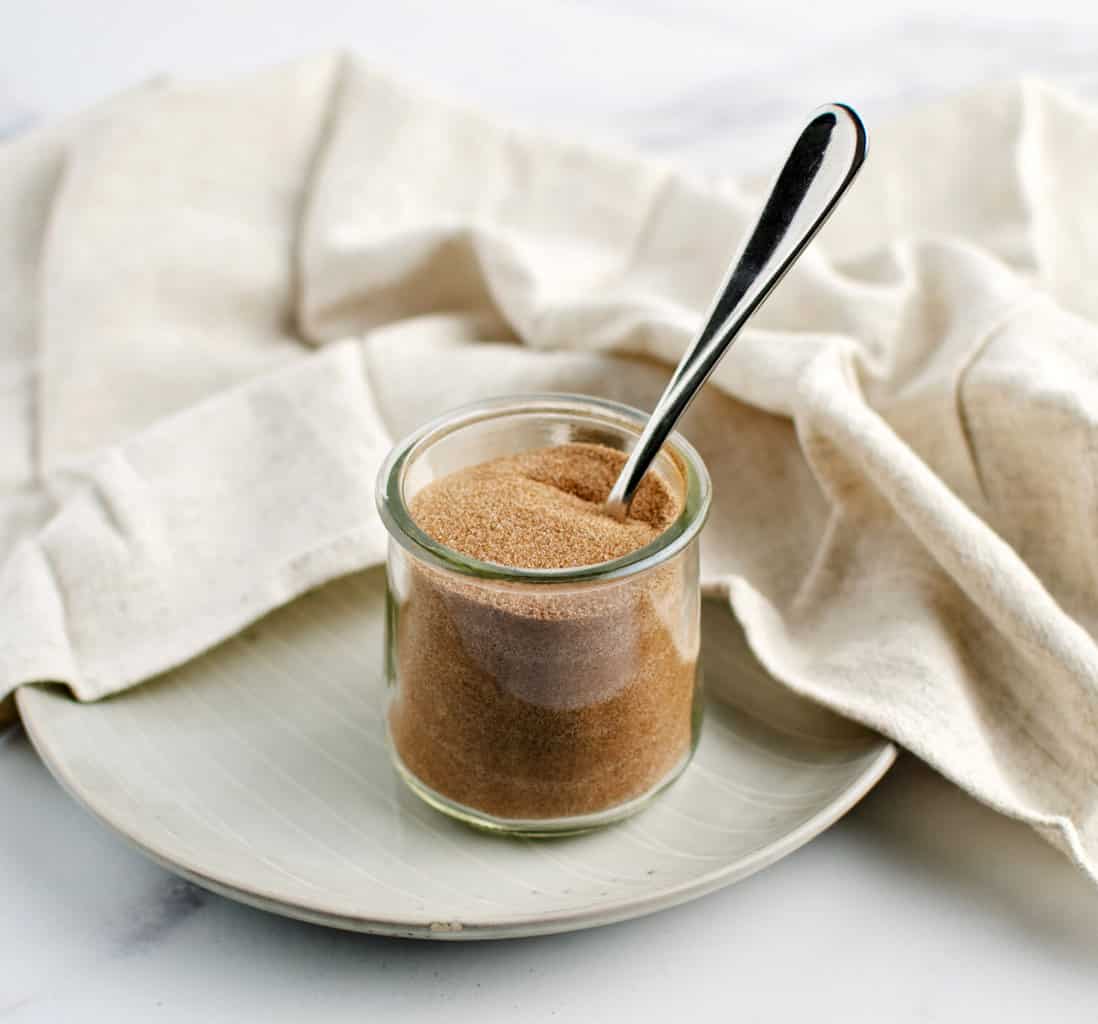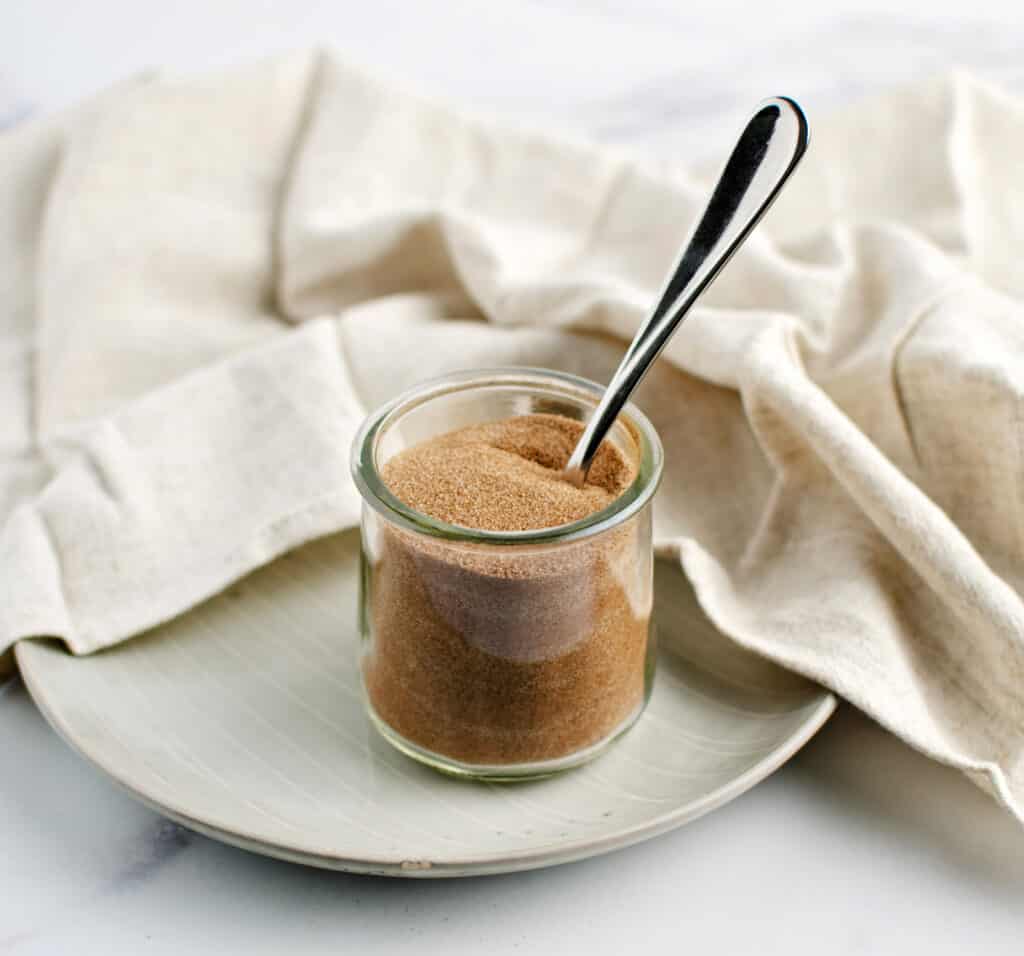 How to Make Cinnamon Sugar
Follow these simple steps to make this deliciously spiced sugar blend.
Step 1 | ADD cinnamon & Sugar
Measure out the white sugar and ground cinnamon. Add them to a small mixing bowl.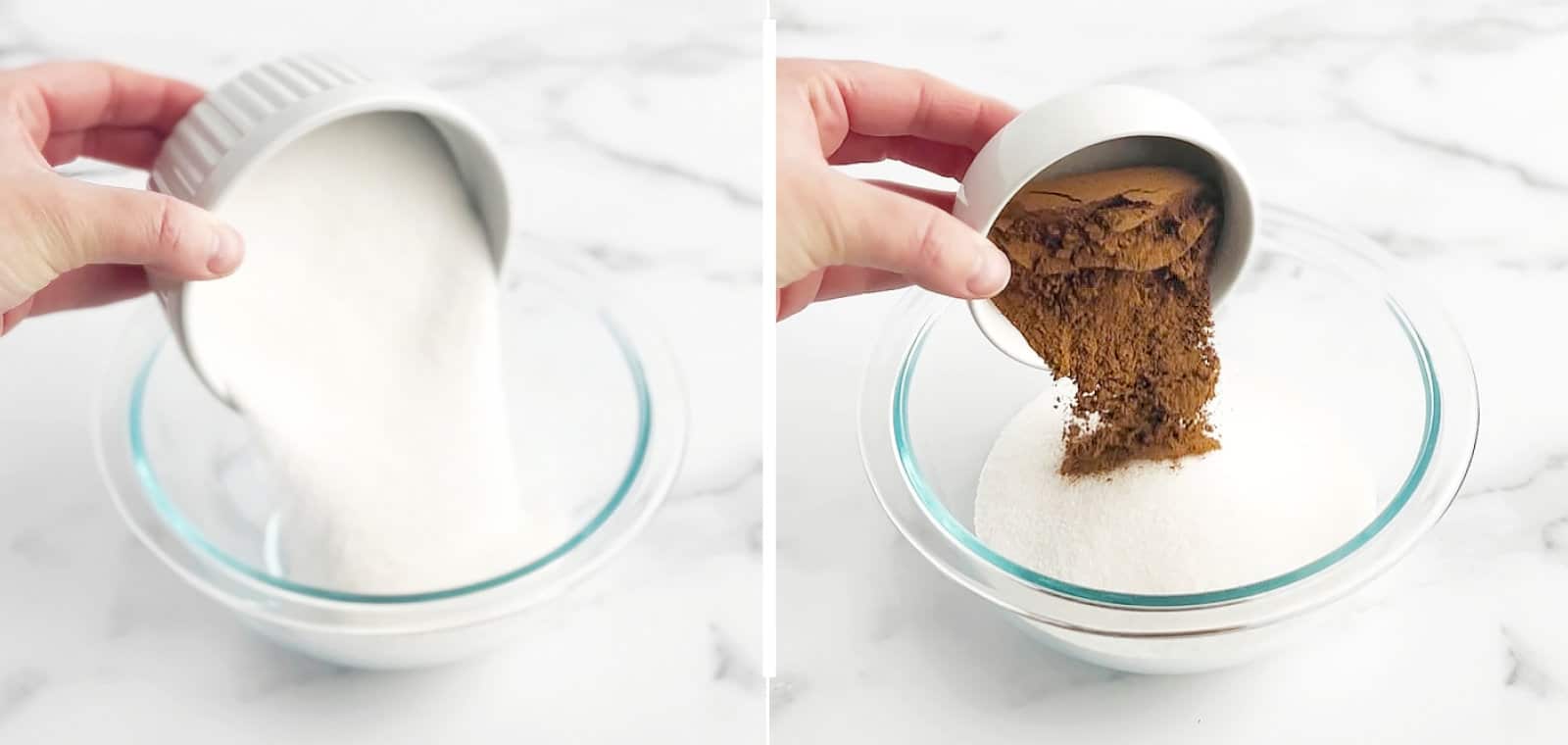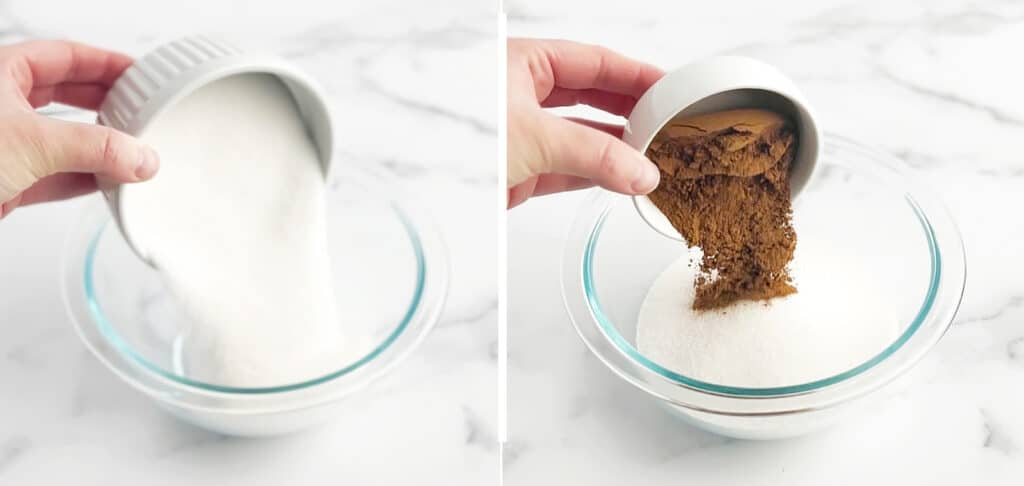 Step 2 | MIX well
Stir the cinnamon and sugar until well combined.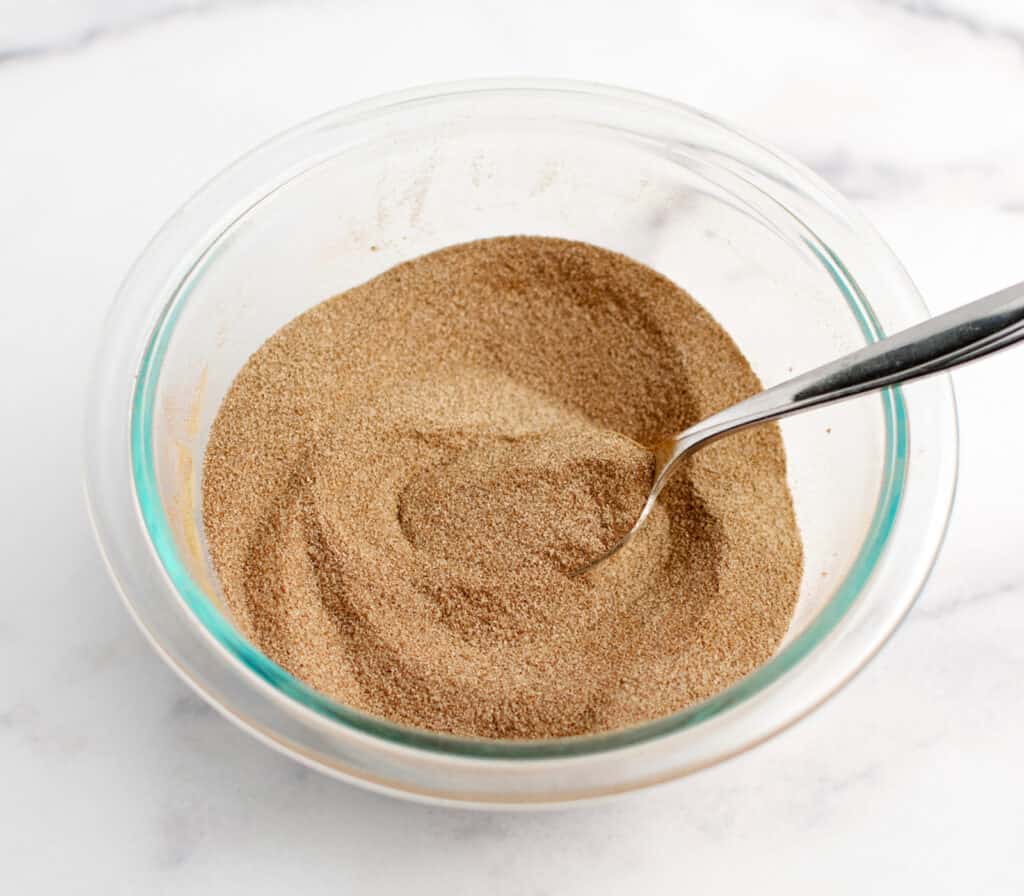 Step 3 | Store until ready to use
Transfer the mixture to a spice jar or airtight container until ready to use.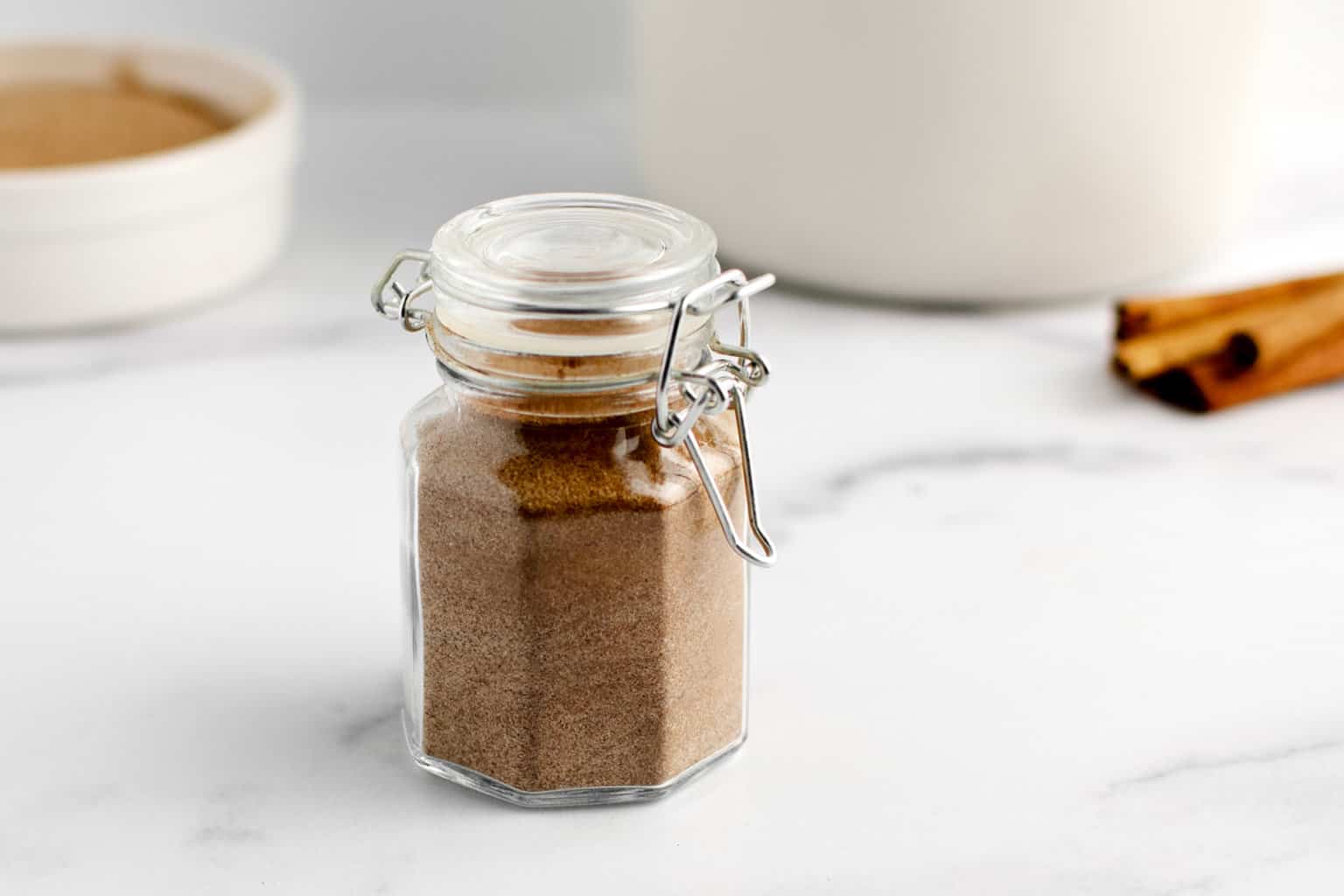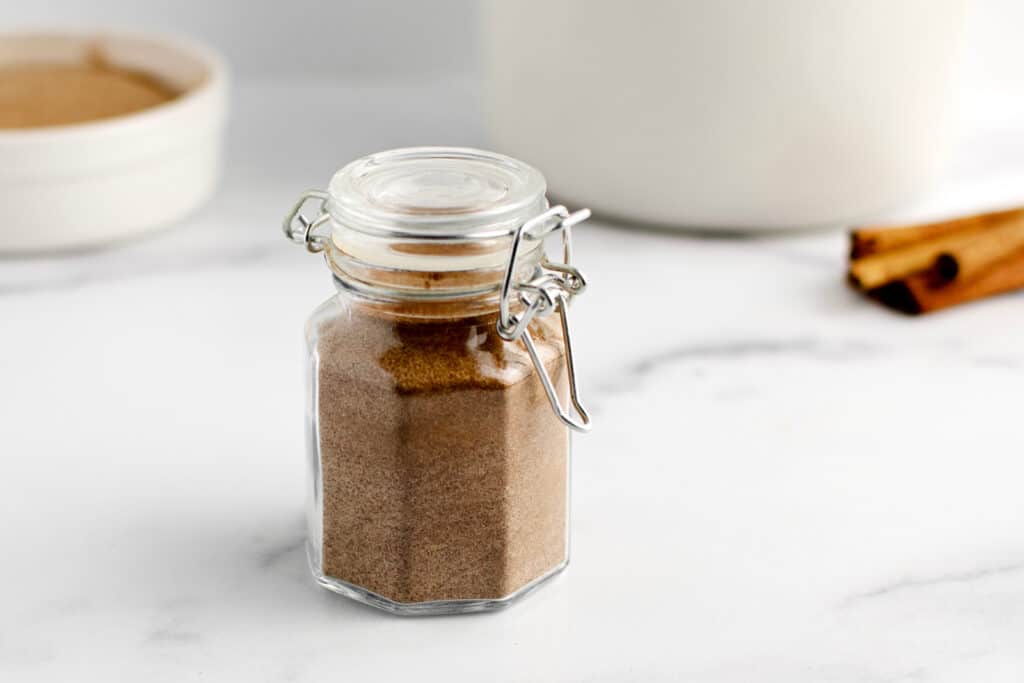 Cinnamon Sugar Ratio
The perfect cinnamon sugar ratio is one part cinnamon to four parts sugar (in our opinion!). This will give you a well-balanced mixture that isn't overpowering. For example, if you use one tablespoon of cinnamon, you'll need four tablespoons of sugar.
Ratio Chart for Quick Reference
| Sugar | Ground Cinnamon | Ratio |
| --- | --- | --- |
| 1 cup | 1/4 cup | 4:1 |
| 1/2 cup | 2 tbsp | 4:1 |
| 1/4 cup | 1 tbsp | 4:1 |
| 1 tbsp | 1/4 tbsp | 4:1 |
Note: if you prefer a heavier sugar-to-cinnamon ratio, start with half of the recommended cinnamon and adjust from there.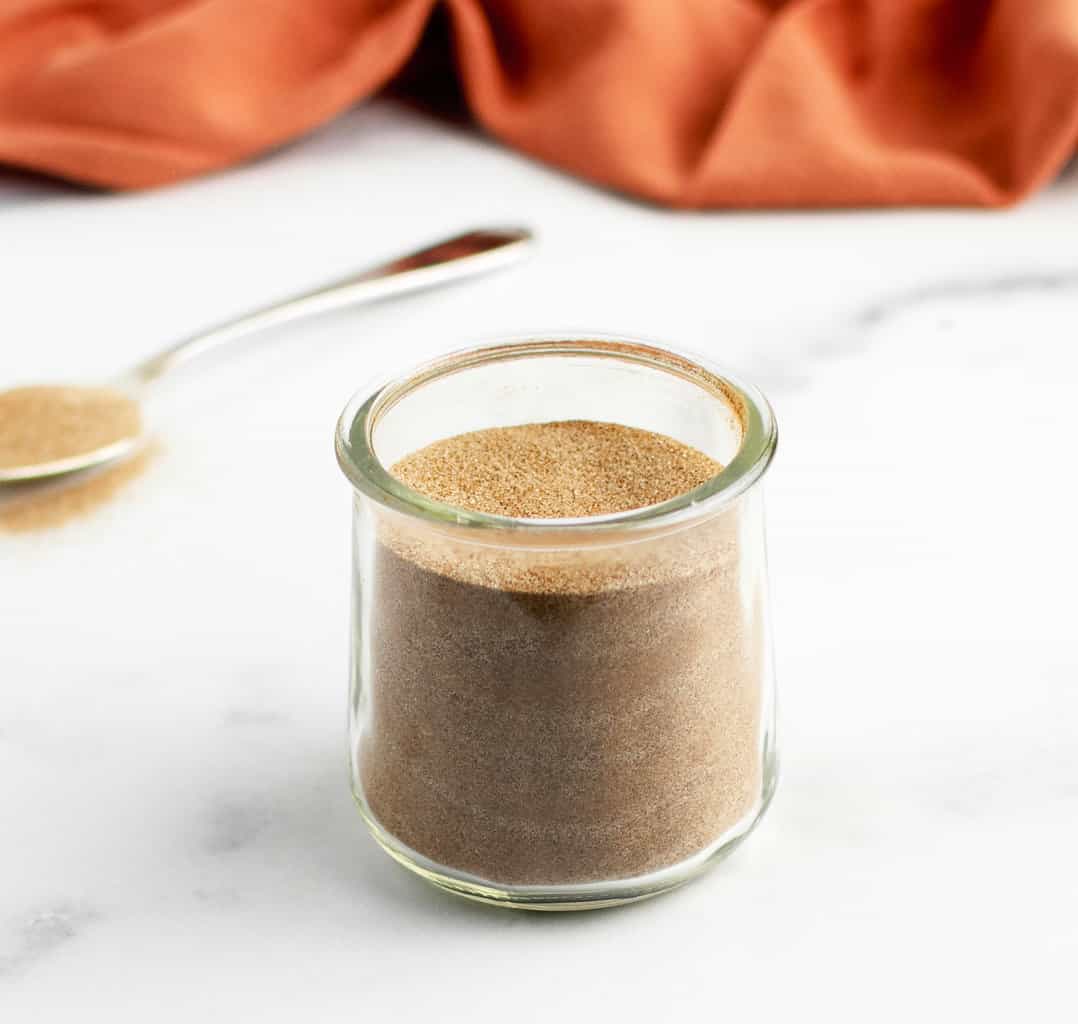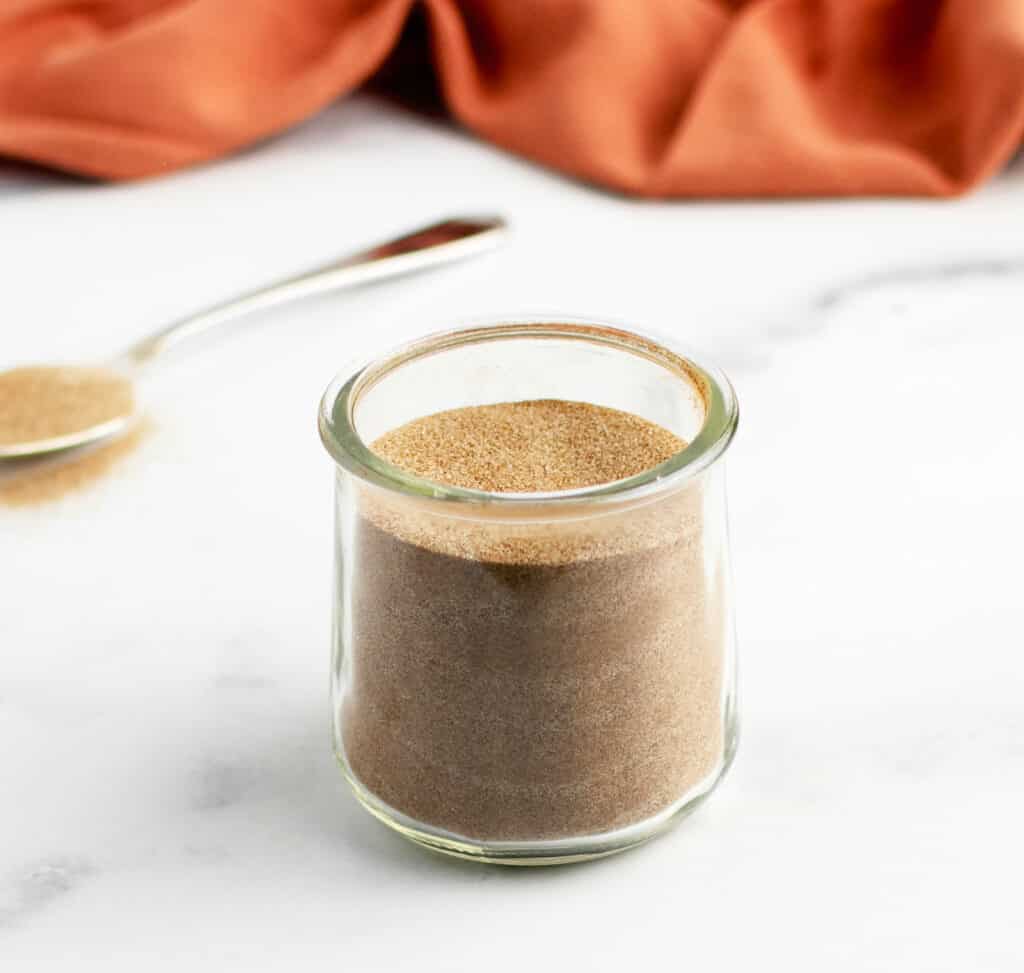 Ways to Use Cinnamon Sugar
Now for the fun part—using your homemade cinnamon sugar in recipes. Here are all of our favorite ways to use this delicious mix.
Use as a Topping
Donuts
Muffins
French toast
Pancakes
Waffles
Sliced apples
Pears
Yogurt
Ice cream
Whipped cream
Add to Baked Goods
Oatmeal cookies
Cinnamon rolls
Snickerdoodles
Fruit cobbler
Coffee Cake
Pie crust
Stir Into Beverages
Tea
Warm milk
Cinnamon latte
Smoothies
Hot chocolate
Rim Cocktails
Coat a cocktail glass rim in caramel and then dip it in cinnamon sugar to dress up various cocktails, including:
Apple cider mimosas or margaritas
Cinnamon White Russians
Cinnamon martinis
Gingerbread gin and tonics
Spiced old fashioneds
Make Cinnamon Sugar Toast
One of our childhood favorites—cinnamon toast! Here's how to make it:
Toast your favorite type of bread.
Immediately spread it with butter (which should melt).
Sprinkle with cinnamon sugar.
This will create a delicious spread on your toast, similar to a cinnamon roll filling.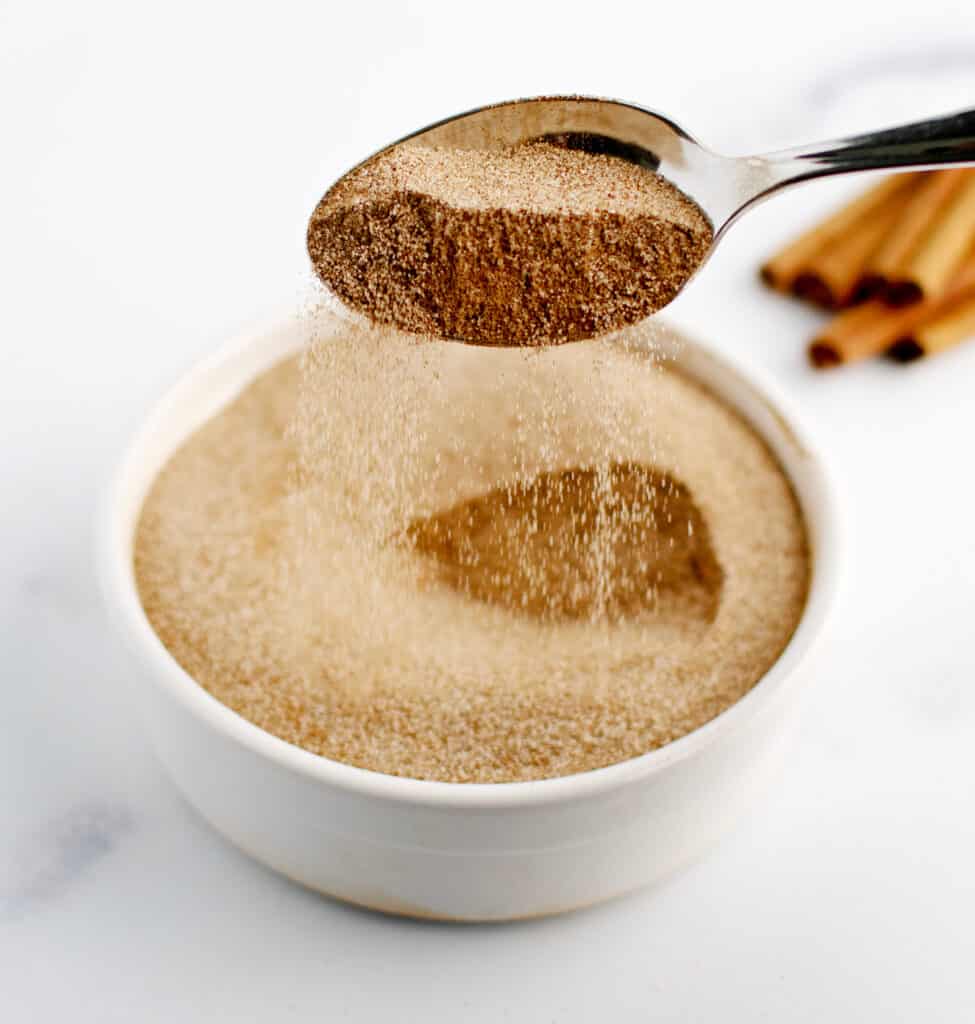 Storage Tips
Once you've made your cinnamon sugar, it's important to store it correctly. Transfer it to a spice jar, an airtight container, or a resealable plastic bag. Make sure you label the container or bag with 'cinnamon sugar' and the date you made the cinnamon sugar and keep it in the pantry. It's best to use it within six to twelve months.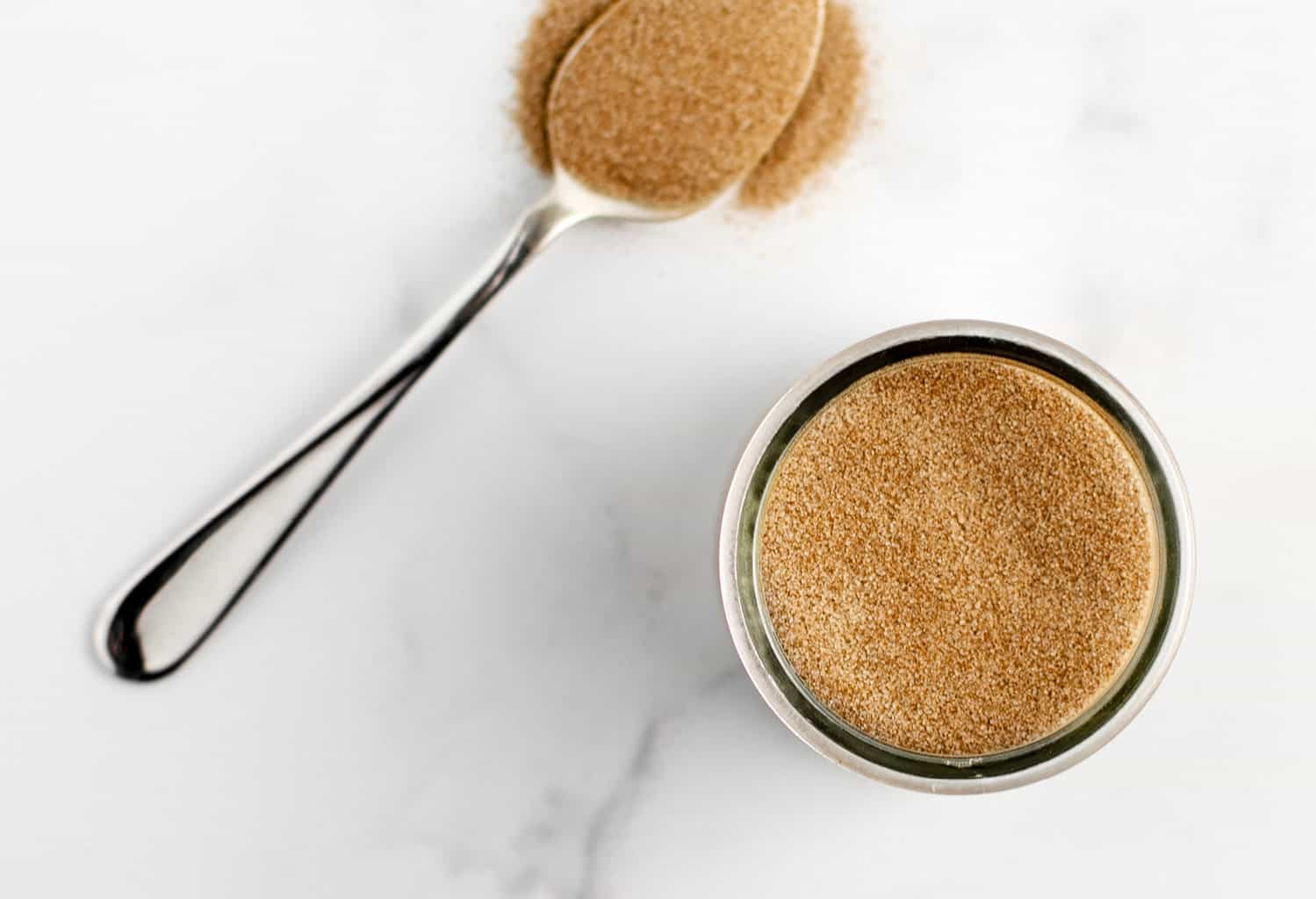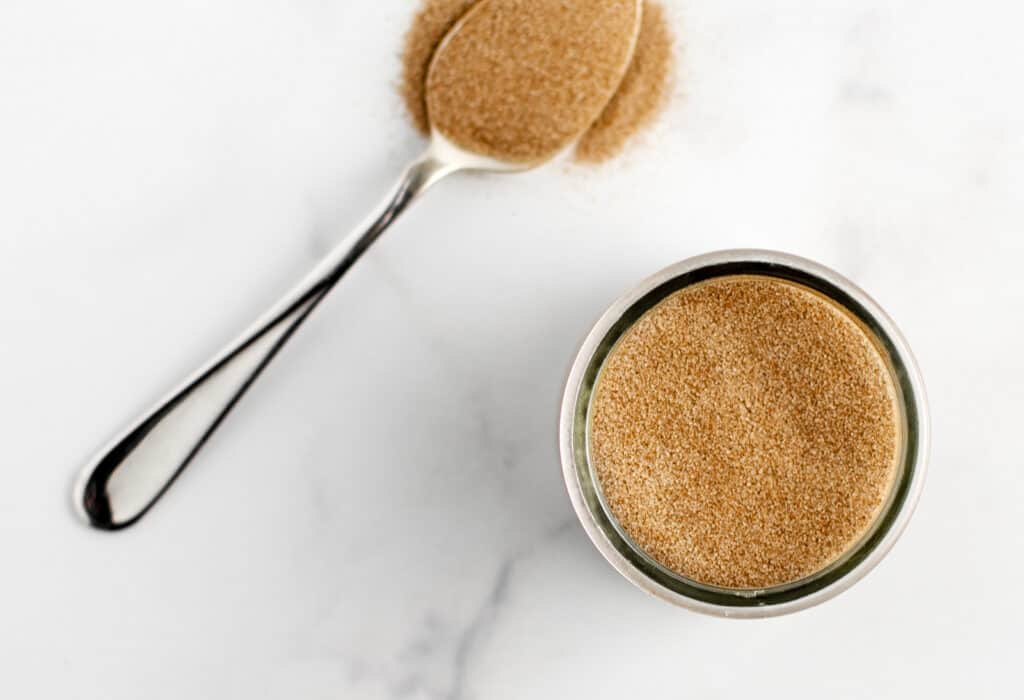 Variations
While the classic cinnamon sugar mixture is delicious, you can experiment with variations. For example, add a pinch of nutmeg or allspice for a warm, cozy flavor. You can also use brown sugar or raw cane sugar instead of white sugar for a different texture and flavor.
FAQs
Here you'll find answers to common questions related to cinnamon sugar.
What is cinnamon sugar made of?
Cinnamon sugar is a blend of ground cinnamon and granulated sugar. You can buy cinnamon sugar premixed in the spice aisle of the grocery store or make your own using this recipe for the perfect ratio of cinnamon to sugar.
How long does cinnamon sugar last?
Cinnamon sugar is best when used within 6 to 12 months (for maximum freshness). Over time the cinnamon may lose some of its potency, and the sugar may clump together. Be sure to store it in an airtight container in a cool and dry place like the pantry or kitchen cabinet. It's always best to check the mixture for freshness before using it in a recipe.
Do you use white or brown sugar for cinnamon sugar?
White sugar is the traditional choice for cinnamon sugar. It produces the classic cinnamon sugar flavor many people know and love. Brown sugar, on the other hand, has a richer flavor and a slightly molasses taste that can add another layer of complexity to the mix. Some people even like to use a combination of the two. Ultimately, the choice is up to you and your taste preferences.
Print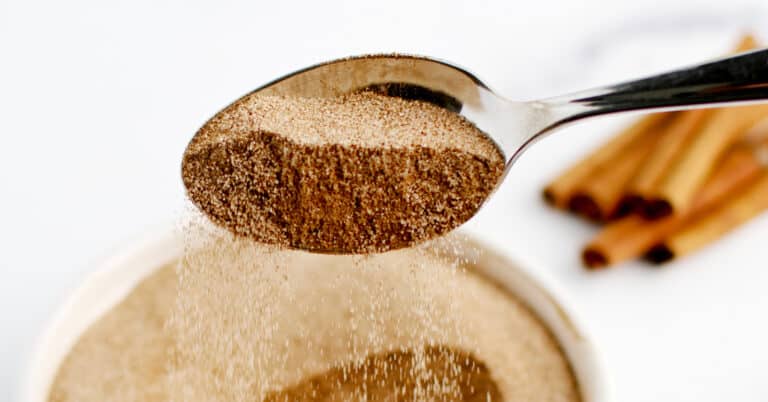 Homemade Cinnamon Sugar
The perfect ratio of cinnamon and sugar to keep on hand to use for baking, fruit topping, and stirring in your favorite beverages.
Total Time:

5 minutes

Yield:

1 cup

1

x
1

cup

granulated sugar

1/4

cup

ground cinnamon
Instructions
Add white sugar and ground cinnamon to a small bowl.
Stir until well combined.
Store in a spice jar or airtight container.
Notes
 If you prefer a heavier sugar-to-cinnamon ratio, start with half of the recommended cinnamon and adjust from there.
White granulated sugar will create the classic flavor; however, you can also try other types of sugar.
Author:

Prep Time:

5 minutes

Category:

Spices

Cuisine:

American
Nutrition
Serving Size:

2 tbsp

Calories:

106

Sugar:

25 g

Sodium:

0.6 mg

Fat:

0 g

Saturated Fat:

0 g

Carbohydrates:

28.1 g

Protein:

0.2 g

Cholesterol:

0 mg
Keywords: spice mix, cinnamon sugar, warm and cozy
Recipe Card powered by
Final Thoughts
Making your own cinnamon sugar is a great way to enhance your favorite recipes with a homemade touch. With just a few simple steps, you can create a perfectly balanced mixture that can be used in various ways. Whether sprinkling it over breakfast foods or adding it to cocktails, this spice mix will surely add a touch of sweetness to any dish.
More Homemade Spice Blends
Recipes with Cinnamon Sugar
Pin for later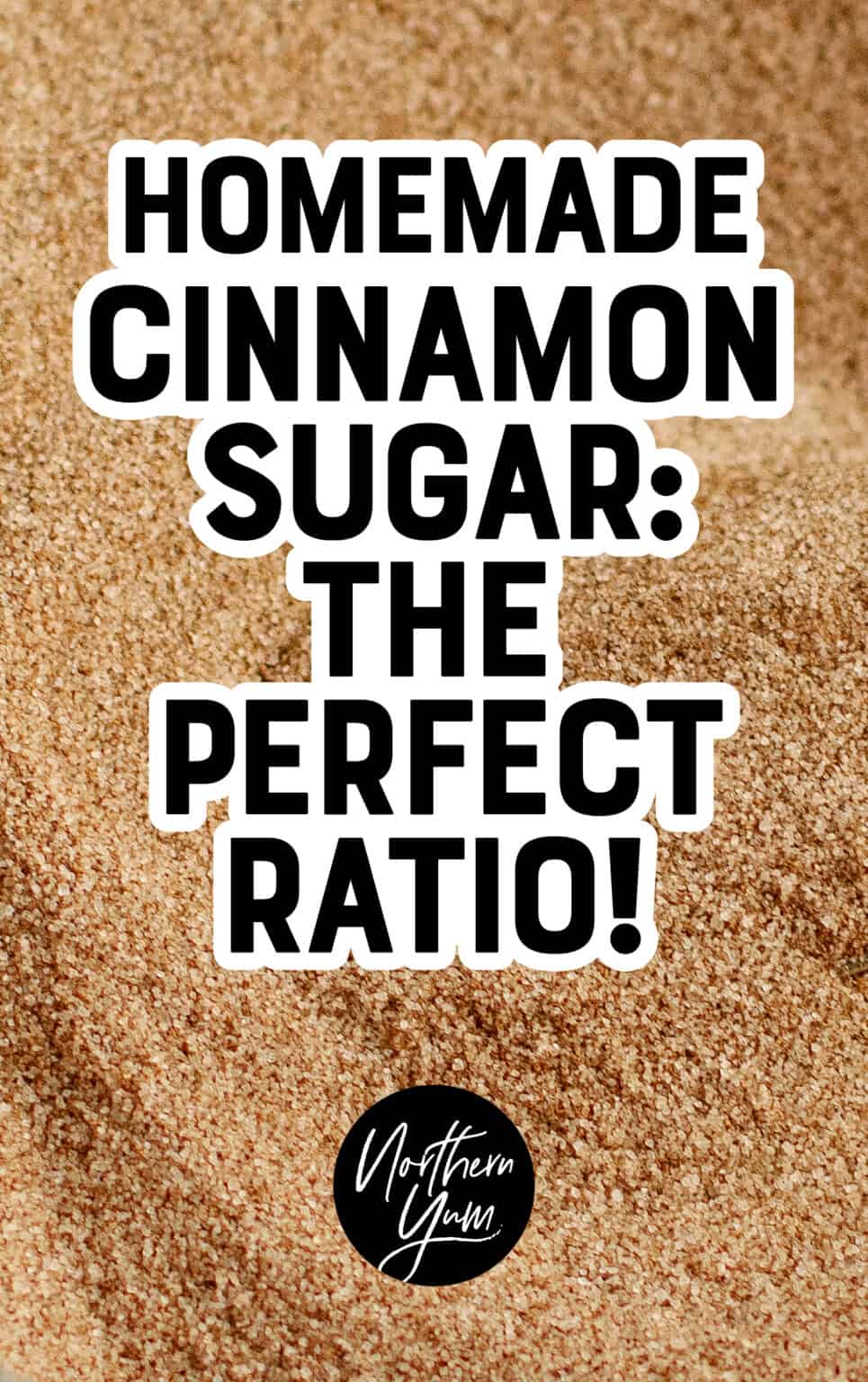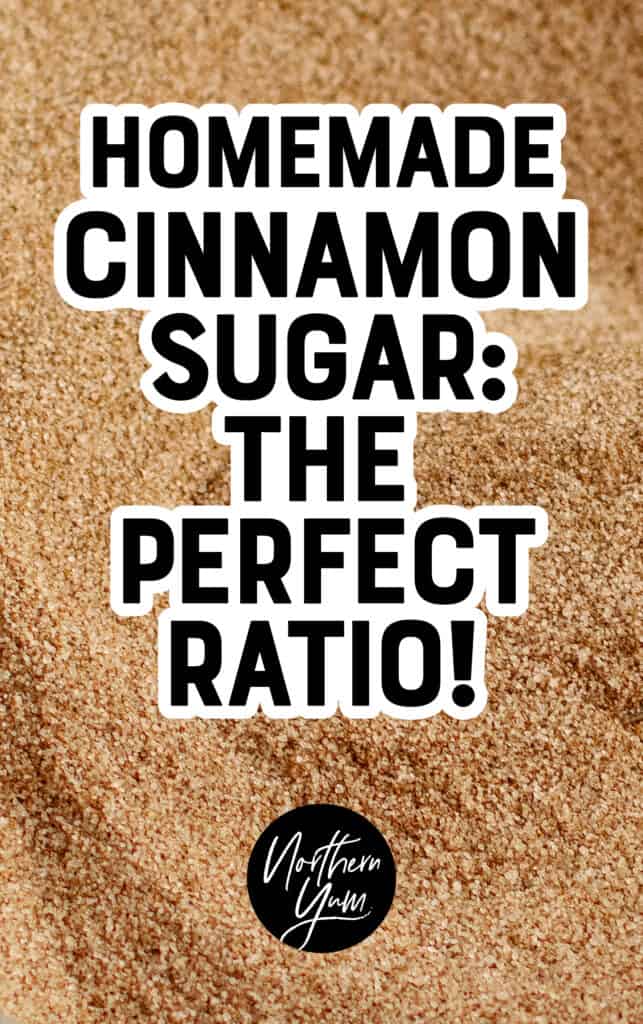 Cinnamon Sugar Recipe