16 Ways to Pay It Forward This Holiday Season
This post may contain affiliate links. That means if you click and buy, we may receive a small commission (at zero cost to you). Please see our full disclosure policy for details.
We all need a little extra love this holiday season. There is an overwhelming amount of hate and terrible things happening on a daily basis. Let's spread more love not hate.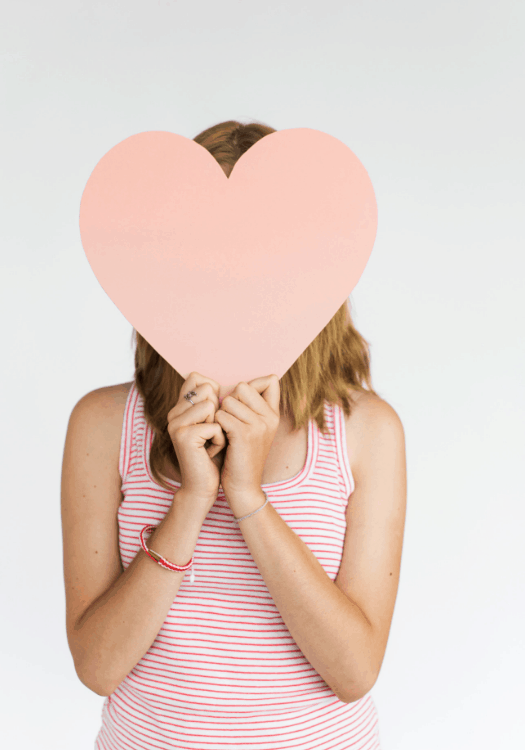 Welcome! I make it a point to share real & uplifting topics on this blog whether it's improving personal finances, sharing a family recipe, or parenting ideas.
We can all use more love, inspiring stories, and kindness especially when it feels as though the level of bad things happening in this world is increasing at a rapid pace.  It may be the awareness is rising, but needless to say, we need #morelovenothate.
What better way to spread the love than paying it forward, it's so rewarding to give. And it's even more rewarding to see our children come up with creative ideas to give to those in need. Acts of kindness can involve money, but they can also be completely free.
I love reading stories about people paying it forward. Just this past week I read this on my Facebook feed — "This day might turn around yet! After a crappy start, someone in front of me at Starbucks paid for my drink. Happy Holidays!" Even the smallest gesture can make someone's day. Without further ado, let's look at 16 ways you can pay it forward this holiday season.
#1 Pay It Forward Board
A local coffee shop uses a pay it forward board, similar to the one I've re-created below.  People can pay for coffees for those in need, veterans, police officers, and really anyone they choose.  Some places call these "suspended coffees."  Many other businesses could adopt this same concept: grocery stores, different restaurant types, department stores, and more. If you own a business, you could find a way to customize this for your business type.  Or if you're a patron, find a company that participates.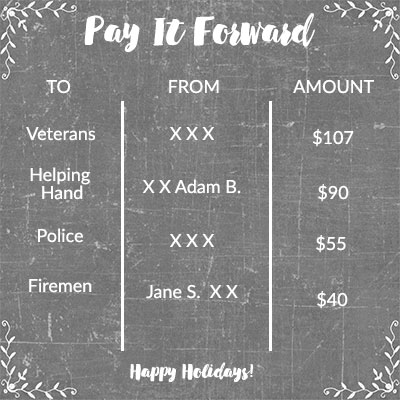 #2 Start a Turkey Drive
Start a turkey drive several weeks before Thanksgiving (or Christmas!). Perfect for close-knit neighborhoods or workplaces. Our annual turkey drive was my favorite community giving activity at my last job.
Set a goal for the number of turkeys to give and get the word out.
Collect $20 – $25 per person. (Or visit local grocery stores to find out how much a turkey costs on average in your area.)
Provide updates on a regular basis.
Purchase the turkeys and bring them to food share the week of Thanksgiving.
Make it an annual event and beat the number of turkeys donated each year.
#3 Provide a Free Product or Service, Collect Tips & Donate
We have an awesome organization in our community that provides free rides to those who've been out at the bars. They collect tips and turn around and give those tips to people in need. For example, a man and his family were looking for some help on our local classifieds page. He had run out of money with no place for him and his family to stay. This organization stepped up and was able to help him out. You can tailor this idea for a child that wants to help. Your child(ren) could start a hot chocolate or cider stand taking donations only. Donate all proceeds to a local charity or family in need. There are a ton of ways you can mix up this idea.
#4 Operation Christmas Child
Make a big impact on a little one's life by participating in Samaritan's Purse Operation Christmas Child.  Pack a shoebox with toys, school supplies, non-liquid hygiene items, clothing accessories, craft items, and a note. Find a drop-off location. You can typically find drop-off locations at local churches.  Also, donate to the cost of shipping and receive a label that you can use to track where your shoebox goes.  See who's participating with #ipackedashoebox. Visit their website for more information.
#5 Use Social Media
Gather gently used items and post them on social media. Make sure to note you're looking to give them to a family in need. For example, gently used baby clothes & any baby gear you no longer need. Or post that you're looking for a family to help out this holiday season and give them a few gift cards for holiday shopping.
#6 Drive-by Shoveling
Wait for a heavy snow day and do a "drive-by shoveling" day.  Make sure to hit up neighbors that need the most help – elderly or maybe someone who is battling an illness.  If you're in a warmer climate, you may need to get more creative on this one. 🙂
#7 Toys for Tots
Toys for Tots is a great way to give during the holidays.  Find Toys for Tots drop-offs in your community.  Or volunteer to sort toys or help hand toys out on distribution day.  You can also donate online. Visit the Marine Toys for Tots Foundation website for more information.
#8 Visit a Nursing Home
Schedule a time to visit a nursing home.  Bring holiday goodies and games.  Or if you have musical talent, play a few holiday songs for them. I guarantee your heart will be full when you see the joy on their faces.
*In the wake of COVID-19, instead of a visit – send holiday cards and pictures.
#9 Holiday Baking
Do some holiday baking and surprise a family that has just welcomed a new baby, a new family in the neighborhood or someone who has been battling an illness.
#10 Holiday Decorating
Volunteer to decorate for a neighbor that isn't able to do it for themselves.  It doesn't have to be anything extravagant.  Help them put up Christmas lights outside, deliver their tree or make and hang a wreath.
#11 Drive-Thru
This is becoming a classic act of kindness.  Pay for the order for the car behind you in the drive-thru.  My husband and I have experienced this a few times.  Keep the giving going and pay for the car behind you.
#12 Treat Our Service Men & Women
Grab a few gift cards in any increment you feel comfortable with.  Hand them out to servicemen and women when you see them.  It could be police officers, active military, veterans, firemen, EMTs, and more.
#13 Be Kind – Holiday Travel
Spread the love to parents and children traveling on your airplane this holiday season.  We had a horrible experience this June flying with our 2-year-old son — a couple was extremely rude.  I get it, it's not fun to have a crying child on your flight.  However, a mom and her son made the world of difference when they loaned our son their iPad.  We also brought an iPad, but there is something about other people's electronics.  Can't explain it.  🙂  Point being, find a way to be positive and helpful.
#14 Giving Trees
Be on the lookout for giving trees. You can typically find them at department stores, churches, and grocery stores around the holidays. The tree will include "ornaments" with wish lists (or needs) from those needing a little help and joy during the holidays.
#15 General Kindness
This is so simple, but don't underestimate the impact of a smile or a random conversation. Holding the door open for someone. Simple gestures can make someone's day.
#16 Acts of Kindness Challenge
Pick an entire week before the holidays for a pay it forward challenge. Plan it for your family, non-profit organization, or workplace. Challenge each other to choose an act of kindness each day and post it to social media.  #actsofkindnesschallenge
Bonus
Check out other excellent ideas to help those in need in this guide: Giving back this holiday season: How to provide relief for those in need Remember — you just never know what people are going through.  Be the good! What ways have you paid it forward? Have you been on the receiving end? I'd love to hear your stories.
You may also enjoy: