The Best Potato Salad
This post may contain affiliate links. That means if you click and buy, we may receive a small commission (at zero cost to you). Please see our full disclosure policy for details.
The best potato salad you'll ever make. ♡ The secret is in the sauce. Miracle Whip makes the flavor delicious and tangy, better than traditional mayo.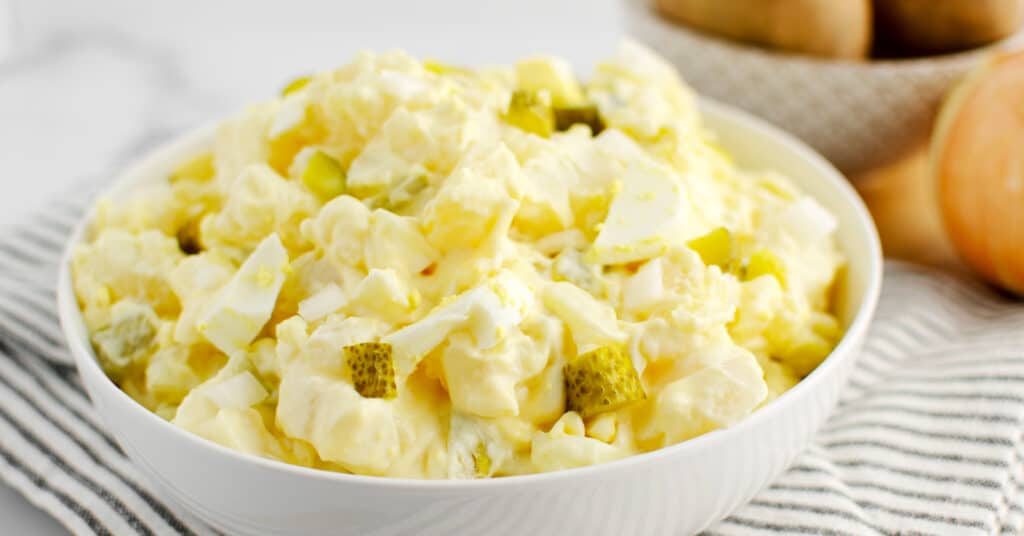 If you want a creamy, tangy, and delicious potato salad with the perfect amount of crunch (from the pickles and onions), this is it. You've just found the BEST potato salad!
This classic potato salad recipe is our Mom's, passed down to her from our Grandmother. We can now say we've mastered it—and the secret is in the sauce.
Typically, our family makes the sauce by dumping or eyeing all the ingredient amounts. But not to worry! We've put together a measured recipe to share with you. The same sauce is used in one of our favorite macaroni salads—Tuna Pasta Salad.
We've already shared several delicious recipes from our Mom (which she learned from her Mom). Be sure to check out her Bread Machine Buns recipe.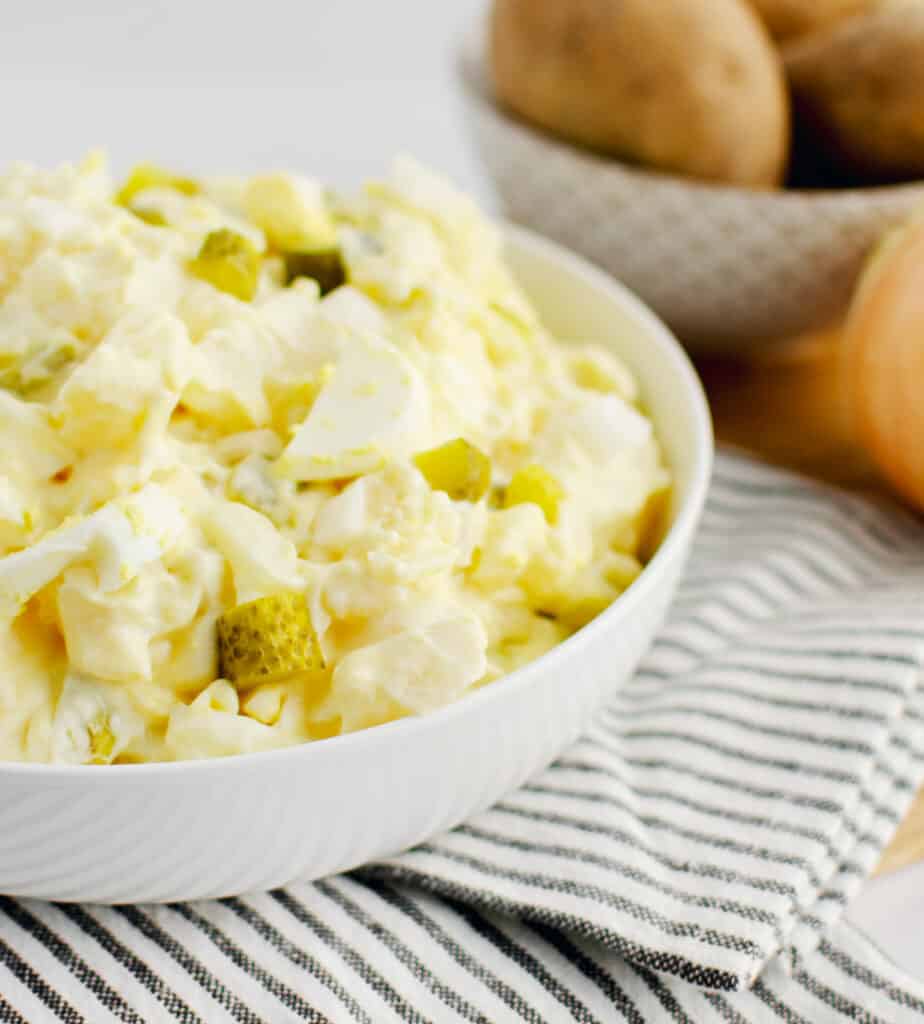 Why We Love This Creamy Potato Salad
This special family recipe will always remind us of our Mom and Grandmother. It's one of those classics that has been passed down multiple generations.
The Miracle Whip dressing makes the salad tangy and delicious. Mayo is just not the same.
It's the perfect side for barbecues and potlucks and easy to double or triple for larger gatherings like graduations and milestone parties.
Alright on to the best potato salad you'll ever make. Say goodbye to store-bought potato salad because this recipe is simple and tastes amazing.
Ingredients
Here is a list of simple ingredients you'll need.
Potatoes – medium-sized red or russet potatoes.
Eggs – hardboiled.
Onions – medium yellow or white onion.
Dill pickles – larger baby dill pickles (feel free to add more if you love pickles).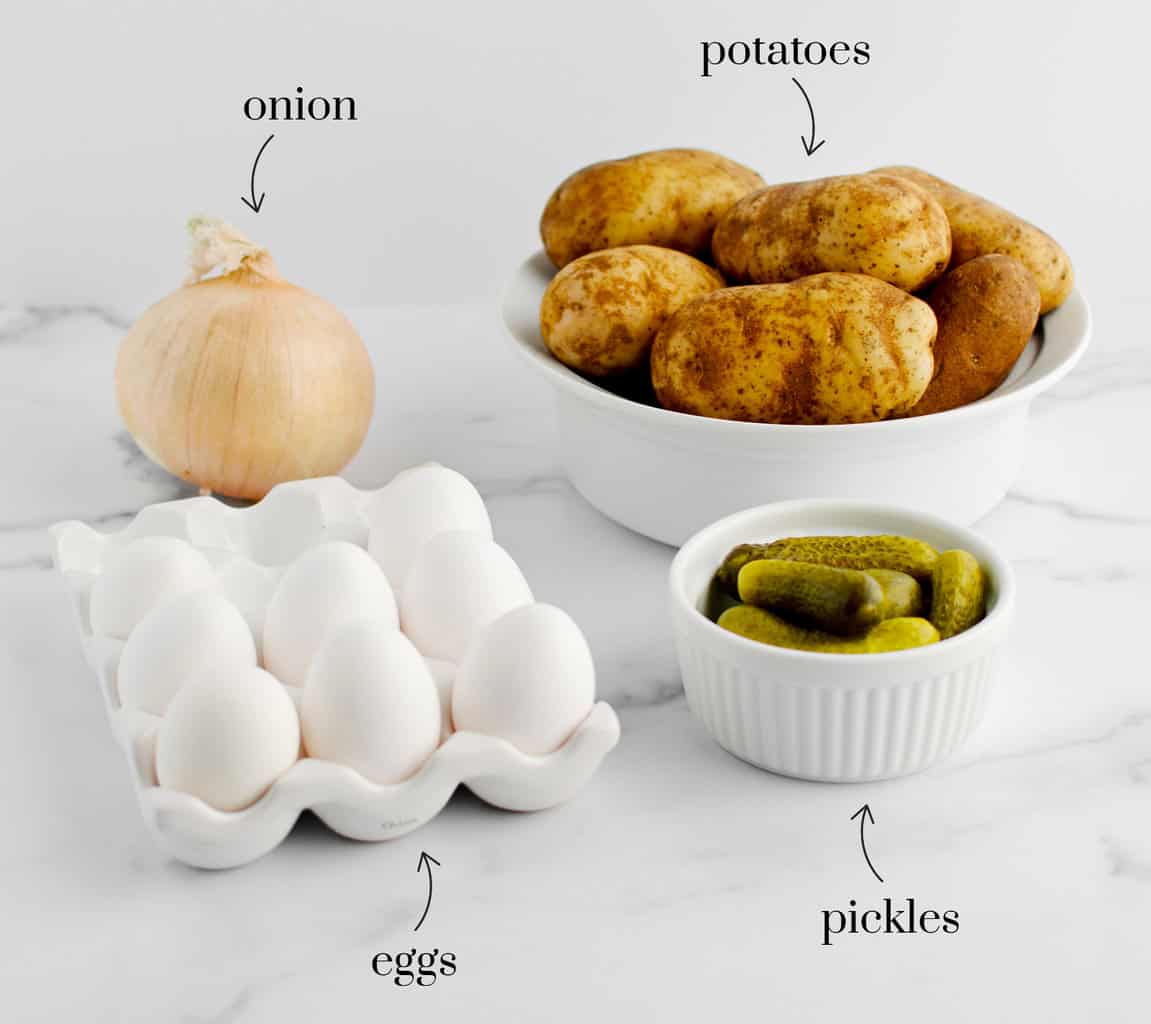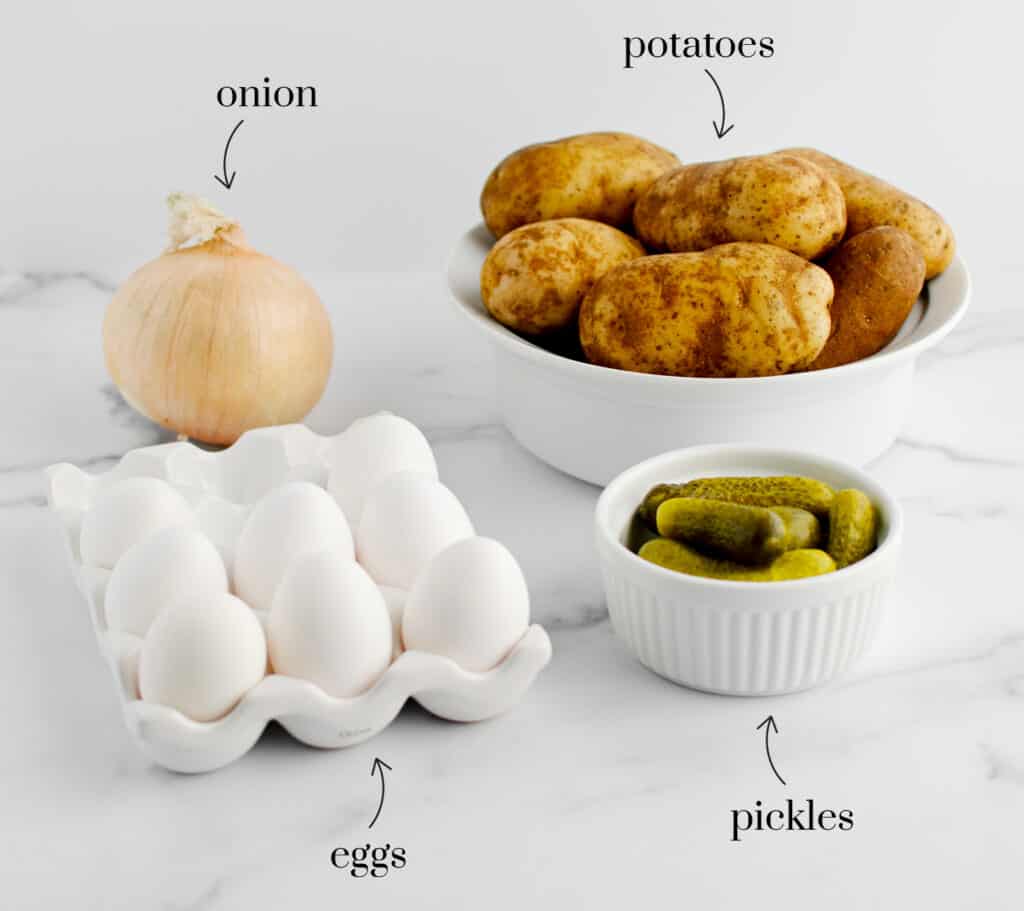 Miracle whip – regular Miracle whip, not mayonnaise.
Mustard – regular yellow mustard.
Milk – skim, 1%, or 2% milk.
Sugar – granulated white sugar.
Salt – regular table salt.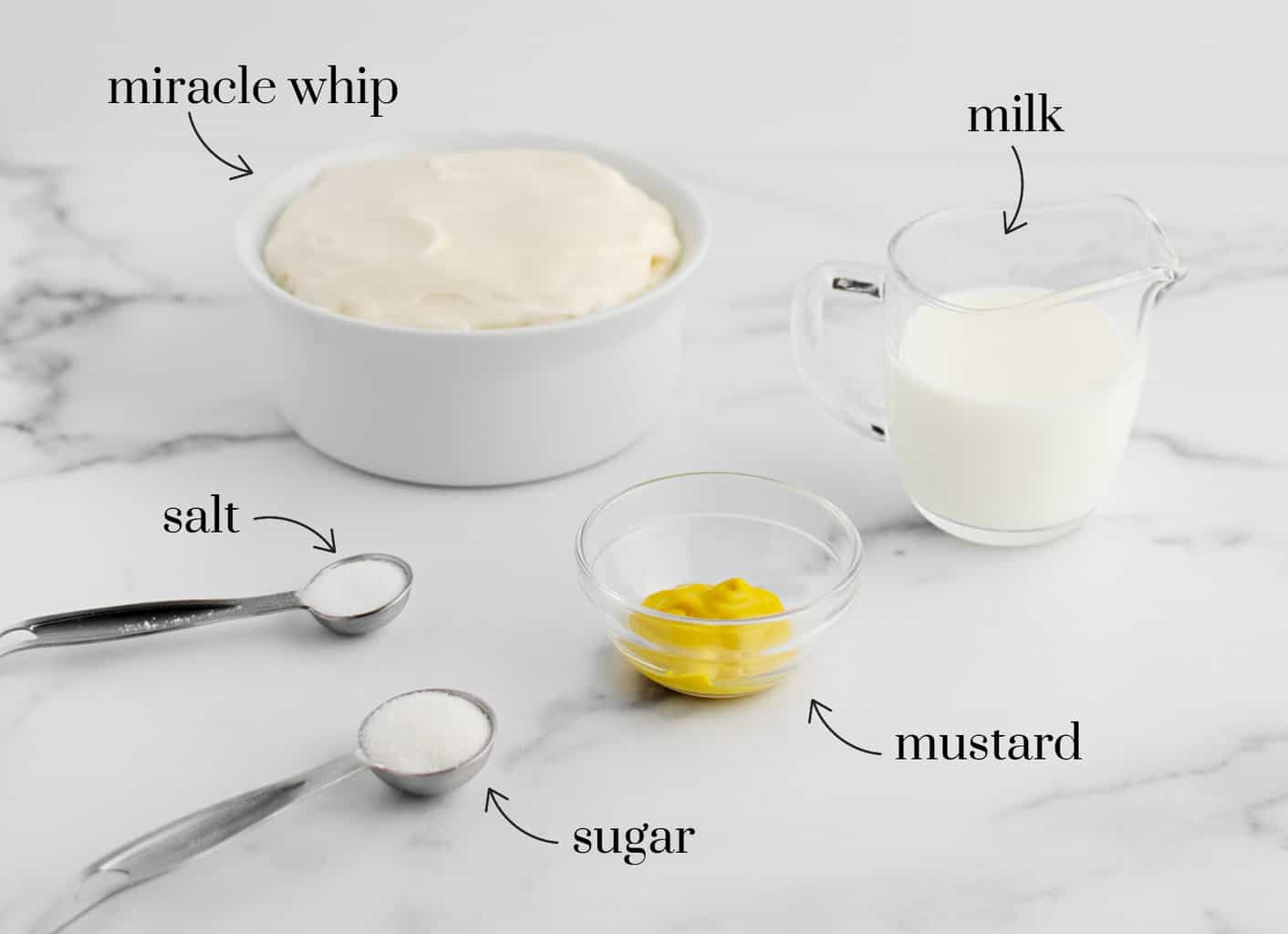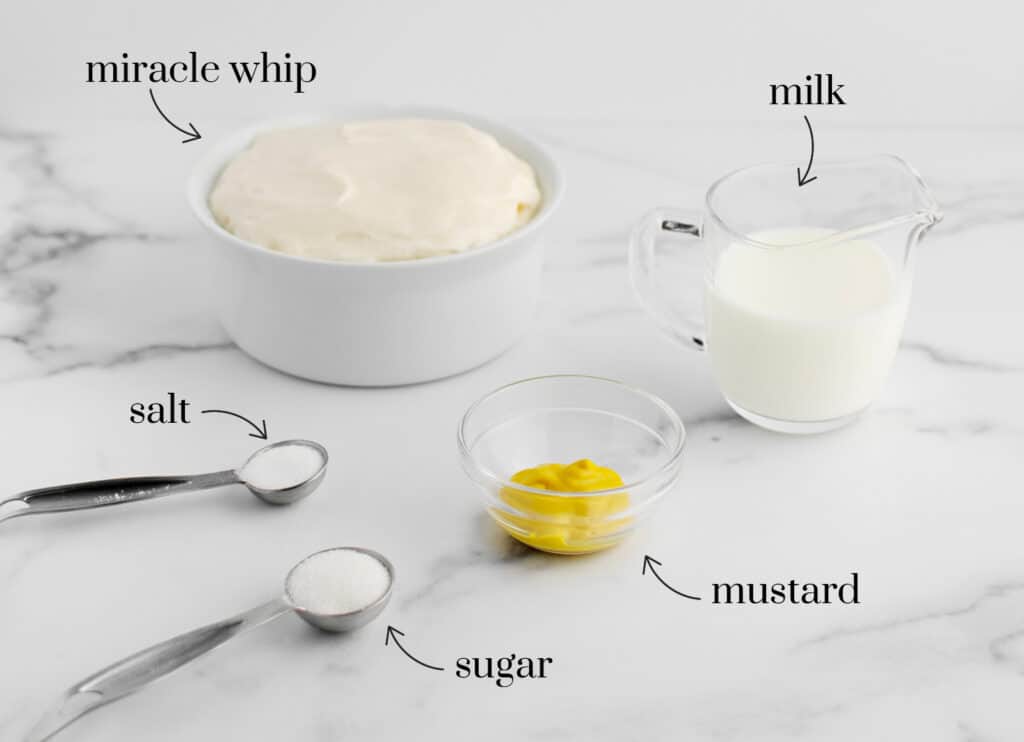 Supplies
Cutting board and knives (chef's knife and paring knife)
Measuring cups and spoons
Large and medium pot
Large mixing bowl and mixing spoon
Serving bowl and spoon
How to Make Potato Salad with Miracle Whip
Follow these simple steps to make this creamy potato salad.
Step 1 | Boil, COOL, Peel & Dice eggs
Place the eggs in a pot with cold water. Bring to a boil.
For perfectly hard-boiled eggs, use a color-changing egg timer. Add the timer to the pot at the same time you add the eggs. When the color changer reaches the hard-boiled line, they are done.
If you don't have an egg timer, you can also set a timer for 15 minutes once the water starts to boil.
Remove the eggs from the heat and add them to an ice bath. Then peel and dice once cool.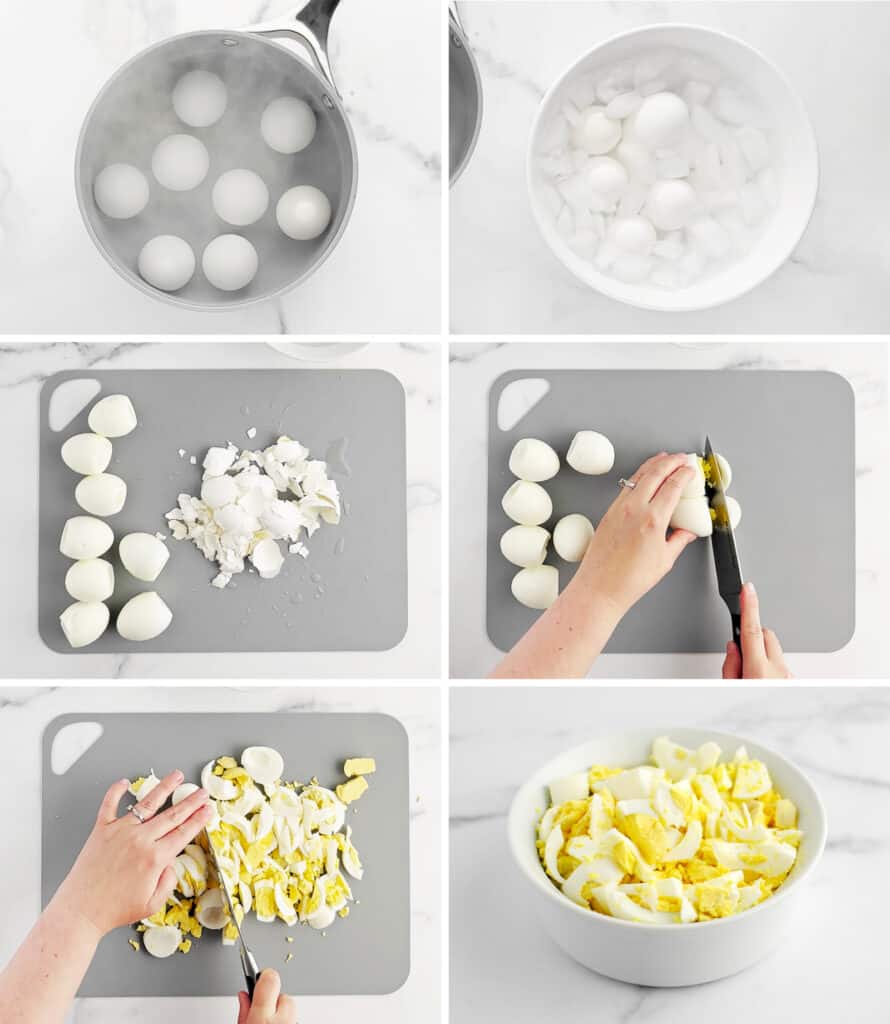 Step 2 | Peel, Boil, Cool & Slice potatoes
While you're boiling the eggs, you can also prepare the potatoes. First, peel the potatoes and cut them in half. Then put them in a large pot with water and boil until tender.
To check if the potatoes are done, poke with a fork or slice with a knife. They should be tender but not mushy.
To cool completely, run under cold water (or set them in a bowl in the freezer for a few minutes). Then chop them into smaller chunks.
Note: instead of peeling, you can leave the skins on for a little extra color in the salad.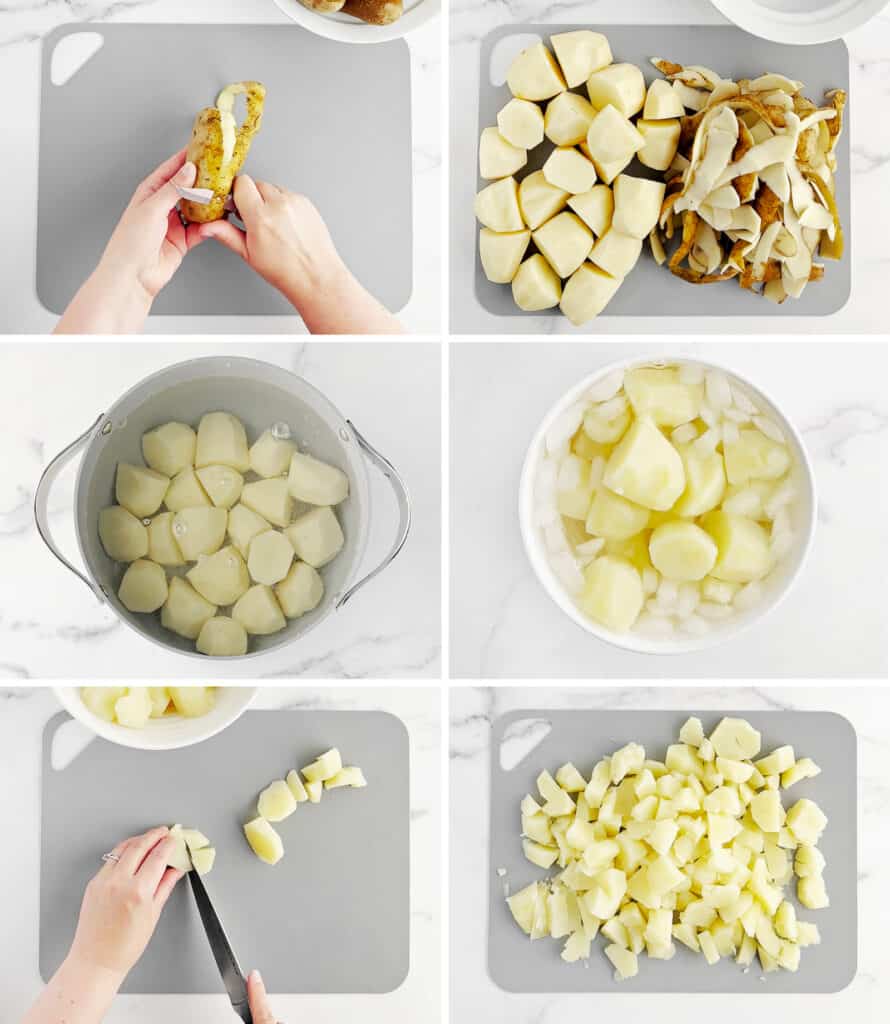 Step 3 | Dice onions and pickles
Dice onion and pickles.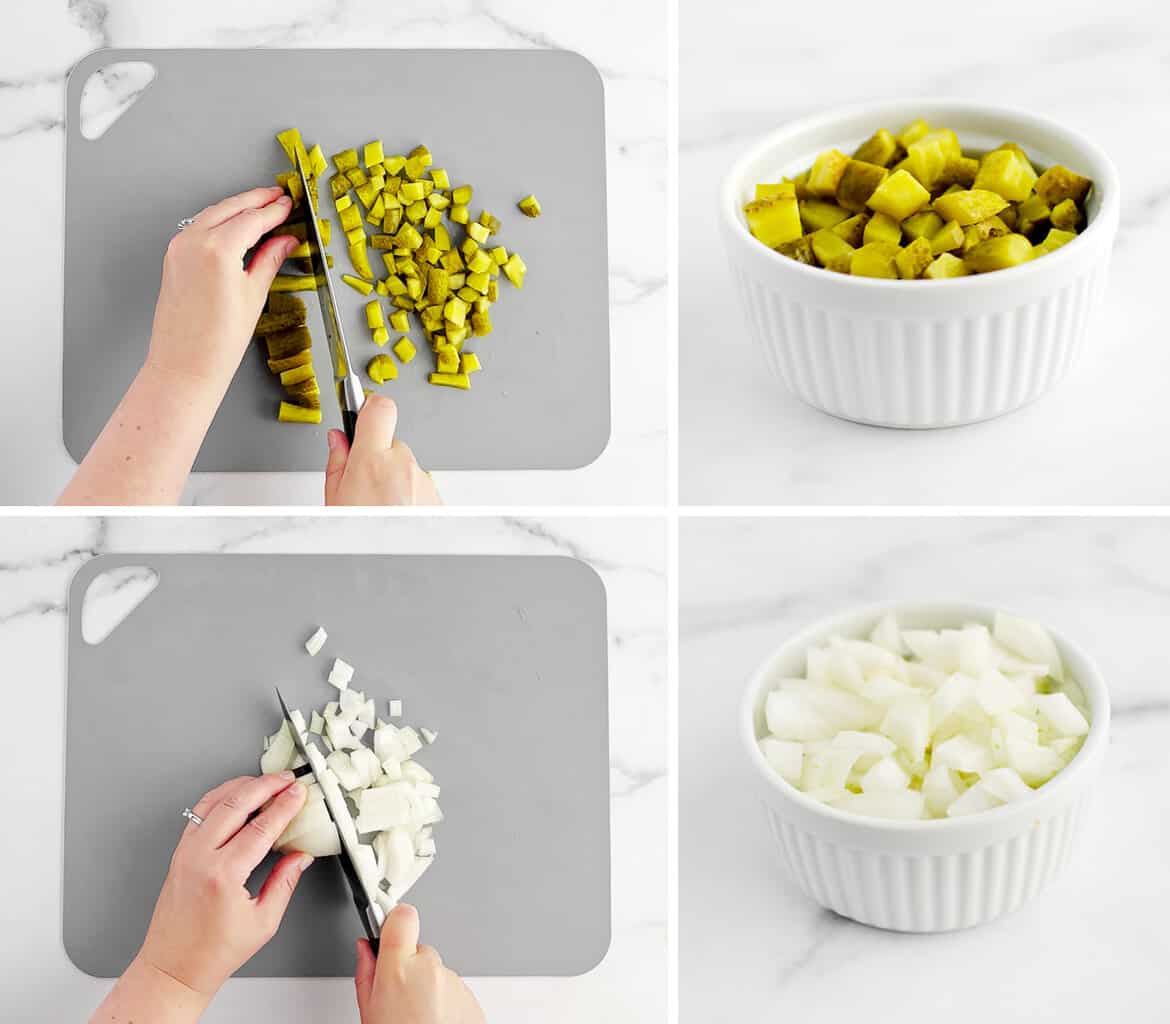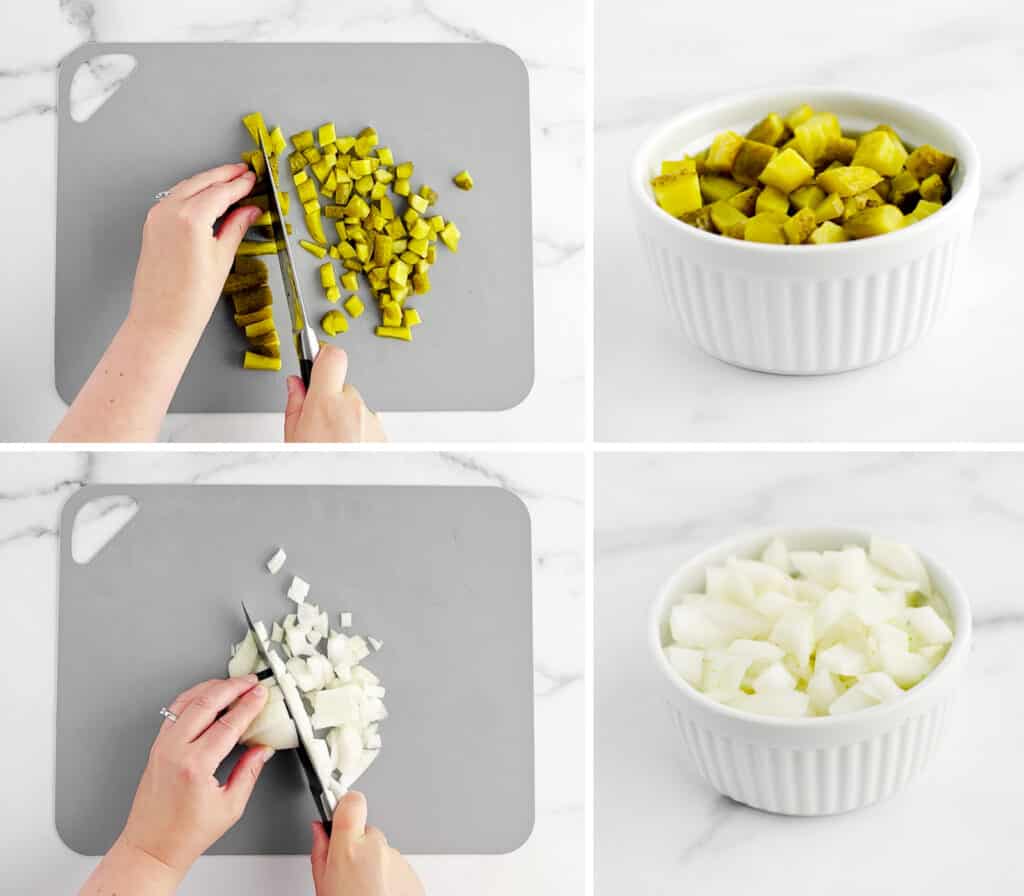 Step 4 | Add to a mixing bowl
Add the chopped potatoes, eggs, onions, and pickles to a large mixing bowl.
Step 5 | Mix the sauce
Now for the sauce. Mix the miracle whip, mustard, milk, sugar, and salt in a separate small bowl. (It will look a lot like custard.)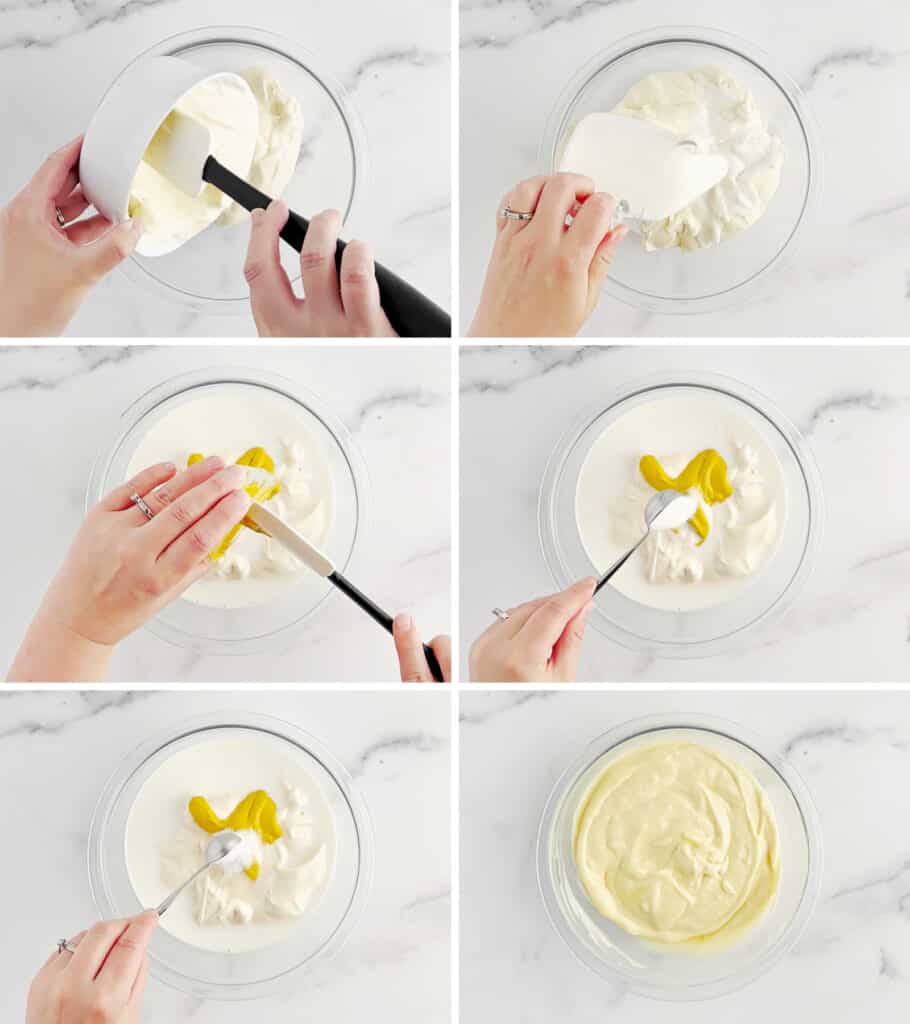 Step 6 | Add the sauce
Fold the sauce into the potato mixture. Very important—make sure all ingredients are cool before adding the sauce!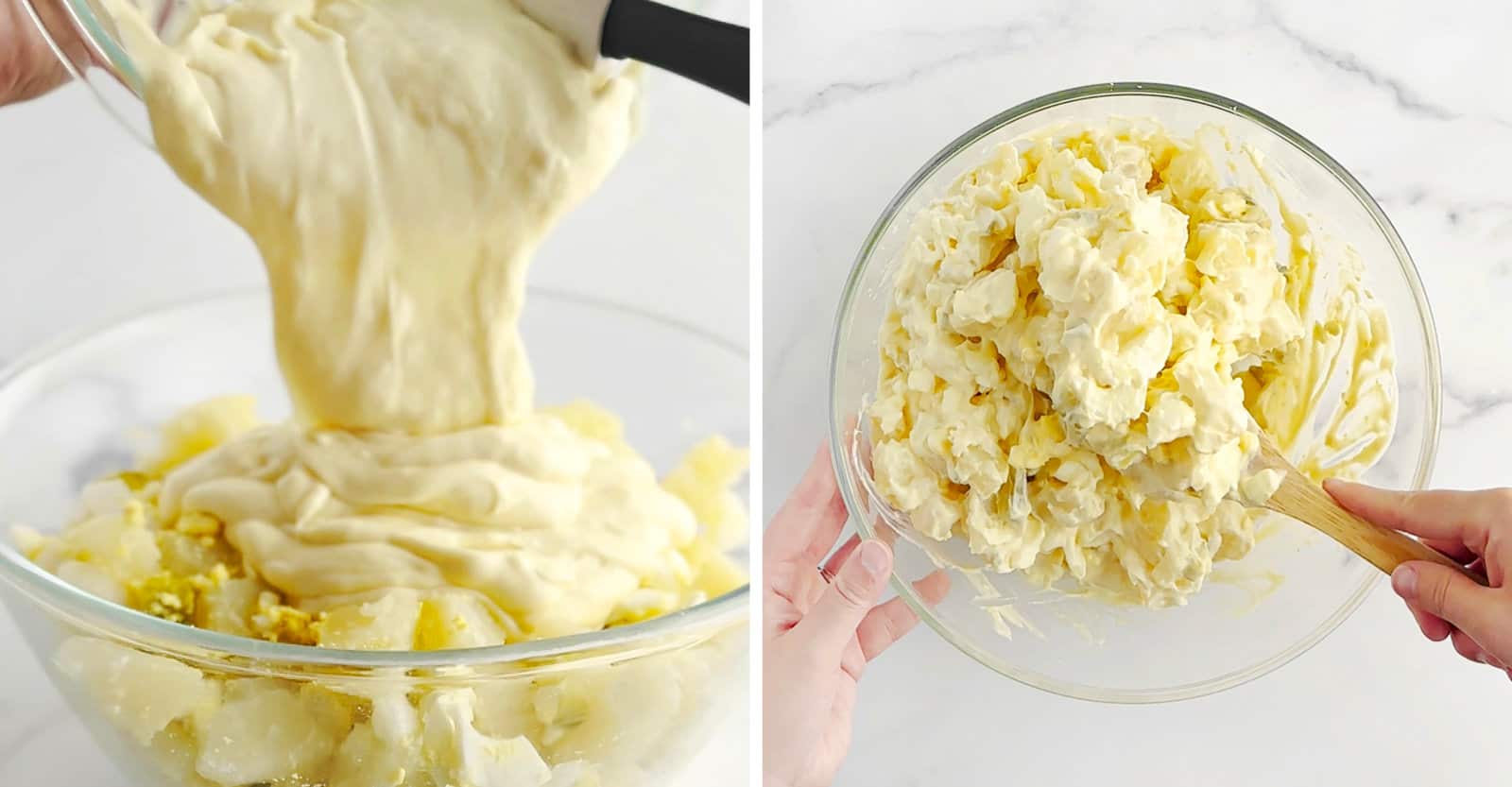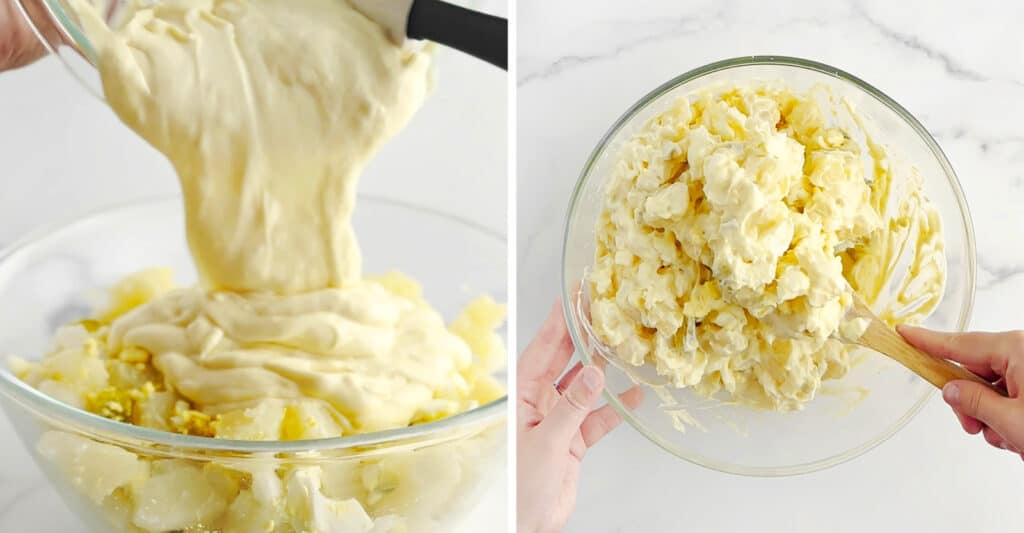 Step 7 | Chill in the fridge
Chill for a few hours before serving.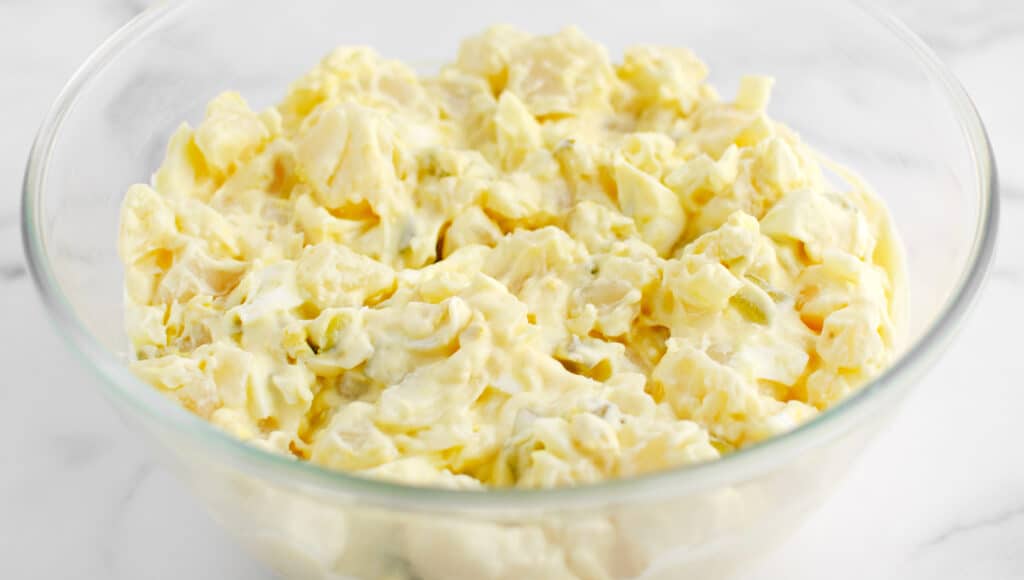 Step 8 | Serve & Enjoy!
Transfer to a serving bowl, if desired, and enjoy.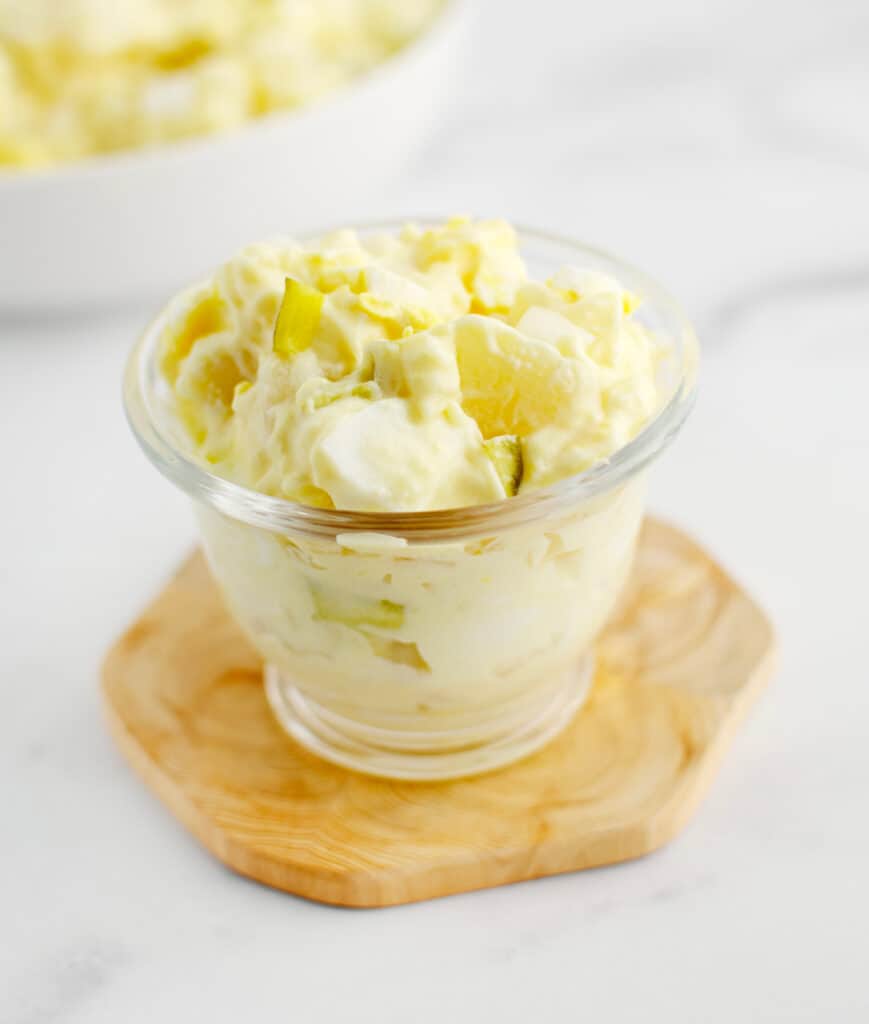 What to Serve with Potato Salad
Grilled hamburgers
Smoked brisket
Barbecue pork ribs
Barbecue baked beans
Cornbread muffins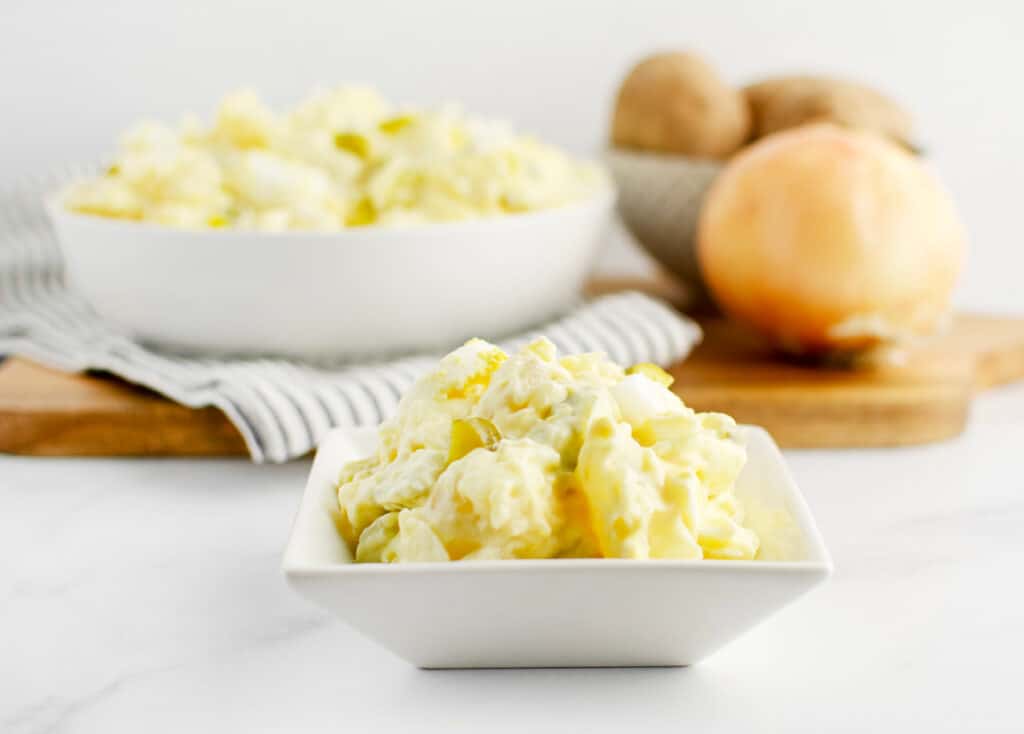 FAQs
Here you'll find answers to common questions about potato salad.
What potatoes are best for potato salad?
Russet potatoes, red potatoes, and yukon gold potatoes are all excellent choices for potato salad. They all have a delicious flavor and will hold their shape well when boiled. Boil them until tender and avoid overcooking, which can lead to a mushy salad.
Is potato salad better when made the day before?
Yes, potato salad is often better when made the day before serving. Allowing the flavors to meld together and the ingredients to combine fully can enhance the taste and overall quality of the dish. However, storing the potato salad properly in an airtight container in the refrigerator is essential to prevent it from spoiling or developing an off taste.
Additionally, some potato salads may need a little adjustment before serving the next day. You might need to check and adjust the seasoning or add a bit more dressing if the potatoes have absorbed it overnight.
We recommend chilling the salad in the fridge for at least a few hours when making our potato salad recipe. You can certainly prepare it the day before. Just check to make sure there is still plenty of dressing. If it looks a little dry, you can always make a smaller batch of dressing to mix in.
How do I make a potato salad that doesn't get watery?
To make a homemade potato salad that doesn't get watery, follow these tips:
Type of potato: using the ideal kind of potato can help prevent watery potato salad. Opt for russet, red, or yukon gold potatoes.
Properly cook the potatoes: overcooking them can make them too soft and waterlogged. Boil the potatoes until they are fork-tender, then immediately drain and cool them to stop the cooking process.
Cool the potatoes completely: allow the boiled potatoes to cool completely before assembling the salad. This prevents them from releasing excess moisture into the salad.
Use the proper dressing ratio: when preparing the dressing, follow the recipe and ensure it's not overly liquidy. Also, note that lite versions of dressings like Miracle Whip Lite can produce more liquid content.
Don't over-mix: gently fold everything together when combining the dressing and other ingredients with the potatoes. Over-mixing can cause the potatoes to break down and release more moisture.
Store properly: store the salad in an airtight container in the refrigerator after making it. This helps prevent excess moisture from being absorbed from the environment and keeps the salad fresh.
Adjust before serving: if you notice any excess moisture when you're ready to serve, gently drain off any accumulated liquid and stir the salad to redistribute the dressing.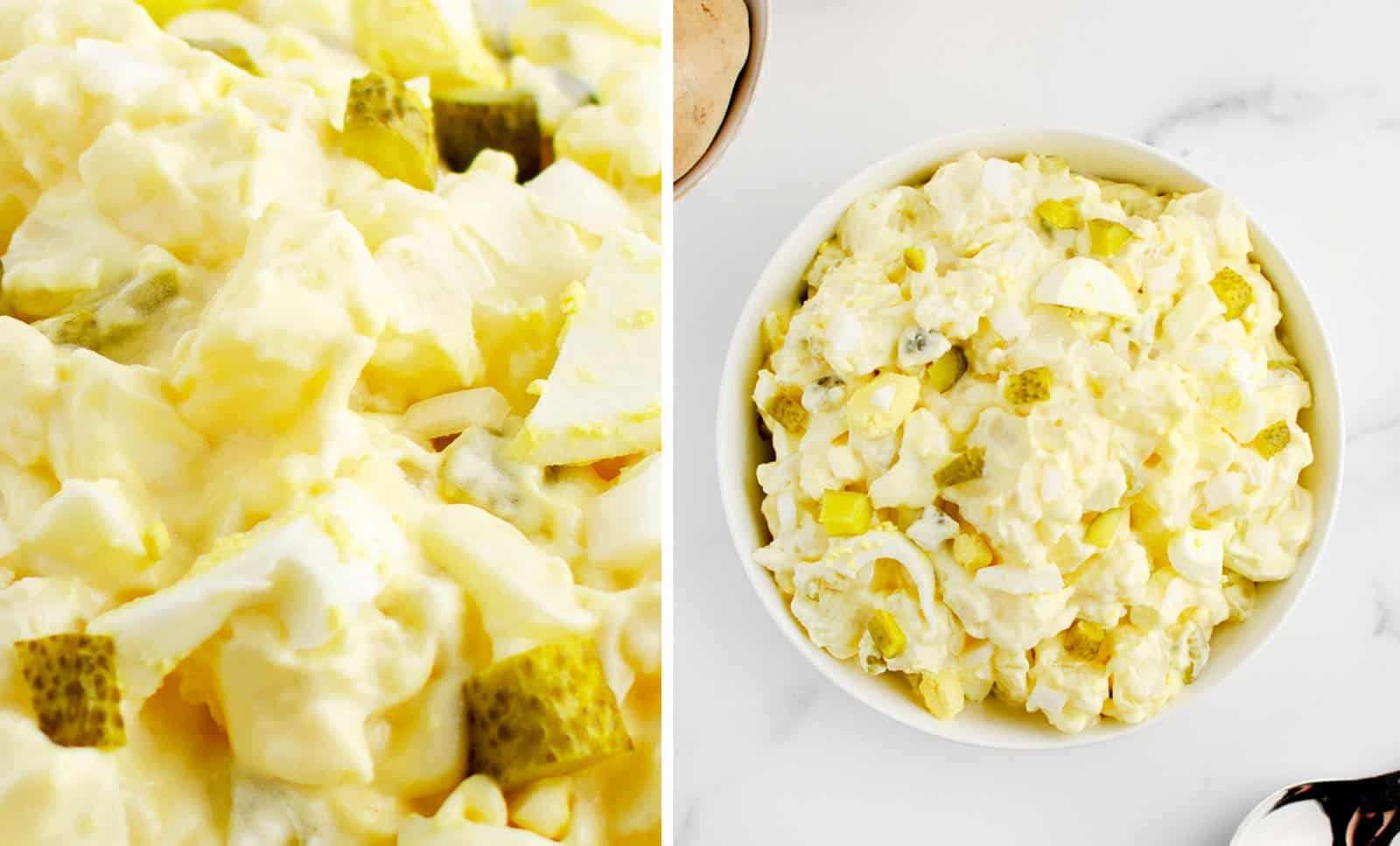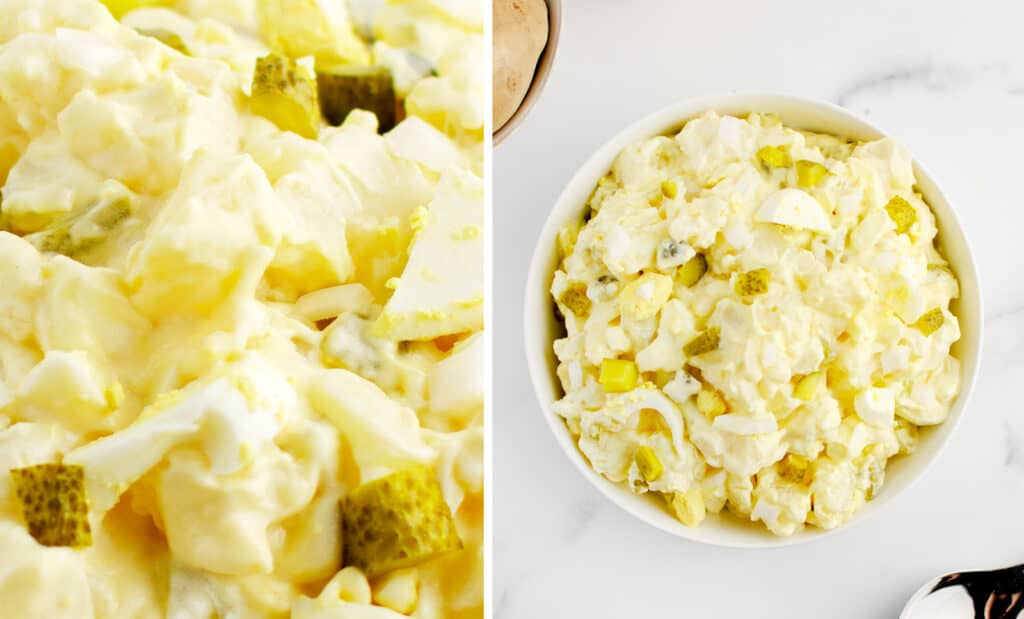 Please stop by and say hi in the comments. What is your favorite way to prepare potato salad?
⭐⭐⭐⭐⭐
Have You Tried This Recipe? Please rate it in the comments and let us know your thoughts!
More Salad Recipes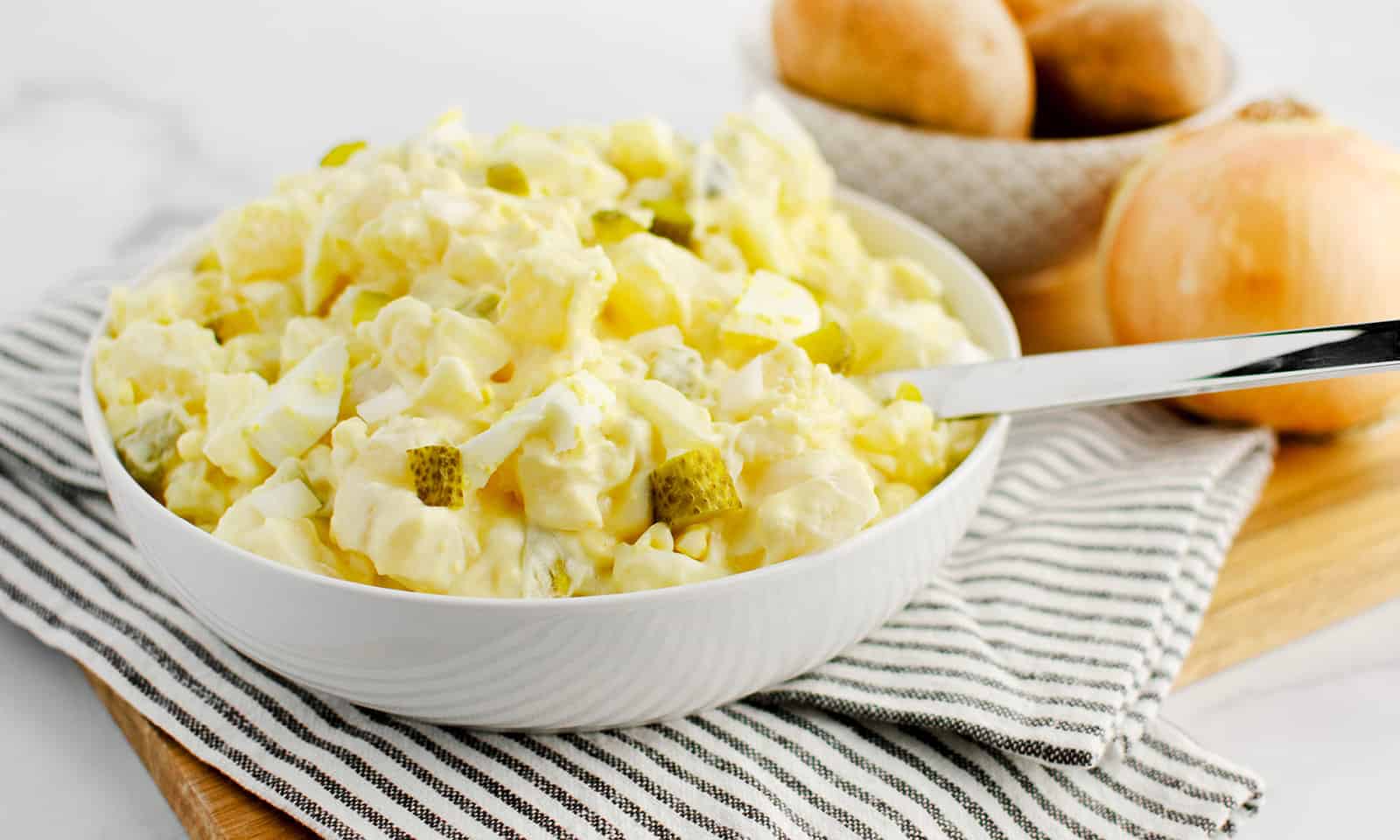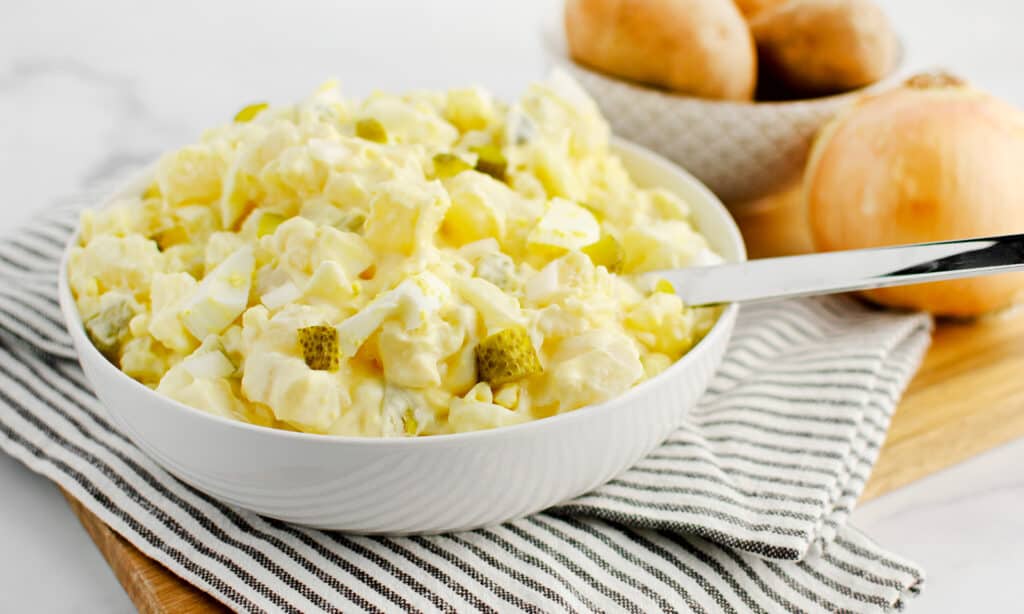 More Delicious Recipes
Print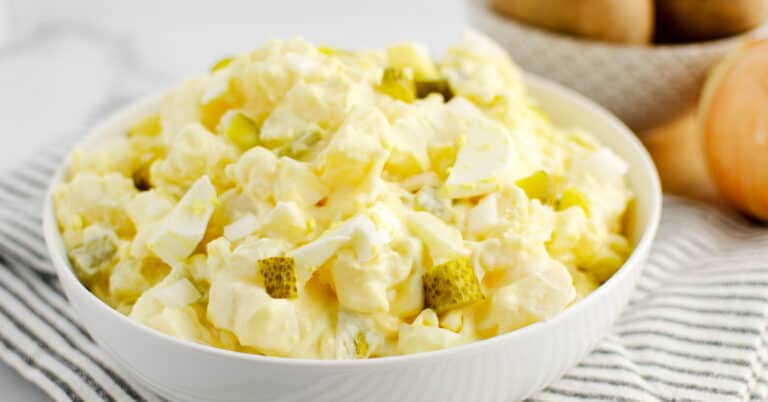 The Best Potato Salad
The best potato salad you'll ever make. The secret is in the sauce. Miracle whip makes the flavor pop compared to traditional mayonnaise.
Total Time:

1 hour

Yield:

1

0

1

x
8

–

10

medium-sized potatoes (russet or red)

8

eggs (boiled)

1/2

medium yellow or white onion

8

–

10

dill pickles (larger baby dills)

2 1/2

cups

Miracle Whip

3/4 tbsp

yellow mustard

1/2

cup

milk

1/2 tbsp

sugar

1 tsp

salt
Instructions
Boil eggs, peel, dice, and cool.
Peel and cut potatoes in half, boil, cool, and chop.
Dice pickles and onions.
Combine eggs, potatoes, pickles, and onions in a medium-sized serving bowl.
Mix the miracle whip, mustard, milk, sugar, and salt to make the sauce.
Fold the sauce into the egg, potato, pickle and onion mixture (make sure eggs and potatoes have cooled first).
Chill for a few hours before serving.
Enjoy!
Equipment
Notes
Add more milk to reach the desired sauce consistency, if needed.
Make sure all ingredients are cooled before adding the sauce.
Nutrition information is an estimate only.
Author:

Prep Time:

1 hour

Category:

Salad

Cuisine:

American
Nutrition
Serving Size:
Calories:

243

Sugar:

10.5 g

Sodium:

1065.9 mg

Fat:

6.1 g

Saturated Fat:

1.9 g

Carbohydrates:

39.5 g

Protein:

8.7 g

Cholesterol:

155.5 mg
Keywords: potato salad, miracle whip, best, potlucks, barbecue side, top potato salad recipes, homemade
Recipe Card powered by
Pin for later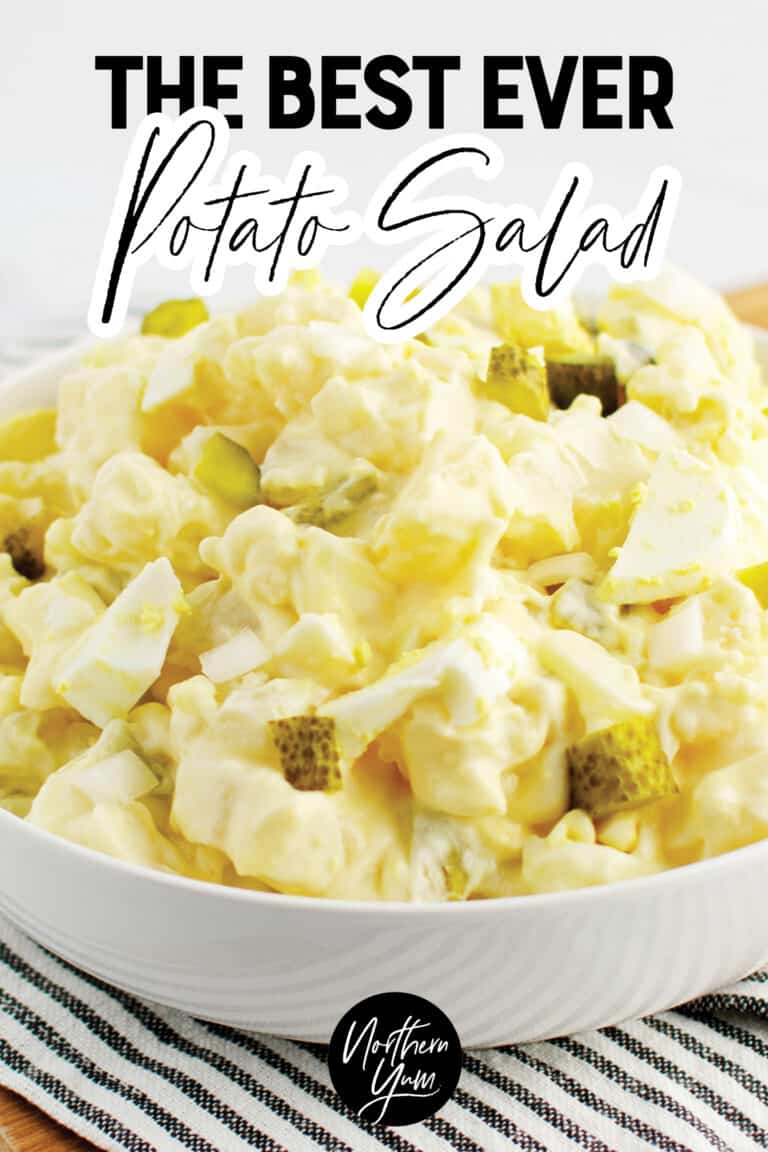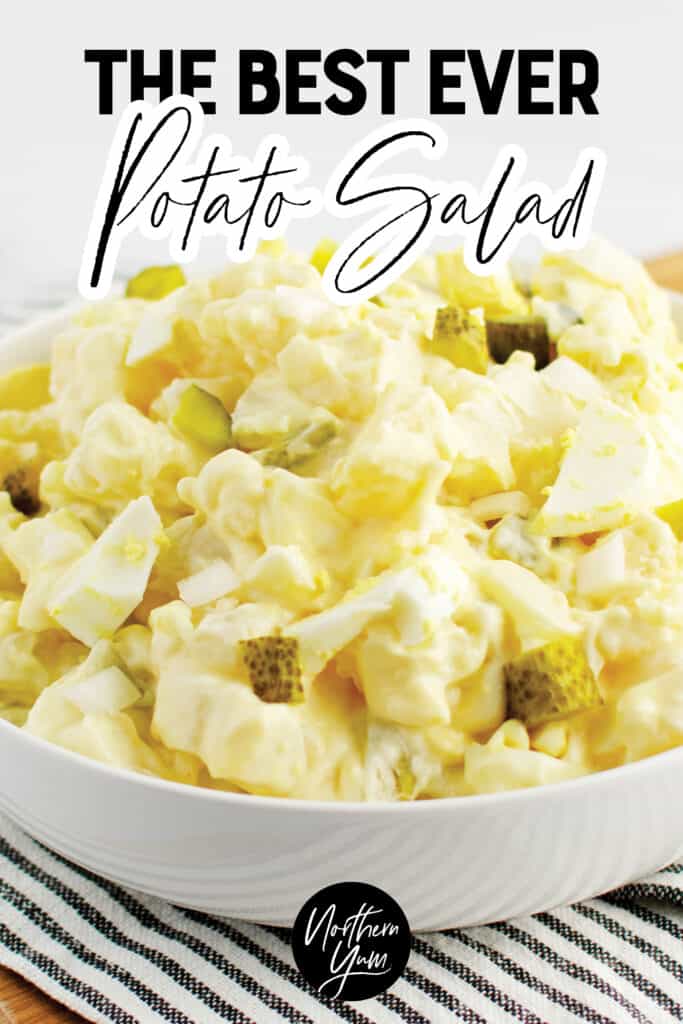 The Best Potato Salad (with Miracle Whip)