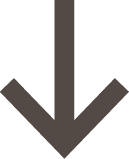 Jump to Recipe
Learn how to make the best lemon drop shots ♡ sweet and sour, just like lemon drop candy. These shots are delicious and perfect for parties.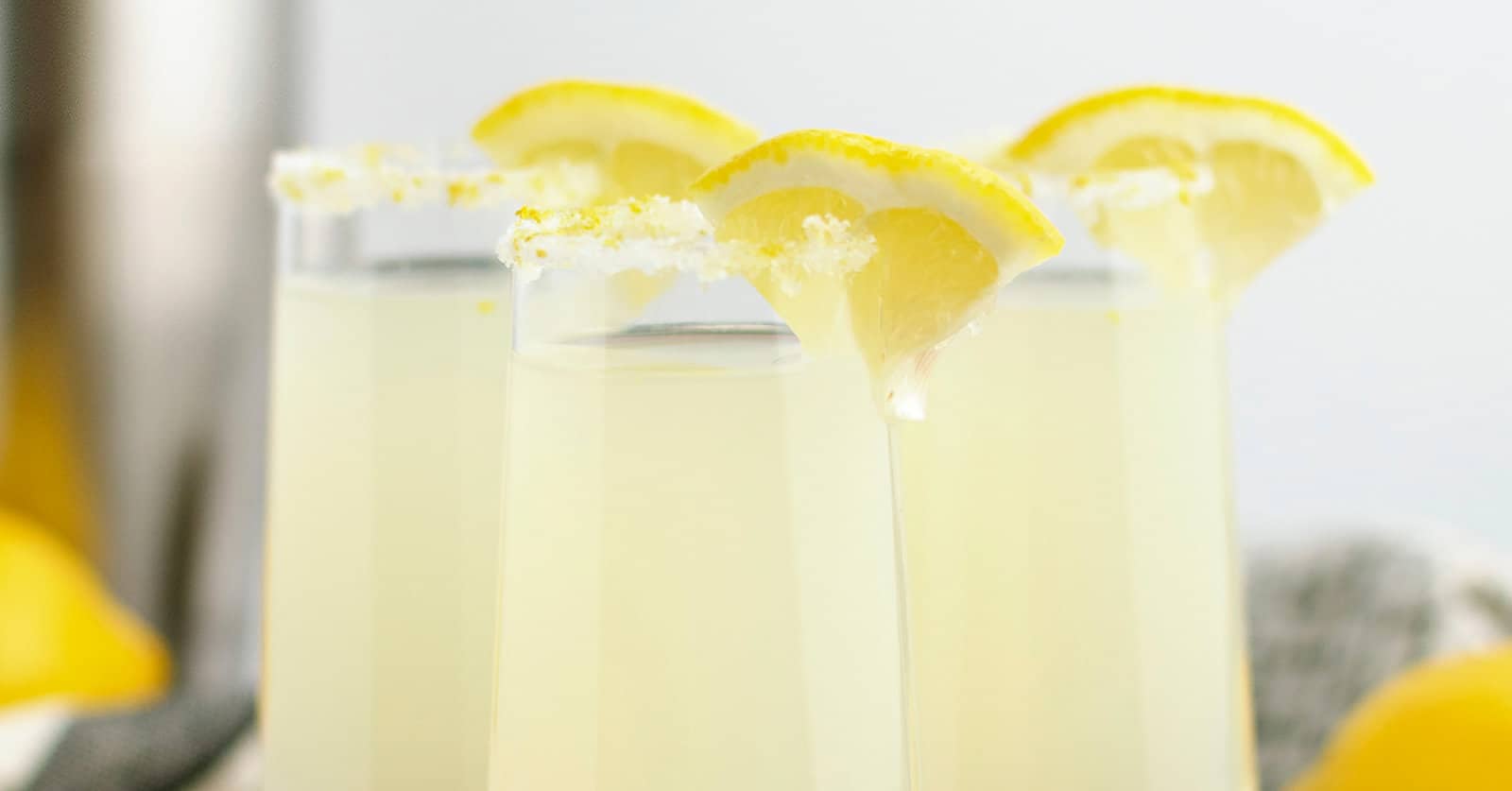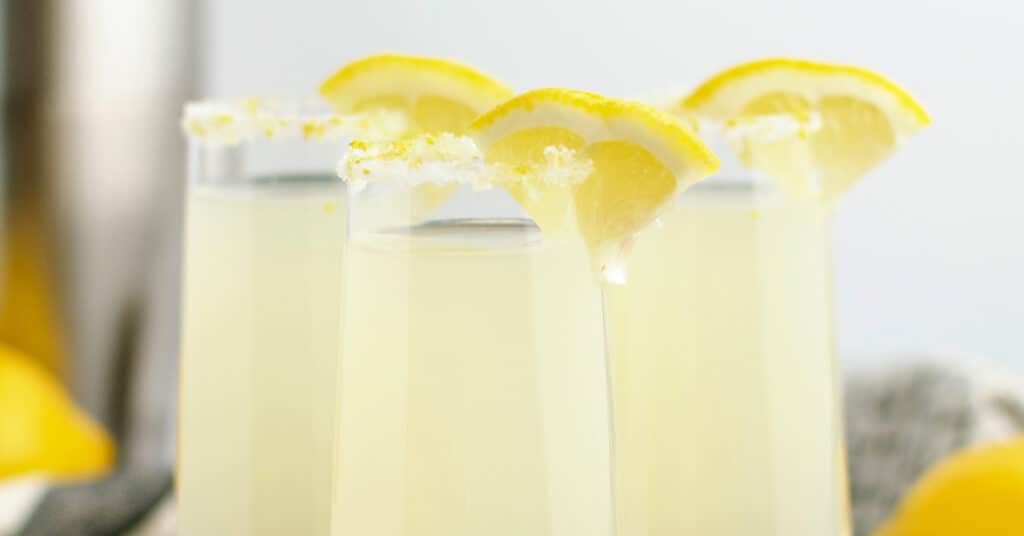 If you want to add a unique and refreshing twist to your next happy hour gathering, lemon drop shots are a bright and fun option.
They're a delicious mix of sweet and tangy—just like the iconic lemon drop candies.
Plus, with only three ingredients needed and no fancy equipment necessary, they are surprisingly easy to prepare – making them the perfect addition to your party menu!
Read on for all the tips and tricks you need to know when crafting delicious lemon drop shots.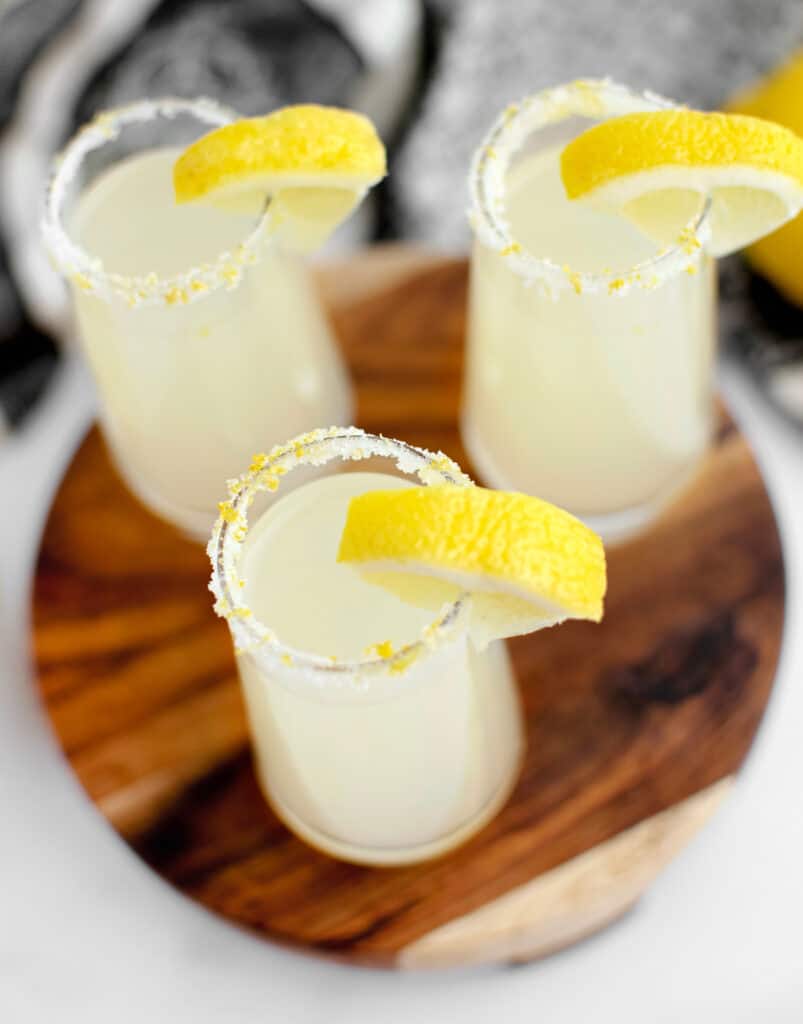 Ingredients
You can make these delicious lemon shots with just a few simple, high-quality ingredients.
Lemons – you'll need fresh lemons to make freshly-squeezed juice, lemon zest (for sugared rims), and garnishes. Although you can use bottled lemon juice, we recommend fresh juice for the best results.
Vodka – be sure to pick a good quality vodka, like Tito's or Grey Goose.
Simple syrup – you can use a store-bought simple sugar or make your own using a 1:1 ratio of granulated sugar to water, combining in a saucepan and cooking until the sugar is dissolved.
Sugar – granulated white sugar to make sugared rims.
Ice – we recommend adding ice to the cocktail shaker to chill the cocktail before serving.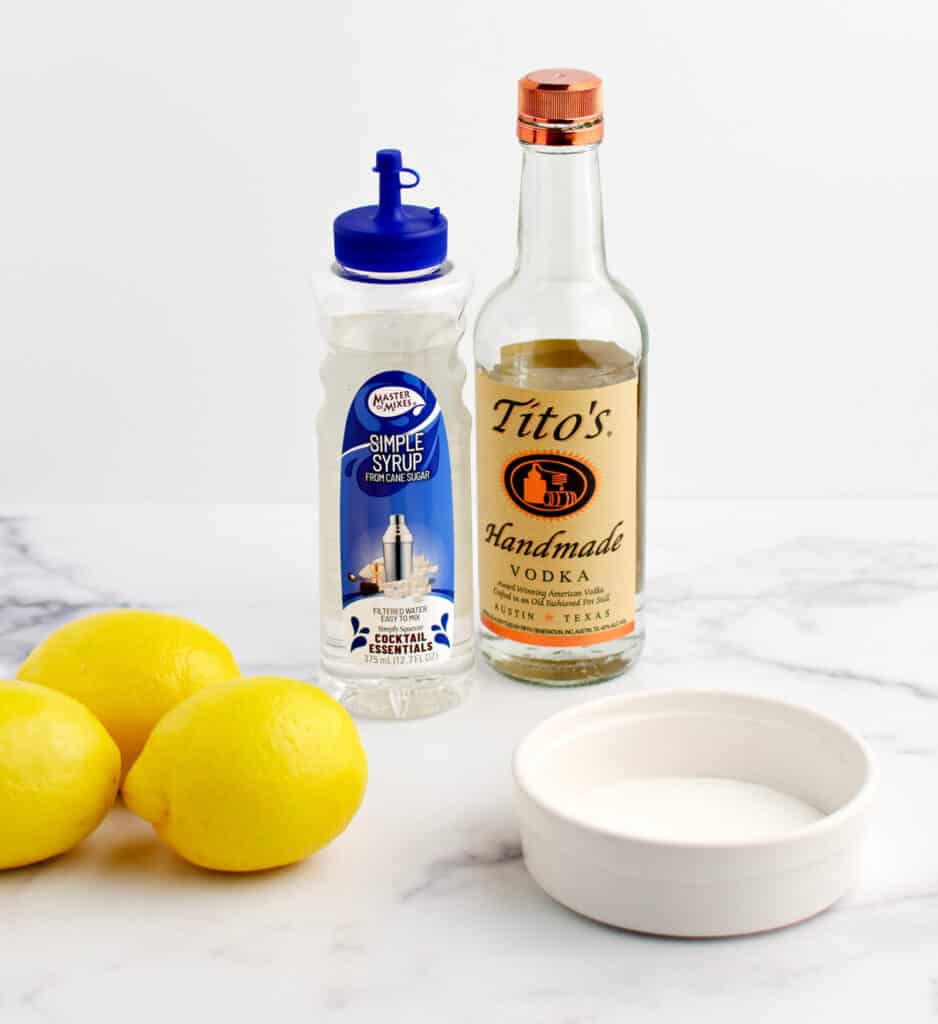 Supplies & Favorite Tools for Lemon Drops
Here are the kitchen tools you'll need to get started.
Cutting board and knife
Shallow bowl or plate
Stainless steel cocktail shaker
Measuring cups
How to Make the Best Lemon Drop Shots
Follow these simple steps to make tasty lemon drops.
Step 1 | juice lemons
Use a citrus reamer and fresh lemons to squeeze juice for the cocktail itself (or you can juice by hand). Also, set a small amount of juice aside in a bowl for the sugared rims.
Note: here is how much juice is typically in one lemon.
Step 2 | Prepare sugar and zest
Add sugar to a shallow bowl or plate and top with the zest of one lemon.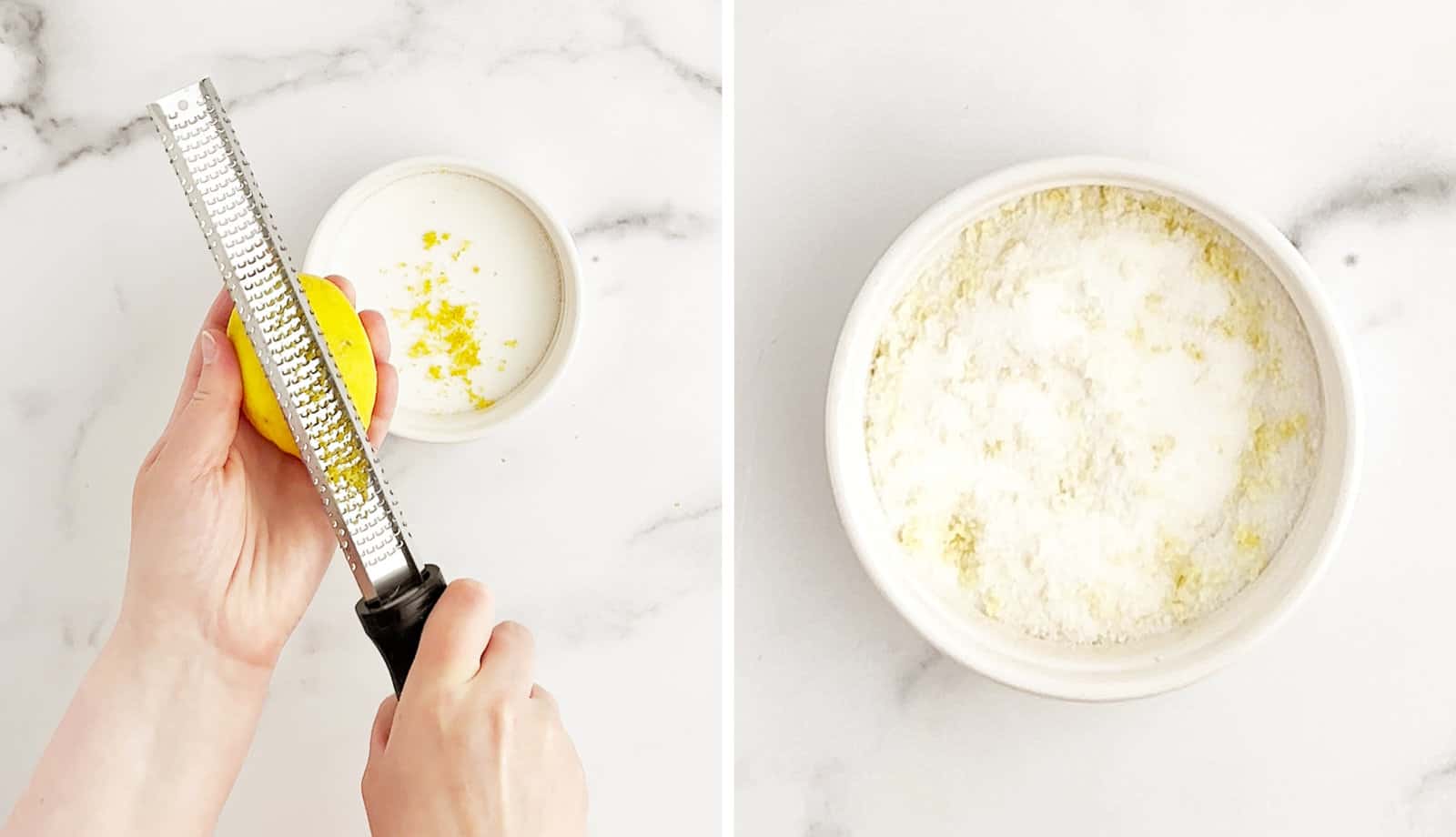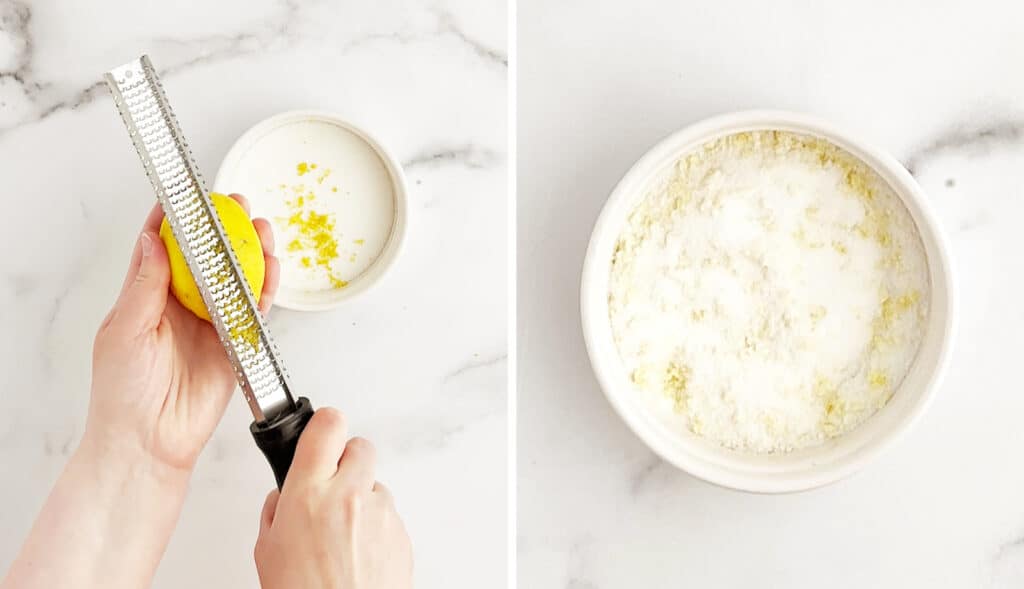 Step 3 | Sugar each shot glass rim
Dip the rim of each shot glass in lemon juice to make it a bit sticky (or run a lemon wedge around it). Then carefully dip the rim into the zest and granulated sugar.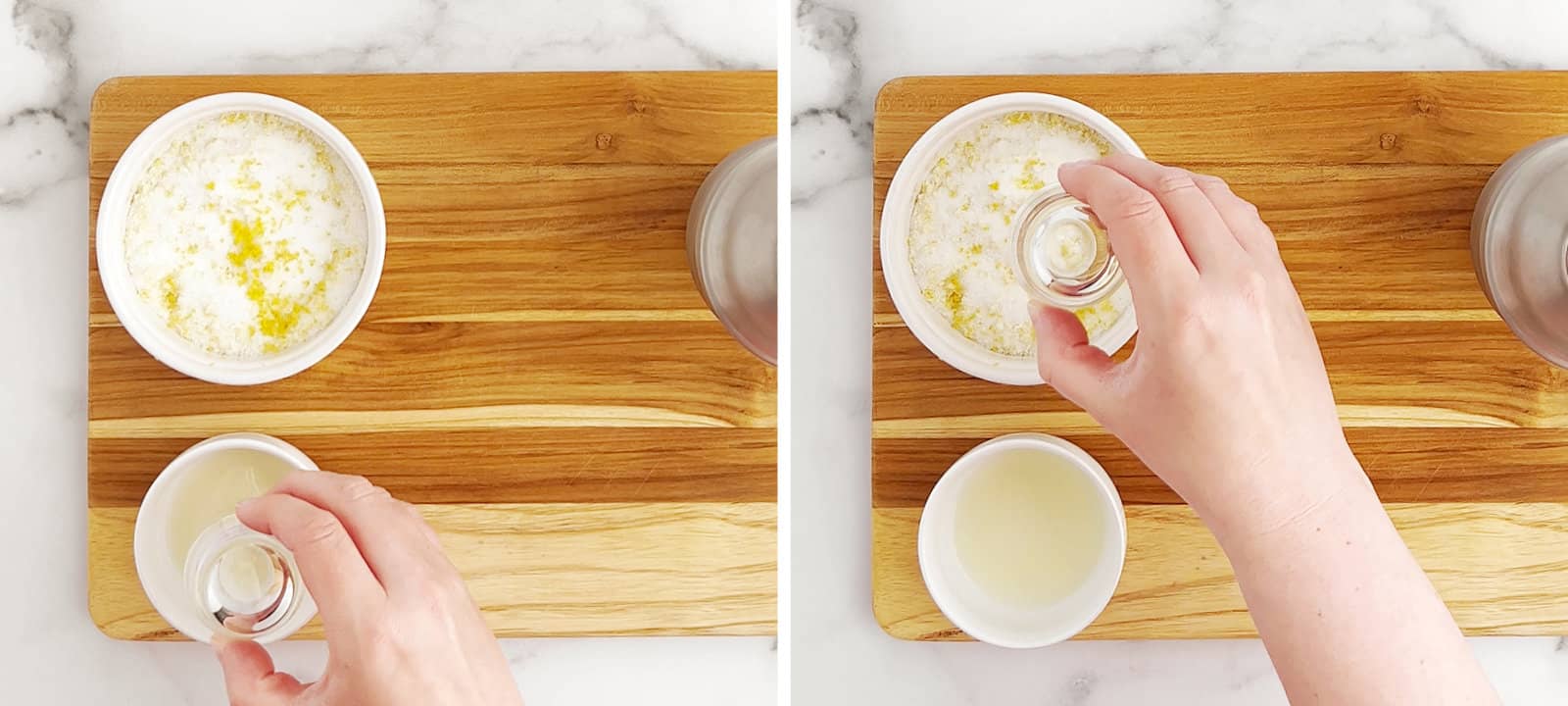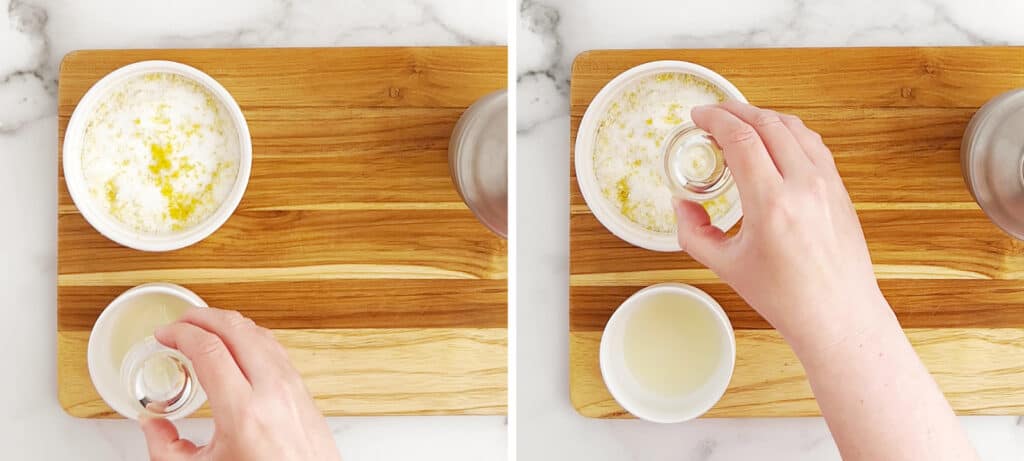 Set the prepared shot glasses aside.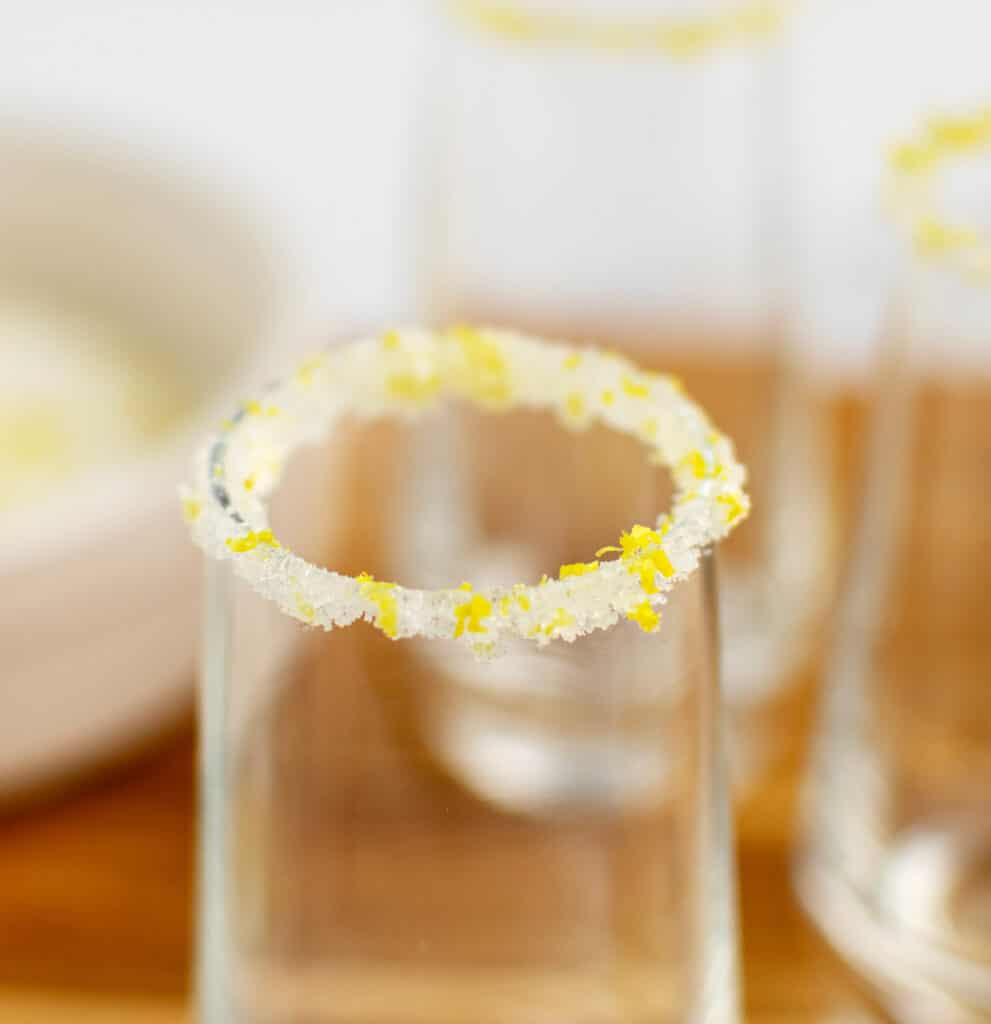 Step 4 | Add ingredients to a cocktail shaker
Combine ice, lemon juice, vodka, and simple syrup in a cocktail shaker.
Note: you can make homemade simple syrup by mixing equal parts sugar and water, then simmering until the sugar dissolves. Allow the simple syrup to cool before adding it to the shaker.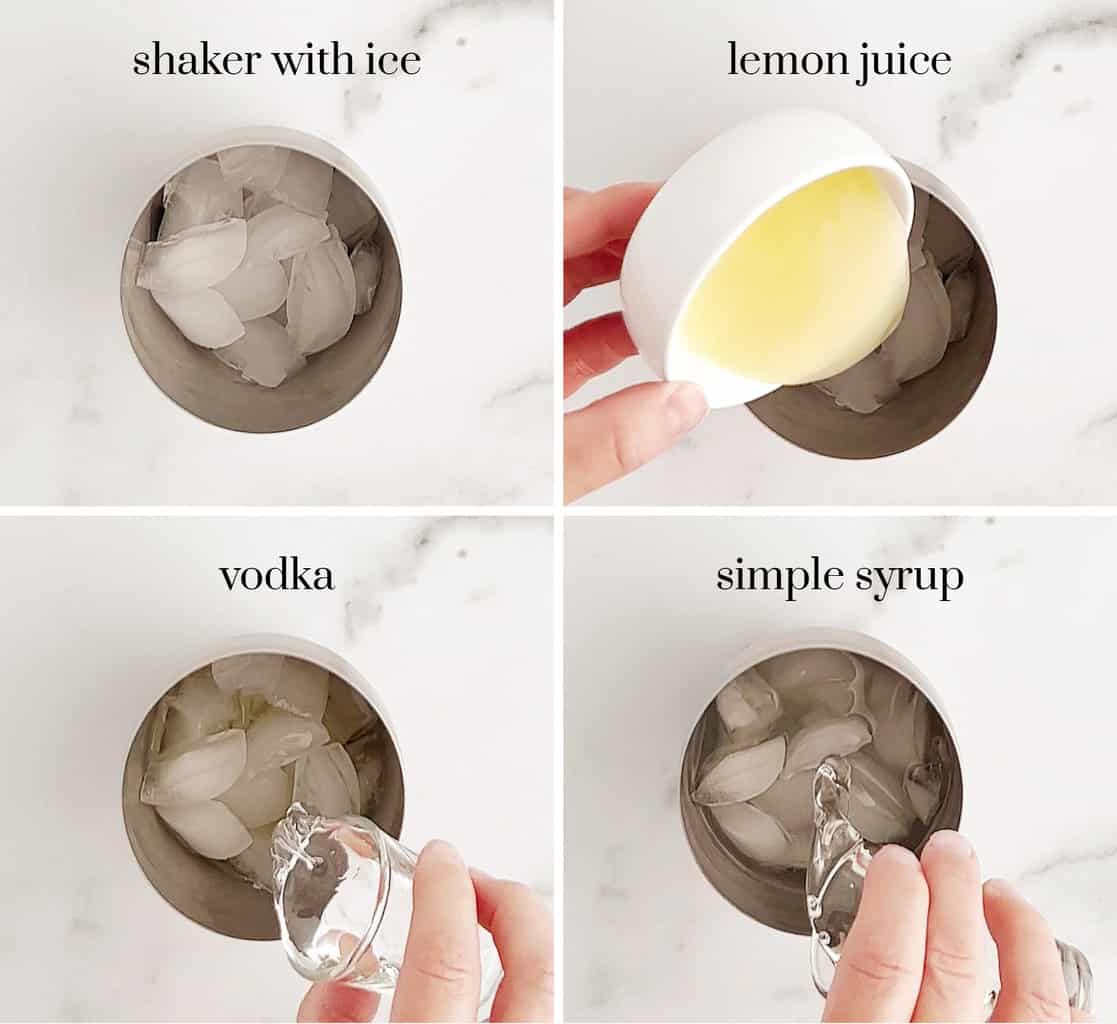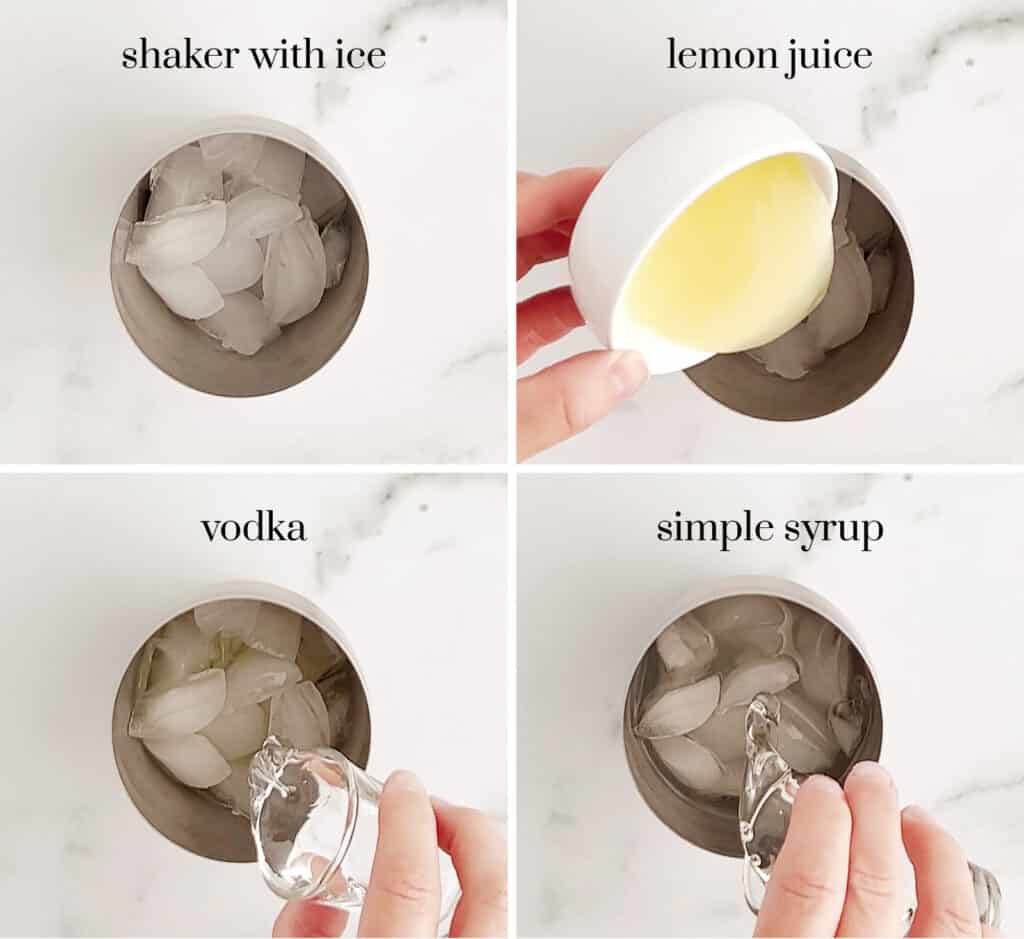 Step 5 | Shake well
Shake vigorously for 10 to 15 seconds to chill and properly mix the ingredients. If you don't have a shaker, use a lidded jar or blender bottle as a makeshift alternative.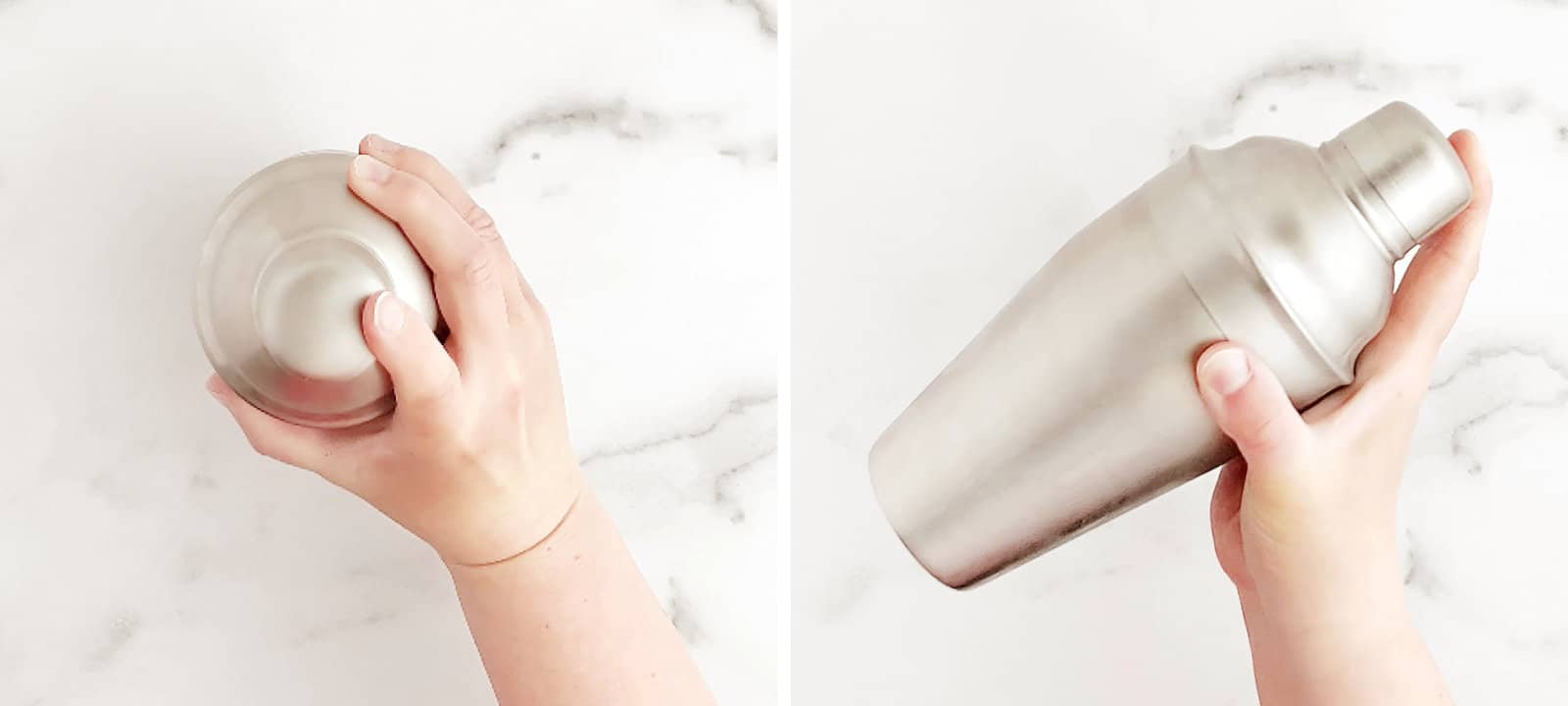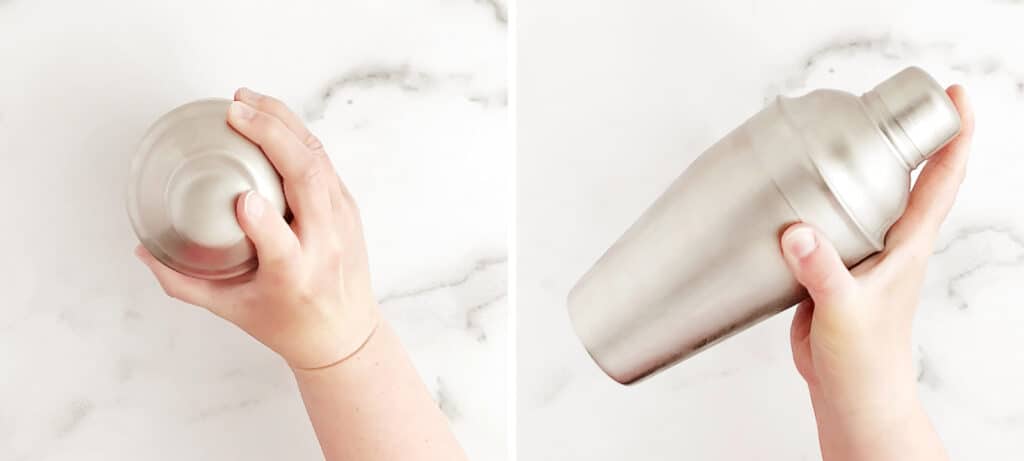 Step 6 | Pour into shot glasses
Strain the mixture from the cocktail shaker into your sugar-rimmed shot glasses.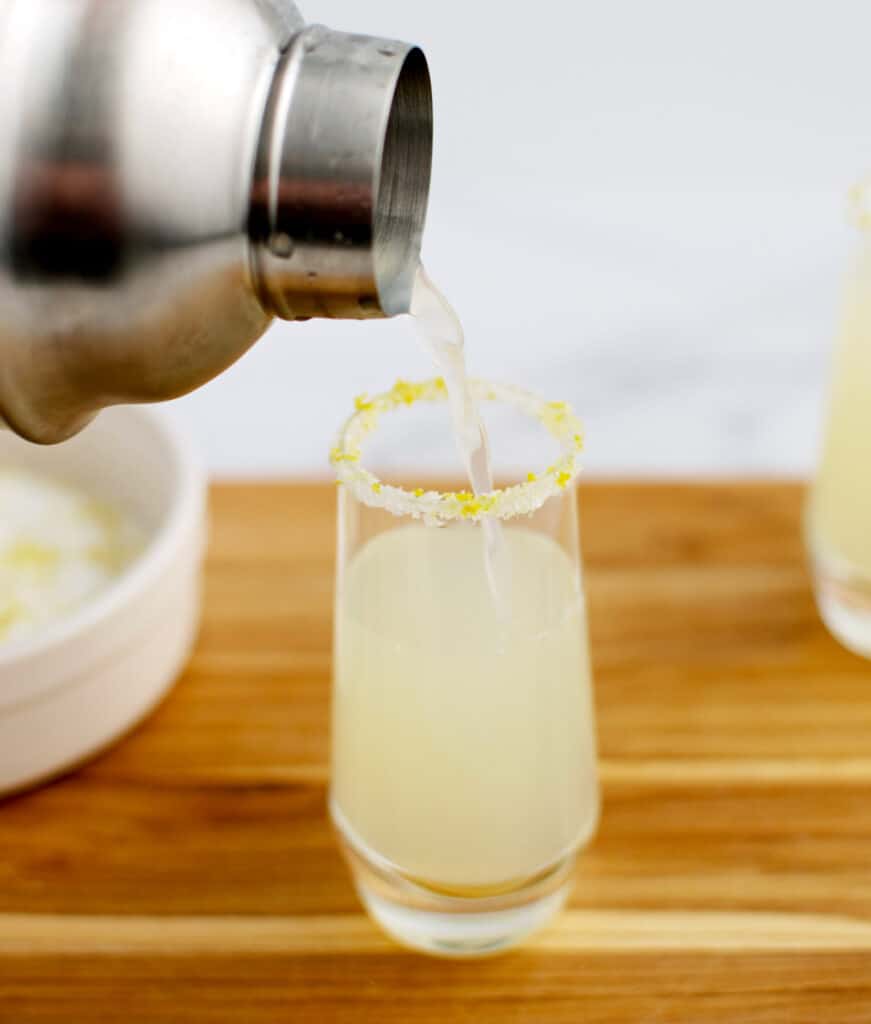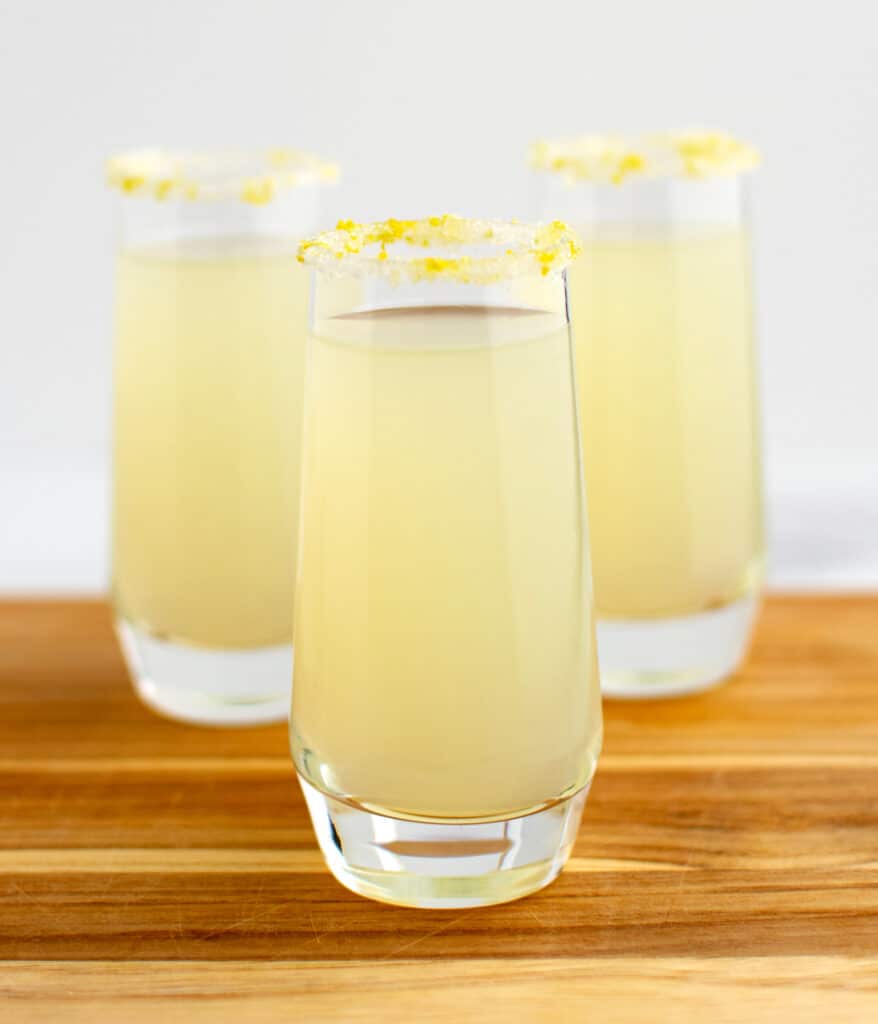 Step 7 | Garnish
Serve each lemon drop with a lemon wedge or twist. For an extra touch of sweetness, dip each wedge or twist in lemon juice and then white sugar.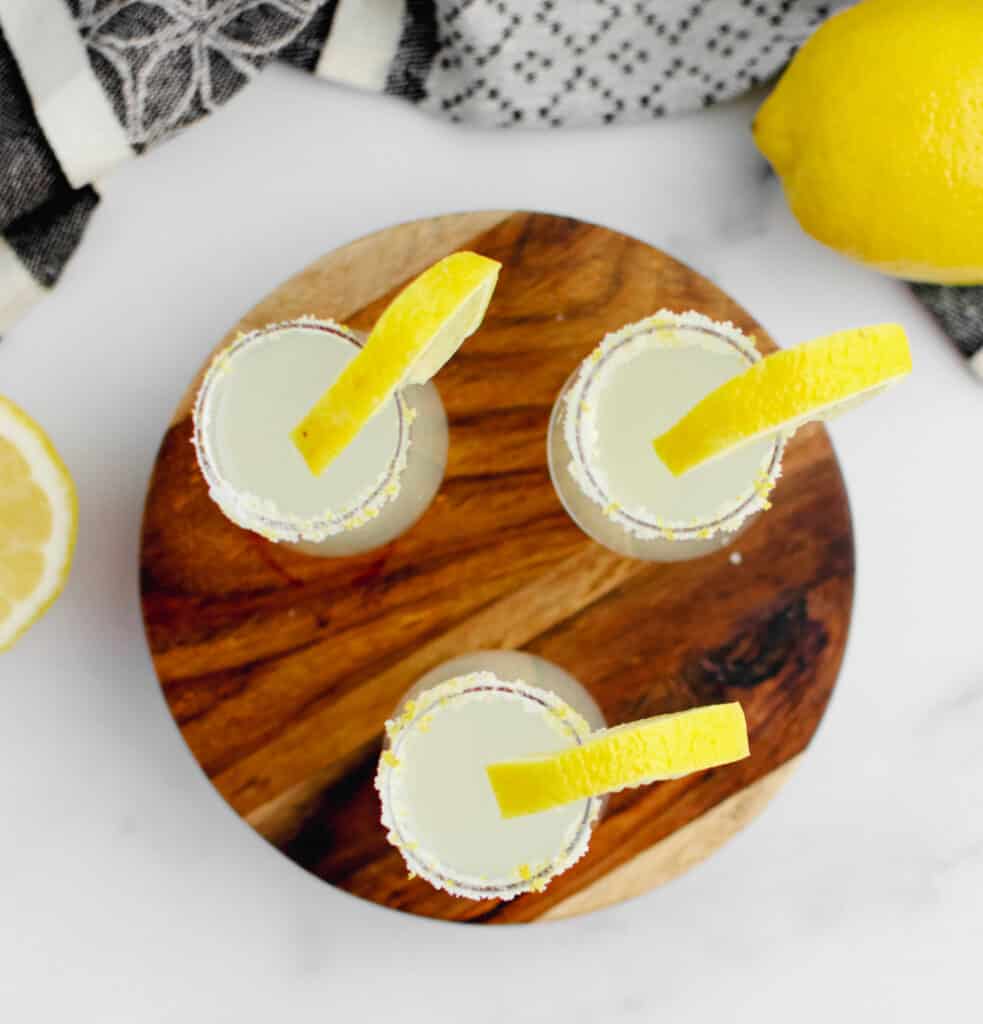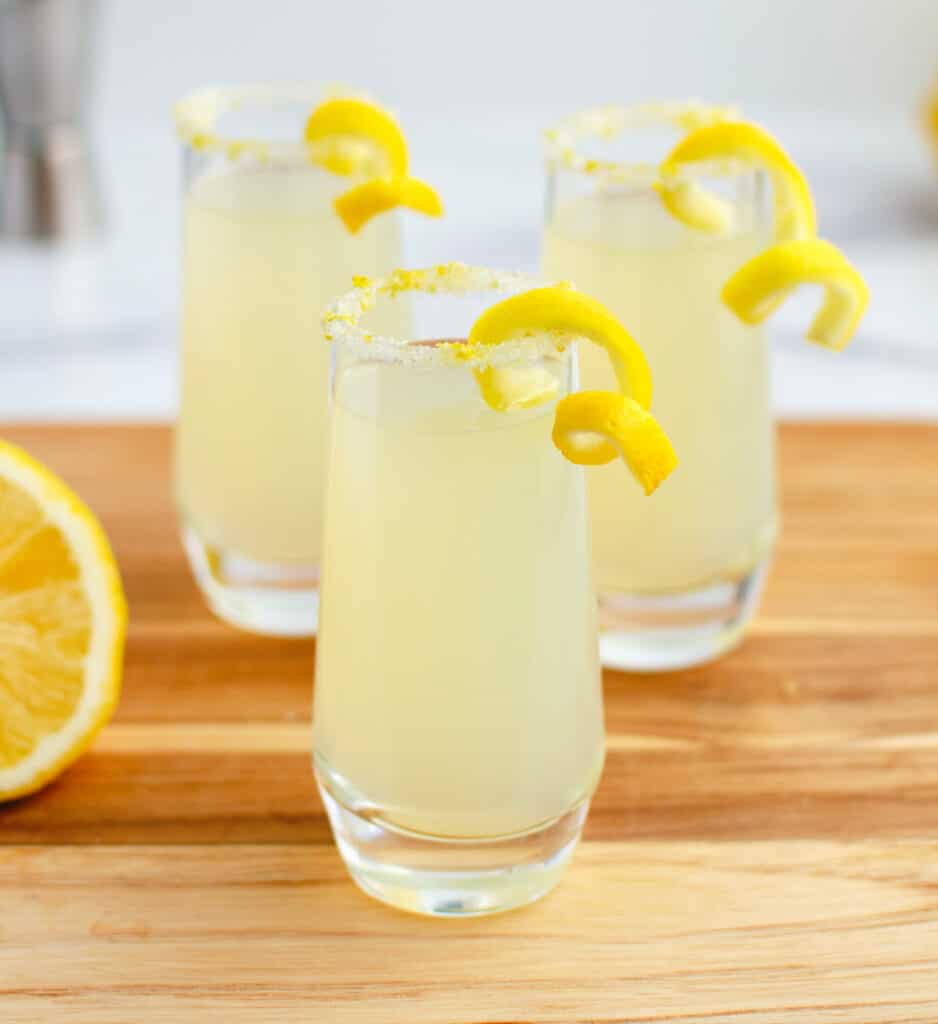 Non-Alcoholic Lemon Drop Shot
For a non-alcoholic twist on the classic lemon drop shot, you can replace the vodka with a mixer like lemon-flavored soda or sparkling water. Here's a simple recipe for you to try:
Combine equal parts lemon juice and simple syrup.
Rim the shot glasses with sugar and zest, just like in the original recipe.
Fill each shot glass halfway with the lemon syrup mixture.
Top off each glass with lemon-flavored soda or sparkling water.
Enjoy your mocktail shots with lemon wedge garnishes.
This variation lets you enjoy the tangy and sweet taste of a lemon drop shot without any alcohol. Perfect for designated drivers, non-drinkers, or your next mocktail party.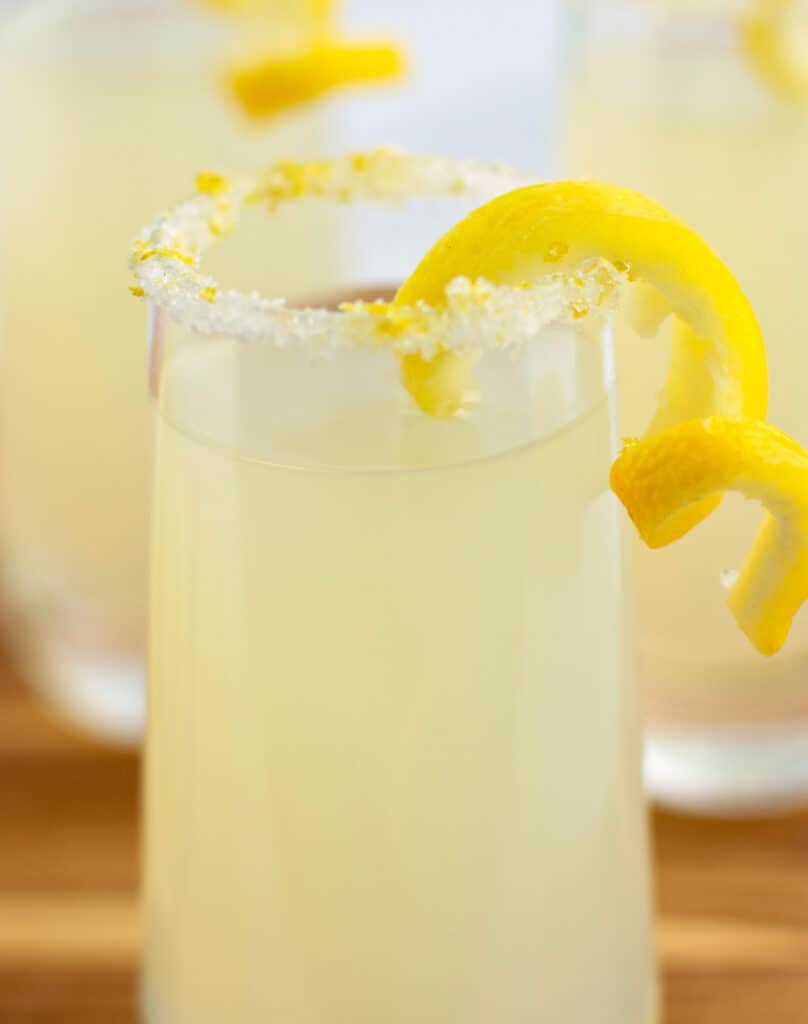 Different Spirits
If you're feeling adventurous or want to try something new, experiment with different spirits in your lemon drop shot. Here are a few options to consider:
Gin: replace the vodka with your favorite gin, and you'll have a more botanical twist on the classic lemon drop shot. This combination pairs well with the citrusy flavors of the lemon.
Flavored vodka: opt for a flavored vodka in place of regular vodka. For example, use an orange-flavored or citron vodka to amp up the citrus notes, or try other fruit flavors like blueberry, raspberry, or strawberry for a unique twist.
Remember that switching up the spirits may result in a different flavor profile, but it's always fun to explore new options. So, get creative with your lemon drop shots. And, as always, enjoy responsibly.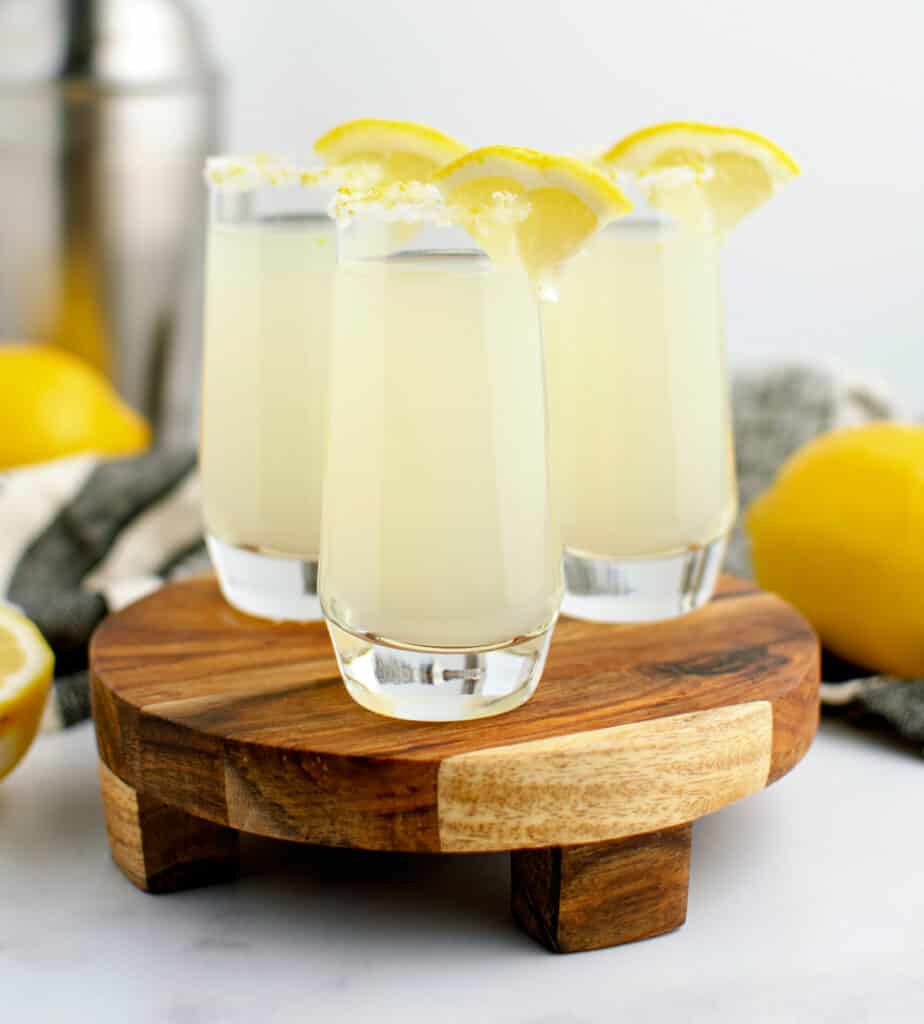 Serving and Garnishing Tips
When preparing your shots, presentation is key for an extra special experience. Here are some tips to elevate your cocktails and impress your guests:
First, always use fresh lemons for garnishes. Fresh lemons have a bright color and zest, which adds to the visual appeal and taste of the shot. Cut them into wedges, twists, or thinly sliced rounds.
To create a sugared rim on your shot glasses, moisten the rim with lemon juice or a wedge, then dip it in sugar. This extra step adds a nice touch to the presentation and tastes excellent.
Adding ice cubes to your shaker helps ensure a cold and smooth shot. Remember not to overdo it; too much ice can dilute the flavors and make it watery.
Lastly, experiment with various garnishes to give your shots a personal touch. Fresh mint sprigs, berries, or a sugared lemon twist can make a beautiful and appetizing presentation.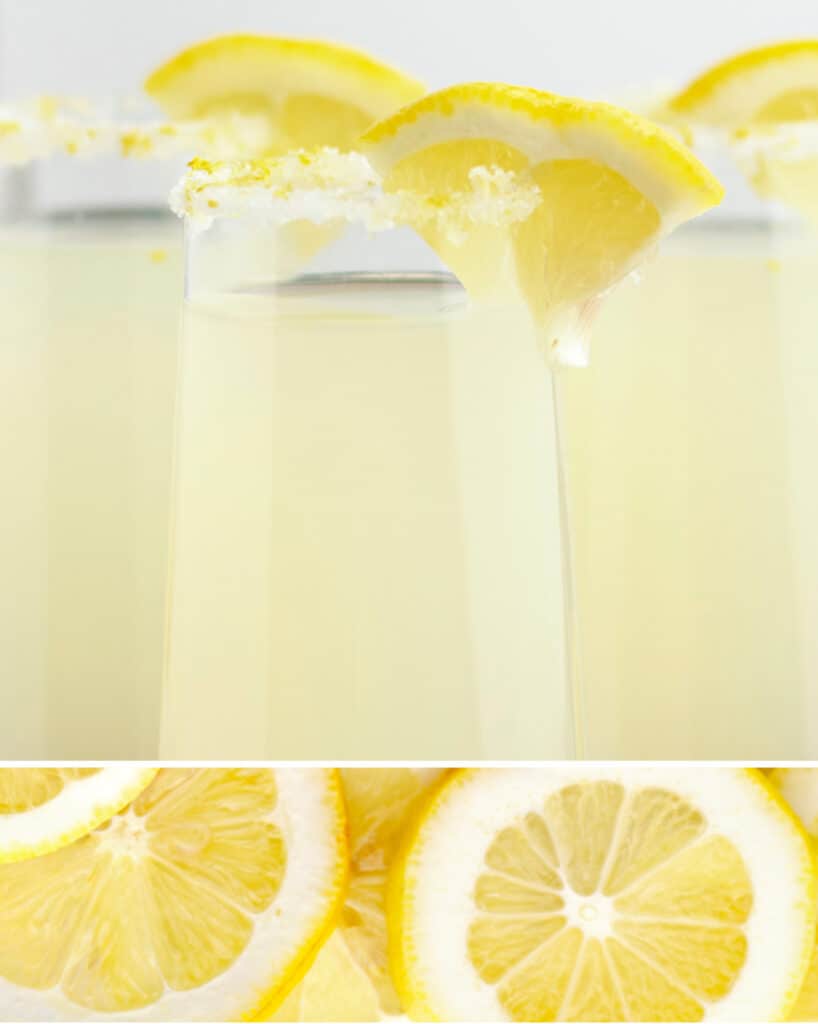 Print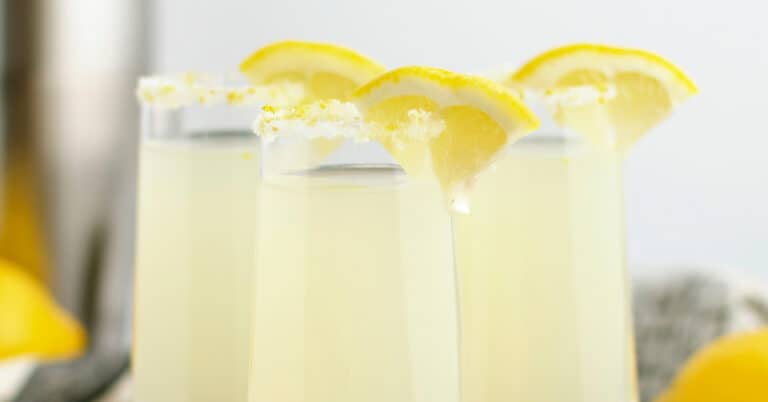 Lemon Drop Shots
The best lemon drop shots. Sweet and sour, just like classic lemon drop candy, these shots are so yummy and perfect for parties.
Total Time:

10 minutes

Yield:

3

to

4

shots

1

x
3

ounces

freshly-squeezed lemon juice

3

ounces

vodka

1.5

ounces

simple syrup
Granulated sugar – rims
Lemons – zest and garnish
Ice
*This makes 3 to 4 shots.
Instructions
Juice the lemons and set a small amount of juice aside in a bowl for the sugared rims.
Pour sugar into a bowl or on a plate for dipping. Add lemon zest on top of sugar.
Prepare shot glasses by dipping in lemon juice and then in sugar and lemon zest.
Add ice, lemon juice, vodka, and simple syryp to a cocktail shaker.
Give it a good shake for about 10 to 15 seconds.
Pour into prepared shot glasses.
Garnish with a lemon wedge or twist.
Enjoy!
Notes
Use equal amounts of vodka and lemon juice. Use half the amount of simple syrup compared to vodka.
You can use bottled lemon juice instead of fresh lemon juice, but we prefer freshly-squeezed.
Author:

Prep Time:

10 minutes

Category:

Beverages

Cuisine:

American
Nutrition
Serving Size:

1 shot

Calories:

113

Sugar:

12 g

Sodium:

1.1 mg

Fat:

0.1 g

Saturated Fat:

0 g

Carbohydrates:

13.6 g

Protein:

0.1 g

Cholesterol:

0 mg
Keywords: lemon drop, cocktail, drink, happy hour
Recipe Card powered by
More Lemony Goodness
Pin for later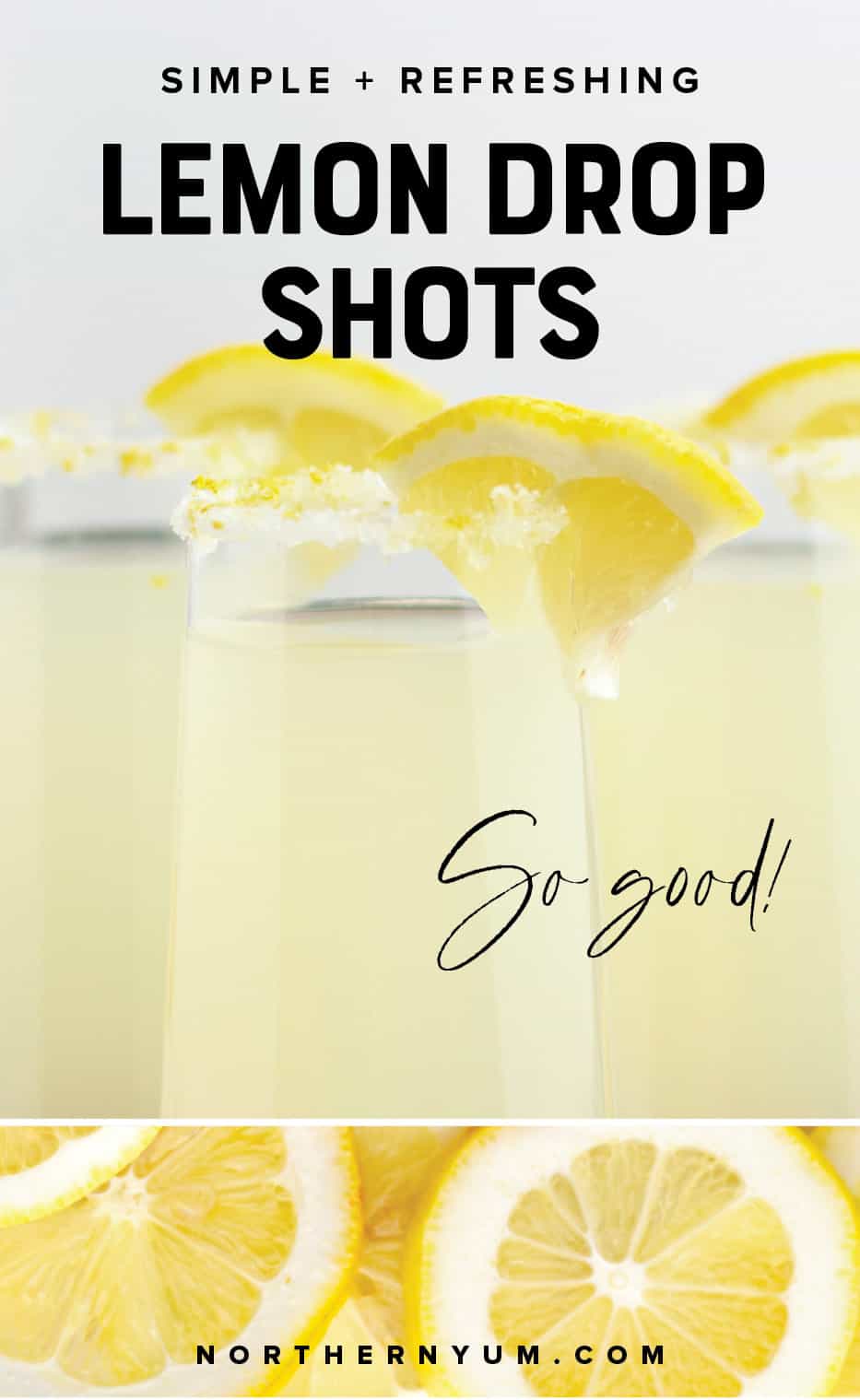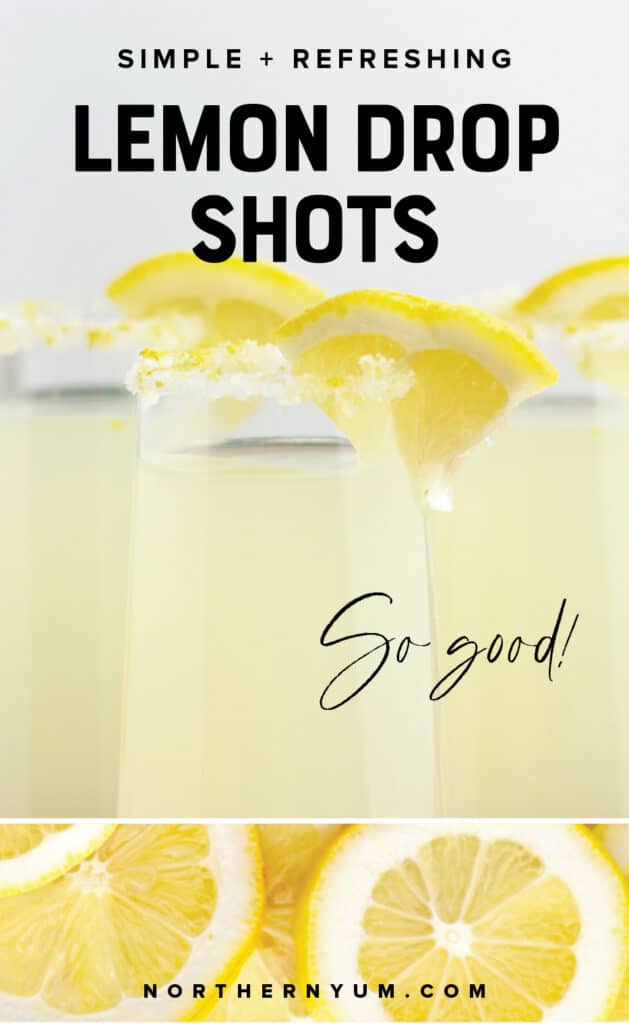 Lemon Drop Shots Recipe