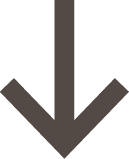 Jump to Recipe
How to Make a Lemon Twist ♡ a simple step-by-step guide for making beautiful lemon twists without a special tool. Perfect for garnishing drinks and cocktails.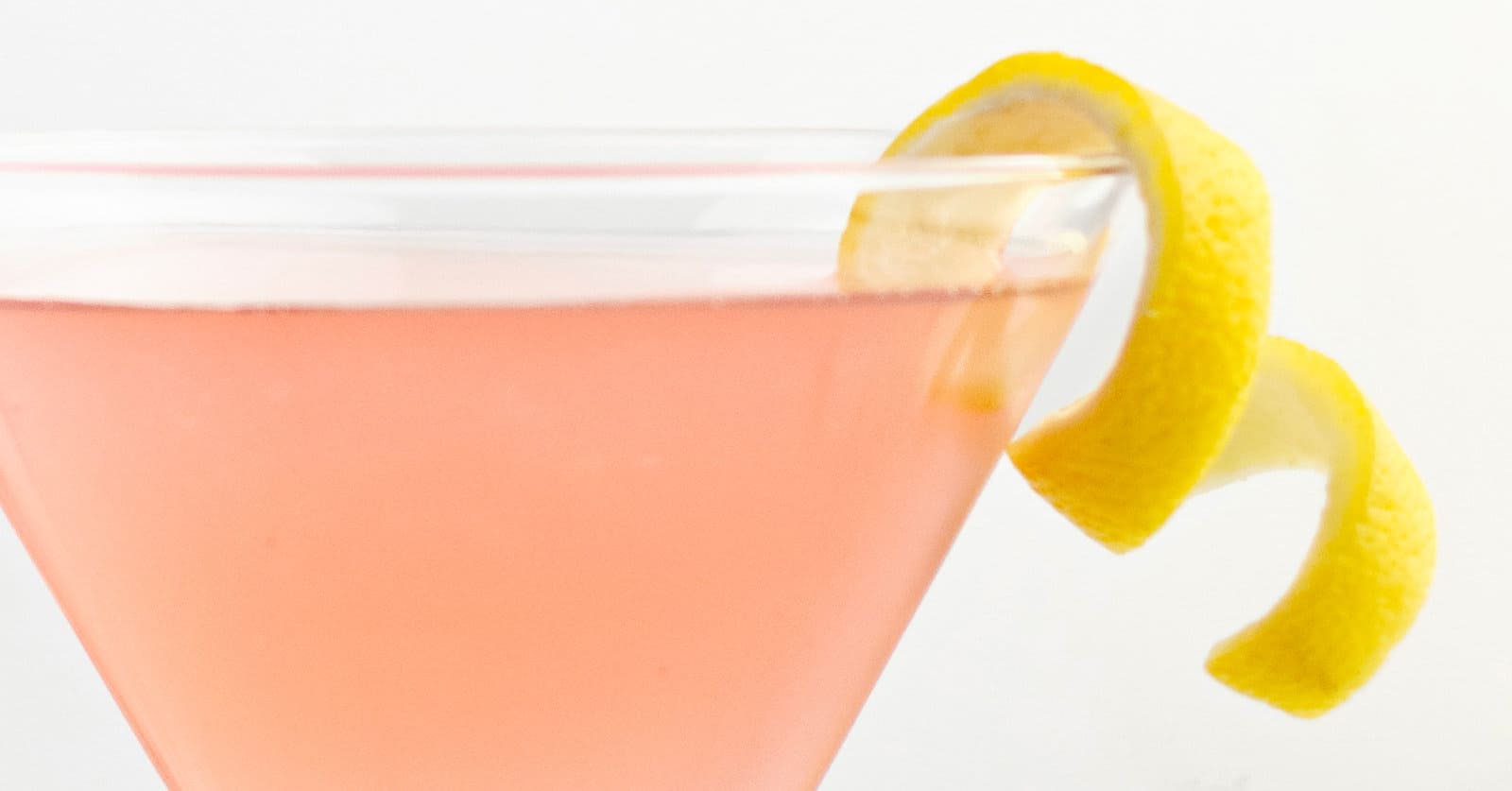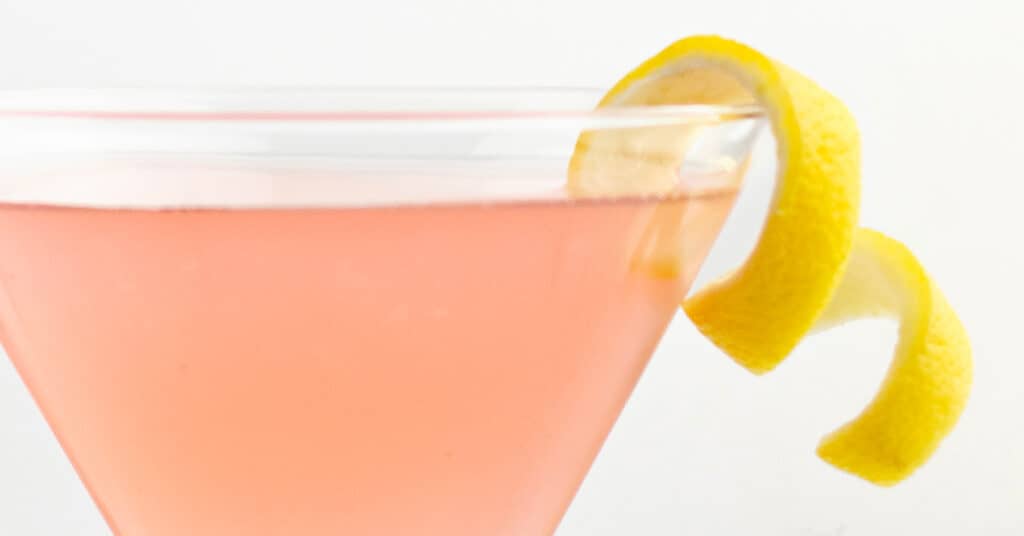 If you want to take your cocktail game to the next level, try garnishing them with lemon twists. It's an easy way to wow your guests, giving your drinks a beautiful pop of color and a yummy citrus scent.
When adding a lemon twist to your cocktails, you've got options! One way to do it is by gently placing the lemon twist along the rim of your glass. Alternatively, you can drop the twist directly into the drink itself. Whichever method you choose, the result is a drink that looks vibrant and irresistible.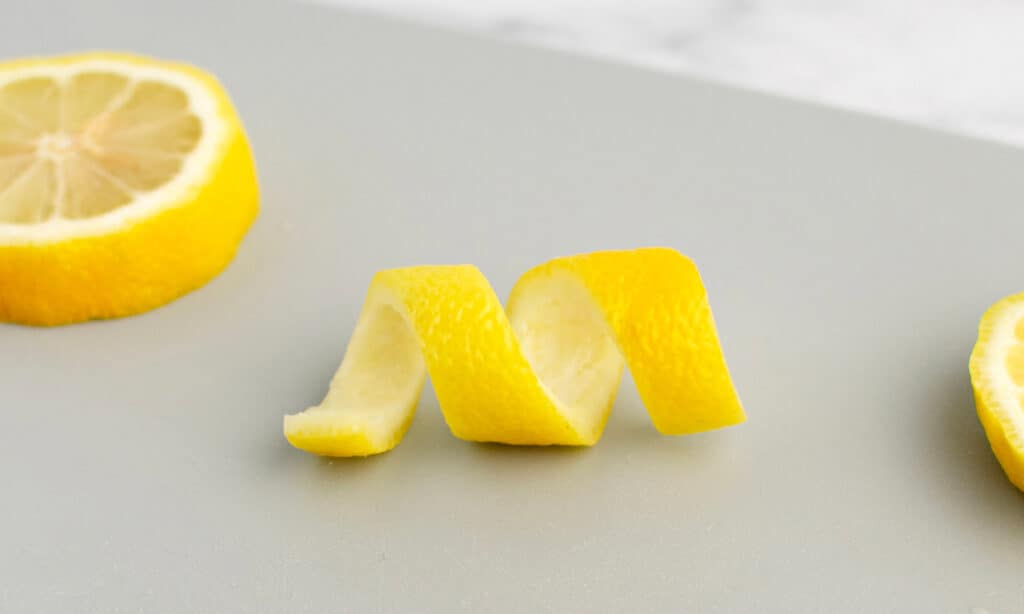 Ingredients
One delicious ingredient is all you need.
Lemons – select fresh lemons that are bright yellow in color and free of blemishes. Large lemons can be easier to work with and yield more twists.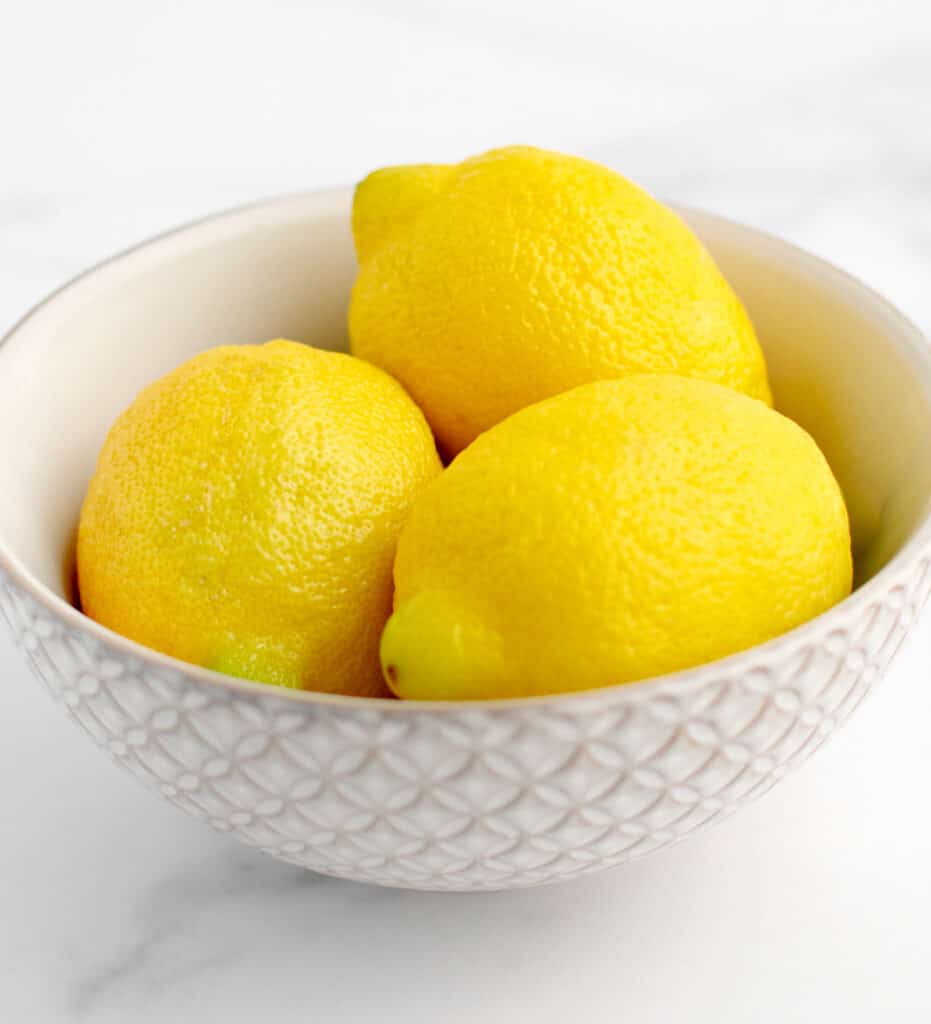 Supplies
Get ready to create these easy lemon spirals with just a few simple tools.
Cutting board – any cutting board will work, but we love to use our non-slip cutting boards that can be thrown in the dishwasher after, making cleanup a breeze.
Knives – a knife to slice the lemons and a paring knife to cut the fruit from the rind.
Alternatively – you can use a channel knife (bar tool with a V-shaped blade) to create a long, thin spiral. However, this guide will show you how to make a twist without buying an extra tool for your kitchen.
How to Make a Lemon Twist
Follow these simple steps for an easy way to create lemon twists without buying a special tool like a channel knife.
Step 1 | Wash produce
Wash the lemon thoroughly under cold water to remove any dirt or residue.
Step 2 | Slice lemon
Take a sharp knife and cut off both ends of the lemon. Then cut the lemon into slices width-wise. (Make the slices as thin or thick as you'd like—the thicker the slice, the thicker the lemon twist.)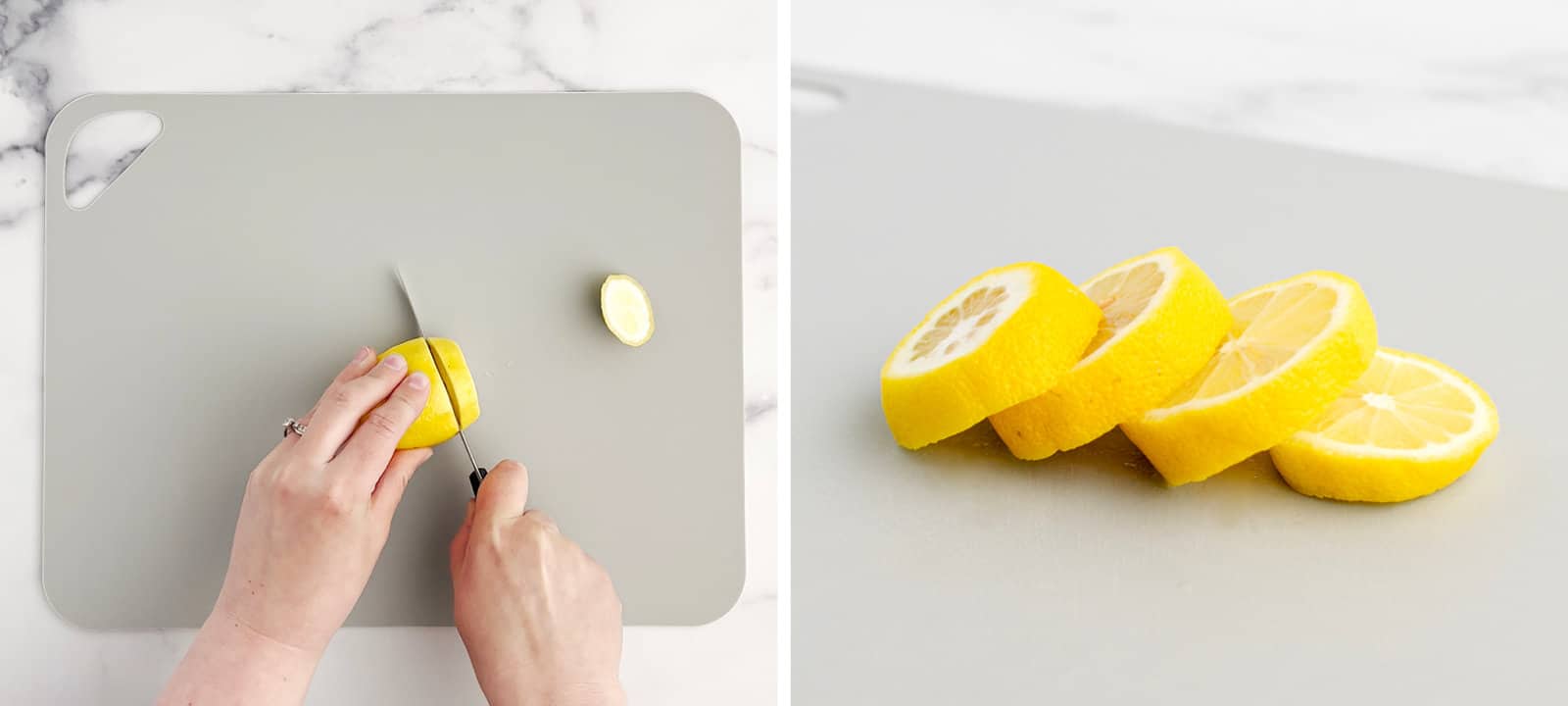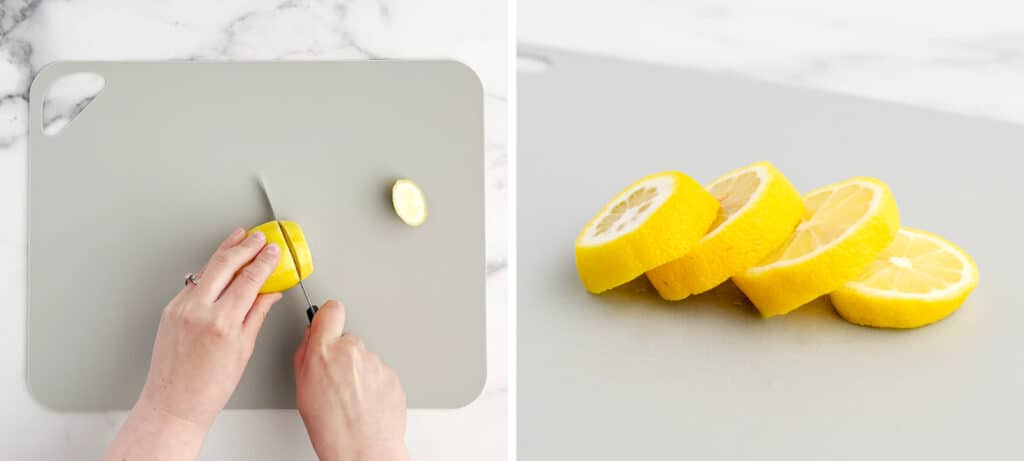 Step 3 | Cut one side of the lemon slice
Make a cut on one side of the lemon slice—through the rind.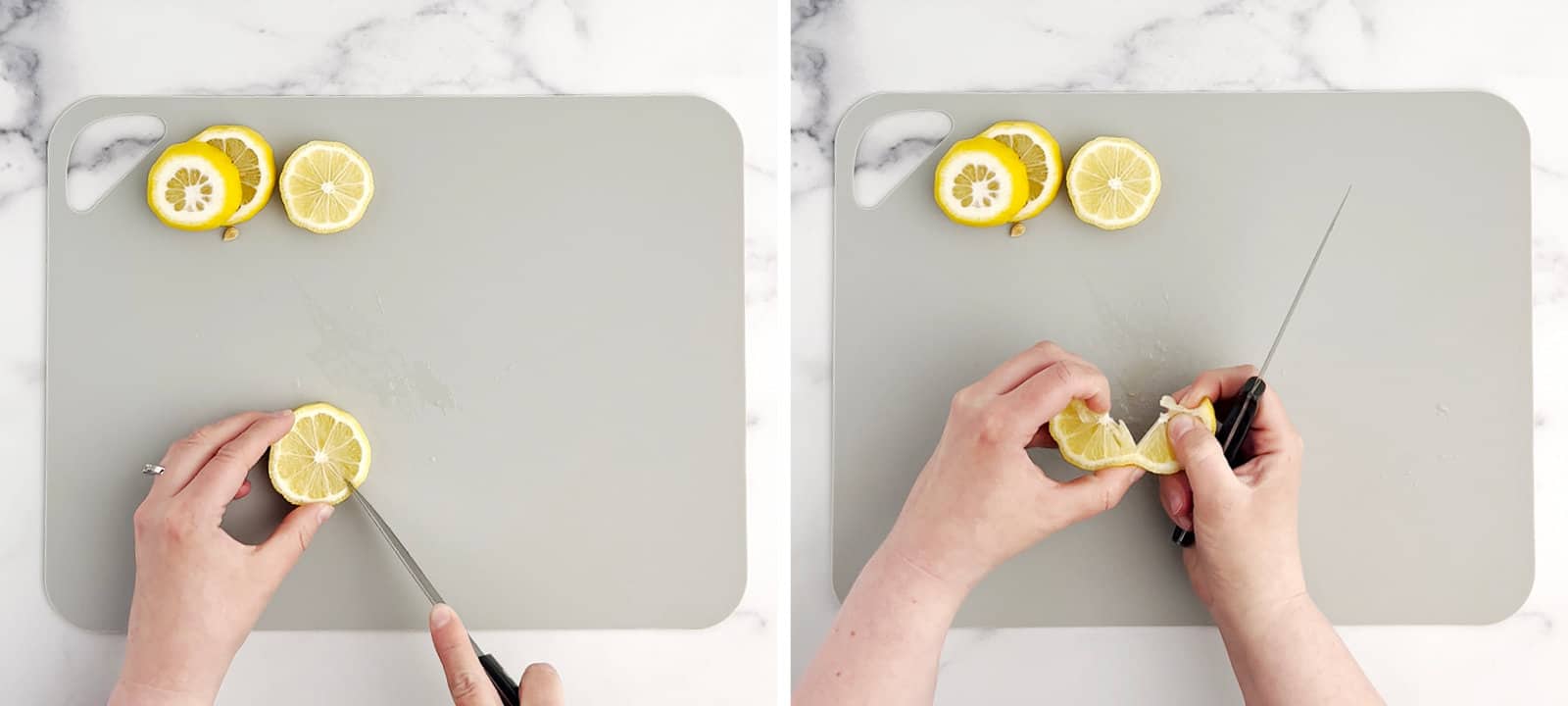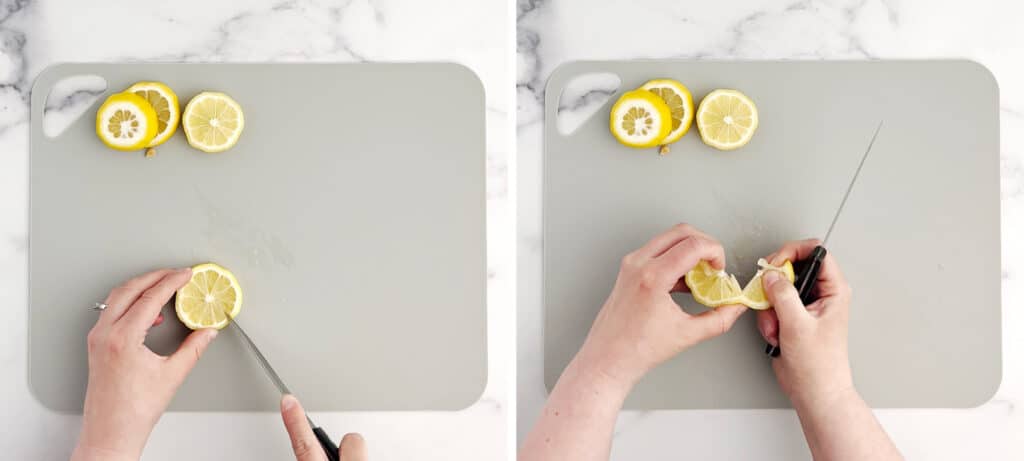 Step 4 | Separate the rind from the fruit
Remove the flesh from the lemon rind using one of two methods: 1) use your hands to peel it off, or 2) use a sharp paring knife to cut around the fruit.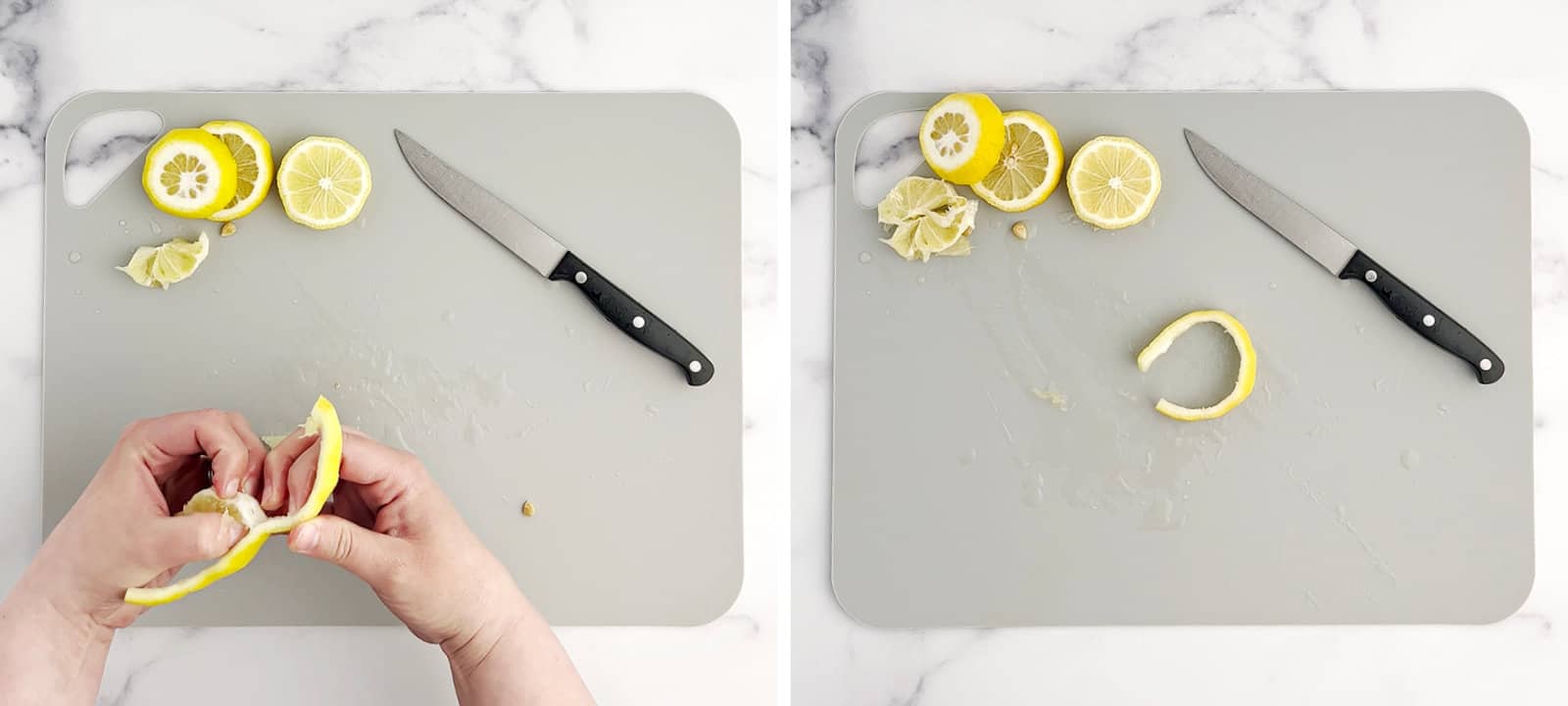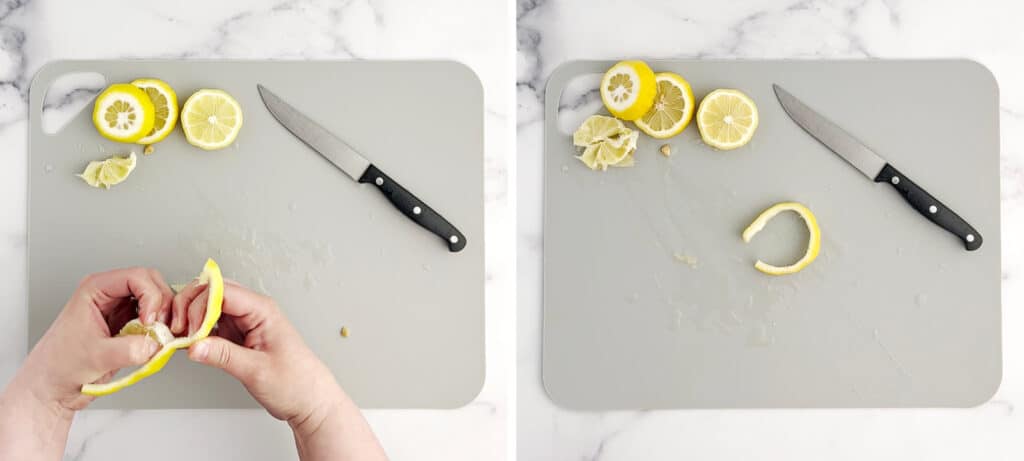 Step 5 | Twist the lemon
Now, it's time to twist the lemon peel. You can do this by either twisting it between your fingers or wrapping it around the end of a spoon, creating a corkscrew shape.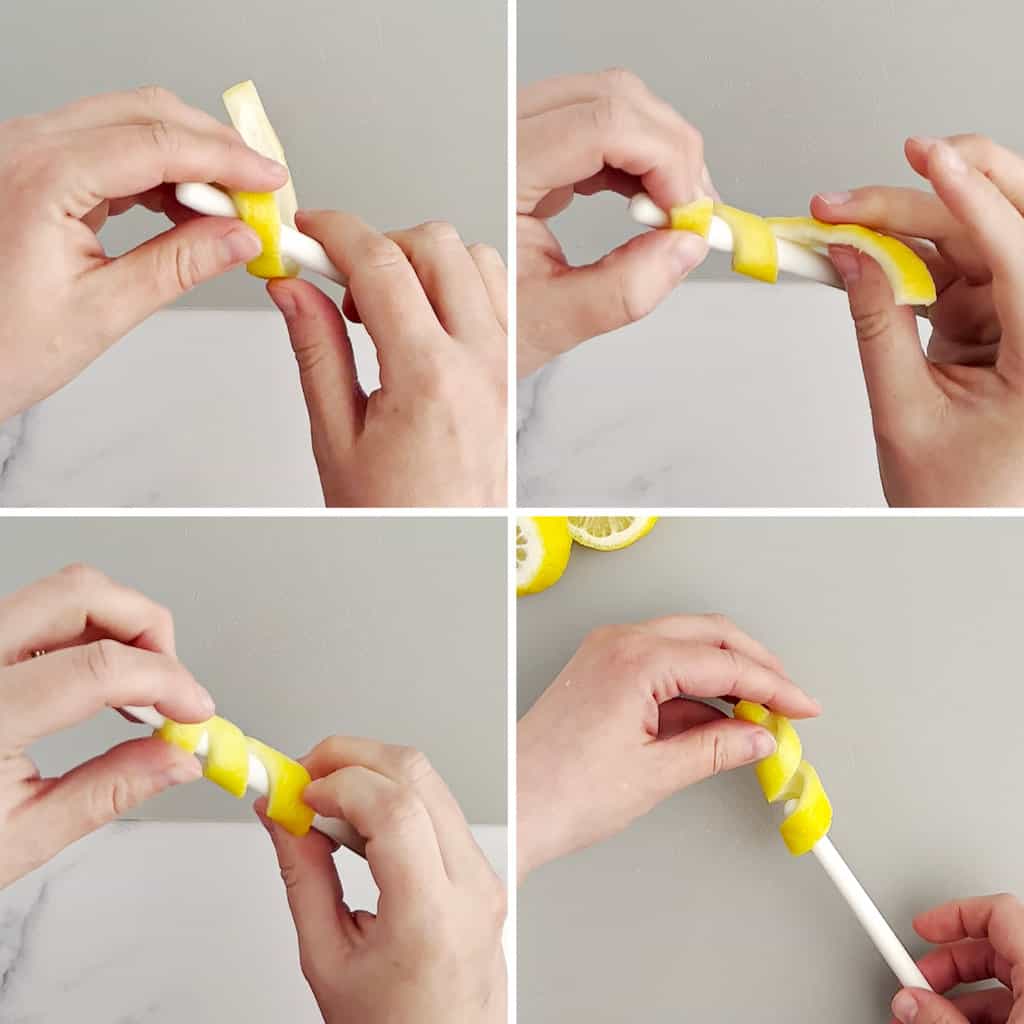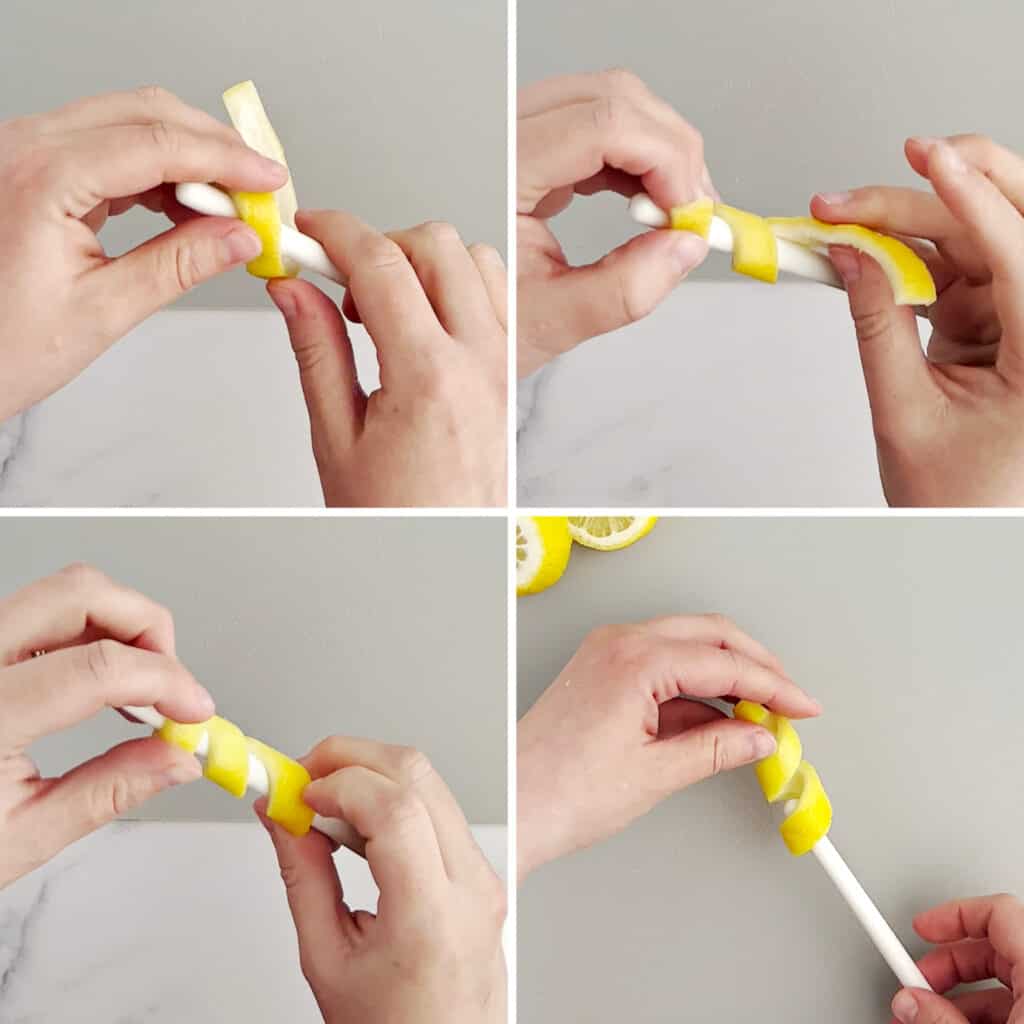 Step 6 | Use as a garnish
Now your lemon twist is ready to use in your favorite cocktail, placing it on the rim of the glass or floating in the drink.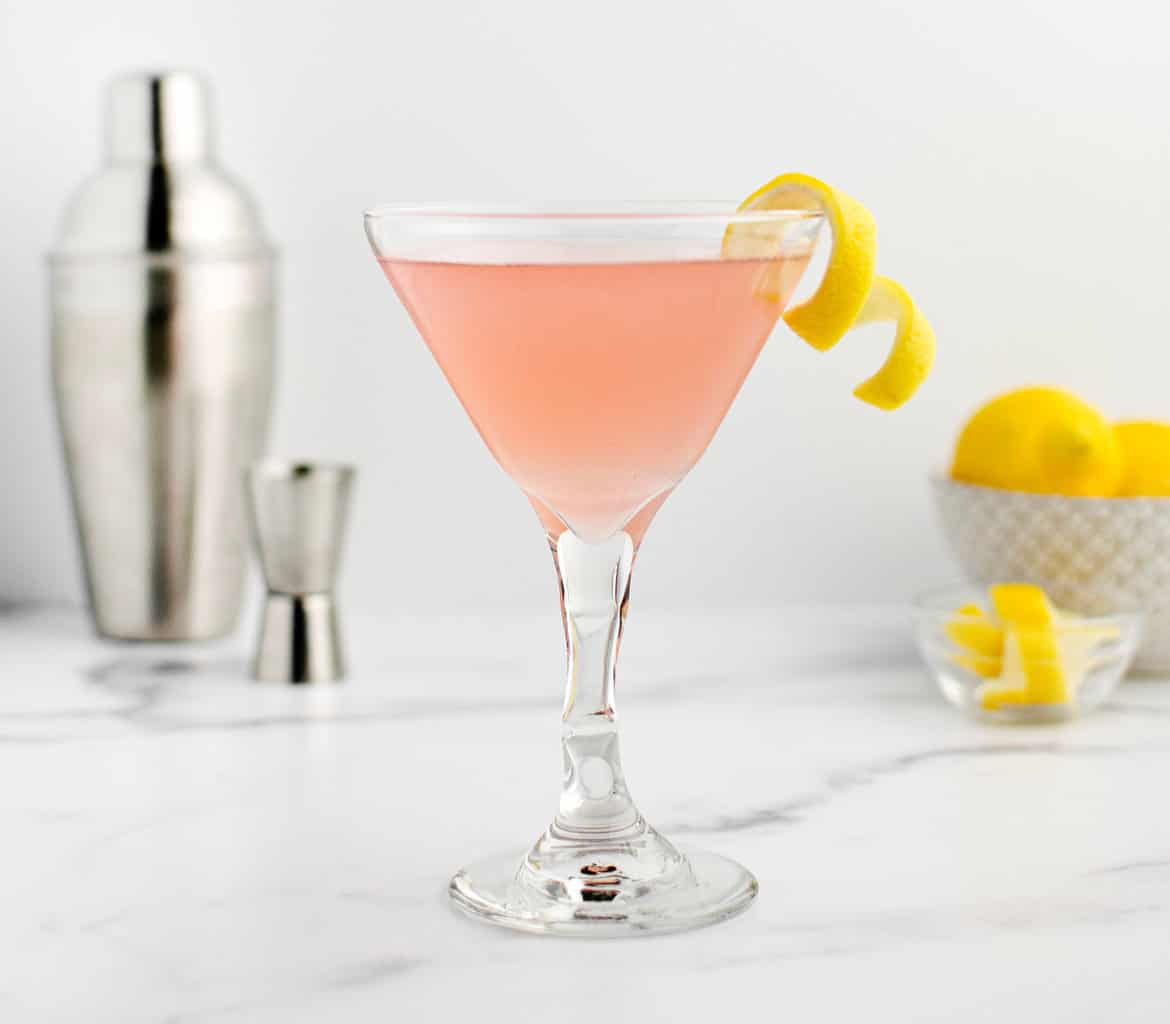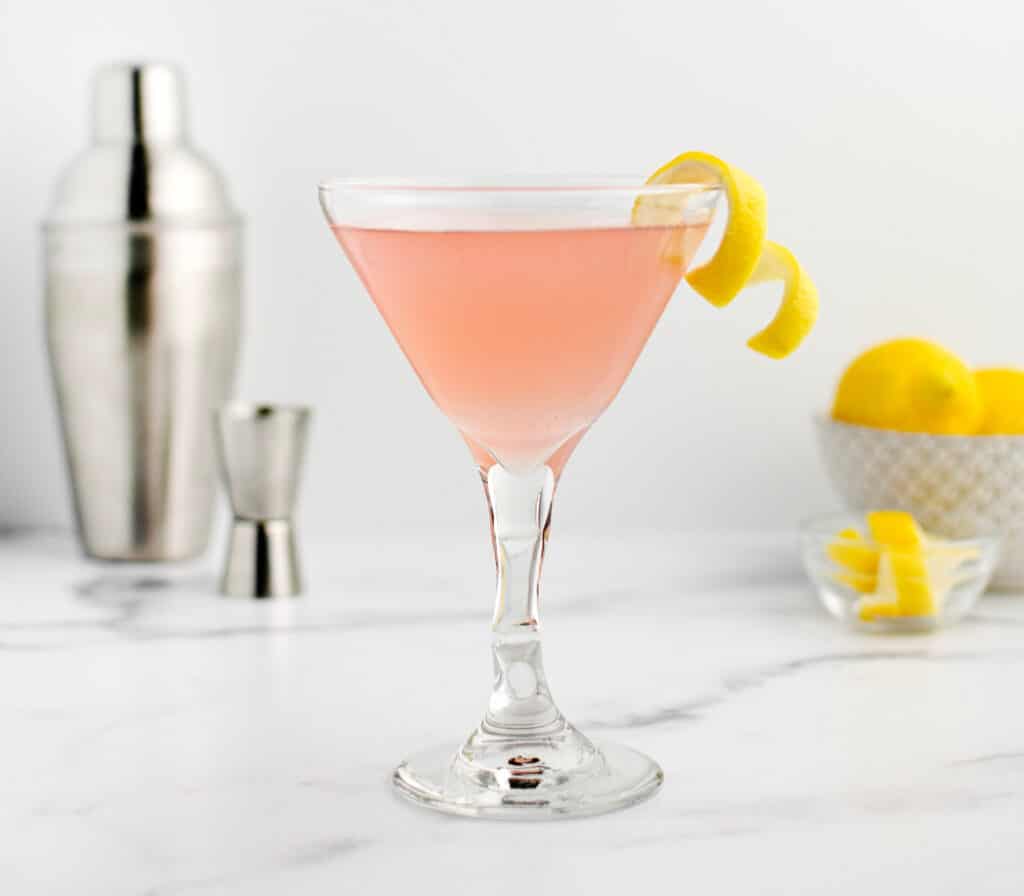 Lemon Twist Variations
Here are a few different twists you can make to add variety to your drinks.
Lime or Orange Twists
Orange and lime twists are made the same way as lemon twists. Lime twists work well in margaritas and other tequila-based cocktails, while orange twists are great in whiskey drinks or classic mimosas.
Sugar or Candied Lemon Twists
For something a bit sweeter, dip the lemon twist in lemon juice and roll in sugar. This will create a sugared twist, also called a candied lemon twist.
No matter which twists you choose, make sure to use fresh, high-quality citrus fruit for the best look. And don't be afraid to experiment with different combinations to find your perfect twist.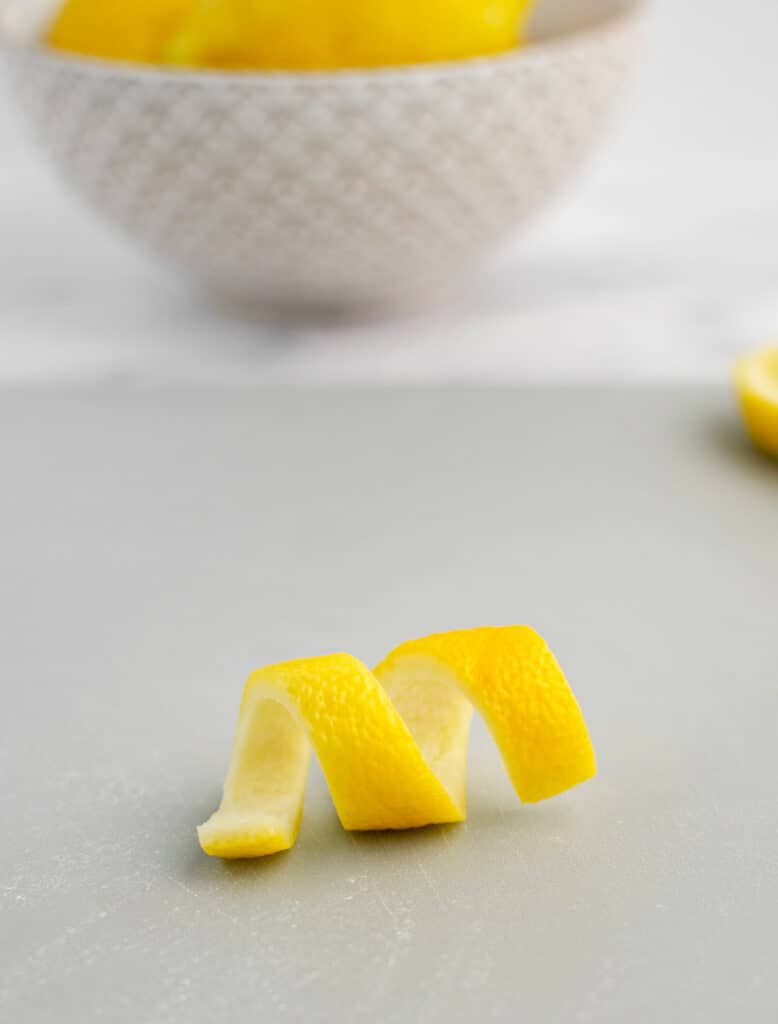 Cocktails to Garnish
When choosing cocktails to garnish with lemon twists, consider the drink's flavor profile. Cocktails that are citrusy or have a sour taste are great options. Here are our favorites:
Lemon drop martinis
Cosmopolitans
Vodka lemonades
Lemon margaritas
Lemonade Moscow mules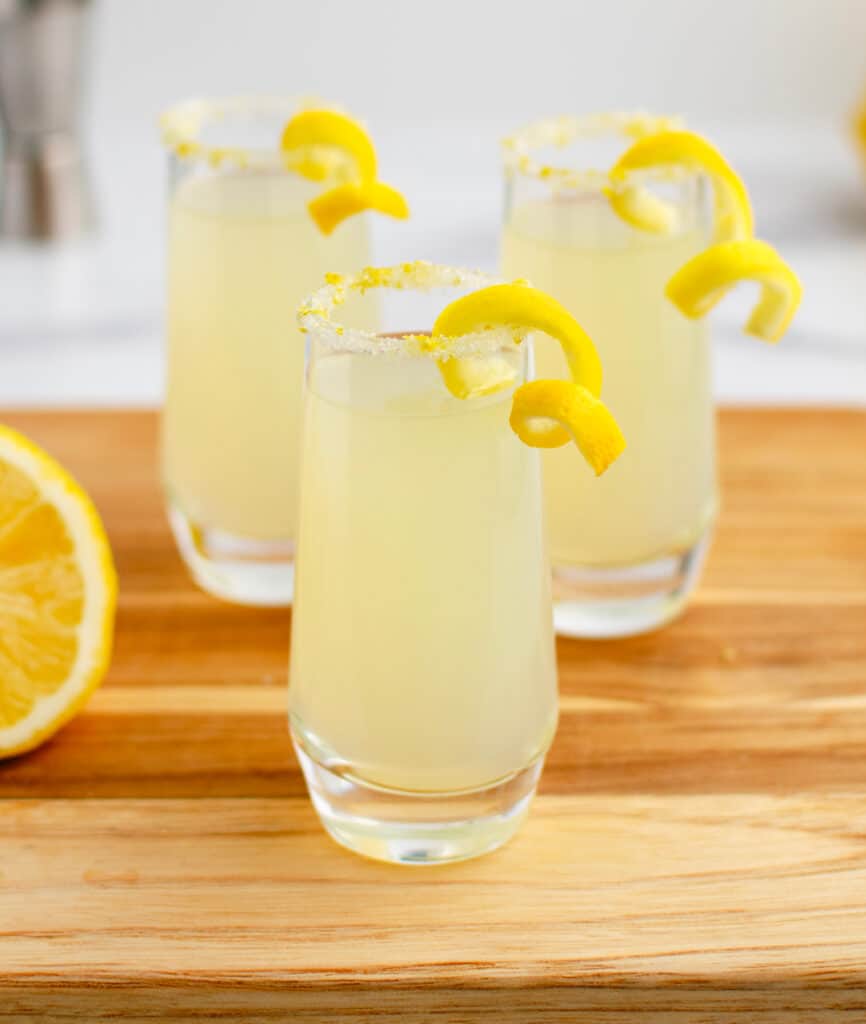 Storing Lemon Twists
If you're not using your lemon twists immediately, you can store them in the refrigerator. Place them in an airtight container or resealable plastic bag and store them in the refrigerator for up to 3 days. This will help keep them fresh and prevent them from drying out.
How Many Twists Per Lemon—Yield
When making lemon twists, the yield will depend on the size of your lemons and how many twists you cut from each one. On average, you can expect to get about 4-6 twists per lemon. Keep this in mind when planning how many lemons you'll need.
Print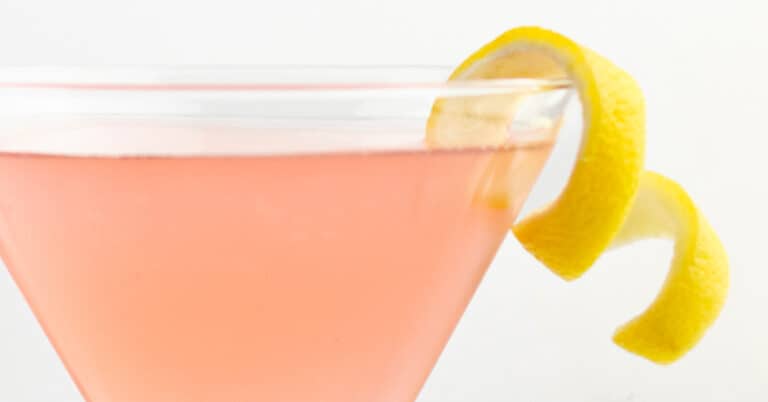 How to Make a Lemon Twist
A simple step-by-step guide for making beautiful lemon twists without a special tool. Perfect for garnishing drinks and cocktails.
Lemons
Lemon juice – optional for sugared twists
Granulated sugar – optional for sugared twists
Instructions
Wash produce.
Cut ends from the lemon.
Slice lemon widthwise.
Make a cut in one side of lemon slice. (see here)
Remove fruit from rind using your hands or a paring knife to cut around the fruit.
Twist lemon with hands or around the end of a spoon.
Use to garnish cocktails and drinks.
Enjoy!
Equipment
Notes
This method works great with any citrus fruit.
Dip the twists in lemon juice and then sugar to make sugared or candied twists, if you prefer something a bit swetter!
Author:

Prep Time:

5 minutes

Category:

Garnish

Cuisine:

American
Nutrition
Serving Size:

1 twist

Calories:

4

Sugar:

0.3 g

Sodium:

0.5 mg

Fat:

0 g

Saturated Fat:

0 g

Carbohydrates:

1.3 g

Protein:

0.1 g

Cholesterol:

0 mg
Keywords: cocktails, garnish
Recipe Card powered by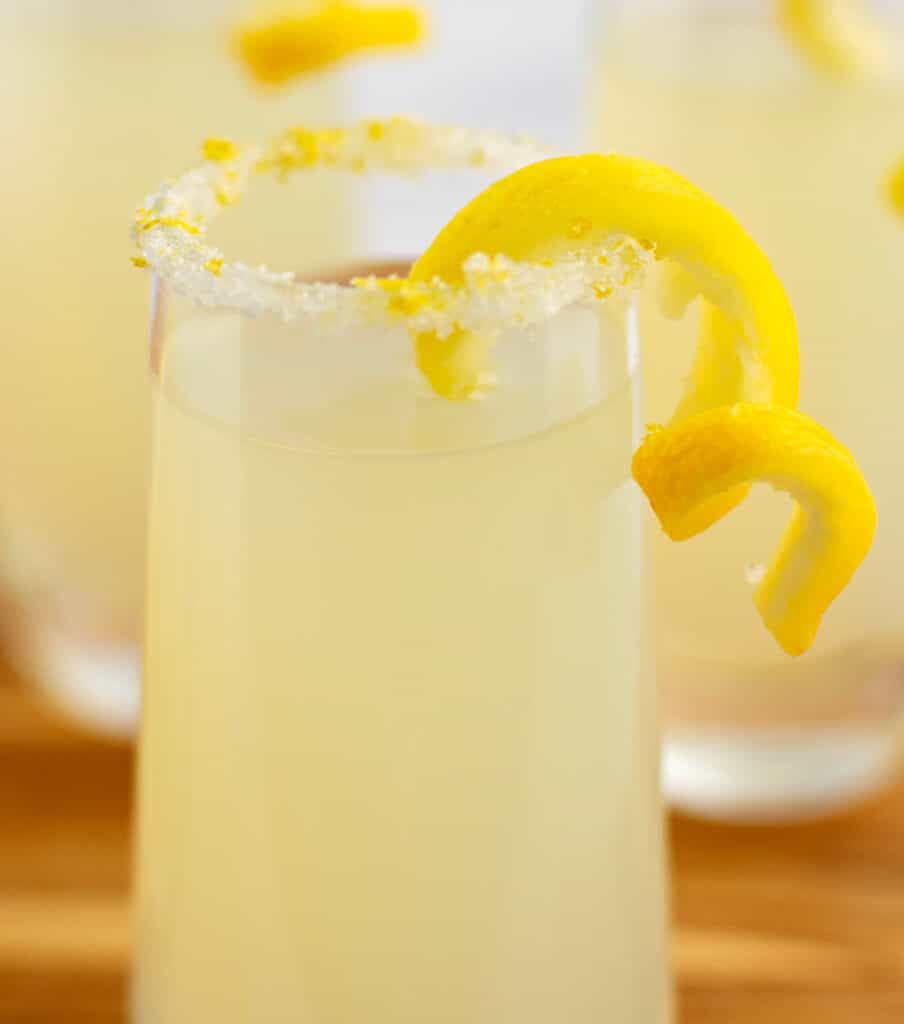 Conclusion
Congratulations! You have successfully learned how to make a lemon twist. This garnish is a perfect way to elevate your cocktails and impress your guests. By following these simple steps, you can create beautiful twists that add flair to any drink.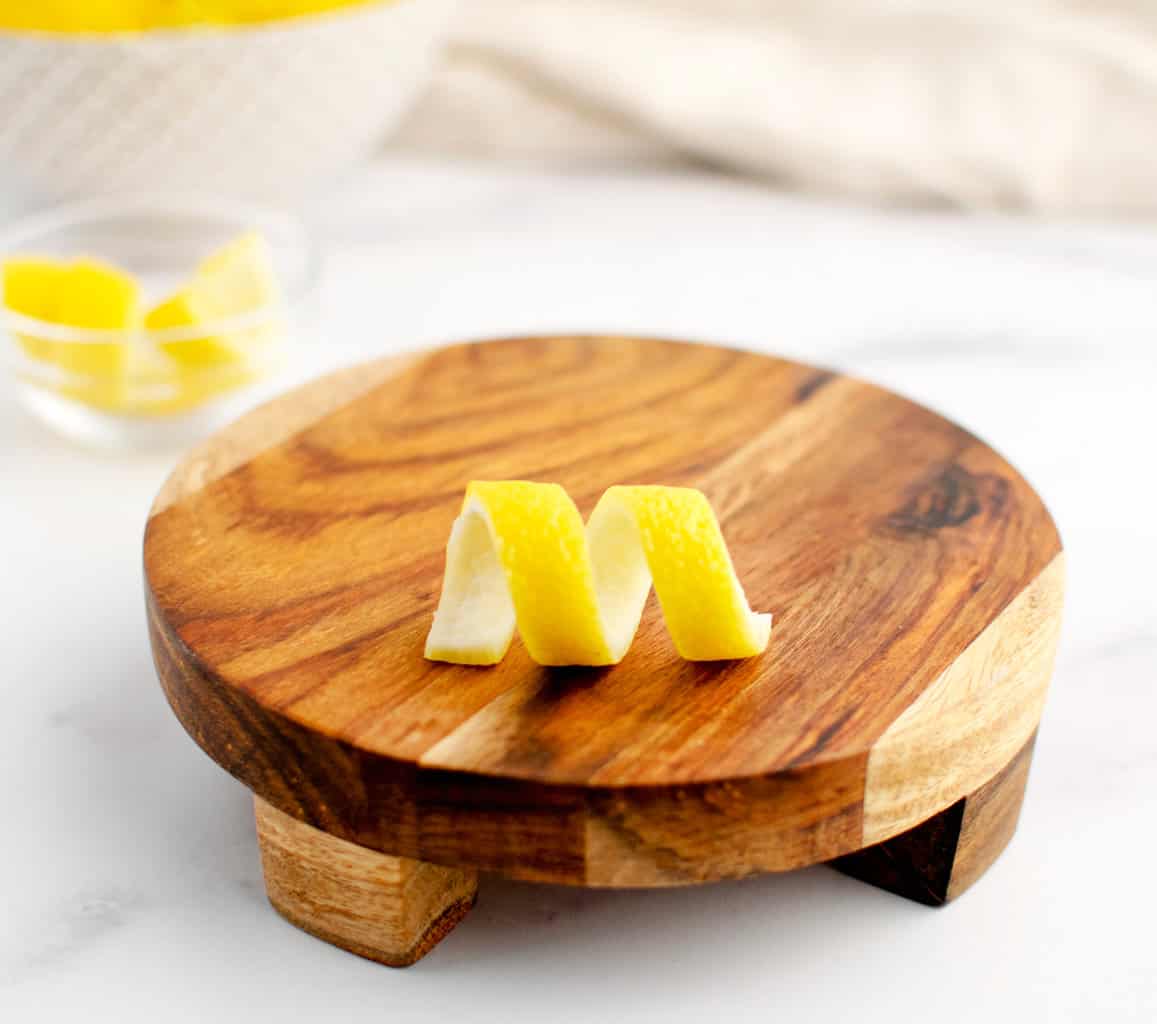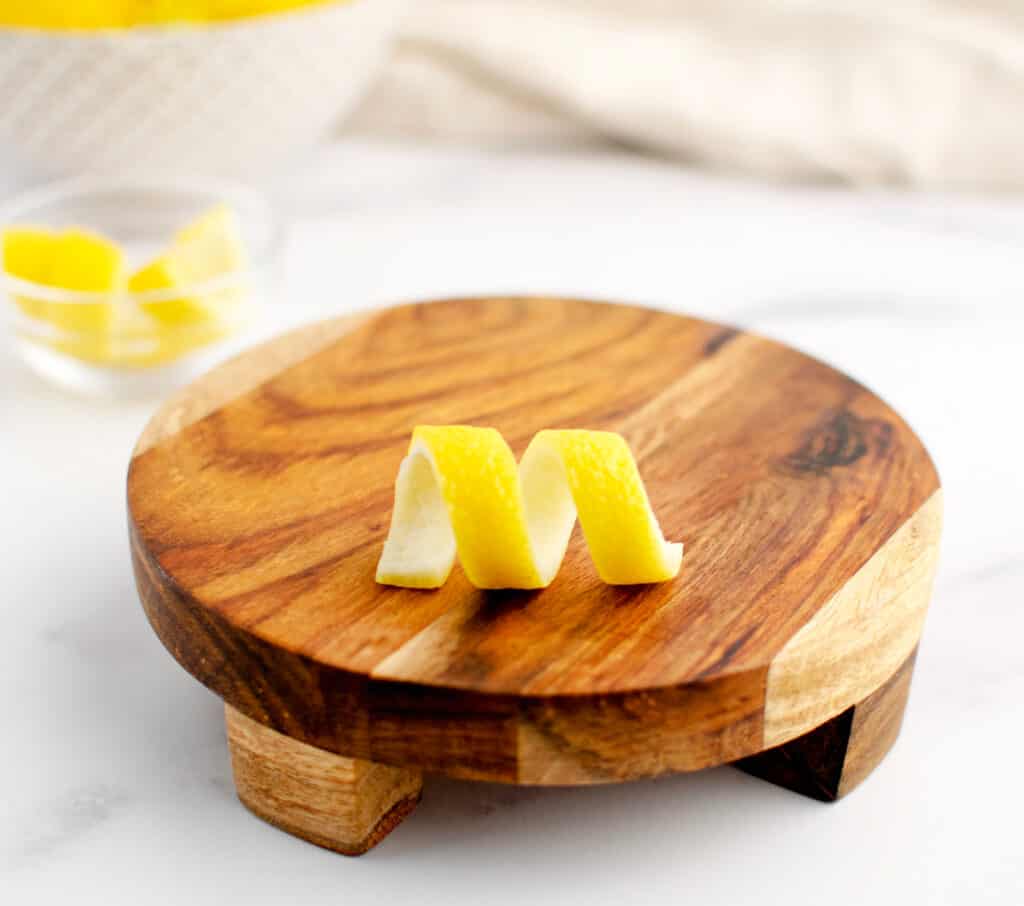 Experiment with different types of cocktails and twists to find your favorite combination. Whether you prefer a basic twist or a more elaborate spiral, a lemon twist is an easy and impressive way to take your drinks to the next level.
Now that you know how to make a lemon twist, it's time to get creative and have fun. Enjoy experimenting with different cocktails and impress your friends with your new skills. Cheers!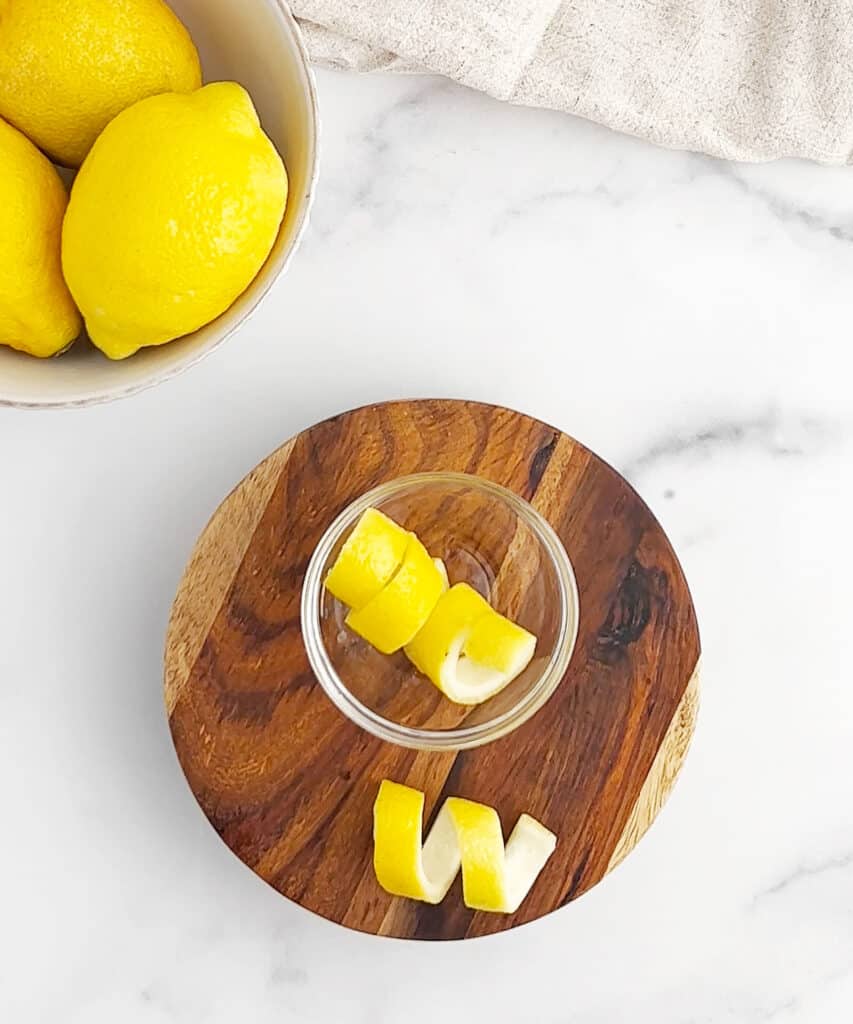 More Lemony Tips & Recipes
Pin for later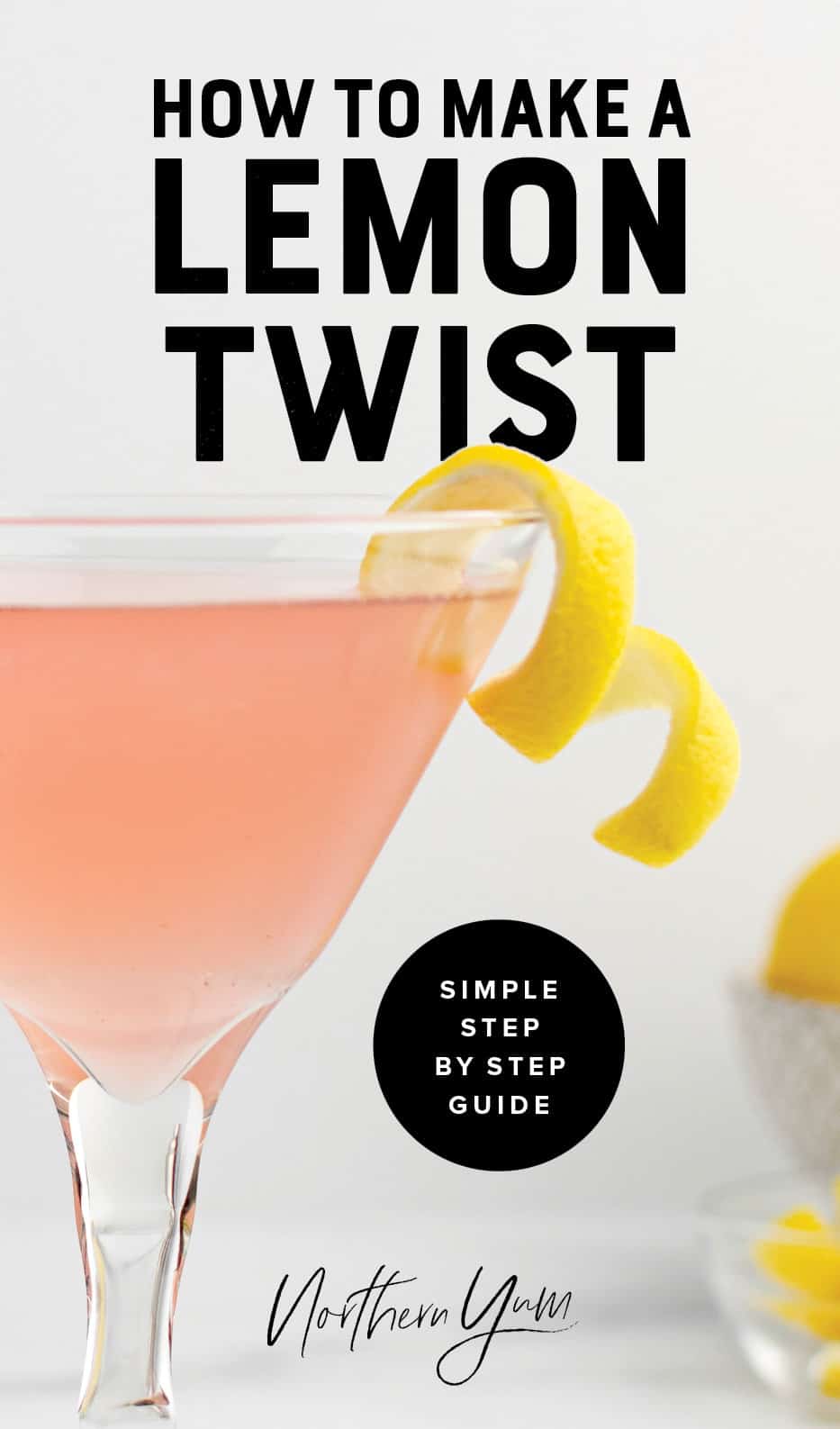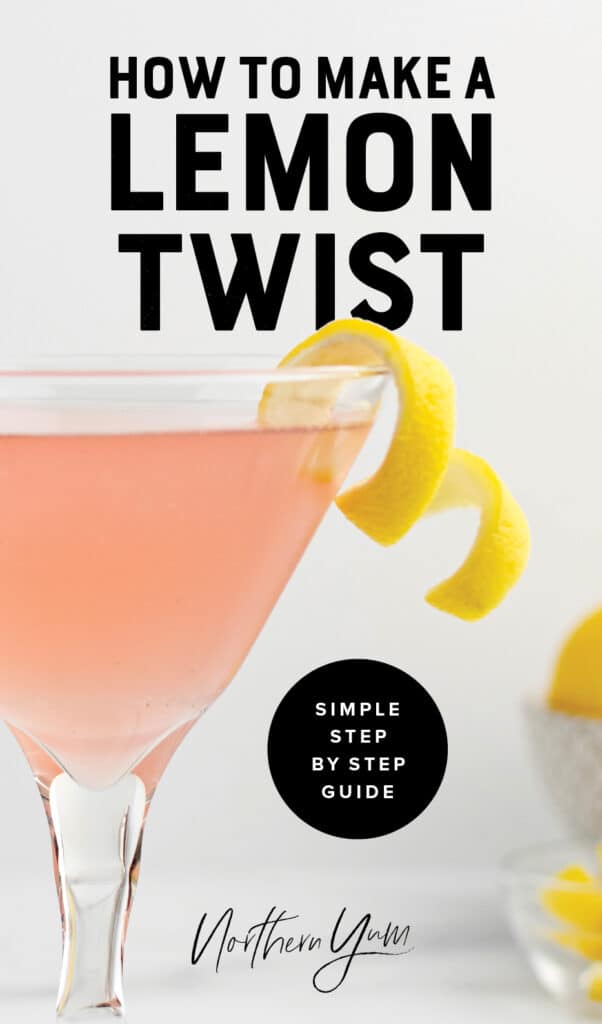 How to Make Lemon Twists for Drinks