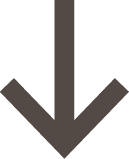 Jump to Recipe
A simple homemade pico de gallo made with 5 ingredients. It's so delicious, that you'll want to make it for every taco night.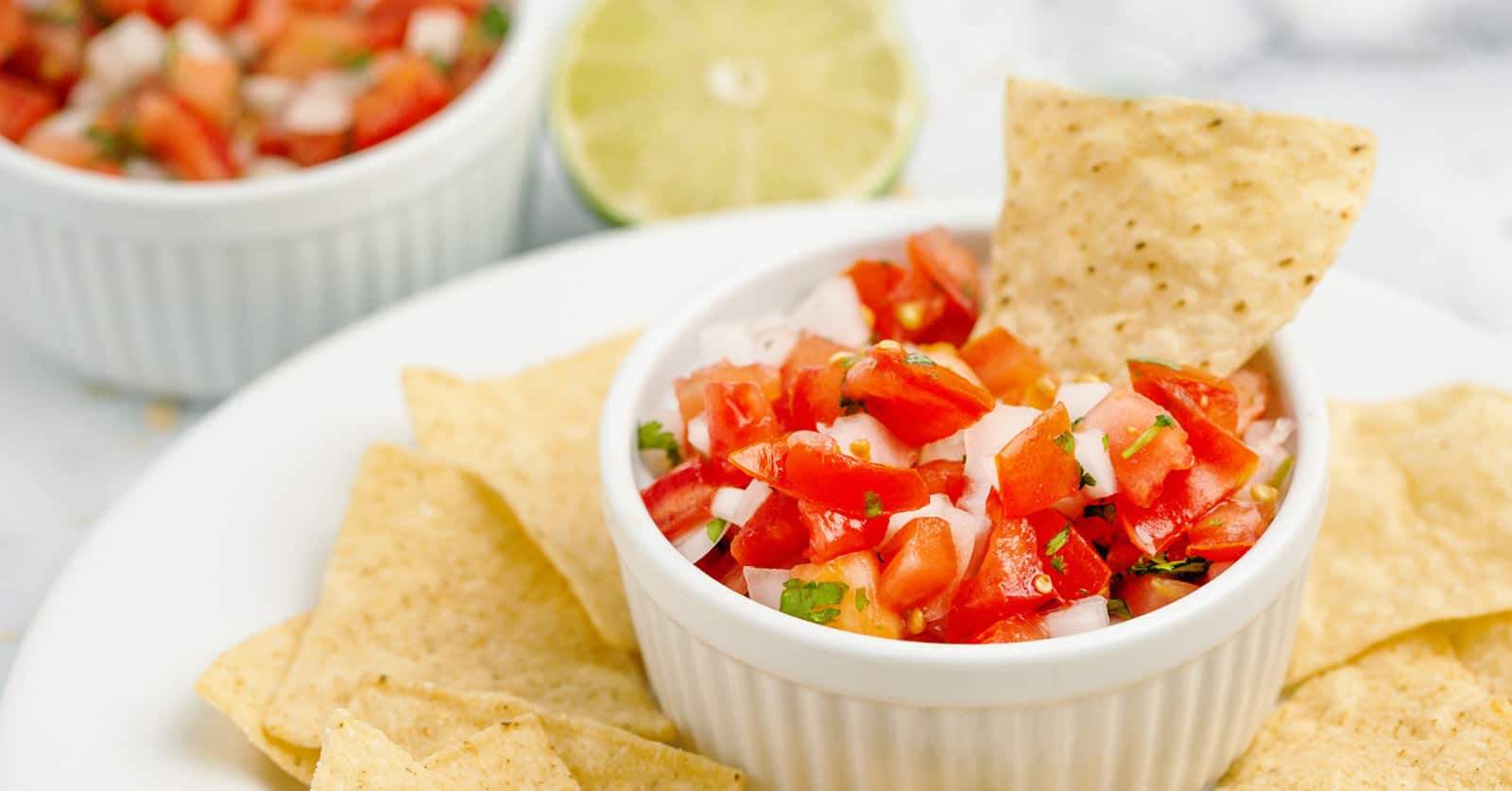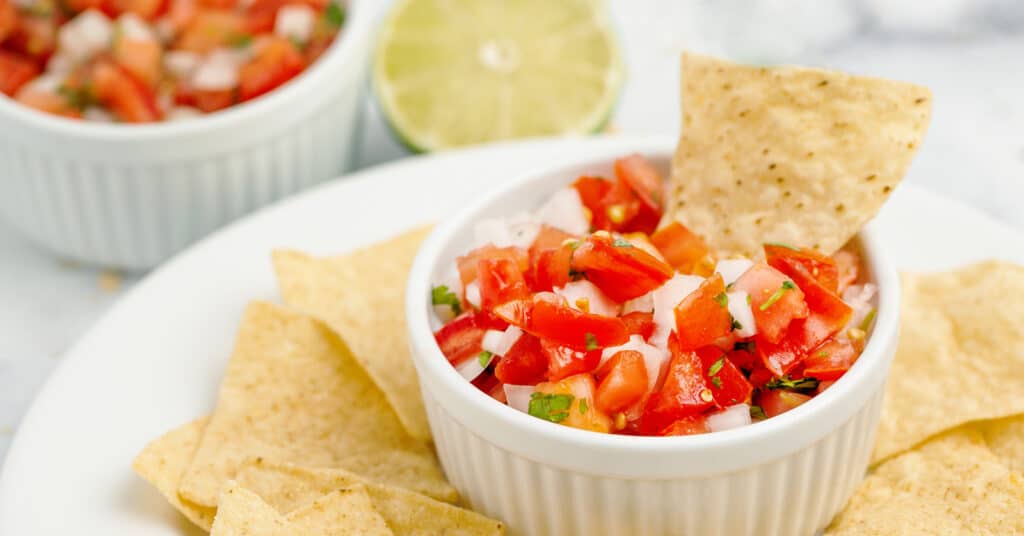 Looking for an easy way to jazz up your tacos, quesadillas, or even scrambled eggs? Homemade pico de gallo is an excellent choice. This simple salsa can be whipped up in minutes and is a great way to use fresh tomatoes and herbs. Plus, it's perfect for picnics and potlucks – just pack it in a container with some chips, and you're good to go!
What does Pico de Gallo mean?
Most of us know that pico de gallo is a type of salsa, but what does it actually mean? Pico de gallo (Spanish) translates to 'rooster's bill' or 'rooster's beak' in English. Some say this is because this dip was eaten with the thumb and finger, making the shape of a rooster's beak. But others believe it's because the chopped ingredients resemble bird feed. Both are just theories from our understanding.
This tomato salsa can also be called salsa fresca (fresh sauce), salsa cruda (raw salsa), and salsa bandera (flag salsa).
What is the difference between salsa and pico de gallo?
Salsa and pico de gallo are both tomato-based sauces that are made with tomatoes, onions, and peppers. However, there are some key differences between the two.
What is in Pico de Gallo?
In our opinion, the best thing about making pico de gallo is that it's made using all fresh ingredients–here is a simple list of ingredients. Don't forget the tortilla chips for taste-testing!
Ingredients
For Dipping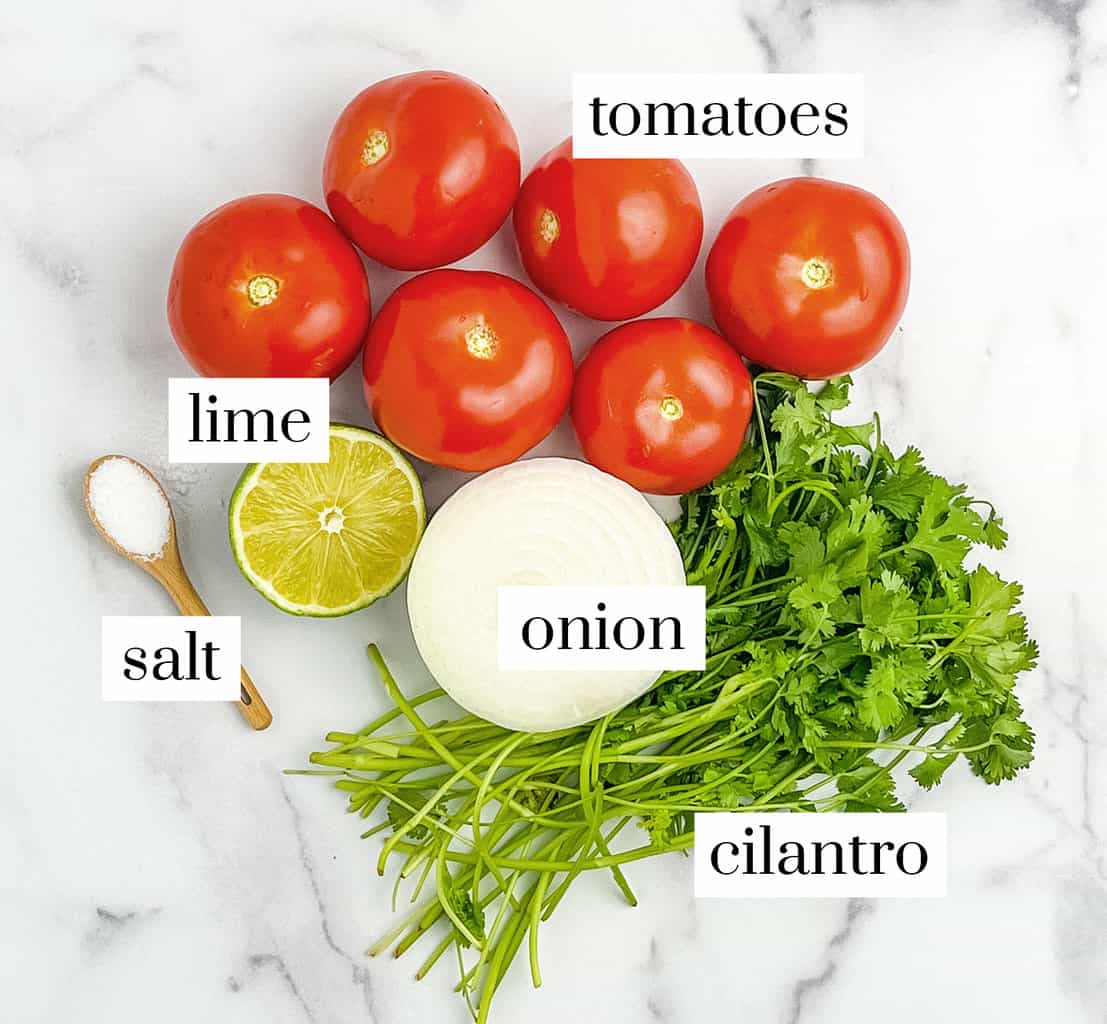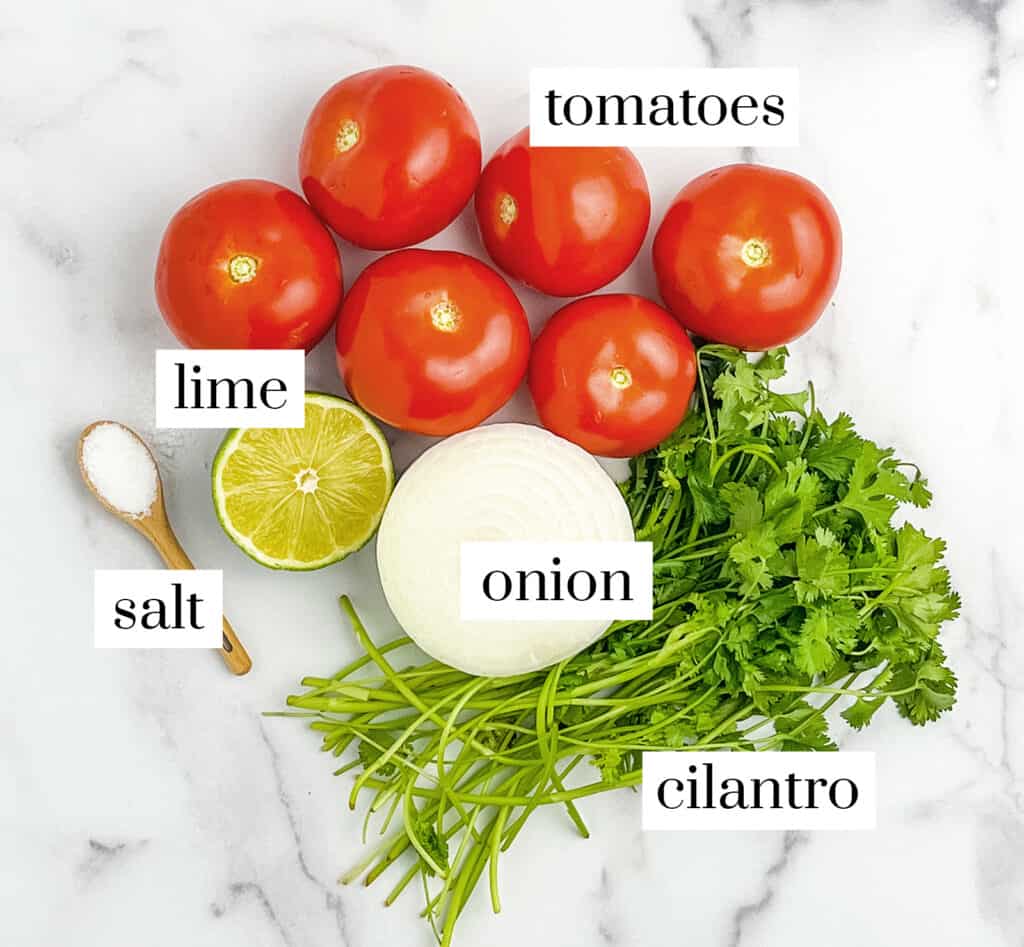 Tomatoes: we often make this recipe with vine tomatoes, although Roma tomatoes are an excellent option too. Romas are said to create less juice, making the pico less watery. Some people even use grape or cherry tomatoes.
Onions: white or yellow onions are the best options, in our opinion. You can use red onions, but they will have a stronger taste.
Additional ingredients: some other recipes add fresh garlic, fresh jalapenos, serrano pepper, chili powder, diced avocado, etc. Feel free to experiment. (We like to keep it simple with tomatoes, onions, cilantro, lime, and salt. It's so simple and delicious!)
Equipment / Supplies
Here are the kitchen tools we use to make this recipe.
✨ Pro tip: speed up this recipe even more – swap the cutting board and knives for a vegetable chopper. Use the dicer blades.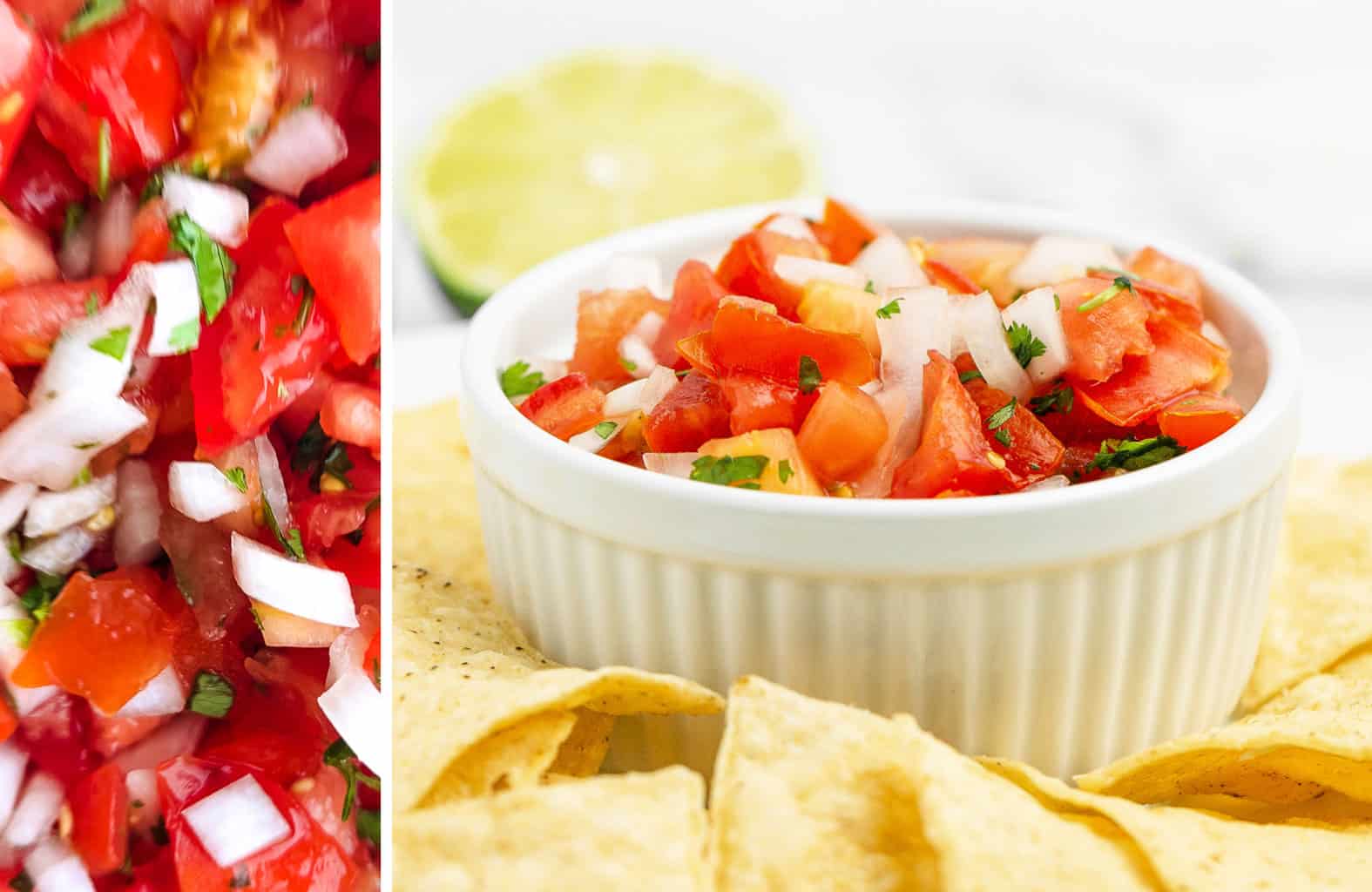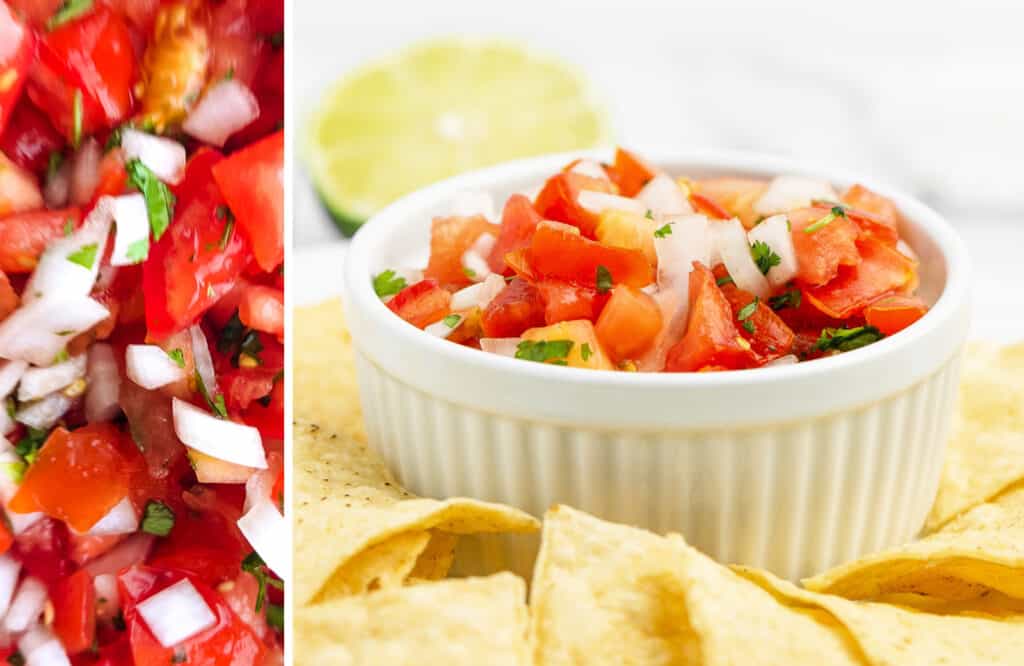 How to Make Homemade Pico de Gallo
Ready to get started? Read on for the recipe instructions and tips.
Start by washing all of your produce. Then dice tomatoes using a cutting board and knife. We find a serrated knife works well and prevents squishing the tomatoes. If your tomatoes are really juicy, you'll want to drain them. Some choose to spoon out the seeds before cutting to cut down on excess liquid.


Next, peel and dice the onion into pieces similar in size to the tomatoes.


Cut the long stems from the bunch of fresh cilantro. Then finely chop the remaining cilantro leaves. A chef's knife works well for this.


Half a fresh lime and squeeze the lime juice over the diced tomatoes, onion, and cilantro. Then sprinkle with salt.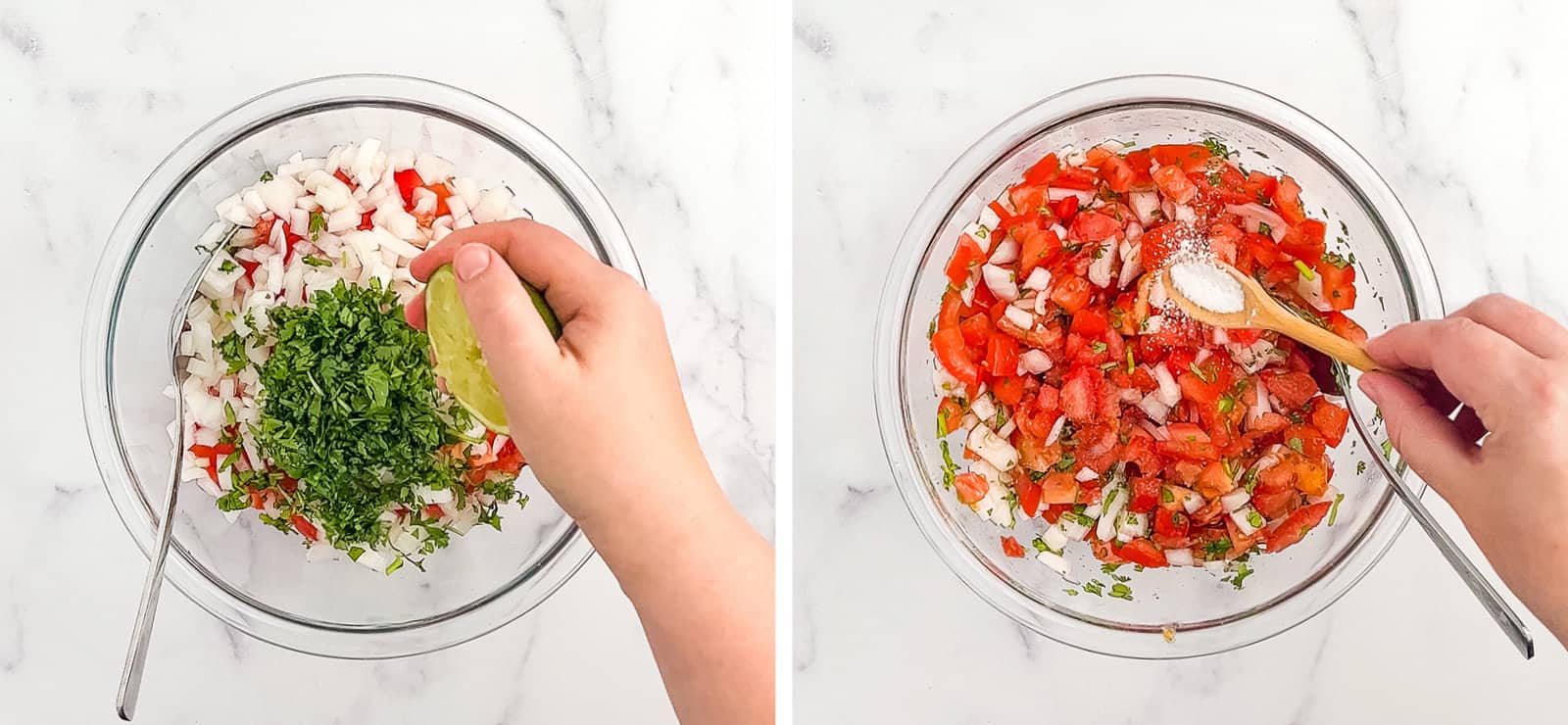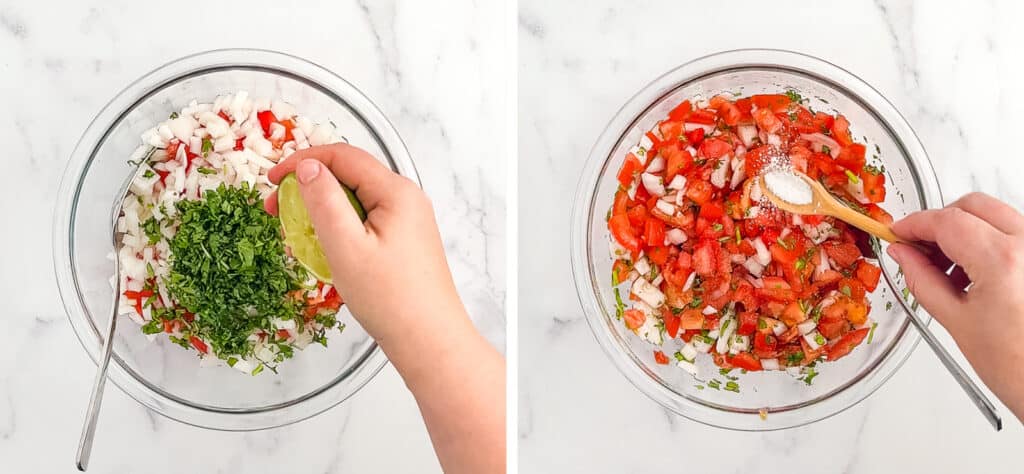 Finally, stir until all the ingredients are mixed well. And there you have it – beautiful, fresh pico de gallo.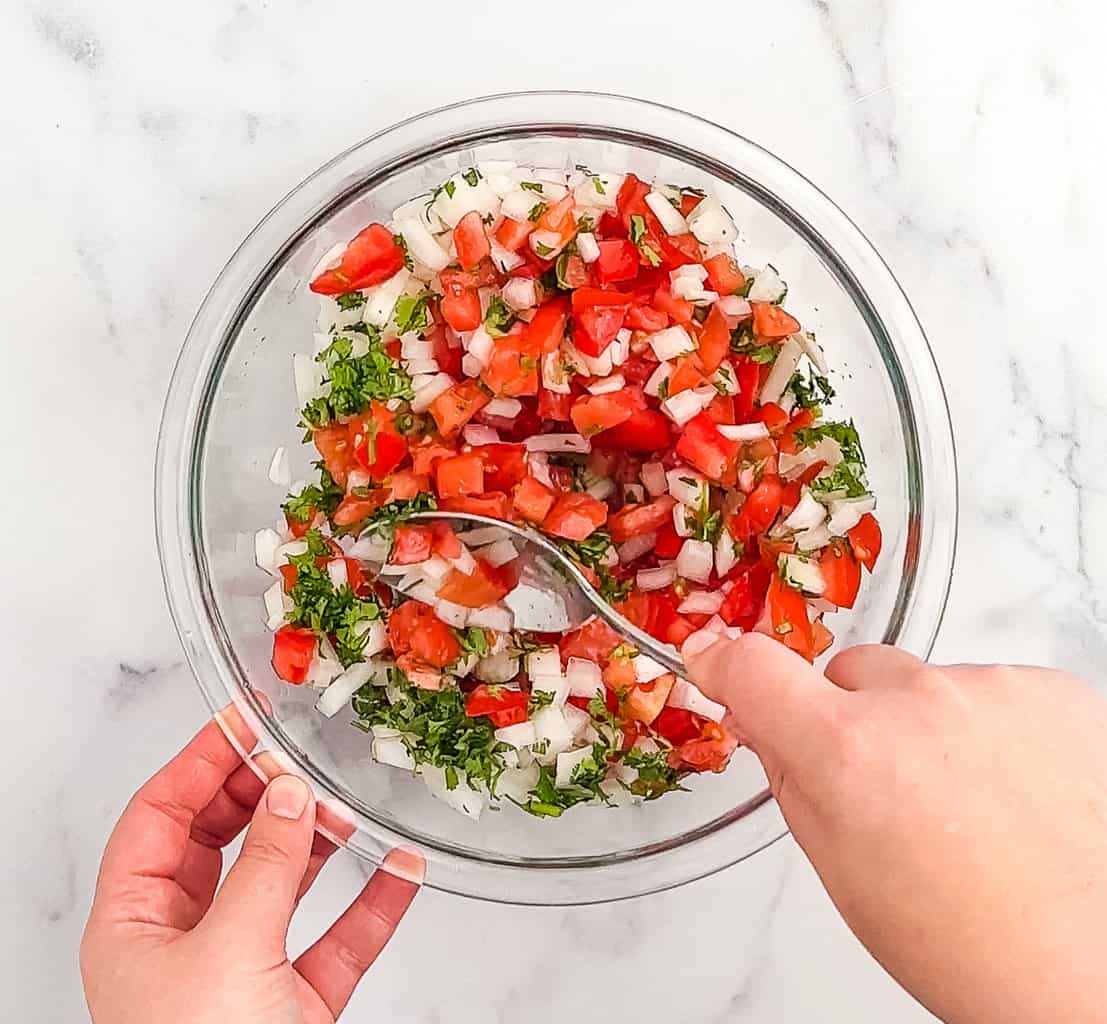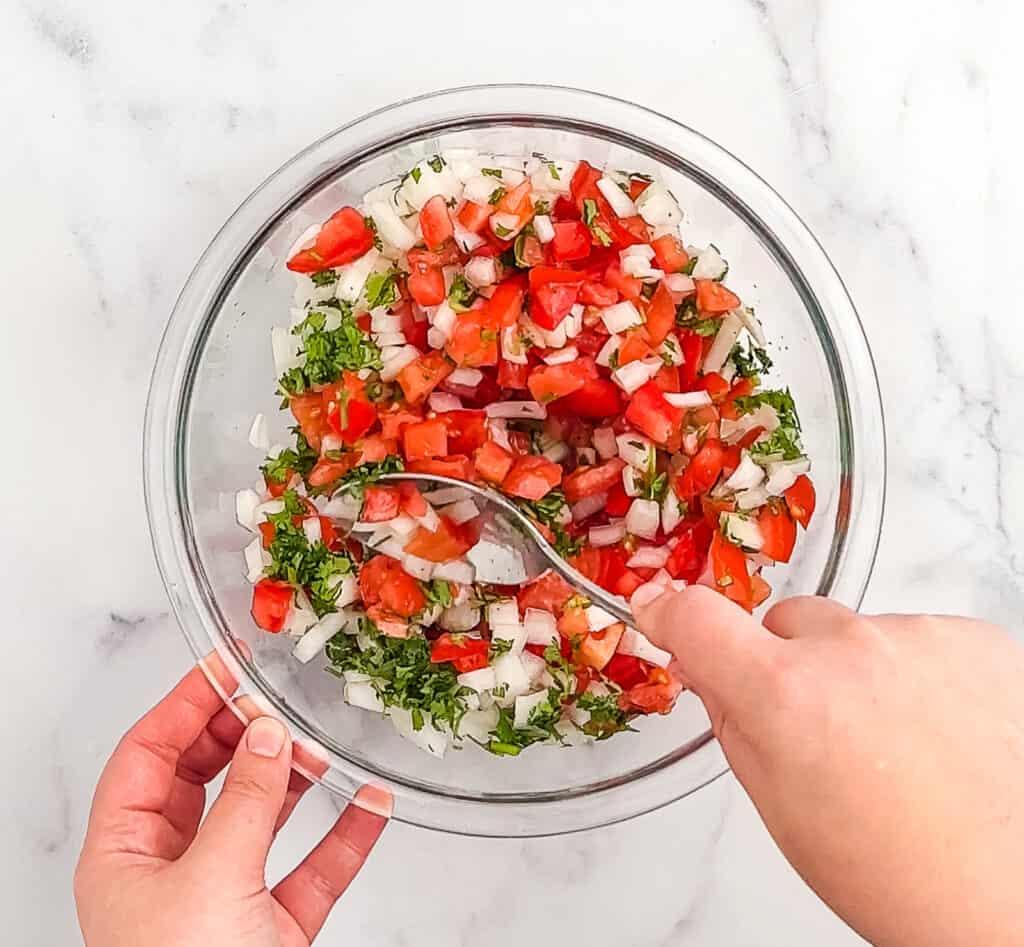 We like to chill pico for several hours before serving, but you can enjoy it right away if desired.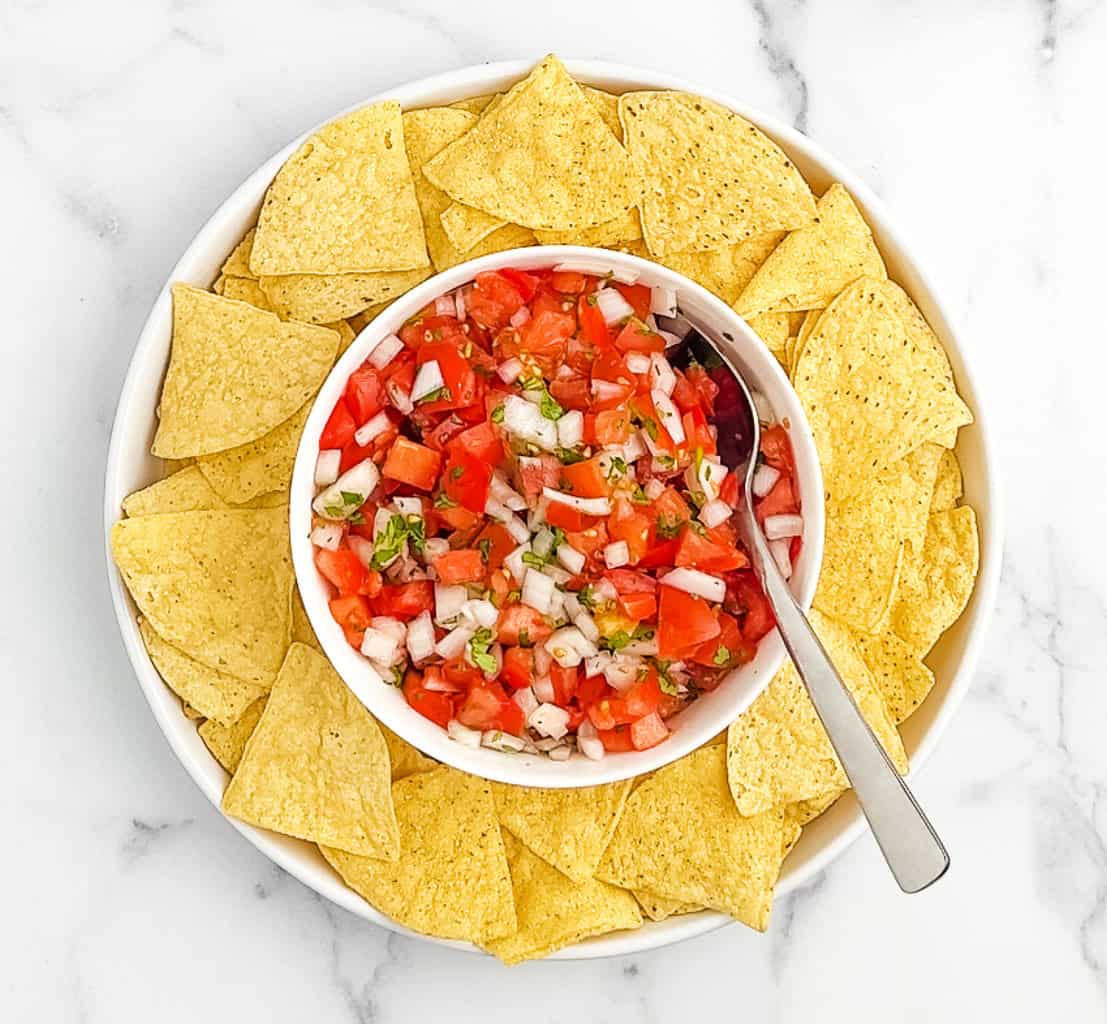 Be sure to store leftovers in the fridge in an air-tight container for the best results.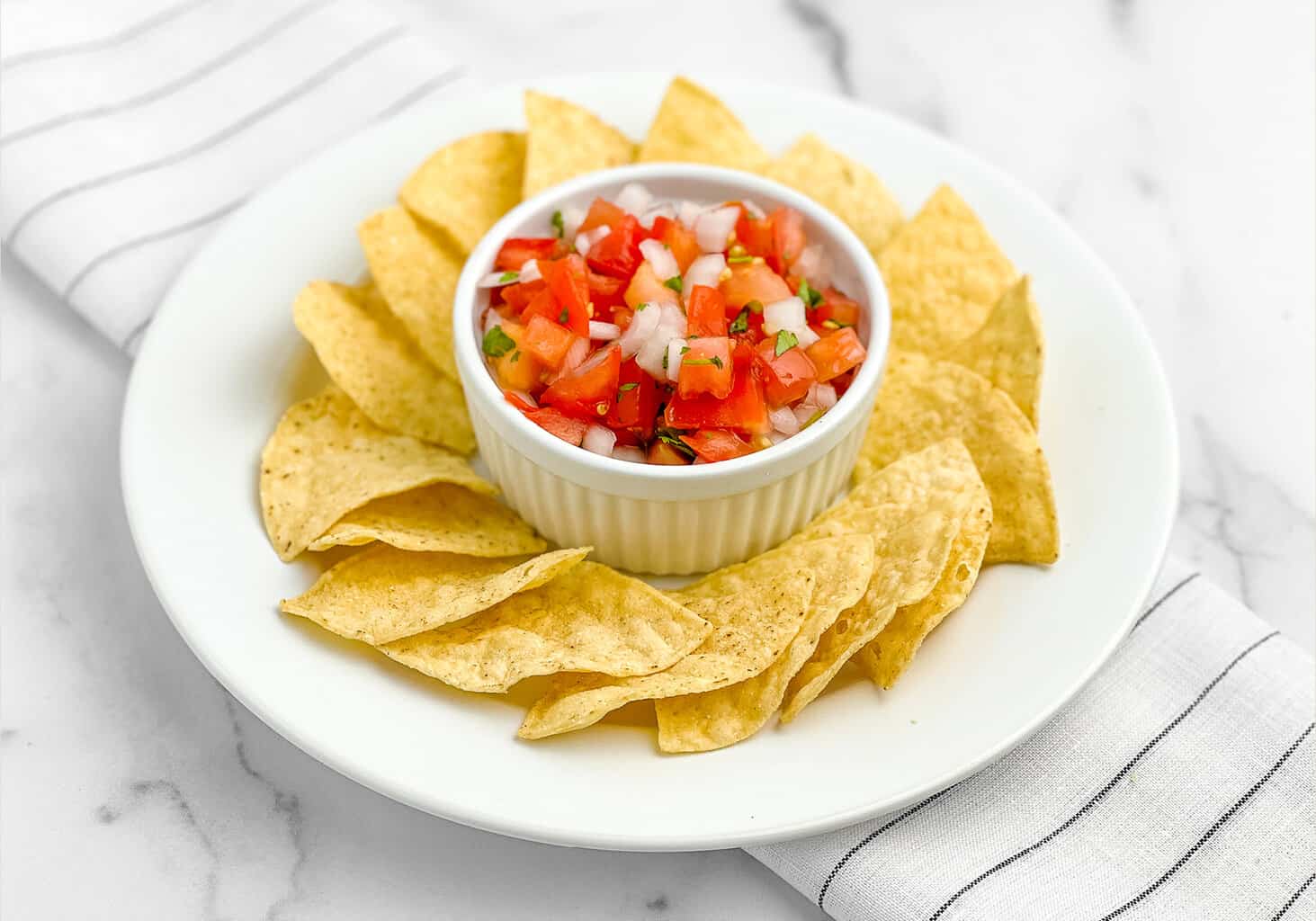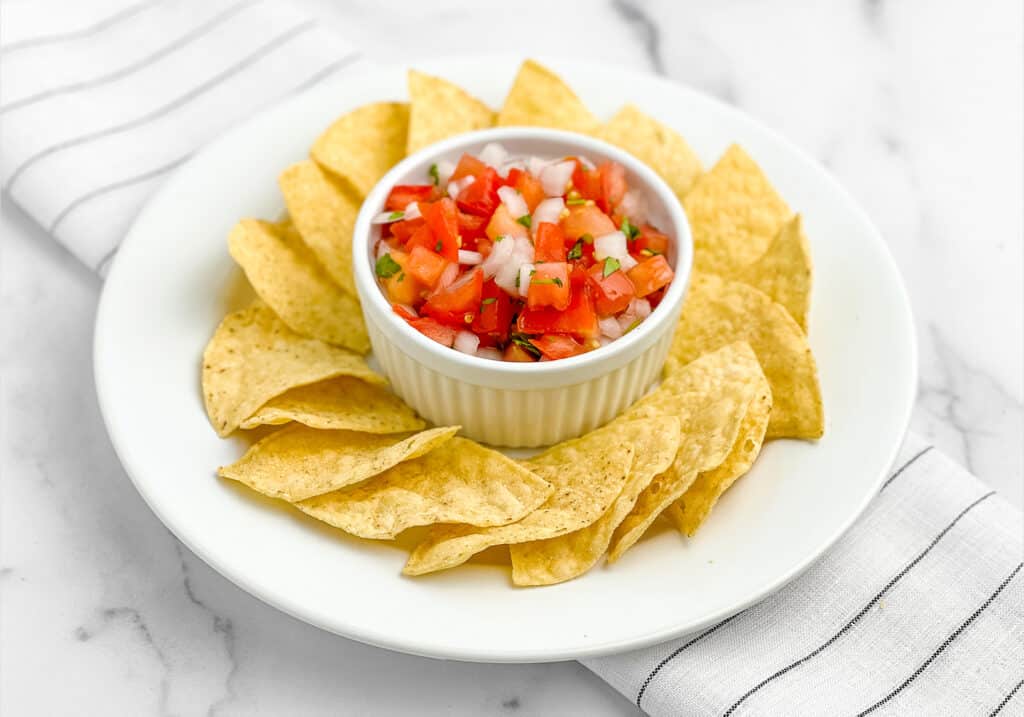 Ways to Eat Pico de Gallo
In addition to enjoying this fresh salsa with tortilla chips, there are endless ways to use fresh pico. Here are a few of our favorite foods we love to top with pico de gallo.
Related Questions
Here you'll find answers to frequently asked questions about pico de gallo.
How long does pico de gallo last in the fridge?
Generally speaking, pico de gallo made with fresh ingredients will last about 3 to 4 days in the fridge, stored in an airtight container. If you want your pico to last a bit longer, you can always freeze it. Frozen pico de gallo will last for several months. But keep in mind it may not have the same texture when you thaw it out.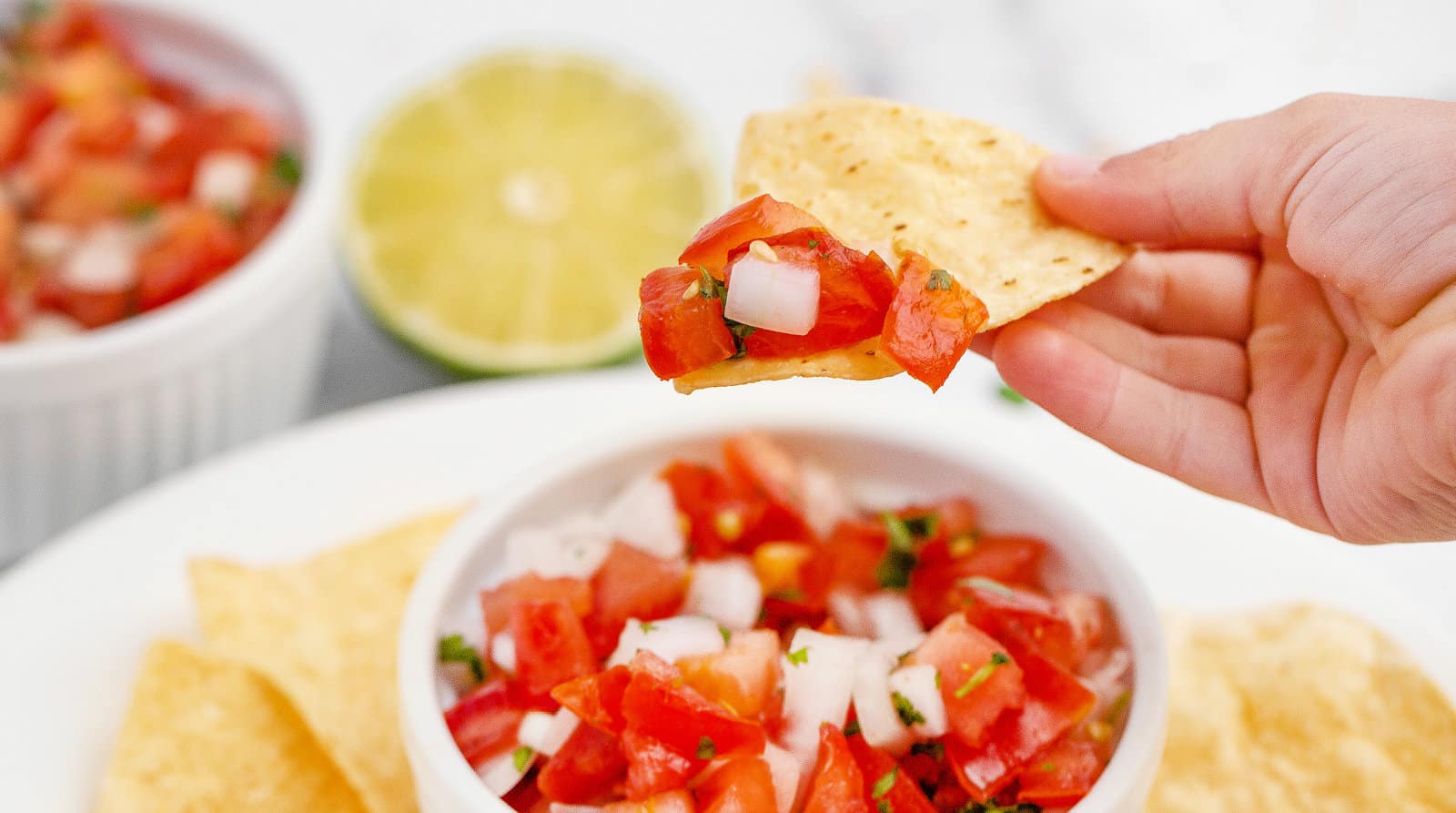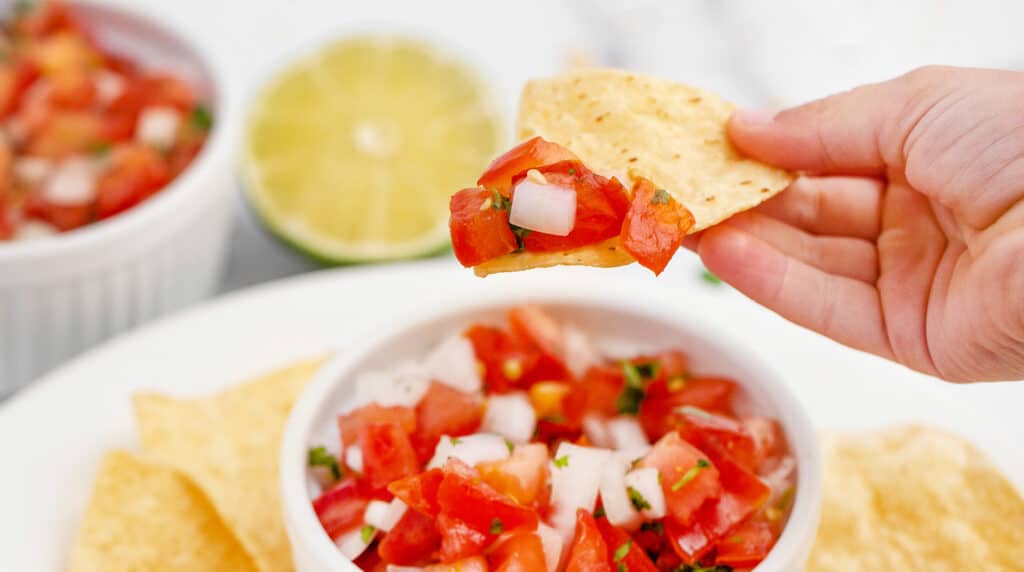 How many calories are in pico de gallo?
While the ingredients may vary depending on the recipe, pico de gallo is typically low in calories. One-half cup of pico de gallo has about 21 calories, and most of those calories come from the tomatoes. Pico de gallo is also a good source of vitamins A and C, as well as potassium. While it is not a significant source of protein or fat, pico de gallo can be a healthy addition to any diet. And because it is so flavorful, you may find that you don't need to add any extra salt or seasoning.
Where can I find pico de gallo in store?
While you can make fresh pico de gallo at home, it's also easy to find in stores. Look for it in the refrigerated section near the fresh produce. Pico de gallo is usually sold in small plastic containers alongside fresh guacamole and salsas. Choose pico de gallo that looks fresh and colorful, and be sure to check the expiration date before buying.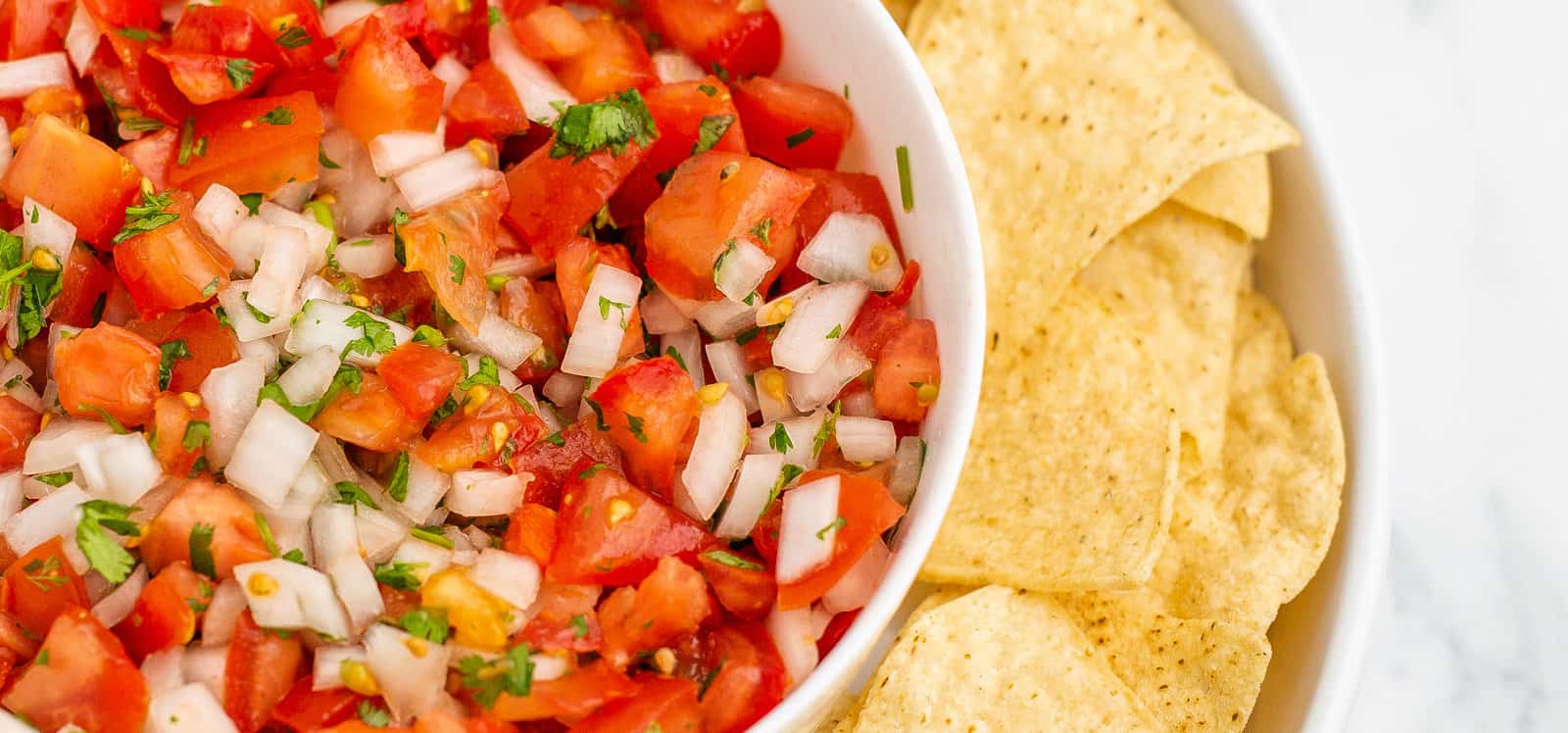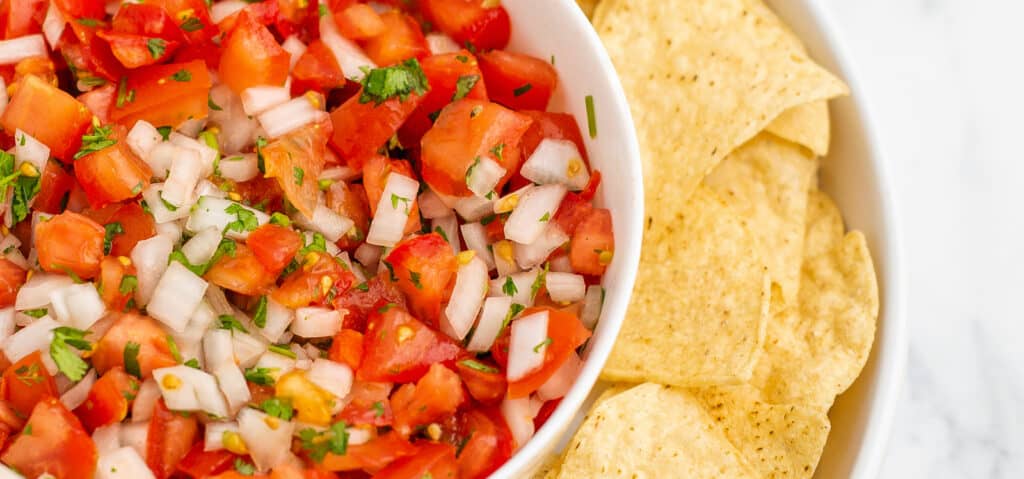 What kind of onion should I use for pico de gallo?
While you can use any type of onion in your pico de gallo—yellow or white onions are typically preferred because they have a milder flavor and won't overwhelm the other ingredients. If you prefer a more robust flavor, you can use red onions instead.
How can I make pico de gallo spicy?
There are a few different ways that you can make pico de gallo spicy. One option is to add more spicy peppers to the mix. Jalapeños, serranos, and habaneros will all give the pico de gallo a nice kick. Another way to make it spicy is to add some extra chili powder, cumin, cayenne pepper, or other spicy seasonings. Finally, you can add a hot sauce such as Tabasco or Cholula. Just be careful not to add too much, as it can quickly become too spicy to enjoy. Experiment until you find the perfect balance of spices for your taste buds.
Print
Easy Pico de Gallo
Delicious homemade pico de gallo with only 6 fresh ingredients! Perfect to pair with tortilla chips or use as a topping on tacos, burritos,  scrambled eggs – you name it.
6

medium vine tomatoes, diced (about

4 cups

)

1/2

white onion, diced (about

1 cup

)

1/2

bunch cilantro, chopped and loosely packed (about

1/3 cup

)
Juice of

1/2

fresh lime, squeezed (or lime juice)

1/4 tsp

salt
Tortilla chips, for dipping
Instructions
Start by washing all of your produce.
Then use a cutting board and serrated knife to dice the tomatoes.
Drain the tomatoes, if needed.
Dice the onions similar in size to the tomatoes.
Remove the stems from the cilantro bunch and chop the remaining cilantro using a chef's knife.
Add the tomatoes, cilantro, and onion to a medium bowl.
Cut the lime in half and squeeze the lime juice over the ingredients.
Sprinkle salt on top of the tomato mixture.
Gently stir until all ingredients are mixed well.
We recommend chilling for a few hours, but you can serve right away if needed.
Enjoy with tortilla chips or use as a topping for tacos or scrambled eggs (more ideas here)
Store leftovers in the fridge in an air-tight container.
Notes
You can substitute other types of tomatoes, like roma tomatoes. Some even use grape or cherry tomatoes.
Yellow onions can be used in place of white onions. Red onions work too, just know they will have a stronger, more pungent taste.
In addition to draining the tomatoes, you can also scoop out the seeds before cutting to reduce excess liquid.
Author:

Prep Time:

15 minutes

Cook Time:

0 minutes

Category:

Appetizer, Snack, Side Dish

Method:

Chop

Cuisine:

Mexican
Nutrition
Serving Size:

1/2 cup

Calories:

21

Sugar:

2.7 g

Sodium:

62.7 mg

Fat:

0.2 g

Saturated Fat:

0 g

Carbohydrates:

4.8 g

Protein:

0.8 g

Cholesterol:

0 mg
Keywords: pico, mexican, dip
Recipe Card powered by
Final Thoughts
If you're looking for a delicious and easy way to spice up your tacos, look no further than this homemade pico de gallo recipe. With just a few simple ingredients, you can have a tasty salsa perfect for any occasion. So go ahead and try it – we promise you won't be disappointed!
More Delicious Recipes
Pin for later: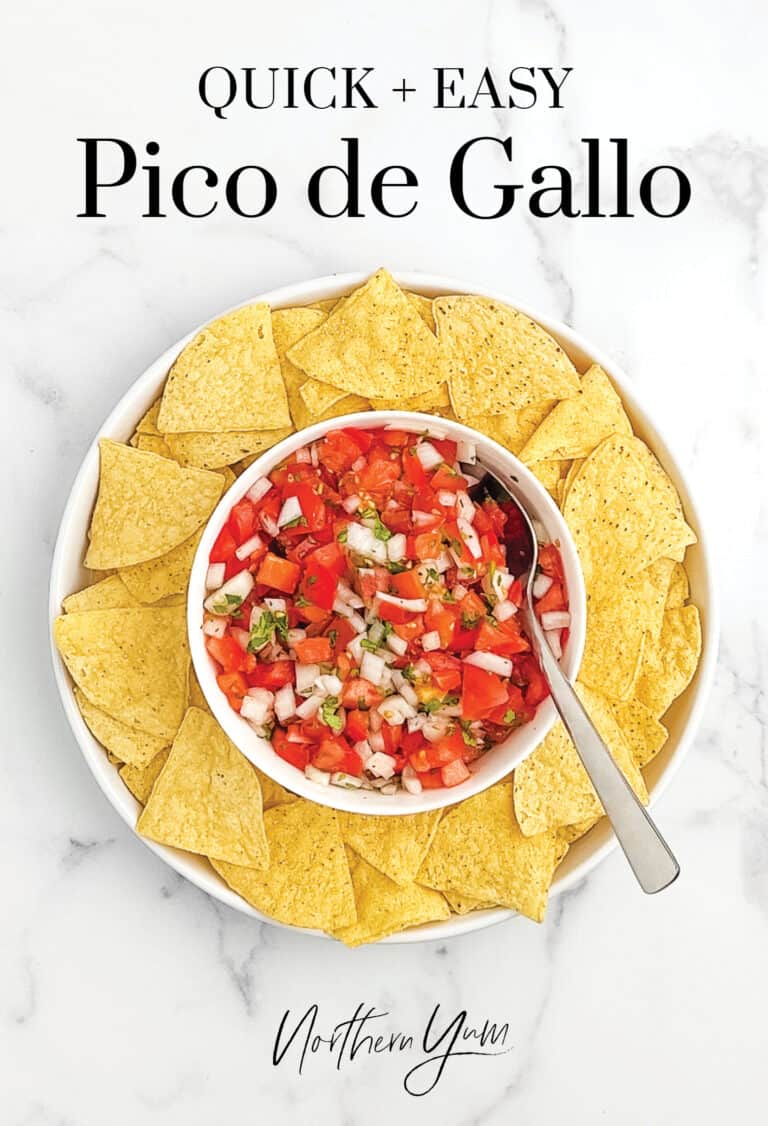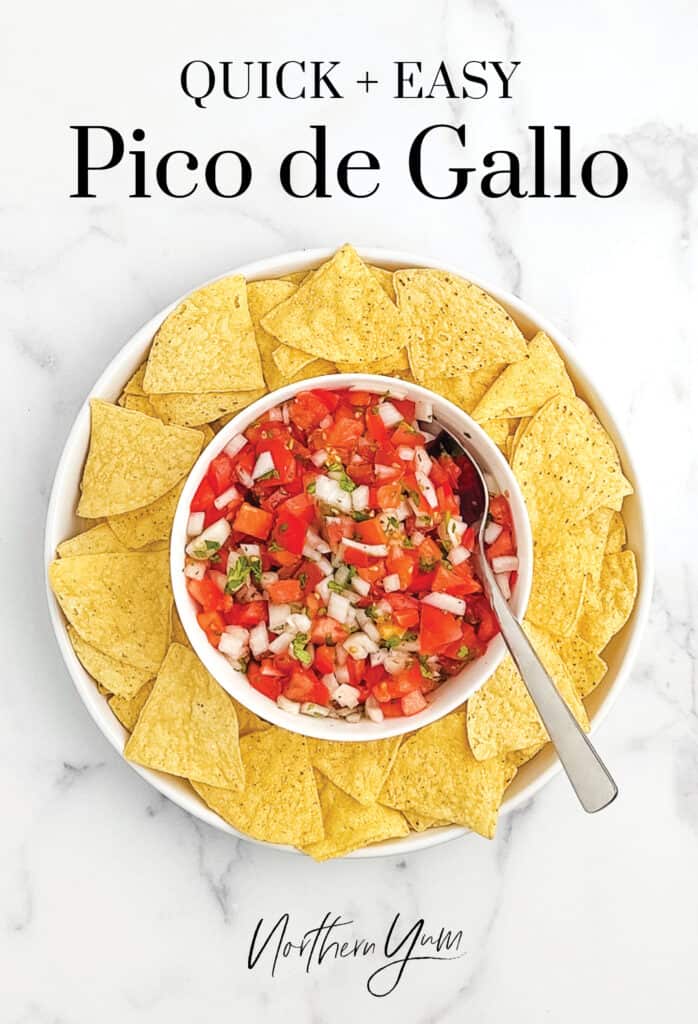 Easy Homemade Pico de Gallo Recipe