What to Do With Leftover Chili: 25+ Tasty Ideas
This post may contain affiliate links. That means if you click and buy, we may receive a small commission (at zero cost to you). Please see our full disclosure policy for details.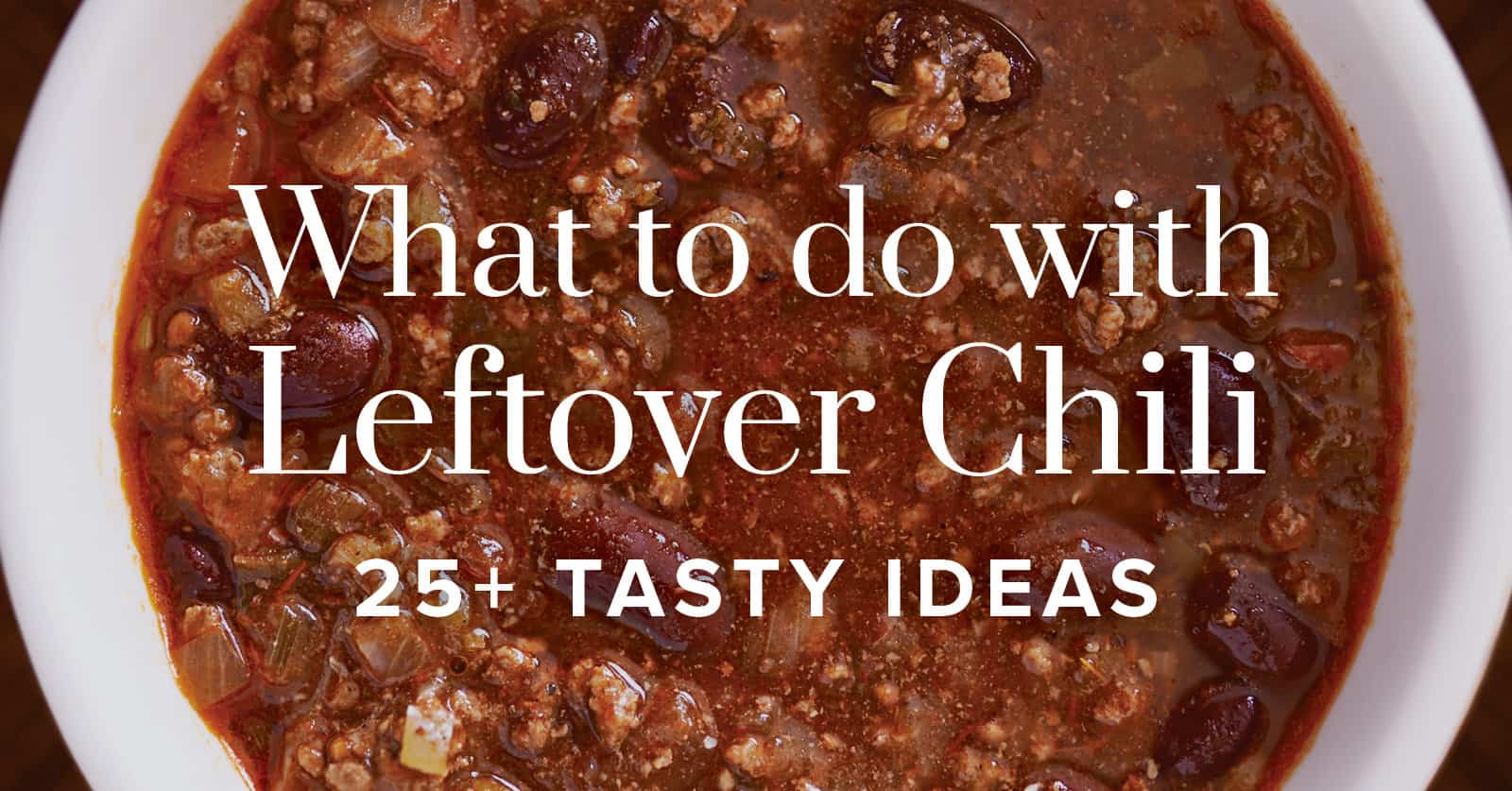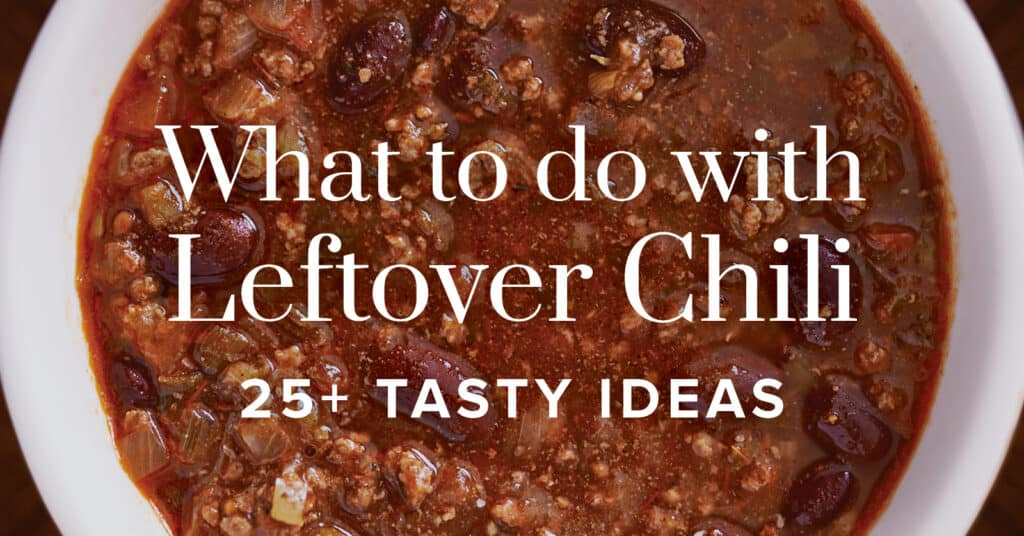 If you're like us, you love chili. We always make a big pot and plan for leftovers. One of the great things about leftover chili is that it gets even better the next day. All the flavors have had a chance to meld together, making it even more delicious.
The Best Leftover Chili Ideas
So what do you do with all that leftover chili? Here are 25+ mouthwatering ways to use up leftovers (or canned chili). From appetizers to main dishes, even breakfast—there's something for everyone in this roundup of tasty leftover chili recipes.


#1 Cincinnati chili
Cincinnati-style chili is a unique dish made with beef chili served on top of spaghetti noodles. Traditional Cincinnati chili is made with different spices like cloves, cinnamon, and even nutmeg, but you can easily make it using your favorite chili. For a lighter option, swap spaghetti for zucchini noodles (zoodles) or spaghetti squash.
#2 Chili potato nachos
Looking for an appetizer or side dish idea? Chili potato nachos will surely be a hit at your next party or gathering. Start by roasting 1/4-inch thick potato slices at 425℉ for 20 to 30 minutes. While your potatoes are baking, warm up your chili. When the potatoes are perfectly roasted and tender, layer them on a plate and top with chili, cheese, and your favorite nacho toppings.
#3 Chili grilled cheese
Have you ever had a chili cheese grilled sandwich? If not, you're missing out! This gourmet twist on a classic grilled cheese is an excellent way to use up leftover chili. Start by spreading butter on each grilling side of your favorite bread. Then fill the inside with chili and your choice of cheese. Grill both sides until the cheese is melted and bubbly. The result is a savory, cheesy sandwich perfect for a quick lunch or dinner.


#4 Chili cheese fries
Chili cheese fries are the perfect comfort food; they're also great for satisfying a late-night craving. Just reheat the chili and pour it over a plate of fresh, hot french fries. Add a generous amount of shredded cheese and onions on top, and they're ready to enjoy!
#5 Chili cheese bean dip
Transform leftover chili into a delicious chili cheese bean dip, perfect for parties or game days. Combine chili, cream cheese, a can of refried beans, and a package of shredded cheddar cheese. For a kicked-up flavor, add diced jalapeños or hot sauce. Then, bake in the oven until hot and bubbly. Serve with tortilla chips or veggies for dipping.


#6 Chili cheese dogs
Chili cheese dogs are among our favorite ways to use up chili. Start with a hot dog on a bun and top with a generous amount of chili. Then top with diced onions and shredded cheddar or nacho cheese sauce. It's that easy.
#7 Chili cheese bratwurst
Swap hot dogs for bratwurst, and you have chili cheese brats. Grill brats or bake them in the oven; either way is quick and easy. You can find cheddar-filled brats (cheddar wursts) to make them even cheesier.
#8 Chili cheese burritos
A new take on beef and bean burritos – use chili. Begin by warming chili on the stovetop and spoon it into a flour tortilla. Add your favorite toppings like shredded cheese, sour cream, and diced onions. Then roll up the burrito and enjoy.


#9 Chili mac and cheese
Chili macaroni and cheese is an easy way to turn boring mac and cheese into a gourmet meal. Make your favorite homemade or box mac and cheese and use the leftover chili as a topping or mix it right in.
#10 Chili stuffed pasta shells
Stuffed pasta shells are a fun way to use up leftover chili. Start by cooking large pasta shells according to the package directions. Next, stuff them with chili and top with shredded cheese. Bake the stuffed shells until the chili is warm and the cheese is melted.


#11 Frito pie
Frito pie is a simple Southern dish of chili, cheese, and Fritos (a type of corn chip). There are many variations of Frito pie, and it can be made with any type of chili. All you need to do is layer a baking dish with corn chips, chili, cheese, and onions. Try walking Frito pie (just like walking tacos) with individual bags of Fritos and all the fixings.
#12 Chili cheese tater tot casserole
If you love tater tot hot dish, you'll love chili cheese tater tot casserole as well. The chili and cheese are usually layered first, followed by a layer of tater tots. The dish is then baked until the cheese is melted and tater tots are done. It is often served with sour cream, salsa, or diced white and green onions.
#13 Chili cheese sweet potatoes
Chili cheese sweet potatoes—yes, please! Begin by baking sweet potatoes until they are tender, then top with chili and shredded cheese. The result is a delicious and hearty dish that is sure to please. Best of all, sweet potatoes can be made in the slow cooker ahead of time, making them the perfect weeknight meal.


#14 Chili smothered baked potatoes
One delicious way to enjoy chili leftovers is to make chili cheese baked potatoes. Reheat the chili and spoon it over a baked potato. Add a little shredded cheese and green onions on top, and you have a hot and satisfying meal.
#15 Chili stuffed peppers
Chili is the perfect filling for stuffed peppers. Just scoop some chili into red or green bell peppers. Then top with cheese and bake until the peppers are soft and the cheese is melted. You can also add other toppings, like sour cream or green onions.


#16 Chili enchiladas
Need an easy dinner idea? Make chili enchiladas. Begin by spreading chili on soft tortillas, roll them up, and place them in a baking dish. Top with your favorite enchilada sauce and shredded cheese. Bake until the enchiladas are hot and bubbly.
#17 Chili scrambled eggs
Chili for breakfast? Yes, chili and scrambled eggs might not seem like a natural pairing, but they are quite delicious together. If you have leftover chili, don't be afraid to experiment and try it on your eggs. Simply scramble your eggs as usual, then top with a spoonful or two of warm chili and your favorite garnishes.
#18 Chili con queso
To make chili-topped queso, warm up your leftover chili and pour it over your favorite queso dip. You can also add some shredded cheese to the chili to make this dip extra cheesy. Then bake the queso in the oven until it is hot and bubbly. Serve with tortilla chips or crackers and enjoy.


#19 Chili pizza
Chili pizza is a unique and delicious way to use up leftovers. To make chili pizza, spread chili on top of a homemade or store-bought pizza crust and add your favorite toppings. We like to top ours with shredded cheese, diced onions, and jalapeños, but you can use your favorites.
#20 Chili & cornbread bake
Chili and cornbread are a classic combination. Leftovers are the perfect opportunity to whip up a quick and easy chili cornbread bake. First, layer a baking dish with leftover chili, and then pour cornbread batter on top. Bake as directed or until the cornbread is golden brown and a toothpick comes out clean. Serve with a dollop of sour cream or cheese on top.


#21 Chili tacos
Spice up taco Tuesday with chili tacos. Reheat chili and spoon it into hard or soft taco shells. Then add cheese, diced onions, and your favorite taco or chili toppings. Hosting a party? Make walking chili tacos.
#22 Chili and cheese sloppy joes
Enjoy the best of both worlds – chili and sloppy joes. Start with a bun and use chili as sloppy joe (or slush burger) filling. Then top with shredded cheddar cheese and onions. For an extra bit of flavor, you can add a dollop of sour cream or salsa.
#23 Chili nachos
Chili nachos are so easy and delicious, making the perfect appetizer or simple dinner. Simply heat up chili and spoon it over a plate of tortilla chips. Top with your favorite chili or taco toppings like sour cream, jalapenos, and salsa.


#24 Chili quesadilla
Chili-dillas are a unique way to use up chili. Begin by spreading chili on a tortilla, top with cheese, fold in half, and grill each side until the cheese is melted. You can also add other toppings, such as avocado, sour cream, or salsa.
#25 Chili omelets
Have you ever tried chili on omelets? It's delicious. Make a 2 to 3 egg omelet, cooking as normal. Then when you are ready for toppings, add chili, shredded cheese, and diced onions. Fold it in half and cook for a minute or two more on each side. Then slide your chili cheese omelet onto a plate and enjoy!
Final Thoughts
Chili leftovers are the best! Not only is chili a comfort food, but it's also versatile. You can use chili leftovers (or canned chili) in so many different ways. We hope you enjoy these chili dish ideas!
Pin for later: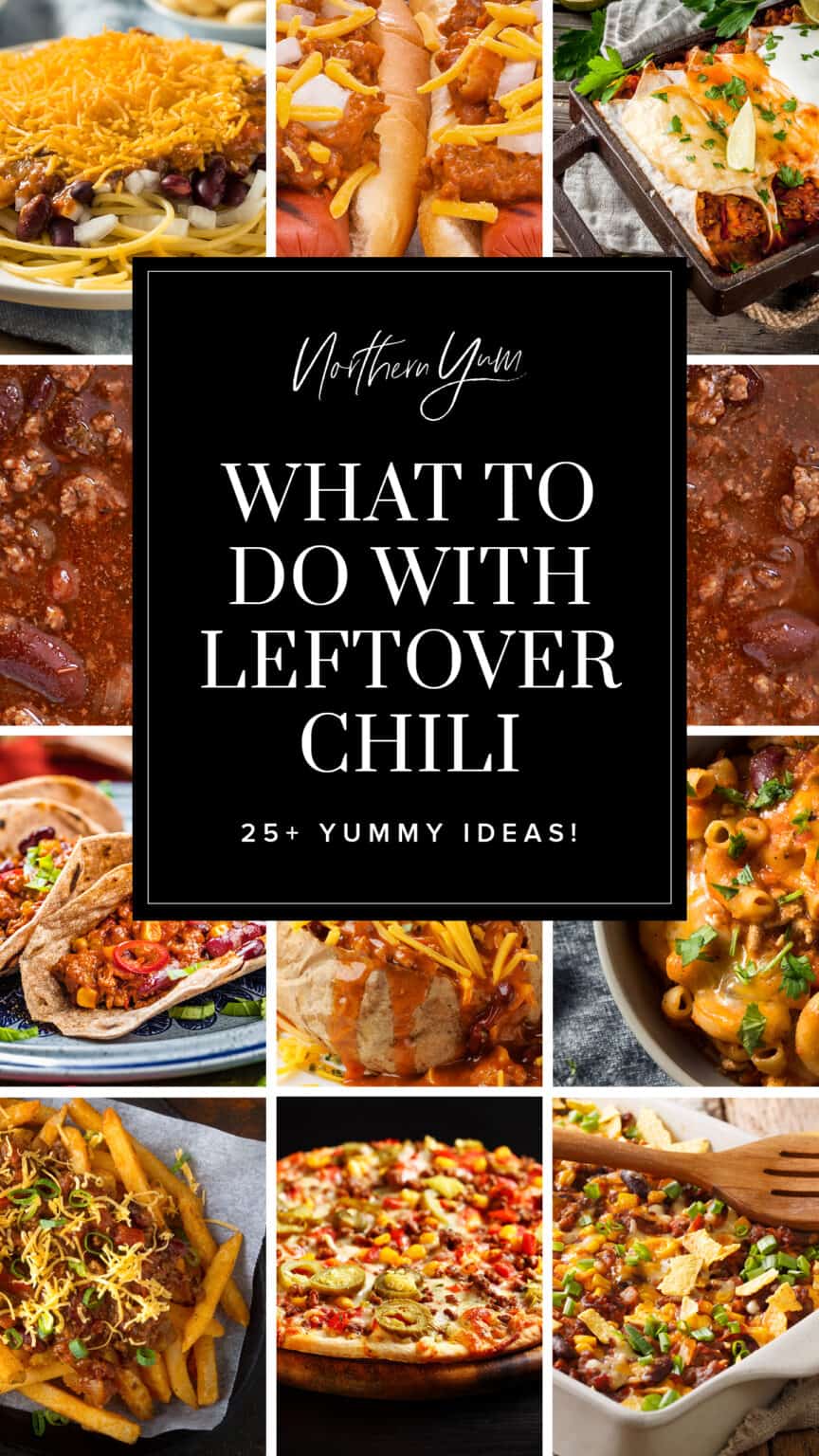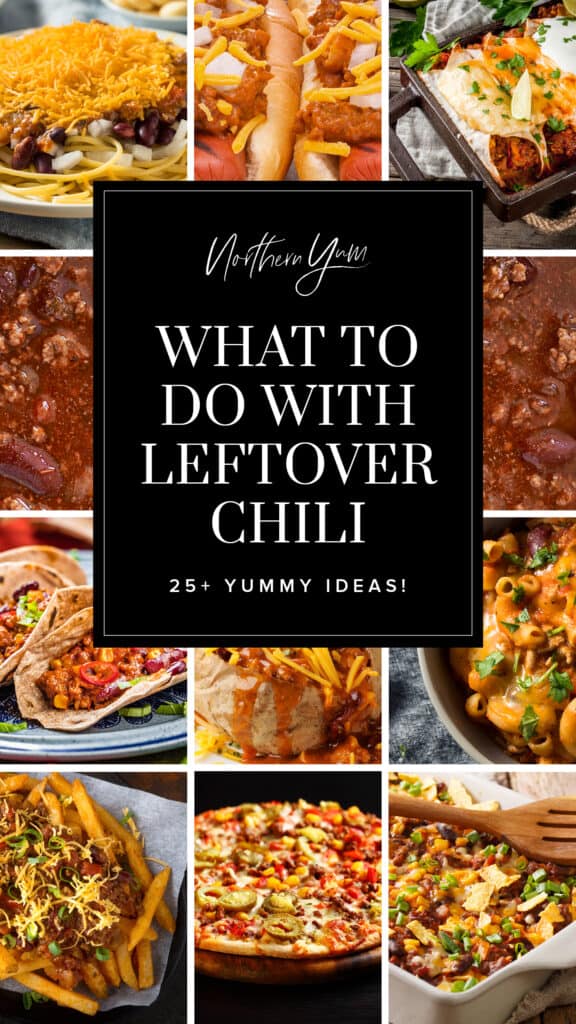 More Delicious Recipes + Tips
What Can You Put Chili On? 25+ Tasty Ideas