45+ Easy Sides for Tacos – Perfect for Taco Tuesday!
This post may contain affiliate links. That means if you click and buy, we may receive a small commission (at zero cost to you). Please see our full disclosure policy for details.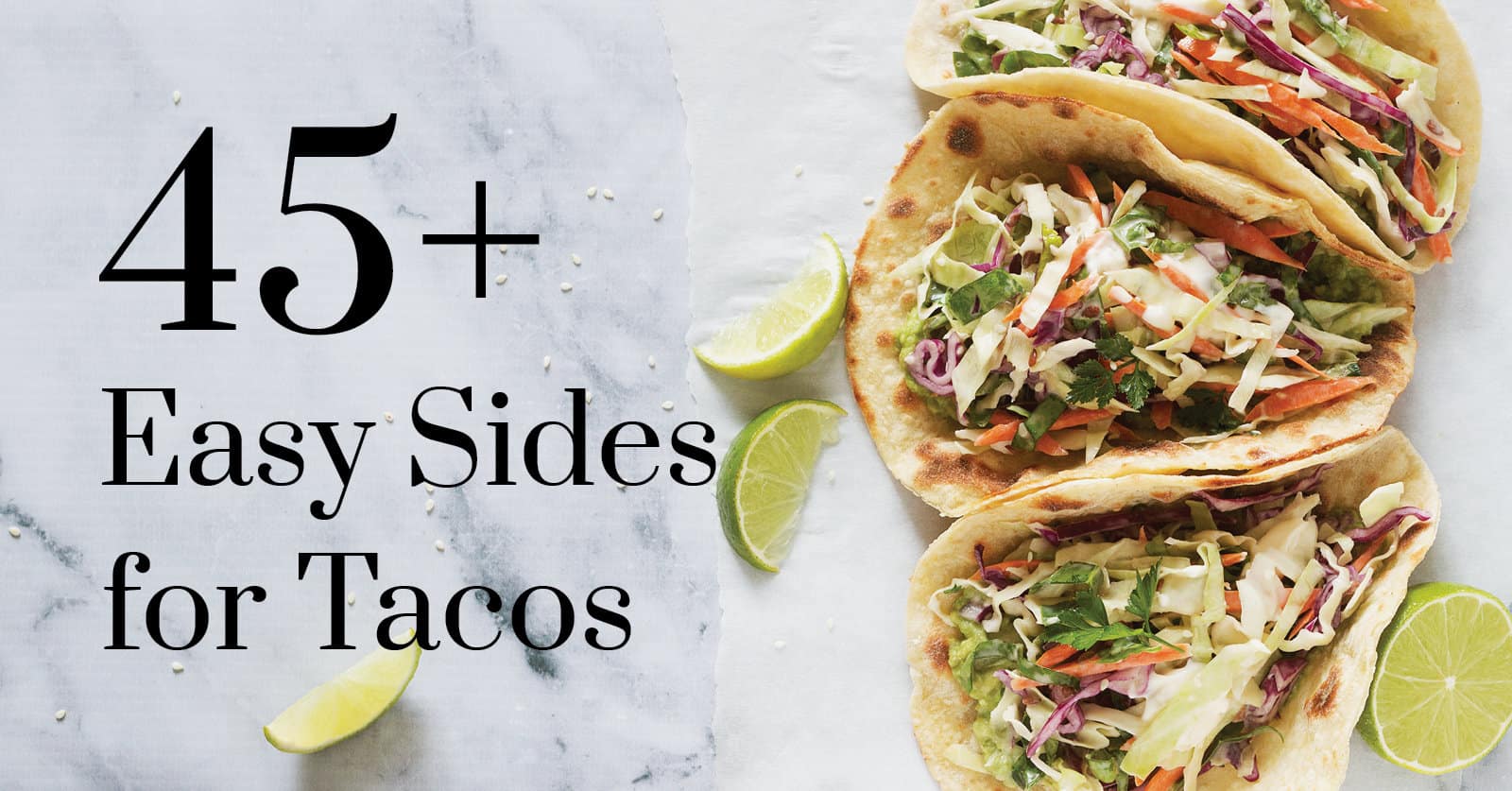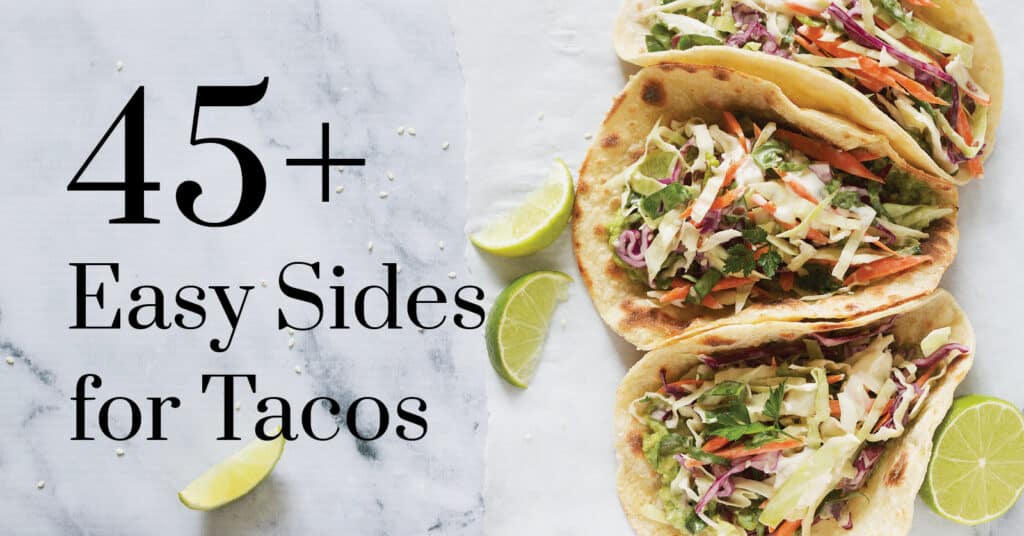 Taco night is the perfect choice for a simple weeknight dinner. We have tacos at least once a week. Everyone in the family loves them, and they're so simple to throw together, especially when weeknights are so busy. The sides you serve alongside your tacos should be simple, too. We've put together a big list of our favorites!
The Best Sides for Tacos
These tasty side dishes are perfect for rounding out your Mexican-themed meal. From roasted vegetables to refried beans, you can find traditional and unique sides to serve with tacos. Bonus – each one of these side ideas is simple to make. Let's look at each dish and the many variations you can use to liven up your taco night even more.


#1 Mexican Street Corn (Elote)
This common Mexican street food is the perfect veggie side option for tacos. This corn on the cob is grilled and then slathered in a Mexican sour cream and mayo sauce topped with chili powder, cotija cheese, fresh cilantro, and lime.
Variations to try
Make our air-fried corn on the cob and then add classic street corn toppings

Try Greek-style street corn (greek yogurt, garlic powder, oregano, lime, feta)


#2 Mexican Street Corn Salad
A deconstructed take on Mexican street corn, Mexican street corn salad is easy to make with grilled fresh corn, diced peppers, onions, jalapeños, cilantro, and cotija cheese (feta cheese or other crumbly varieties will work, too) tossed in a mayo-sour cream dressing seasoned with smoked paprika, cumin, lime juice, salt, and pepper. All ingredients are chilled for a refreshing take on this street food favorite.
Variations to try
Add black beans for an even heartier salad
Use small cups and divide into individual servings, perfect for a dinner party
#3 Black Bean Salad
Black bean salad is really easy to throw together for a last-minute side. Black beans, corn, chopped peppers, jalapeño, onion, tomato, cilantro, and a flavorful lime vinaigrette dressing. We love that this salad only requires a little chopping.
Variations to try
Garnish with avocado chunks
Top with crumbled feta
Omit the corn and add extra tomatoes


#4 Mexicorn Dip
This delicious chilled dip is built in layers 1) diced peppers, tomatoes, onions, and pinto beans, 2) a creamy ranch mix, and 3) shredded cheese and olives. It pairs perfectly with tortilla chips. If you are looking for a cold side and haven't made our Mexicorn Dip yet, head over and check out the full recipe.
Variations to try
Use taco seasoning instead of ranch seasoning
Add more toppings – avocado chunks, cotija cheese, cilantro
Swap the pinto beans for black beans
#5 Mexican Coleslaw
Another quick and easy option is Mexican coleslaw. Start with a classic coleslaw mix (shredded cabbage and carrots) and add chopped red pepper, red onion, and a cilantro lime dressing.
Variations to try
For a kick, add hot sauce
Garnish with chopped cilantro
#6 Tex-Mex salad
Tex-Mex salad can mean different things, depending on who you ask. There is no wrong way to prepare this delicious salad. To some, it's similar to the black bean salad we mentioned earlier, and to others, it's a lettuce-based chopped salad with tomatoes, avocado, beans, corn, and meat.
Variations to try
Top with pico de gallo

Try pairing it with a creamy oregano dressing


#7 Refried Beans
A classic side, refried beans are so delicious with Mexican cuisine. Homemade refried beans are even better. After soaking pinto beans overnight, these beans only take about 20 minutes to make using a handful of ingredients.
Variations to try
Refried black beans
Refried kidney beans
#8 Mexican Potato Salad
As with classic potato salad, there are many ways to make a Mexican potato salad. Our favorite uses roasted potatoes, beans, and a seasoned sour cream-mayo salad dressing, served warm.
Variations to try
Add diced green chiles
C

hilled Mexican potato salad topped with corn chips
#9 Mexican Rice
Mexican rice (also known as Spanish rice) is a must-have for taco night, just like refried beans. Simply use long grain rice, oil, garlic, onion, tomato sauce and bouillon, cumin, and salt.
Variations to try
Blend fresh tomatoes instead of using tomato sauce

Add peas or chopped carrots


#10 Mango Salsa
Mango salsa is a refreshing and unique side dish perfect for chicken or fish tacos. The sweetness of the mango pairs perfectly with the freshness of the other ingredients. Plus, mango salsa is easy to make—simply dice up a mango, add some chopped red onion, diced jalapeño, and freshly squeezed lime juice, and you're done.
Variations to try
Mix in diced cucumber

Add chunks of avocado
#11 Mexican Sweet Potatoes
If you love sweet potatoes, wait until you try Mexican sweet potatoes. Whether they are halved and topped with avocado, corn, and black beans or chopped and seasoned with classic Mexican seasonings, you will have a unique side to pair with your tacos.
Variations to try
Top with a creamy cilantro sauce
Another great topping is cashew cream
#12 Sautéed Peppers and Onions
Sautéed peppers and onions aren't just for fajitas, but also make a delicious side for tacos. Start with olive oil, and sauté peppers (green, red, yellow, orange) and onions (yellow or red) cut lengthwise, and season with salt, pepper, oregano, and garlic.
Variations to try
Sprinkle with red pepper flakes for a kick

Once the peppers and onions are tender, try drizzling on balsamic vinegar


#13 Cilantro Lime Rice
One of our favorite rice dishes is cilantro lime rice. This side is not only tasty, but it's also simple to make. Simply cook basmati or other long grain rice according to package directions, then sauté in olive oil, minced garlic, and stir in some chopped cilantro and fresh lime juice. The result is a fragrant and flavorful rice dish that is sure to please.
Variations to try
Swap white rice for brown rice
Try mixing in quinoa or cauliflower rice
#14 Salsa
Chips and salsa are an obvious side – yes, but there are so many different kinds of salsa to try. Salsa fresca, salsa verde (with tomatillos), green tomato, and many more.
Variations to try
Chipotle salsa, salsa taqueria

Salsa roja

, salsa criolla


#15 Pico de Gallo
We've been making fresh pico de gallo for years now, and it's so easy. All you need is fresh tomatoes, onion, limes, and fresh cilantro. Chop the tomatoes and onion, and add a splash of fresh lime juice and chopped cilantro. Pair with tortilla chips or use as a topping on your tacos.
Variations to try
Add diced jalapeño peppers
Toss in some fresh minced garlic


#16 Bacon-Wrapped Jalapeño Poppers
Bacon-wrapped jalapeño poppers are an easy and delicious side dish. Jalapeño peppers are filled with a delicious cheesy mixture and wrapped in bacon, then grilled to perfection. Poppers are a great way to spice up your taco night.
Variations to try
Forget the bacon, cut lengthwise, and sprinkle with panko

Try a sweet and spicy version with brown sugar and chili seasoning
#17 Guacamole
Homemade or store-bought guacamole makes a tasty and healthy side. We love that homemade guac can be as simple as diced avocado with a bit of salt. You can also add chopped onions, tomato, and garlic.
Variations to try
Try adding red radish or cayenne pepper
Mix in freshly squeezed lemon or lime juice
#18 Bean Dip
Bean dip begins with refried beans and often includes green chiles, onion powder, lime juice, and cayenne pepper. This dip can be served cold or warm. Typically warm bean dip also has cream cheese and sour cream and is topped with melted shredded cheese. Either way, it's a delicious dip to serve with tacos.
Variations to try
Add your favorite toppings – avocado chunks, cilantro, cotija cheese
Make it a spicy bean dip by mixing in hot sauce


#19 Corn Pudding
Corn pudding is a popular dish in the southern United States. It is made with cornmeal, corn kernels, milk or cream, eggs, and butter. This pudding is easy to make and a good way to use up leftover corn.
Variations to try
Mix in green peppers

Add crumbled bacon
#20 Pineapple Salsa
Pineapple salsa is a flavorful combination of sweet and savory ingredients. It makes the perfect side to any Mexican-inspired dish. The refreshing fruit pairs perfectly with the spicy flavors of jalapeño and onion, while the lime juice balances out the sweetness.
Variations to try
Serve in a pineapple bowl for fun

Garnish with freshly chopped cilantro
#21 Corn Salsa
The corn is the star of the show in this recipe. All you need to do is cook the corn, then chill and add your favorite salsa ingredients–tomatoes, red onion, jalapeños, lime juice, cilantro, and salt.
Variations to try
Add chopped avocado

Season a bit more with chili powder and cumin


#22 Queso
Queso is a delicious, easy-to-make side dish that is often served with tacos. Queso is made from melted cheese and often includes other ingredients such as onions, garlic, and peppers. It's commonly used as a dip for chips or pretzels.
Variations to try
Try white queso with white American cheese

Top with taco meat
#23 Salsa Verde
Salsa verde is a delicious Mexican sauce made from tomatillos, chili peppers, and cilantro. It's easy to make and can be used as a dip or condiment. The tomatillos give the salsa its characteristic green color, while the serrano peppers add spice and heat. The cilantro provides a fresh, herby flavor that ties everything together.
Variations to try
Season with cumin

Try creamy avocado salsa verde
#24 Cilantro Lime Quinoa
Quinoa is a nutritious grain packed with protein, fiber, and vitamins. Cilantro lime quinoa is made by cooking quinoa in chicken or vegetable broth, then stir-frying it with cilantro, garlic, and lime juice. This is a simple yet flavorful side dish.
Variations to try
Serve warm or cold
Top with avocado slices


#25 Ceviche
Traditionally, ceviche is made with fresh fish that is marinated in lime juice and then topped with diced tomatoes, onions, and cilantro. Ceviche can be made with any type of fresh fish or shellfish. If you are looking for a healthy, flavorful, and easy-to-make taco side dish, ceviche is a unique option.
Variations to try
Mix in passion fruit or mango
Add avocado or celery
Learn how to cook shrimp – a type of shellfish.
#26 Brown Rice
Mexican brown rice is, of course, made with brown rice, which is higher in fiber and nutrients. To make Mexican rice, the brown rice is first sautéed in oil until it is golden brown. Then, tomatoes, garlic, and spices are added to the pan, and the rice is cooked until tender. Jalapeños or chili peppers can be added for some spice.
Variations to try
Toss in black beans

Add adobo sauce
#27 Roasted Veggies
Roasting veggies is a great way to bring out their natural flavors. The high heat of the oven helps to caramelize the sugars in the vegetables, resulting in a sweet, roasted taste. We like to roast Mexican-style veggies as a side dish for tacos. First, slice up some sweet potatoes, squash, bell peppers, and onions. Then, toss them in olive oil and a little bit of chili powder. Roast them in the oven on a baking sheet at 425 until they're tender.
Variations to try
Try adding zucchini and tomatoes

Toss in taco seasoning


#28 Mexican Fruit Cups
Mexican fruit cups are a light and healthy side dish. Just combine your favorite fruits with a little bit of lime juice, chili powder, and salt. For an extra bit of sweetness, you can also add a drizzle of honey. The best part about this dish is that it can be easily customized to your liking, sweet or spicy.
Variations to try
Watermelon, pineapple, mango,

jicama

with lime wedges
Papaya, cucumber, cantaloupes, oranges with lime wedges
#29 Queso Fundido
Queso fundido (aka molten cheese) is a dish of melted cheese that originates from Northern Mexico. It is traditionally made with Oaxaca or Monterey cheese, although other types of cheeses can be used as well.
Variations to try
Top with chorizo or spicy Italian sausage

Prepare in a cast-iron skillet and top with pico de gallo
#30 Cauliflower Rice
Cauliflower rice is a popular alternative to traditional rice and is low in calories and carbs. It's made by grating cauliflower florets into small pieces that resemble rice grains. This 'rice' makes a unique and healthy taco side dish.
Variations to try
Make a Mexican cauliflower rice

Cilantro lime cauliflower rice


#31 Grilled Avocados
Have you tried grilling an avocado? This method is a creative and delicious way to enjoy this healthy fruit. All you need is a ripe avocado, a grill, and a little oil. Simply slice the avocado in half and remove the pit. Brush the flesh with oil and place on a hot grill. Grill for about 2-3 minutes per side, or until the avocado is slightly browned.
Variations to try
Add your favorite toppings – diced onion, cherry tomatoes, or jalapeños

Stuff with corn and black bean salsa
#32 Chili-Lime Grilled Pineapple
One of our favorite easy taco side dishes is chili-lime grilled pineapple. The combination of chili, lime, and pineapple is so delicious and refreshing. And it's easy to make. Lightly cover pineapple spears or rings with canola or olive oil, and baste in a chili-lime mixture.
Variations to try
Grill in the air fryer – check out our recipe for air-fried pineapple.
Try adding brown sugar and honey

Sprinkle with finely chopped honey-roas

ted peanuts
#33 Mexican Chickpeas
Mexican chickpeas are sautéed and seasoned with chili powder, cumin, paprika, oregano, coriander powder, and cayenne pepper. Also known as garbanzo beans, these little beans are packed with protein, fiber, and essential vitamins and minerals. They're also low in fat and calories, making them a healthy choice for taco night.
Variations to try
Swap out taco meat for Mexican chickpeas for a meatless meal

Make them spicy with hot red chilis


#34 Jalapeño Cornbread
Jalapeño cornbread is moist and flavorful, with just the right amount of spice from the jalapeños. When serving, we love to drizzle on a little honey. It even pairs well with all of your favorite taco toppings.
Variations to try
Add shredded cheddar cheese for a jalapeño cheddar cornbread

Try a sweet cornbread for a sweet and spicy combination
#35 Mexican Deviled Eggs
Mexican deviled eggs are sure to be a hit with your family and friends. To make them, simply hard-boil eggs, remove the yolks, and mix them with diced jalapeños, cilantro, lime juice, and mayonnaise. Then, spoon the mixture back into the egg whites and garnish with additional diced jalapeños and cilantro. Deviled eggs are best served cold and can be made ahead of time for an easy and stress-free taco night.
Variations to try
Mix in corn and shredded cheddar cheese

Sprinkle taco seasoning

on top
#36 Avocado Lime Ranch Dip
Avocado lime ranch dip is a delicious side you can pair with veggies or tortilla chips. Simply combine diced avocado, sour cream, mayo, ranch dressing mix, fresh lime juice, garlic, and cilantro. Blend in a food processor until smooth.
Variations to try
Make your own ranch dressing mix with chopped dill, parsley, chives, and onion powder
Add serrano pepper and chili powder for a bit more spice


#37 Avocado Hummus
Guac or hummus? Combine them both and make avocado hummus. The rich flavor of avocado pairs perfectly with the chickpeas and tahini in hummus. And, best of all, it's easy to make at home with just a few simple ingredients.
Variations to try
Top with a drizzle of olive oil, pepitas (or pumpkin seeds), and cilantro

Garnish with olive oil, toasted pine nuts, and coriander leaves
#38 Elote Tater Tots
Elote tater tots combine the best of both worlds—Mexican street corn and classic American tater tots. The tots are loaded with corn, and all the delicious Mexican street corn toppings-cheese sauce, cilantro, cotija cheese, chili powder, and lime wedges.
Variations to try
Try grilling them in a cast iron pan

Swap the tots for tortilla chips
#39 Smashed Potatoes
Smashed potatoes are a delicious and easy way to add some excitement to your next taco night. To make them, simply start by boiling some potatoes until they are soft. Heat your oven to 425 degrees Fahrenheit. Then, prepare a baking sheet with parchment paper. Place the potatoes on the pan and use a fork or a masher to smash them gently. Sprinkle with olive oil and sprinkle with taco seasoning. Bake for 25 to 30 minutes. Serve with salsa, cheese, sour cream, and green onions.
Variations to try
Mix taco seasoning in the sour cream

Top with a

cilantro lime sauce


#40 Seven-Layer Dip
7-layer dip is a flavorful and easy-to-make side dish that is perfect for taco Tuesday. The layers usually consist of beans, guacamole, seasoned sour cream, cheese, olives, tomatoes, and onions. The best part about this dip is that you can make it ahead of time and refrigerate it until ready to serve.
Variations to try
Make in small cups for individual servings

Top with mild or spicy salsa
#41 Mexi-Ranch Dip
This flavorful dip combines the classic taste of ranch dressing with the zesty flavors of Mexican cuisine. It's perfect for enjoying as a side dish with tortilla chips or veggies. And it's so simple to make—you'll be able to whip it up in no time. All you need is sour cream, ranch mix, taco seasoning, salsa, salt, and pepper.
Variations to try
Have more time? Make your own taco and ranch seasonings from scratch

.
Use equal parts ranch and salsa for a super simple option.
#42 Seasoned Fries
Seasoned fries are sure to be your kid's favorite side on this list. Simply season your favorite frozen fries with a blend of onion powder, chili powder, cumin, oregano, and salt. Then bake in the oven until crispy. Serve with your favorite taco toppings, and enjoy!
Variations to try
Add seasoned fries to your taco or burrito

Try enchilada or fajita seasoning


#43 Tortilla Soup
When it comes to Mexican cuisine, there are few dishes more iconic than tortilla soup. Tortilla soup is traditionally made with chicken broth, tomatoes, onions, and chili peppers, and garnished with tortilla strips, a dollop of sour cream, and shredded cheese. This hearty soup is perfect when you want a warm and comforting side.
Variations to try
Garnish with chunks of avocado

A

dd beans, corn, and chicken for a hearty soup
#44 Black Bean Soup
Black bean soup is a hearty, flavorful soup that makes a great side dish or main course. It's traditionally served with rice, but can also be served with tortilla chips or cornbread. This soup is a great way to use leftover black beans.
Variations to try
Spice it up with red pepper flakes

Add veggies – chopped carrots, onions, and peppers
#45 Mexican Tomato Soup
Mexican tomato soup is made with tomatoes, onions, garlic, and chili peppers, and garnished with cilantro, lime, tortilla strips, and chopped veggies. The soup has a mildly spicy flavor that is offset by the sweetness of the tomatoes.
Variations to try
Mix in jalapeño peppers
Add fideo, thin Mexican noodles
Final Thoughts
Well, there you have it—over forty-five delicious sides to make for your next taco night. With all of these choices, you're sure to find something everyone in the family will love. In the comments, let us know your favorite sides to serve with tacos!
Pin for later: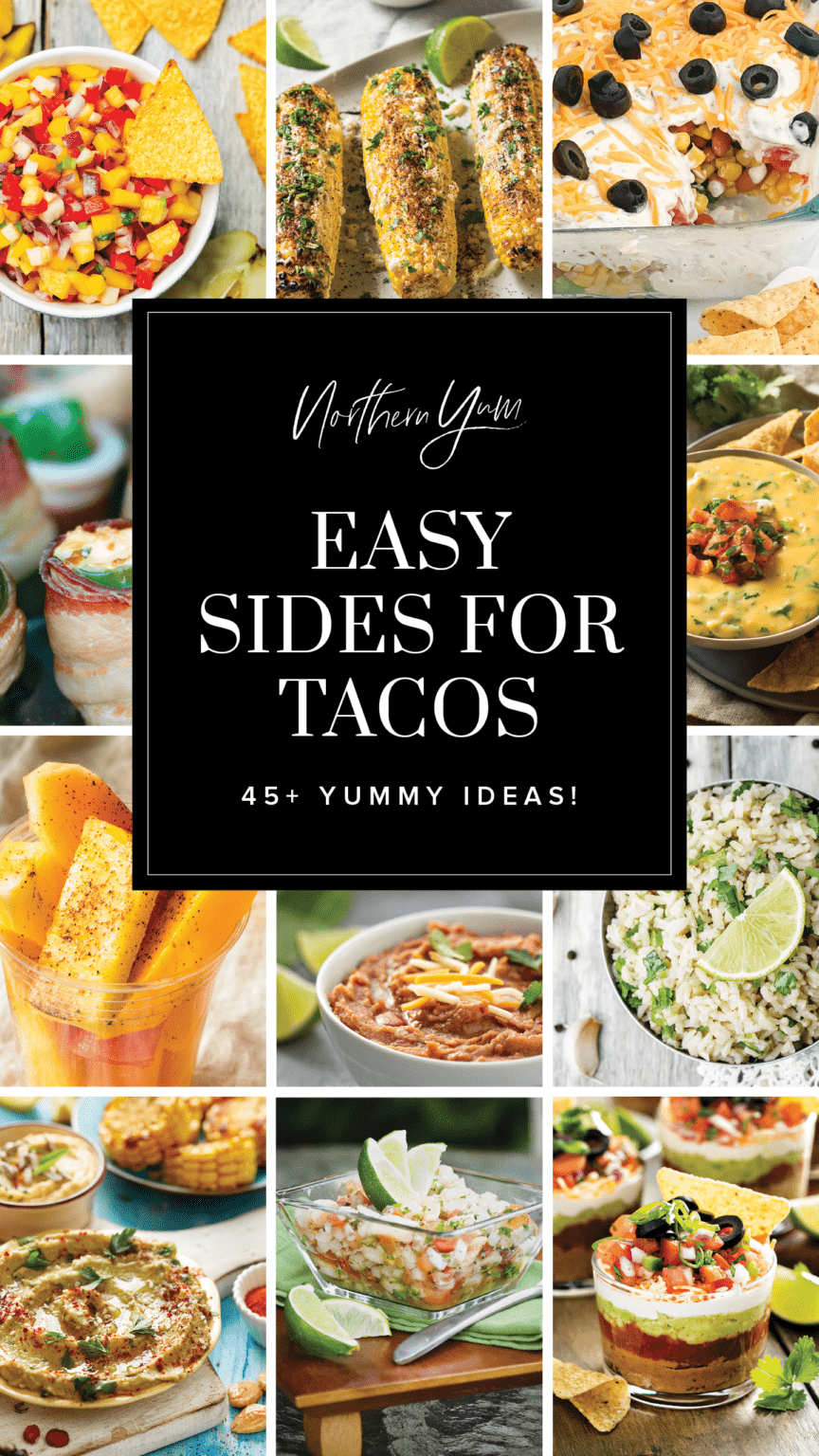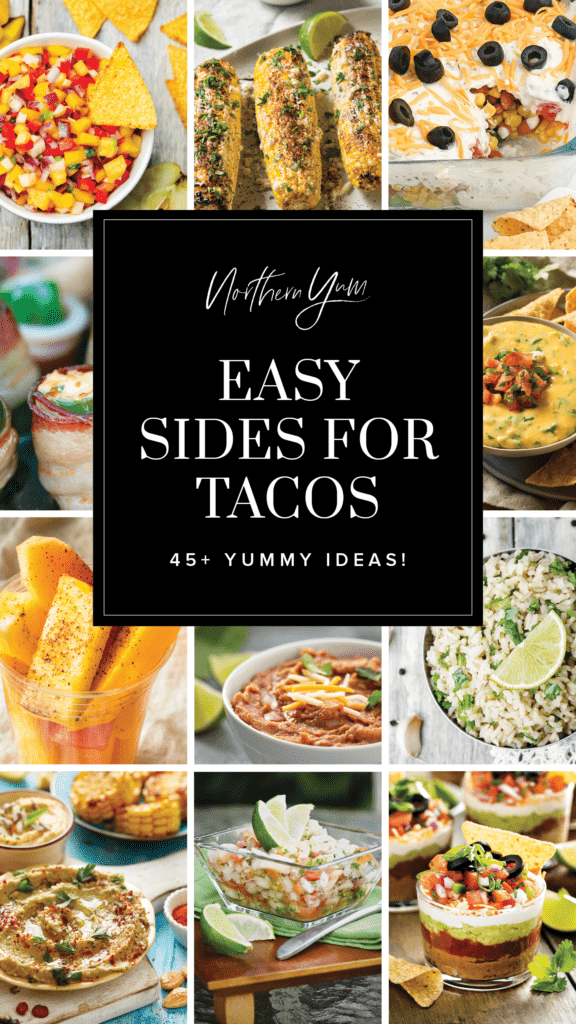 Quick Summary of Sides for Tacos
Here's a quick summary of the best side dishes for tacos. Read above for details on each dish and ideas to vary each for even more inspiration. Jump to details.
Mexican street corn (elote)
Mexican street corn salad
Black bean salad

Mexicorn dip

Mexican coleslaw

Tex-Mex Salad
Refried beans
Mexican potato salad
Mexican rice
Mango salsa
Mexican sweet potatoes

Sautéed peppers and onions

Cilantro lime rice

Salsa

Pico de gallo
Bacon-wrapped jalapeño poppers
Guacamole
Bean dip
Corn pudding

Pineapple salsa

Corn salsa
Queso
Salsa verde

Cilantro lime quinoa

Ceviche
Brown rice
Roasted veggies
Mexican fruit cups
Queso fundido

Cauliflower rice

Grilled avocados
Chili-lime grilled pineapple
Mexican chickpeas
Jalapeño cornbread
Mexican deviled eggs
Avocado lime ranch dip
Avocado hummus
Elote tater tots
Smashed potatoes
7-Layer dip
Mexi-ranch dip
Seasoned fries
Tortilla soup
Black bean soup
Mexican tomato soup
Other Tasty Side Dish Ideas
More Delicious Recipes You'll Love
45+ Easy Sides for Tacos – Perfect for Taco Tuesday!