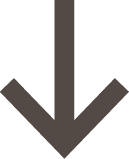 Jump to Recipe
A traditional homemade cranberry sauce made from scratch with just 5 ingredients. Takes only 15 minutes (plus chill time for best results).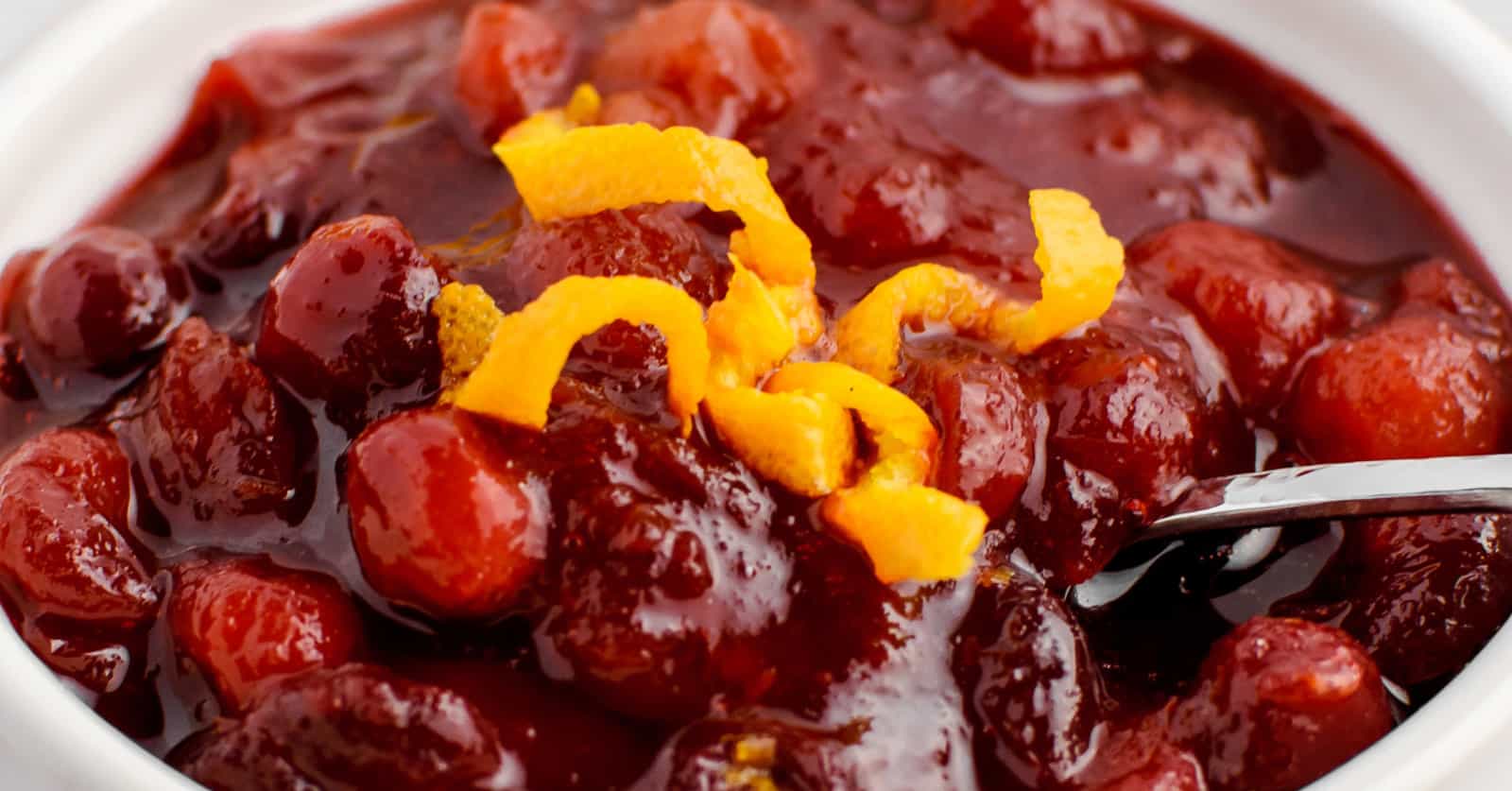 Cranberry sauce is a timeless side dish and a must-have for most holiday dinners (ours included!). This simple recipe combines the tartness of cranberries with the sweetness of brown sugar and a hint of citrus from fresh orange juice.
The result is a delicious, homemade cranberry sauce that will complement your Thanksgiving or Christmas feast perfectly.
Find What You're Looking for: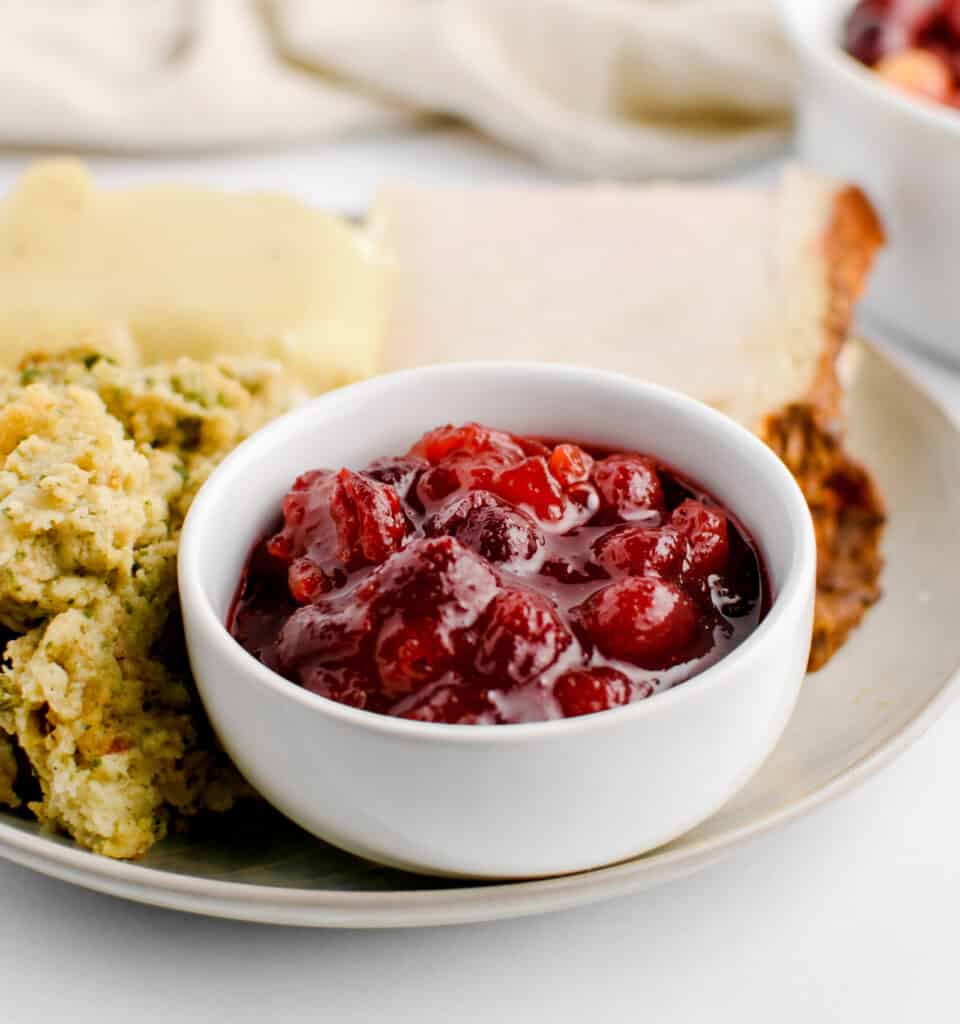 Ingredients for Cranberry Sauce
Here are the five ingredients you'll need for this delicious sauce and our detailed recommendations to help you get the best results.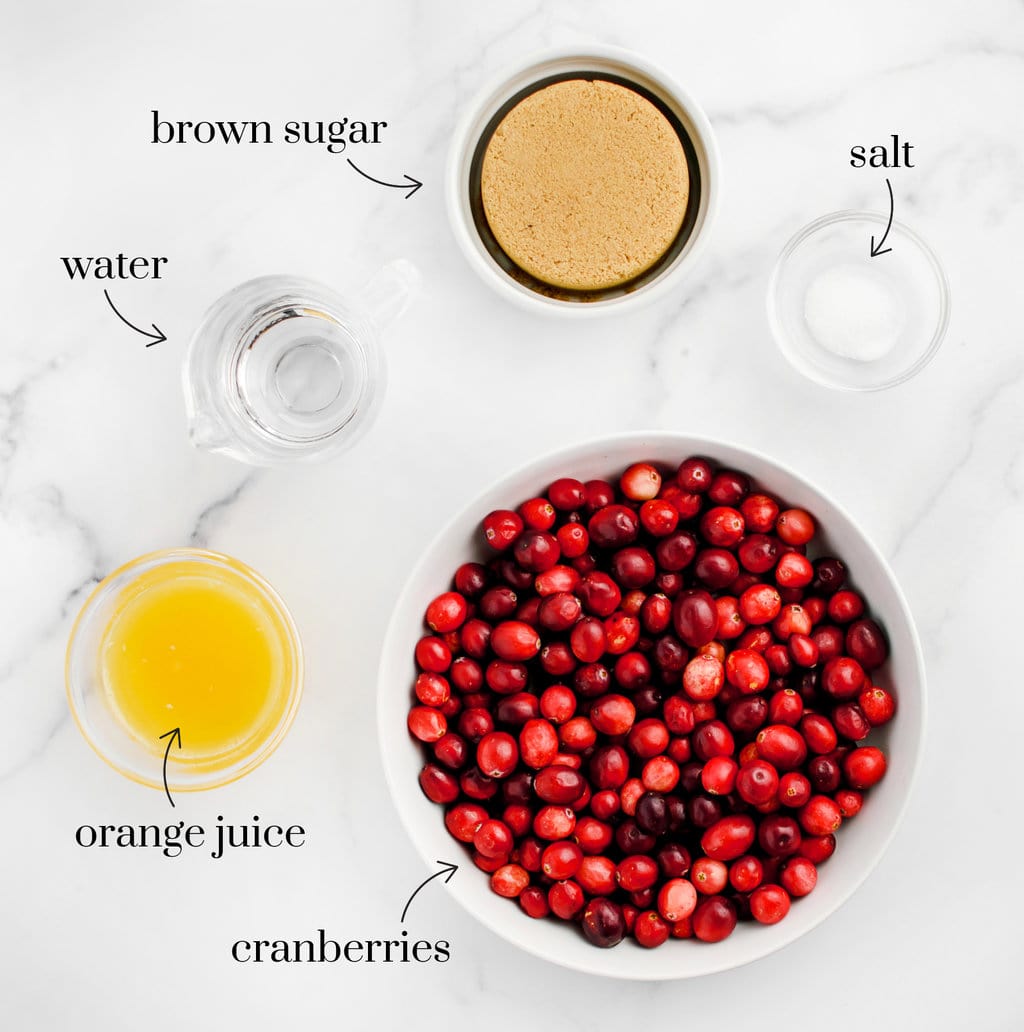 12 ounces cranberries – fresh cranberries, you can find packages in 8, 12, or 32 ounces typically. 12 ounces is about 4 cups.
1/2 cup of water – room temperature water.
1/2 cup of orange juice – we love freshly squeezed, but you can use orange juice in a bottle or jug. Two small oranges will give you 1/2 cup of juice.
1 cup of brown sugar – light or dark brown sugar.
A pinch of salt – kosher or regular table salt.
Substitutions: you can use all water instead of orange juice if needed. You can also swap the brown sugar for granulated sugar. But we like the added flavor from the brown sugar.
Supplies
Colander
Medium saucepan – we love our Caraway pans.
Whisk and spoon
Measuring cups
Storage container
Serving bowl and spoon
How to Make Homemade Cranberry Sauce
Follow these simple steps to make cranberry sauce from scratch.
Step 1 | Prepare Ingredients and supplies
Gather all your ingredients and supplies, including a medium-sized saucepan. Clean the cranberries by adding them to a colander and rinsing them.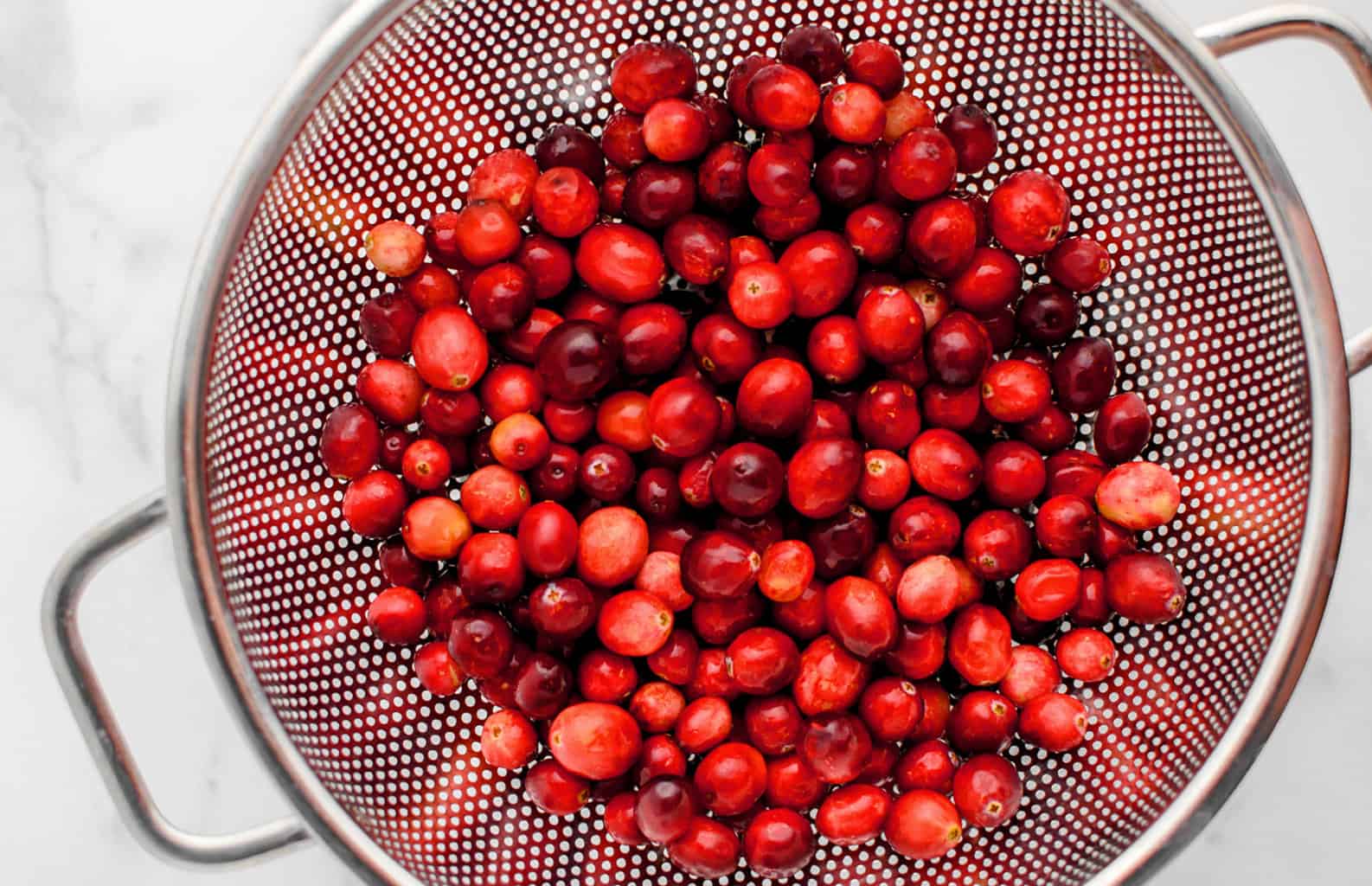 Step 2 | Combine water, juice, brown sugar, and salt
In the saucepan, add the water, fresh orange juice, brown sugar, and a pinch of salt. Whisk until combined. The orange juice will infuse a delightful citrusy note into the sauce and help cut the bitterness of the cranberries.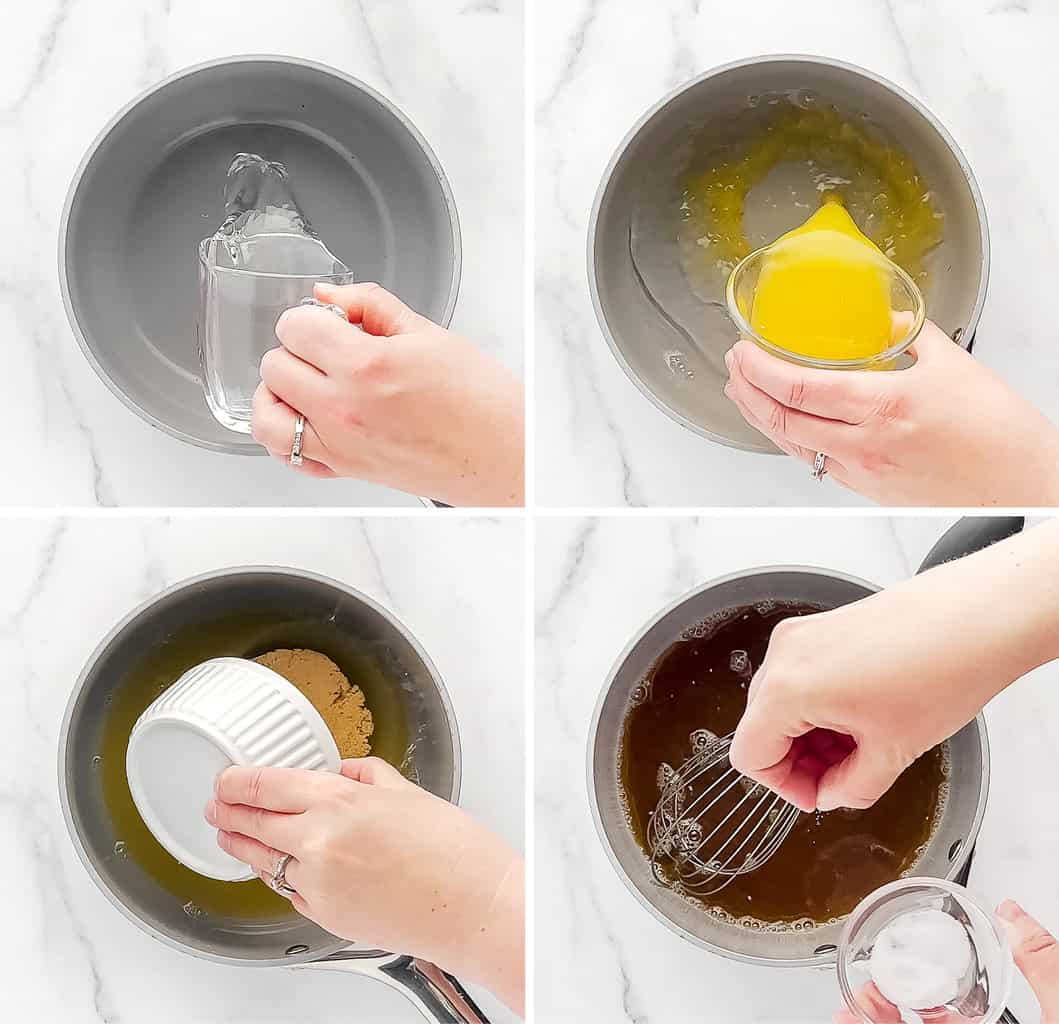 Step 3 | Bring to a boil
Turn the heat on high and stir the mixture gently as it comes to a gentle boil. This creates the syrup that will help to sweeten the cranberries.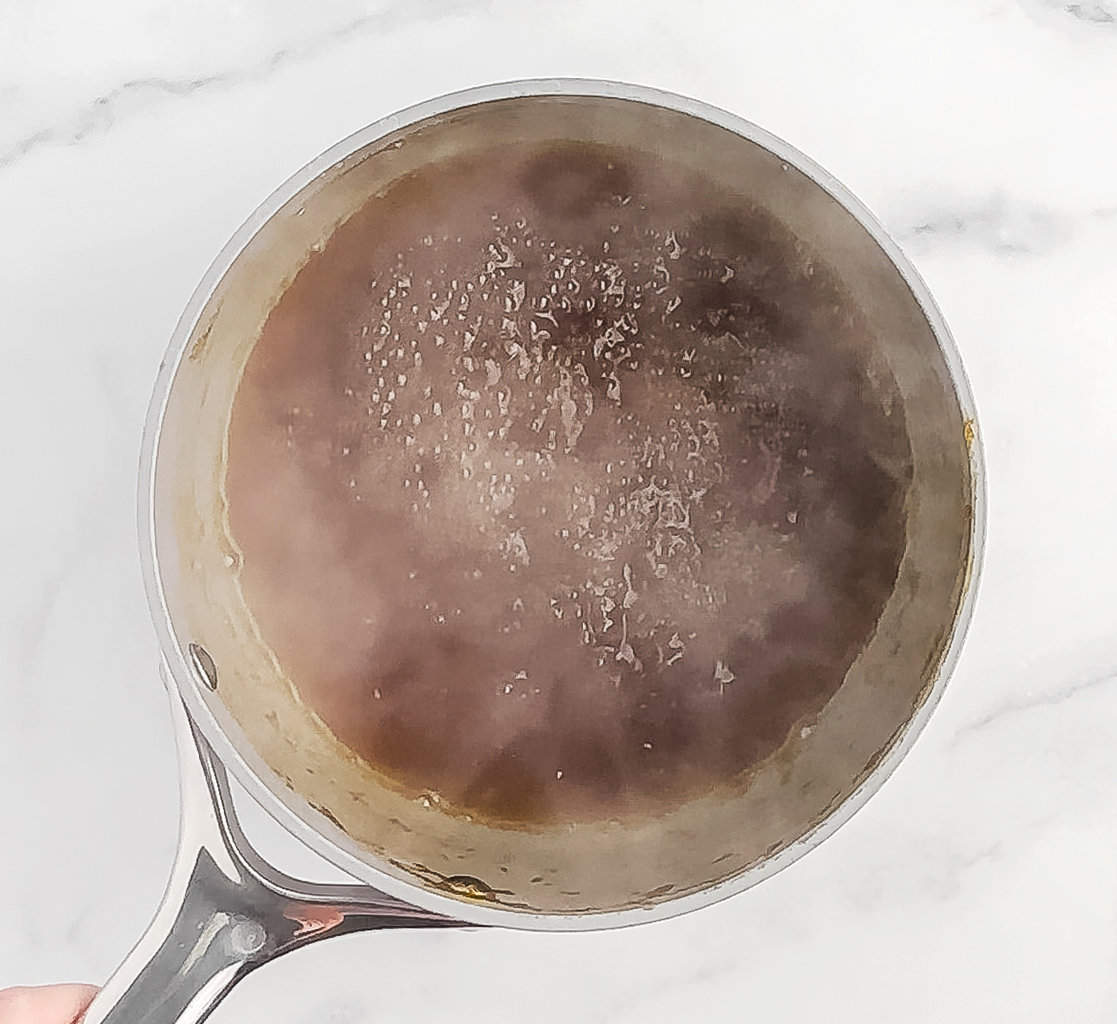 Step 4 | Add the cranberries
Once the mixture is boiling, carefully add the fresh cranberries. Stir them into the sweet syrup.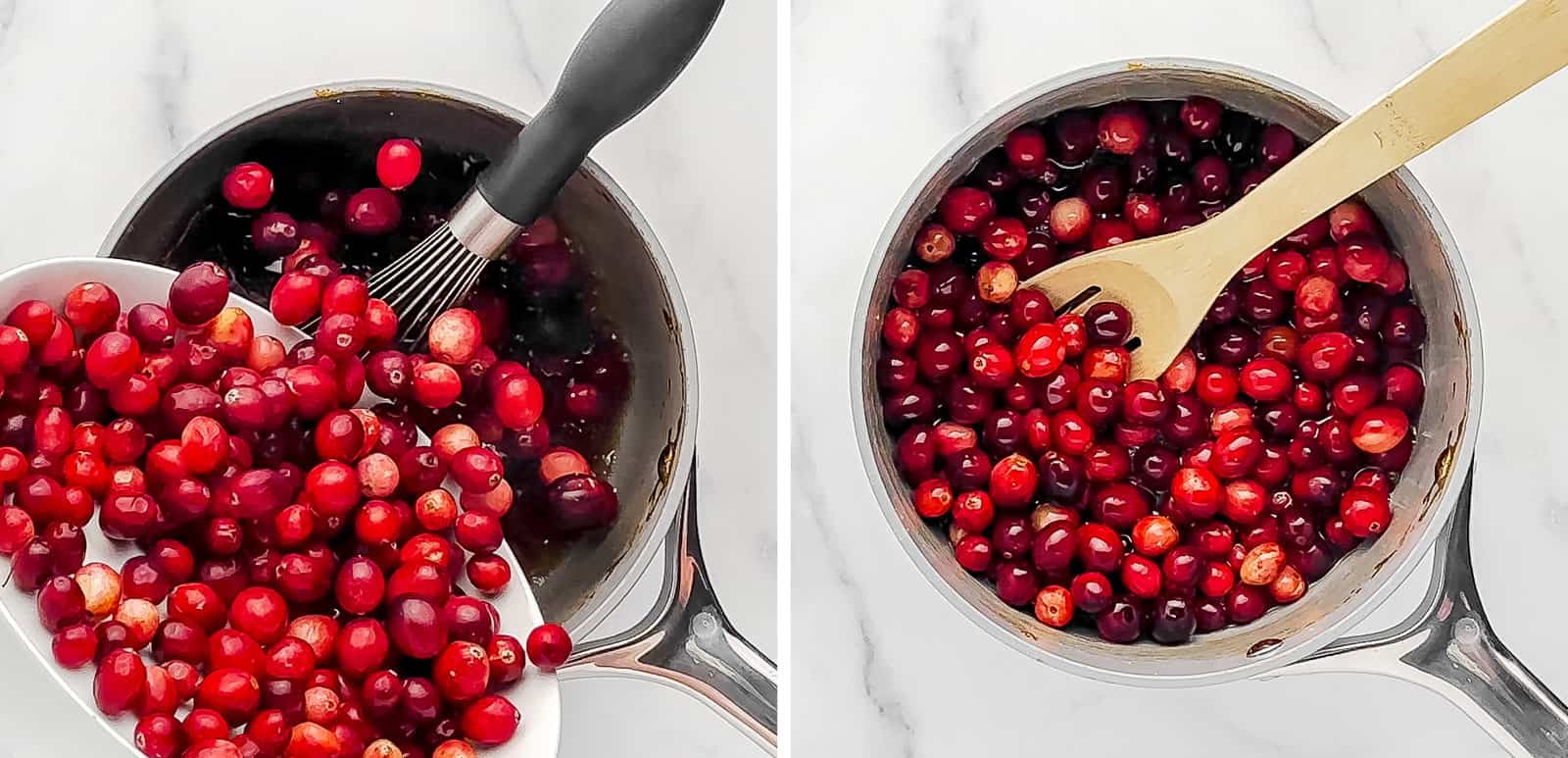 Step 5 | cook on medium-high heat
Reduce heat to medium-high and cook until most of the berries have burst, about 8 to 10 minutes. (You should see the sauce start to thicken as well.) Continue to stir occasionally as they cook.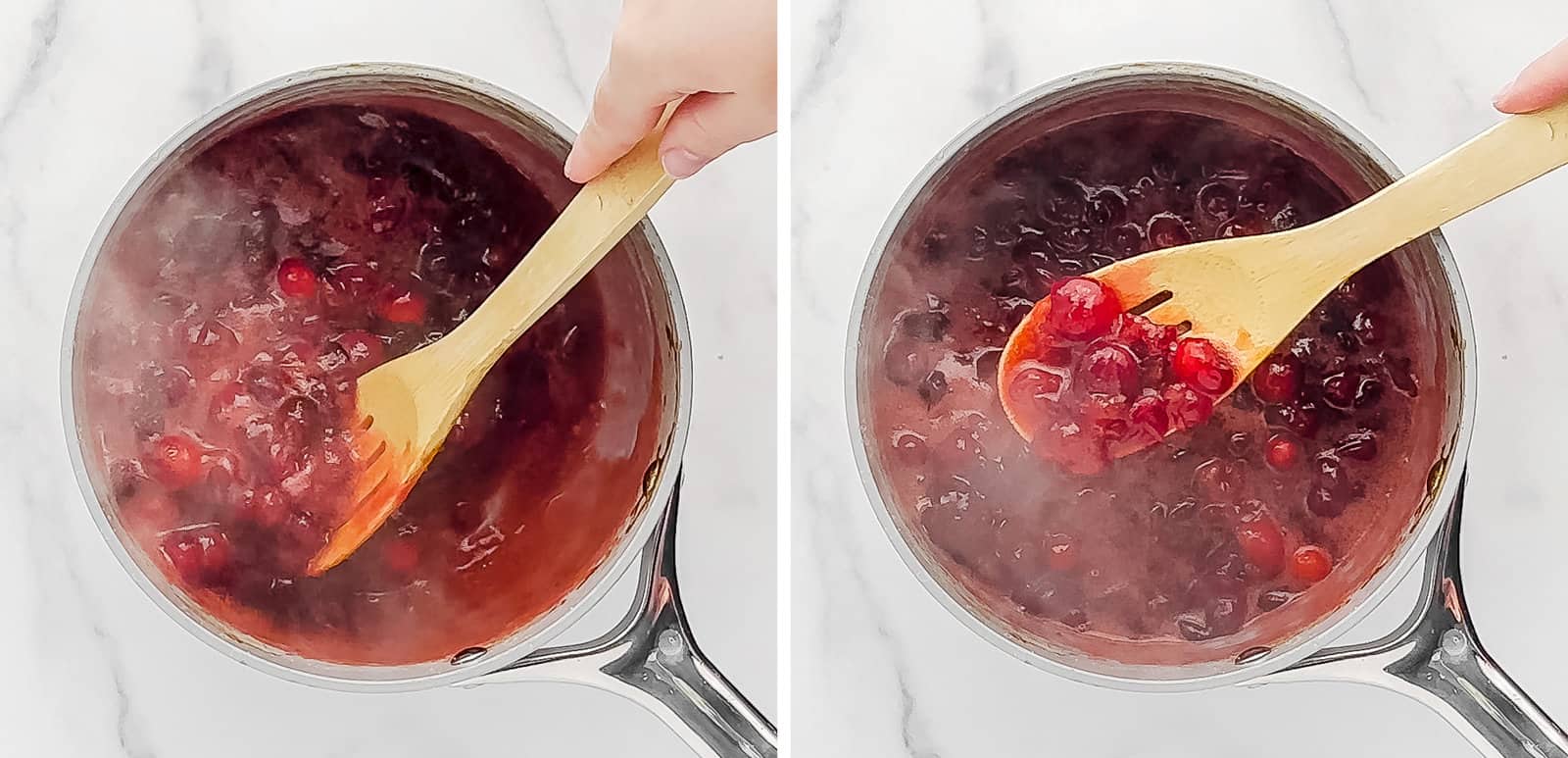 Step 6 | Remove from heat and cool
Remove the saucepan from the heat and let it cool to room temperature. The cranberry sauce will thicken as it cools.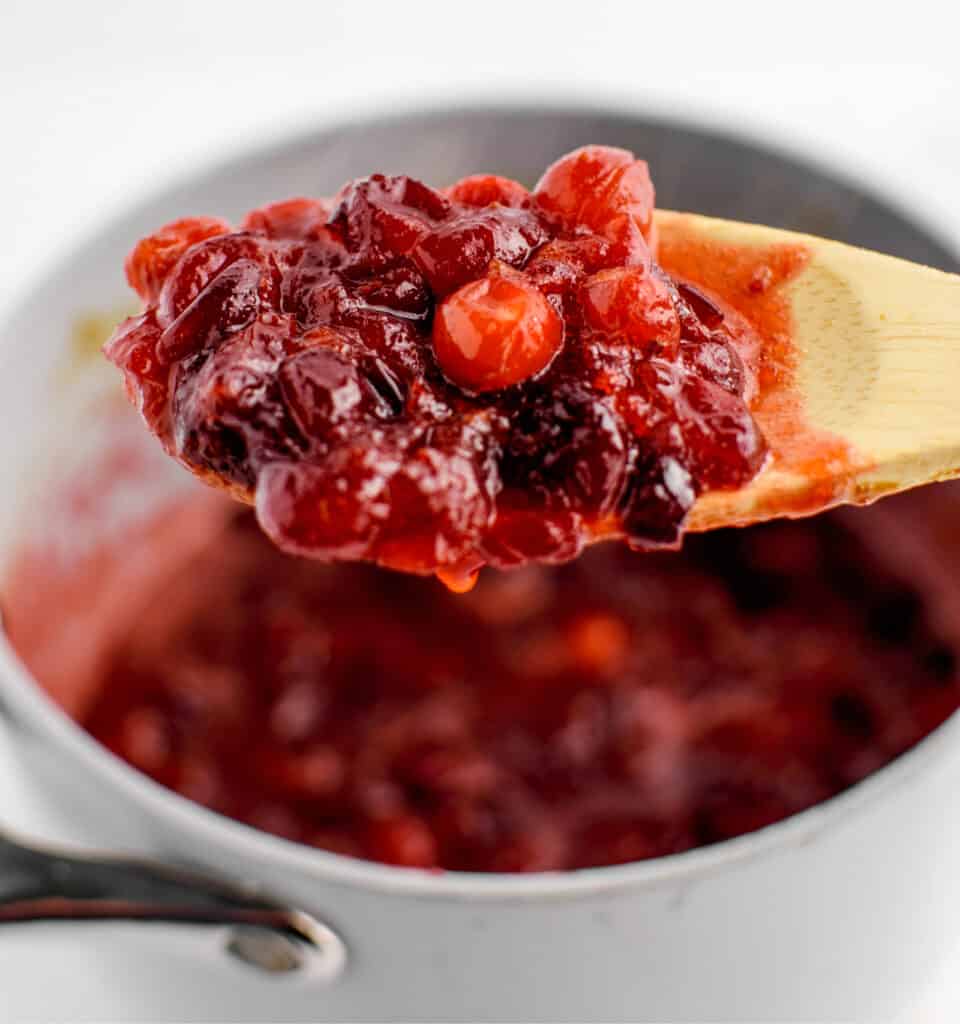 Step 7 | Chill in the fridge
For the best results, transfer the sauce to a container and refrigerate it for at least 2 hours. If possible, chill overnight to allow the flavors to meld together.
Note: Cranberries are naturally tart, so this is an important step in reducing the sauce's bitterness, giving the sugar time to balance it out. Read more on how to make cranberry sauce less bitter.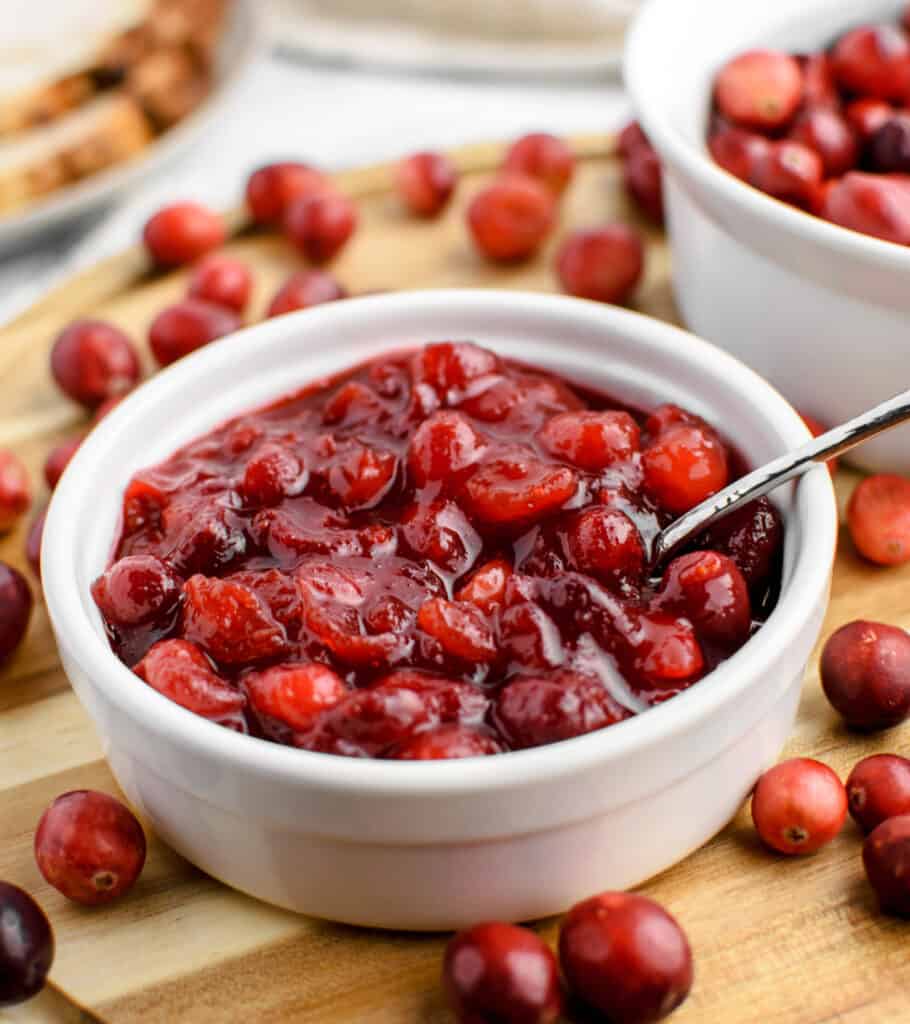 Step 8 | Serve and enjoy
Your homemade cranberry sauce is ready to grace your holiday table. Spoon it into a serving dish and enjoy it alongside your turkey, ham, or other holiday dishes. The perfect balance of sweet, tart, and citrusy notes will add delicious flavor to your meal.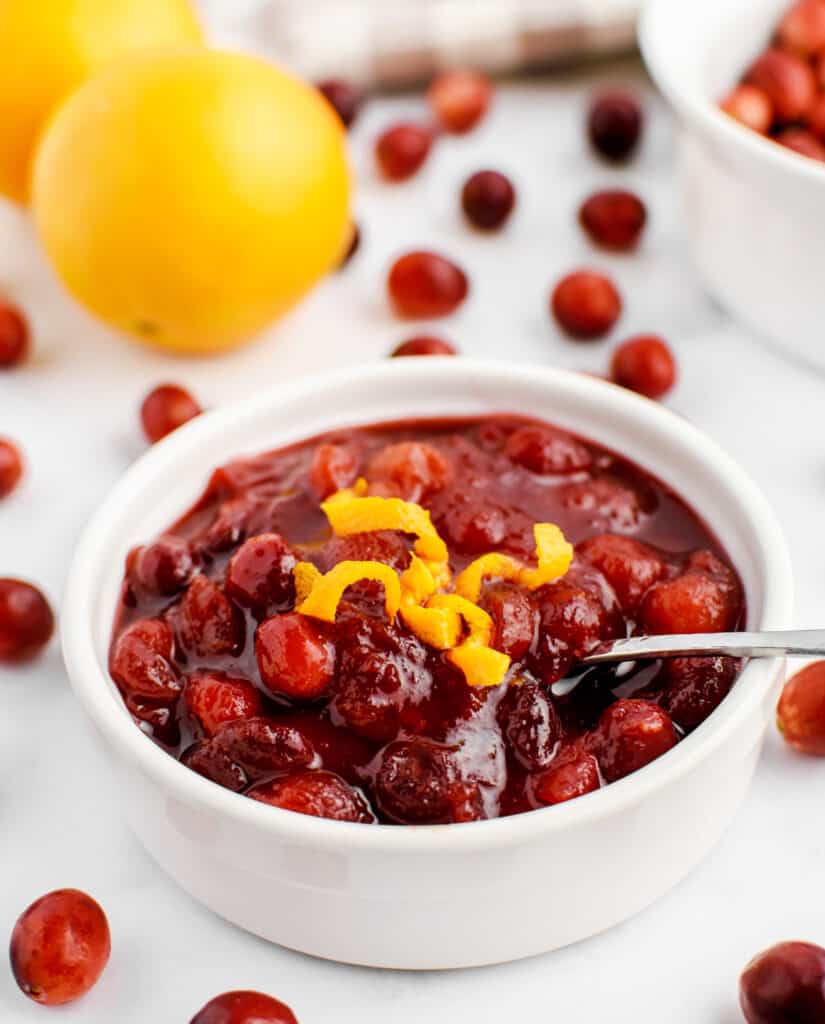 More About This Recipe
Sweet and flavorful: This recipe combines the tartness of fresh cranberries with the sweetness of brown sugar and a zesty citrus twist from fresh orange juice, creating a harmonious flavor profile.
Quick and easy: With a short preparation and cooking time, this cranberry sauce is a hassle-free addition to your holiday meal, allowing you to focus on other dishes.
Make-ahead: Chilling the sauce in the refrigerator, preferably overnight, not only enhances the flavors (and lessens the bitterness) but also offers the convenience of preparing it in advance, saving you time on the day of your feast.
Versatile: This homemade cranberry sauce pairs beautifully with roasted turkey, ham, or other holiday dishes. Whether you prefer a chunky or smooth texture, you can tailor it to your liking (see recipe tips).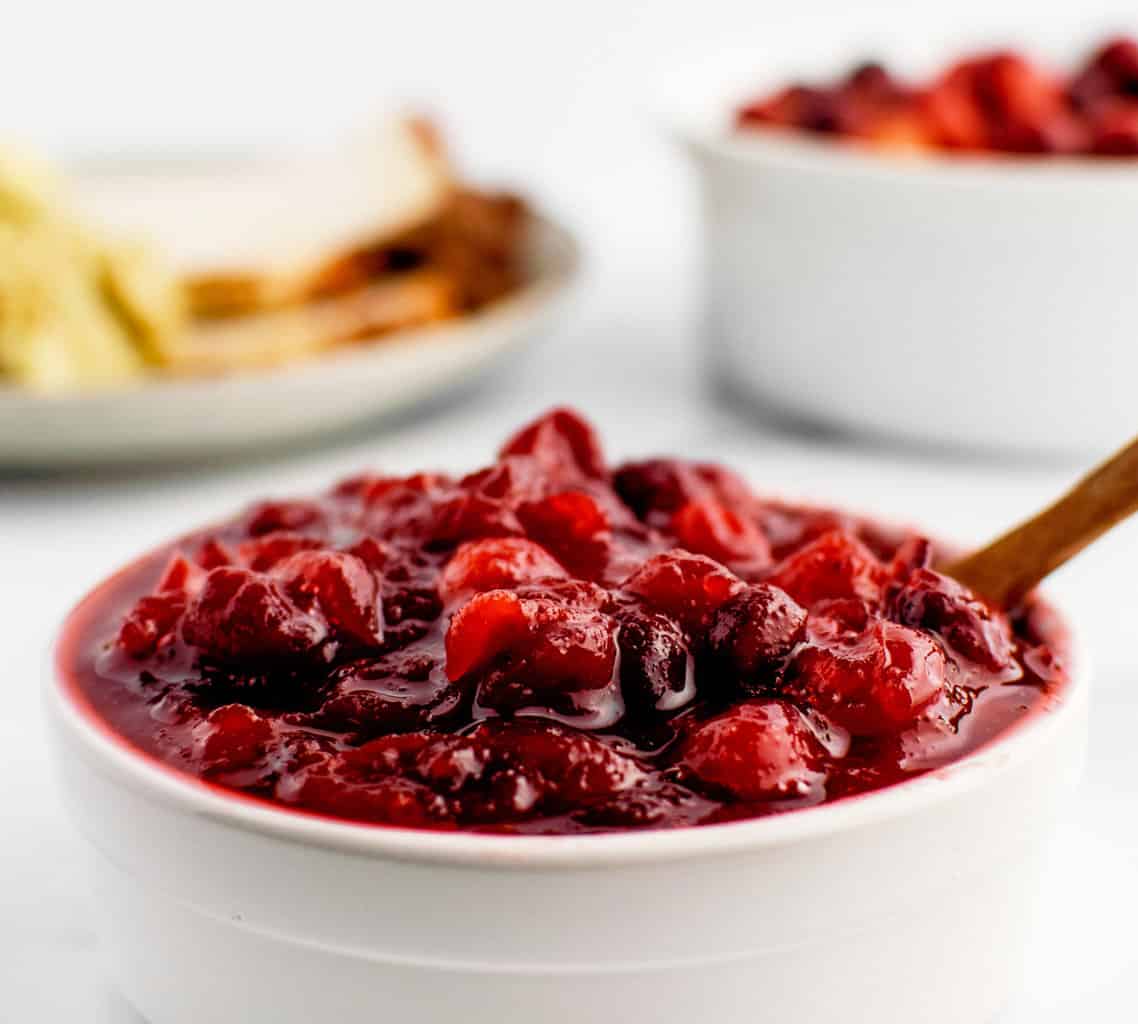 Additional Tips
You can adjust the sweetness by adding more or less brown sugar to suit your taste.
If you prefer a chunkier texture, you can cook the cranberries for a shorter time. For a smoother sauce, cook them a bit longer.
Freshly grated orange zest can be sprinkled on top for a citrus aroma.
If you enjoy a hint of warm spice in your cranberry sauce, consider adding a cinnamon stick or a teaspoon of ground cinnamon during the cooking process.
Print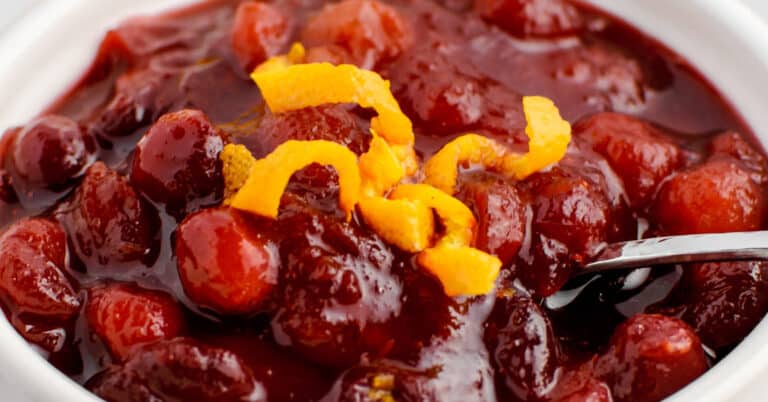 Homemade Cranberry Sauce
A traditional cranberry sauce made from scratch with just 5 ingredients. Takes only 15 minutes (plus chill time for best results).
Total Time:

10 minutes

Yield:

2 cups

1

x
12

ounces

of fresh cranberries

1/2

cup

of water

1/2

cup

of fresh orange juice

1

cup

of brown sugar
A pinch of salt
Instructions
Rinse and clean cranberries.
In a saucepan, combine water, orange juice, salt, and brown sugar.
Bring to a gentle boil over high heat.
Then add the cranberries.
Reduce to medium-high heat and cook until most cranberries burst, about 8 minutes. (The sauce will start to thicken as well.)
Remove from heat and cool completely.
Add to a container and chill in the fridge for several hours, overnight is best.
Serve and enjoy!
Notes
Chilling in the fridge is essential to cutting the bitterness of the cranberries.
You can add a stick of cinnamon or a teaspoon of cinnamon, if desired.
Author:

Prep Time:

5 minutes

Cook Time:

10 minutes

Category:

Sauce

Method:

Stovetop

Cuisine:

American
Nutrition
Serving Size:
Calories:

186

Sugar:

45.1 g

Sodium:

240.4 mg

Fat:

0.4 g

Saturated Fat:

0 g

Carbohydrates:

49.1 g

Protein:

0.2 g

Cholesterol:

0 mg
Keywords: thanksgiving, christmas, cranberry sauce, holiday
Recipe Card powered by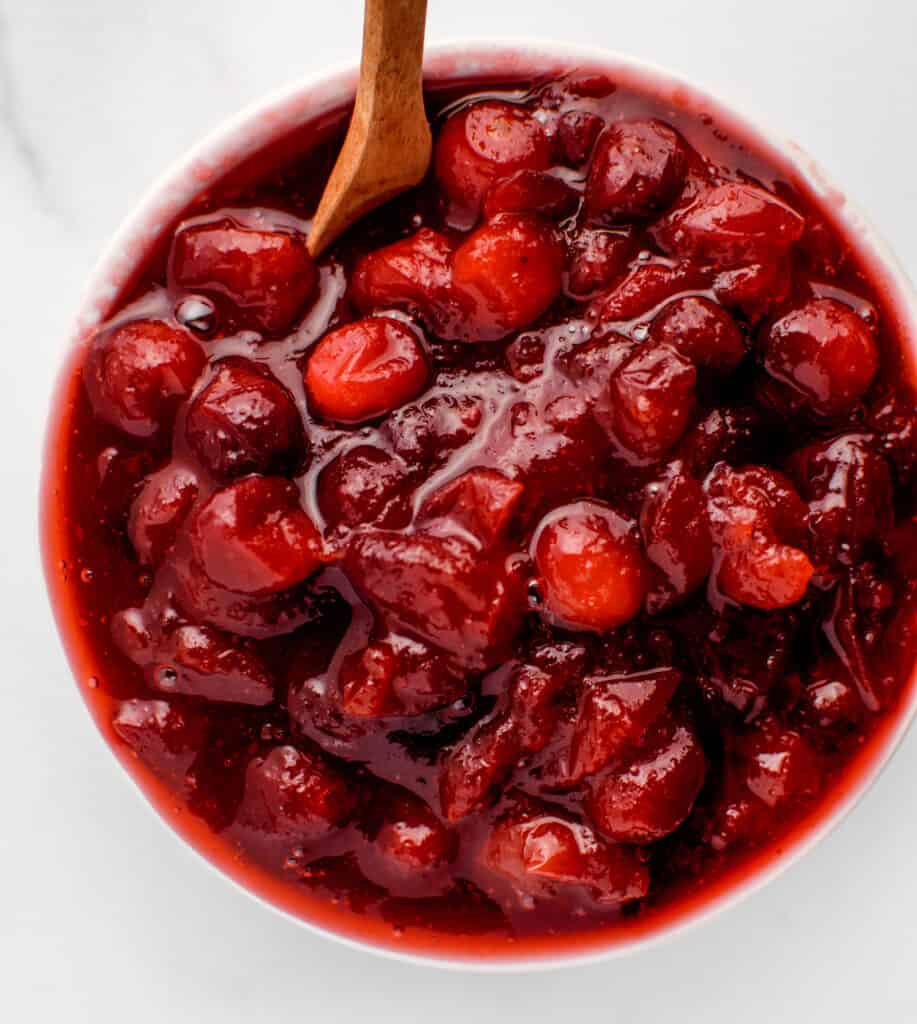 Frequently Asked Questions
Here are answers to commonly asked questions about making cranberry sauce.
Can I use frozen cranberries instead of fresh ones?
Yes, you can use frozen cranberries if fresh ones are not available. Frozen cranberries work well in this recipe and provide the same flavor and vibrant color.
Can I make this cranberry sauce in advance?
We highly recommend making this sauce the day before, but you can make it up to two days in advance and store it in an airtight container in the refrigerator. It will stay fresh and delicious for a few days, making it a great make-ahead side dish for your holiday gatherings.
Can I freeze leftover cranberry sauce for later use?
Yes, you can freeze leftover cranberry sauce for longer storage. Place it in an airtight container, leaving a bit of space for expansion, and store it in the freezer. It can be kept for up to three months. When you're ready to use it, thaw it in the refrigerator and stir to restore its consistency.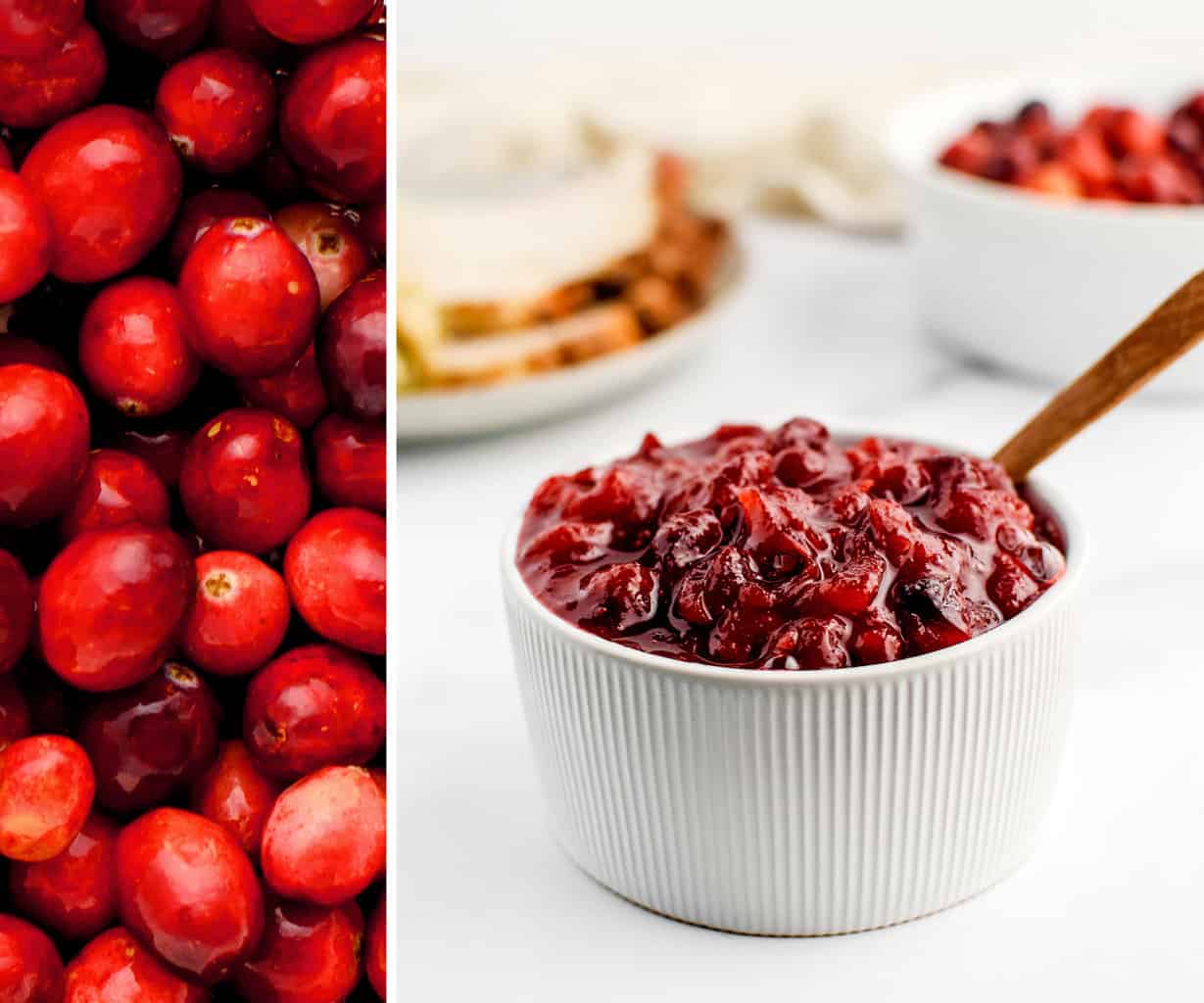 Final Thoughts
Incorporate this homemade cranberry sauce into your holiday traditions, and savor the delightful flavors it brings to your festive table. It's a simple yet satisfying addition to your Thanksgiving or Christmas meals. Enjoy!
⭐⭐⭐⭐⭐
Have You Tried This Recipe? Please rate it in the comments and let us know your thoughts!
More Thanksgiving Recipes
More Fall Recipes
Pin for later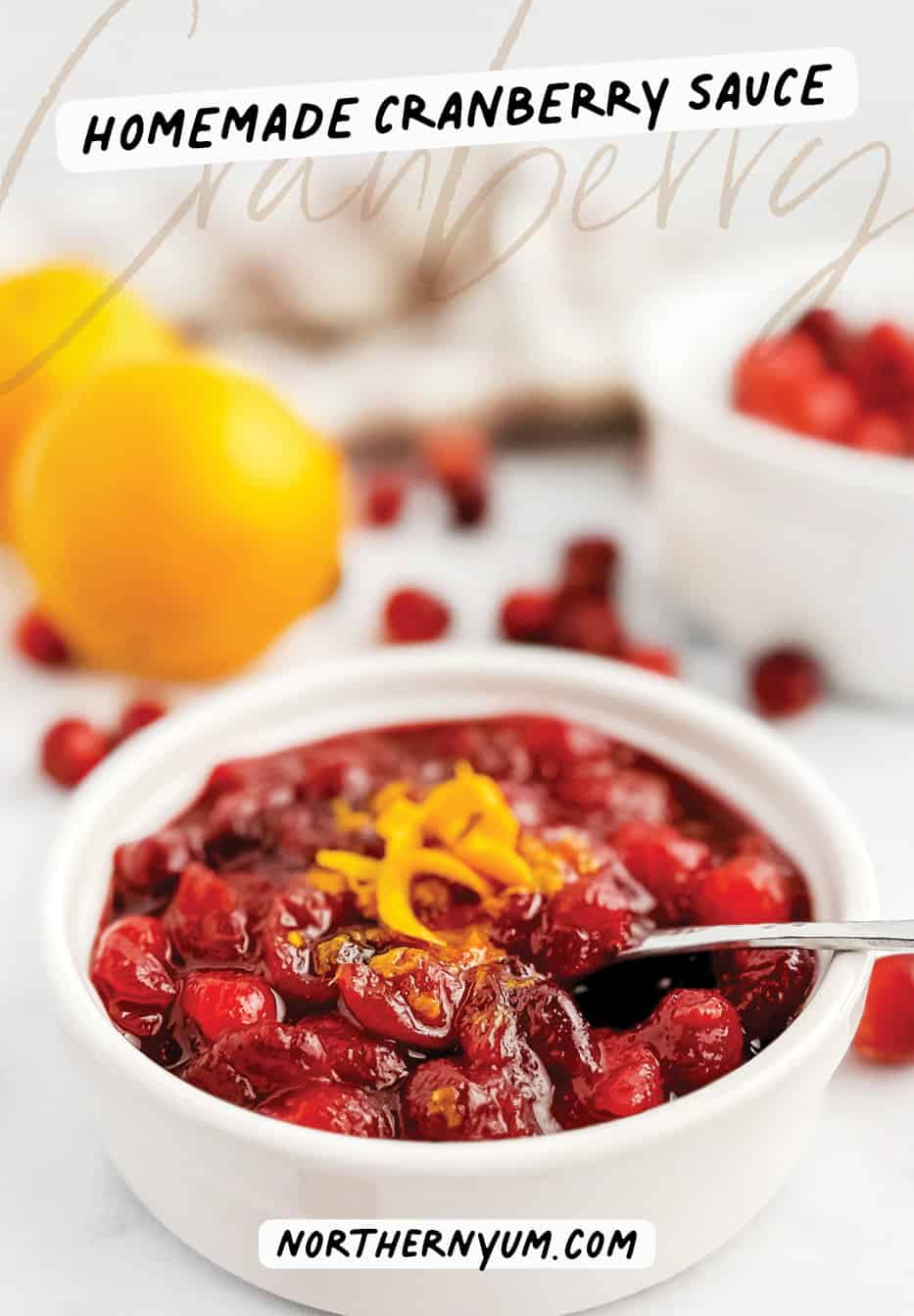 Homemade Cranberry Sauce (5 Simple Ingredients, 15 Minutes!)