White Chocolate Puffcorn
This post may contain affiliate links. That means if you click and buy, we may receive a small commission (at zero cost to you). Please see our full disclosure policy for details.
Nicknamed 'crack' for a reason, this white chocolate puffcorn is deliciously addicting. Friends & family will be asking you for this (embarrassingly) easy 2-ingredient recipe.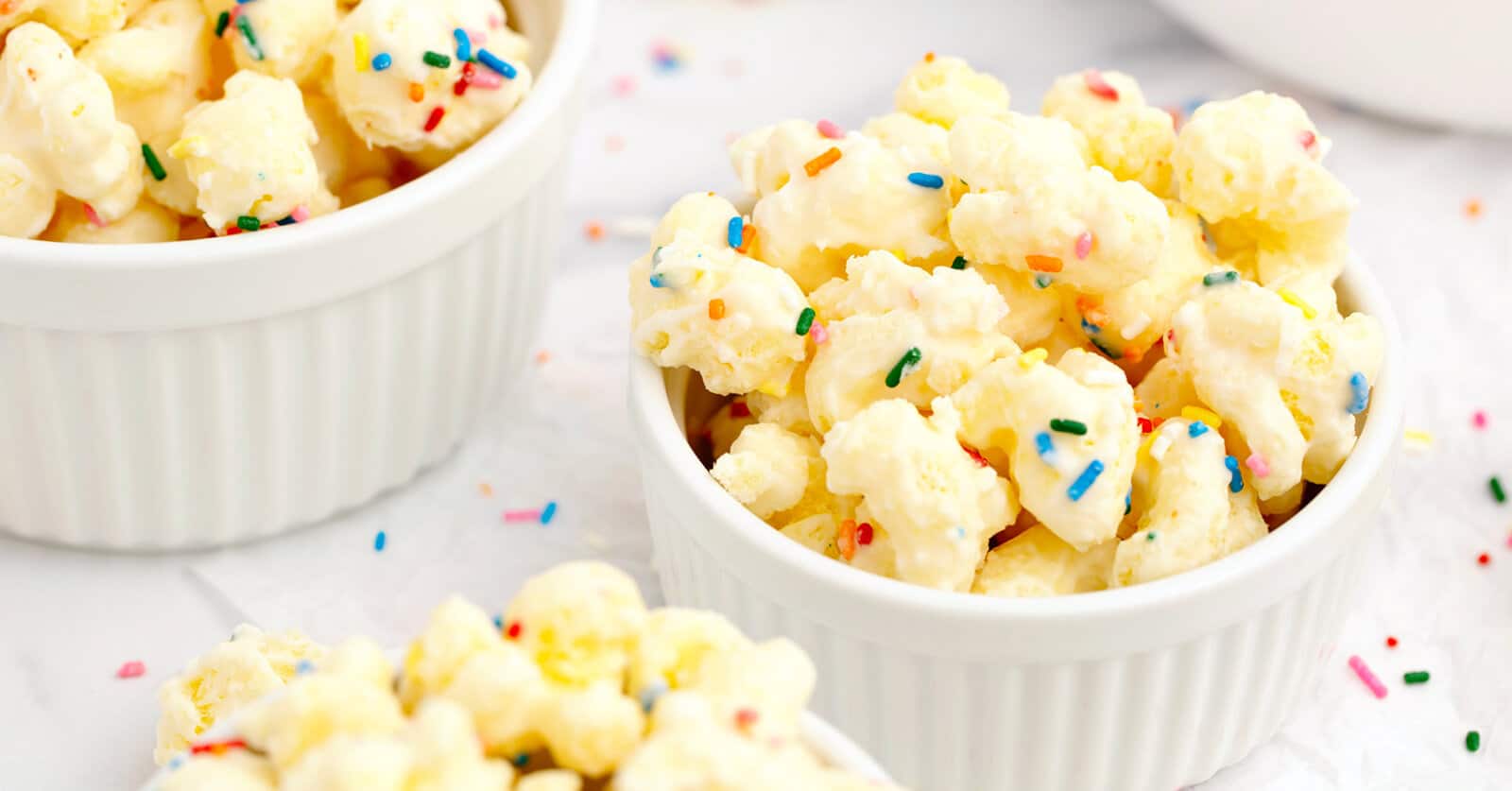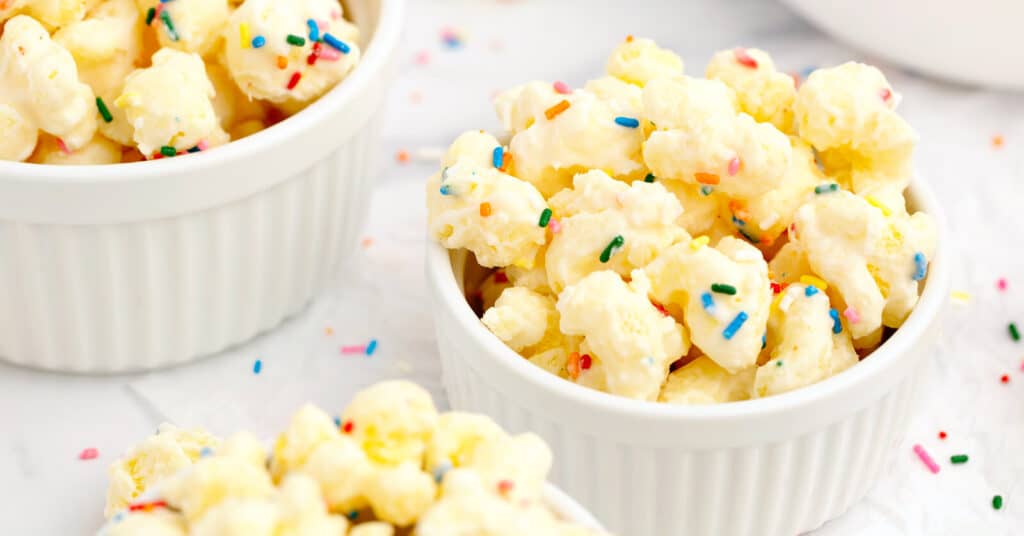 If there is one family recipe that has been made—and devoured—more than any other at our holiday gatherings and get-togethers, it's probably this white chocolate puffcorn! One of our favorite easy treats, it has just two ingredients (three if you like sprinkles!), takes minimal prep time, and tastes so good it's almost sinful.
We've made this more times than we can count, and if you're anything like us after you try this white chocolate puffcorn, you'll want to keep the ingredients on hand for any time you need a last-minute quick and simple snack option.
Why We Love This Recipe
As moms who are often short on time, we love anything simple and quick, and this recipe couldn't be easier! Just a couple of ingredients and 10 minutes (plus a bit of drying time) and you have an irresistibly delicious dessert or snack.
It makes a great party snack for any occasion: birthdays, baby showers, holidays, or anytime you just need a treat.
This puffcorn is always a crowd-pleaser! Try bringing it to any event—chances are someone will ask you for the recipe.
How to Make White Chocolate Popcorn Crack (with Puffcorn and Almond Bark)
This white chocolate-covered puffcorn is so easy to make. Our family makes this for many special occasions and holidays. We'll have it for a treat while playing a game of cards during the holidays. But be aware it is very sweet!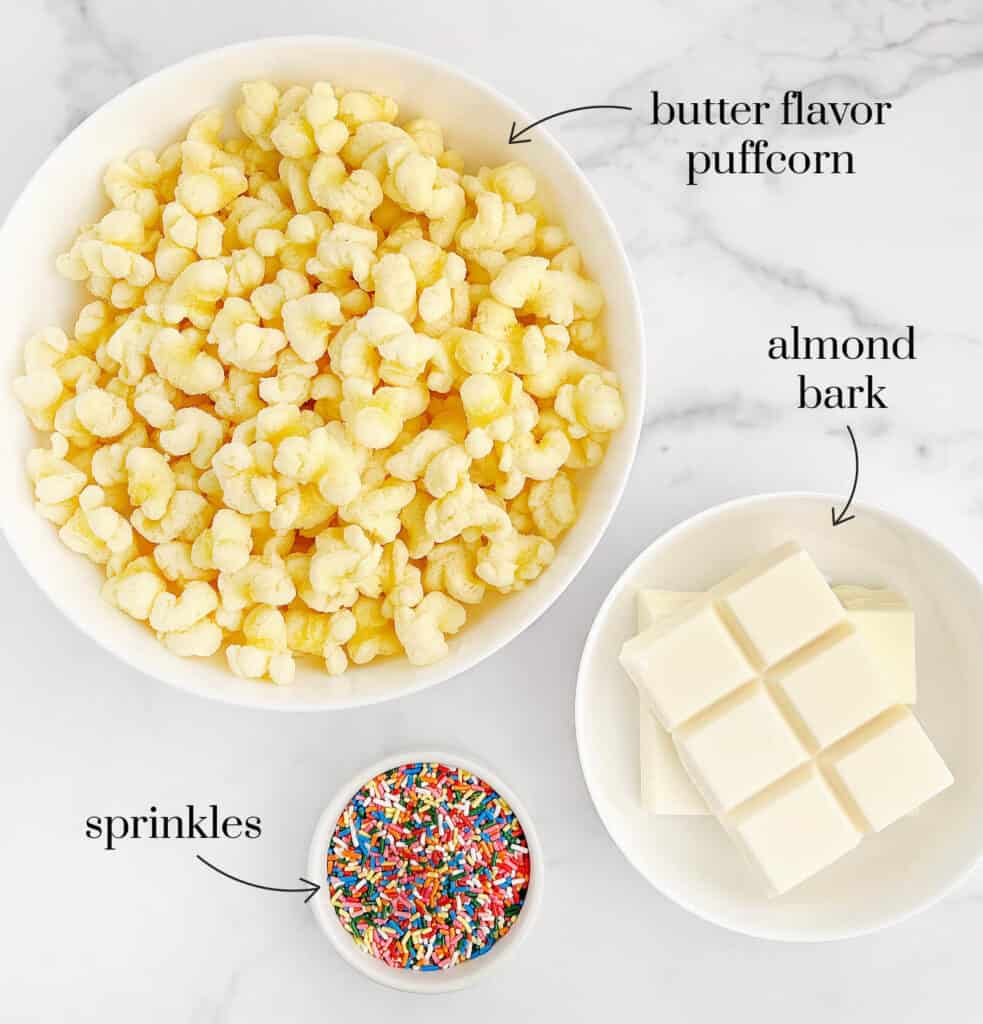 Ingredients
Ingredient notes:
Puffed corn: we prefer Chester's puffcorn (butter-flavored), but you can use any other brand.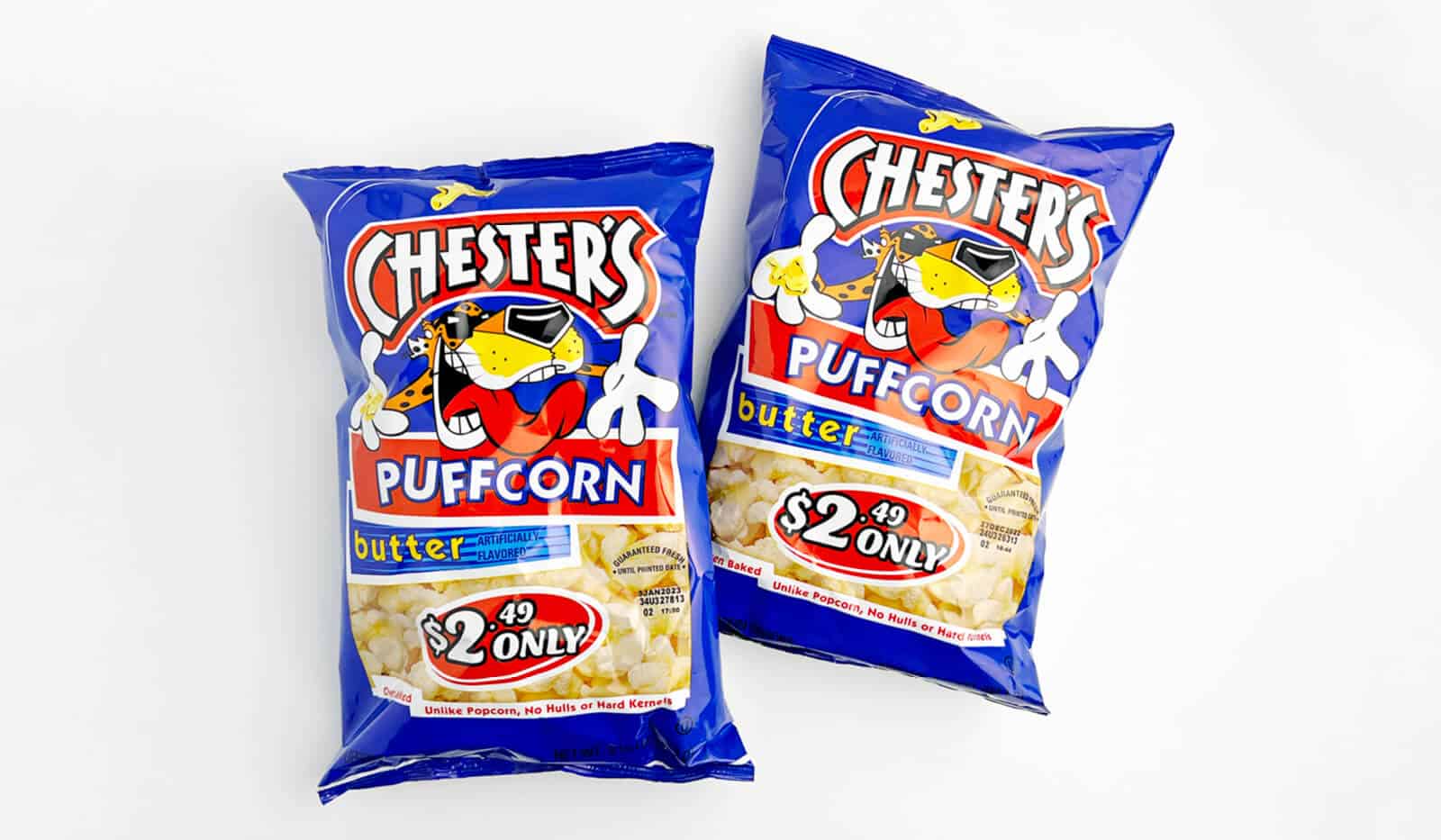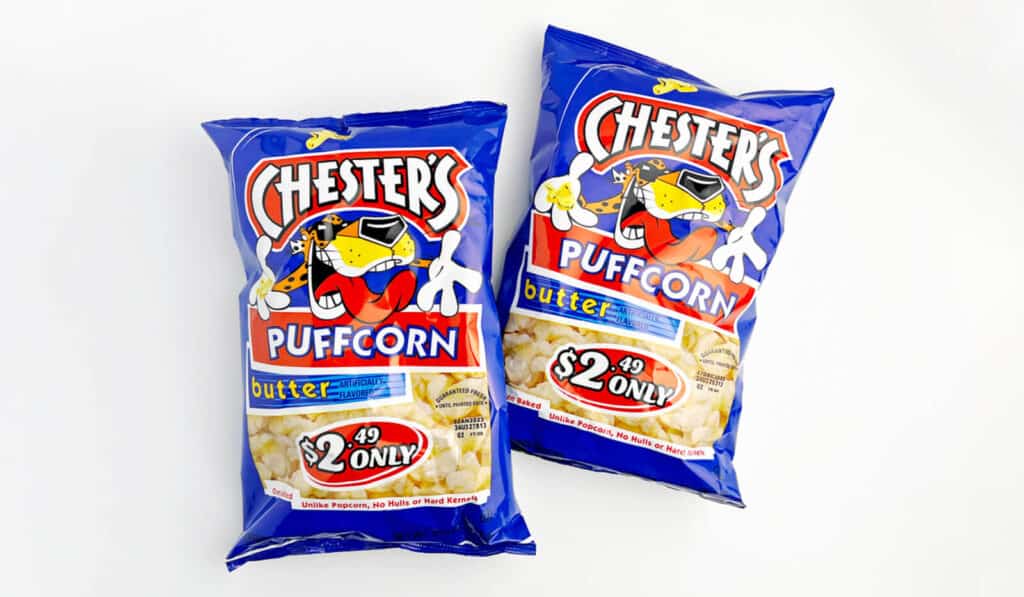 Almond bark: you may be able to find almond bark at a local grocery store, but it can sometimes be hard to find, especially if you're searching during a non-holiday season. In my experience, it's easier to find around Thanksgiving and Christmas. You should be able to order it from Amazon or other sites year-round.
Supplies
Parchment paper or wax paper
Large bowl
Medium bowl
Spoon
Storage container
Pour both bags of puffcorn into a large mixing bowl. Prep a sheet of parchment paper or wax paper.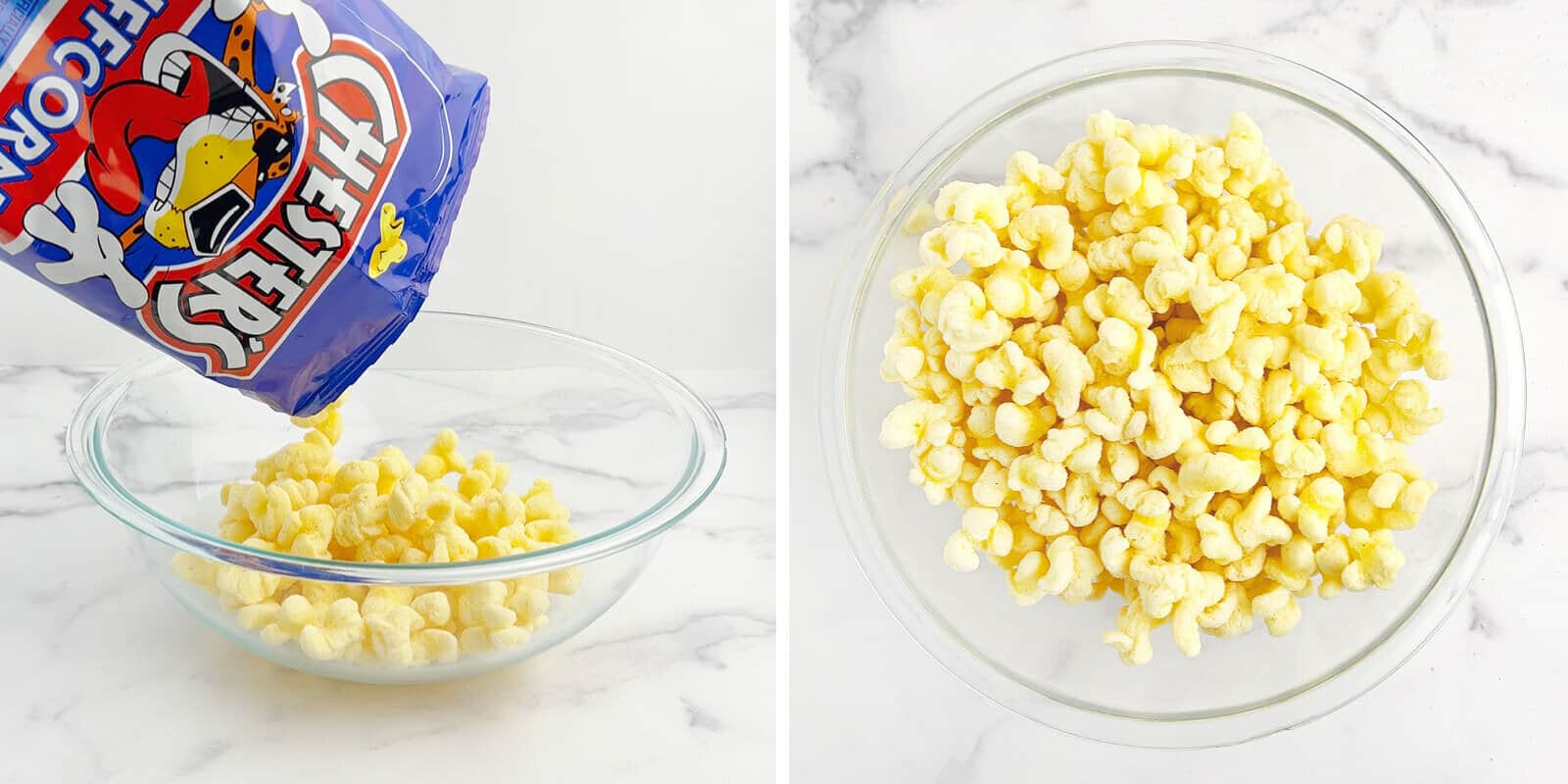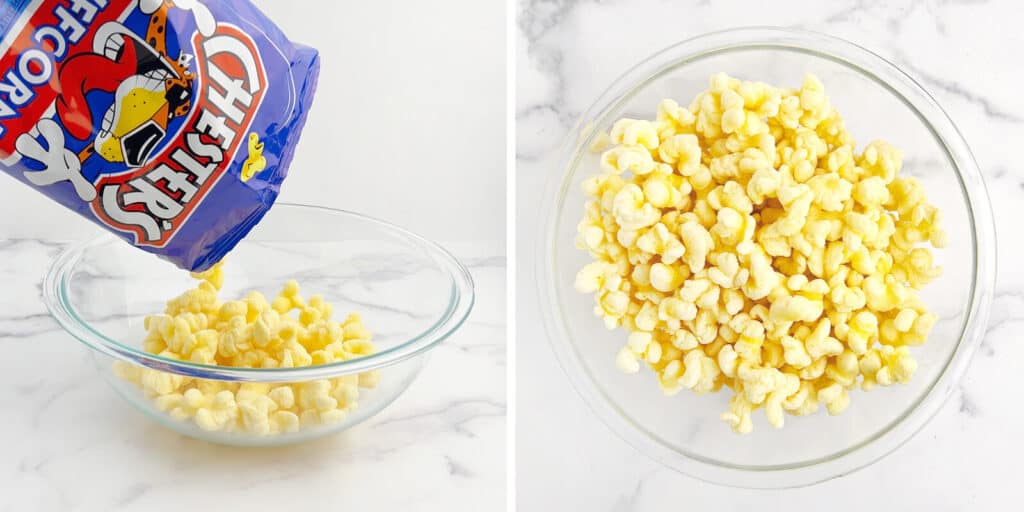 Then, in a medium-sized bowl, add the almond bark (broken down into individual pieces). Melt the almond bark in the microwave in small increments of 15-30 seconds (to avoid burning), and stir it often.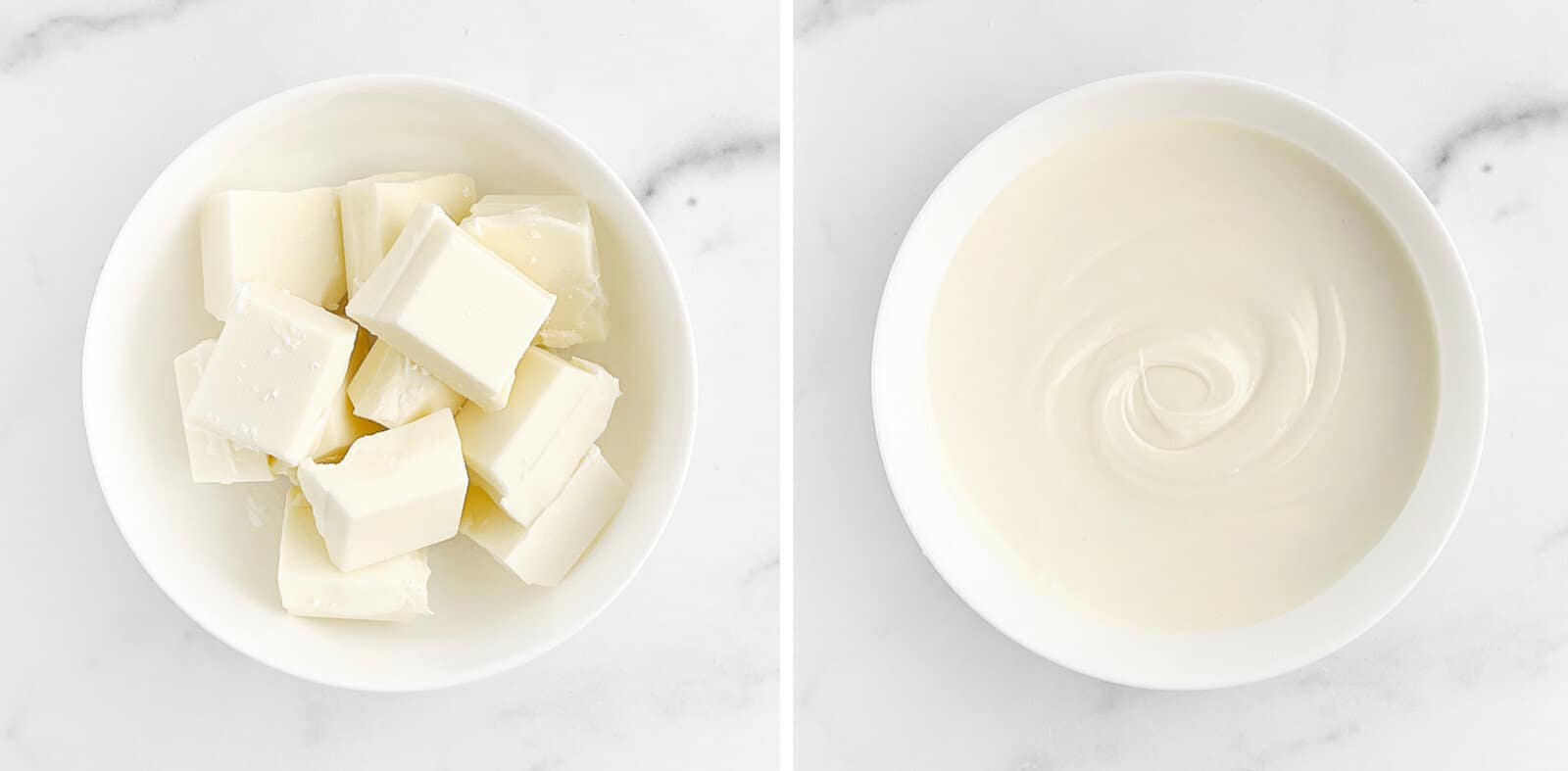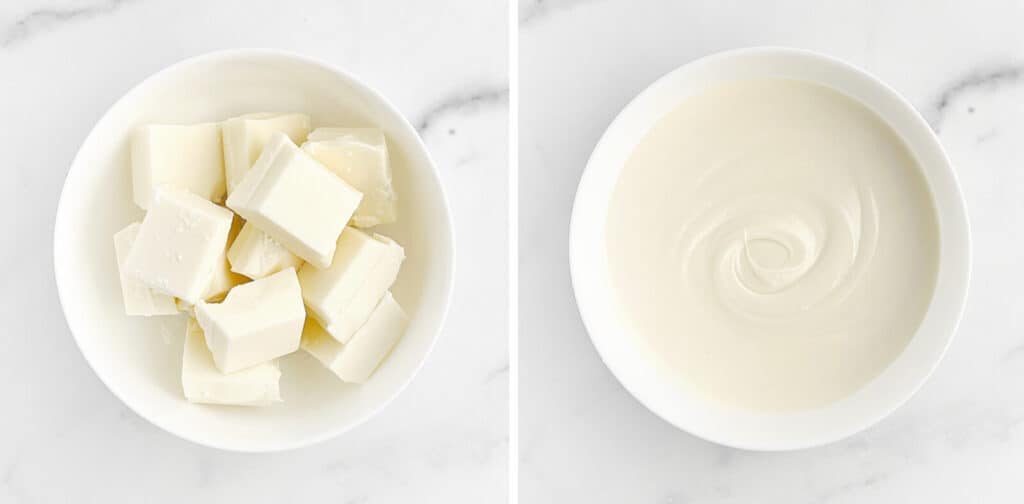 Pour the melted almond bark on top of the puffcorn and stir until coated evenly. If your bowl has a lid, you can also top your bowl with the lid and shake it to coat the puffcorn.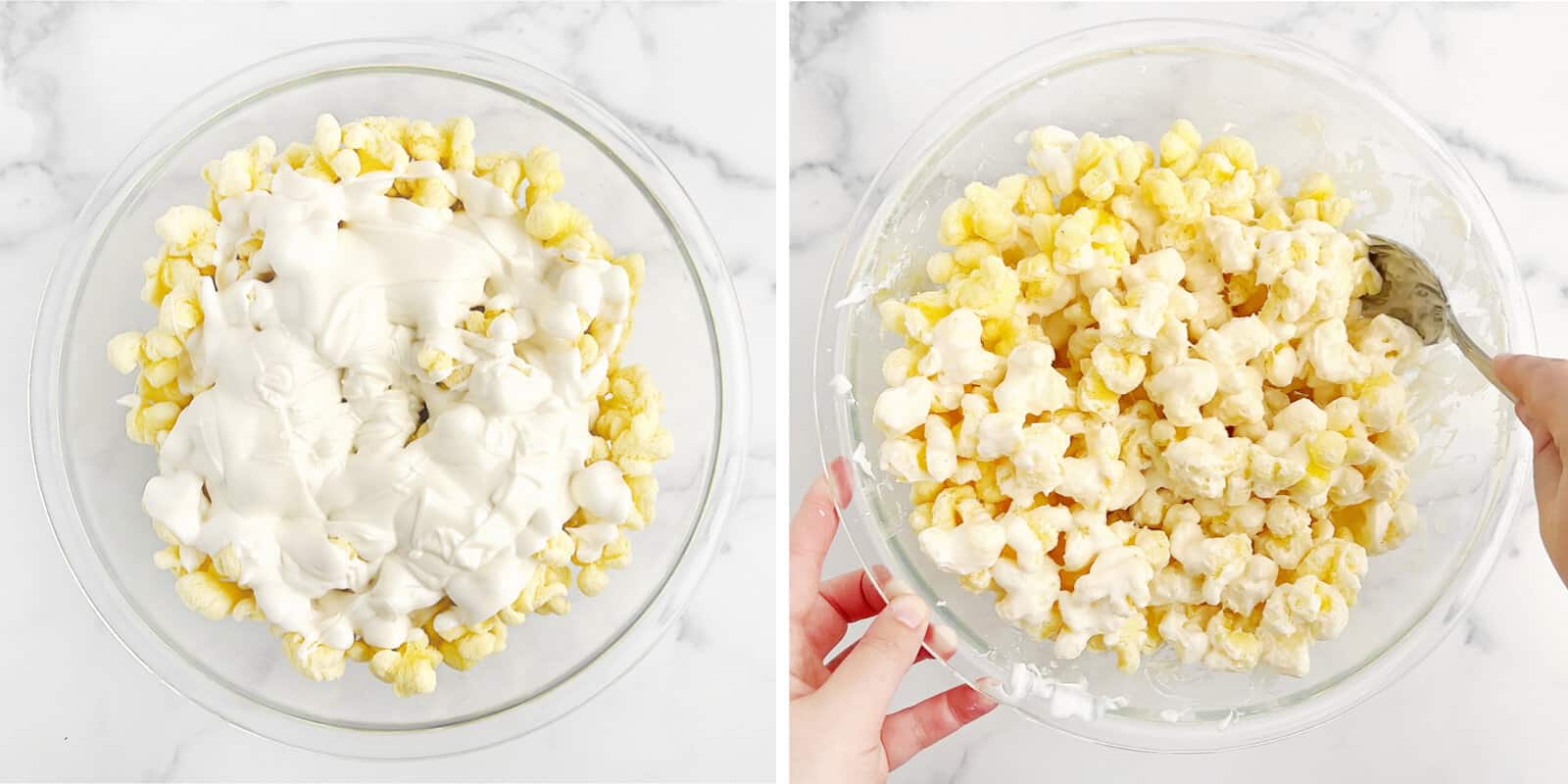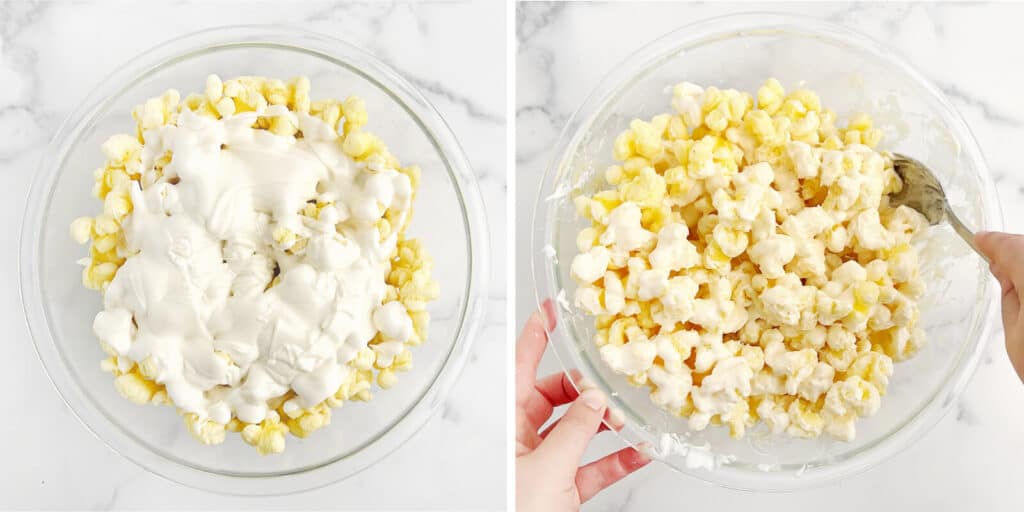 Mix in sprinkles (optional, but a great way to customize for any occasion).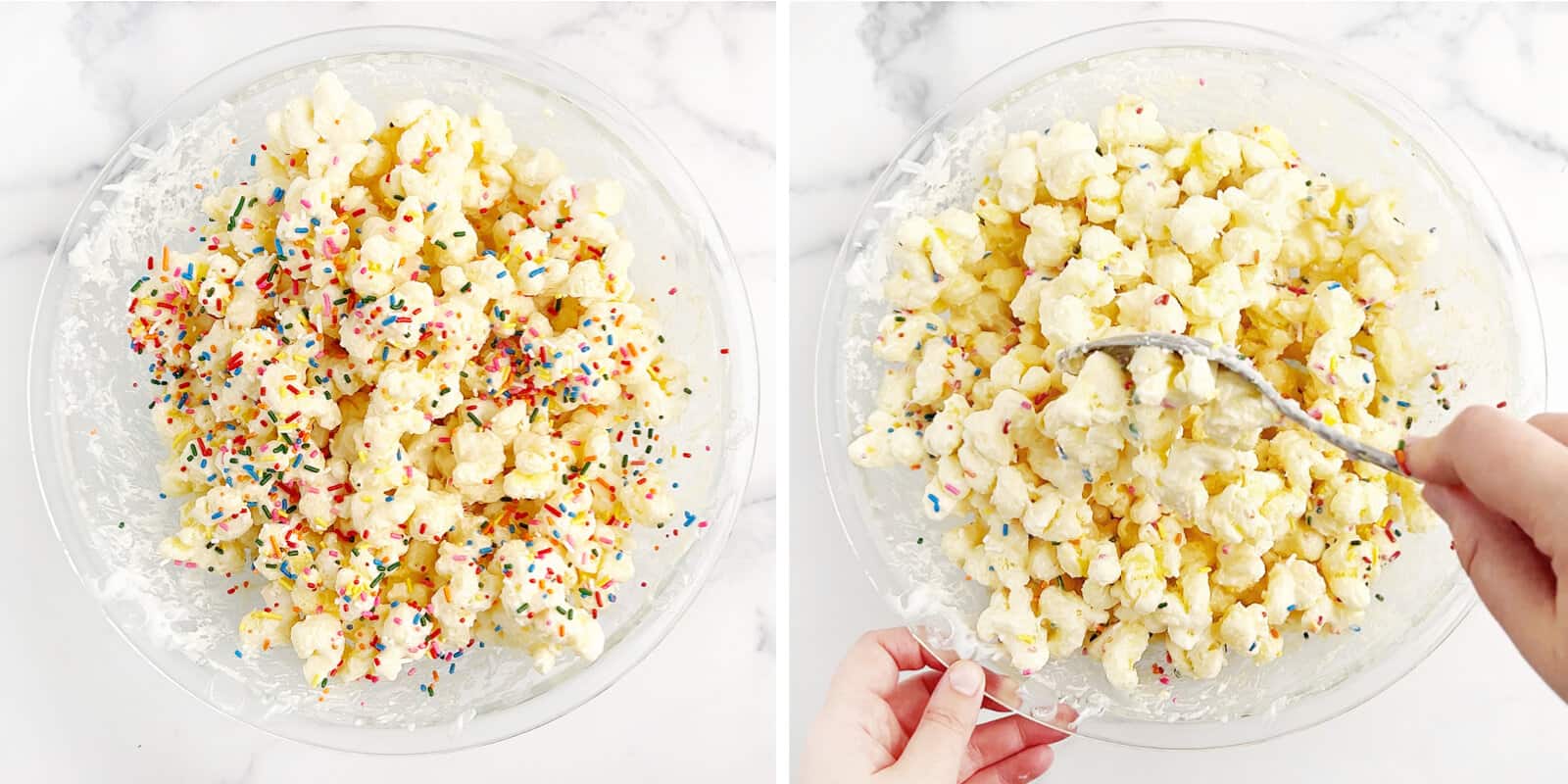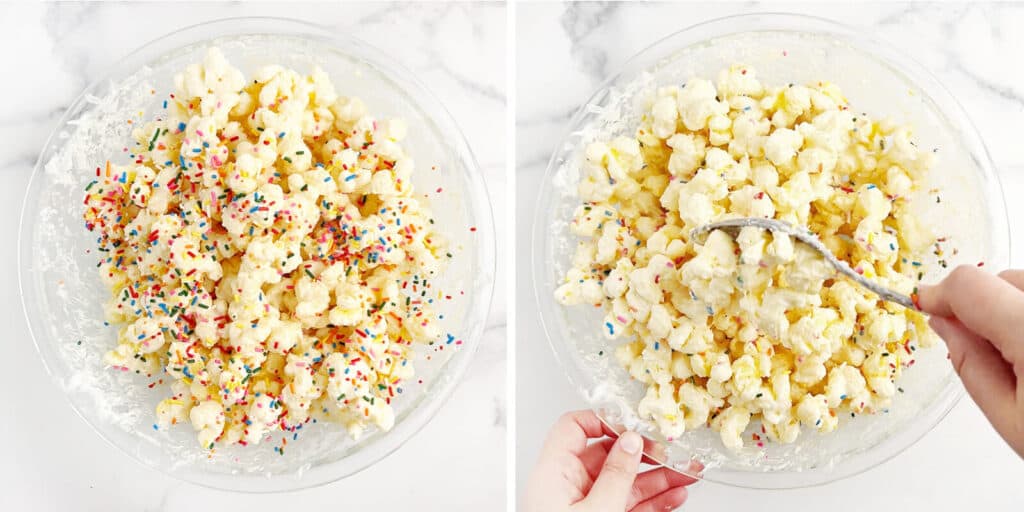 Spread the coated puffcorn onto parchment or wax paper and add more sprinkles (optional).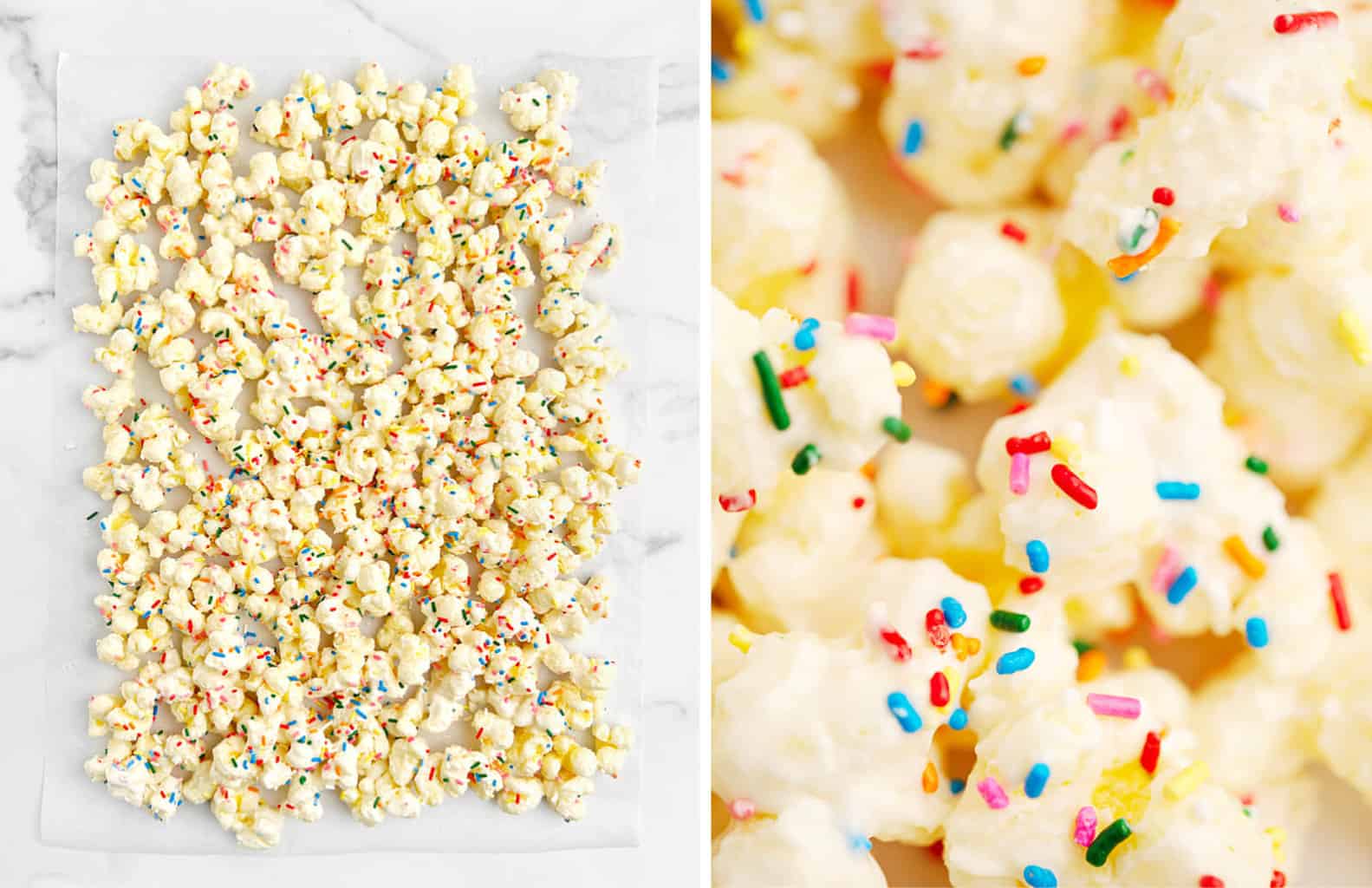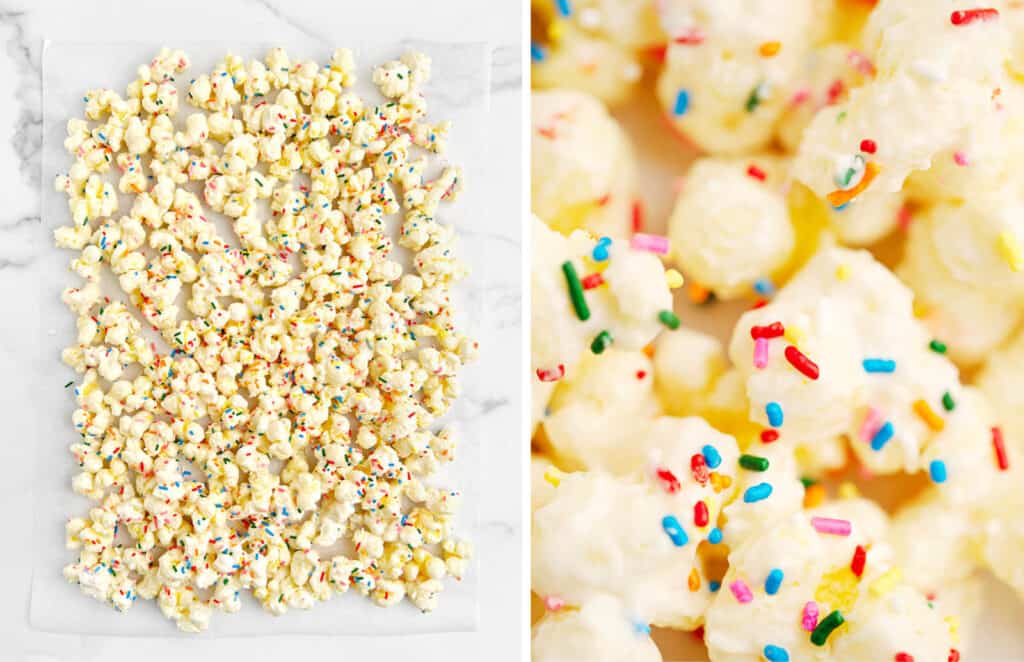 Once the almond bark has hardened, carefully break it apart and add it to a storage container. Voila! Super easy white chocolate-coated puffcorn.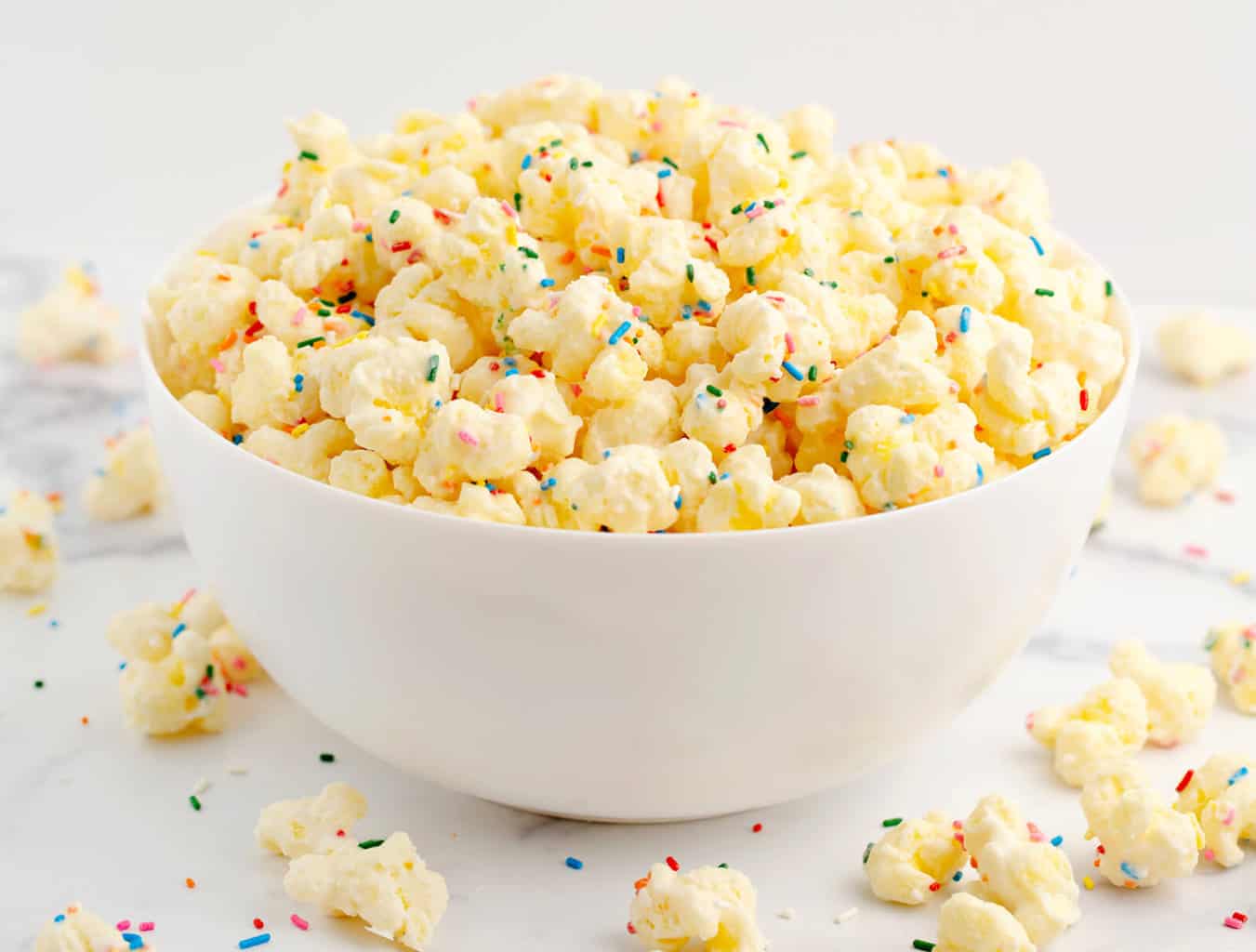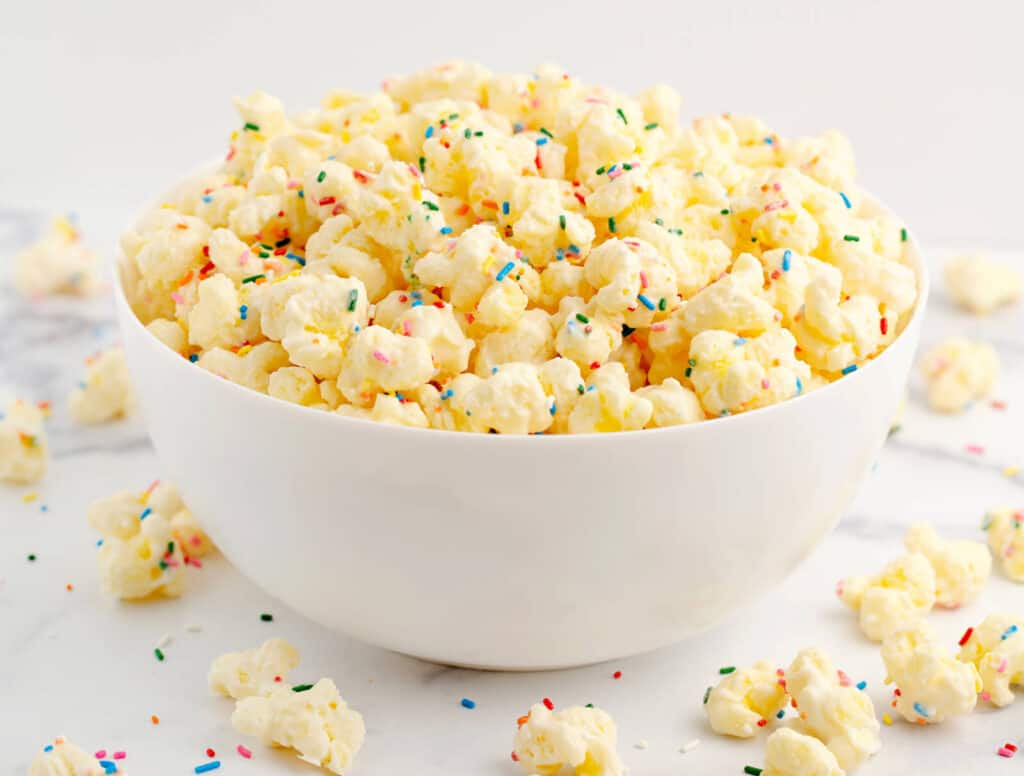 Variations
Here are ways we love to change up this recipe, like adding fun sprinkles, customizing the color, or adding to a snack mix.
Customize with Holiday Sprinkles
You can easily customize this recipe for any occasion with fun sprinkles! There are so many cute options. Here are some of our favorites: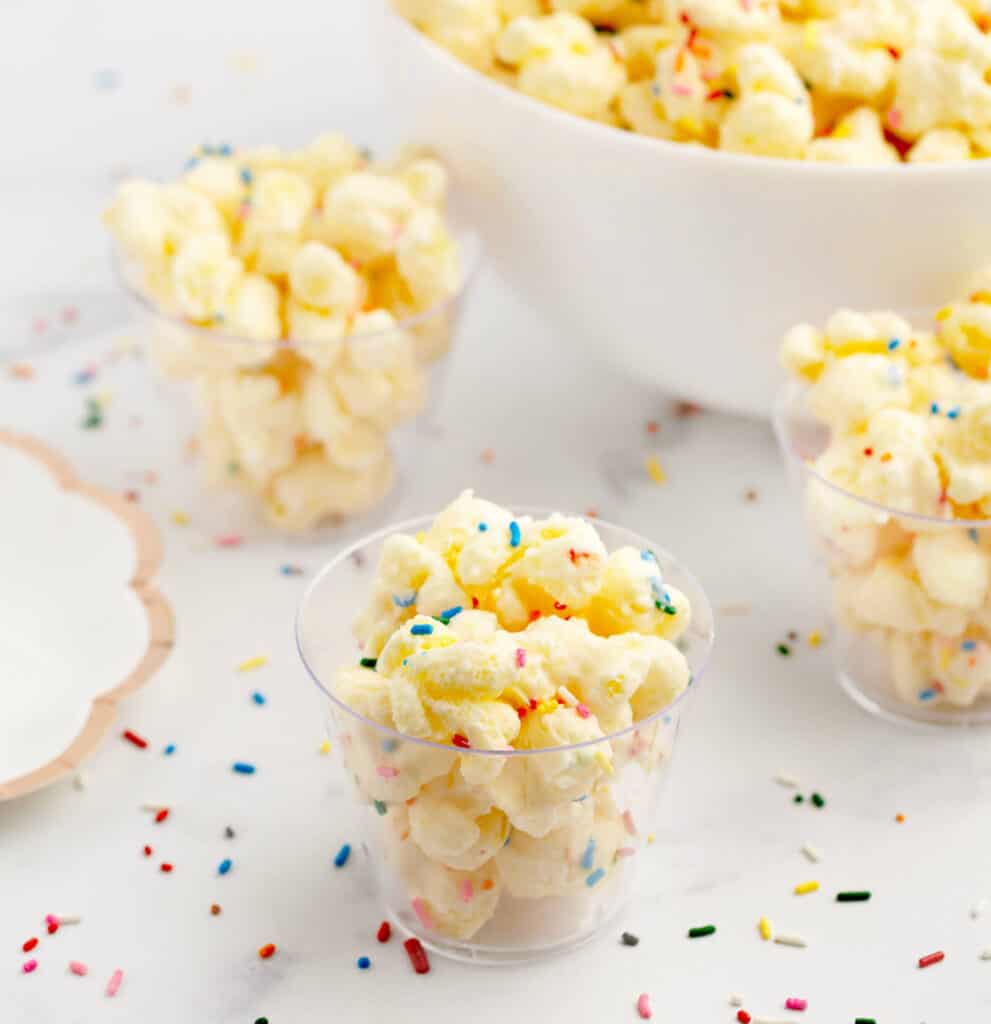 Add food coloring to the almond bark
You can add a bit of food coloring to the almond bark to add color to the coating itself. However, be careful not to add too much, as this can make the almond bark chunky. If this happens, you can add paramount crystals or another candy thinner.
Create a sweet and salty trail mix
Mix it with other sweet and salty snacks for an extra-yummy treat. Some ideas: pretzels, chocolate chips, nuts, crushed candy canes, M&M's, Chex cereal, and gumdrops.
Holiday treat trays
Looking for a festive and tasty treat to add to your holiday trays this year? This white chocolate puffcorn is perfect—not only does it look beautiful, but it's so delicious. Your guests will love snacking on white chocolate puffed corn during the holidays.
Holiday gift giving
Another great way to enjoy this puffcorn is to give it as a holiday gift. Simply place it in a clear cellophane bag and tie it with a festive ribbon. Your friends and family will be delighted to receive such a thoughtful and delicious gift!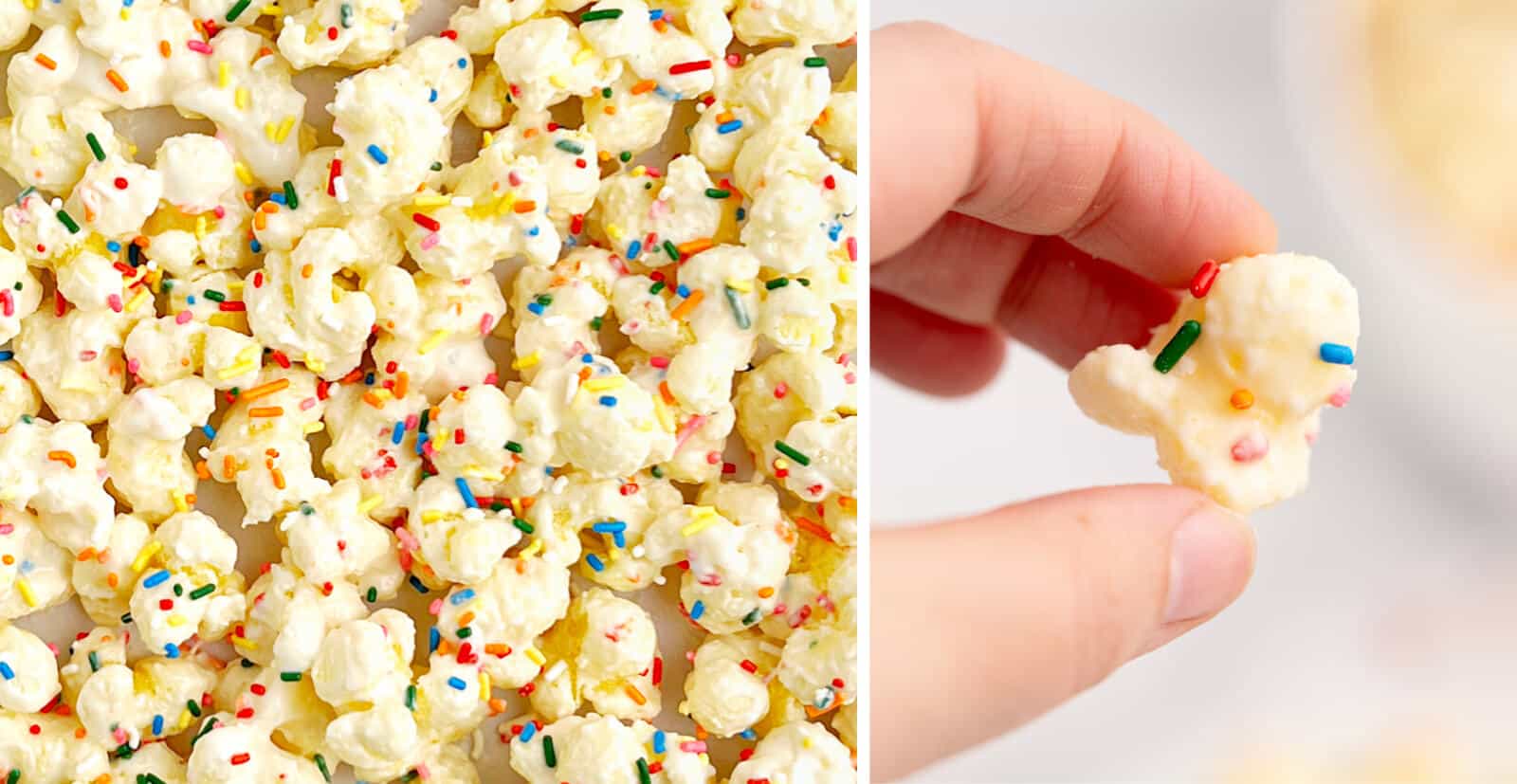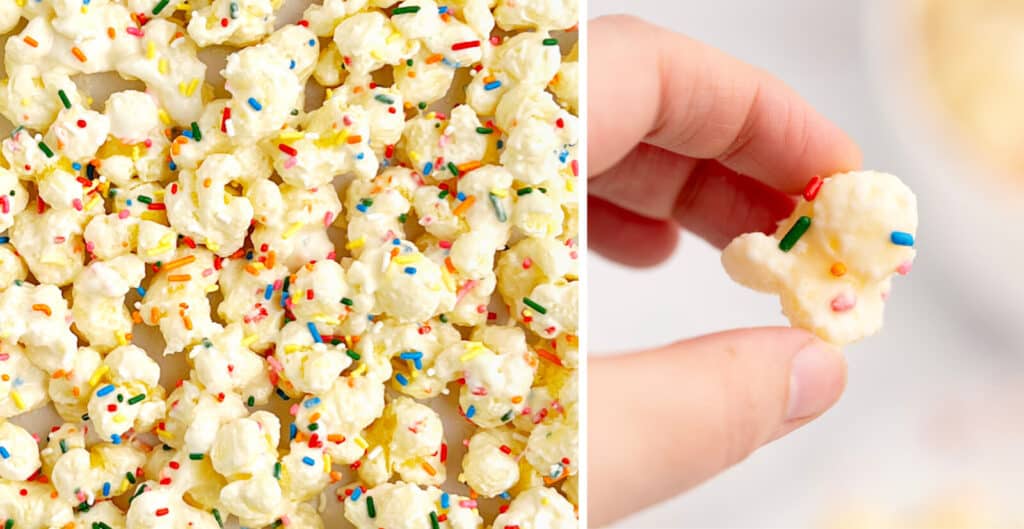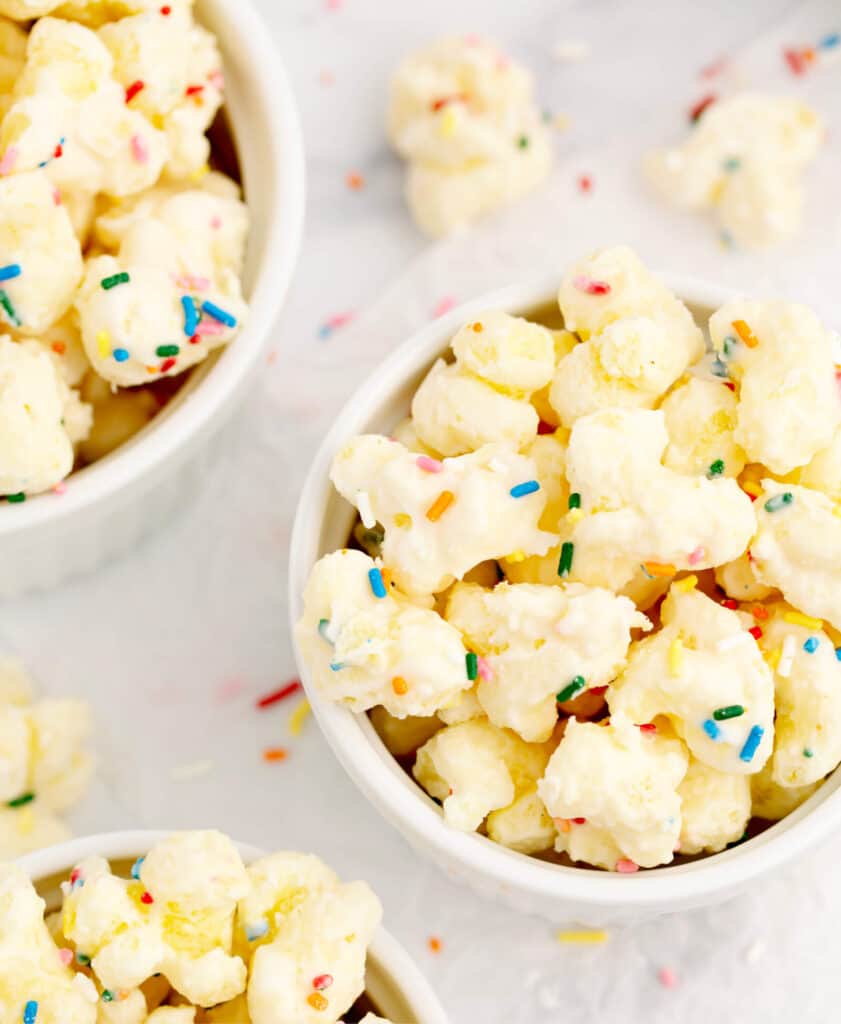 More Delicious Dessert Recipes
Print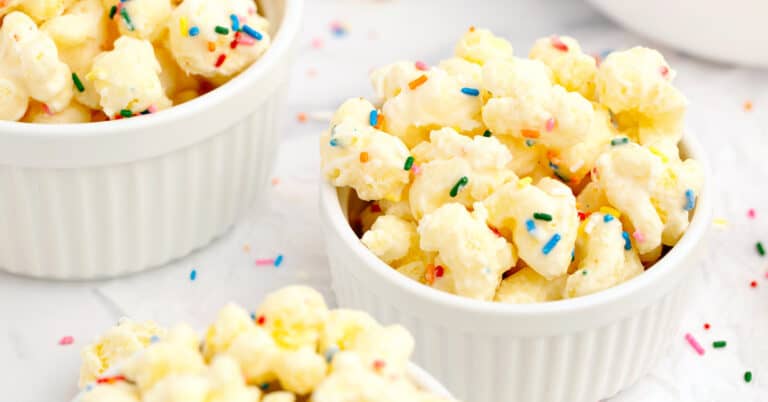 White Chocolate Puffcorn
White chocolate puffcorn 'crack' is a delicious sweet & salty treat. Simply puffed corn coated in almond bark. So simple and perfect for parties, holidays, and special occasions.
Instructions
Pour both bags of puffed corn into a large mixing bowl.
Prep a sheet of parchment paper or wax paper.
In a medium-sized bowl, add the almond bark (broken down into individual pieces).
Melt the almond bark in the microwave in small 15-30 increments to avoid burning. Make sure to stir it often.
Stir in sprinkles (optional).
Spread the coated puffcorn onto parchment or wax paper and add more sprinkles (optional).
Once it's dry, carefully break apart the puffcorn and add it to a storage container.
Author:

Category:

Dessert

Method:

No-Bake

Cuisine:

American
Nutrition
Serving Size:
Calories:

149

Sugar:

2.6 g

Sodium:

171.1 mg

Fat:

10.2 g

Saturated Fat:

0.1 g

Trans Fat:
Carbohydrates:

15.1 g

Fiber:
Protein:

0.8 g

Cholesterol:
Keywords: party popcorn, holiday popcorn, popcorn crack
Recipe Card powered by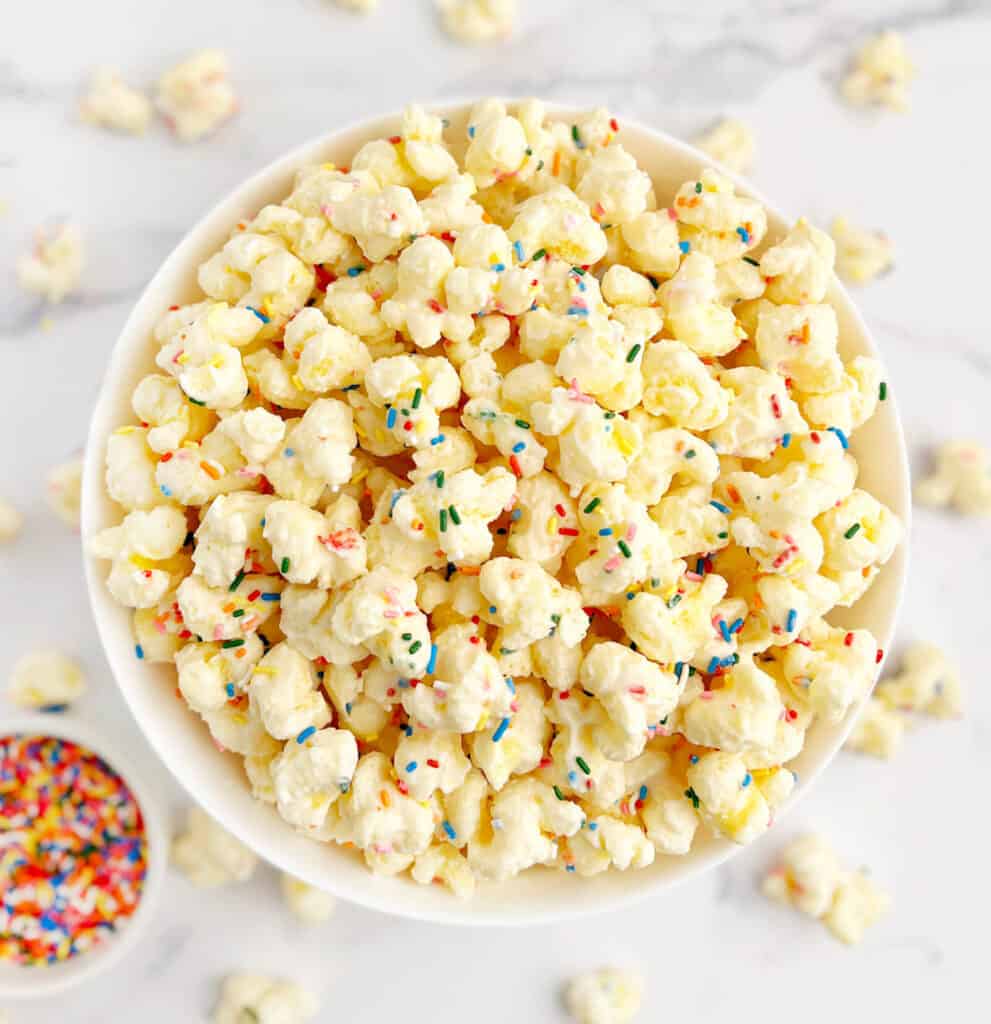 Common Questions
Here are questions related to making this tasty treat.
What can I use if I can't find almond bark?
We highly recommend almond bark based on flavor, but if you're in a pinch, you can use white chocolate chips or candy melts instead. If you use white chocolate chips, be sure to use a little coconut or vegetable oil to thin it out.
What brand and flavor of puffcorn should I use?
We love Chester's puffcorn for this recipe, but you can use any other brand. Use butter-flavored puffed corn for the best taste—we've tried plain puffcorn, and it doesn't have the same delicious flavor.
Can I use regular popcorn in place of puff corn?
Yes. Although the taste will be different (and not as delectable, in our opinion), this recipe will work with regular popcorn as well.
How long does it last?
It should last up to a week or more if stored in an airtight container. Of course, the sooner you eat it after making it, the better the texture and taste.
Final Thoughts
If you're looking for a tasty and easy treat to make, white chocolate puffcorn is a perfect choice. It's also an excellent option if you're looking for something to bring to a party or potluck. If you try this recipe, be sure to let us know how it turned out! We always love hearing from our readers.
Pin for later: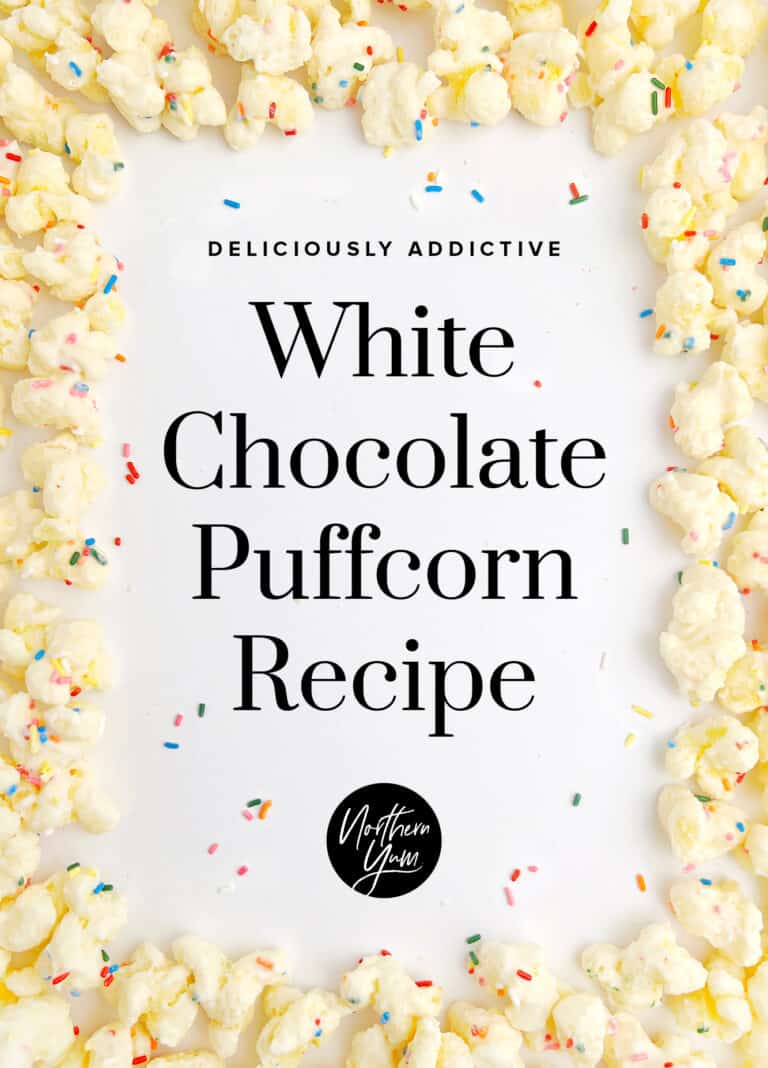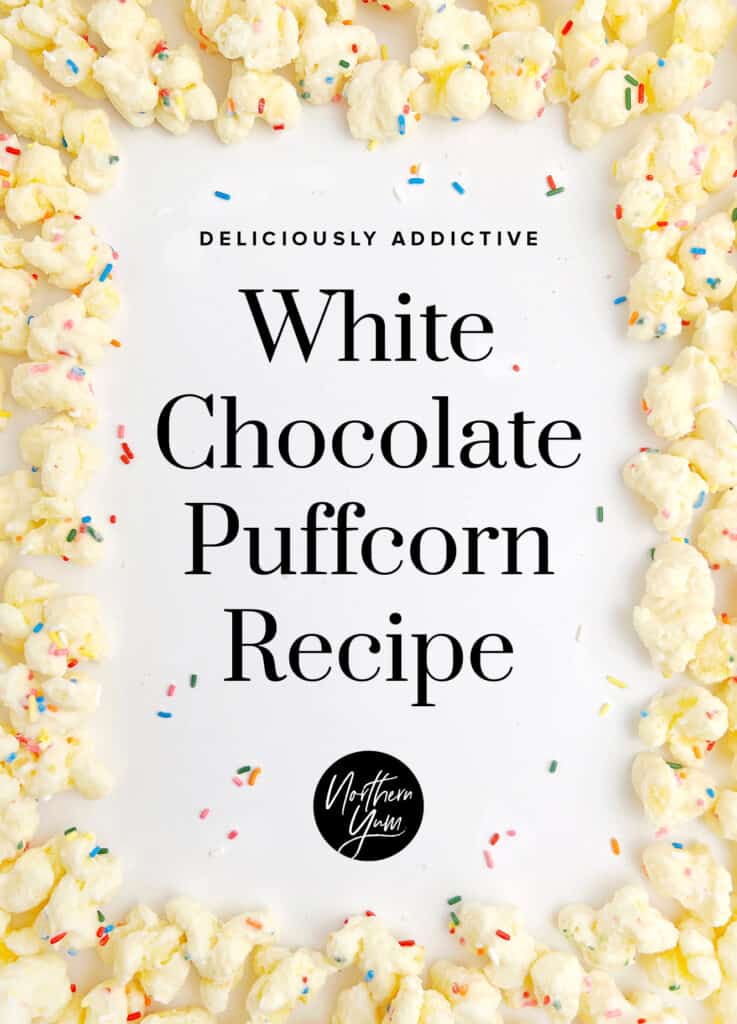 White Chocolate Puffcorn 'Crack' Recipe with Almond Bark