35+ Tasty Sides for Meatloaf
This post may contain affiliate links. That means if you click and buy, we may receive a small commission (at zero cost to you). Please see our full disclosure policy for details.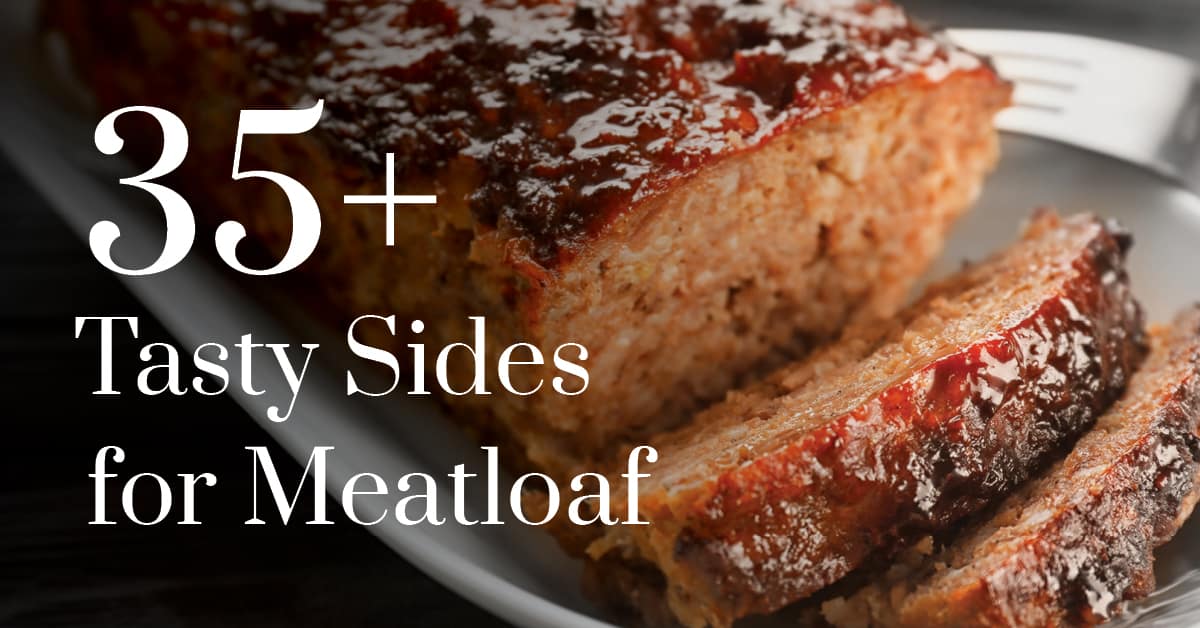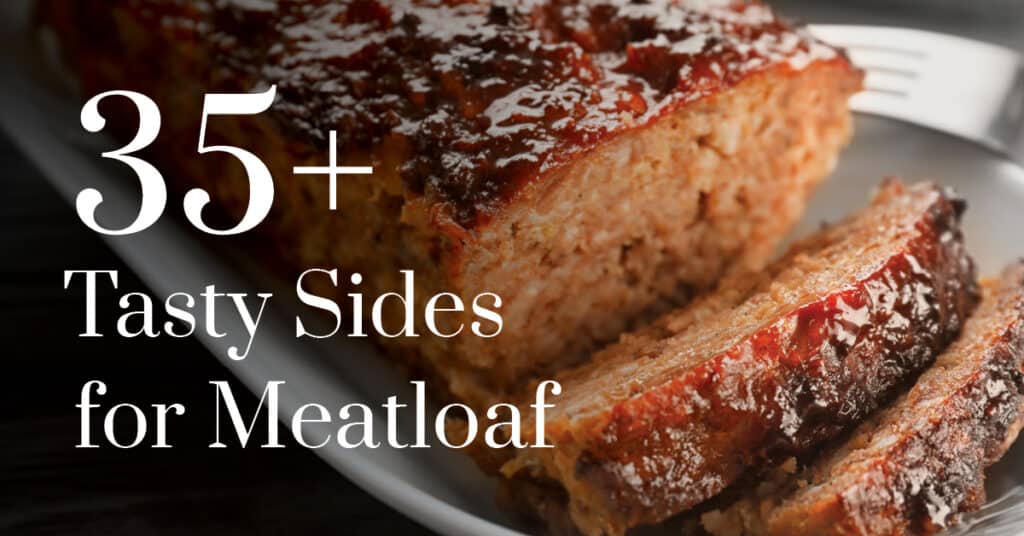 As you gear up to make your favorite meatloaf recipe, don't forget all the delicious sides that can go with it! From mashed potatoes and gravy to roasted veggies, we've got you covered with over 35 delectable side ideas. Let's get cooking and add some variety to your dinner table.
The Best Meatloaf Side Dishes
Let's look at each dish and the many variations you can use to spice up your meatloaf dinner even more.


#1 Baked potatoes
Baked potatoes are a top pick for side dishes for meatloaf. Serve them as twice-baked or loaded. Have your family (or dinner guests) load up on their own toppings by using a baked potato bar with cheese, sour cream, bacon bits, and butter.
Variations to try
Broccoli and cheddar baked potatoes
Swiss, provolone, and cheddar cheese with mushrooms, onions, and green peppers
#2 Mashed potatoes
There's nothing like a heap of creamy mashed potatoes to pair with a slice of meatloaf. They're the ultimate comfort side—warm, creamy, and reassuring. If you're looking for something classic and filling, mashed potatoes are the way to go.
Variations to try
Garlic mashed potatoes
Slow cooker mashed potatoes
Mashed cauliflower


#3 Smashed potatoes
Yes, smashed potatoes differ from 'mashed' potatoes. With smashed potatoes, you boil potatoes and then literally smash them on a pan, drizzle with olive oil, salt, and other seasonings. Then bake until they are crispy on the outside and cooked to perfection on the inside.
Variations to try
Paprika smashed potatoes
Top with parmesan cheese
Garlic 'smashed' potatoes
#4 Roasted potatoes
Simple yet so delicious, roasted potatoes are a quick and easy pairing for hearty and rich meatloaf. All you do is chop potatoes (Yukon golds work great), add to a foil or parchment-covered pan, drizzle with olive oil, and sprinkle with your favorite seasonings. Then bake at 425 degrees for about 25-30 minutes or until they reach the desired doneness.
Variations to try
Parmesan garlic roasted
Herb-roasted potatoes


#5 Scalloped potatoes
There's something about a creamy dish of scalloped potatoes that makes your heart happy. Thinly slice potatoes and bake in an herb-infused cream sauce for a side dish that's sure to satisfy.
Variations to try
Cheesy garlic
Top with ham or crab meat
#6 Baked sweet potatoes
Who doesn't love a good sweet potato? Especially when baked with just the right amount of butter, kosher salt, and black pepper.
Variations to try
Marshmallow topped
Twice-baked candied sweet potatoes
Hasselback sweet potatoes


#7 Sweet potato fries
Crispy sweet potato fries are the perfect balance of sweet and savory. Simply slice yams thin and fry (or air-fry) until they're nice and crisp, making them a tasty side dish option.
Variations to try
Air fryer sweet potato fries
Curly fries
#8 Roasted mixed vegetables
To make the best roasted vegetables, select your favorite veggies – onions, bell peppers, mushrooms, zucchini, squash, broccoli, or cauliflower. Drizzle with olive or grapeseed oil and pop them in the oven. Cook until they're tender and browned.
Variations to try
Sprinkle with Italian seasoning
Top with garlic, parmesan, or rosemary


#9 Asparagus
Asparagus is so versatile—you can bake, air fry, steam, boil, grill, or roast it. It's a beautiful side dish for meatloaf, adding visual interest and healthy greens to your spread.
Variations to try
Parmesan panko asparagus fries
Cheesy baked asparagus with red pepper flakes
#10 Brussel sprouts
In our opinion, brussel sprouts are one of the most underrated vegetables. They're so delicious (especially when roasted with balsamic) and make an excellent side dish.
Variations to try
Honey balsamic brussel sprouts
Maple bacon brussel sprouts

#11 Broccoli
Looking for a delicious, nutritious side dish? Look no further than broccoli. Oven roasting is our favorite way to prepare broccoli, but you can do much more with this tasty veggie.
Variations to try
Parmesan roasted broccoli
Lemon garlic broccoli
Broccoli cheese bake
#12 Green beans
Fresh green beans are simple to prepare and provide a delicious taste and pop of color to your dinner. There are several ways to cook them—sauté, steam, or boil.
Variations to try
Garlic and bacon sautéed green beans
Green bean casserole with mushroom soup and fried onions


#13 Glazed carrots
Glazed carrots are sweet, savory, and simple to make with just a handful of ingredients–making meatloaf night even better.
Variations to try
Brown sugar-glazed carrots
#14 Baked zucchini
If you're looking for a lighter, healthier side, baked zucchini is an excellent choice. This summer vegetable is healthy, full of flavor, and easy to make.
Variations to try
Seasoned zucchini spears
Baked zucchini 'chips'
Parmesan zucchini tomato gratin


#15 Veggie kabobs
Add some excitement to your meatloaf menu with colorful vegetable skewers. These kabobs are full of flavor and a unique way to get in more servings of veggies.
Variations to try
Rainbow vegetable kabobs
Add slices of corn on the cob
#16 Scalloped corn
Scalloped corn is just as comforting as the meatloaf you plan to serve with it. This creamy corn mixture topped with buttery cracker crumbs is sure to please.
Variations to try
Scalloped corn with cheese
Corn pudding
#17 Dinner rolls
Soft, buttery dinner rolls are a wonderful addition to your dinner table. Serve them with some strawberry jam for a sweet touch or simply spread with butter. Don't forget to save a few for leftover meatloaf sandwiches.
Variations to try


#18 Garlic bread
Who doesn't love garlic bread? Its soft buttery-garlic inside and crisp outside pairs so well with rich, savory meatloaf. Not to mention, it's quick and easy—making it a win-win in our book.
Variations to try
Cheesy garlic bread
Garlic knots
#19 Cornbread
Cornbread is terrific with honey and butter, and it's a fantastic addition to any dinner. Serve it up and see how quickly it disappears.
Variations to try
Cheesy jalapeno cornbread

#20 Biscuits
Warm, fluffy, and delicious—biscuits are the perfect addition to any meal. Enjoy them with butter and jam or drizzle with honey.
Variations to try
Cheddar garlic biscuits
Serve with garlic herb butter
#21 Mac and cheese
Everyone will enjoy this cheesy, creamy side dish. No need for boxed mac n cheese. You can whip up your own gourmet mac that tastes delicious with meatloaf.
Variations to try
White cheddar mac
Parmesan spinach macaroni
#22 Baked beans
Baked beans are tangy, satisfying, and easy to make on the stovetop, slow cooker, or smoked on the grill. For a twist, try barbecue baked beans with grilled meatloaf.
Variations to try
Hawaiian baked beans
Brown sugar baked beans


#23 Quinoa
Quinoa is a light side dish option packed with protein and carbs. This superfood cooks quickly, making it a convenient choice. Simply cook as directed (with chicken or vegetable broth for added flavor) and add onion, garlic, and your favorite herbs.
Variations to try
Garlic butter quinoa
Lemon turmeric quinoa
#24 Seasoned rice
Elevate your meal with flavorful herb seasoned rice. Quickly transform plain rice into a delightful side dish that will complement your main dish.
Variations to try
Garlic turmeric rice
Buttery seasoned rice


#25 Cauliflower rice
Cauliflower rice is a low-carb alternative to regular white rice, making it ideal for people on a keto or paleo diet. A delicious 'veggie in disguise' that goes well with ground beef or ground turkey meatloaf.
Variations to try
Cheesy broccoli cauliflower rice
Garlic parmesan cauliflower rice
#26 Potato salad
Nothing beats a homemade potato salad. It may take a bit more time, but the results are well worth it. Plan this side for a night when you have a bit more time to prepare dinner.
Variations to try
Loaded baked potato salad
#27 Pasta salad
Pasta salad is a wonderful option to accompany grilled meatloaf. A chilled, refreshing pasta salad will hit the spot on a hot summer night.
Variations to try


#28 Wedge salad
Start with a wedge of iceberg lettuce and top with crumbled blue cheese, bacon bits, cherry tomatoes, and chives – drizzle with blue cheese dressing.
Variations to try
Greek wedge salad
Berry almond wedge salad
#29 Spinach salad
Spinach salad is refreshing, healthy, and easy to customize to your liking. Start with spinach and add veggies, fruit, nuts, cheese crumbles, and your favorite dressing.
Variations to try
Strawberry spinach salad
Cranberry almond spinach salad


#30 Broccoli salad
Broccoli salad is so quick and easy to prepare. All you have to do is chop broccoli, whip together a delicious mayo sauce, and mix in other toppings like sunflower seeds, sliced almonds, and raisins.
Variations to try
Swap raisins for dried cranberries
Use a lemon poppyseed dressing instead of the classic mayo sauce
#31 Marinated cucumber and tomato salad
Sweet, tangy, and crisp—marinated cucumber and tomato salad will be a hit. It's full of flavor yet light and refreshing. All you need are cucumbers, tomatoes, onions, apple cider vinegar, salt, pepper, oil, and a few hours to marinate.
Variations to try
Creamy cucumber and tomato salad
Marinated tomato salad
#32 Macaroni salad
A classic, creamy macaroni side salad is an excellent summer pairing for meatloaf. With just a few ingredients and a homemade sauce, you can whip up this side in no time.
Variations to try
Deviled egg macaroni salad


#33 Coleslaw
Add some zip to your meal with creamy coleslaw. Chop cabbage and carrots, top with a simple sauce, and you've got a tasty way to enjoy vegetables.
Variations to try
Apple cranberry coleslaw
Pineapple coleslaw
#34 Stuffed mushrooms
Stuffed mushrooms aren't your typical side and can add variety to your dinner, especially if you're in a rut. They're easy to stuff and bake and take as little as 45 minutes from start to finish.
Variations to try
Garlic, herb, and cheese stuffed mushrooms
Three cheese stuffed mushrooms


#35 Stuffed cherry peppers
A fantastic appetizer, but also make for a delicious side dish, you can fill stuffed cherry peppers with various ingredients. We love herb, garlic, and cheese fillings.
Variations to try
Stuffed hot cherry peppers
Sausage stuffed cherry peppers
What dessert goes with meatloaf?
Don't forget dessert! Fruit pies, cakes, and cheesecakes all go well with a meatloaf dinner. Try peach or apple pie or cobbler—or forget the crust and go with fried cinnamon apples and vanilla ice cream.
Chocolate tart, lemon cake, or angel food with whip cream and strawberries are great options too. You can never go wrong with cheesecake topped with caramel or chocolate sauce or berries either.
Quick Summary of Meatloaf Sides
Here is a quick summary of the best, simple side dishes for meatloaf. Read above for more details on each dish and ideas to vary each for even more inspiration.
Baked potatoes
Mashed potatoes
Smashed potatoes
Roasted potatoes
Scalloped potatoes
Baked sweet potatoes
Sweet potato fries
Roasted vegetables
Asparagus
Brussel sprouts
Broccoli

Green beans

Glazed carrots

Baked zucchini

Veggie kabobs
Scalloped corn
Dinner rolls
Garlic bread
Cornbread
Biscuits
Mac and cheese
Baked beans
Quinoa
Seasoned rice
Cauliflower rice
Potato salad
Pasta salad
Wedge salad
Spinach salad
Broccoli salad
Marinated cucumber and tomato salad
Macaroni salad
Coleslaw
Stuffed mushrooms
Stuffed cherry peppers
Final Thoughts
With so many side dish ideas to choose from, it's hard to know what pairs well with your simple meatloaf dinner. Hopefully, this list has given you some new ideas to try out next time you make this classic comfort food. What are your favorite sides for meatloaf? Let us know in the comments below!
Pin for later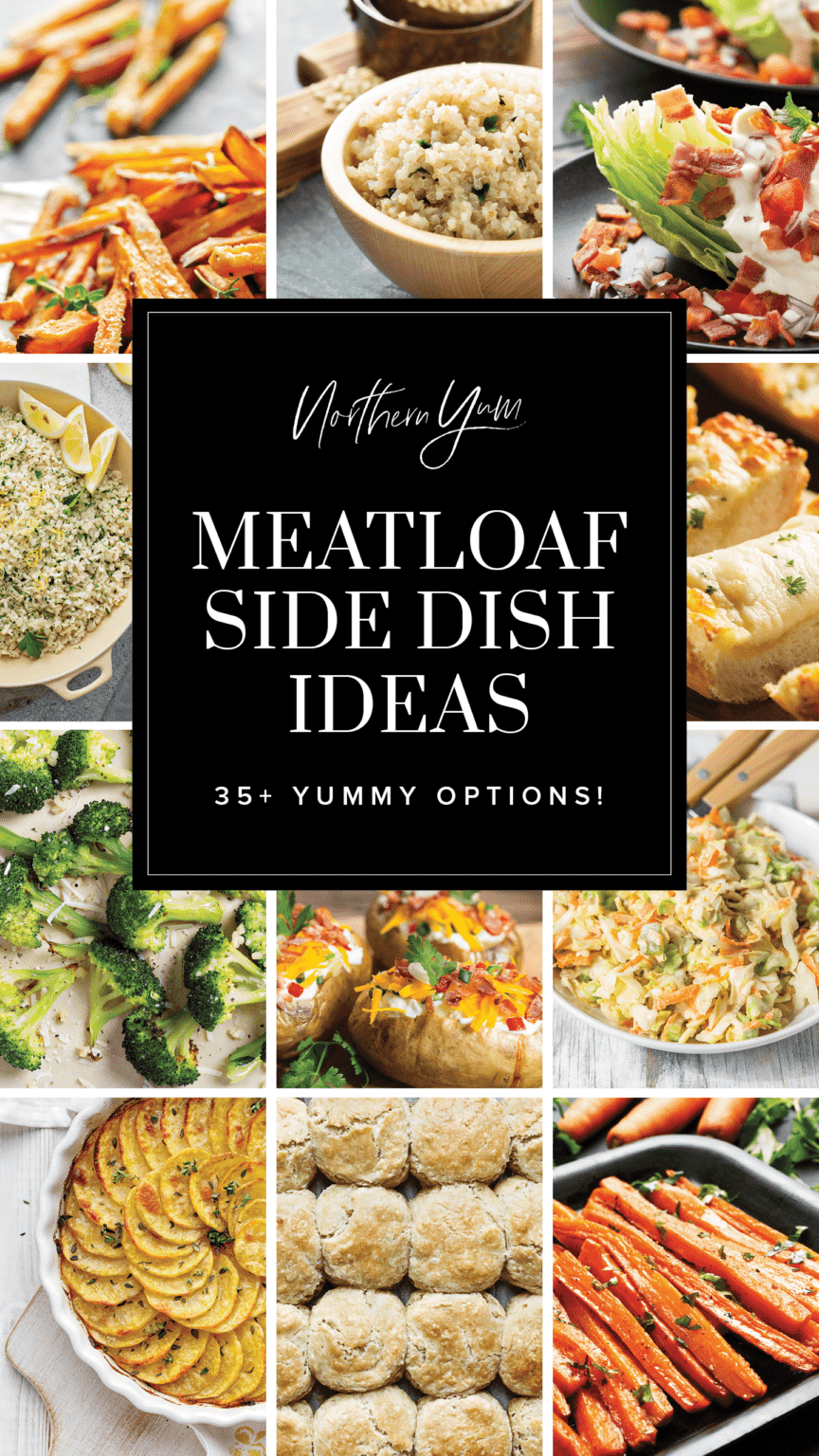 More Delicious Side Ideas
35+ Tasty Sides for Meatloaf